Legends are made and spread through years of history, and above all, from living up to them. Talking to someone, whether it be a friend on a sunny afternoon, in a classroom, or on a forum, are ways that legends are spread. In our rich human history, they were once just folklore and often times unverifiable with grandiose littered throughout. The final reality can be disappointing at times, but in other cases, surpass even imagination.
Enter Grado Labs, founded in 1953 with production of the first Grado headphone occurring in 1991. It's one of the oldest small-rooted companies in the headphone audio community and has the ethos of grandeur and a lavish elegance to their look; in essence, it's a legend in its own right to our community. Grado has skyrocketed in fame, popularity, and adoption by the mass audiophile and consumer market since the 2000s and ramped even faster into the mainstream in the 2010s. It's to the point where Grados are the official headphones for Jetblue!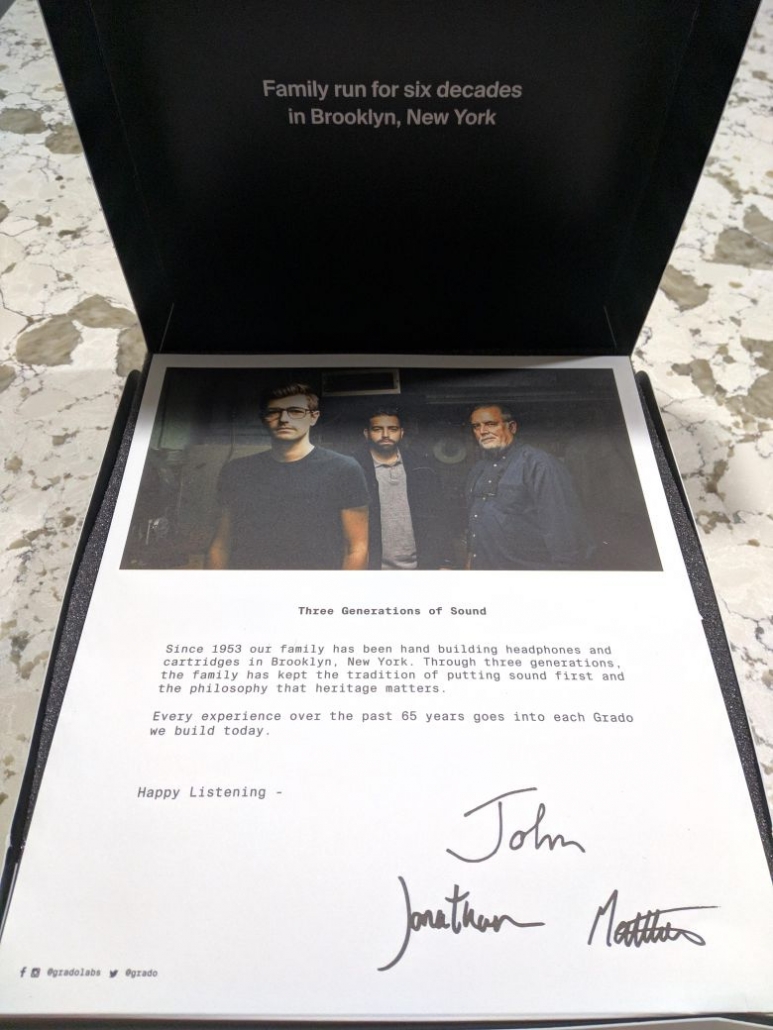 There has been an abundance of well known Grado headphones throughout the years. The Grado PS2000e and a plethora of others come to mind. But on Grado's timeline page describing their achievements and company throughout time, one product sits in the limelight for all of 2018.
Introducing the first wireless headphone from Grado, the GW100. They have pushed for mass consumer and prosumer adoption and usage over the last decade, this is the next natural evolution in Grado's lineage and to many, it may be confusing. We are going to take a look today at what is effectively an open-backed …wireless…Grado headphone.
Build:
Simplicity with a focus on end-use is the main design language of the GW100 as has been Grado's for years. The retail box is straightforward, thin, and delivers the contents to you fast. Grado offers no bull in the box and it shows. You get the headphones, a 3.5mm wired cable, a micro USB charging cable, and an owners manual.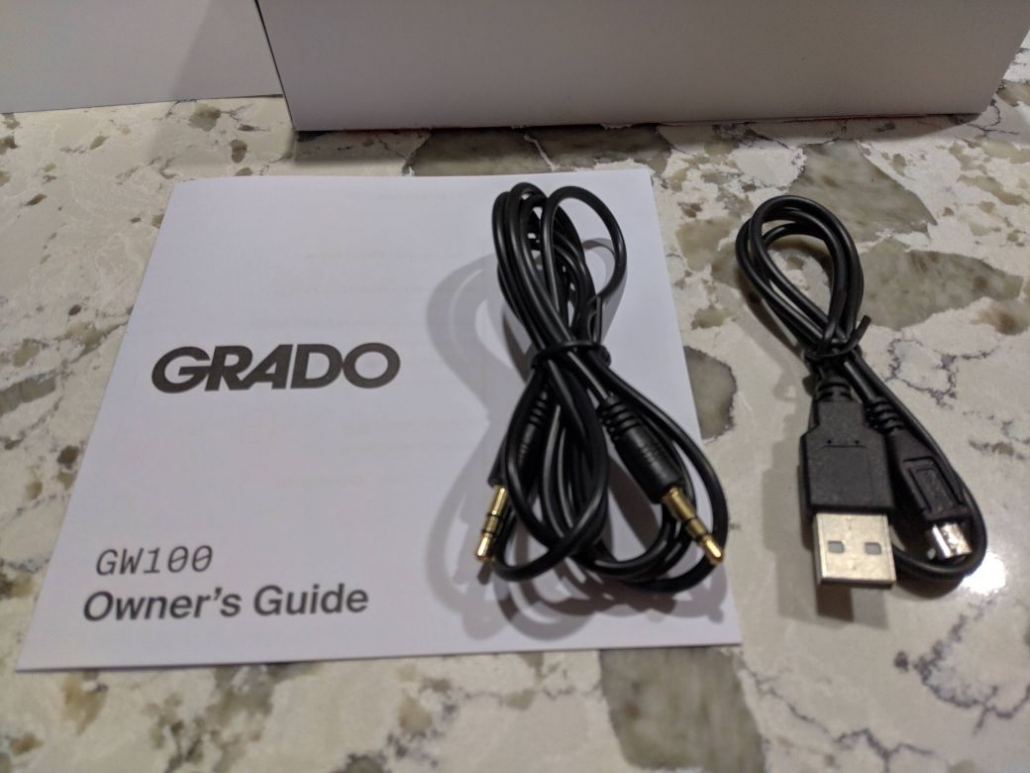 The headphones are lightweight, minimal yet plush, and mostly plastic. The typical offerings from Grado have more exotic woods and metals all around the driver housing and headband area; it's their iconic look of course. Seeing as the GW100 is meant for portable usage, Grado did not lose sight of their target and revamped the build to maintain the classical look while keeping the weight in check.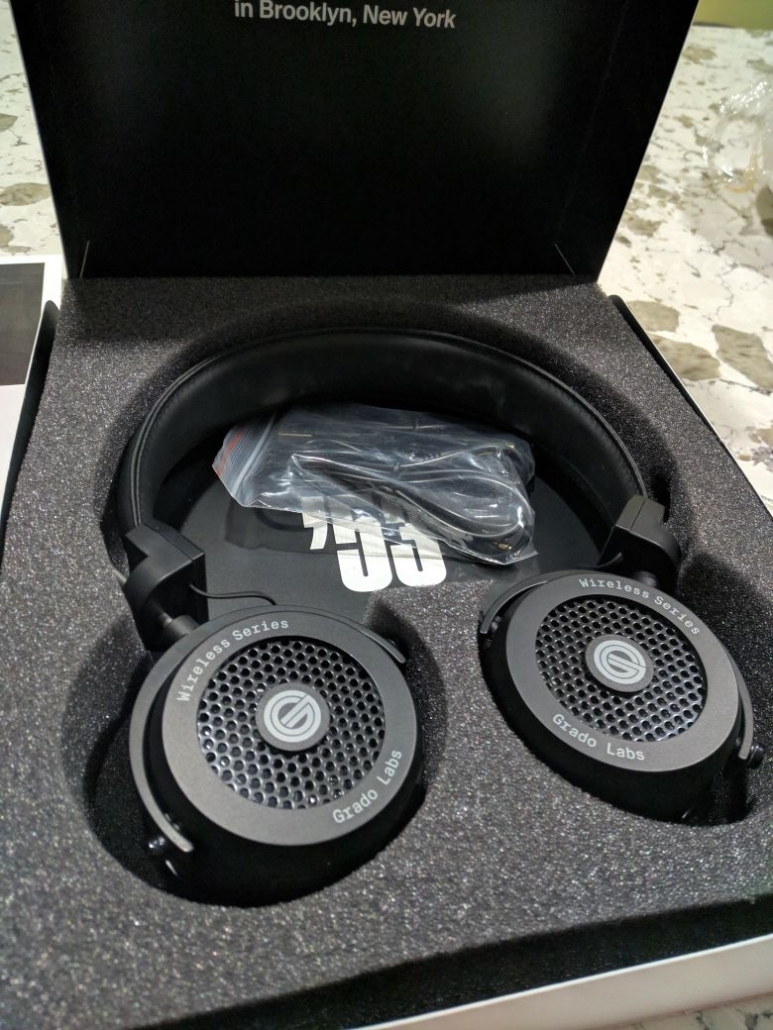 One point of contention I have with the GW100 is that the plastic does create sound when you have to move it around while on your head. To be fair, the $400 Beyerdynamic Lagoon portable wireless headphones do as well and arguably make more sound (more moving parts). The added noise usually comes from going out of your way (as reviewers will do) to push in hard on the housing joints of the driver or intentionally twisting and manhandling the headphone while it's on your head to purposefully be rough with it. You don't notice it in normal listening or walking around. If you go completely out of your way to listen for it, sure it's there, but otherwise, I'd recommend finding more useful things to do in your spare time than I do as I put headphones under the magnifying glass. The materials used in the construction itself are also fairly standard and have a 'manufactured' feel to it. This contrasts with some of Grado's most well-known audiophile lineups which typically look hand-build with an air of authority around them. This is Grado's first go at wireless headphones and they are at a price point that will be popular; a lot will need to be produced in a short time. I can see how their usage of plastic was both to keep costs down for a first iteration product and to help mitigate issues with the weight. Personally, I have no issues with it. It sounds phenomenal for the price, and it keeps the headphone light enough for me to actually want to use them on the go.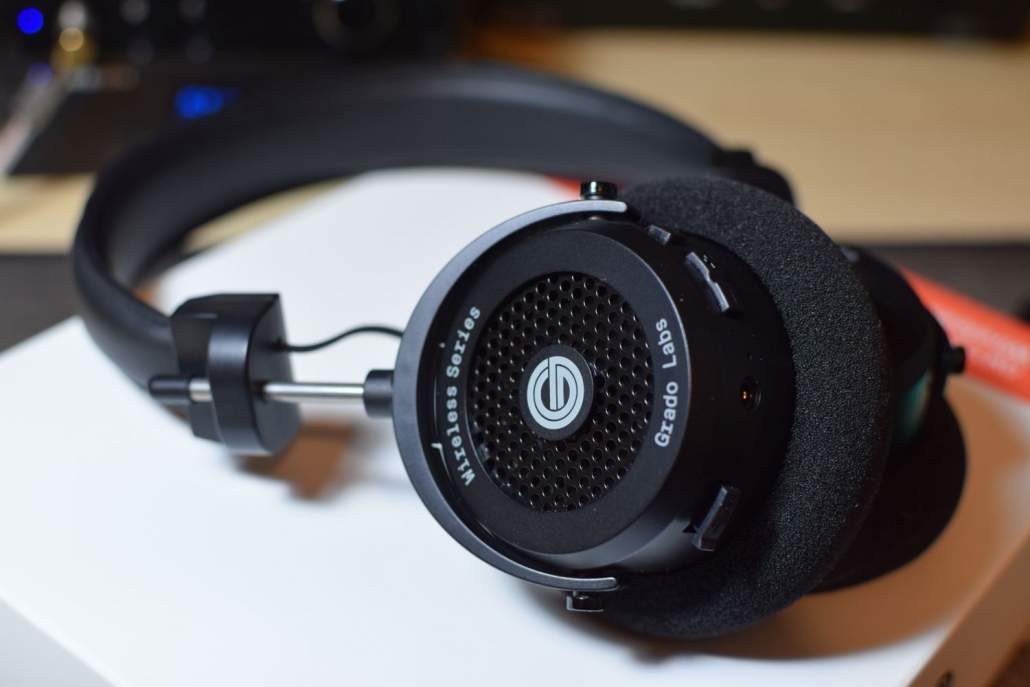 Honestly speaking, you won't even notice after the first five minutes. They've held up great in the last two months I've used them. I made sure to treat them like the average joe would treat any headphone. They were commonly flung onto my bed, plopped down wherever, stuffed as-is into backpacks, and worn around outside without additional care or concern that an audiophile may place when bringing their high-end gear outdoors. College Bowei was in full effect and the Grado GW100's kept up with my tempo and lasted without any visible scratches or marks on them.
Usability:
The instrumentation for the GW100 is all on the left driver housing. It features a power button, grouped volume up/down, 3.5mm input, and lastly a covered USB micro B charging port. Grado has designed it such that the volume controls are grouped with specific raising on the plastic to separate it from the power button. This makes it easy to reach behind your ear and recognize which one is volume up or down from the power button (which doubles as play/pause).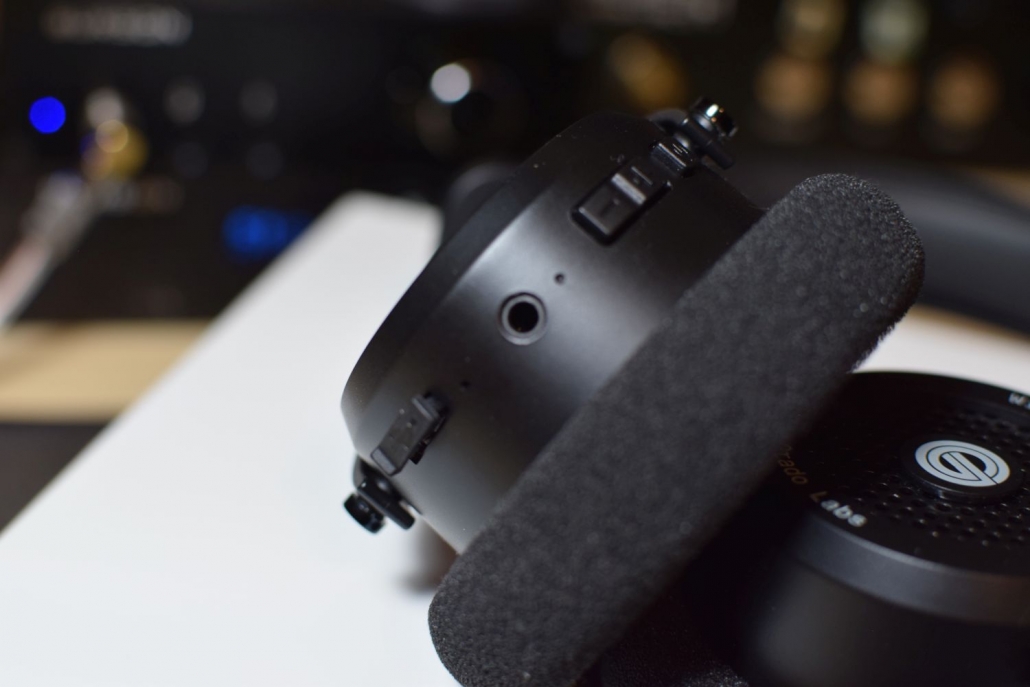 The headphone operates discreetly in wireless or wired mode, it cannot do both simultaneously. Nevermind that playing audio in both modes simultaneously is counter-intuitive, I felt it should be mentioned as some products have supported this (I don't even want to call it a feature as it is plenty useless). While in wireless mode, if you plug in a 3.5mm jack, an analog cutoff happens and the wireless electronics shut off causing it to act as a wired headphone immediately.
Initial wireless connectivity works nicely right out the box. Turn it on, and it starts trying to pair (as both audio and hands-free call) to your host machine. It's worked without issues for me on my two Windows 10 computers, Android 9 Essential Phone, and FiiO M9. Compared to the very best wireless chipsets, I've found connectivity and pairing time from OFF (and not being previous Bluetooth device used) to be about average. The very best devices will still synch up lighting quick regardless of what state my host device's Bluetooth settings were in prior to activation. The GW100 does what it needs to connect and does a good job of staying connected.
Wireless range and stability for the GW100 are also 'good' and within expectations. I can get 40 feet away with line of sight (way more than enough in my books) and will start to lose connection stability once I get behind drywall in my living room. Note that this is while indoors which is riddled with appliances, microwaves, and 2.4GHz wifi all of which impact Bluetooth. Some manufacturers advertise insane ranges while outdoors free from any other interference but honestly, when are you going to be away from your host device while outdoors? On walks or in the park, my DAP/phone is right smack dab in my pocket.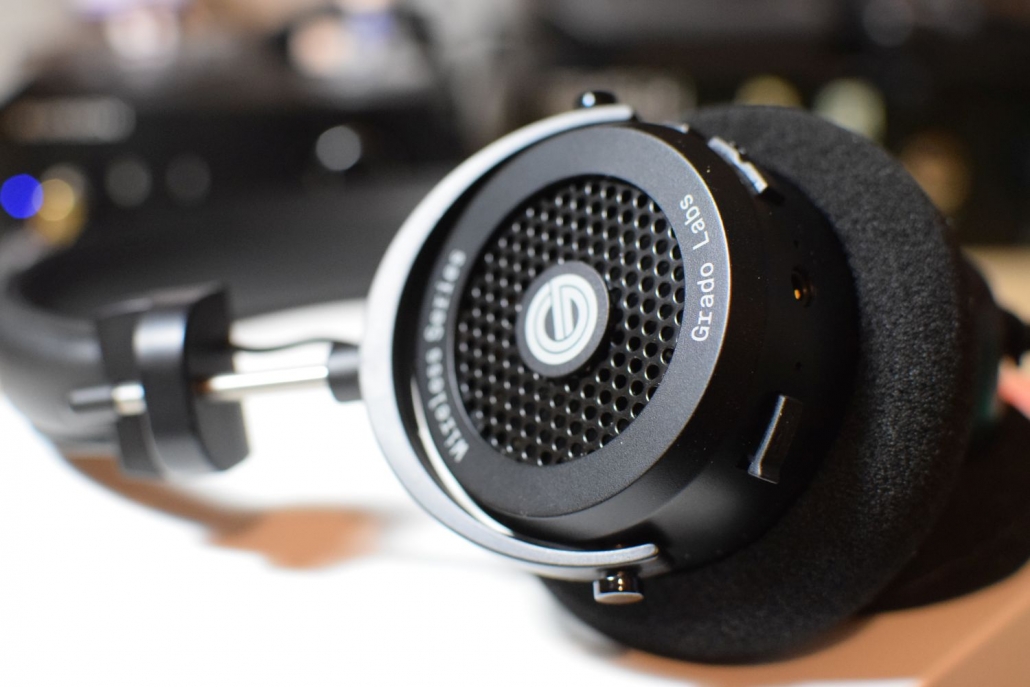 The lion in the room when it comes to usability would have to be that this is an open-back portable headphone. Yep, it leaks sound and people around you will be able to hear what's going on. It doesn't leak as much as say a full size open planar magnetic like the Hifiman Ananda but it's still a noticeable amount. On public transportation, people around you will hear a bit of buzzing and possibly make out what you are listening to. In an office environment, yeah, the cat is out of the bag that you like Justin Bieber, no way of backpedaling on that one.
Sound:
The GW100 was used wirelessly with my Essential Phone running Android 9, FiiO M9, Windows Desktop with BT4.0, and Dell XPS 15 9550. Wired operation was also used often to test the differences and was plugged into a Burson Swing + Fun on my desk or the Swan Song Audio USB DAC/Amp.
Now before we start, let's get this out of the way. Are what people say and whisper about the GW100 true? Is it actually that good sounding and portable and wireless at the same time? Yes, yes it is. The stories are true my lad. Now let us get into why.
The GW100 has a sweet and fun sound. It's vibrant, bassy and sharp in the mids while still retaining a wide soundstage (thanks to its open design). It has worked and jived with every genre I have given it making it very dynamic and adaptable. From Beethoven to Boz Scaggs to Dua Lipa and Slipknot, it has simply just worked.
I want to start off with "Again" by Beverly which is used as the ending song to "Fruits Basket". It is a Japanese pop song sung by a female singer with an inflection towards the higher ranges. Immediately, you'll note the Grado house signature, which has that upper vocal brightness, the singer is frontal and direct with added enhancement to the sharp snaps of percussion in the background. Sibilance can be detected at times but I found them to not be overly harsh which could be due to the foam mesh headphone pads attenuating some of that.
The key idea here really is tonal balance. You can easily use the same words here to describe a trash tier headphone that sounds like someone using a tin can to amplify an iPhone's built-in speaker. The GW100 has that smooth low to mid-range transition with just the right warmness that allows it to bridge the music. In the song "Again", a nice harmony of string instruments with lower end harmony and percussion is present, the bright and forward vocals are meshed like a sweet marmalade jam with the impact that the instruments bring to the fray. Like a warm summer's day, the open soundstage aids in delivering the feeling of sitting by a lake's edge watching fireflies take off; it's comforting to a fault at times, I could seriously fall asleep wearing these.
Next up is one of my favorite songs, "Thanks to You" by Boz Scaggs which features an overwhelming amount of high quality bass with buttery smooth delivery. Open headphones, especially portable ones often have trouble delivering the 'right' bass impact. Their designs, and power to really push the low-end, is an issue often. When I received the GW100, I was expecting a headphone with little to no bass, boy was I wrong. In "Thanks to You" immediately upon playing the song, you get hit with the subharmonics that the song contains. The low mumble having the beginnings of what I would consider high tier bass textures. It's not fully idealized yet in the GW100 but its taking shape here. Low-frequency extension is about average (if I was to just consider it as a normal headphone), but for a portable open-backed wireless headset, it is more than I was expecting.
The thing I like so much about the GW100 is that even though it's portable and wireless, it still has the audiophile sound features of its price range regardless of its added features. The high-frequency percussion cymbals in the background are fully detailed and are in their own space without any volatility or muddiness from the nearby elements. It's that nice 'sparkle' on the edge of the vocal and mid-range that ups the GW100 as something belonging steadfast in the $200-$300 price range wireless be damned. Even for a fully wired in-door headphone, this has already got the 'stuff'.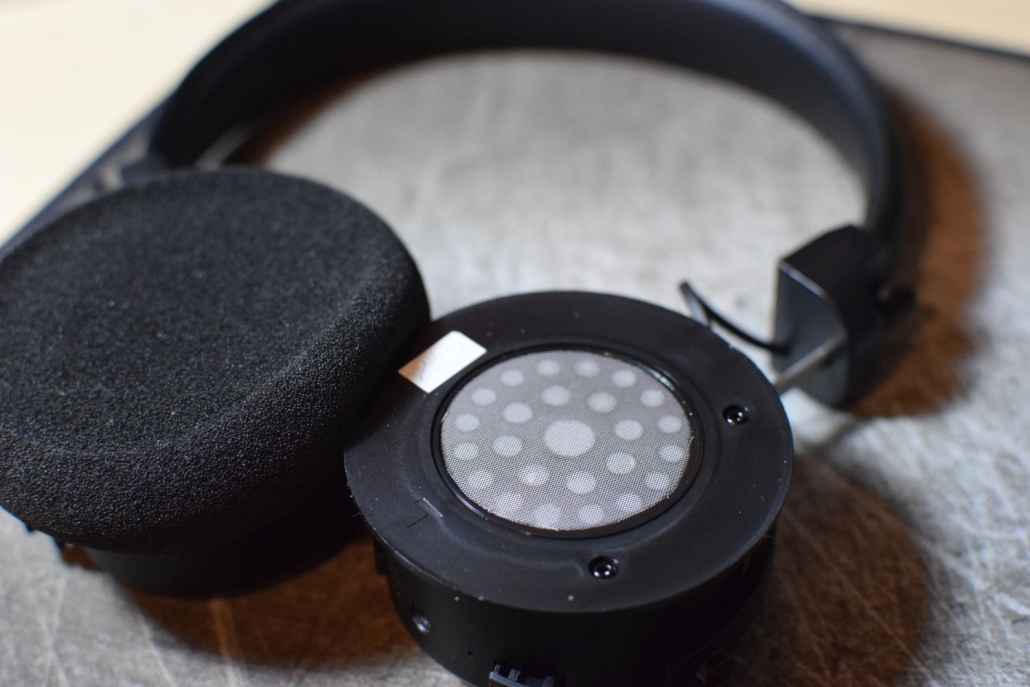 Grado has done a phenomenal job with the GW100. The ideas they were shooting for with this headphone are present in its sound signature and use case. The headphone must be light, wireless & portable, have the Grado house sound, have the right audiophile elements, while still being consumer acceptable to new-age millennial adopters that typically listen to house/EDM/Hip-hop/Rap/Pop. To me, as a 24-year-old audiophile reviewer, I can say that it has certainly hit those bullet points. No matter if it be Eminem, Avicii, Linkin Park, or The Weekend, the GW100s sound terrific. Add in that it actually still has the qualities of what makes an 'audiophile targeted headphone' and its a winner.
Conclusion: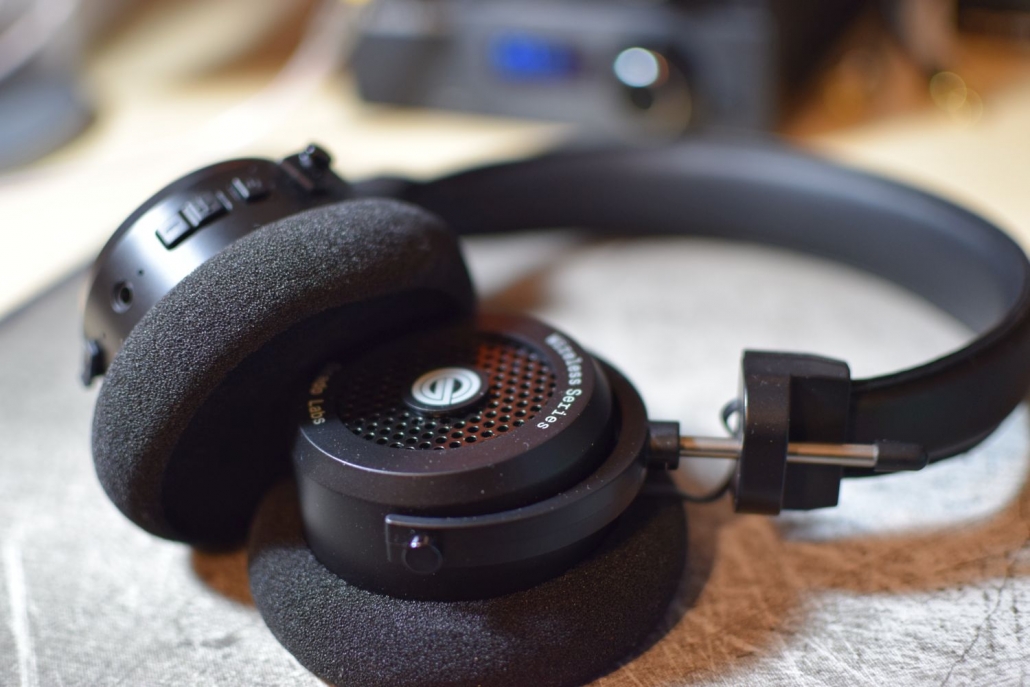 Hear ye all that have heard rumors and have come to hear yea or nay. With the number of hype trains on the internet these days, many of which end up falling flat on their faces, it's nice to find gear that actually lives up to and even surpasses what people say. The legends around the block and interwebs are true, the GW100 are 100% certified legit.
When I first received the GW100, I certainly doubted what they would be able to accomplish. The packaging wasn't inspiring, it was mostly plastic, and it is Grado's first wireless product. I mean come on, an open back headphone that was also wireless and meant to go outside? But as it turns out, the idea works. Open back design is undeniably the way to go if you want great sound and some people are willing to sacrifice isolation if they can get great sounding audio.
The GW100's are defining a new market of headphones. Actually great-sounding open-backed wireless headphones made by audiophiles at Grado … for simply whoever likes and wants good audio. It's for those that are willing to give up blocking everything out while on the go, and instead achieve a new dimension of audio excellence while they are away from home or want freedom from wires.