Occasionally, a non-audiophile friend will ask for help picking the right gear for a specific listening situation. I generally begin by asking where they are going to listen. Are they using speakers or headphones? How much room do they have? How much are they willing spend? And so on. Many times they will want to buy something of quality but they don't have a lot of room.
Enter the Heed Canalot and the Q-PSU. These small dynamos offer Class-A amplification and separate clean power with the add-on ability of an on board DAC card and USB input card. All in two sharp black stackable chassis' each measuring 3 ½" W x 8 ¾" D x 2 ¾" H. I have to say I was unfamiliar with Heed Audio when I was asked to write this review. Discovering a new company is always exciting. Between emerging entrepreneurs and small DIY shops, the personal audio world has many new gems. Heed traces their roots back to the late 1980's in Hungary. The form we know today began to develop around 2000. A more complete history can be found
here
. Bob Clark and
Profundo
distribute the Heed Audio line in the USA. Our review unit came to us courtesy of Heed Audio dealer
Dan Muzquiz of Blackbird Audio
in San Diego, Ca.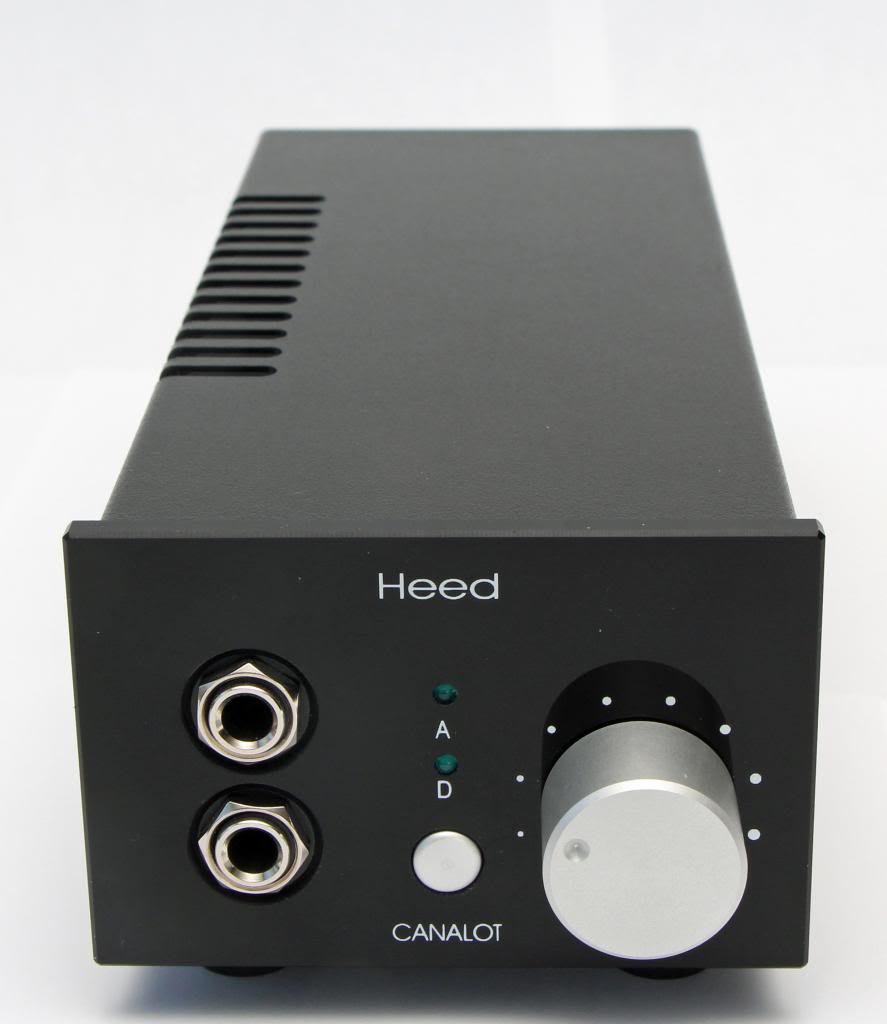 Product Specs:
As mentioned, the Heed Canalot is a full Class A amp. This is not the norm these days as so many manufacturers are coming out with Class D. Cost and heat seem to be a reasons for this movement. Heed Audio has decided to keep it old school with a traditional Class A setup. Dan was also kind enough to ship the Q-PSU along with the Canalot that provided a separate power supply for the unit. I used the Q-PSU as the primary power source for the review.
Frequency response (line): 6 Hz – 260 kHz (< 0.1% THD, -1dB)

Input impedance (line): 10 kΩ

Line output level (as D/A converter): 1.2 Vrms

Gain: 20 dB

Input sensitivity: 320 mV

Power output: 200 mW (32 Ω)

180 mW (56 Ω)

100 mW (120 Ω)

40 mW (300 Ω)

20 mW (600 Ω)

Signal to noise ratio: > 100 dB (unweighted)

Total harmonic distortion: < 0.03% (56 Ω load, 1 kHz)

Channel separation: < 75 dB

< 55 dB (56 Ω load, 1 kHz)

Connections: 1x stereo line input (RCA)

1x stereo line output (RCA)

1x 75Ω S/PDIF digital input (RCA)

1x USB 2.0 asynchronous input

2x 6.3" headphone sockets

Power supply: Heed Audio X-PSU 40, Q-PSU, Obelisk PX

Power consumption: 15 W

Dimensions (W / H / D): 9.5 / 7.5 / 25 cm

Weight: 1.2 kg
The Dactil 1.2 DAC Module accepts up to 24/192 from any digital input. It utilizes a Wolfson DAC chip. Heed does not specify which chip they are using. The USB Module uses a Cirrus input chip. Once again the specific model is not listed. The Dactil 1.2 does not accept DSD files, although no harm done if you play one (you will just get silence). Switch to FLAC, AIFF or any PCM based file and all is well up to 24/192.
Many amps coming out today have great power, however I have always found Class A amps to perform equal to much higher powered non class A amps. I never had the volume up beyond 1 o'clock. I would expect the Canalot to offer more than adequate output power for all but the most inefficient planer magnetic headphones.
According to Heed Audio, "The Q-PSU's power is based around a 60 VA torodial transformer with low-density magnetic field and very little dispersion. This power along with 40,000 µF filtering can feed the circuit with the kind of super clean current usually only delivered by battery based devices even with extreme dynamic swings." I am always a believer that cleaner power makes for better sound.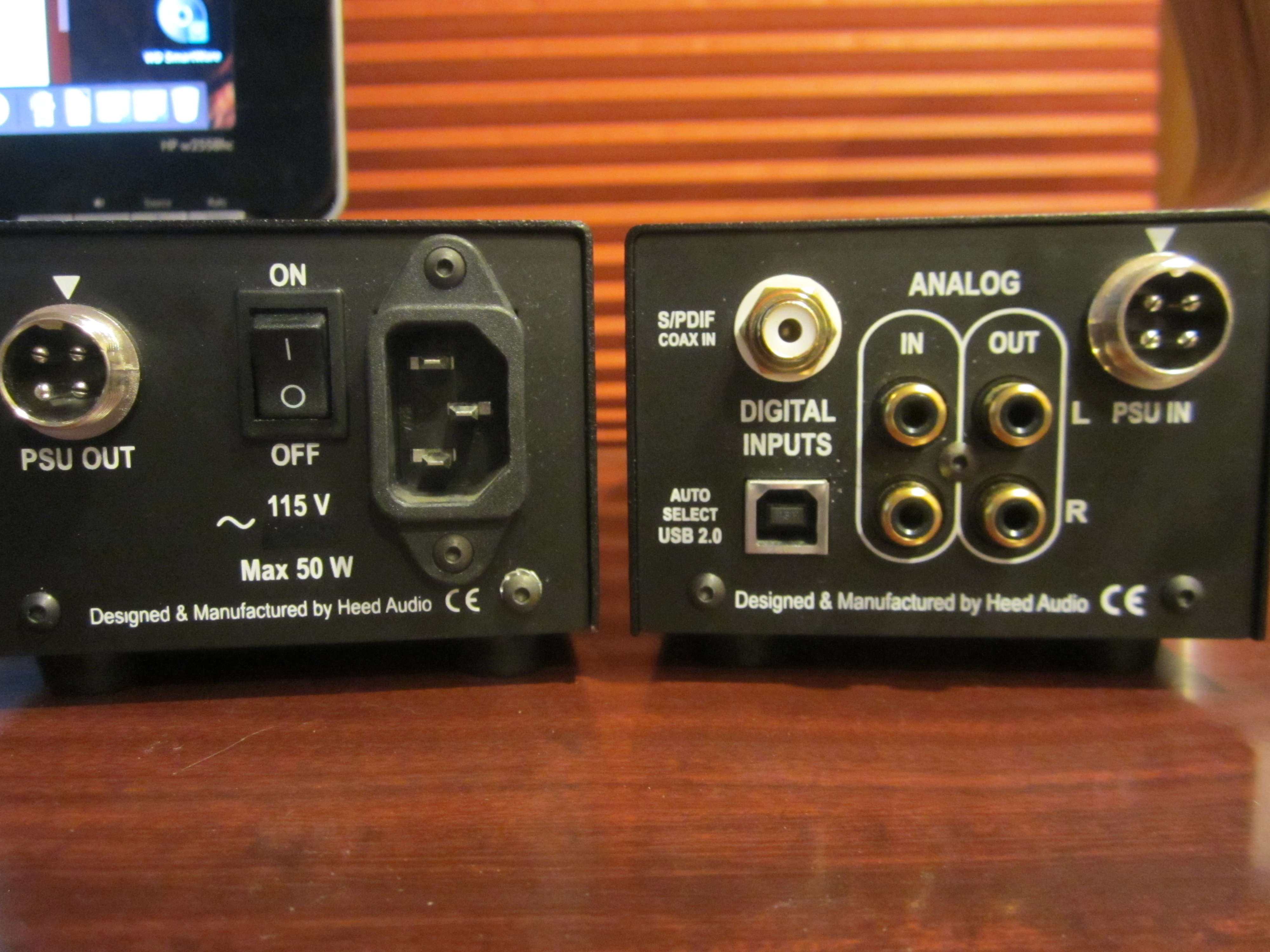 Listening:
One thing I discovered about the Canalot is that the sound improves after some warm up. Listening right after you turn it on provides a grainy texture. After about 30 minutes, the sound improves out dramatically.
Once we were all warmed up I pulled out Daft Punk
Random Access Memories "
The Game of Love". I was listening to an AIFF 24/88.2 from HD Tracks. There is a lot of bass and plenty of ambient sound in this track. This is a great one to listen to on Sennheiser HD800's. The sense of space is wonderful. The bass stayed in control but still provided a solid foundation for the song. Chimes rang clear and echoed beautifully around the space. I never felt like I was missing anything.
Then I switched over to the big rig. The Cary SLI-80 and Wyred 4 Sound DAC2DSDse really allowed me inside a recording. This system runs 5X more than the Heed gear. Unfair, sure, but it is nice to see how affordable gear compares to higher priced rigs. Is there a value proposition in the lower cost gear to allow them to stand up proudly to bigger fare? In this case one particular thing really caught my attention. With the Canalot I heard nearly everything and with the Cary I was in the midst of everything. I chalk this up to the DAC. To test this I switched from the Canalot's digital input to the analog input and switched the W4S DAC2 to the analog input on the Heed. Indeed, the W4S's Sabre 9018's and Femto clocks changed the landscape. The $2545 cost of the W4S came in at six-times the cost of the Dactil 1.2 and it showed. In defense of the Dactil, I was not missing anything while listening. I was enjoying its presentation and isn't that what it is all about?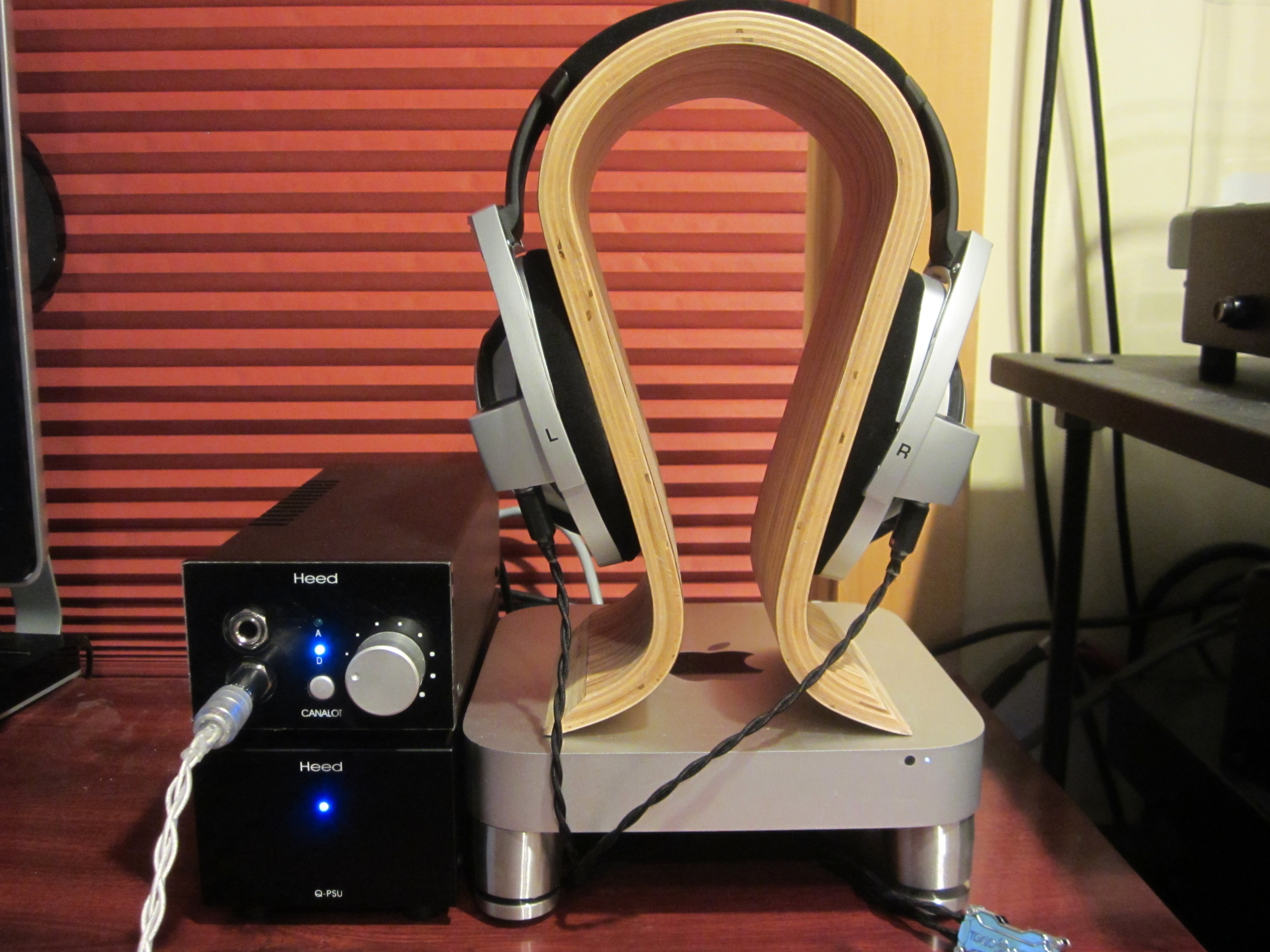 Next up was Nine Inch Nails
Hesitation Marks
"Came Back Haunted". This is a 24/48 FLAC file downloaded directly from the NIN website. You cannot get closer to the source than this. "Came Back Haunted" has a lot going on as Trent Reznor uses the sonic space from all three dimensions. This album is a sonic symphony in the sphere rather than the round. I like it for reviewing because the amp and the DAC must separate so many sounds and they must separate them appropriately and accurately. Once again, I was impressed with the Canalot's ability to let me experience the whole of the track. I was able to drift with the song and eventually with the album. I substituted the DAC2 from W4S for the Dactil 1.2 and the experience moved inward and I was in the midst of the sphere rather than observing it. Overall, I preferred the Cary/W4S, but no shame on the Canalot. The Heed was less immersive but still a complete presentation.
Mark Knopfler's
Privateering
is a new favorite of mine. The album is a 24/96 AIFF from HD tracks. At the beginning of "Red Bud Tree" Knopfler places his hands on the strings just before starting to strum. The Canalot clearly delineated the initial finger placement from the first notes. I had the front table at the club. What did I get for the price of the W4S? More smoke and ambience, greater decay on the notes, more slide on the strings. The performance became more tactile and immersive. I missed none of this when I was using the Dactil 1.2. What I got for the price increase was a more complete experience. Is that worth the price? That is
the
audiophile question.
Final Thoughts:
I recently had the opportunity to review the Meier Audio Corda Classic Amp and DACCORD DAC. The pair priced in at about $1500 USD. The Canalot with DAC and USB cards plus the Q-PSU come in at $1900. The difference is the Q-PSU's cost. Well spent, I would say. If I were space challenged and had to make a choice, I would buy the Heed Canalot. If space were not an object? Tough call.
Pros
Compact and Class A
You can lose yourself in the music with this amp/DAC.
The Canalot has plenty of power for most headphones.
Cons
USB module is optional. Today I would expect USB to be a primary input.
The DAC is average for the price. You may want to consider saving the board cost and add an external DAC. Of course that would take up more space…
The cost with Q-PSU pushed over $1K. There is a lot of competition at this price point.
Cost:
Canalot Headphone Amp with Inline power supply is $750. With the optional Q-PSU power supply $1200. The Dactil 1.2 DAC card is $400. The USB 2.0 card is an additional $300.
Associated Gear
Cary SLI-80 Integrated AmpWyred 4 Sound DAC2 DSDse with Femto ClockSennheiser HD800 Headphones with balanced Toxic Cables Silver Widow'sSennheiser HD650 Headphones with Single Ended Toxic Cables Silver Poison'sBeyer DT1350 HeadphonesJH Audio JH16 FP CIEM's with Toxic Cables Silver WidowsACS Custom T1 CIEM'sAudioquest Carbon USBStillpoints Ultra SSStillpoints Ultra 5 with Ultra BaseAmarra 3.03Audirvana+ 1.5.12