HIFIMAN INTRODUCES AUDIVINA; A CLOSED-BACK HEADPHONE DESIGNED FOR STUDIO PROS AND HOBBYISTS, EF600 DESKTOP DAC/AMP FEATURING HYMALAYA PRO MODULES FOR AUDIOPHILE-GRADE OUTPUT, AND SVANAR; A FLAGSHIP IEM WITH A TOPOLOGY DIAPHRAGM AND BRASS CHAMBER DESIGN

HIFIMAN, a leader in high fidelity personal audio, today announced three new products to be presented at CanJam NYC: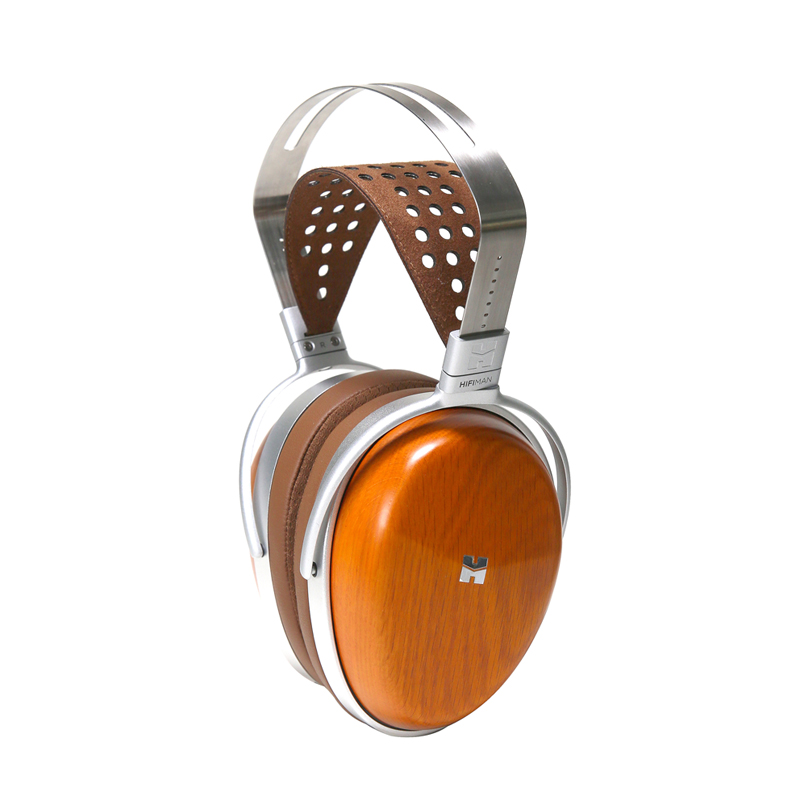 The new AUDIVINA (SRP: $1,999) is a closed-back planar headphone that relies on HIFIMAN's Stealth Magnets to enable sound waves to pass through the magnets without generating interference. The advanced magnet design is acoustically transparent, dramatically reducing reflections that degrade the integrity of the sound waves, yielding only pure sonic output that is accurate.
"When we first developed Stealth Magnets, I knew the design holds tremendous value for the pro audio market," said Dr. Fang Bian, President, and CEO, HIFIMAN Electronics. "The complete lack of interference guarantees accurate reproduction, so crucial when recording and mixing music. Of course, audiophiles will appreciate listening to music on AUDIVINA for exactly the same reason."
AUDIVINA features a resonance chamber inspired by the acoustical architecture of the Beyreuth Festival Theater in Germany, famous for multi-stage attenuation that contributes to the listener hearing a wide, detailed soundstage in a small, enclosed space. Sound takes a circuitous route through the chamber, creating a wide soundstage beyond what is typically associated with similarly priced products.
AUDIVINA's ergonomic headband is constructed of high-precision CNC (computer numerical control) metal that is hand-polished for the ideal combination of comfort and durability. The cable socket is designed to ensure contact resistance remains low with no audible effect on the signal path. Earpads are manufactured from eco-friendly, silky leatherette material. Sonics and comfort are maximized for hours-long listening sessions.
Included with AUDIVINA are a single-end 3.5mm cable (1.5m), XLR balanced cable (3m), and a single-end 6.35mm cable (3m).
AUDIVINA features a frequency response of 5Hz-55kHz. Impedance is 20 ohms, sensitivity is rated at 97dB, and the weight is 470 grams/16.57 ounces.
AUDIVINA will be available in March at a suggested retail price of $1,999. It will be available from authorized HIFIMAN dealers and the company's online store,
http://store.hifiman.com/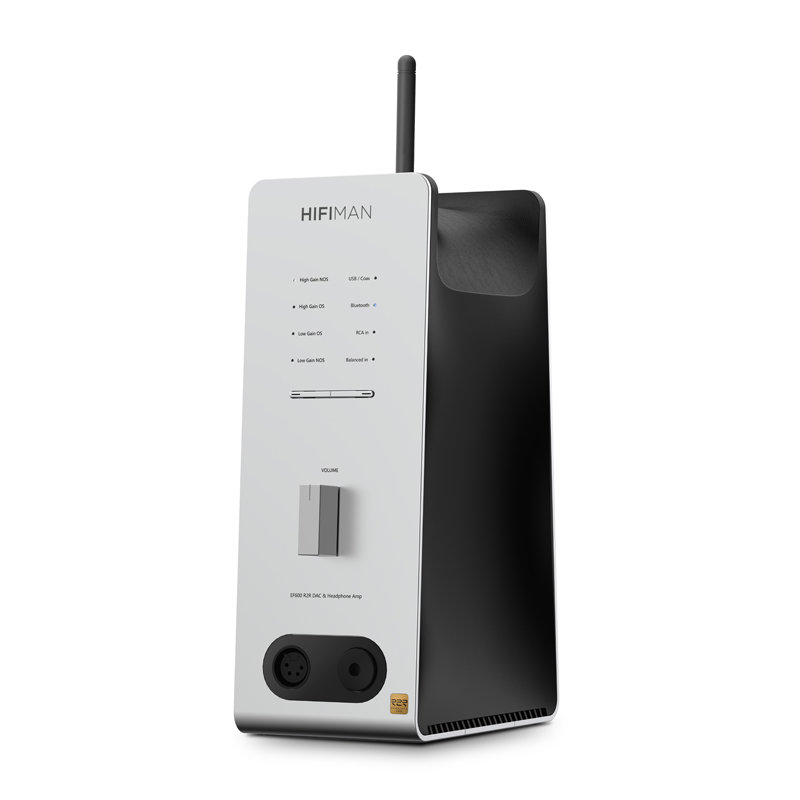 The EF600 balanced desktop DAC/amplifier, designed for audiophile-grade desktop performance. Designed for use as a DAC, or independent headphone amplifier, the EF600 (SRP: $799) features an industrial design that is not only aesthetically appealing, it also serves as a headphone stand, reducing desktop clutter. Included are fully balanced input/output connections, high-resolution Bluetooth connectivity, an independent power supply and a thermal optimized tower case.
"The EF600 has the power and advanced technology to stand out from a field that too often relies on off-the-shelf technologies instead of incorporating technologies that are truly unique to the category," says Dr. Fang Bian, President and CEO, HIFIMAN Electronics. "The Hymalaya Pro DAC module alone represents a giant leap forward from DACs that were considered state- of-the-art only a few short years ago."
HIFIMAN's Hymalaya Pro consists of an array of highly accurate resistors that use a "ladder" method of conversion. This approach converts the digital signal with maximum accuracy and overall musicality. Signal-to-noise ratio, total harmonic distortion, and energy consumption are at their musical and efficient best. Hymalaya Pro supports the common PCM signal transmitted by the most common IIS (Integrated Interface of Sound) audio interface, with a maximum 24Bit resolution.
The EF600 includes two Hymalaya Pro modules for unsurpassed sonic output, especially when compared to the more commonplace PCM1704k module. The Hymalaya Pro, with the added support of a new algorithm and 0.01% precision resistors, reaches a THD (total harmonic distortion) rate of -60dB 2%. In plain English, distortion is reduced to a previously unheard of low with no audible distractions.
Bluetooth connectivity is achieved with an upgraded design that supports multiple codecs, including LDAC, delivering lossless sound reproduction for audiophile-level sonics.
An array of RCA and XLR inputs allows the EF600 to be used as a high-performance headphone amplifier that is fully compatible with most CD and SACD players, thanks to its balanced output.
The EF600 requires the bare minimum of desktop or rack space. The physical dimensions are: 104mm/4" x 135mm/5 1/4" (top); 104mm/4" x 165mm/6 1/2" (bottom) ; 283mm/11"(height). A new industrial design that serves as a headphone stand when the DAC/amp is not in use.
The front panel includes four balanced outputs – 6.35mm single-ended, 3.5mm single-ended, 4.4mm balanced, XLR four- in balanced – in addition to a four-level function switch and volume control. The rear input panel includes jacks for RCA, USB-B, and USB-C source connectors, in addition to dual (L/R) XLR three-pin full balanced line outputs.
Signal-to-noise ratio is measured at 118dB (weighted), channel separation is 131+/-3dB, and THD+N (line out) is 0.0014% (-8dB).
Maximum power output is robust at 5.12 wpc @32R balanced/1.8 wpc @32R unbalanced, giving the EF600 the power to drive the majority of low-efficiency planar headphones, including HIFIMAN Electronics' flagship model, Susvara.
The EF600 DAC/amplifier will be available in April at a suggested retail price of $799. It will be available from authorized HIFIMAN dealers and the company's online store, http://store.hifiman.com/.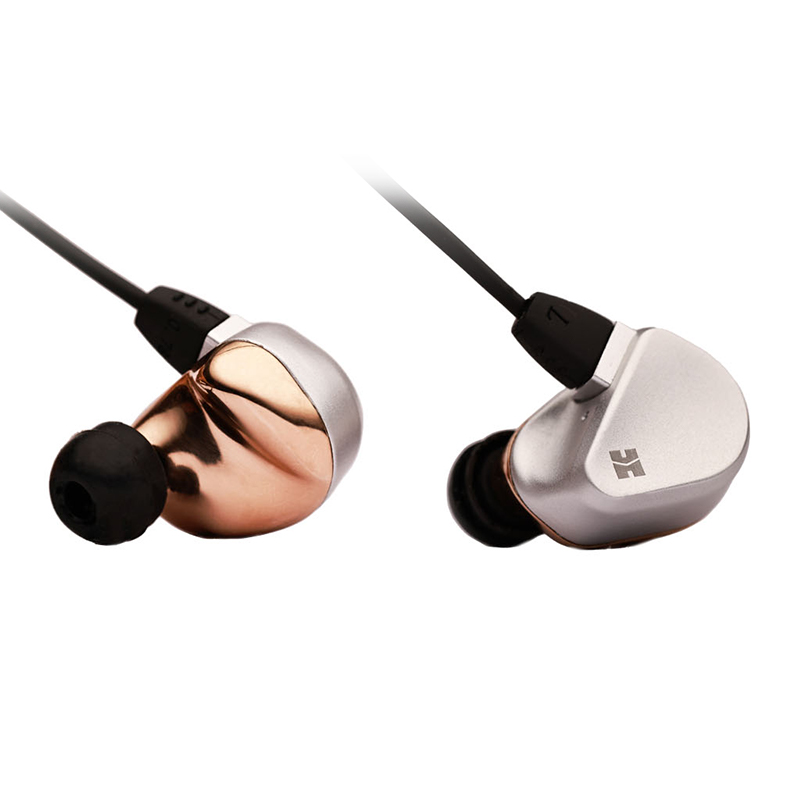 The new Svanar (SRP: $1,999) IEM features brass in the front chamber and an aluminum alloy in the rear, placing the center of gravity at the pinna, or outer ear. By doing so, stability, fit, and comfort are maximized, even when enjoying extended listening sessions.
"Brass is an essential ingredient in the Svanar," says Dr. Fang Bian, President, and CEO, HIFIMAN Electronics. "Its resonant performance and overall density reinforce sonics by way of synchronous vibration, adding up to a detailed, realistic soundstage typically associated with the finest studio headphones, but in an IEM that is light, durable, and consistently comfortable, hour after hour."
HIFIMAN's patented Topology Diaphragm technology features a special Nano particle coating that is applied to the surface. The result is a more natural and detailed sound than what is typically achieved in wireless earphones.
"Different nano materials have differing structures and each of those materials has its own properties," says Dr. Bian. "Therefore, by carefully controlling the diaphragm's surface structure, we can yield different results in acoustic performance to a previously unobtainable degree."
The Svanar features a powerful 9.2mm dynamic neodymium driver to enhance both the sonic output and overall durability through the years. Cables that are packaged with the Svanar are made from the finest silver-coated crystalline copper wire.
Svanar's frequency response is 5Hz – 35kHz, impedance is 60 ohms, and sensitivity is 100dB.
Svanar is available at a suggested retail price of $1,999, through authorized HIFIMAN dealers and the company's online store, http://store.hifiman.com/.
For additional information, visit https://hifiman.com.
# # #
About HIFIMAN
HIFIMAN was founded by Dr. Fang Bian in 2007 and, two years later, introduced the acclaimed HM-801, the first digital audio player to feature true audiophile-grade performance from a pocket-size form factor. Since then, HIFIMAN, under Dr. Bian's guidance, has developed an extensive selection of no-holds-barred headphones, digital audio players, and headphone amplifiers that are consistently recognized as the best in class, offering performance that belies their price point, no matter the cost.

.