When I first read up on the newly released HoloAudio Spring DAC, I was very intrigued with the large scope of its capabilities and design. I've always been a big fan of R2R digital-to-analog converters, but this is the first one I've come across with full native DSD support (up to a whopping DSD512). The design team at HoloAudio utilized dual R2R networks for each a PCM and DSD stream in order to facilitate support for both high resolution formats. Owning several high quality DSD recordings, I was extremely happy to finally find an R2R DAC that could allow me to use my entire music library that includes some of my favorite high resolution albums on DSD. KitsuneHiFi is the exclusive distributor of the HoloAudio Spring DAC in North America and the owner, Tim Connor is incredibly passionate about high end audio and also very knowledgeable with regards to the products that his company offers. Holo Audio's motto is "time will tell" and ultimately time is the ultimate judge for all audio components. History reveals which products were eventually determined for greatness and which were not. For this review, I received the Level 3 "tuned edition" version from KitsuneHiFi. There are a total of three levels available and the one used in this review is the one that includes all of the upgrades available to the HoloAudio Spring DAC by KitsuneHiFi. As soon as I picked up the box from my local post office, I was taken aback at just how big and heavy it was. Photos online can be a bit misleading and I didn't think the Spring DAC was such a behemoth. Not only is this DAC big and heavy (11.8" x 16.9" x 2.6" and 18.75 lbs), but it is a real beauty and the photos don't do full justice to this beautiful unit when you see it in real life! The colour combination of black and copper and the overall build quality is simply stunning and outshines many DACs costing significantly more!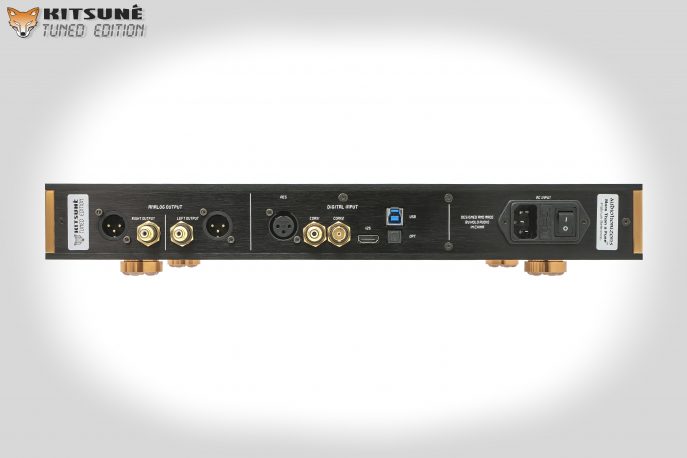 Rear view of the L3 Spring DAC
The full specifications for the KitsuneTuned Edition HoloAudio (or HoloAudio KTE Spring) Spring Level 3 DAC are:
Digital Inputs
Coaxial (BNC) Coaxial (RCA) Optical / AES
PCM 44.1 – 192 kbps (24 bit)
DSD64X (DoP)
USB (Galvanic Isolation) I2S (HDMI PS Audio Standard)
PCM 44.1 – 384 kbps (32 bit) DSD 64-256X (DoP) DSD 64-512X (Native)
Analog Outputs
Analog output types
RCA x2 (unbalanced) & XLR x2 (balanced)
PSM 48 kbps NOS
THD 0.00030% / THD+N @ 5K (NOS) 0.00068% SNR -126 dB Voltage Output: 2.5VRMS (RCA), 5VRMS (XLR)
DSD 64X
THD 0.00020% / THD+N @ 5K (DSD) 0.00050% SNR -120 dB Voltage Output 1.25VRMS, 2.5VRMS (XLR)
Measurements
300mm x 430mm x 65mm
Weight
8.5kg
Warranty
3 Years (Parts & Labour)
Power Input
110-115V 50/60Hz, 4A /// 220-230V 50/60Hz, 2A /// 240V 50/60Hz, 2A
Discrete DAC Module
Pure 24 bit – In House Patent Pending Linear Compensated with two dedicated resistor networks for PCM and two dedicated resistor networks for DSD. Discretely processes DSD over the linear compensated network
Over Sampling IC
AK4137 (only in OS Mode) NOS mode is pure with no SRC used
Modes of Operation
1. NOS Mode: No digital oversampling. Raw data is directly converted to analog. 2. OS Mode: PCM is oversampled to PCM to 384kbps. DSD is oversampled to DSD. The signal is then converted to analog. 3. OS PCM Mode: In either PCM or DSD, the data will be oversampled to PCM (384kbps) and then converted to analog. 4. OS DSD Mode: In either PCM or DSD, the data will be oversampled to DSD and then converted to analog.
Unique Upgrades for Level 3 Spring DAC by KitsuneHiFi
· 100VAC Pure 99.99% Silver O-type precision tuned (Not a Toroid) · Replace all copper wire with 1.5mm pure silver wire · Remove PCB mounted plugs and solder wire directly to each PCB with Mundorf 9.5% solder wire · Replace blue film capacitors at power inlet with Mundorf Silver/Oil Capacitors · Replace all IEC mains inlet connectors with Oyaide solid silver with rhodium plating and then soldered with Mundorf 9.5% solder wire · Replace fuse with Audio Horizon Platinum Reference Fuse
I particularly found it useful to have both NOS (non-oversampling) and OS (oversampling) modes available with this single DAC. The ability to change things on the fly and select a mode that sounds best with varying musical sources and personal tastes was particularly useful in my review. Eventually I determined that for the majority of my music library, I preferred the NOS mode as the sound was just more transparent and sounded more "real". However, for my 320 kbps MP3 files, I actually preferred the OS mode. Having both options available was definitely a win-win proposition! The advantage with NOS mode is that it has no digital oversampling and the raw data is directly converted directly into analog. Because digital oversampling will produce time-domain distortions (such as "ringing"), non-oversampling mode will avoided these issues.
The discrete DAC module used in the HoloAudio Spring DAC is an in-house patent pending linear compensated chip with two dedicated resistor networks for PCM and two dedicated resistor networks for DSD. These separate R2R networks are what truly stand out and make the Spring DAC quite unique! Comparatively the Schiit Audio Yggdrasil can only accommodate PCM sources up to 192kbps, but with the Spring DAC you can literally have it all; all the way up to DSD512 and 384 kbps PCM. Having some experience with R2R DACs in the past (the Yggdrasil) and NOS DACs (the Metrum Acoustics Hex), I've really come to appreciate their analog flavour that they bring to the world of digital audio. But with this DAC by KitsuneHiFi, I think I've stumbled upon something really special and unique; not to mention this is the first discrete R2R DAC with both linear compensation and native DSD support.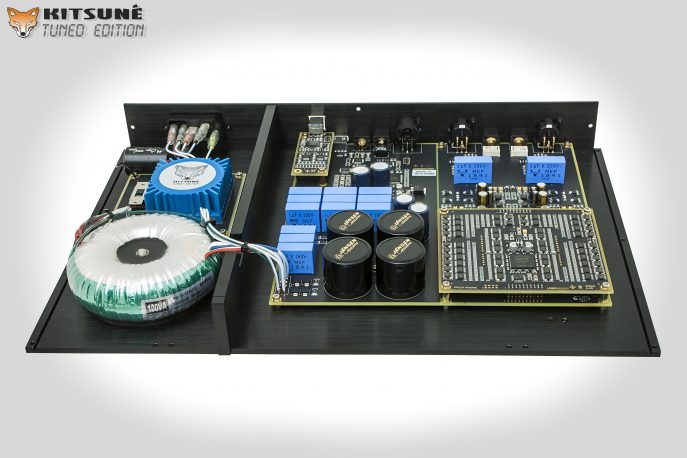 Internals of the HoloAudio KTE Spring DAC Level 3
For the purposes of this review, I used the Kitsune "tuned edition" Level 3 Holo Spring DAC as a source to feed both my HeadAmp GS-X Mk2 dynamic headphone amplifier and my Cavalli Audio Liquid Lightning 2 electrostatic amplifier. As well, the good folks at KitsuneHiFi sent me their specially "tuned" KTE Singxer SU-1 DA/DA converter. This unit takes in the USB signal from your computer and converts it into an I2S (HDMI PS Audio Standard) input for the Level 3 Spring DAC. The advantage with this conversion is that the KTE SU-1 serves to remove any jitter and clean up the power and the I2S input bypasses the USB circuitry on the DAC and feeds the signal directly into the R2R network for a simpler and more "pure" mode of operation. I will discuss my findings with and without the Kitsune tuned SU-1 in place between my iMac and the L3 Spring DAC as well. Audioquest was very kind to send me both their impressive Coffee and Carbon USB Cables (1.5m) and Coffee SPDIF (1m digital coax) cables to help facilitate this review. I found these cables to be truly excellent and very transparent. In terms of analog cables, I ran the Level 3 Spring DAC in balanced mode using Audioquest's impressive Water XLR cables (1m length). These cables have been in my setup for quite some time and I found them to sound incredibly open and dynamic, with excellent detail retrieval.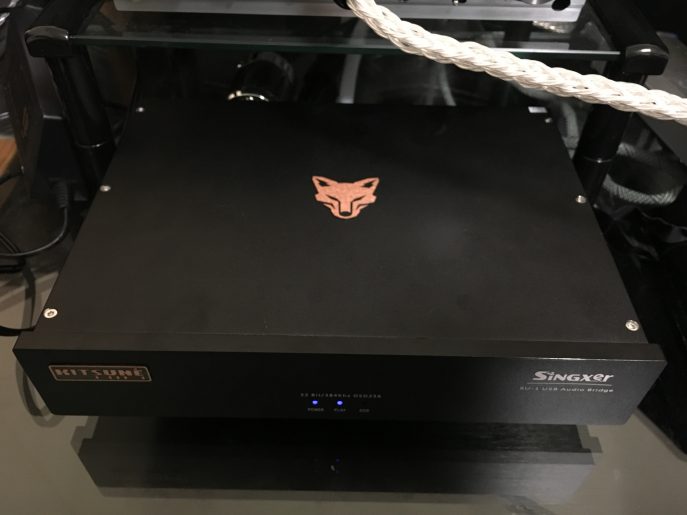 Kitsune Tuned Edition of the Singxer SU-1 DA/DA Converter
My first critical serious listening sessions occurred after approximately a week of constant use of the Level 3 (L3) Spring DAC. I decided to put pen to paper and really listen carefully with one of my favourite pair of headphones: the flagship Stax SR-009 electrostatic headphones. In conjunction with the Cavalli Liquid Lightning 2 electrostatic amplifier, I find this combination incredibly transparent and revealing of the upstream source. I directly hooked up the Spring DAC to my iMac via the Audioquest Coffee USB cable and in between the Spring DAC and the Liquid Lightning 2, My first recording was the DSD version of David Chesky's "Jazz Side of the Moon". This is David Chesky's jazzy take on one of my very favourite albums of all time: Pink Floyd's "Dark Side of the Moon" and has been a recent acquisition of mine that has quickly become a personal favourite.
Immediately I was surprised by just how big this recording sounded! I've listened to this album with some really impressive DACs in the past, such as the Chord Hugo TT, Schiit Audio Yggdrasil and Benchmark DAC3 HGC, but the scale and magnitude of the sound stage never sounded as expansive as it did through the Level 3 Spring DAC. The sheer vastness of the soundstage was a revelation at how the smallest details in a recording can be quashed by a digital to analog converter and result in a more closed in sound. Well this was definitely not the case with the Level 3 Spring DAC. The SR-009's soundstage with this recording went from big to huge and in a way that did not seem artificial in anyway. I did go back and forth from NOS to OS modes and settled on the non-oversampling mode as this sounded more natural and the music seemed to flow more easily. The softer edges really offered a vinyl-like quality to the recording, but the ability of this DAC to still pull even the smallest details, offered an incredibly transparent presentation. Talk about having your cake and eat it too! While other DACs I've owned (or still own), offered incredible resolution, they did not sound like this. What I mean is that you get a very natural and clean presentation with incredible detail retrieval with no granularity or any hit of "digititus" that can plague many oversampling or delta sigma based DACs. The bass notes hit hard and were very well articulated and flowed into the mid frequencies without a hiccup. The treble region is a great strength of the Level 3 Spring DAC and was perfectly portrayed. Shimmer on cymbals was as life-like as I've heard. The detail and energy were both properly portrayed and never did I feel this came off as too bright or strident. Now certain instruments, like the trumpet, can offer some glare when playing high notes; I know this as I've played this instrument for over 35 years, and the Spring DAC was able to capture this energy and portray it as real as if I were standing in front of the musician.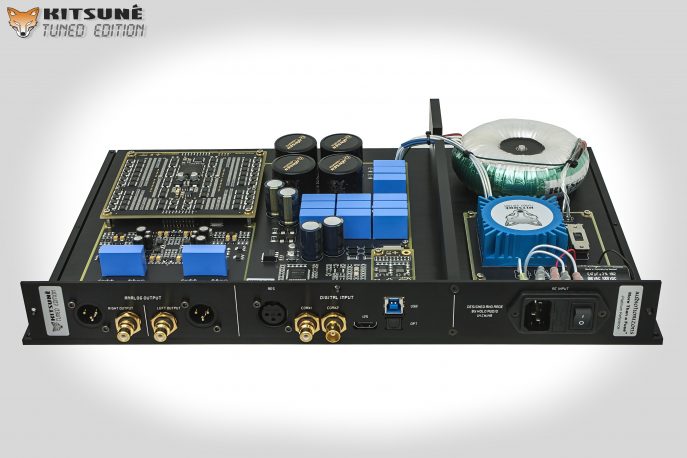 Inputs/Outputs/Internals of the Level 3 Spring DAC
A few weeks later, the Kitsune "tuned" Singxer SU-1 (KTE SU-1) DA/DA converter arrived and I quickly revisited this recording with this KTE SU-1 in place between my iMac and the Spring DAC. Hooking up the I2S HDMI into the Level 3 Spring DAC was a revelation. While my initial experiences with USB directly fed into the Level 3 Spring DAC were very favourable, with the KTE SU-1 in place things kicked up a notch right from the start. The refinement to the overall sound was immediately apparent; akin to going from a CD to a high resolution DSD recording of the same album. The treble became even smoother while still retaining its outstanding level of detail. Any tiny level of graininess was complete eliminated with the KTE SU-1. In fact, with this combination of the KTE SU-1 and Level 3 Spring DAC, this is the best any music from my iMac (using Audirvana 3) has ever sounded! Not to flog a dead horse, but the sound staging was so thoroughly impressive that I had to take my SR-009 headphones off several times with this recording thinking that my wife or kids had walked into my room.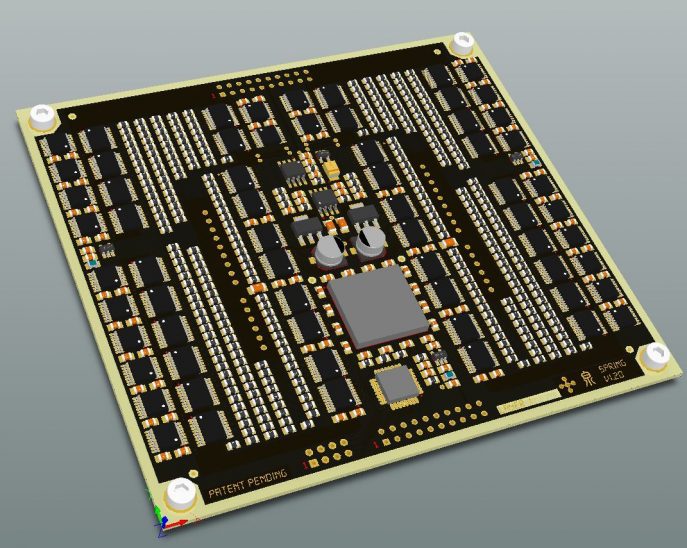 .
The pure 24 bit R2R DAC Module
Next up, I decided to stay with my electrostatic setup, but swap out my Stax SR-009 headphones for their predecessors: the legendary SR-007 Mk1. I love these headphones and while not as transparent as the newer flagship headphones from Stax, the SR-007 Mk1 (older and preferred version of the SR-007) offer an outstanding laid back experience that is truly hard to beat. Right from the outset of Modest Mussorgsky's "Pictures at an Exhibition" (also in DSD), the lone trumpet's tonality was as spot on as I've ever heard! If you've read some of my previous reviews, you will notice that I often fall back to the trumpet as a bell weather for a particular unit's ability to capture proper tone and timbre. This is because I've played trumpet since I was 9 years old. Currently, I am 45 years old, so I've become quite accustomed (and some might say enamored) with this instrument. From the initial brief trumpet solo to the 10th movement, I was enthralled with the experience. It was as if I was transported to the concert hall to hear this spectacular recording live. The clarity, detail retrieval, imaging and sense of air and space that the KTE SU-1 + Level 3 Spring DAC provided was truly a wonder that had to be experienced. This was as good as I've heard the SR-007 Mk1s sound. Absolutely stunning are the first two words that popped into my mind and I quickly jotted them down in my listening notes. The bass provided by the timpani was in one word: "lifelike". The energy and details were perfectly captured and portrayed within this setup that left me shaking my head thinking it couldn't get any better. The flutes danced along the upper registers in perfect unison with the rest of the orchestra and offered outstanding life, nimbleness and clarity. The mid-range was equally impressive as it was in perfect swing with the bass and treble. Never did I hear any digital glare with this digital setup. It was a wonderful presentation of just how spectacular R2R DACs can render very complex orchestral pieces.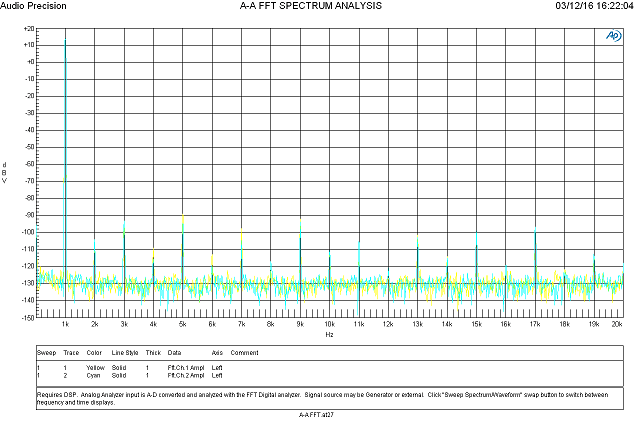 Impressively low THD noise levels in NOS Mode
When the Focal Utopia flagship headphones were released in the second half of 2016, they took the personal audio world by storm. They have won many awards since they arrived on the scene (including from us at Headphone Guru). You can find my review of what I consider to be the best tradition dynamic headphones on the planet here: headphone.guru/the-focal-utopia-headphones-a-truly-utopian-audio-experience/. In between the Focal headphones was the incredibly transparent Moon Audio Silver Dragon V3 headphone cables that I purchased directly from Moon Audio while in Denver at RMAF this past October. Terminated with 4 pin XLR connection, I ran my HeadAmp GS-X Mk2 headphone amplifier in fully balanced mode (front to back). No review of mine would be complete without at least one Rush album; so finally I selected one of my favourites: "Permanent Waves". This version of the album was from their latest remastered CD box set. Thanks to the folks at Audioquest, I had the impressive 1m Coffee SPDIF (rca terminations) cable on hand to bridge between my CD player (Cambrdige Audio 650C Azur) and the Level 3 Spring DAC.
"The Spirit of the Radio" is the first track on this spectacular album and a very much loved classic tune from Rush. As soon as Alex Lifeson's guitar kicked in, I knew I was in for a sonic ride! The raw energy of this performance was perfectly laid bare with this setup and the Level 3 Spring DAC captured it brilliantly. Everything from Alex's spectacular guitar work to the scintillating drums by the man himself: Neil Peart was as good as I've ever heard him. Geddy's vocals came alive and his passion shone through the Level 3 Spring DAC like never before. I was rediscovering this album all over again. The smallest nuances of the recording were impressively portrayed and at the same time, never came off as overly analytical. This is one musical DAC that really draws you in and continues to impress you with its exceptionally remarkable technical abilities. Bass notes from Neil were emphatic and tight, Alex's guitar play was fast and nimble and Geddy's unique voice gave "Freewill" a raw and thunderous energy that left me with goosebumps. Simply one amazing band played with one amazing digital front end!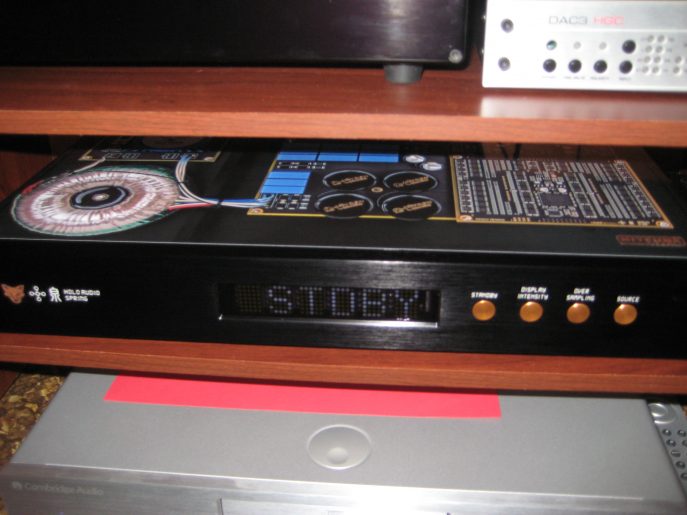 No that is not the Level 3 DAC with its cover off, but rather really impressive vinyl artwork that reveals the impressive circuitry underneath. This is an option that is available from KitsuneHiFi. Please contact them for further details. I am particularly impressed with this option and find it quite unique and handsome looking.
As Holo Audios motto states: "time will tell", I can emphatically say that my time with their Level 3 Kitsune "tuned edition" Spring DAC has shown me that they have come up with a masterpiece. Here you literally have it all! The world's first linearly compensated discrete R2R DAC that fully supports both PCM (up to 384 kbps) and DSD (up to a whopping DSD512). Not only that, you have both oversampling and non-oversampling modes to best tune to your tastes and source material. The only thing missing is the kitchen sink! When coupled with the Kitsune "tuned edition" SU-1 DA/DA converter and the I2S input into the Level 3 Spring DAC, I heard a digital front end that competed with (and even bested) products from other manufacturers costing significantly more. Considering the cost-to-performance ratio ($2499 for the Level 3 Spring DAC and $689 for the KTE SU-1 DA/DA Converter), the value proposition is certainly impressive! If you are in the market for a top flight digital to analog converter and are a fan of both discrete R2R and NOS DACs, look no further than the KitsuneHiFi / HoloAudio Spring Level 3 DAC…you will not be disappointed!
Link for further information: https://kitsunehifi.com/