1-When did you start to play Drums and what brought you to the drums?
It was in Kindergarten,I was the Little Drummer Boy. Then when Uncle Miles would come to town my mother would dress me up and we'd go see him play. I remember going to see him at The Plugged Nickel. We lived in a house (not an apartment) so he recommended to my mother to get me an inexpensive drum set to see if I'd stick with it. I got a Norma kit from a mail order catalog. My dad then took me to Ludwig and I got a Vista Lite kit but I traded that for a Sonar kit.Then in 1974 Miles sent me a kit from Yamaha as he was using a lot of their amps and equipment
2-I remember Nat Adderly Jr telling me when he was young his Uncle Cannonball Adderley and Joe Zawinul where always over at his house but it took him a while before he got into what was happening as he was more into RnB than jazz. When did It really come together you realizing Miles Davis was your uncle and what he truly meant in this world?
It was always an event when Miles came to town.My mother would cook and we would go to the gigs. I was always mesmerized by the drums and I know Tony was yelling Wallace Roney that I was going to be a drummer but It really hit when I got older and I saw the band with Al Foster,Mtume and Michael Henderson. They were really playing some Jungle Funk! That band in 1974 really had the effect on me-There was something about that music.We used to also play in Pete Cosey's basement.
3-How did it start to come together with you finally being asked to join the band?
With Man with the Horn we had a band in Chicago with Randy and Bobby Irving. Since my grades were good we'd be allowed to rehearse everyday. Miles would call everyday and he's have my mother put the phone down and he would critique us. After a couple of months Miles said"man you guys want to make a record?He flew us to NY and we ended up doing The Man with the Horn.Now fast forward to us doing You're Under Arrest. A Foster had to cut out of a date and I was in the control room.We were at the Record Plant and we switched kits as Buddy Williams had a kit there. Miles Said-"Nef go sit at the drums. We tracked Human nature and that was the beginning of my hit with Miles.
4-Had you been on the road before and how did you deal with the pressure of now being Miles Davis's drummer,knowing the great drummers that you had to follow
I didn't have anytime to be nervous-You know I had to sink or swim.It's like your on the sideline at the Knicks game and your name is called. You have to go in there.
5-When did you know about Don Cheadle wanting to do Miles Ahead? What was your reaction when you found out about the concept?
In 2006 we I was receiving the Rock n Roll Hall of Fame Award and I went backstage and one of the journalists asked me "Vince who do you see playing your uncle in a bio pic and I said Don Cheadle. I never met Don but I really dug him in movies like Devil in a Blue Dress and Hotel Rwanda. When we got back from NY Dons ggent got hold of me and we met Don and had some meetings with him. I had picked Anton Fuqua to direct but he got jammed up and Don was like "look Idon't want to wait I know in my head where I want to take this. He said as long as I have a great Assistant Director I'm cool. So he took over.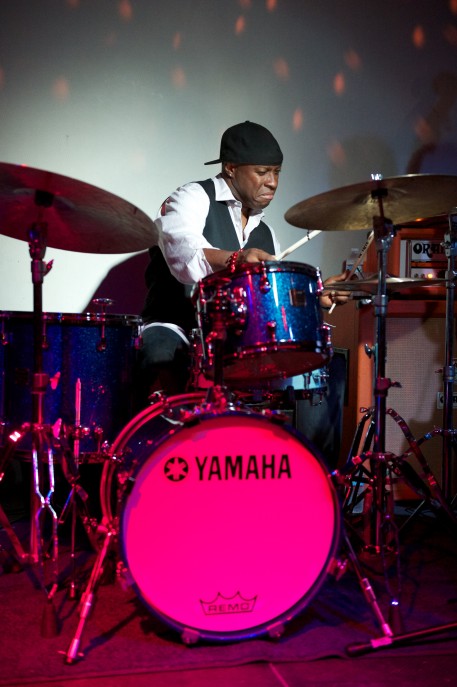 6—What I am impressed about is the basically "do it alone" vibe that happened with no major studio involved-Did you feel The movie could get done with this concept and knowing it wasn't a bio pic?
We all felt that this movie could get done the way we wanted it to and we went balls to the wall.
7-Since the concept is so focused and there is still so much left on the table concerning Miles's musical and life legacy-Can you see other movies being made?
We are going to do the definitive Miles Davis Documentary as well.We are talking with different people about this and it will deal with other parts of his life. Don interviewed so many different people and what stuck in Don's mind was this period of Miles life. He was fascinated as to what Miles was doing during his retirement. I spent time with Miles during this period as well. I just wanted to hang and be around.
8-The Estate has done such a great Job of keeping the legacy of Miles Davis front and center for 25 years now-What does the future hold?
Well Miles has such a great body of work and it will never be stale. We have a remix coming out called "Everything is Beautiful" with Robert Glasper coming out right before Mile's birthday with Erykah Badu and Bilal. The Truth is all of us love Miles like you,Ashley Kahn ,Steve Berkowitz and our relationship with Adam Bloch and Sony Legacy will make it so people will be listening to Miles when we are gone. As Long as we continue to be messengers like with Your Kind of New project and The Miles Electric Band or doing something together in the future that's what Chief would have wanted.It's all our love for Miles.
9-When you aren't doing all of this work that you do for Miles Davis properties is there anything you like to do to just chill?
I like to listen to different kinds of music like African Music,Go to the Gym,Watch Movies.
10 Favorite movies
Quiet as it was kept I didn't think Concussion was bad also I liked Creed, A Man called Adam with Sammy Davis,For a Few Dollars more,Cat Ballou (so surprised at that).
-11-Favorite-Foods
I am a Sushi Fanatic!
Favorite Place you been too
Brazil and I loved playing at Jazz Umbria.
Thank You Vince-We know the Miles Davis legacy is in good hands.
Some Music for You for your collection.
I recently was asked on FB to list 12 great albums I can't live without-I figure everybody is looking for music and we look to other artists to see what they are listeningso In no particular order here are some from my collection and that also sound great through your favorite headphones.
Donald Fagen-The Nightly-one of the great albums of the 20th Century-The ultimate Baby Boomer album-Great sound,Great songs. Superb musicianship and a message that was a part of many peoples youth. At the core is a true music lesson on what makes a quality album.
Wayne Shorter-Native Dancer-with Milton Nascimento-A great meeting of jazz and Brazilian Music-Miltons songs,Waynes performances and songs-This is an album I haven't stopped listening to for over 40 years.
Miles Davis-Bitches Brew-I always said-No Bitches Brew…Jazz had the possibility of reallydying. Miles brought the Baby Boomers to Electric Jazz and started a movement that included Weather Report, Return to Forever,Mahavishnu orchestra and many others.
Bebel Gilberto-Tanto Tempo-her debut album that totally flipped the world of electronic Brazilian music vibe around-Unfortunately the brilliant producer Suba died in a fire in Brazil before this came out-I could only imagine what would have been if they could have made more music together.
Pat Metheny Group-Still Life Talking-this is an album I haven't taken off since I got it in 1987-great melodies,great musician and great production and sound-another iconic album from the 1980s.
Computer World-Kraftewerke– Listen to this and then try to listen to modern day EDMYou'll hear that "Less is More" and the vibe will carry the music and it doesn't have to be over produced. Kraftwerk was ahead of the game with their vision of a dark impersonal world.
Sales? Are there really music sales anymore?
I recently saw that Rihanna's new album entered #1 with the lowest sales number since they started to keep track of the modern Billboard charts. It sold 17,000 physical copies and 54,000 in total with streaming. They are saying that 1500 streams equals 1 unit. So wait a second-Didn't Adele just break all sales records with her new album? How is that possible? Well all you have to do is look at the audience out there. Adele made an album that people feel they need to own. They have another kind of connection to her. She is selling to the audience that actually buys music. If anything this is showing it is that the audience feels that the disposable pop music of today is just something to consume,not buy and if this isn't a screaming statement about that I don't know what is. Adele still makes music and has songs with the standard song form that has been a part of modern pop music for 50 years. Rihanna-well it's see you at the club because the songs might be catchy and have modern day pop production but it doesn't work as being one of the soundtracks of your life.
I have said this now for years Since the income stream for songwriters is almost non existent why would any great writer want to put time and effort into writing great songs when you won't get paid what you deserve for them? No great songs , no business, because at the end of the day it is always about the song and the performance. The general public has no idea about streaming and how much we make from a stream. When I have the chance to really explain to just a regular person what's going on they are usually aghast. They have no idea what we are going through. But now it is evident with the sales being so poor for a superstar act can only mean the public isn't buying into the formula they should buy songs that are just for consumption. The musical community needs to put it's head on straight and take on the streaming services because if we don't 5 years from now the quality of the songs will be more notches down than it is now.