It's 5:30 AM and we are on the way to Gatwick Airport for our flight to Berlin and train to Dresden. The show at Ronnie Scotts was otherworldly and the band after such a rough day of travel threw down on that next level. Such an important show and the band rocked it.
I'm looking for a pharmacy at the airport. I've got Flu paranoia because everybody in the US has had it and I'm using hand sanitizer on everything. It's wreaking havoc with my cuticles and I'm getting dry skin and inflammation and it is causing me some pain when I play. It's Reggie to the rescue, who told me I need moisturizer for my hands. So I pick some up at the airport along with some antibiotic cream and boom! I feel the difference immediately.
The airport is packed even at 6 am, but the flight to Berlin is short and uneventful. Upon landing however we need to haul ass to the train into Berlin to make our train to Dresden. I'm proud that in my 60's I'm right there with everybody hustling at high speed to the train. Of course, when we get to Berlin it's hurry up and wait, and it's freakin' cold, as the train station is outside.
We are on the train just chillin' when I get an email from Reggie. I'm wondering what is going on as he's sitting there right in front of me. I open it up and it's a review of our show at Ronnie Scotts from the Financial Times of London, written by the writer I met the night before, Mike Hobart. It is truly a fantastic review and he is raving about the music and the band. I am overwhelmed by this. Years and Years of hard work and trying to make it to Europe and we get this fantastic 4-star review from such a prestigious newspaper. I totally get choked up and the emotion is making me cry, so I stand up and walk over to everybody in the band and say thank you to Gene, Jay, Theo, and Reggie…Here is a link to the review and another one from Italy: http://jasonmilesmusic.com/shows
An Hour later we're in Dresden and we are staying at a slamming Hotel, The Maritime: great rooms; Big tub and excellent bed.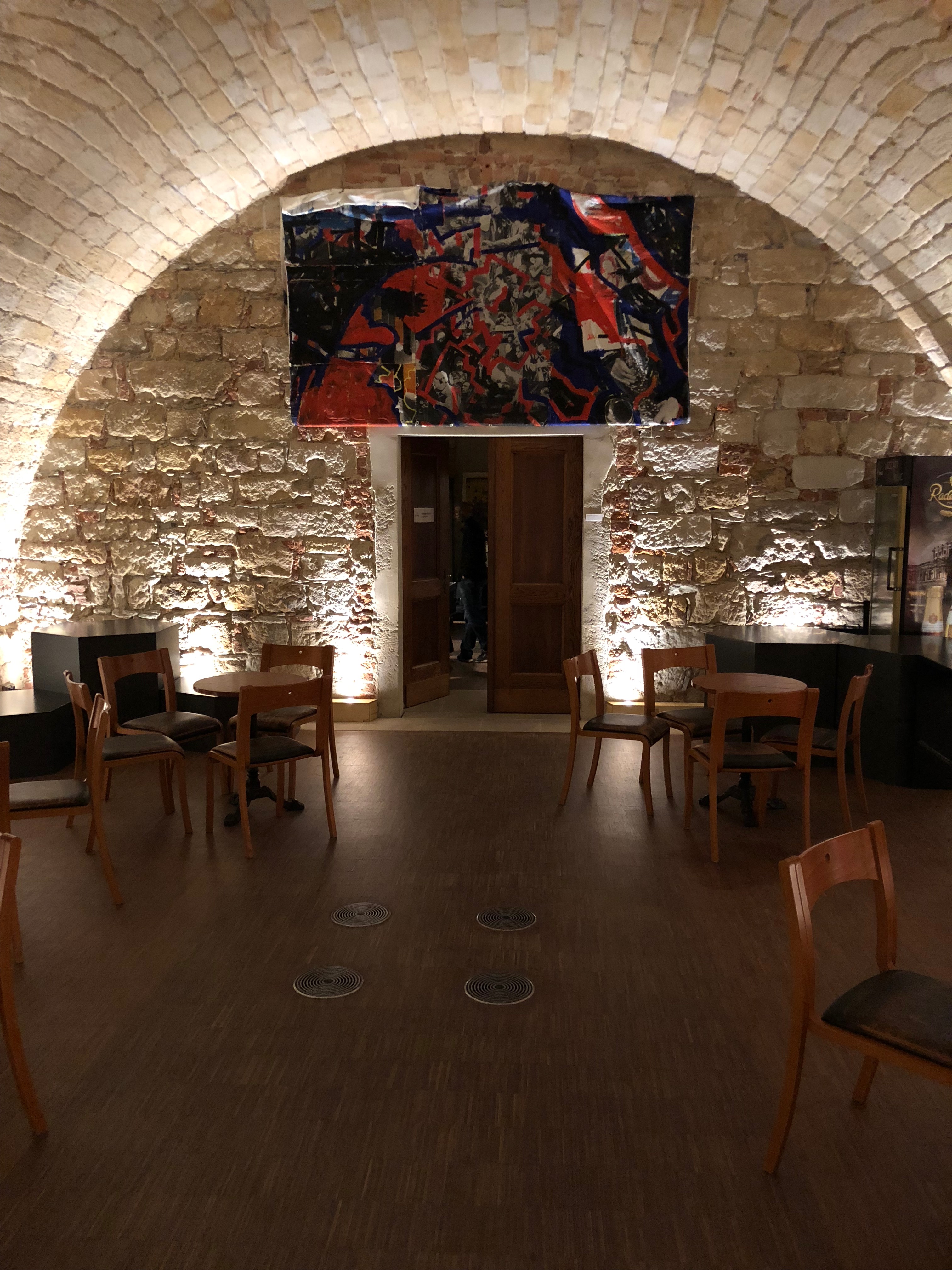 We meet a few hours later and head to the club, Jazz Tonne. What a very groovy place, like an old castle with a stage. The crew is very professional and the promoter is a very nice guy. We order food, do soundcheck and there is, of course, a photographer there to take photos of us. The band sounds great, but for the first time on the tour, the club is only about half full, though that did not stop us from playing two great sets and the audience, like everywhere else, was great. We sell a few CDs, chat with some folks and then it's back to the hotel.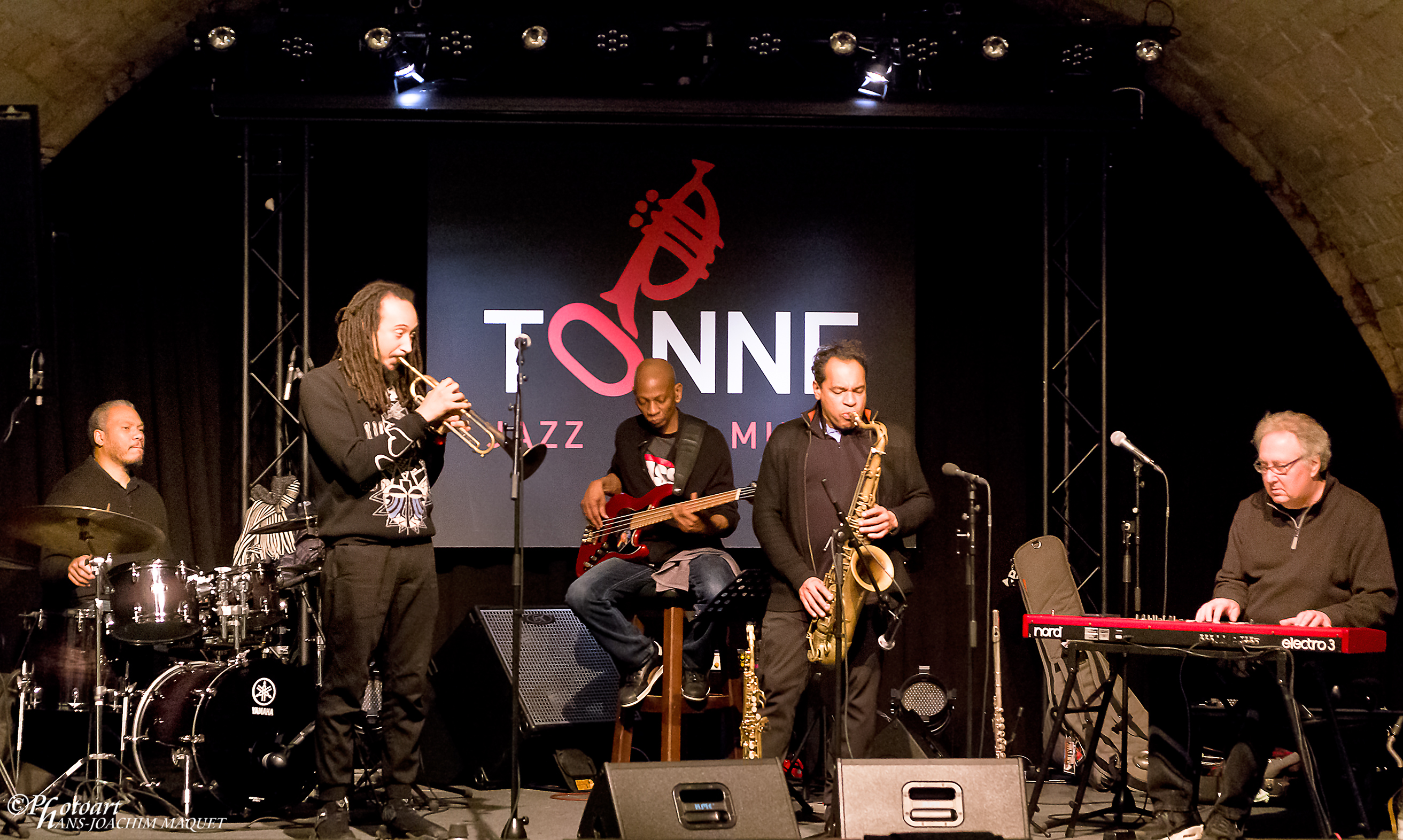 The good news is we are headed for a short trip back to Berlin to play at the Zig Zag Club. This will be the last show Gene plays with us as he has a prior commitment in NY. We'll make it a good one. The breakfast at the Maritime, however, is totally off the freakin' hook. Wow! Everything, 10 different cheeses, pastries, juice, eggs are all amazing. We definitely pile the food on the plates.
On to the Train and we are in a very cool vibey but simple hotel in Berlin. The cats are going out for some lunch but it's that moment where I decide maybe it's cool to spend some alone time. I ask the very nice woman at the desk what's her favorite place to eat and she recommends an Indian restaurant around the corner. Man, it is excellent!! Chicken, Lasi Rice and I go to the room to take a nap, and Success I'm ready for the Zig Zag Club!
The Zig Zag Club was like a big living room, with couches and chairs and of course a great sound system. Dimetrious and his wife welcome us and I dig the vibe already. If we sell out we get a nice bonus, and he says the club is going to be packed! We decide to hang at the nice upstairs dressing room and he recommends we get some pizzas from the place across the street. Dimetrious says the pizza is excellent but Gene wants pasta, he says don't get the pasta, Gene wants pasta. Food comes and the pizza is great and the pasta is lousy. Lucky for Gene the cats have got his back and we have plenty of Pizza and salad to share. We have some time to kill so we're hanging and Reggie pulls up a video on YouTube of Samuel L Jackson doing every time he's said "Motherf**ker" in movies. It's over 5 minutes long but hysterical. You need those chill moments to get the vibe going for the night. We head down to play and the club is packed wall to wall. We are just killing it and the audience is right with us. I recorded the second set and it was beautiful as the crowd was so enthusiastic. I sell a lot of CDs and hope we can come back here again. Great vibe from the German people and the club.
We are up early to head to Vienna to play our last show at the legendary Porgy and Bess. We will have a new drummer, Reggie's friend Yotam Vroom. He is supposed to be killer and has learned the material. We meet over lunch at this very groovy hotel. Groovy hotels do mean small rooms and these are small but very nice. We bond over lunch with Jay, Reggie, Yotam and myself. Theo, of course, is visiting one of the 5000 people he's met on the road and he loves Vienna. The Turkey Burger is World class and after a nap, I set out to get some chocolate to bring home to Kathy. Mission Accomplished!
We are picked up and go to Porgy and Bess. I dig the club, but I'm worried, of course, about how big the crowd is going to be. The manager says we are going to have a really nice crowd and he is right. We have good food and then we hit the stage, but before the show, I get to meet several internet friends who have come to the show. How cool!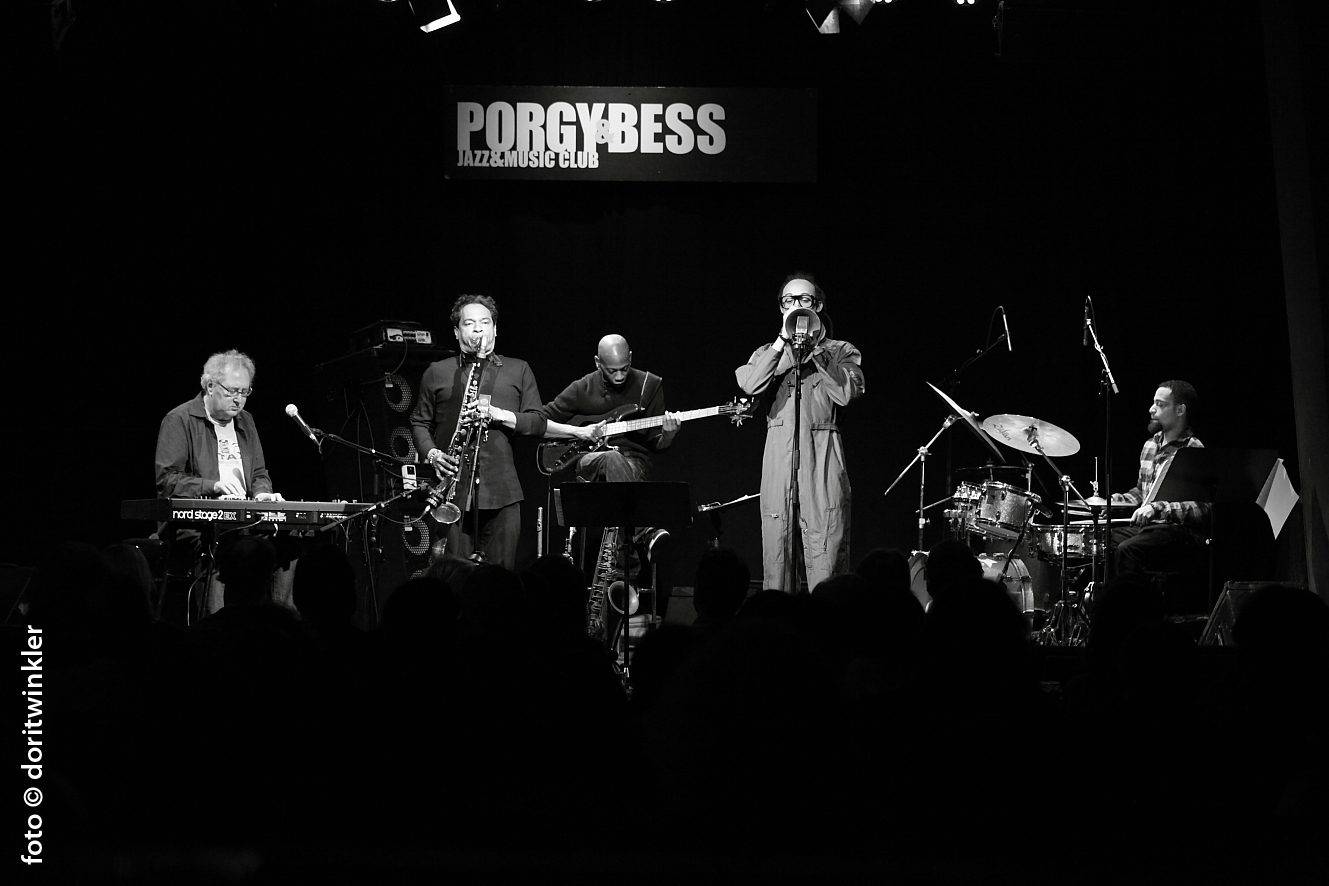 The band blew thru the first set with great enthusiasm and the second set is cooking heavy and the audience just loves it. We do an encore and they want another. Reggie says I should go back on stage and they will follow me. They don't follow me and I end up doing a mini solo performance on keys. I leave the stage to a nice ovation and Jay Rodriguez says to me, "There's your next album," Solo Piano, wow, I never thought about that.
The great sax player David Murray is in the house and we hang with him and find we are all at the same hotel. We hang for a drink at the Hotel and it's time to get ready to leave in the morning for our trip home thru Moscow! However, I get a text about 5 am from Theo saying the flight from Vienna to Moscow has been cancelled. Uggh. But after 5 phone calls to the airline, it seems he has the wrong info.
We head to the airport after breakfast (a Good one!) and Theo may be right about the cancellation, but alas no cancelation and we are headed to Moscow for our connection home. I buy Jay and Theo lunch in Moscow and it truly sucks, uggh terrible food, but excellent Kiosks selling Vodka, with some fine looking Russian woman ready to sell us some Vodka. 10 1/2 hours later we are landing in Kennedy airport and the tour is over.
I learned so much and played with some truly superb musicians who respected the music and the mission and showed me the support I needed to make it through. Stefany, my agent, did a great job pulling this together. I made my point, my point being that I know what I am doing and I make music for people all over the world to enjoy and absorb. I make it for them. I hope this is the next chapter in my life, to explore the European scene more because they really have an appreciation for the music we have created in America. Thanks to the promoters who believed and know that even after all these years, the fire in me still burns to bring great music to all music fans all over the world….Next step—Solo Piano Album!