James B. Lansing the designer of the famous Voice of the Theatre loudspeaker is one of the oldest names in Pro-Audio, and the company that bears his name has a long list of accomplishments from the ground breaking JBL Paragon stereo speaker system to the first 2-way studio monitor to the legendary 4311 studio monitor to providing speakers for all of the original THX theater sound systems. Acquired by Harman International in 1969, JBL has been designing and building quality professional and consumer speakers systems for 71 years. One of the beneficiaries of this sonic heritage is the E55BT Quincy Edition Bluetooth Wireless Over-Ear Headphone.
World renowned music producer Quincy Jones added his own personal touch to the look and sound of this signature model to which he lent his name, featuring soft leather ear pads and headband (even the enclosures have a soft leather-like feel to them), a 50mm dynamic driver, a 20 hour battery life with only a 2 hour required charge time and recordings of Quincy Jones voice for all of the operational feedback commands. The headphones came complete with a detachable tangle free fabric cable with remote and microphone for wired use, a cloth carrying pouch and a USB charging cable.
The construction quality appears to be A-One, and the hinges for fold up operation also contain pivots for better fit and additional comfort. Considering a Bluetooth headset must contain battery, receiver, DAC and amplifier, the E55BT Quincy Edition are extraordinarily light in weight. Right and Left are clearly marked inside each ear cup and the volume up, pause, volume down, power and Bluetooth buttons are easily accessible on the right ear cup.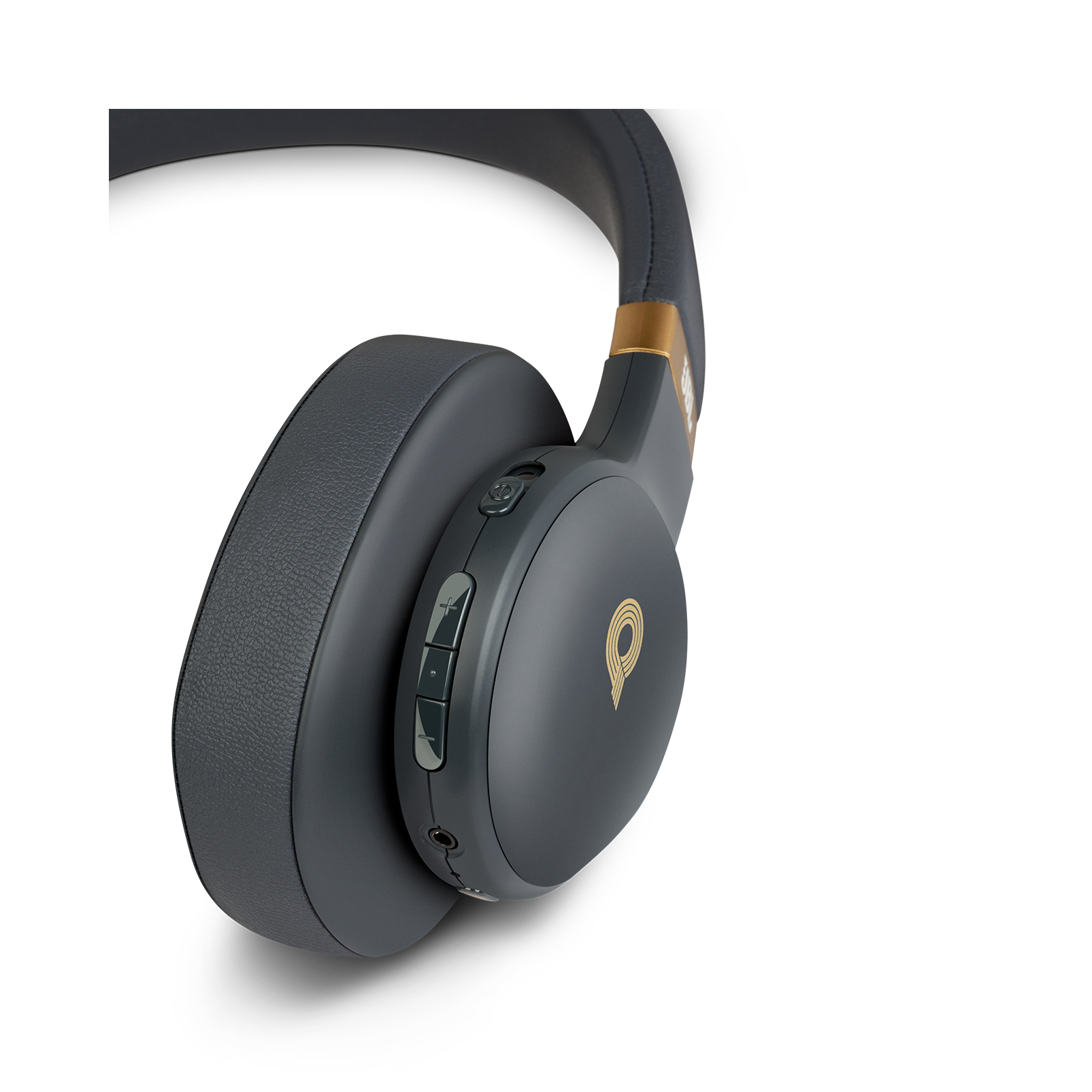 Operation:
Hit the power button for the first time and Quincy says "Powering On. . .Your JBL is ready to pair." Once you select "JBL E55BT-Quincy Edition" from your available devices menu, Quincy says "Connected," assuring you that all is operational. As and added feature, you are able to pair with more than one device and the Bluetooth button allows switching between devices on the fly.
It works well as a Bluetooth headset for phone calls with the caveat that due to it being an over the ear headphone, you can't hear your own voice, and that may be a little weird for some.
As far as range goes, I was able to walk the length of my house (about 100′) without issue, farther than WiFi works (I have problems with microwave transmission in my house).
Sound:
I began my listening tests with Slacker Radio and a tribute song list to the late great Tom Petty, including my all time favorite Petty song "Breakdown". The tonal balance was fairly neutral with a slight peak in the upper midrange and a boost on the bottom end offering that classic JBL studio sound. The sound stage was very intimate as if performed in a sound booth (which of course it was). Tom's voice had an emotional edge to it, and his guitar work was razor sharp.
The volume on the headphone is separate from the volume on the phone, so I maxed out the volume on the phone for maximum dynamic range and set my listening level from the headphone (since the phone's amplifier is not involved there was no danger of clipping). The internal amplifier appears to be more than capable of achieving ear bleed levels, at least louder than I'm willing to listen without significant additional distortion. The isolation is excellent, making the JBL E55BT Quincy a great for outdoor use and as a travel headphone.
Moving on to music streamed from my computer via JRiver/VLC I selected "As Tears Go By" (The Rolling Stones – Big Hits (High Tide and Green Grass) ), Keith's acoustic guitar was crisp and natural sounding, as were the strings. Again the image and sound stage were close and studio like. Mick's vocals contained a youthful woefulness which was expressed well by the JBL E55BT Quincy.
Interesting enough the bass increased as the frequency dropped as was evidenced by "Can-Utility and the Coastliners" (Genesis – Foxtrot), leading me to believe that the JBL E55BT Quincy would be very popular among the younger crowd, especially fans of Hip Hop and House Music.
Switching to corded play, the sonic signature was similar on the bottom end, but without the amplifier the phone wasn't able to compete in volume, though the sound stage was a little larger with the same track.
Cueing up Peter Gabriel's "WallFlower – (Instrumental)" from his New Blood album, the orchestral sounds were robust and rich and the piano had a very Yamaha presentation, with a decent sized sound stage against a black background.
To see if the JBL E55BT Quincy would scale up to higher resolution sources, I switched over to the Questyle Audio QP2R Current Mode Portable Music Server. This was a completely different experience, the soundstage opened up and deepened, as demonstrated by playing Billy Joel's "Piano Man" (Piano Man – DSD). The bass was still forward and resonant and the piano was bit generic, but it had greater distance, while the vocals were natural with only a slight bit of live bite.
Jaco Pastorius' bass solo "Portrait of Tracy" sounded as if it were coming directly from the amp with plenty of volume and dynamics even running in low gain.
"Derezzed" by Daft Punk (TRON: Legacy – the original soundtrack) elicited that heavy club sound, making the most of the JBL characteristics, "Disc Wars" from the same album solidified my suspicion that the E55BT Quincy would be a perfect choice for watching movies, creating that larger than life sound, with heavy deep bass and rumble.
Conclusion:
The JBL E55BT Quincy Edition Bluetooth Over-Ear headphone is pretty much what you would expect from a company with a long standing history of providing sound systems for concert venues, including Woodstock, theatres, clubs and movie theaters that JBL has, and the long history of meeting consumer needs that Harman International has. For those familiar with JBL loudspeakers, they have a signature sound, and the E55BT Quincy conforms to that signature. For those who love the small club rave sound, the E55BT Quincy are a perfect choice.
The tonal balance is good, with a distinct emphasis on the bottom end, especially below 100 Hz, and a slight peak in the upper midrange giving it a bit of a bare studio sound. Wired operation offers pretty much the same sonic signature, with a tad more musical midrange and a larger soundstage in keeping with higher resolution sources. Overall, the E55BT Quincy offers much better than average performance for Bluetooth devices and can be scaled up with wired operation. A definite thumbs up.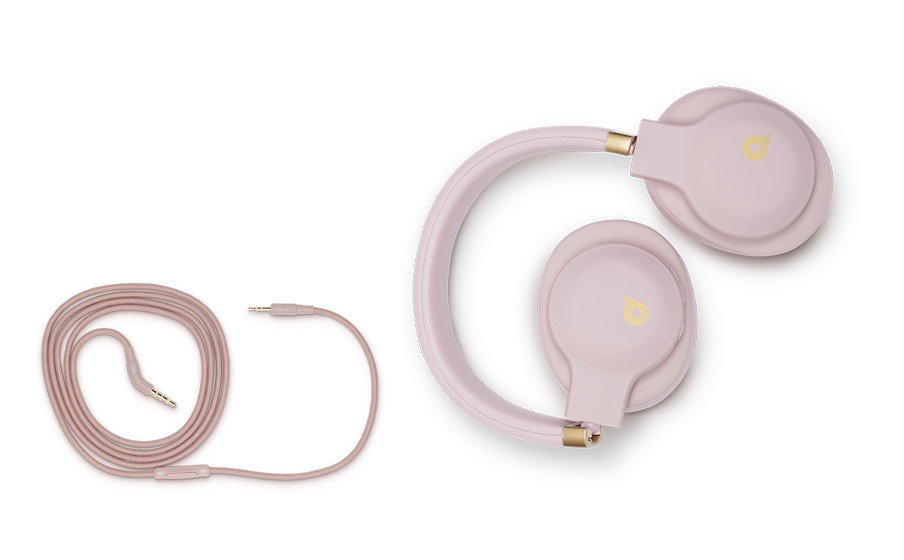 https://www.jbl.com/bluetooth-headphones/JBL+E55BT+Quincy+Edition.html
Price: $199.95 USD
Specifications:
General Specifications
Dynamic driver50mm
Frequency response20-20kHz
Plug3.5mm (1/8″) stereo mini-jack
Audio Specifications
Frequency Response20–20kHz
Speaker Specifications
Dynamic Driver50mm