The Kanto YU4 is a luscious little remote-controlled 2-way powered gem of a loudspeaker at $349 per pair. These diminutive beauties are jam-packed with tech-for-days and built with equal amounts of integrity, pride, and precision. This is a Lifestyle product that can find itself as a killer "small scale" system but can just as easily find itself in an audiophile's second system, be it bedroom or office, or even home cinema. Read on – and YES, I loved it.
Most Valuable Speakers (MVS)
As a reviewer, I can usually tell very quickly when "the box" arrives how a company feels about and treats their own product. The YU4 had that "we care about our product" feel. Everything tidy and neatly in place. The parts fit right, and the set up was so easy. Nothing awkward – no ketchup on a hot dog (not right) feel. Everything with a purpose and a purpose with everything. Colour me impressed.
There was a lot to take in. I immediately connected the YU4s to my streaming set up via Toslink. There are two of these (Toslink) inputs available to you on the rear panel along with other I/O that makes this powered Swiss Army Knife of a loudspeaker super easy to slide into (virtually) any connectivity demand. Bluetooth – check, Toslink x 2 – check check, plus analog in with a surprise twist. One can select line in via these twin RCA jacks OR (bit of applause) you can use your turntable directly into the YU4s as there is a built-in phono-stage. Bitchen. Love it. More about this later as Ben Carter from U-Turn Audio helped me out with one of their amazing and overachieving decks to pair with the YU4s. Brilliant…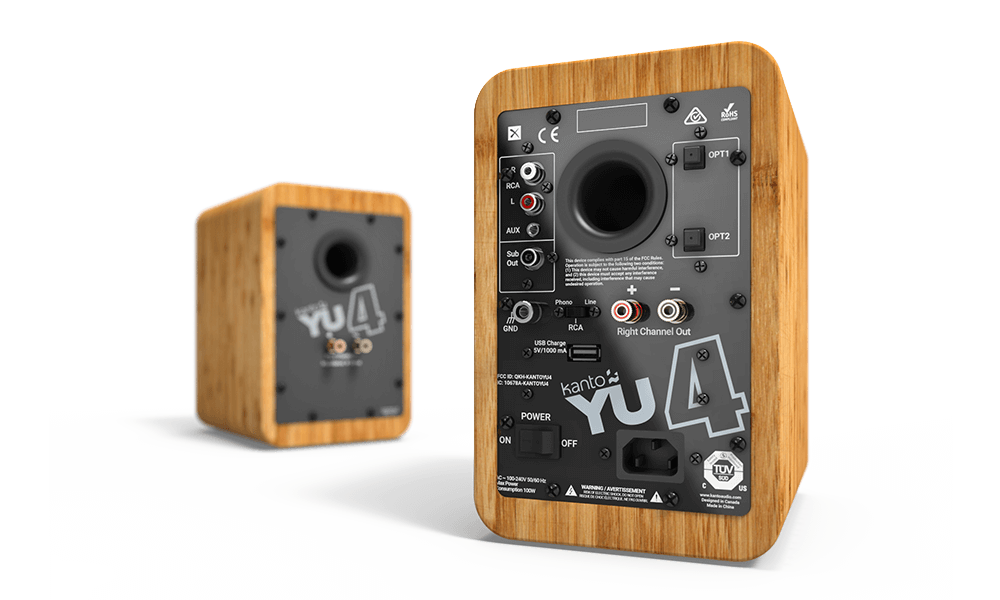 Shock and Awe
When I see a smaller scale product like this one, I typically assume it can't possibly play that loud or produce dynamic contrasts or stand up to the major rigors of day to day use and listening habits. Boy was I wrong. The YU4 is a little beast in its own right. These powered buddies rock hard and that's without a sub connected (even though, yes, they have that output at the ready). I was amazed by how they handled some of my large-scale tracks with ease and even grace. There was a disciplined and sound (no pun intended) approach to the design in mind here. As mentioned, they are just right and plenty enough to be a Lifestyle product for many, but they can also be the playback instrument of a 2nd system for audiophiles that desire music for the office or bedroom… they are that good. I know a lot of guys and gals that went out and spent 2K + on a second system only to wonder why they can't stream via Bluetooth from their phones or tap into Chromecast, etc. The YU4 gives you all that and more. Kanto Living = Kanto Delivering. Nice…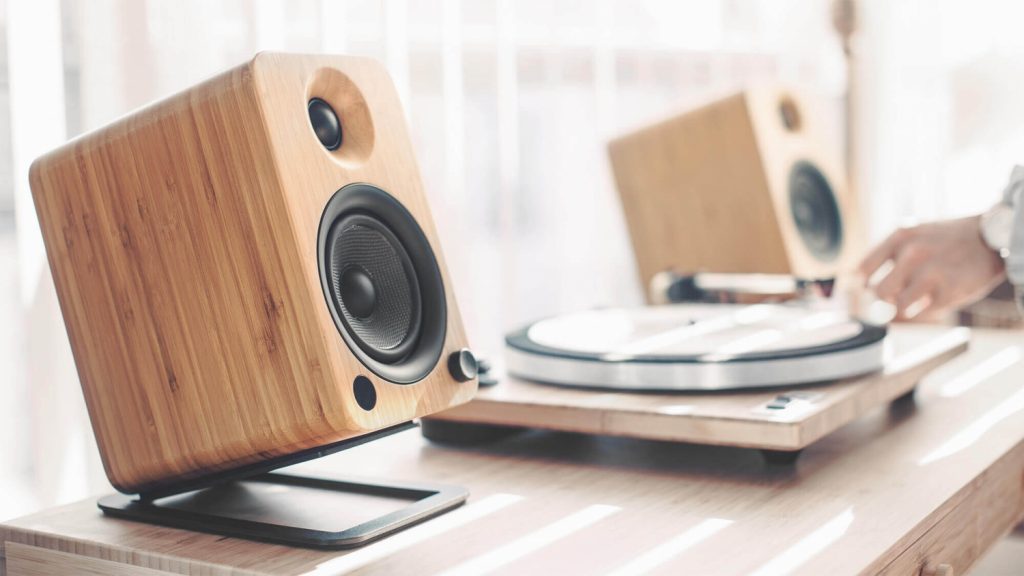 A Few Demo Tracks to Liven Things Up – Let's Get the Party Started
"Waitin' on a Woman" (Time Well Wasted)
This is a very nice Brad Paisley homage to the women we all know and love. There is a really nice slide guitar in this piece that I've often heard sound tiny or indistinct, but the YU4s did a great job at expressing the beautiful sound that a slide guitar can produce. The harmonized vocals were outstanding, and I could easily pick out the individual voices, while still hearing the entirety of their harmonies. There was never a moment of smear or indistinct playback. My favorite part is the fiddle that was beautifully recorded and mixed as part of this track; I found myself immersed in this beautiful instrument on this tune. The vocals were pristine; even the backup vocals were well recorded and portrayed in excellent fashion. The YU4s never failed to make me smile in admiration.
"Misturada" (Reference Jazz, Etc. First Sampling)
This is a superb track and the YU4s were again up to the task. There is a beautiful piano track throughout this piece and the YU4s did a fabulous job of making that piano prominent and beautiful. As well, there is flute throughout, which was exceptionally full and vibrant. Not once did our little friends stray or make listening painful in any way. What was especially beautiful was the decay on the drum kit that was flawless in nature and very well portrayed. I loved the echo that I was able to hear easily, and how it made this kit sound so real. That beautiful attack and decay on the drums were wonderful.
Jacques Ibert, "Escales – Anime (Valencia)" (Tutti! Orchestral Sampler [Reference Recordings])
So much vitality in this recording. Brimming with vigor (to borrow from another review), it is a wonderful recording and easily a reference keeper for any collection. The YU4s breezed through this test. I was really pleased as the 3rd Movement is chock full of crescendo and massive dynamic contrasts. There was no hint of compression at even advanced levels. It was room-filling and the huge strings and winds shined as recorded. These little guys danced on and on and never let me down. The 4-inch woofer was doing its thing while that 1-inch silk dome never gave up or gave in. NICE!
"Big Spring" (Pat Coil – UpClose Volume 16)
A classic demo track that continues to live in my collection much like "Bumblebeat" from Mosaico. This track demands clarity and drive with tons of purpose. The YU4s had plenty of bop and bounce and actually played well beyond their physical size. This track is demanding and requires a loudspeaker that can render a "sense of power and balance." At first, it was hard for me to believe that these small-scale loudspeakers could do all of it. This was a chocolate chip cookie FULL of morsels. Tasty package in every way.
Quick Adder
I was fortunate during the review process to share several messages with Ben Carter from U-Turn Audio, makers of some of the nicest "affordable" turntables right here in the USA. I had asked Ben for one of their tables in order to test the Phono In on the YU4s. He sent out a fantastic 'table (this one here – https://uturnaudio.com/products/orbit-special-turntable) and I ended up being so impressed (even thrilled) with its performance, that I'm going to turn it into a Summer Review – maybe June or July.
Suffice to say that testing this turntable with the YU4s re-opened my eyes in a very real way. I have a confession to make. I Founded Dynavector USA way back in 1979 but I had lost interest in analog in general until this system arrived. My hunger for LPs and analog, in general, came back in a strong way and now I'm planning for much more analog in my system. This simple yet beautiful U-Turn turntable awakened the analog beast in me – thanks Ben!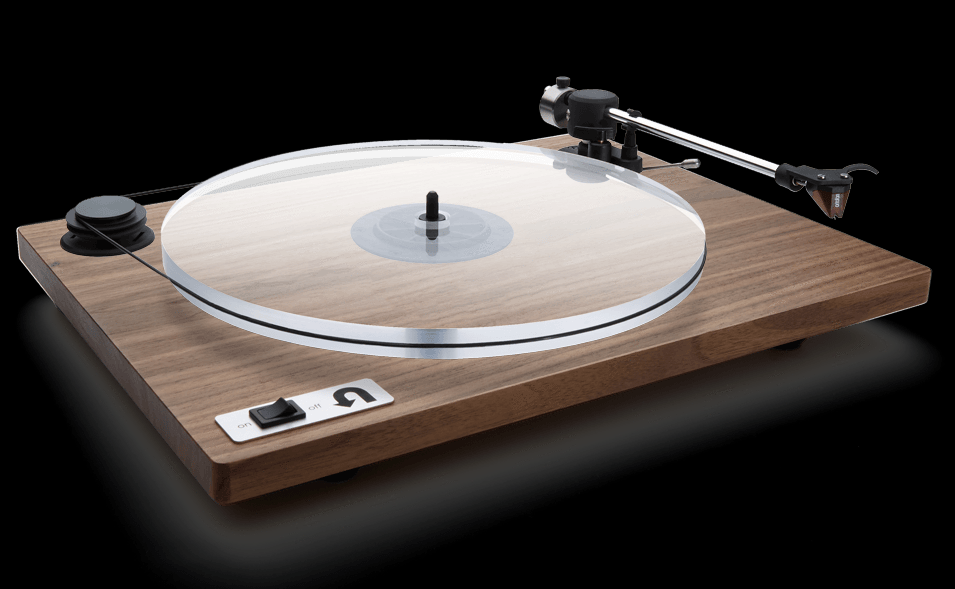 The Big Wind Up (with a flourish)
Let's all remember that this is a product that retails for $349 a pair. As a reviewer, I have several tasks at hand, but the two main things I always try to serve are THE PRODUCT and its intent. These super little instruments are not going to make you forget that sensational speaker you heard that sells for $5,000 a pair, but given its price and the "intent" of the YU4s they serve to remind all of us just how far small scale audio has come, and how utterly simple it is to assemble a superb personal system with a pair of these and one of U-Turn's glorious turntables — all for around $500 dollars. Add one of Kanto's Sub 6's and for $750 you have a system that will be "present and accounted for" every day of your life. Please remember dear reader that a fine quality audio system (even a small-scale one) will improve your daily quality of life more than you can imagine. After 50+ years in the audio industry, there is still not a day that my system in my office or sound room is not singing to me. My life is better for it – yours will be too.
So, to conclude I wish to convey to all of you that in its price class and general genre, this is a product to love and enjoy. To me, it was abundantly obvious the moment I unpacked the Kanto YU4s that there was purpose and a disciplined approach to the design and trade-offs that were made. This is a product that was clearly thought out and delivered honestly with a multiple of user groups in mind. I applaud the thought process and more importantly, the product itself. Standing Ovation.
Highly recommended – enthusiastically recognized.
Until next time…
The Audio File
PS – I almost forgot to mention… here's the lovely remote that's included as well.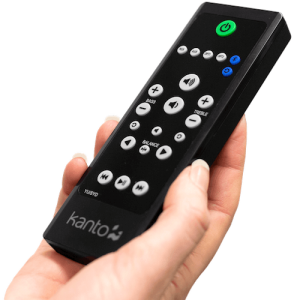 Specs:
DRIVERS
1″ Silk Dome Tweeters
4″ Kevlar® Drivers
AUDIO
Class D Amplifier
140W Peak Power (70 Watts Total RMS)
Frequency Response: 60 Hz – 20 kHz
INPUTS
3.5mm mini-jack AUX
RCA with Phono Switch
2 x Optical (TOSLINK)
Bluetooth™ 4.0 with Qualcomm® aptX™
OUTPUTS
Subwoofer
USB Charge 5V 1A
WHAT'S IN THE BOX
Remote with Batteries
Power Cord
Speaker Wire (16′)
3.5mm Auxiliary Cable (6.5′)
8 x Rubber Feet
Manual
WEIGHTS & MEASUREMENTS
Dimensions (each speaker):
5.5″ x 7.5″ x 8.7″ (14 x 19 x 22 cm)
Net Weight (active): 6.9 lb (3.2 kg)
Net Weight (passive): 5.5 lb (2.5 kg)