Introduction:
Labkable is a Hong Kong based cable maker, which has pretty wide product range. They sell some famous brands' products such as Neotech, Mundorf, and Oyaide as well as some modification parts for amplifiers. In fact, I was quite impressed when I looked at their product line as well as rich and useful selection. Also, I think DIYers would love these selections, since there are a lot of DIY parts and accessories. Labkable seems like a grocery store of cable world.
When I contacted Labkable, I got a pretty fast reply. Edmond, their representative was pretty responsive; he is a fluent English speaker. We talked about IEM cables a few months ago and decided on the flagship Pandora IEM cable that I reviewed before. This time, they sent me Samurai III in exchange for a review.
Samurai III utilizes 4 wires and it is priced at $875. Besides the Samurai III cable, Labkable offers Ultimate series, Master series, Shadow series, Silvernova series, Pro series, and Kophone series as aftermarket upgrade cables. In addition, we posted an aftermarket cable shootout consisting of several different IEM cables. Labkable's flagship Pandora got the highest score in that shootout. To get more information please click here.
Built Quality and Accessories:
Samurai III cable utilizes four wires consisting of silver, gold, and platinum materials. It is a hybrid cable. The built quality of Samurai III is good; sleeving material has a strong quality, and the knitting of four wires looks promising. It cannot be considered as a thin cable, but wrapping is relatively easy.
The reviewed Samurai III cable has a high quality memory wire, but some may find it a bit rough and it may cause a pressure over the head, right behind the ear. During my experience, I haven't felt this kind of disturbance by using the memory wire. In addition, it looks very strong and durable when compared to other aftermarket cables' memory wires.
Labkable offers 2-pin industry standard, 4-pin JH Audio, FitEar, MMCX, and Ultimate Ears-type connectors. The reviewed Samurai cable has good looking 2-pin connectors.
The cable in my hands has a silicone slider, but it is also terminated by a high quality Furutech 3.5 mm TRS plug and there is a carbon-plated Y splitter. As far as I know, Labkable offers a wide variety of plugs such as popular Viablue and balanced plugs for AK series. As accessories, a soft carrying case comes with in the wooden package.
Sound:
Samurai focuses on the sub-bass region rather than the mid-bass presentation. It provides cleaner hits, which have larger diameter than the stock. The sub-bass presentation of Samurai III maintains better texture, dynamism, depth, and resolution, while the stock cable sounds messy.
Samurai increases the control over the mid-bass presentation. As for the tonality, Samurai offers slightly more neutral notes, but it significantly betters the stock in terms of the stage airiness. Accordingly, the bass department of Samurai III is more airy and cleaner than the stock.
Samurai III has a cleaner and richer midrange presentation; it puts midrange notes forward by a small margin. The resolution and detail levels get higher and Samurai II betters the stock in terms of the transparency. The tonality becomes slightly open and more neutral with Samurai, but it doesn't thin notes.
The upper midrange is more transparent compared to the stock cable and vocals have fuller sub-section body. Samurai doesn't release lean vocals, but there may be a sibilance problem with already too bright sounding units due to the open tonality. In addition, the space around vocals becomes cleaner and clearer.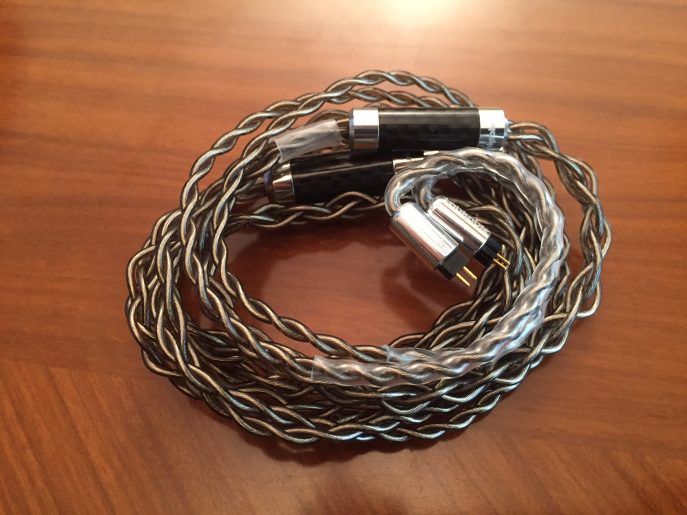 Samurai III provides slightly more prominent treble notes compared to the stock cable. While the detail level gets higher, it maintains the overall neutrality and doesn't color the treble presentation much. In accordance with the bass department, Samurai III's treble provides a more airy sound.
Samurai's stage is deeper and wider compared to the stock cable. It offers a larger and cleaner space around instruments as well as a better layering ability. Samurai maintains a better separation and imaging, while the stock cable sounds congested.
Final Words:
Labkable Samurai III is not a cheap aftermarket cable. However, there is a significant improvement over stock cable in terms of the midrange resolution, the airiness of the bass department, and the space around instruments. I would definitely recommend Samurai III to those who need to hear a more open tone and a more airy presentation with a better resolution. Labkable, as a brand, has a strong background and a R&D department. In that regard, they know how to tune a good cable. The Labkable cables that I tested deserve appreciation and they are worth their prices.
For more information please click here.
http://www.labkable-headfi.com/productdetails.php?psid=134
Note:
Testing Equipment: M-Fidelity SA43 custom monitor, its stock cable, Lotoo Paw Gold, and Chord Hugo.