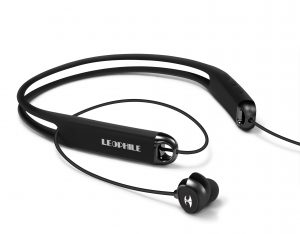 The releases of the new waterproof Apple iPhone and Samsung Galaxy devices have sparked a race to release complimentary waterproof IP certified devices for use in the same conditions. Enter Leophile, a new company whose mission statement is to design the most ergonomic Bluetooth headphones. They noted that their brand name was inspired by leopards for their courageous and adventurous outlook on life.
Their first and only product on the market from Leophile is the new EEL which is an IP67 certified waterproof Bluetooth headphone retailing for $69.99. This headphone is one of the active sport kinds that is worn around your neck with the earphone units connected by a cable. They market it for use outdoors, while playing sports, taking a shower, or even at the gym.
The IP67 here means that it is certified under the IEC's International Protection Rating system. The first digit '6' is the "Solid rating" and stands for it being successfully tested to protect from entry of harmful dust. The '7' at the end is the "Moisture rating" and here means it can be submerged in water up to 1 meter deep for 30 minutes. This is the same rating that the new Apple iPhone 7 received.
Build and Design:
The Leophile EEL came to us in a small retail box packed with tips and a short Micro USB charging cable. It was easy to open and gives you access straight to the product without much hassle. It came to us mostly charged so we could use it immediately while your experience may vary.
Feeling around the EEL, you'll notice that it is made of a soft plastic that feels like a fabric in a way. The EEL is meant to be held around your neck so being soft and lightweight was a must and this does the job. I personally noticed that my best fit was with the unit not held on top of my shirt but below it on my bare skin and around my collar bone. This had the perfect length of cable that was just taught enough but not too tight either. This will change depending on user of course.
Another thing you'll notice immediately is that the headphone is split into two halves connected by a double strap. The earphones terminate out of these two sides. Leophile confirmed for me that one side houses the main 'computer' and the other side the battery to balance out the weight and distribute it.
One reason why Leophile went with a super flexible double strapped middle portion is so you can transport it easily. The promotional pictures show that you can coil the device around your wrist and move it around if you choose not to wear it around your neck. I tried to coil it like the pictures shown and had average results.
The earphones had to be wrapped multiple times around my wrist and then looped between the straps to get an 'OK' fit. Walking around and performing normal activities with the earphones like this were acceptable but not great as it was still loose and felt like it would come apart at any moment. I would personally recommend to keep it either around your neck or store it in your pocket or bag when not in use. The pictures of it coiled around the wrist of a wakeboarder look sweet but I would not trust it to stay put for long.
While the EEL's design isn't revolutionary – many units on the market have the same general design – it offers itself as a compact and versatile option by combining its IP67 waterproof rating with this tried and true design.
Connecting and Using:
Unlike most headphones, this one requires reading the manual to figure out how to use it as it is wireless. Simply un-tangle the EEL and straighten it out until you can see the "L" and "R" indicators on the bottom of the unit to align which side goes to which ear. Place the main unit behind your neck and then loop the cables behind your ear and then fit the earphones into ear canal. Next, we need to sync it to your device by Bluetooth.
Thankfully, connecting the EEL to your Bluetooth 2.0+ capable device is a breeze. Just press and hold the middle 'dot' on the control unit which should be hanging off the side of your left shoulder. You'll first hear "Power On" within a few seconds but keep holding until you hear "Pairing". Now find the device which should be called "LEOPHILE EEL Stereo" and pair it and set it as default device if needed. You are now done and free to start using it! My only complain here is how loud the pre-set voice is that says "Power On" or any of the other lines. It's just above what I would consider a comfortable volume to hear this notification at. It should be an easy fix if Leophile chooses to though.
I've found the range of the headphone to be as advertised. I could move about 10-15 meters away from the receiver (with a clear line of sight) without any distortion or static. It also had no trouble being used in a room filled with wireless connections, other Bluetooth devices and an abundance of computers being used. The main contributing factor to any deterioration of quality inside of 15 meters would be if you lost line of sight with it. Such as if you went into a different room with the door closed or went to a different floor. Common sense should prevail here and set the expectations for what you will get out of it. You will not be able to have the main transmitting device downstairs with chicken wire and solid concrete in between you even if you are 'just' an absolute "3 meters" away in the Y axis.
There are three buttons on the EEL. With it being worn, you'll find the controls on top of your left shoulder. The outermost button (left) is the volume down when you give it a single click and goes back a song when you hold it. The middle button is the play/pause (on supporting devices) with a single click and when held down acts as the Power On/OFF button and Pairing when held longer. The innermost button (right) is the volume up button with a single click and will go to the next song when held.
I found the controls to be average in responsiveness and effort. The buttons require a fair amount of force to press due to their small size and are not very fast in providing the volume levels you want (seeing as they move in a single 'unit' per press). I would equate the actuation force of the buttons to be similar to how much you would use to press the flat buttons on a gas station pump or the clicky on/off button of a flashlight. Certainly not light but not an extreme effort either. It's when you do it continuously throughout an hour or two outside in the hot sun that you become aware of the effort you need to put into pressing them.
The EEL worked out of the box with no problems and cleared all the checkboxes in consumer acceptability ( a metric my engineering job commonly has) for ease of use. It didn't have any of the Bluetooth connecting hijinks that cheap devices commonly have where you either can't see the headphone listed in your Bluetooth tab, randomly disappearing or needing to be re-connected every now and then, or being listed as a random string of letters and numbers. This is pretty much all I could ask for in a wireless Bluetooth product.
Sound:
Since the Leophile EEL is a wireless Bluetooth device, there were no external amplifiers or DACs used in testing it. The digital conversion and analog amplification was all done by the EEL's internal circuitry. I tested it with my Windows desktop computer with an ASUS USB-BT400 dongle attached, the FiiO X7 DAP with its own internal Bluetooth transceiver, and an Android OnePlus One smartphone. With the desktop computer, only the volume up and down buttons could be used. I was not able to test the Next/Prev Song or Play/Pause on my desktop but it did not work with browser based music players (Youtube). All the button functionalities worked on the FiiO X7's music player and on my smartphone's in-built music player as well.
The general sound of the EEL can be described as deep with a noticeable bass extension. It was warm which meant that it had more pronunciation in the lower-mid range without any shrill or bright intrusions. It was also quite fun which meant it was accepting of nearly every genre I threw at it.
I put on the song "Zen Zen Sense" by RADWIMPS which was the theme song for the hit film "Your Name" by Makoto Shinkai. It was a spunky pop song with fast pieces and a sense of life throughout. The opening had an electric guitar with fast chords and drums before the melody from the rock set joined in. The lone moments with the string instrument at the beginning were clear and had a good soundstage to it. One minute and 45 seconds into the song, we're given a moment with the singer Yojiro Noda as he traverses into the second movement of the song. His voice is clean with a tendency towards the lower vocal region (well suiting him) and compliments the freedom he is expressing. The bass undertones of the EEL gives this moment a solid foundation to stand on before we are propelled into the main chorus again. Even with the inclusion of the band afterwards, the song never got grainy or congested but rather kept its individual detail such that you can tell the different instruments apart.
The next test for the EEL was a heavy metal song called "Karate" from the hit band BABYMETAL. This song features dark and deep guitar chords mixed with light and soft female vocals from the three main leads. With the EEL itself being naturally dark already, the guitars had trouble shining past the sub-bass of the song. It was difficult to hear the individual chords or backing drums. While compression does have a bit to do with this, other headphones were much clearer in this song than the EEL was. The young female vocals of the band BABYMETAL also took a backseat here and never receives the star power 'hype' moment during the climax. While the male vocals of RADWIMPS was complimented by the warmness of this headphone, female vocals are not as pronounced and showcased to their full potential. There weren't any bad moments to the song with the EEL but it failed to produce hype that happens when a headphone truly delivers the moment.
Moving in a different genre direction, we got "My Life Be Like / Ohh Ahh" by Grits featuring 2Pac and Xzibit for hip hop and rap. Like most songs of this type, we get a continually sub-bass beat and percussion as the main instrument besides the vocals. These songs are perfect for the EEL due to its bassy nature. Every single drop and beat is musical and makes you want to jam. The smooth and cool lines that Grits drops with Xzibit flanking has good detail to their voices but in a U shaped curve; we get pronunciation in the top and low vocal range but a slight lowering in the middle here.
The sound quality of the Leophile EEL was good for this price range of $69.99 and even more so when you consider it has to be sealed for its uses in water and active sports. Most other sport units I've heard either had a bright cheap tin-can sound or beyond dark low quality bass cans with no vocal ability. The EEL here gives you a sound that is very consumer acceptable today with its ability to deliver good bass, and warm vocal range making it fitting for any genre.
Conclusion:
The Leophile EEL is a complete product that delivers in the areas it is marketed under. It has easy and continuously working wireless operability, fit and design with acceptable usage in active sport scenarios, and is durable to survive submerged in water or dusty environments. In this modern day, I've found it hard to find products that actually do the things they say they do to the point that I am satisfied with. You'll buy a product only to have it end up providing some of the functionality but not all of what you wanted it for. Thankfully with the EEL, you get what the box says and it does it well.
The EEL is a good sounding headphone with the easiest Bluetooth connectivity I've owned yet and has the functionality where I can take it with me into the water or offroad without worrying about it. I recommend the EEL to anyone that wants literally a more premium Bluetooth headphone for use in active scenarios but without breaking the three digit $100 mark. It's a great gift to college students and those that like music while staying active.