Innuos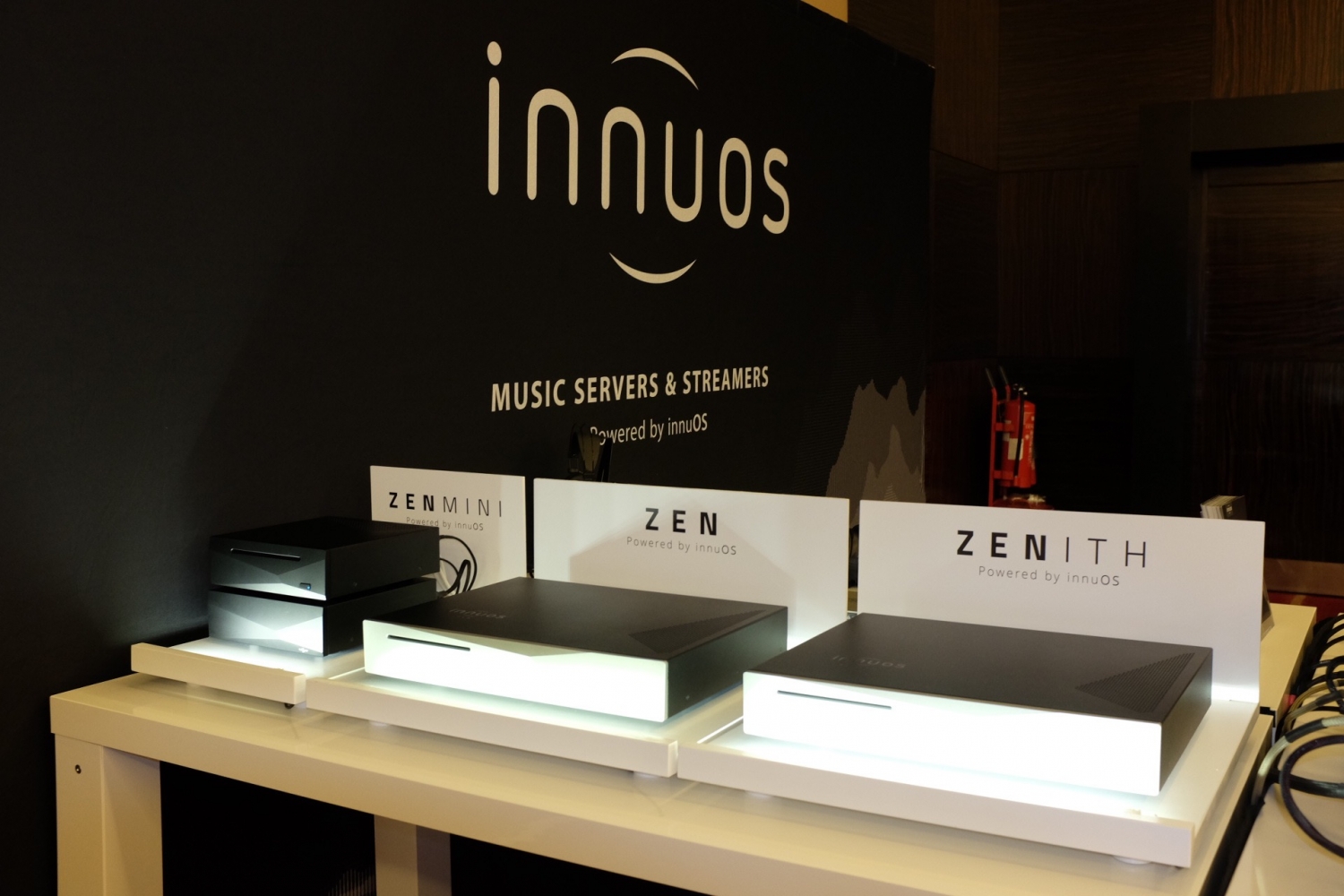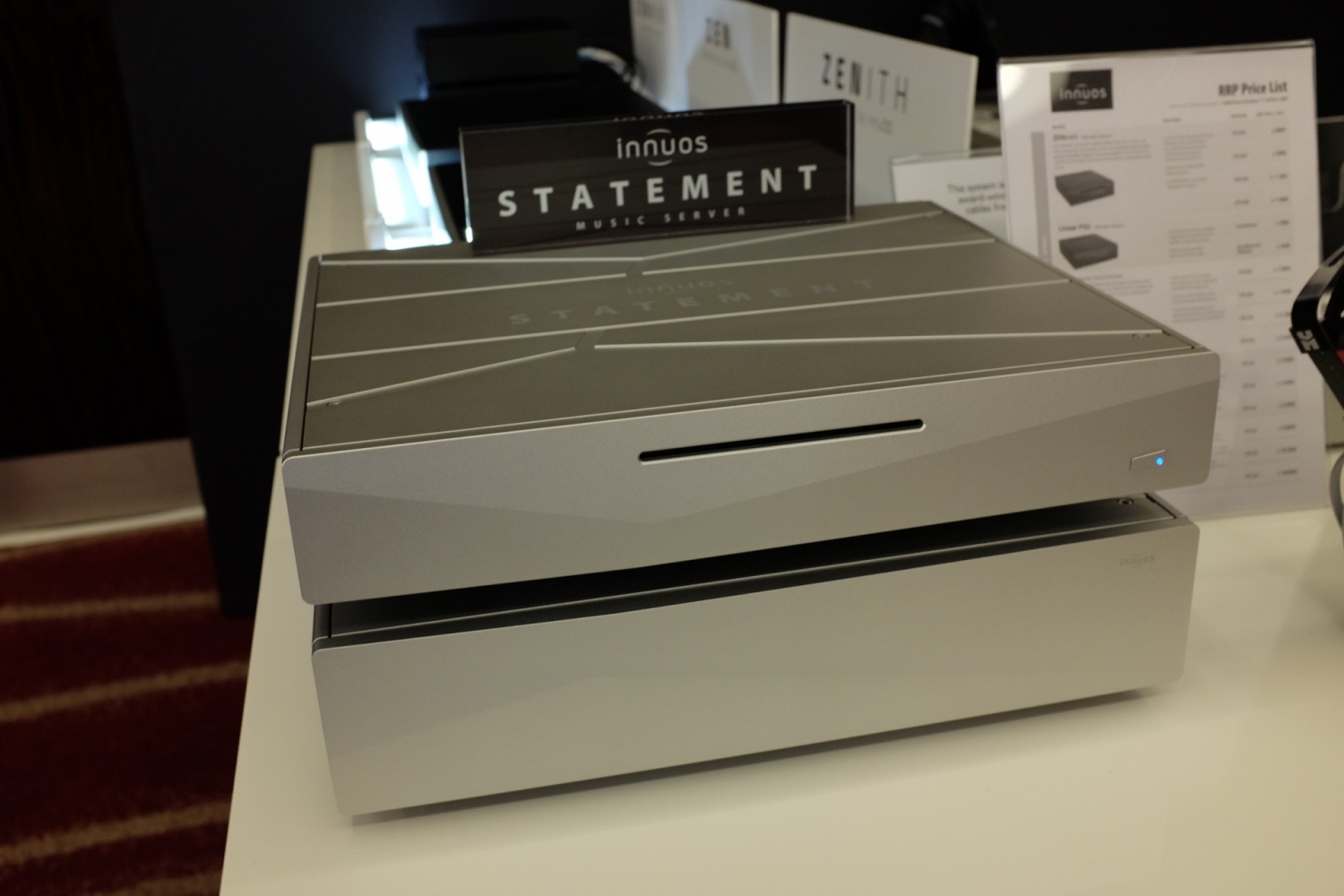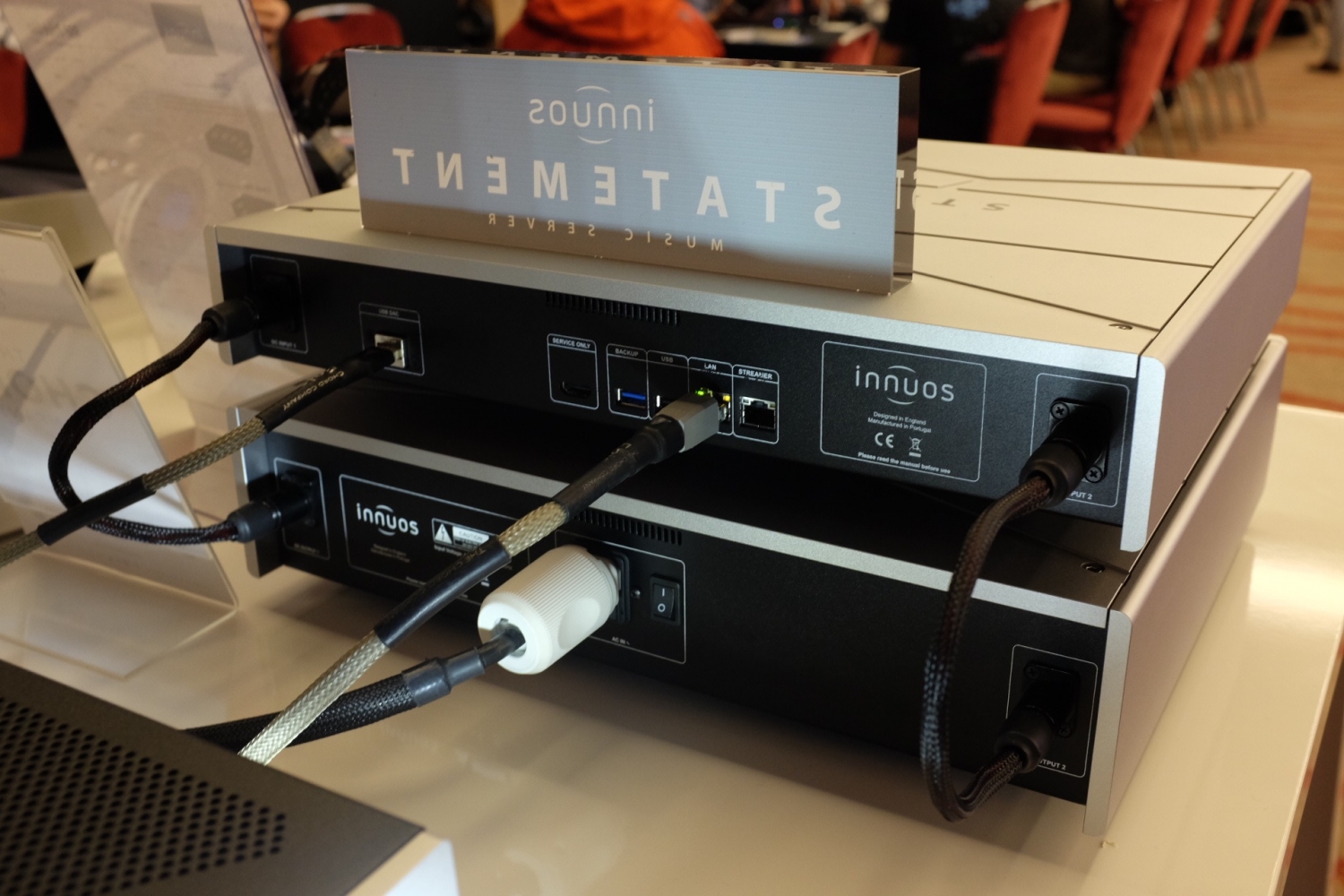 innuos was founded in the UK in 2009 and this CanJam they have brought in their ZEN series music servers and their top of the line Statement music server to the show. The innuos music server lets users rip CD, manages music library and plays music all controlled via an app on your tablet or mobile phone. Users can use music streaming services like Tidal, qobuz, Spotify, etc and it is also possible to use Roon to manage their music library if they so wish. There are 3 models in the innuos ZEN series: ZENmini, ZEN, and ZENith. The ZENmini MK3 plus external LPSU (Linear Power Supply Unit) price starts at £1348 with a 1TB HDD. One could also buy the ZENmini with 1TB HDD (£899) and the LPSU (£499) separately. ZEN MK3 has a dual linear PSU, isolated dual ethernet ports and asymmetrical anti-vibration feet, price starts at £1899 with a 1TB HDD. ZENith MK3 has a triple-linear PSU with Mundorf CAPS and a custom treated SSD, price starts at £2999 with 1TB SSD. innuos' flagship music server is the Statement which has a new linear power supply architecture with 8 independent rails, EMI optimized motherboard exclusively designed for innuos and custom-designed Ethernet ports and USB Reclockers with 3bpp OCXO clocks, price starts at £9800 with 1 TB SSD. For those who are looking for a good sounding one-stop music server solution, it may be worth giving innuos a look!
Chord Electronics Ltd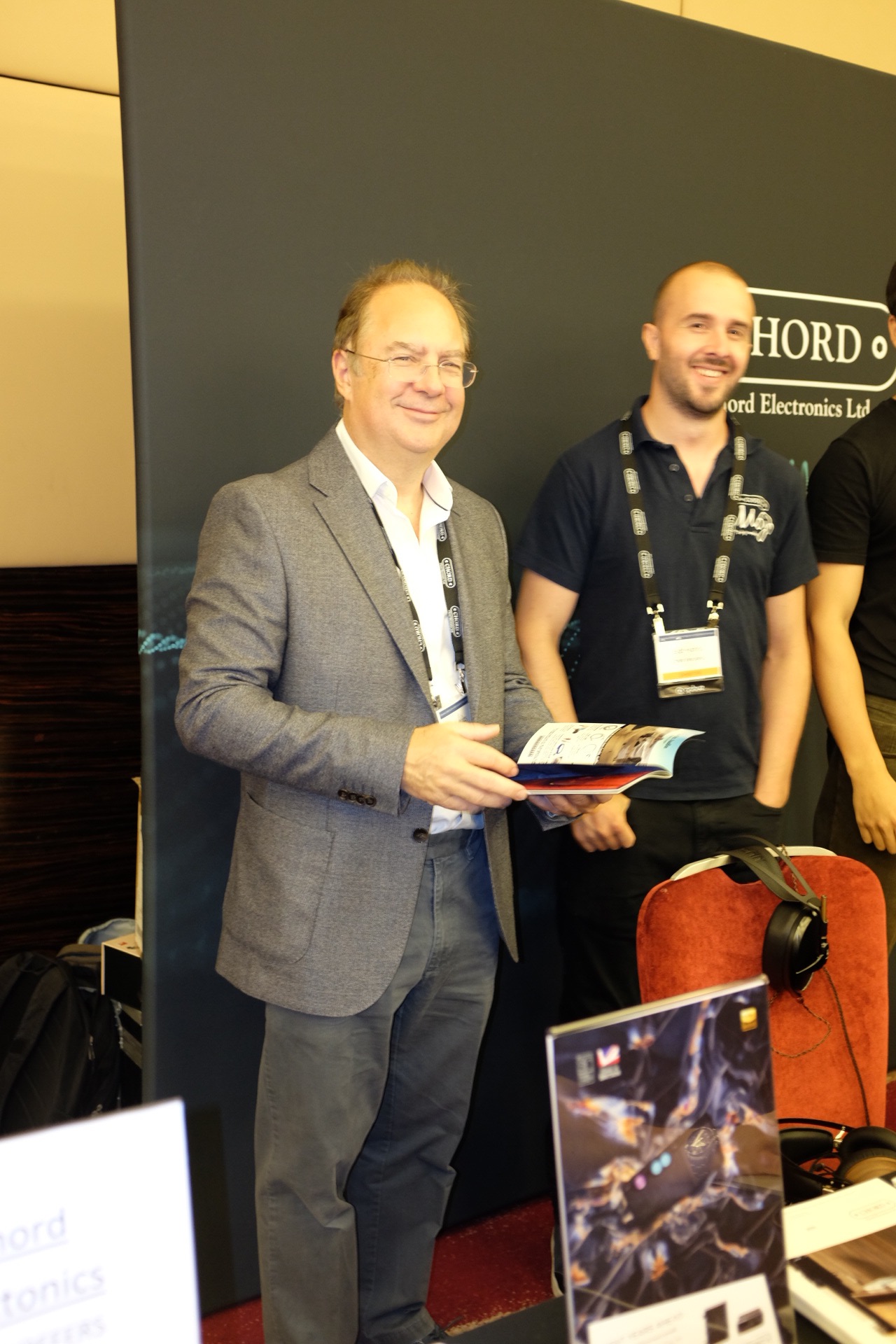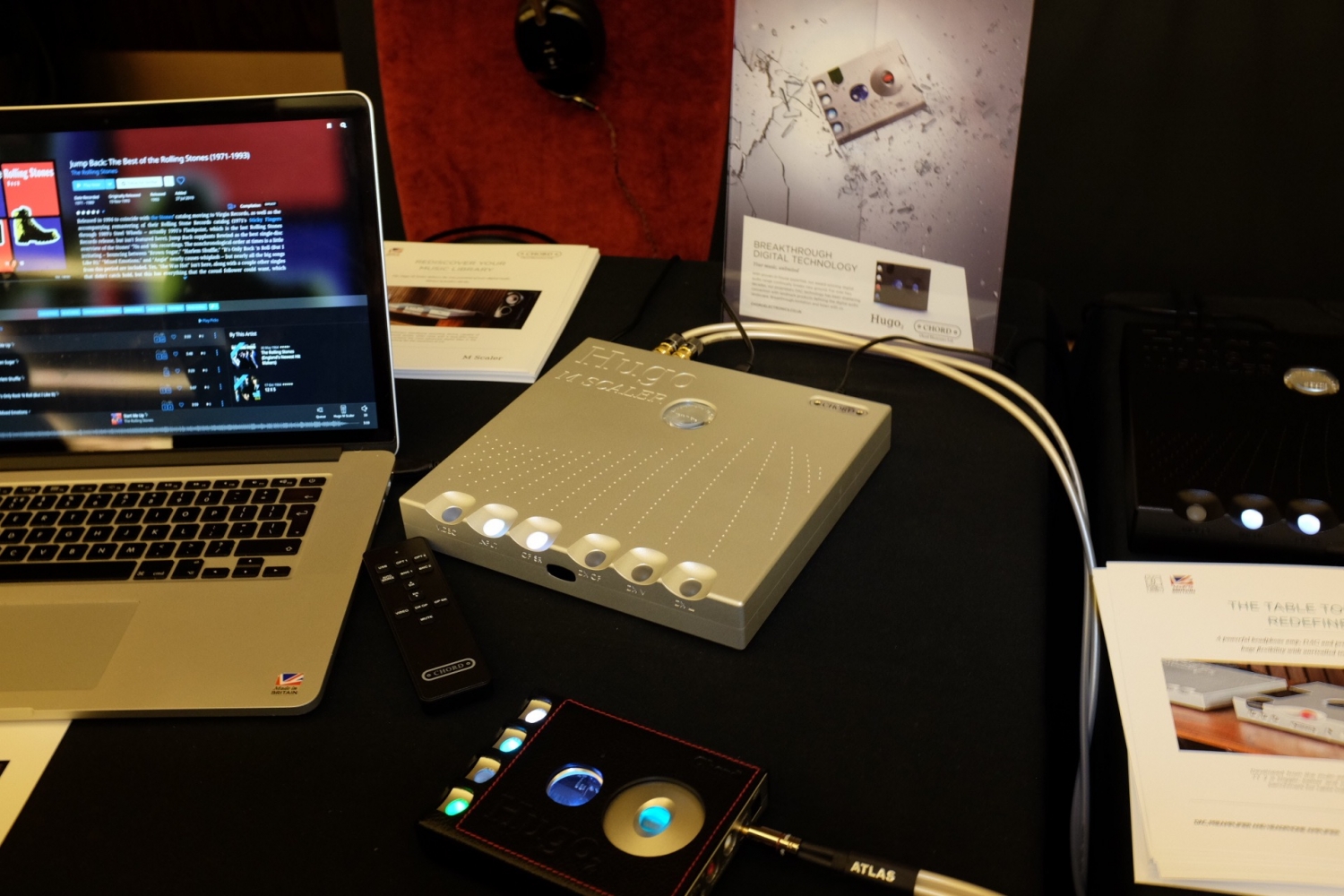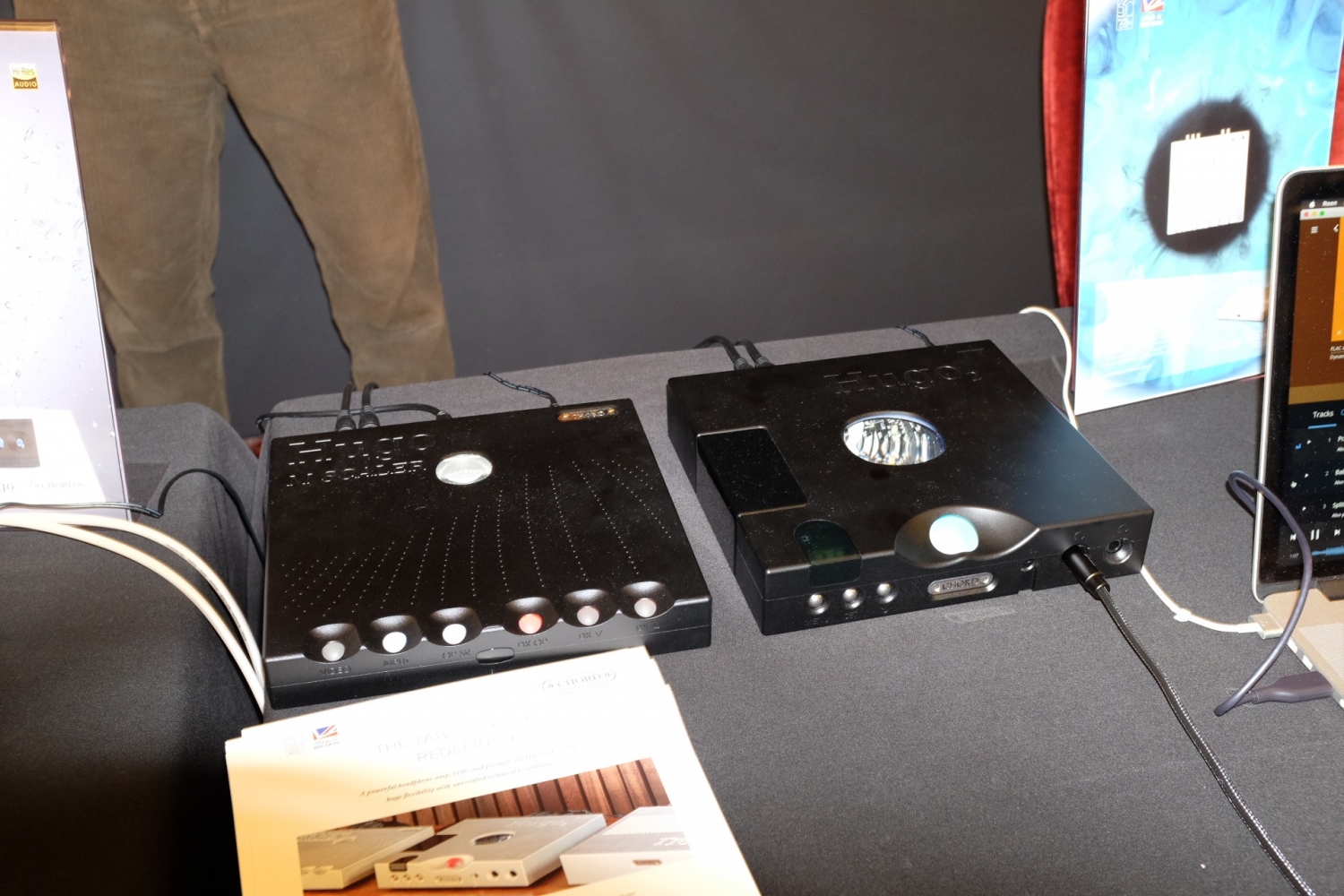 Chord Electronics from the UK has brought their full line of great-sounding digital sources to the show. This includes the Mojo portable DAC/amp (£399), the Poly wireless add-on module for the Mojo (£499), the Hugo 2 DAC/headphone amp (£1799), the Hugo TT 2 DAC, preamp & headphone amp (£3995), the Hugo M Scaler standalone 1M-Tap digital upscaling device (£3495), the Dave reference DAC & headphone amp (£8499) and the BLU MKII upscaling CD transport (£7995). Unlike a lot of brands, the Chord DAC uses a proprietary FPGA DAC instead of an off the shelf chip, which gives their DAC its excellent timing and detail without being analytical nor highlighting.
Rob Watts who designs Chord's FPGA DAC was at the show and during the 2 days, he gave talks on good DAC design. Rob thinks that a lot of designers just focus on the specification/limitation of our ears when, in fact, our brain is smarter than we imagined, as it is able to deduce information beyond the limit of our ears. With simple experiments, it can easily be shown that people are still able to tell differences in sound despite the tests being supposedly beyond our hearing limits. Also, Rob thinks that in DAC design, proper spatial depth is hard to achieve, in order to do this distortion, small-signal non-linearity, noise floor modulation, and transient timing must be kept extremely low or it will affect our perception of depth. Rob thinks that if we wish to improve sound reproduction, we need to better our understanding of how our brain interprets information.
InEar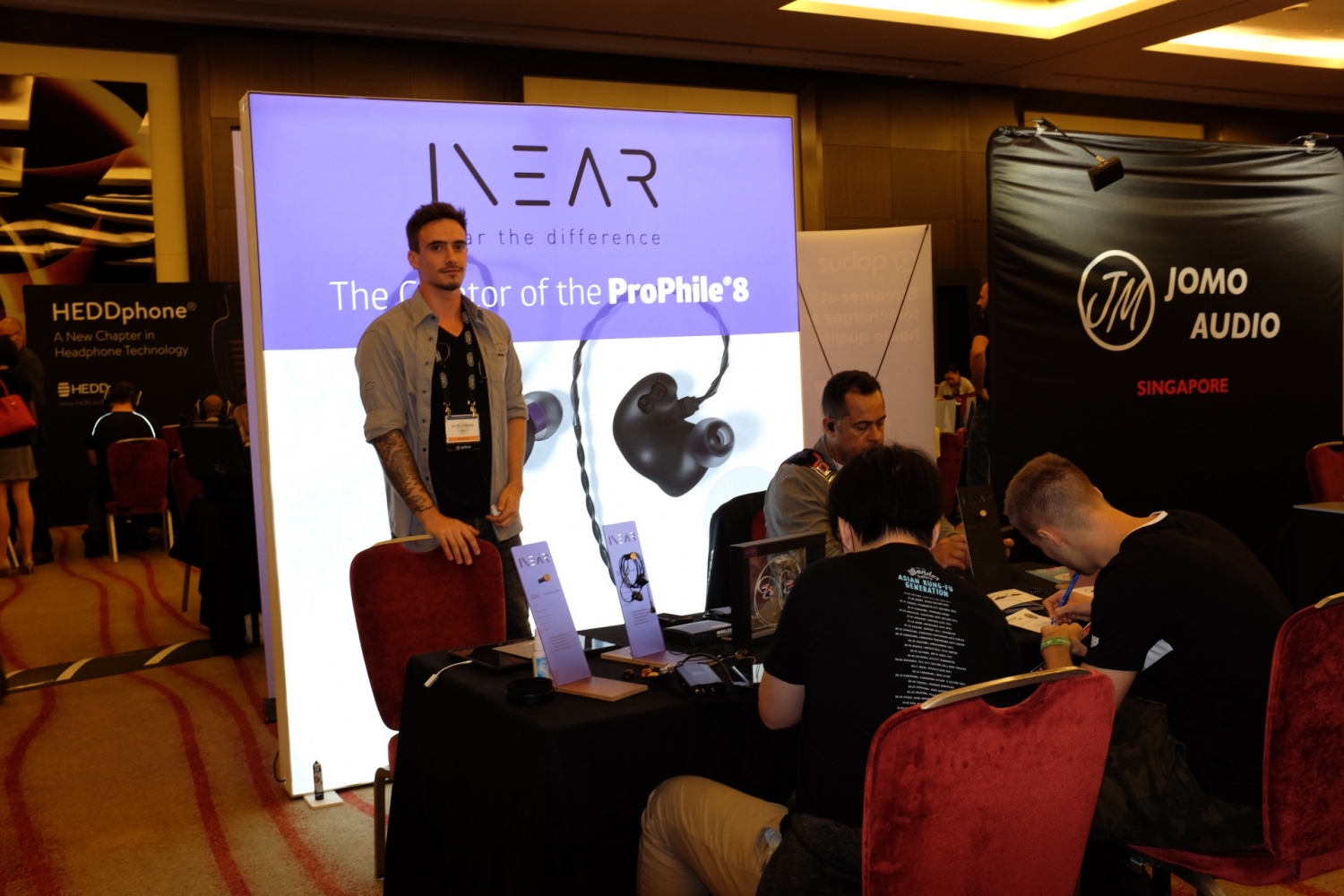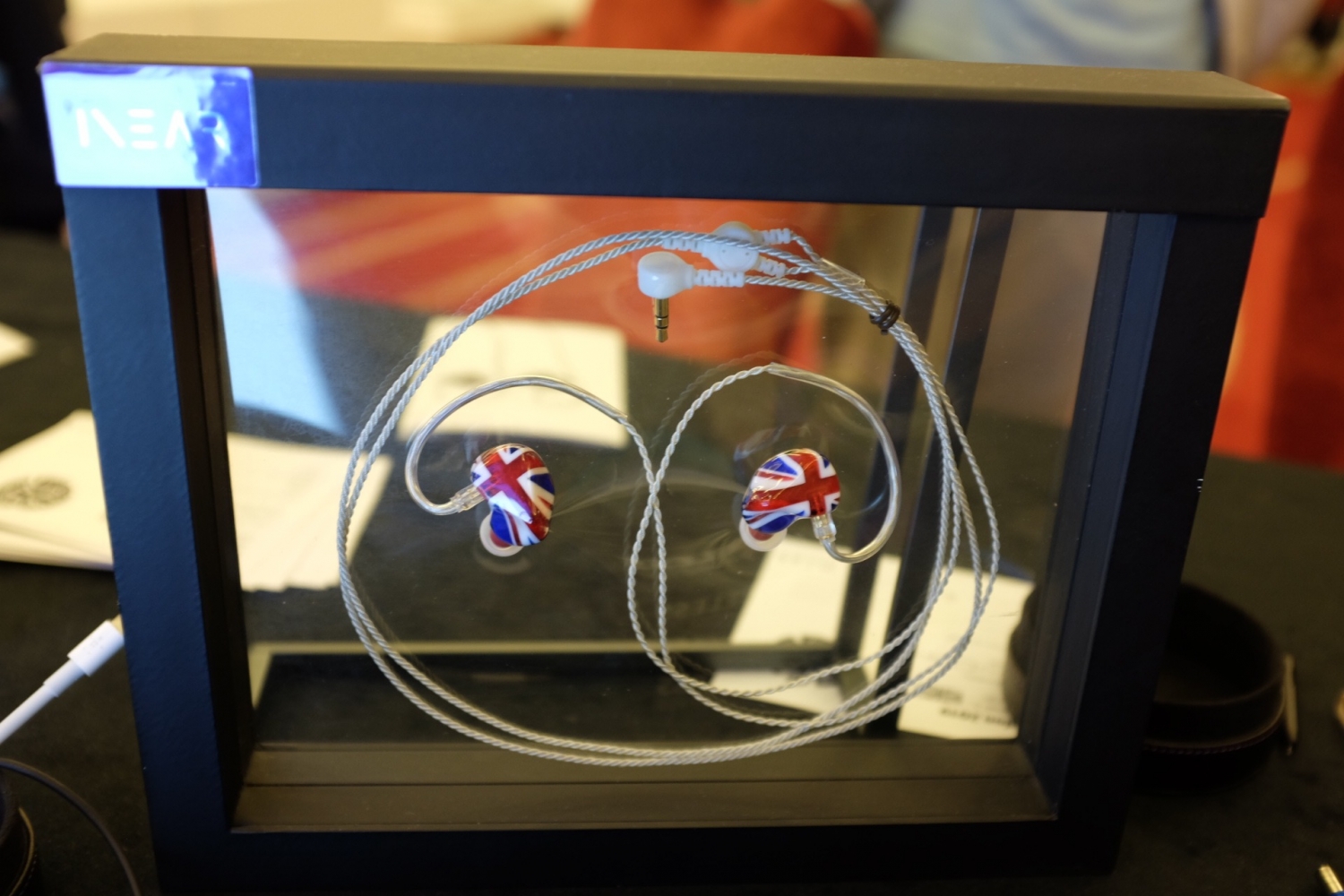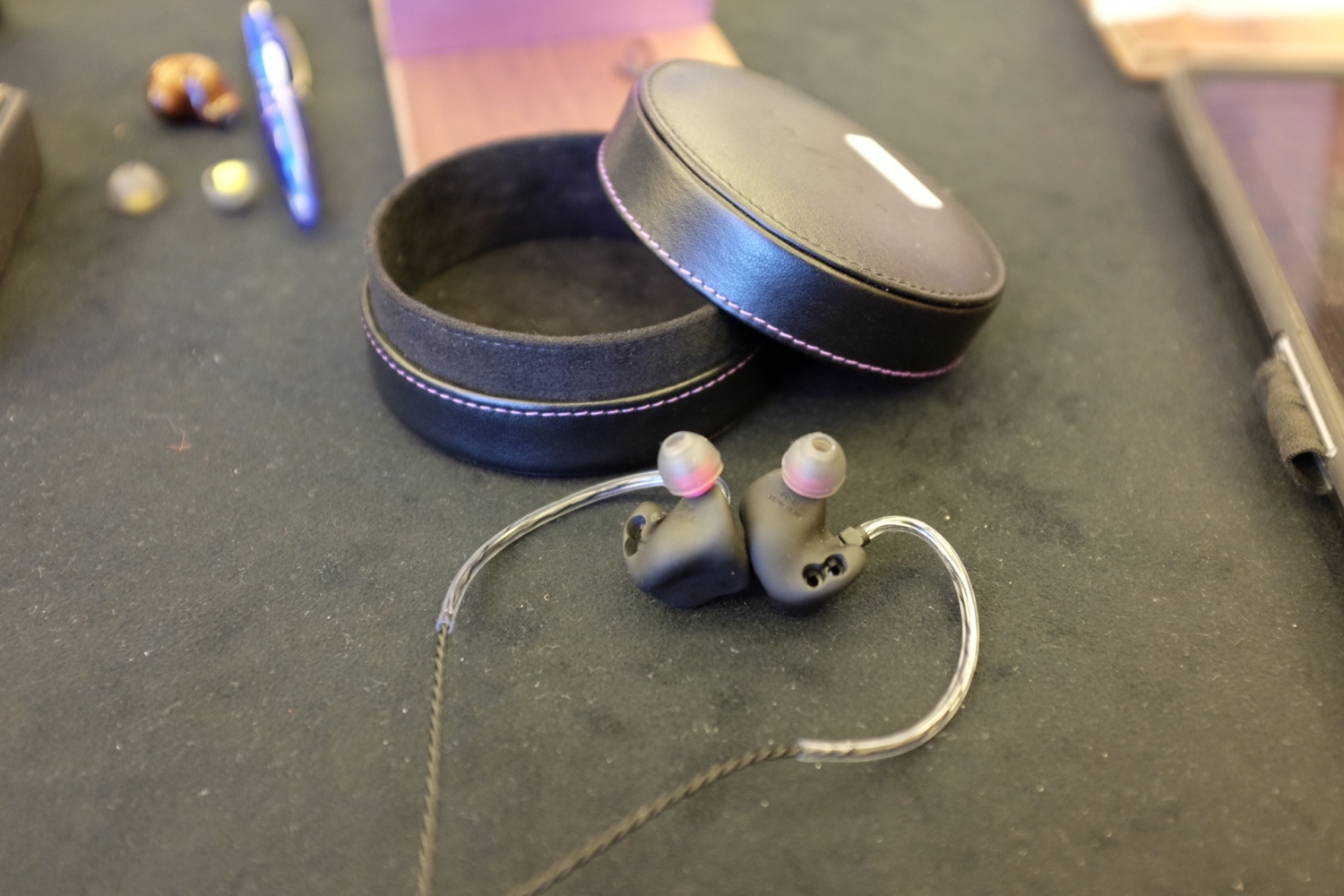 InEar from Germany has their ProPhile 8 universal-fit IEM on display at the show. The ProPhile 8 is a 4-way system with 8 perfectly matched drivers per side (response 10Hz – 20kHz). It is a reference IEM meaning that it is very accurate and perfect for in-ear monitoring work. One of the features of the InEar is 2 switches that allow boasting of treble and bass, thus allowing the user to adjust the sound signature to their liking. The ProPhile 8 is priced at 1333 euro. Apart from this, InEar also has a StageDriver series that includes the StageDriver 1 (1-way system, priced at 285 euro), StageDriver 2 (2-way system, priced at 394 euro), StageDriver 3 (3-way system with 3 drivers per side, priced at 522 euro), StageDriver 4 (2-way system with 4 driver per side, priced at 689 euro) and StageDriver 5 (3-way system with 5 drivers per side, priced at 935 euro) IEMs.
Jomo Audio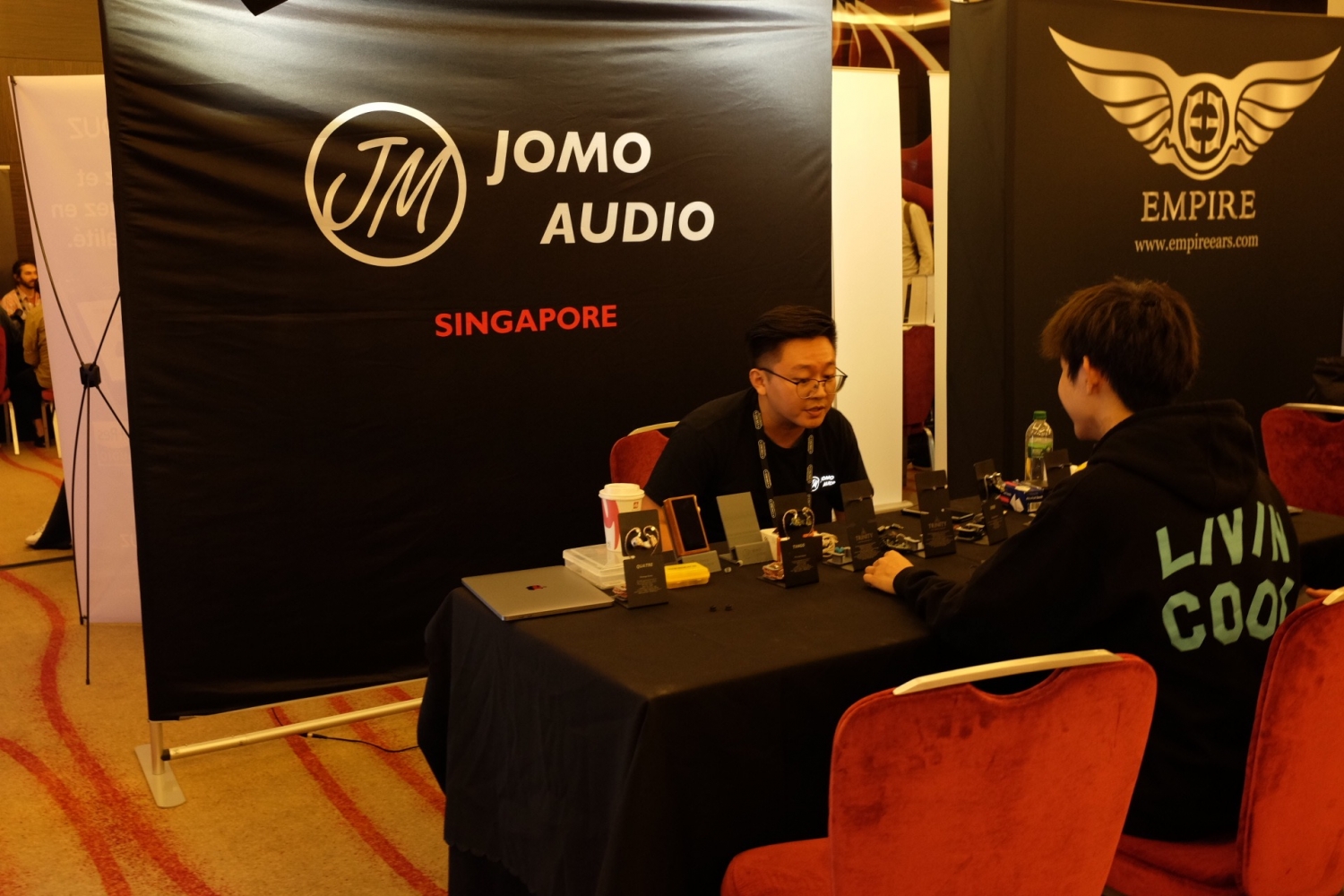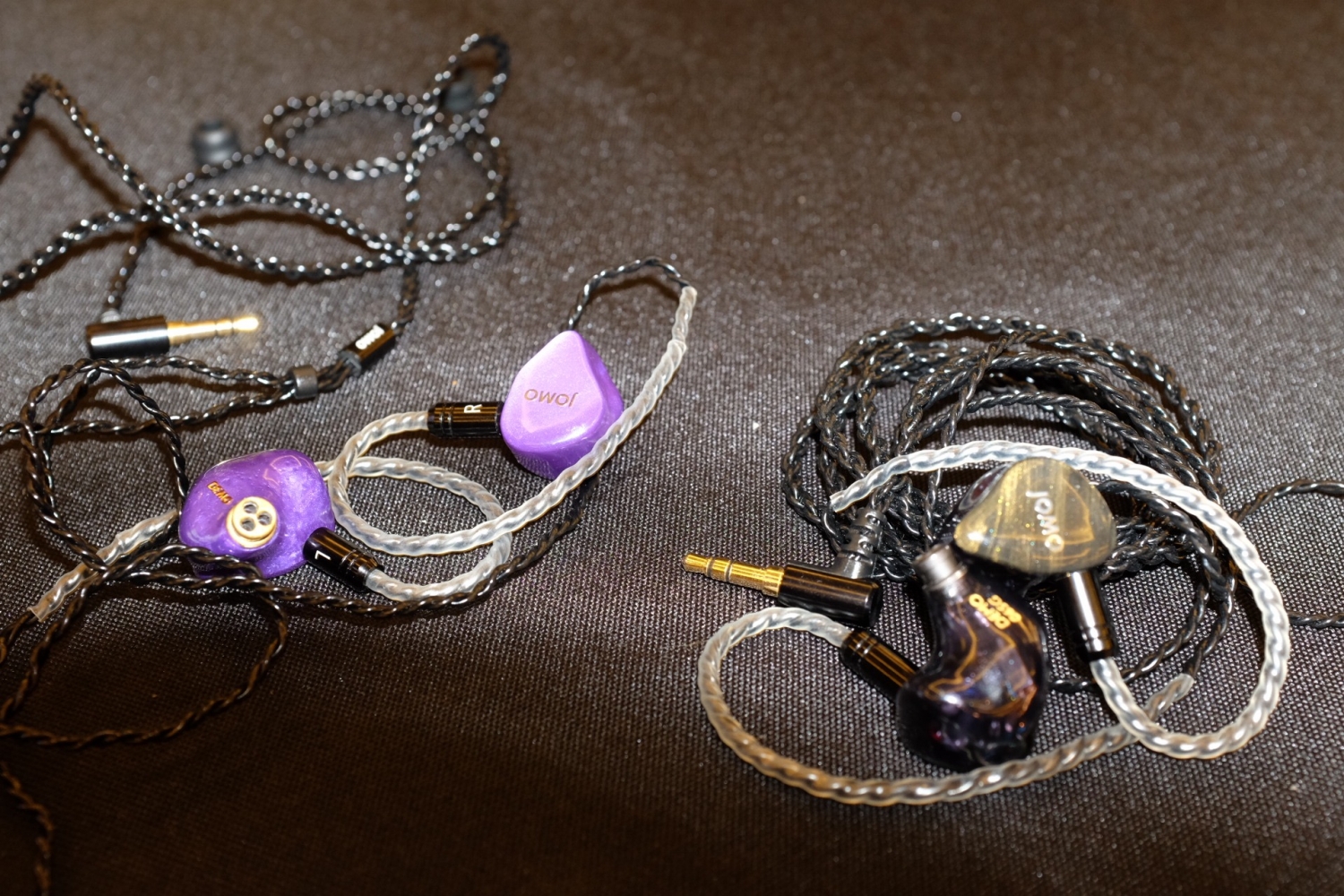 This year Singapore's Jomo Audio has brought their beautifully balanced sounding Trinity universal-fit hybrid IEM to the show. The Trinity has 7 drivers with a 4-way crossover network (2 x electrostatic drivers, 4 x Balance Armature drivers, 1 x 8mm dynamic driver). For the nozzle, there is a choice of either brass or stainless steel. The frequency response of the Trinity is 20Hz – 80kHz (theoretical) and comes with silver-plated copper Litz wire, priced at £2300.
Empire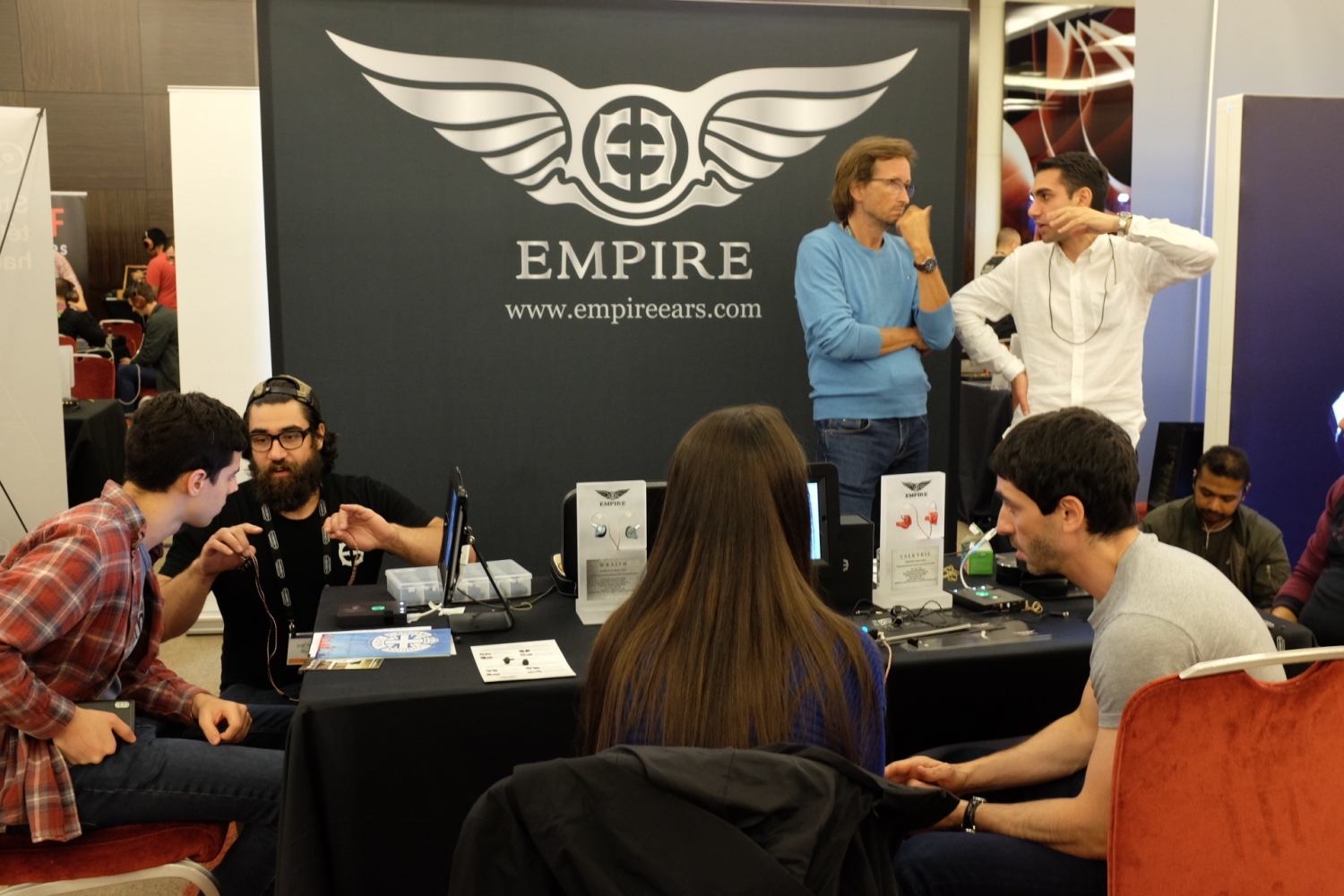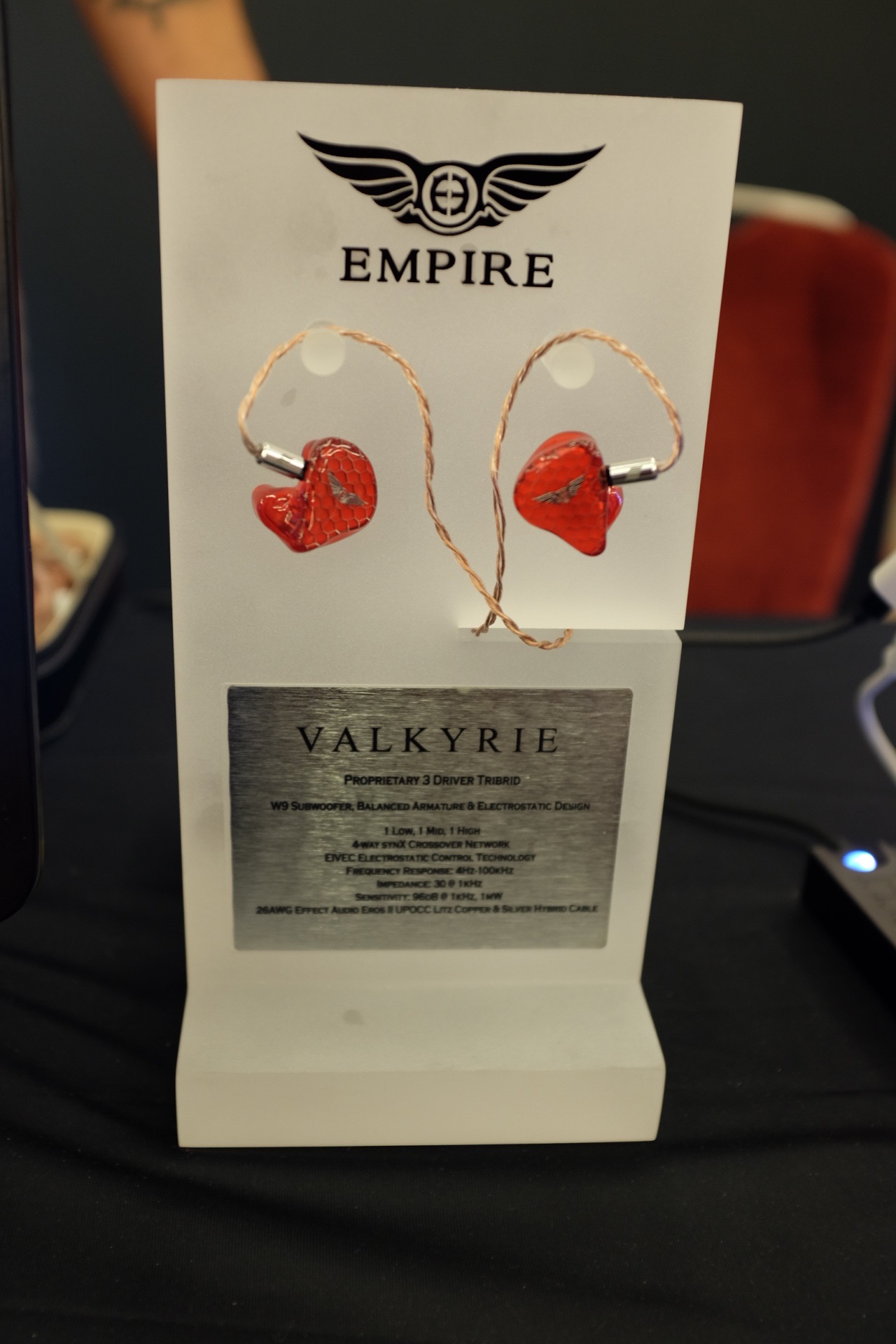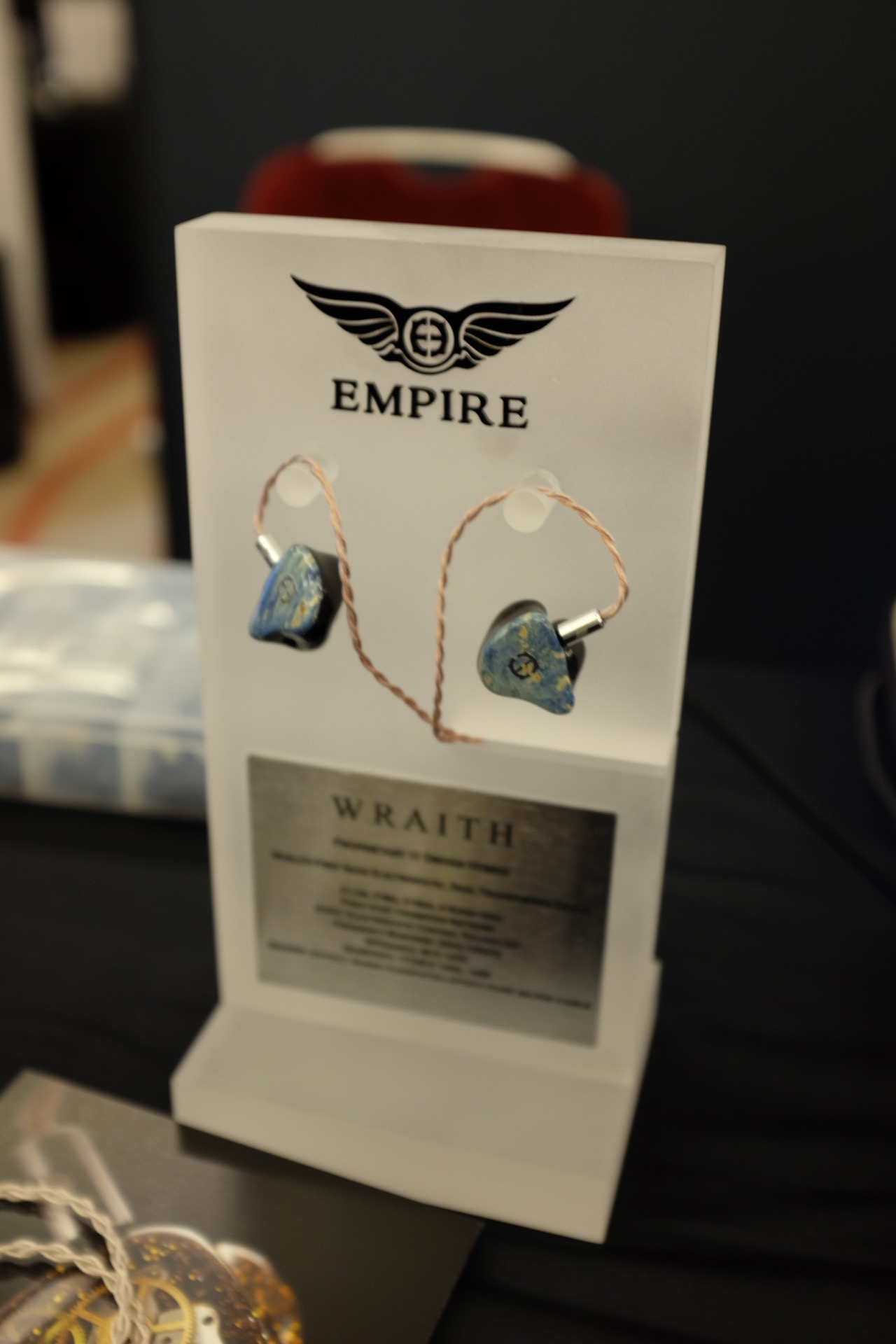 Empire Ears of Georgia, USA has a couple of new IEMs out this year, the Valkyrie and the Wraith. The Valkyrie is a 3 driver hybrid IEM (1 dynamic driver for subwoofer, 1 balanced armature driver for mid, 1 electrostatic driver for highs) with 4-way synX crossover and comes with an Effect Audio Eros II cable (26 AWG UPOCC copper/silver hybrid), it is available in universal-fit and custom-fit, prices start at $1599. The Wraith is an 11 driver hybrid universal-fit IEM (4 electrostatic drivers, 7 balanced armature drivers) with a frequency response of 20 Hz– 100kHz. Completing this package is the Effect Audio Cleopatra cable (26 AWG UP-OCC silver). The Wraith is priced at $3499.
Effect Audio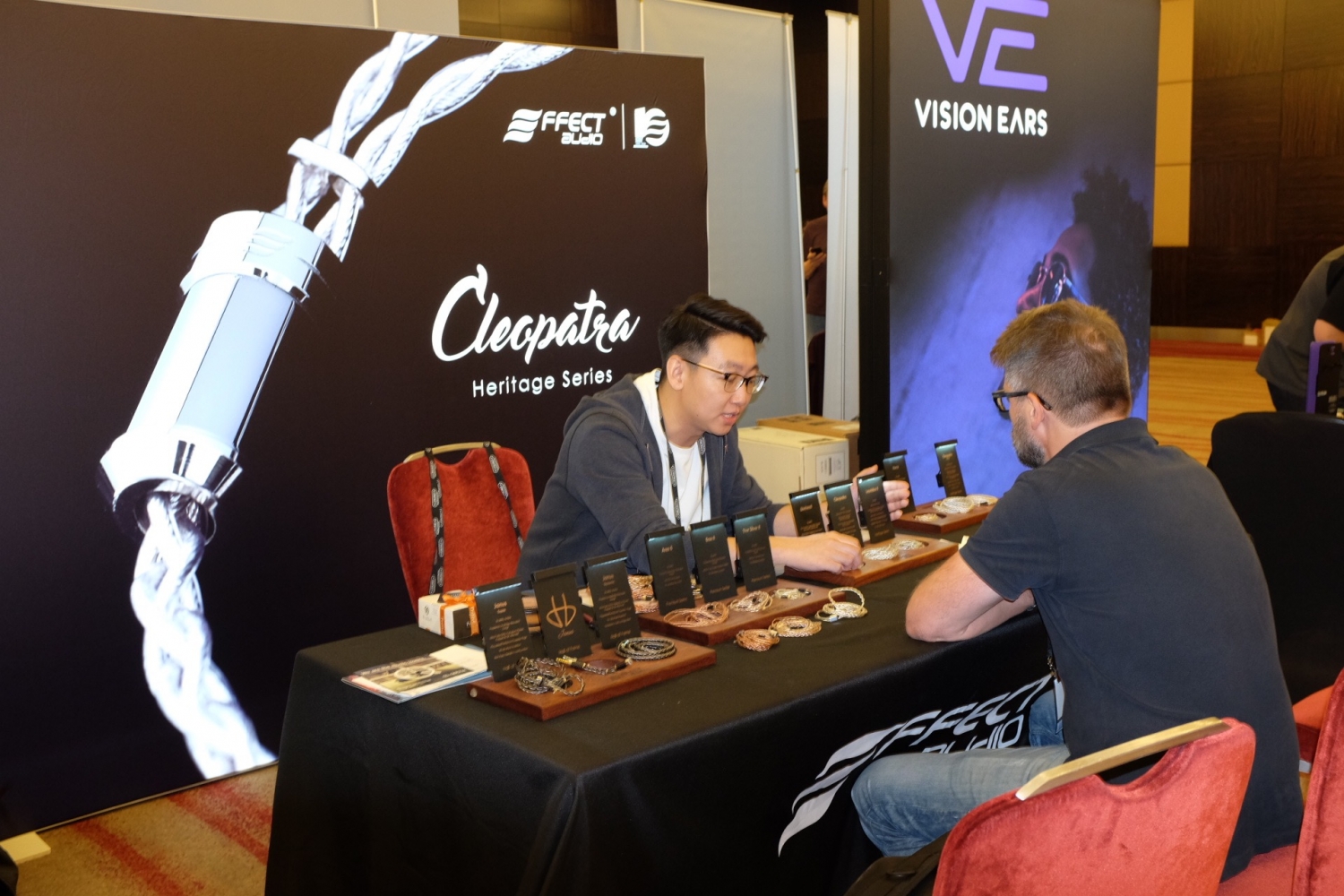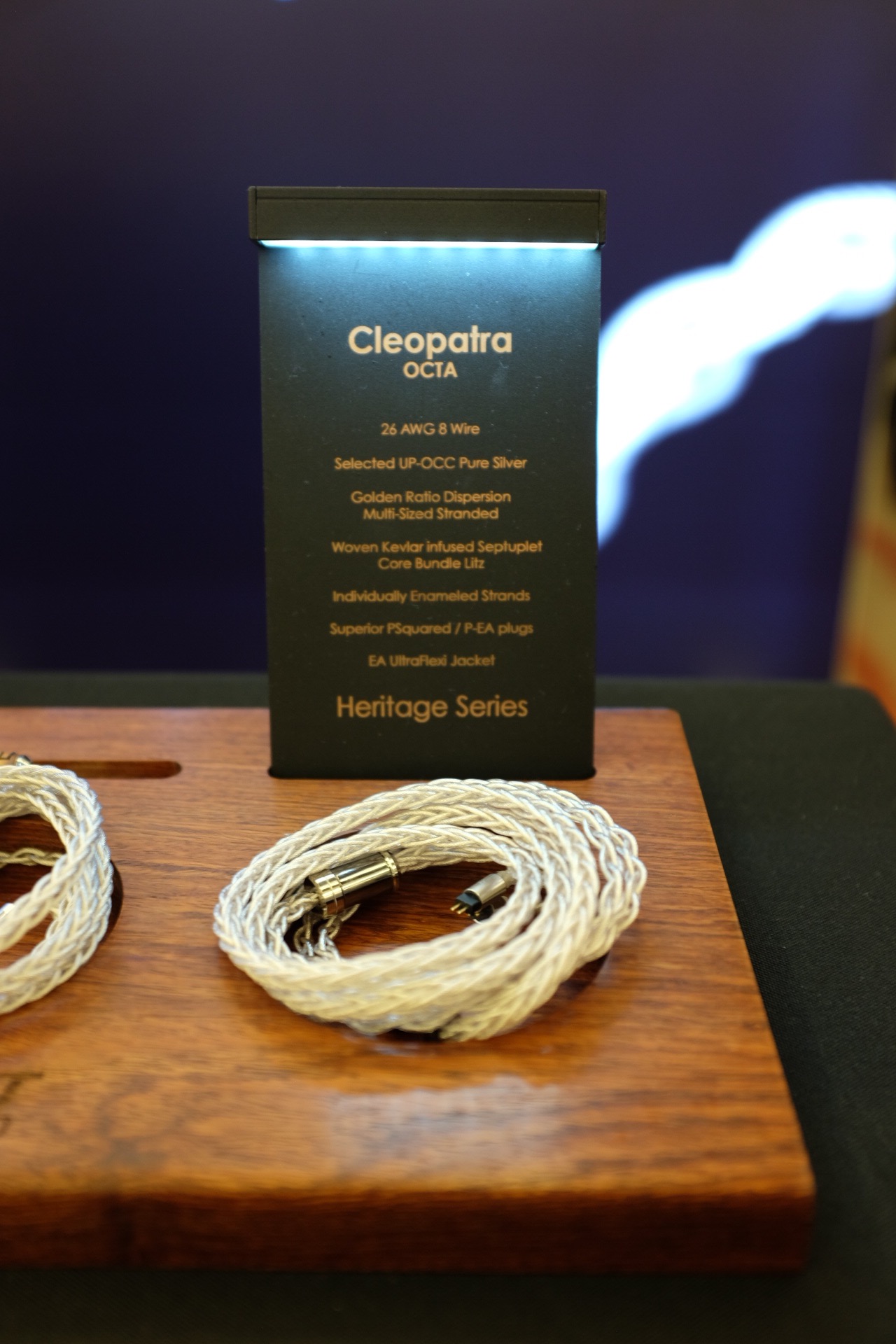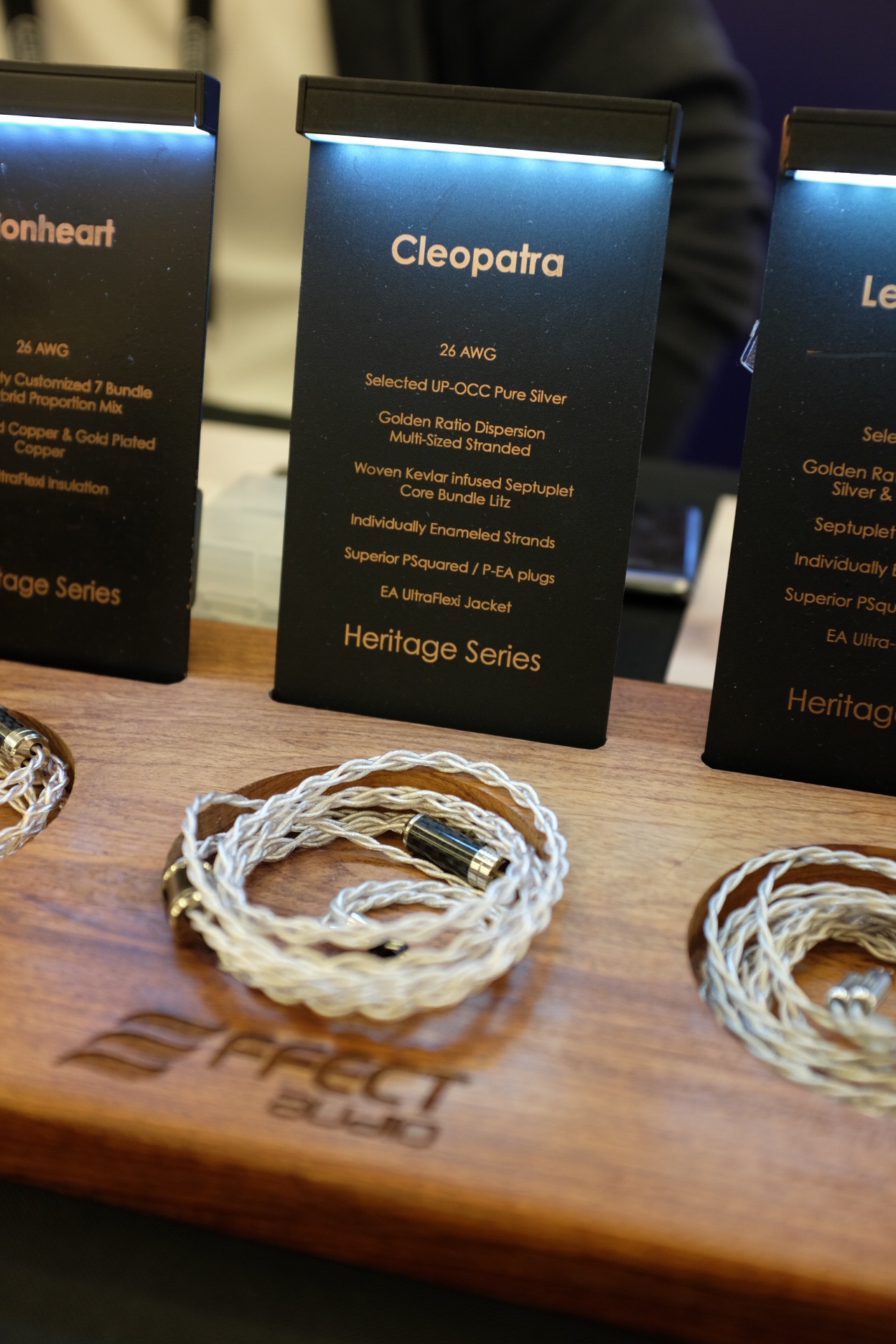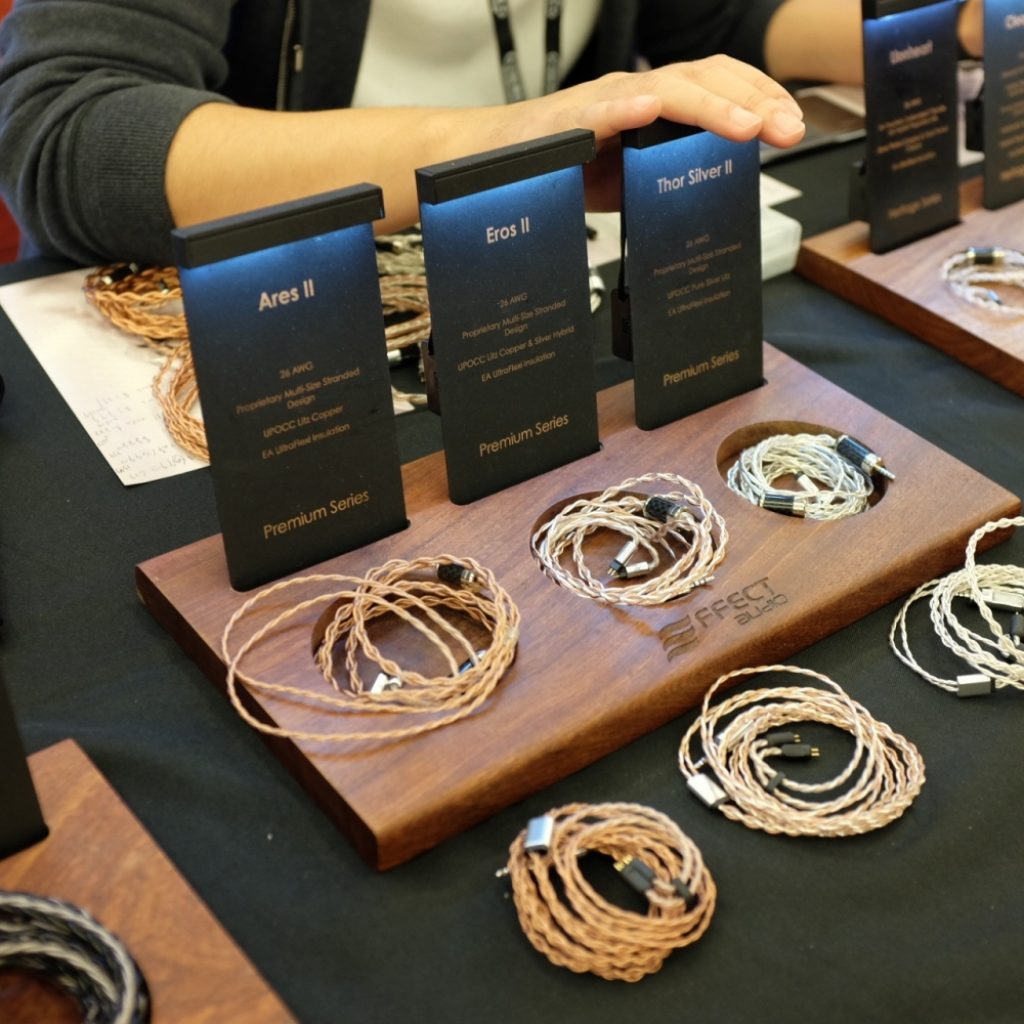 Effect Audio from Singapore handcrafts cable for earphones. This year they have 2 new silver cables for the show, Cleopatra Octa and Cleopatra. The Cleopatra Octa is a 26 AWG 8 wire UP-OCC silver, golden ratio dispersion multi-sized enameled stranded with woven Kevlar infused septuplet-core bundle Litz cable with PSquared/P-EA plugs, priced at $1499. The Cleopatra is 26 AWG UP-OCC silver, golden ratio dispersion multi-sized enameled stranded with woven Kevlar infused septuplet-core bundle Litz cable with PSquared/ P-EA plugs, priced at $699.
Apart from this, Effect Audio has also shown us their yet to be released new version of their Premium series (see photo above, the 3 wires in front of Effect Audio's display), no detail on prices yet but all will be revealed at the Hong Kong show later this year.
Vision Ears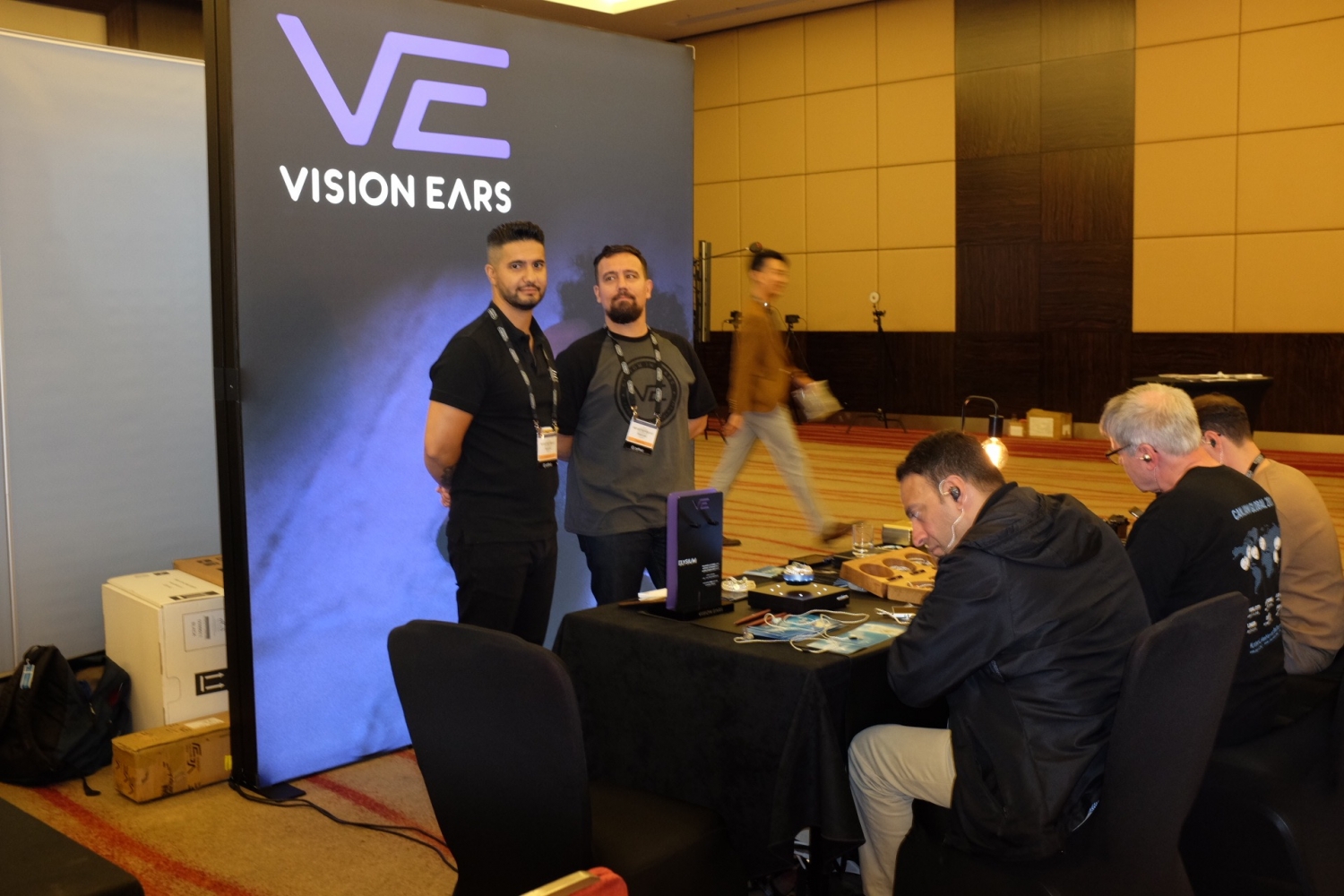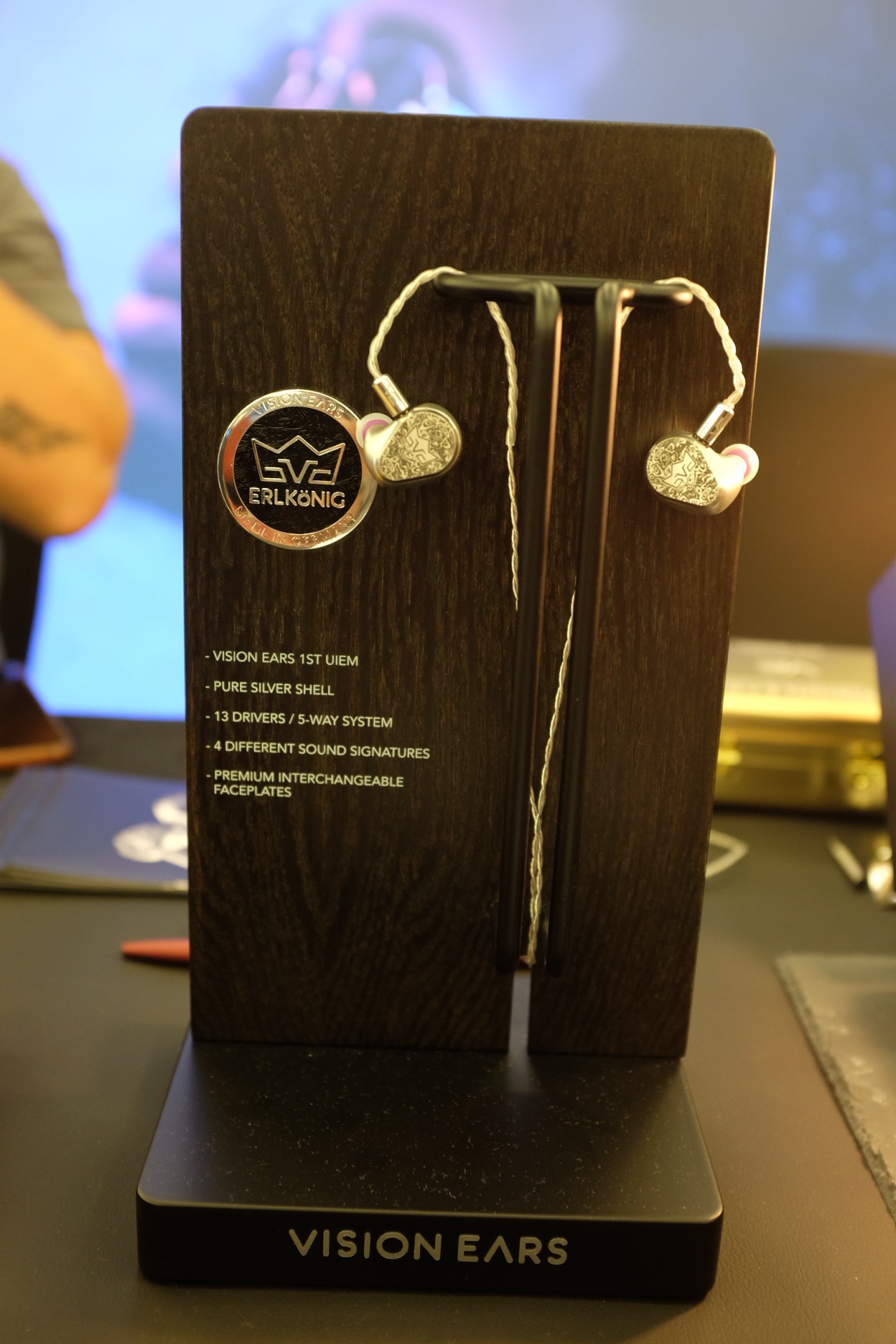 Vision Ears from Germany brought a new hybrid Custom-fit IEM to the show, the ELYSIUM, which is a 4 drivers CIEM (2 electrostatic drivers for high frequency, 1 balanced armature driver for Bass, 1 dynamic driver for mid) with a 3-way crossover, priced at 2900 euro. Also at the show is their universal-fit IEM ERLKöNIG, a solidly built IEM with a pure silver shell! ERLKöNIG is a 13 driver IEM (4 BA for bass, 4 BA drivers for mid, 4 BA drivers for highs, 1 BA driver for super tweeter) with a passive 5-way system. With this IEM the user can switch between 4 different sound signatures. ERLKöNIG is priced at 4200 euro. Apart from this, Vision Ears has 2 updated custom-fit IEMs, the VE3.2 (3 drivers, 3-way system) and VE4.2 (4 drivers, 3-way system), priced at 1090 euro and 1290 euro respectively.
Walter Liederman from Underwood HiFi made it possible for us to cover this show by sponsoring all the coverage for CanJam. Walter is one of the best online retailers worldwide who offers premium and affordable products as well as advice on what products will work best for your personal application. Check out his website https://www.underwoodhifi.com/ and give Walter a call for your audio needs.
My final part will include exciting gear from ZMT, HEDDphone, Campfire, Woo Audio, and others, so don't miss London CanJam 2019 Coverage Sponsored by Underwood HiFi – Part 5!