One of the most exciting discoveries at LAAS 2017 was the ModWright OPPO Sonica DAC Mod ($2,500 USD plus customer supplied OPPO Sonica). I have long felt that the amplifier section is the most critical aspect of a DAC in determining its sound quality, obviously Dan Wright concurs and as a result has upgraded the OPPO Sonica Streaming DAC by adding a tube amplifier section and attendant power supply, taking what was an excellent budget streaming DAC and turning into a world class audiophile product. Sharing space with ModWright was WyWires who were demonstrating their Platinum Series cables which employs a carbon and grapheme ring which offers 17dB EM (Electro Magnetic) attenuation vastly lowering the noise floor.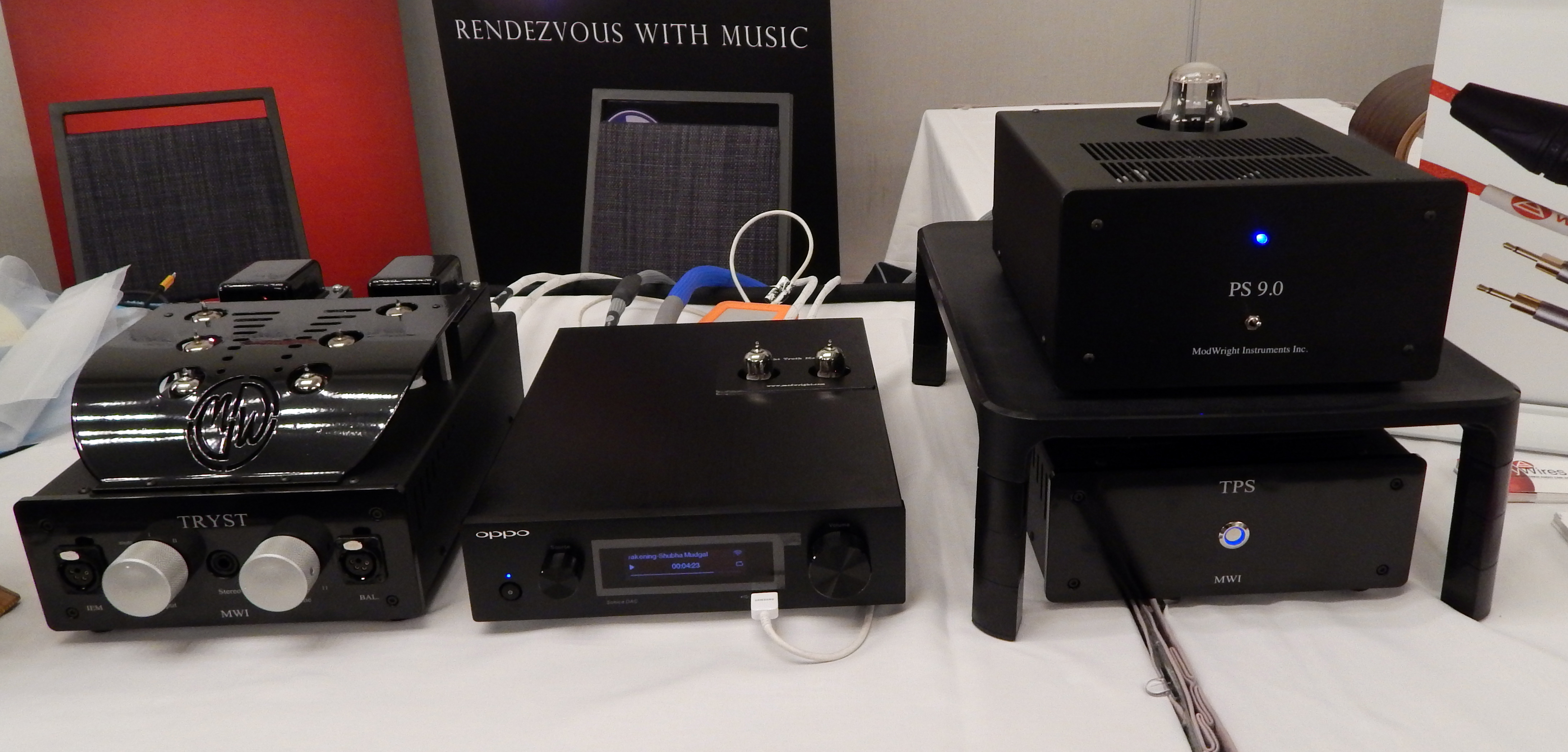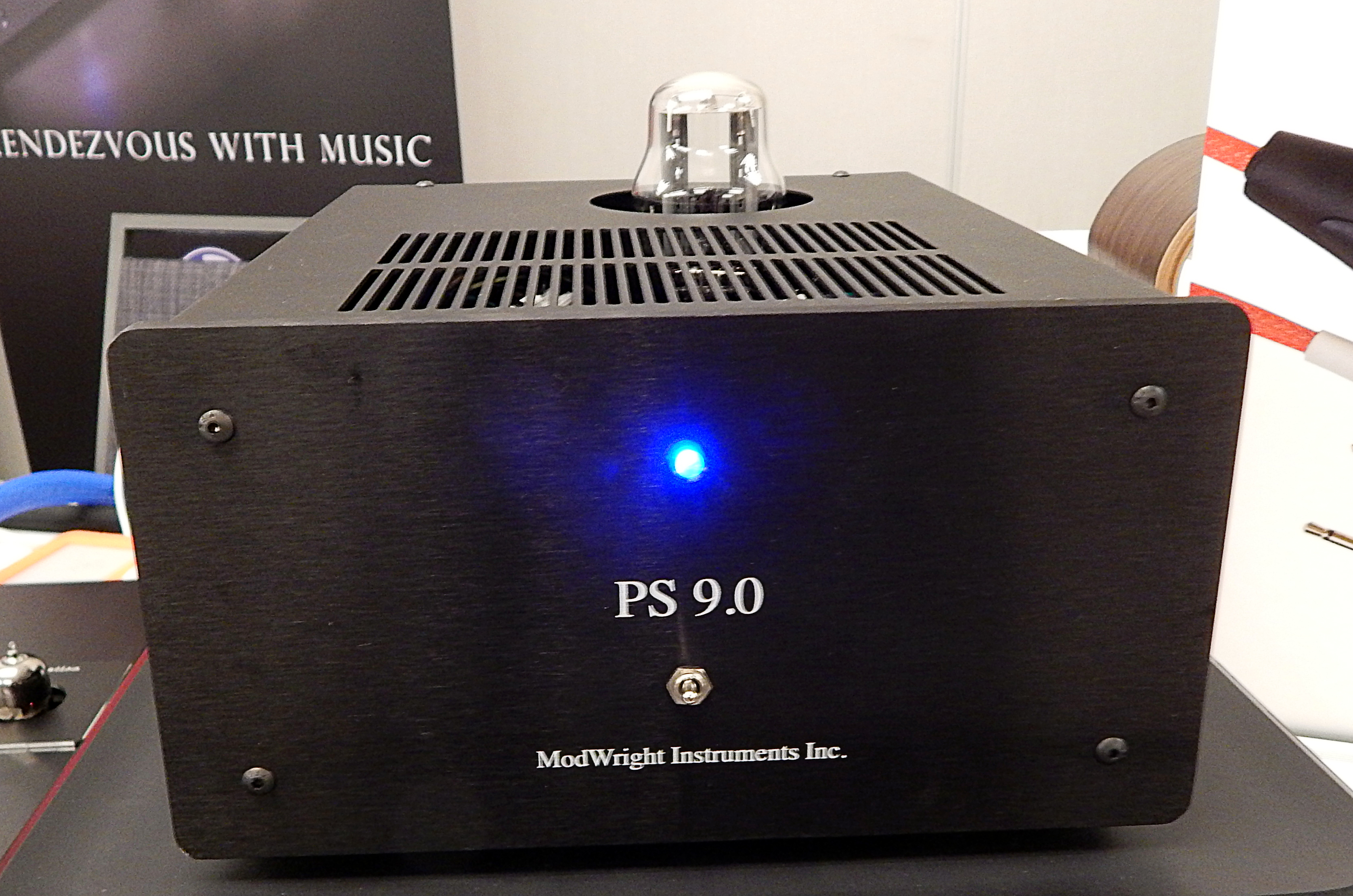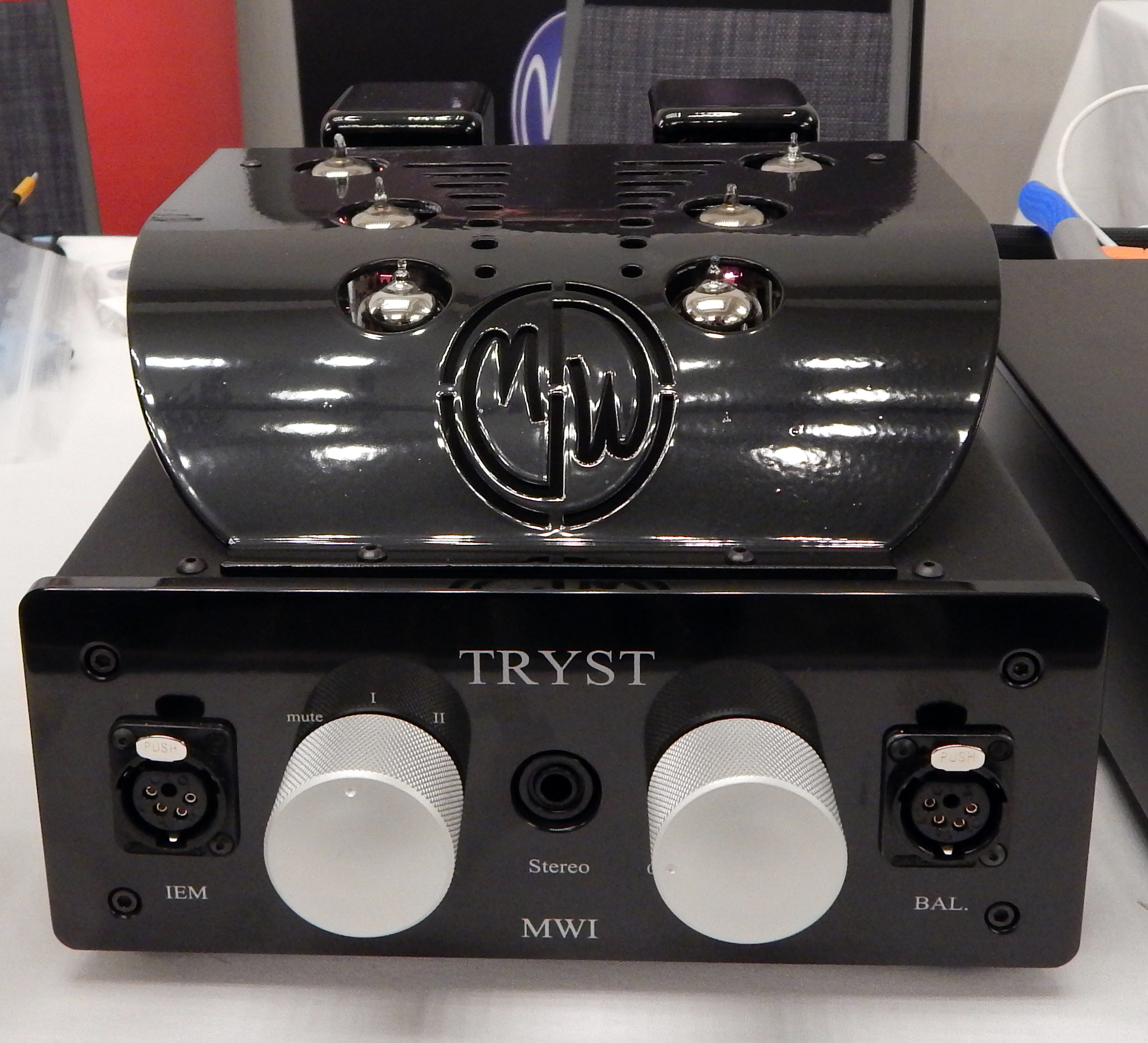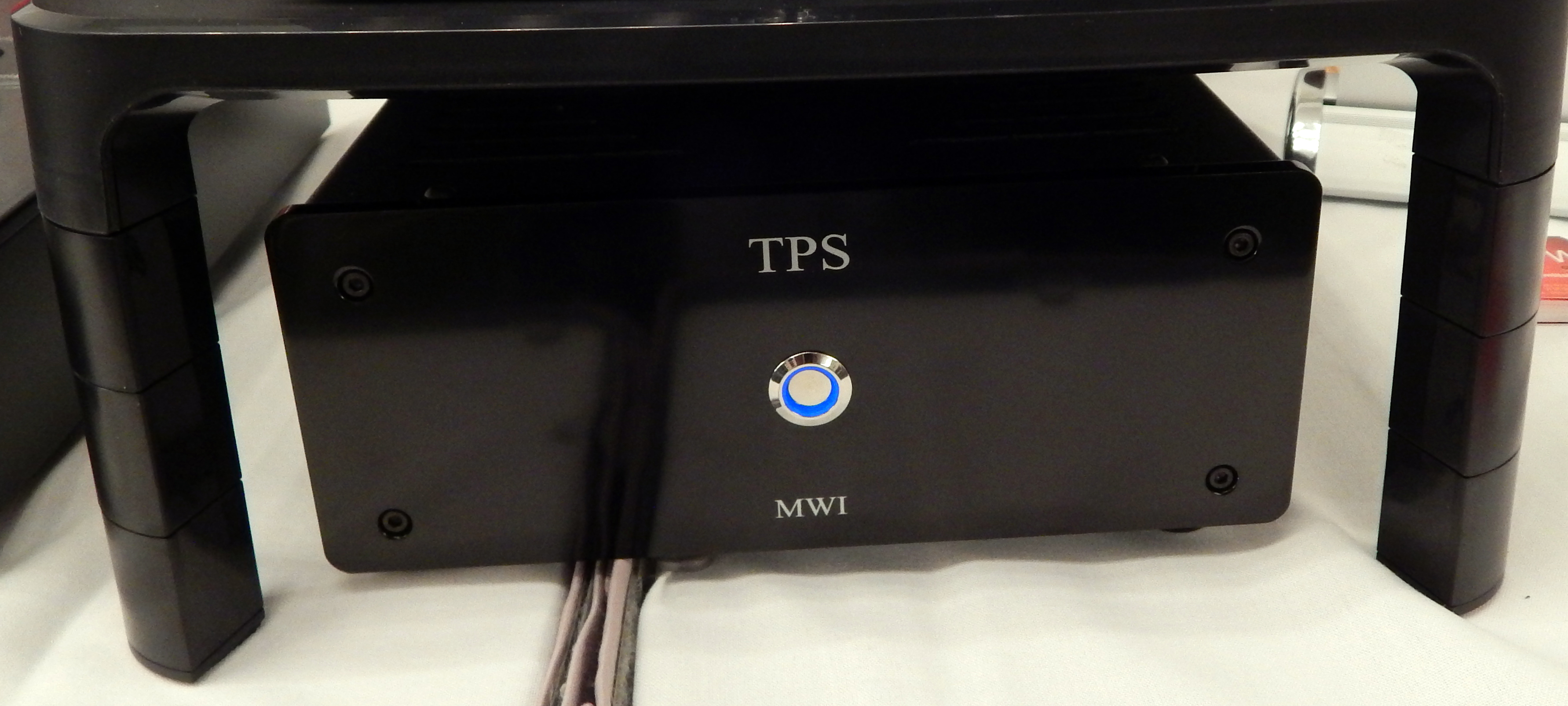 One of the unique offerings of LAAS 2017 was the HeadGear Extreme private listening room, providing an isolated space for select manufacturers to demonstrate their state of the art reference gear. One manufacturer to take advantage of this was HiFiMAN auditioning their $50,000 USD Shangrila Tube Electrostatic Headphone Amplifier/Electrostatic Headphone System. Also for your listening pleasure was the brand new SUSVARA Planar Magnetic Reference Headphones & EF1000 Headphone Amplifier combination ($18,000 USD) providing the stellar performance one expects from HiFiMAN. And so as no category goes uncovered, they were also debuting their RE2000 24k Gold Edition Reference Universal IEMs ($2,000 USD) featuring HiFiMAN's exclusive 9.2mm Dynamic Topology Diaphragm Driver.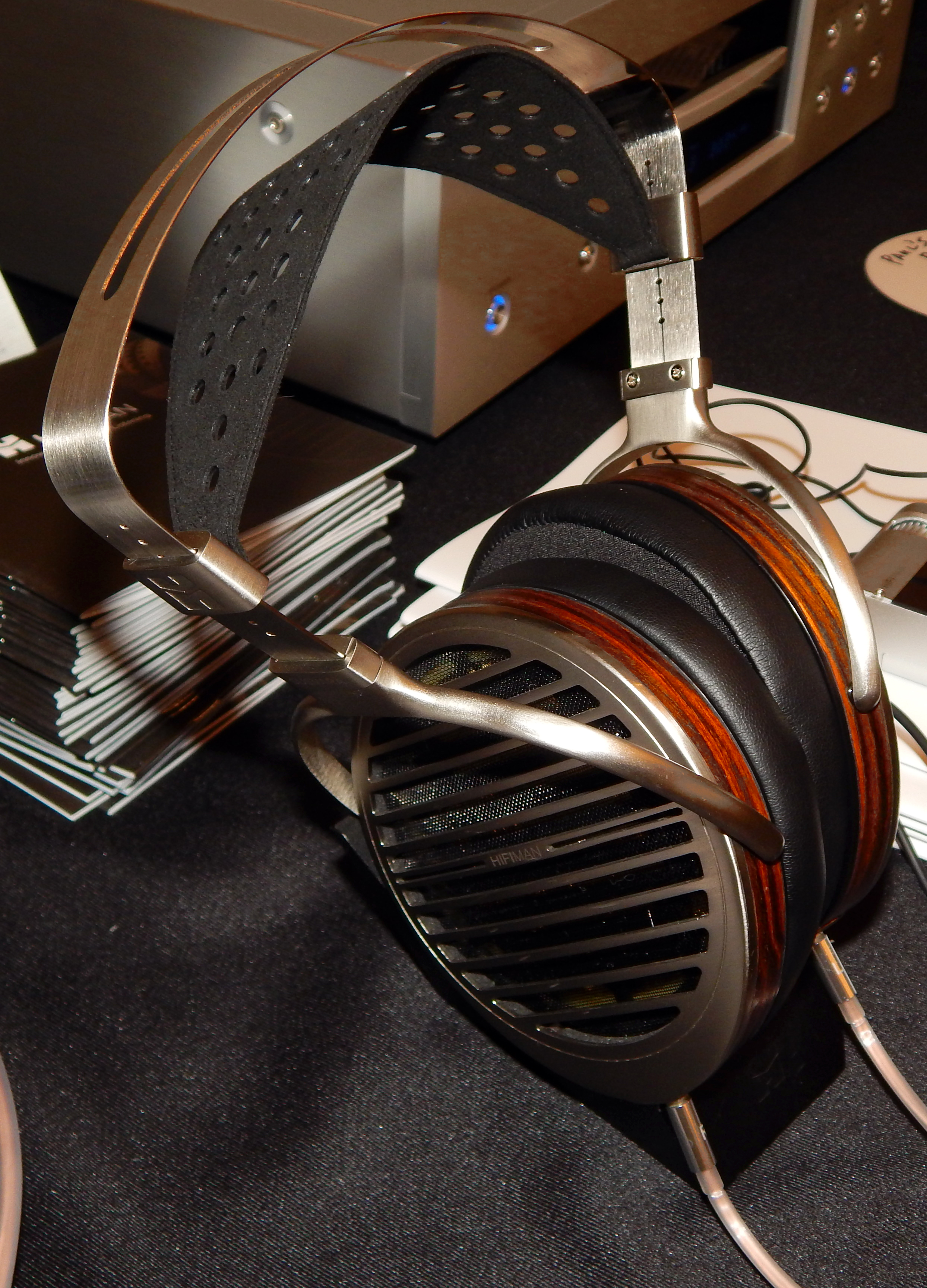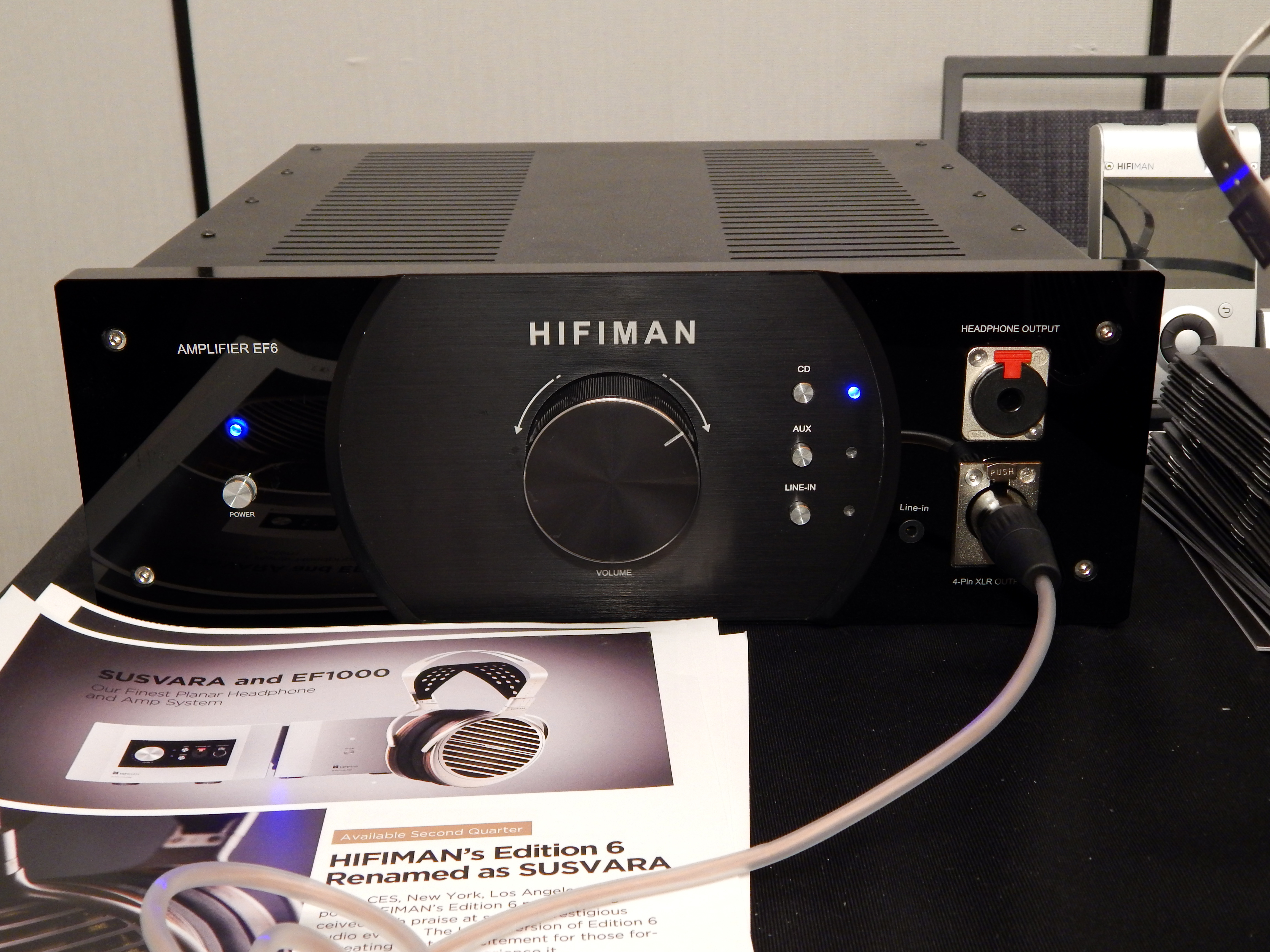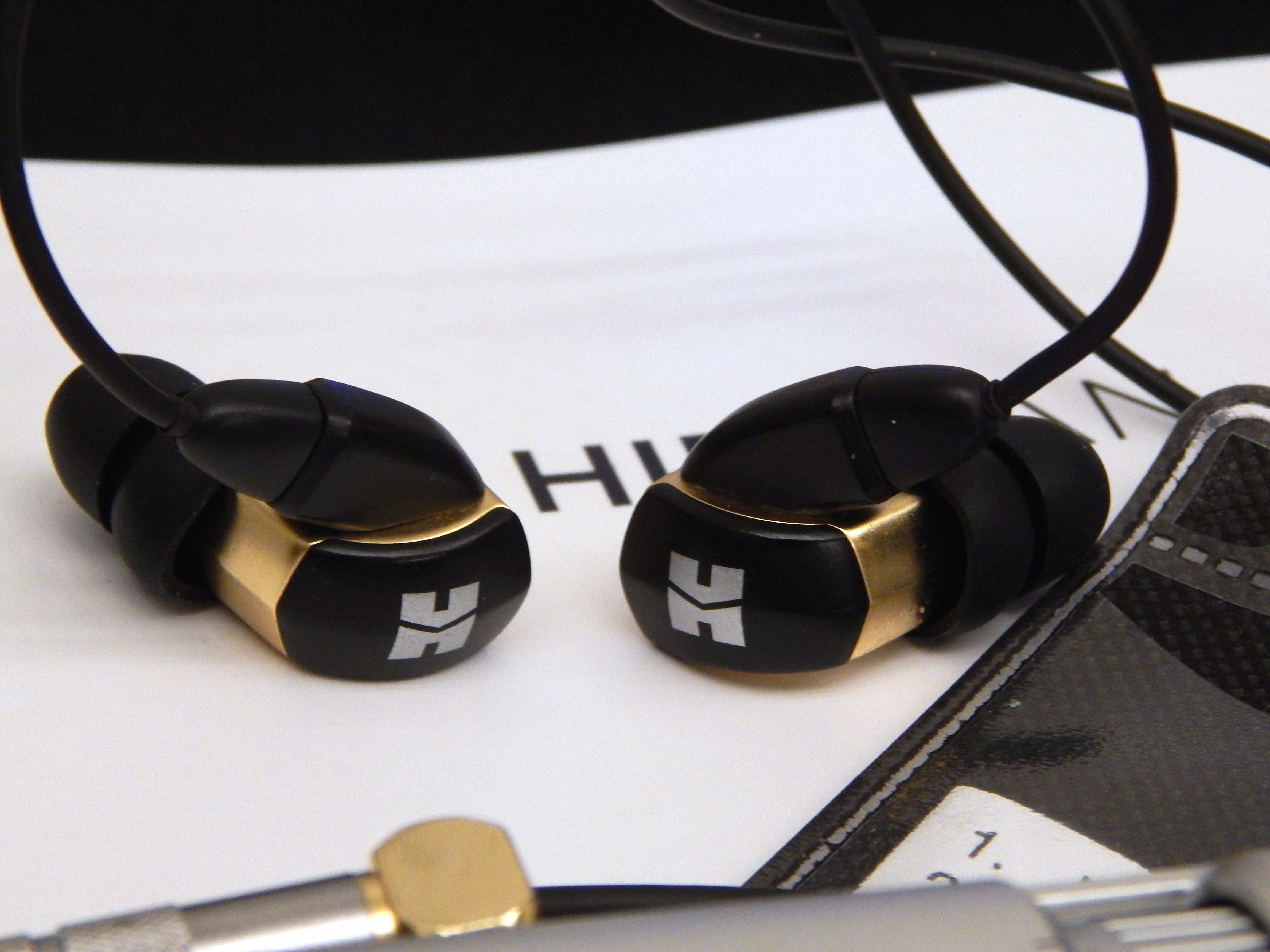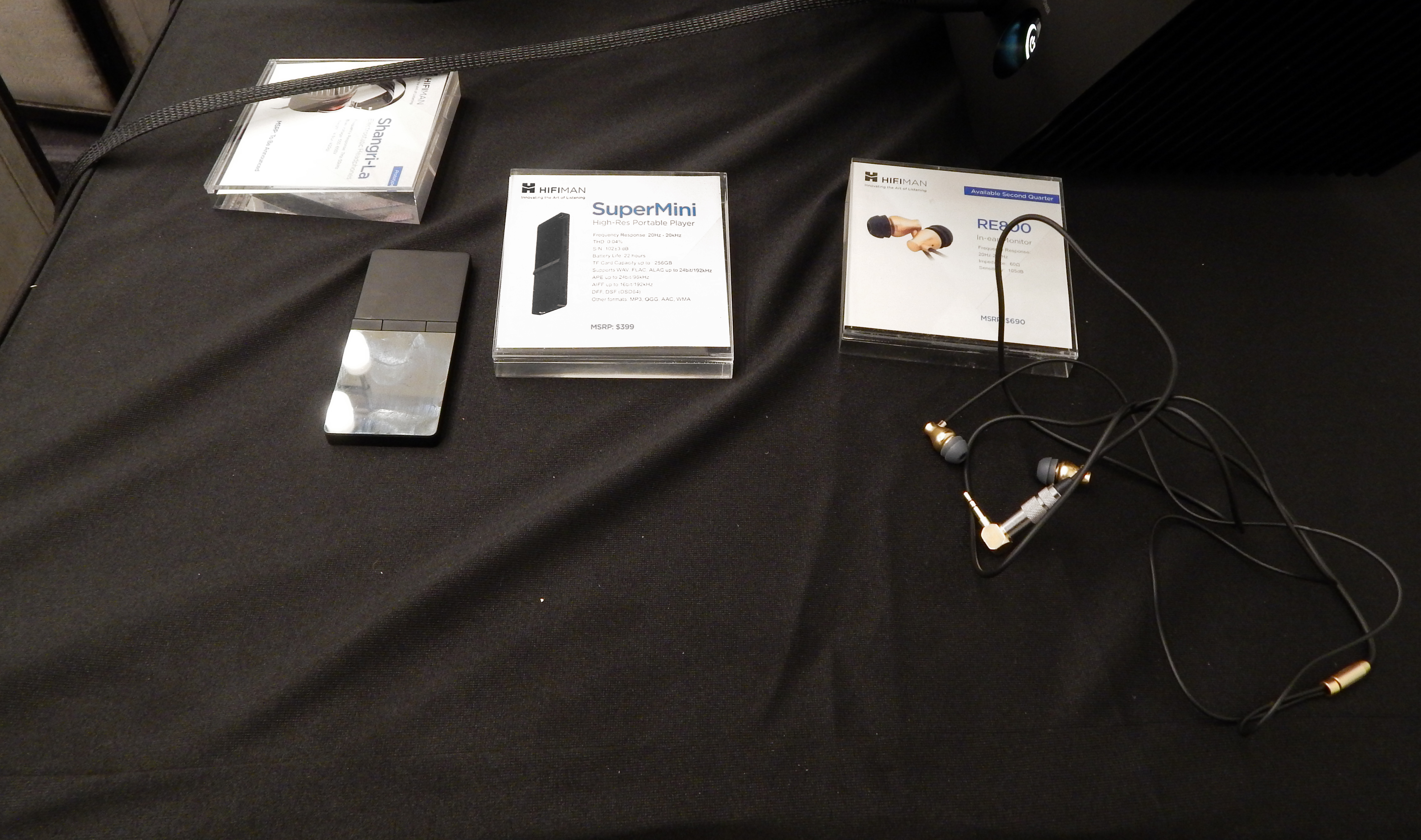 Also in the HeadGear Extreme room, Questyle Audio was performing a side by side comparison of their flagship Questyle Audio CAS192D Current Mode/True DSD DAC ($1,999 USD), CMA800P Current Mode Preamp($2,499 USD), CMA800R Current Mode Headphone Amplifier ($1,999 USD x 2) dual mono balanced system vs. their "Gold Stack" Reference System consisting of the Golden Reference versions of the same components ($13,746 USD), utilizing a custom cable set by Kimber Kable, the Focal Utopia Headphones ($3,999 USD) and the Audeze LCD4 Headphones ($3,995 USD), both using Kimber AXIOS headphone cables, showing just how much difference handpicked components and Rogers Ceramic PCBs can make.
Questyle Audio also had their own room on the opposite side of the lobby from the HeadGear rooms in which they were highlighting their new products the outstanding Questyle Audio CMA400i Current Mode DAC/Preamp/Headphone Amplifier ($799 USD) , the first desktop unit to offer a 2.5mm balanced output for IEMs and the long awaited and greatly anticipated Questyle Audio QP2R Current Mode Portable Music Server ($1,299 USD). The QP2R comes with improved mechanicals, an improved DAC (capable of up to 32/384 kHz and DSD256 and can decode ISO files), 64GB internal storage in addition to the micro SD card slot and 4 Current Mode Amplifiers to provide a true balanced output with over 4 times the power output of the QP1R making it capable of driving pretty much any headphone. To make matters more interesting, Questyle offers two separate docks (TBA) for the QP2R, a simple one for use with a computer or charger and one specially designed for use with their 5 GHz Wireless Amplifier System.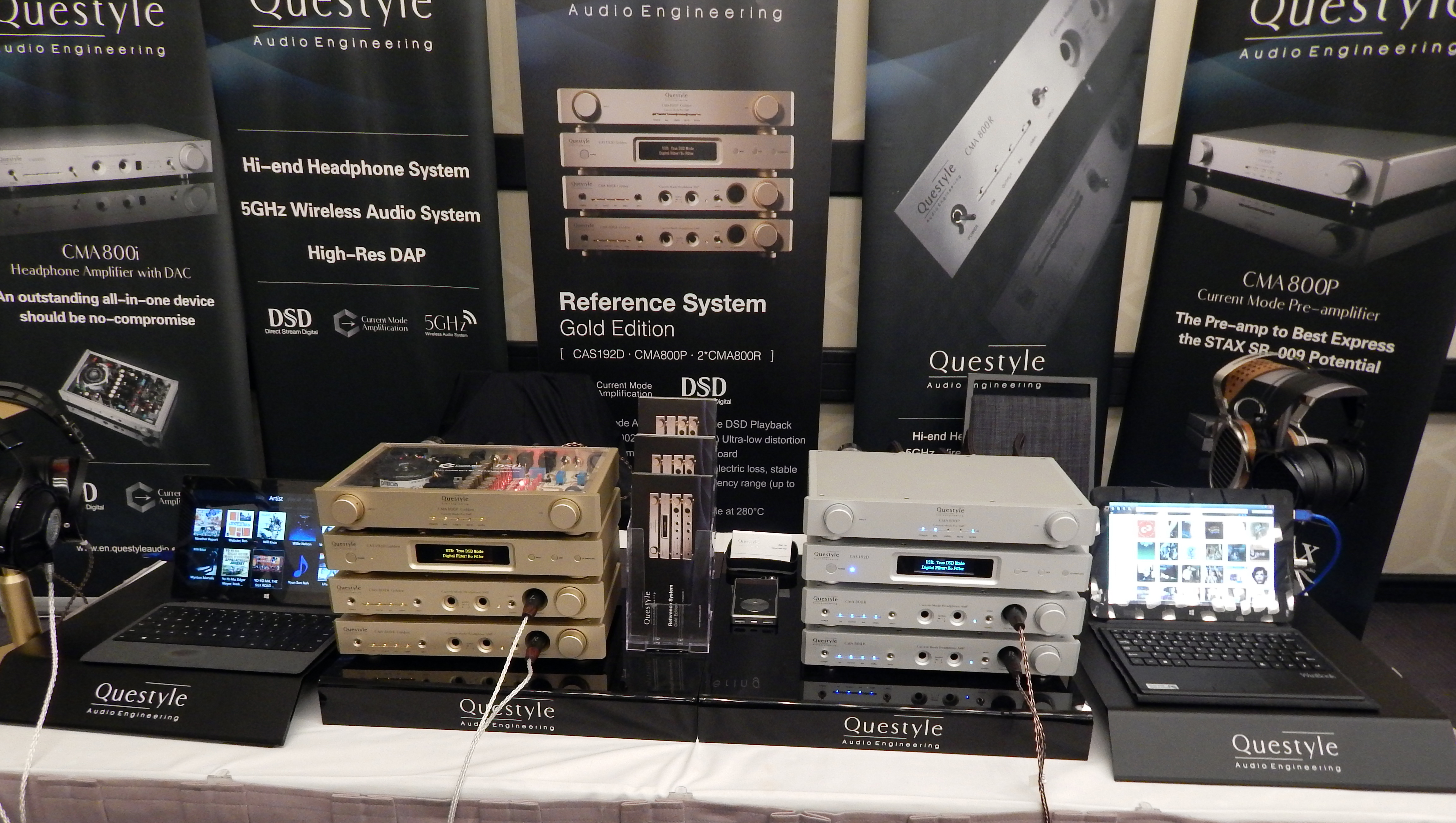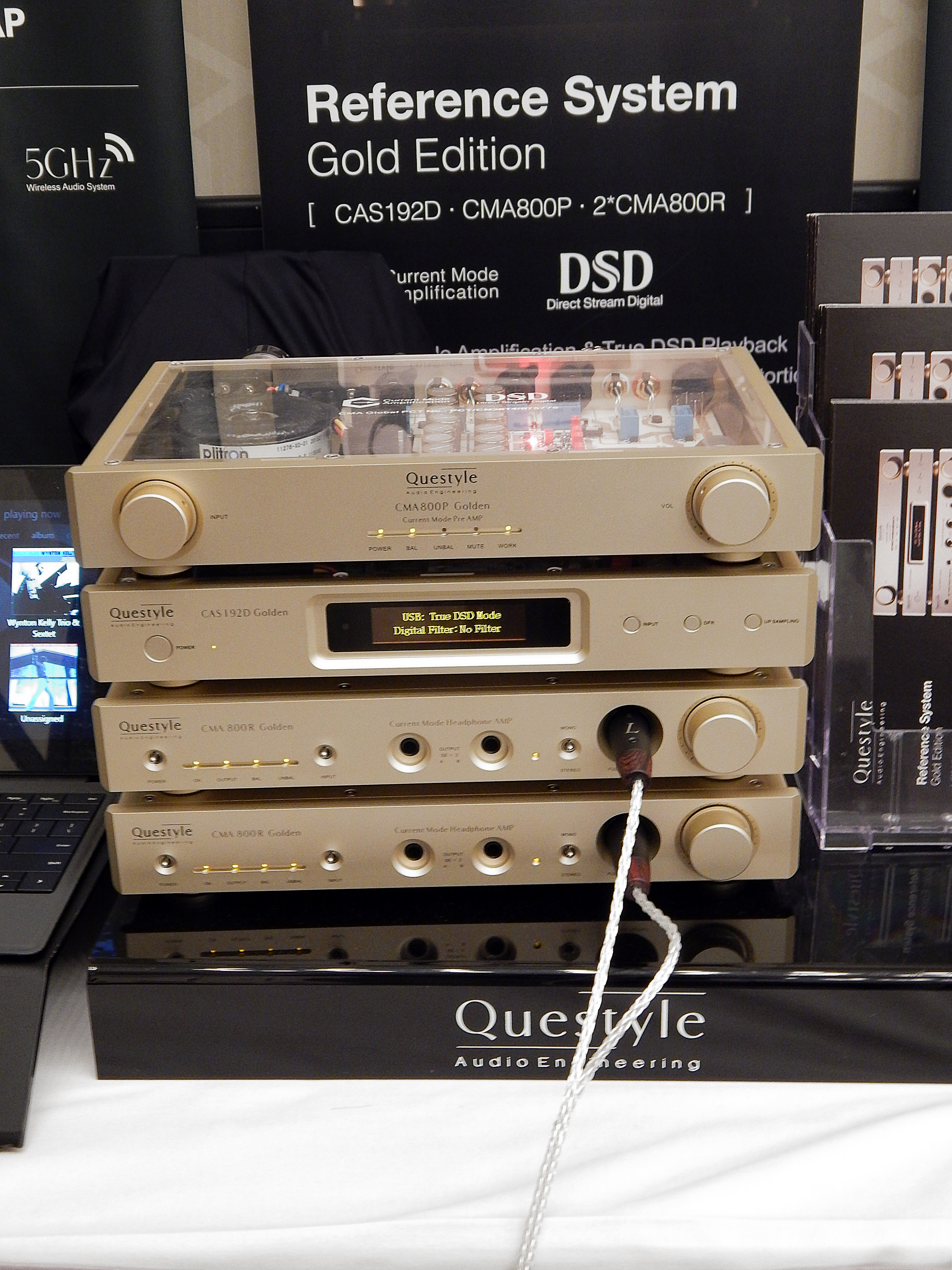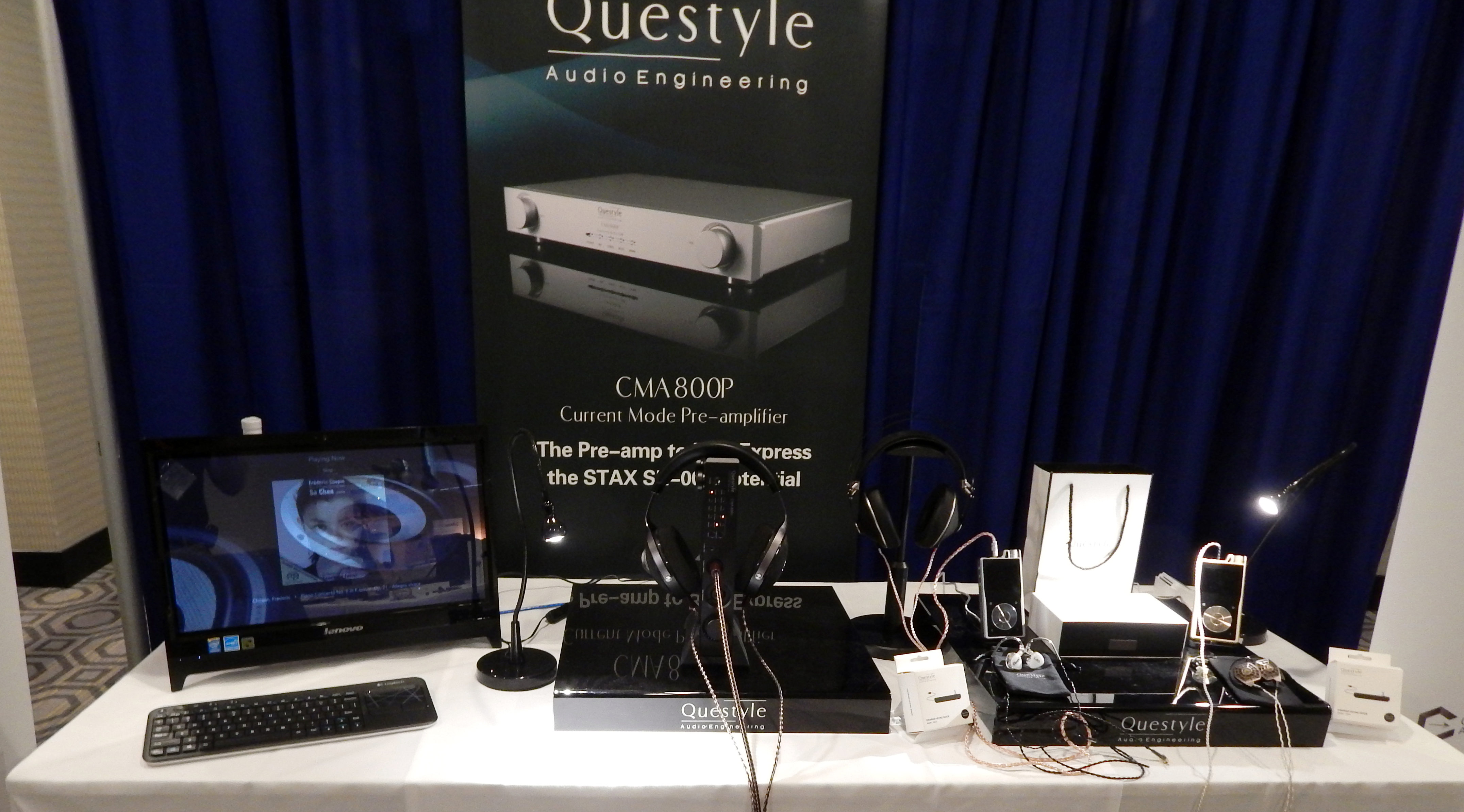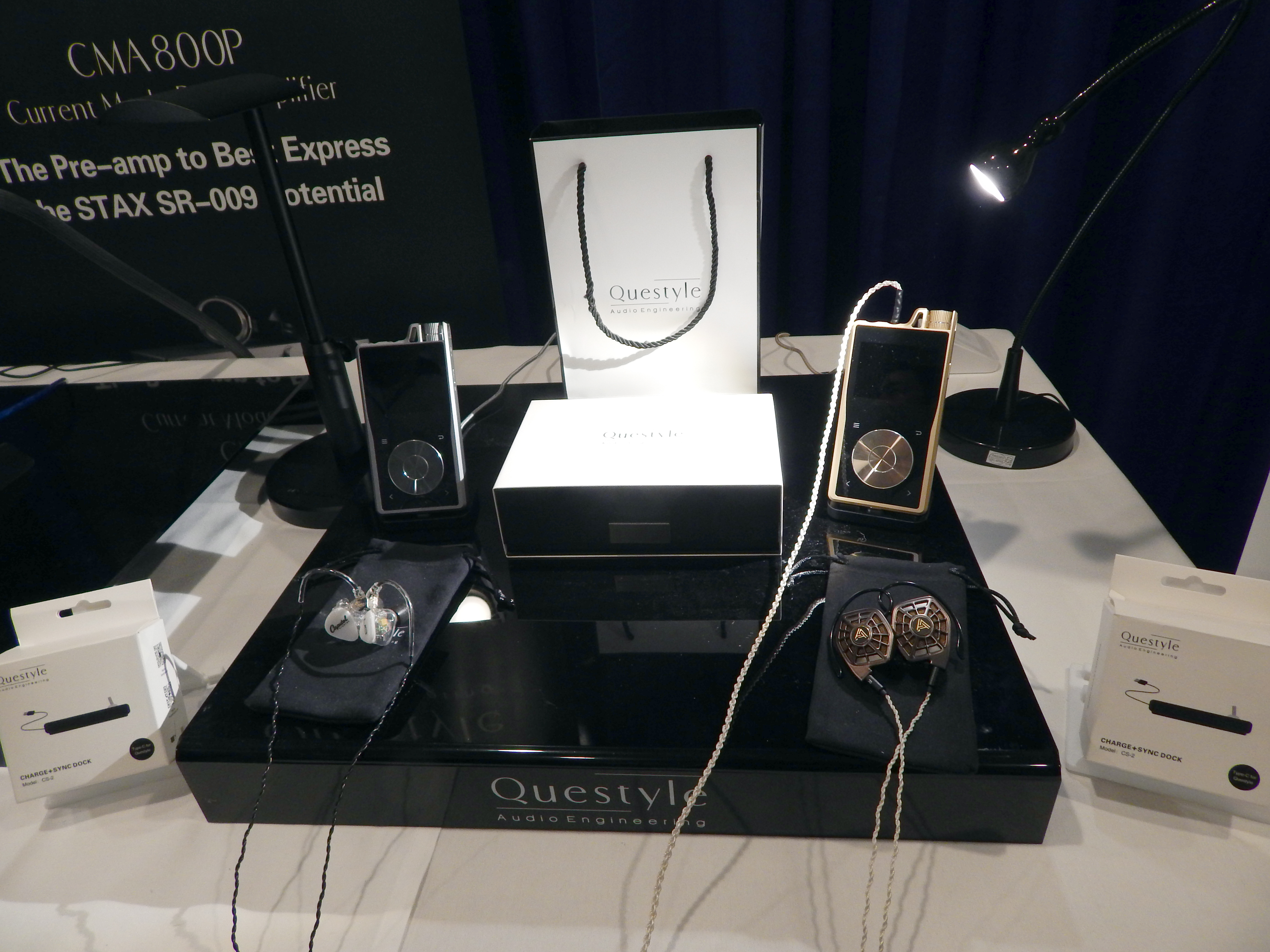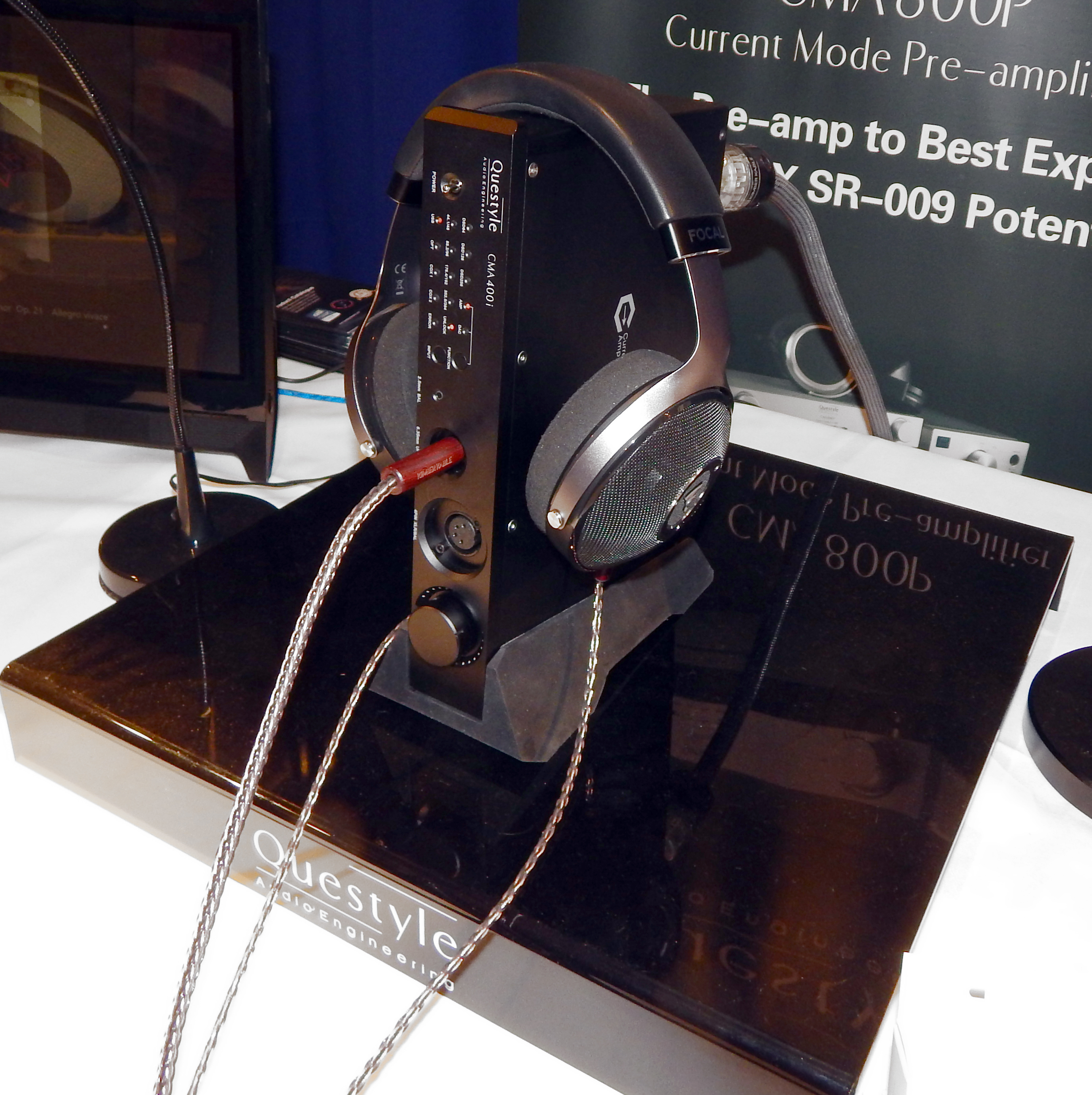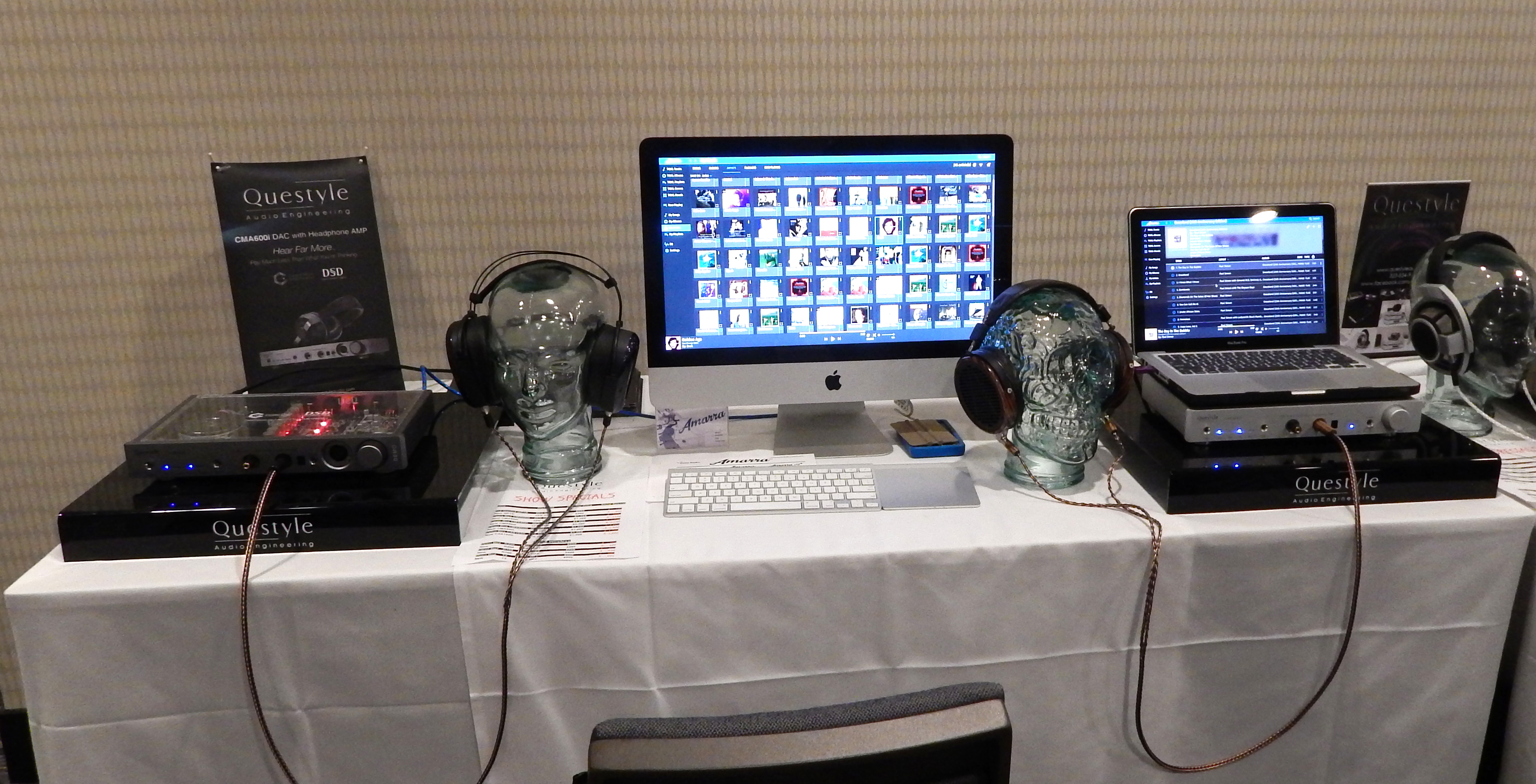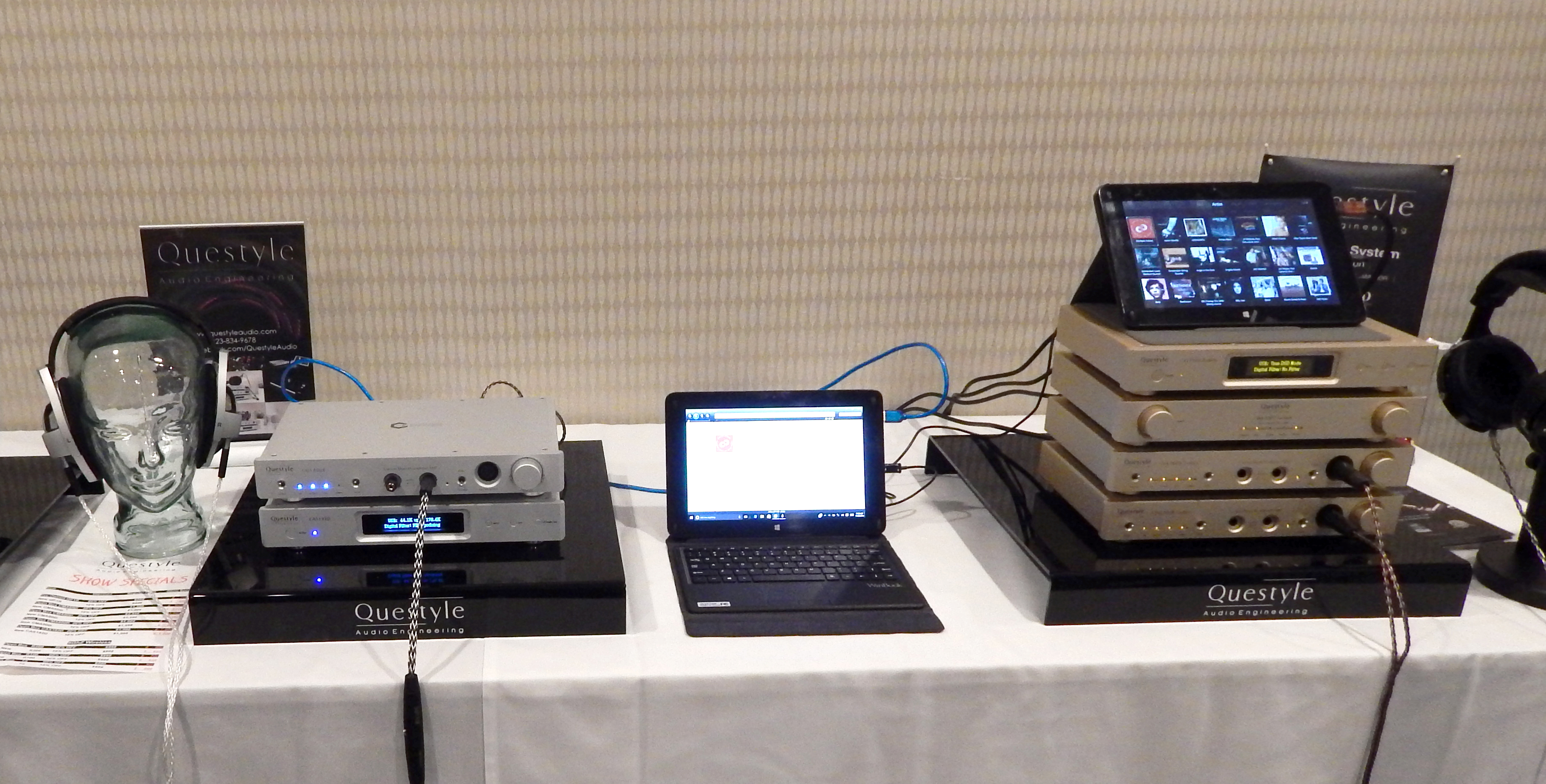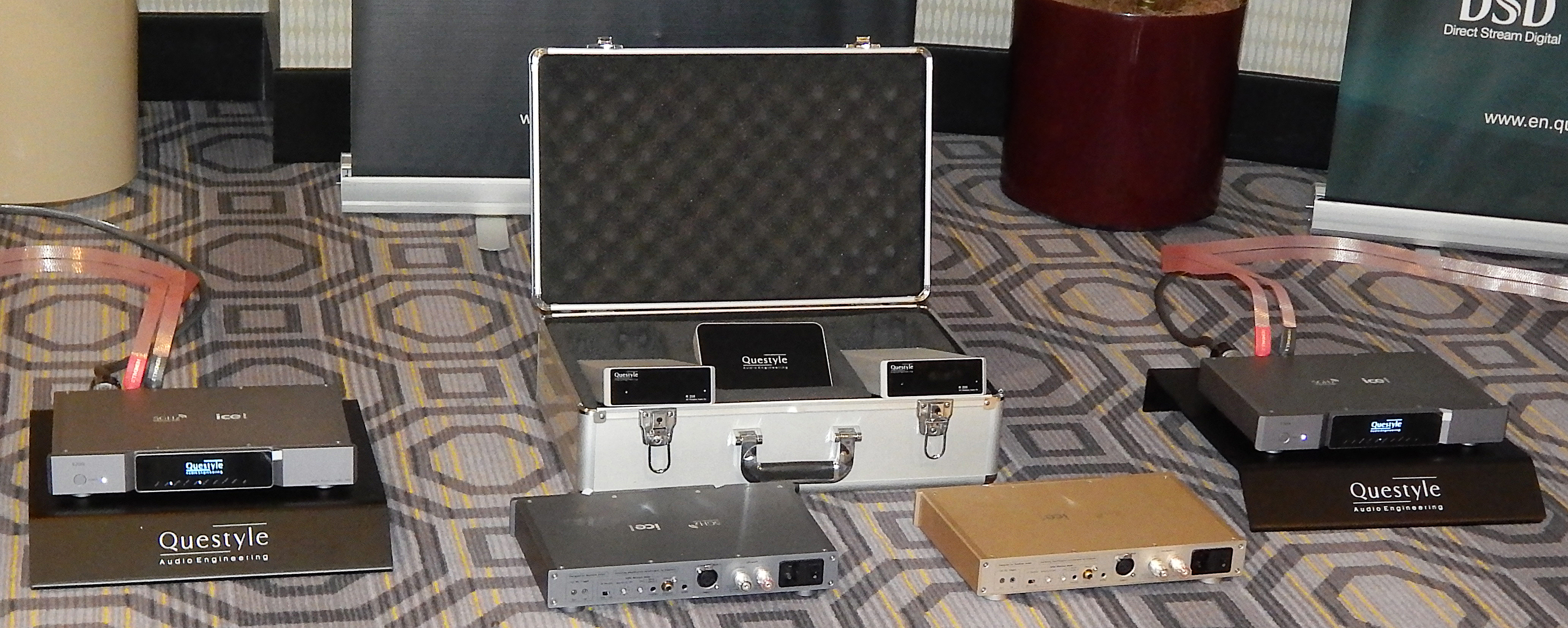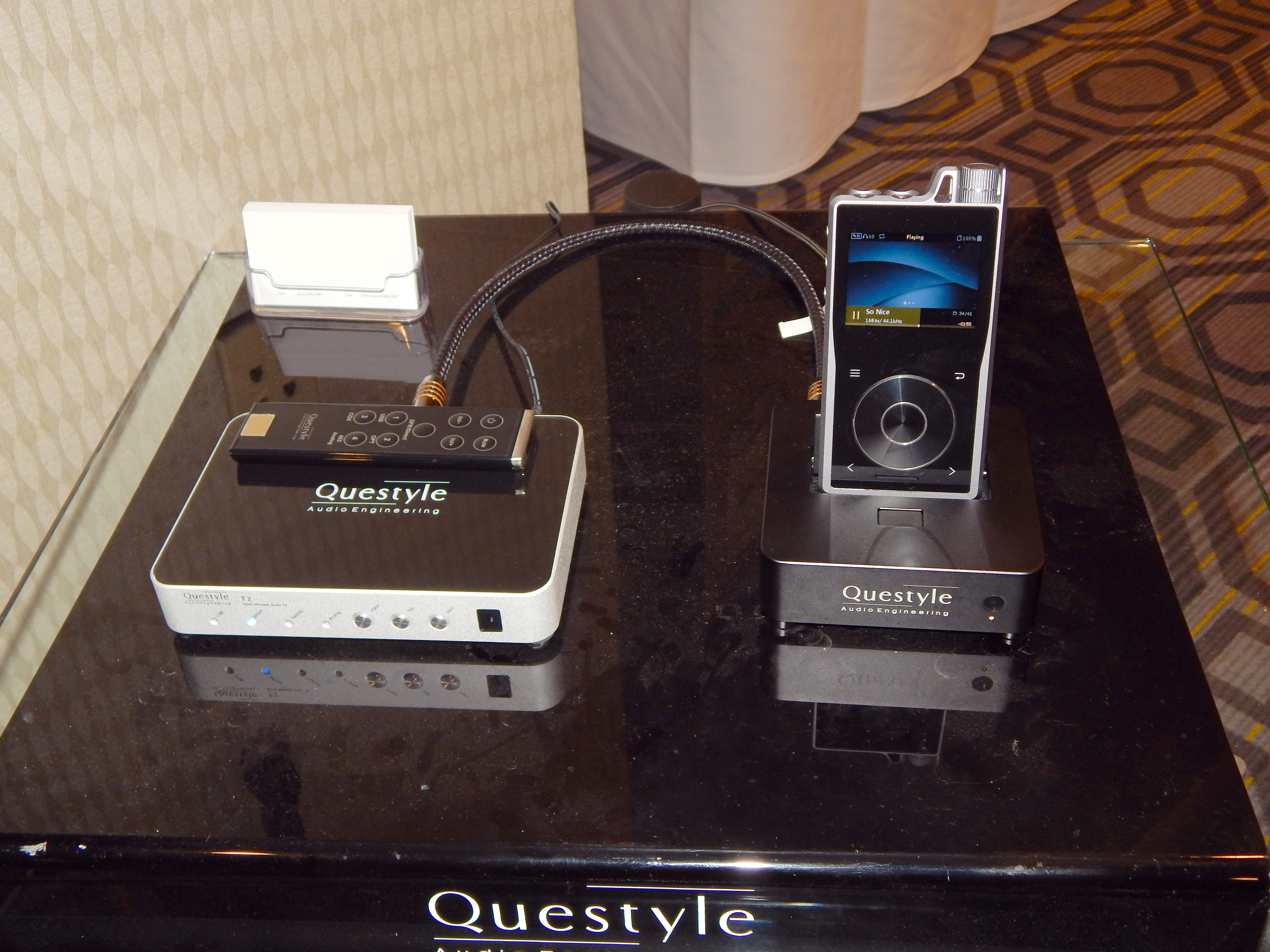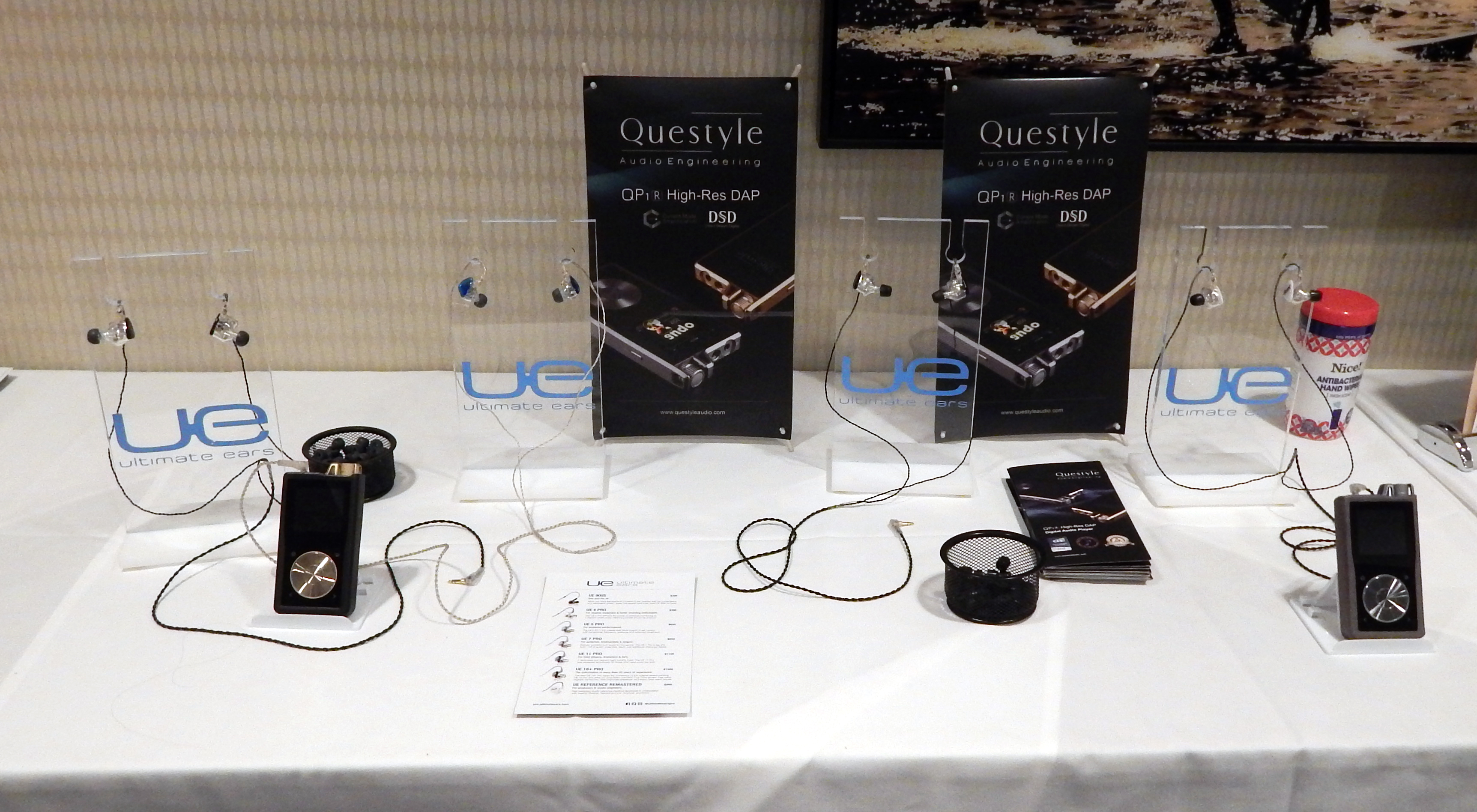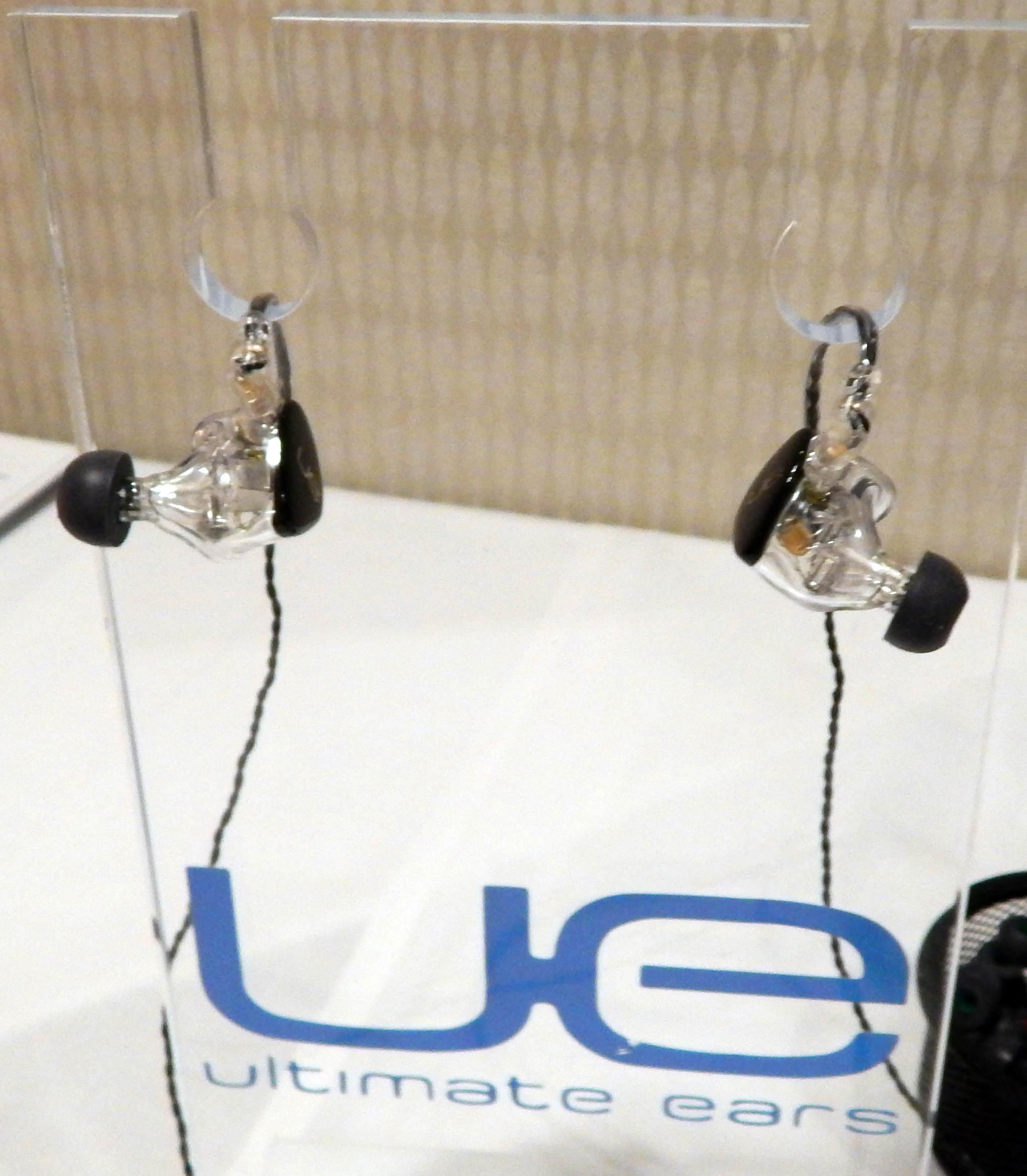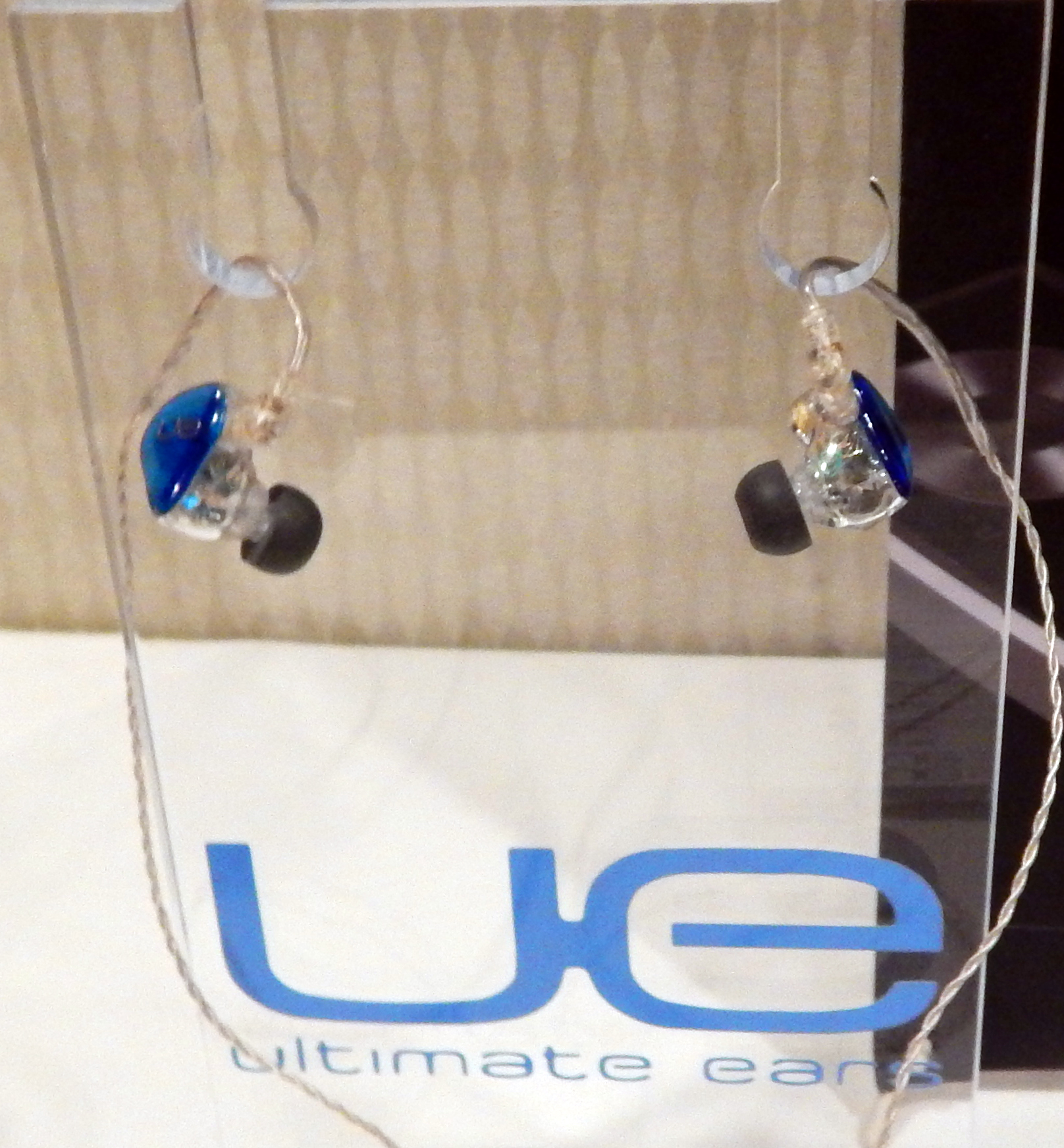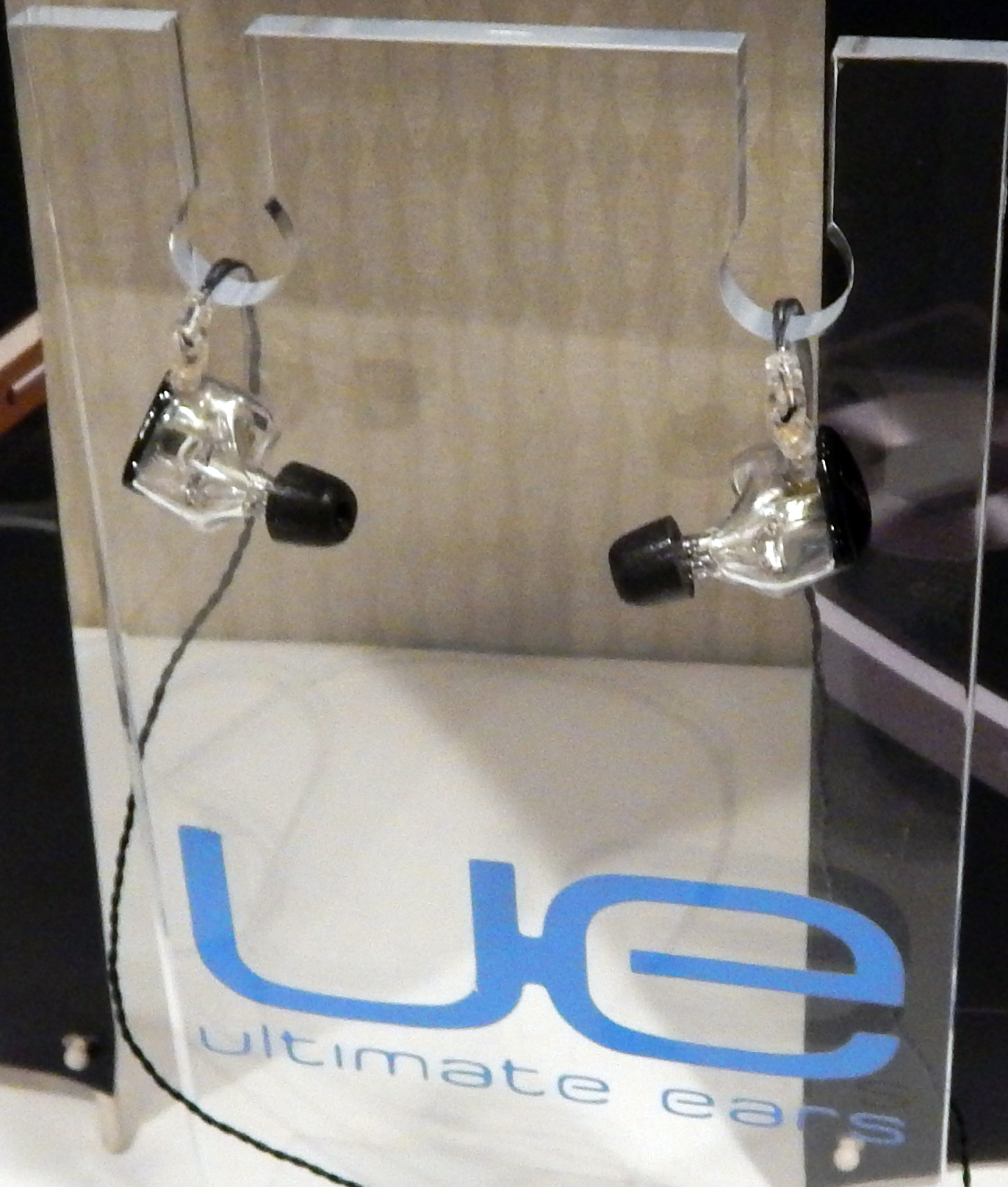 Sharing the room with Questyle was Bruce Ball's HeadSonix, US distributor for Echobox, Meze, Cozoy and Shozy
Cozoy was premiering their TAKT Lighting In-line DAC ($160 USD) for use with Apple devices and TAKT Pro Micro USB In-line DAC ($299 USD) excellent matches for their hera IEMs ($169 USD). Also on display they had the hera lightning IEMs ($185 USD), and their higher performance REI Micro USB In-line DAC ($550 USD), an incredible price/performance value.
Also new on the scene was Shozy with their Alien ($279 USD) and Alien + ($499 USD) DAPs. Shozy was also debuting IEMs with their wood cased Zero ($55 USD) and carbon fiber backed Hibiki ($60 USD). Definitely a manufacture to keep an eye on as they portend great things.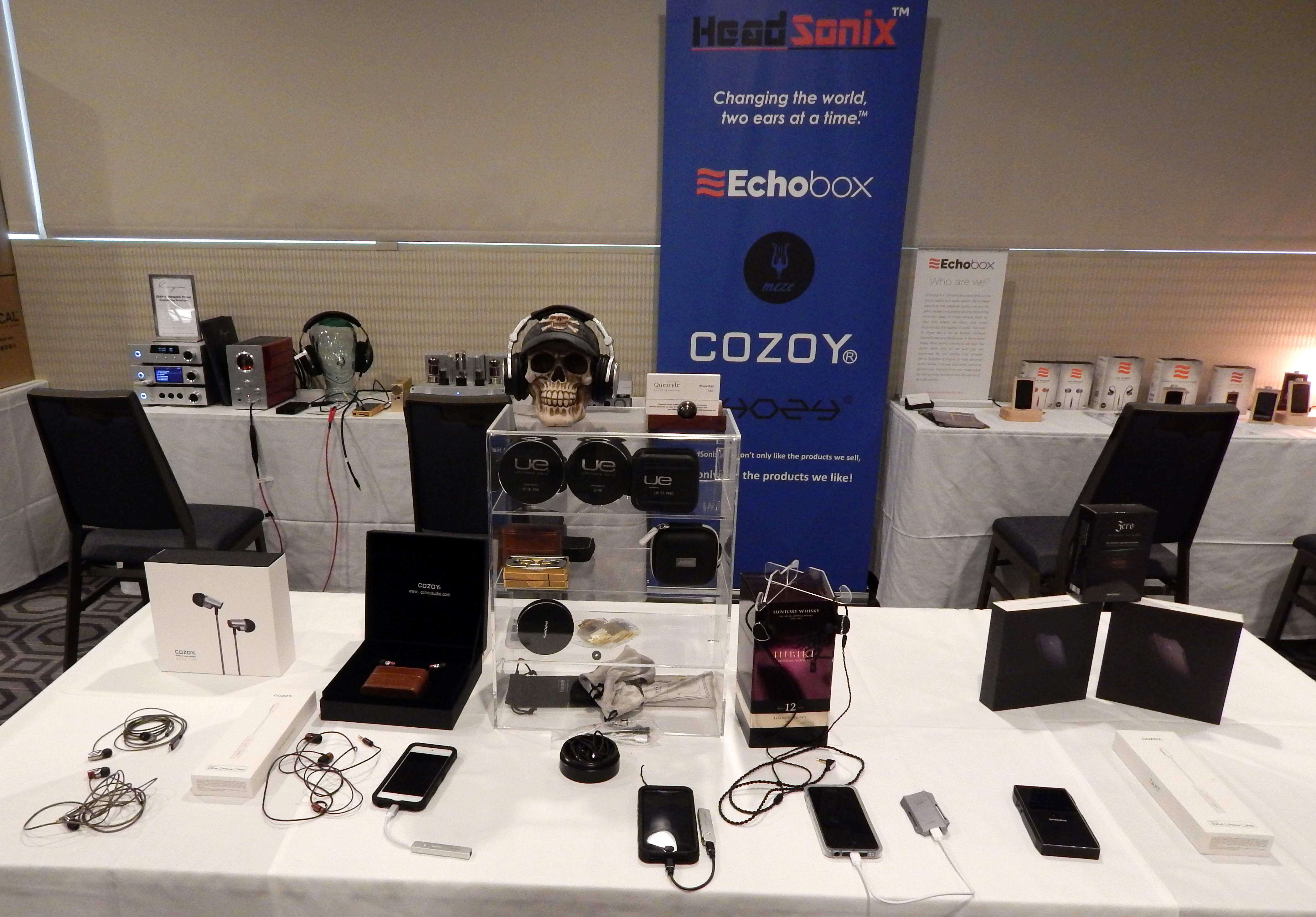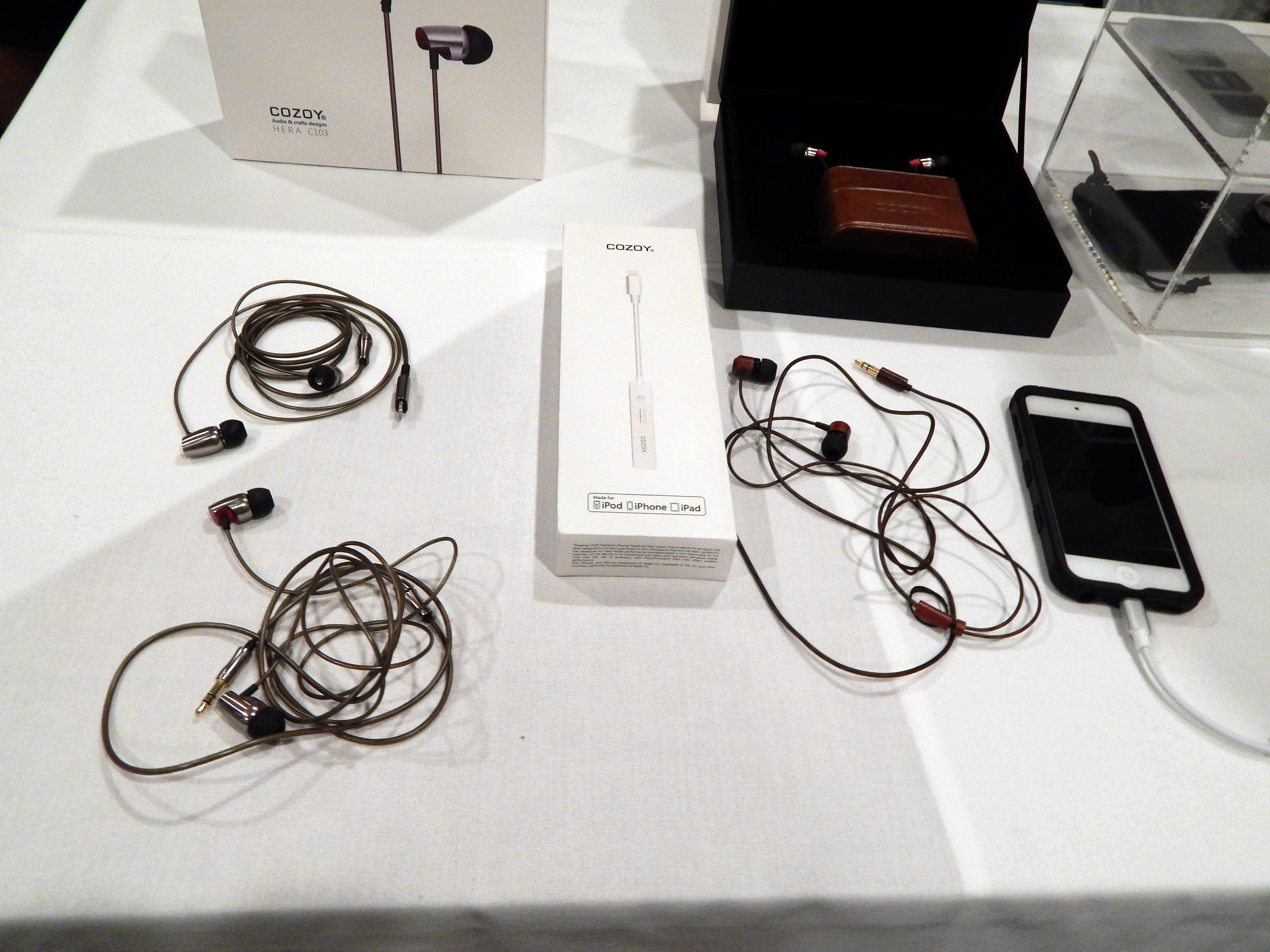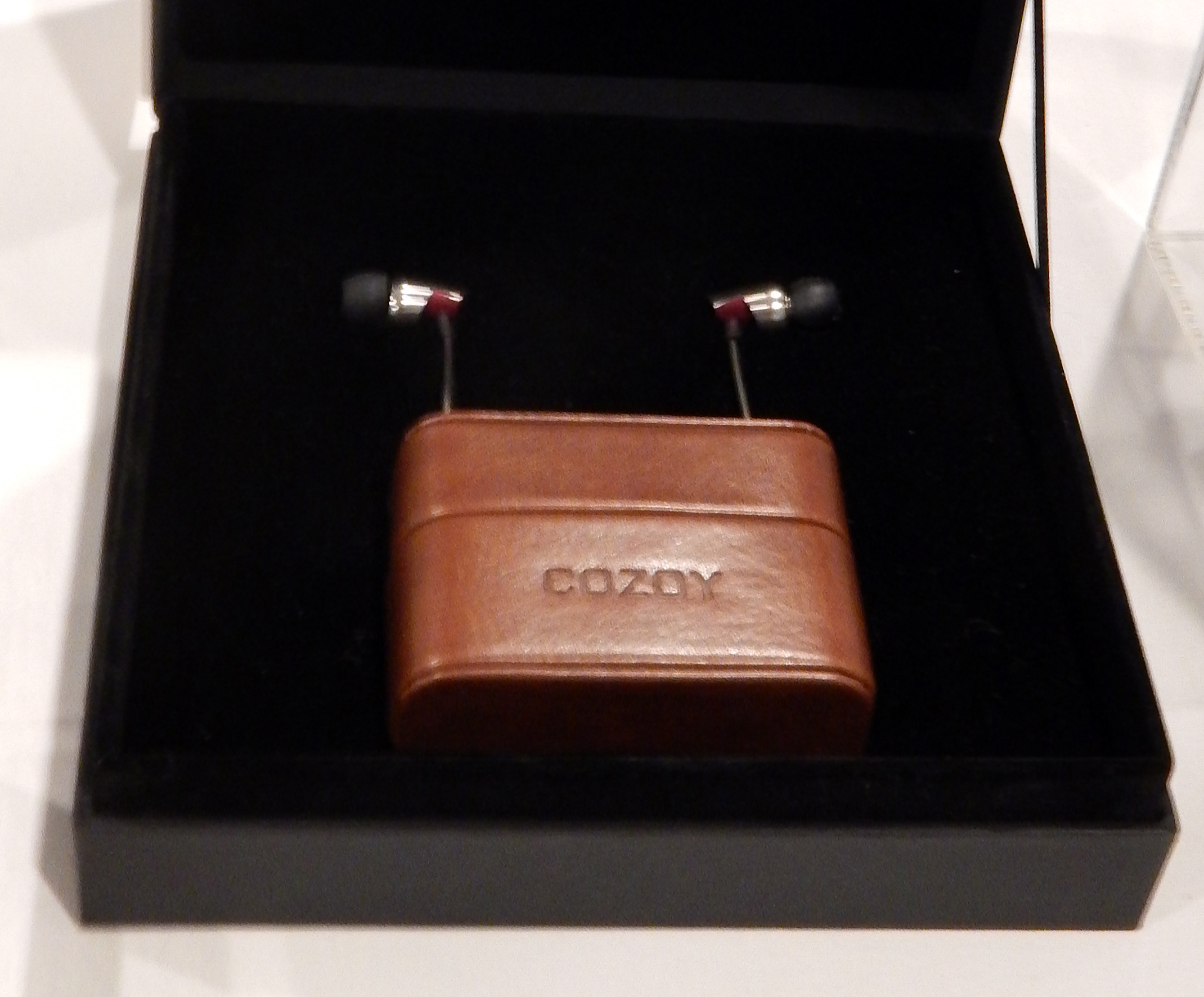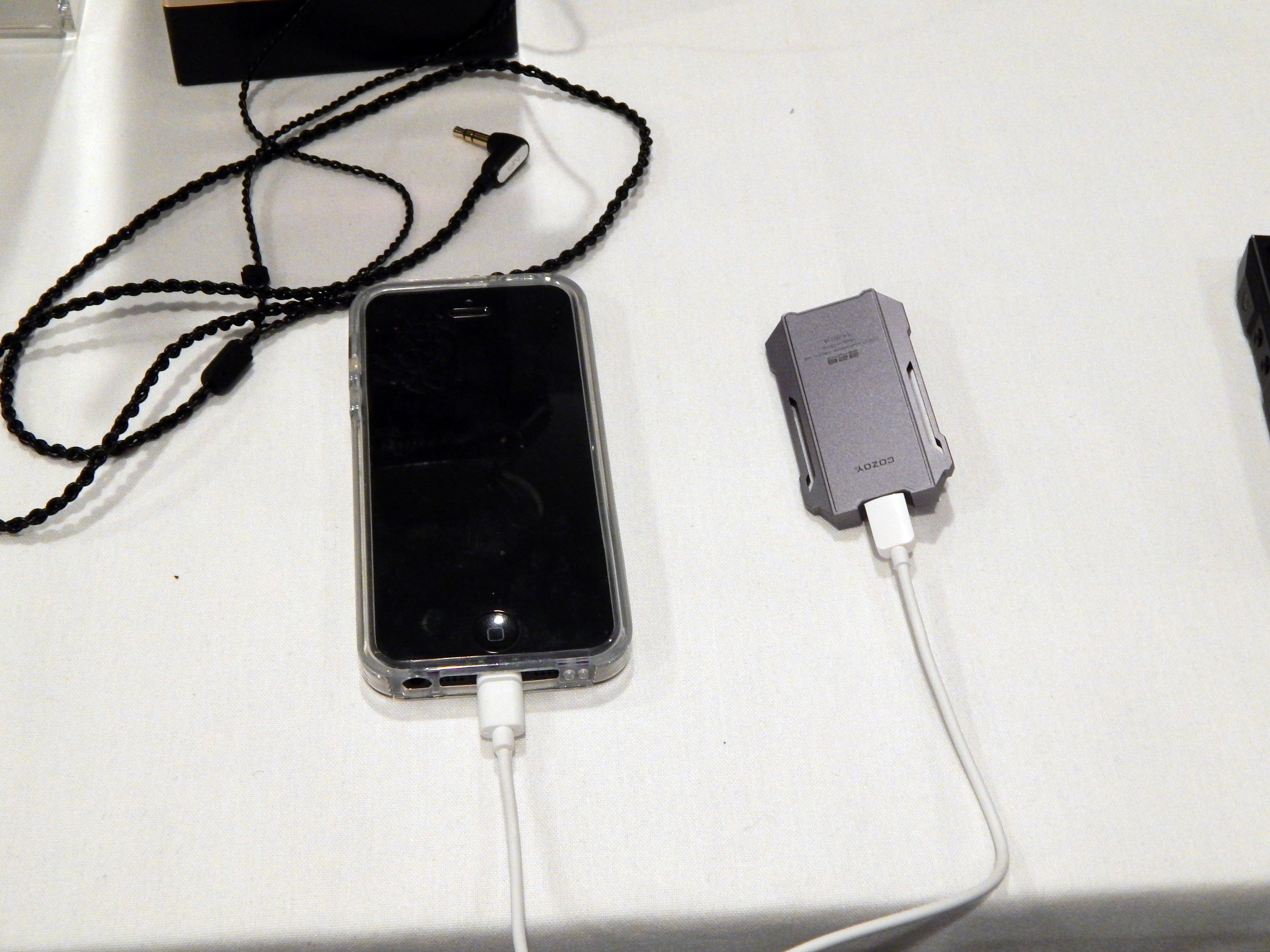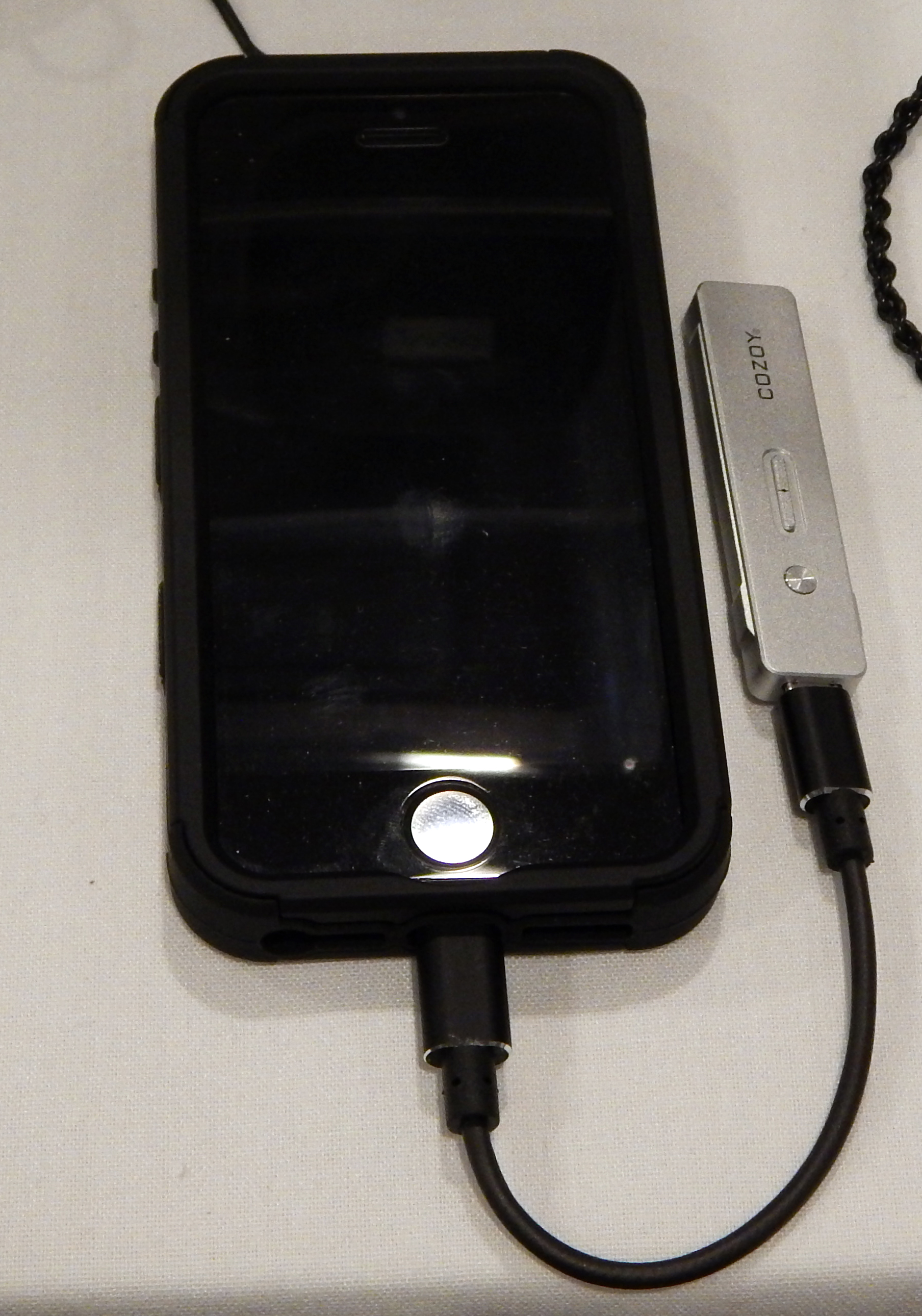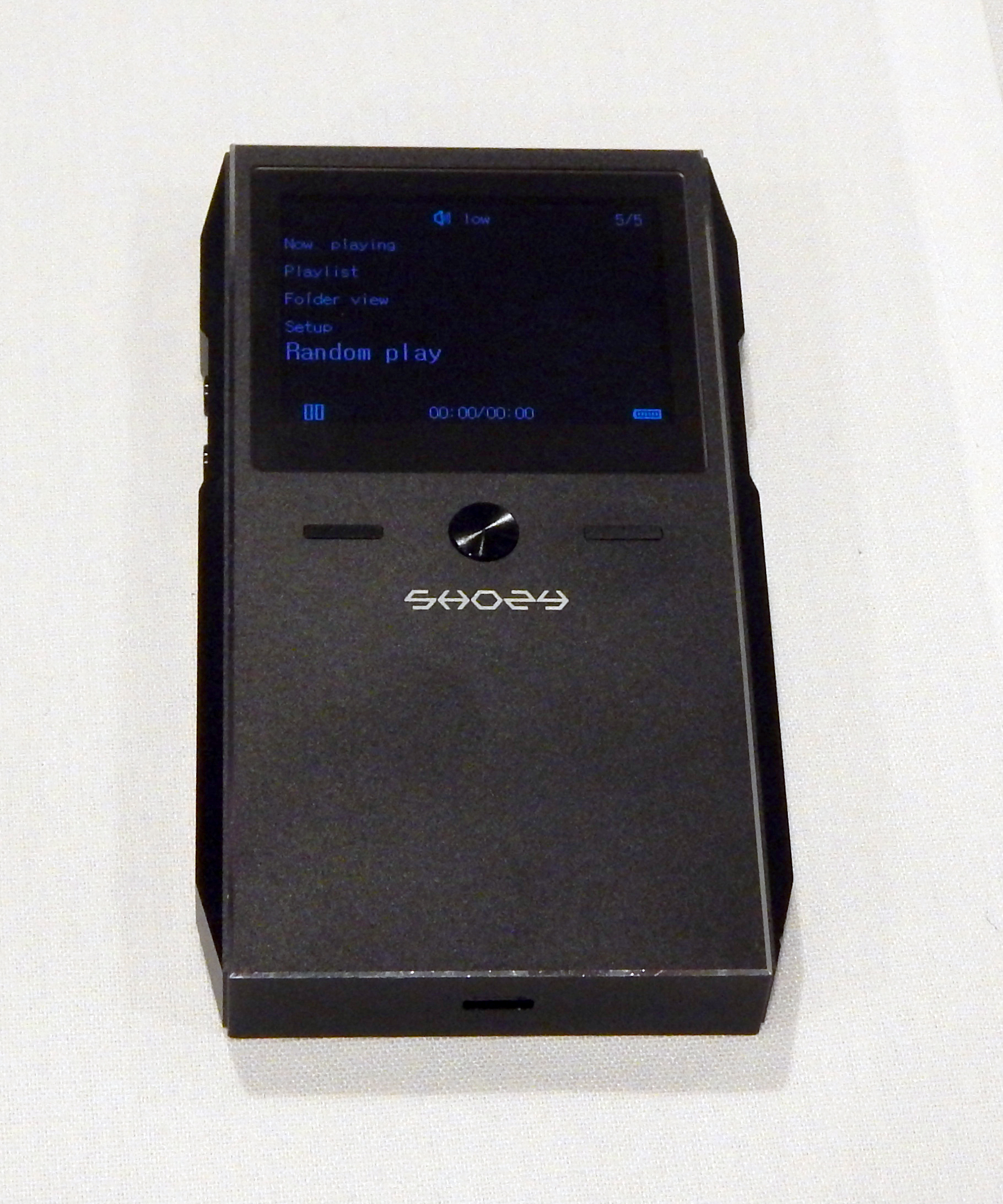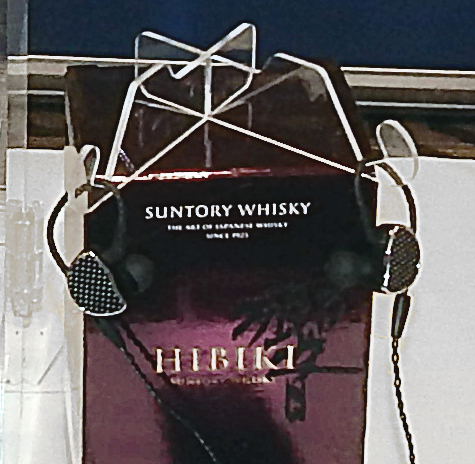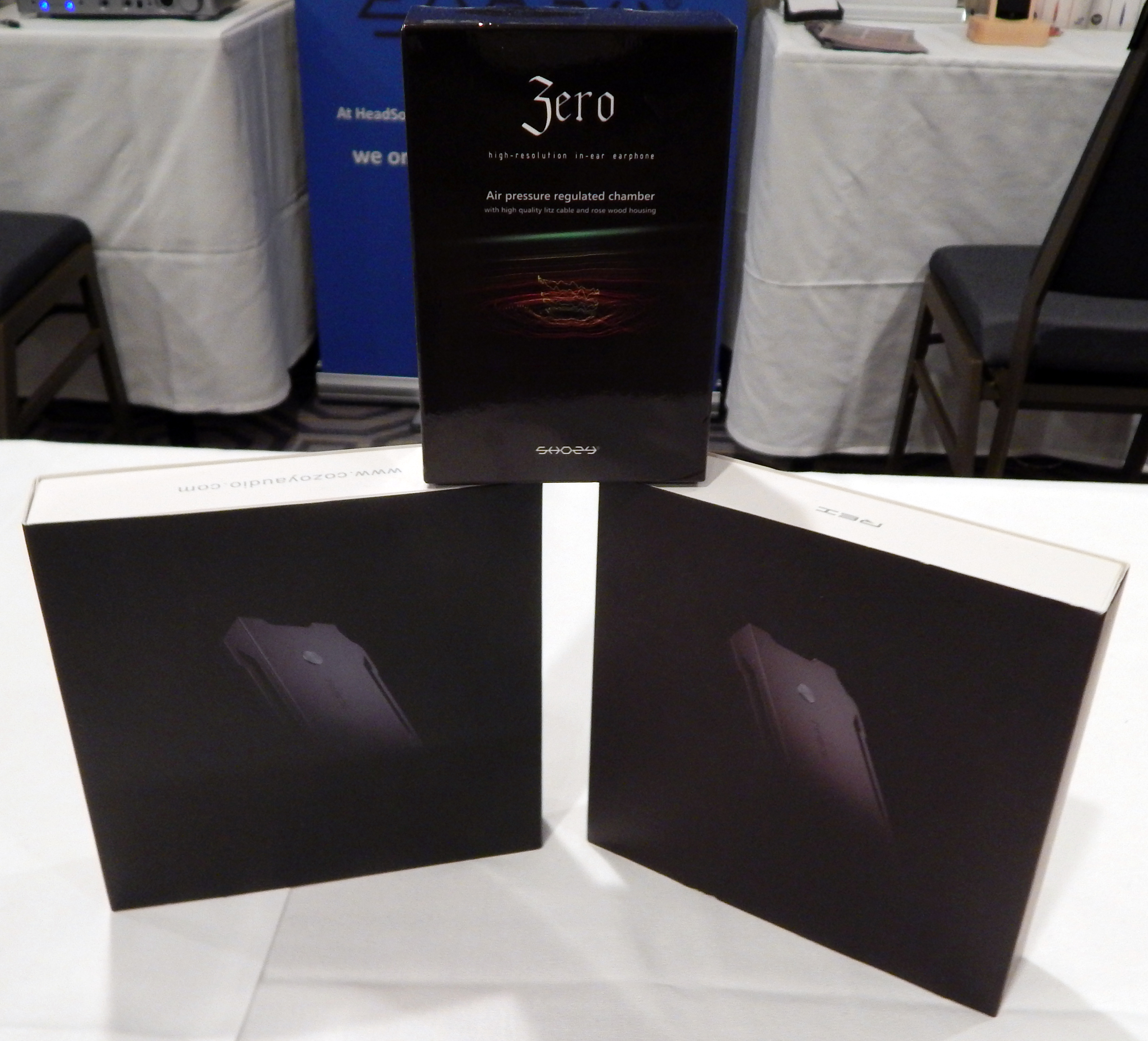 The long awaited Echobox Explorer DAP ($599.99 USD) is finally here, available in four woods and employing a Texas Instruments chipset it promises to be both beautiful and good sounding. Echobox has also introduced two new IEMs to complement their popular Finder ($229.99 USD), the entry level Traveler ($99 USD) and their new flagship Nomad ($299 USD) with replacable MMCX IEM cables employing Titanium enclosures and PEEK (Polyether Ether Ketone) drivers.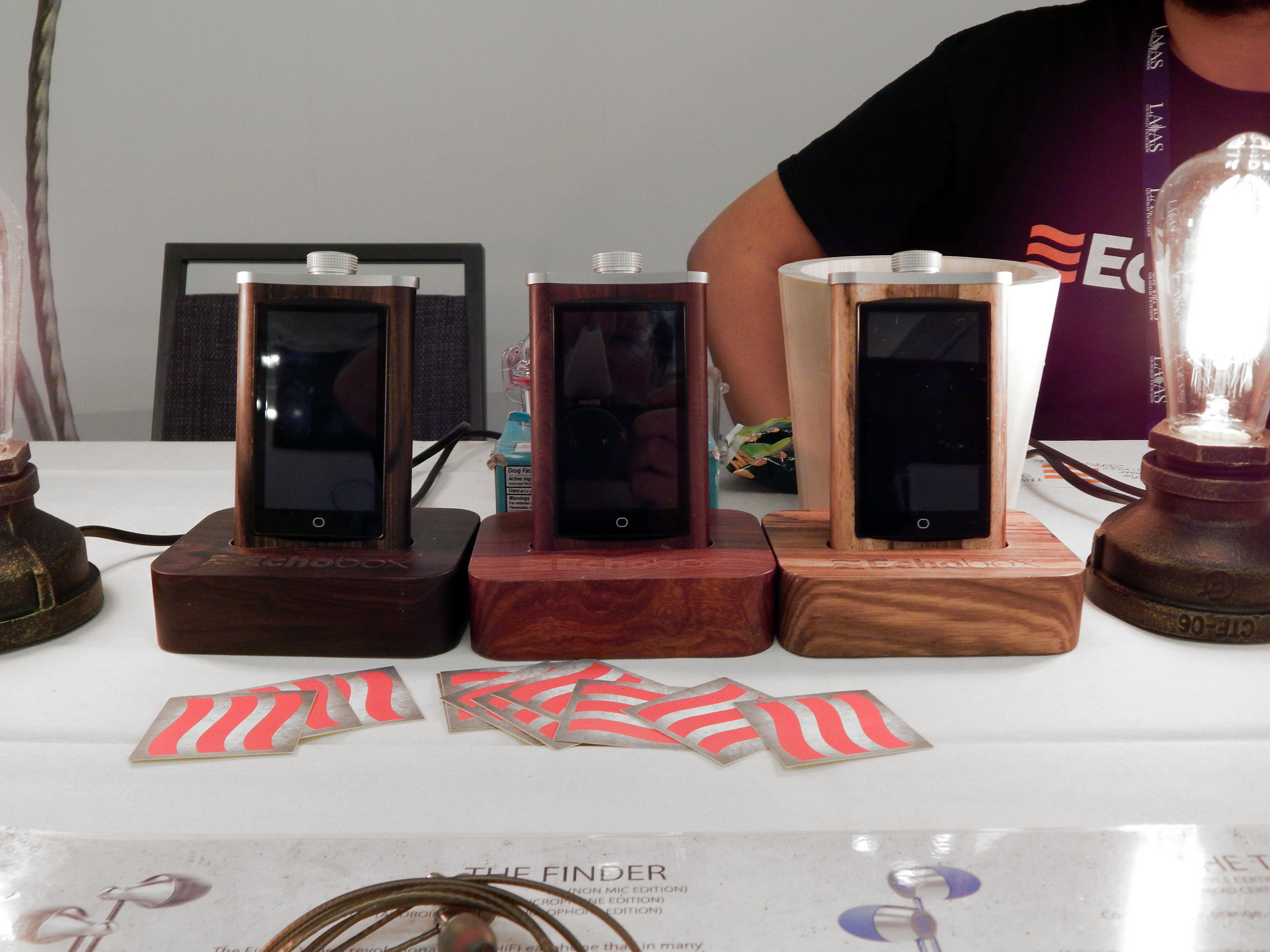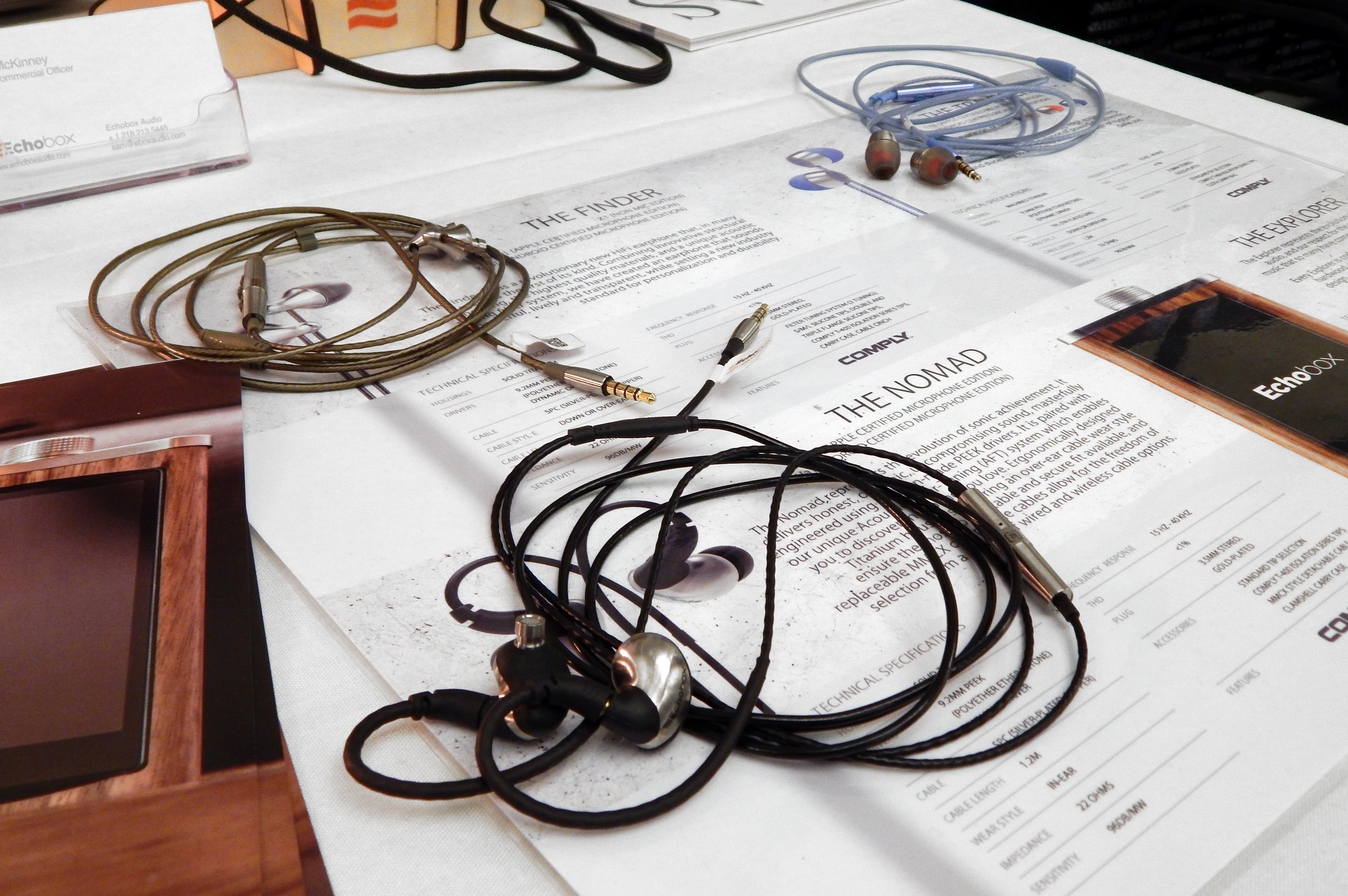 Another rising star is Meze Headphones offering two models of over ear headphones, the 99 Neo ($249) and 99 Classics ($299 USD available in Walnut Gold, Walnut Silver and Maple Silver finishes) along with two of models IEMs the 11 Neo ($59 USD available in Gun Metal and Iridium finishes) and 12 Classics ($79 USD). New for the show Meze now offers 2.5mm balanced cables in Copper (TBA – $100 – $150 USD) and Silver (TBA – $200 – $250)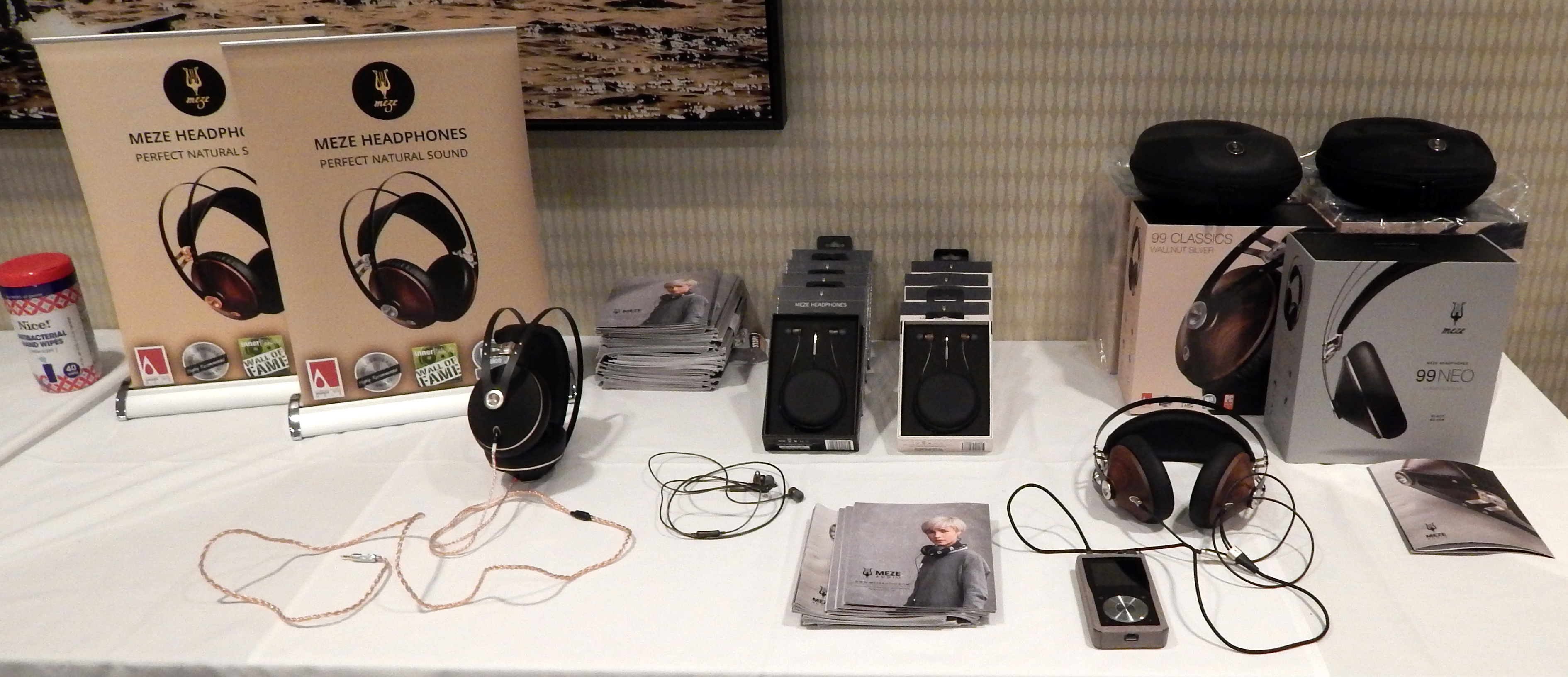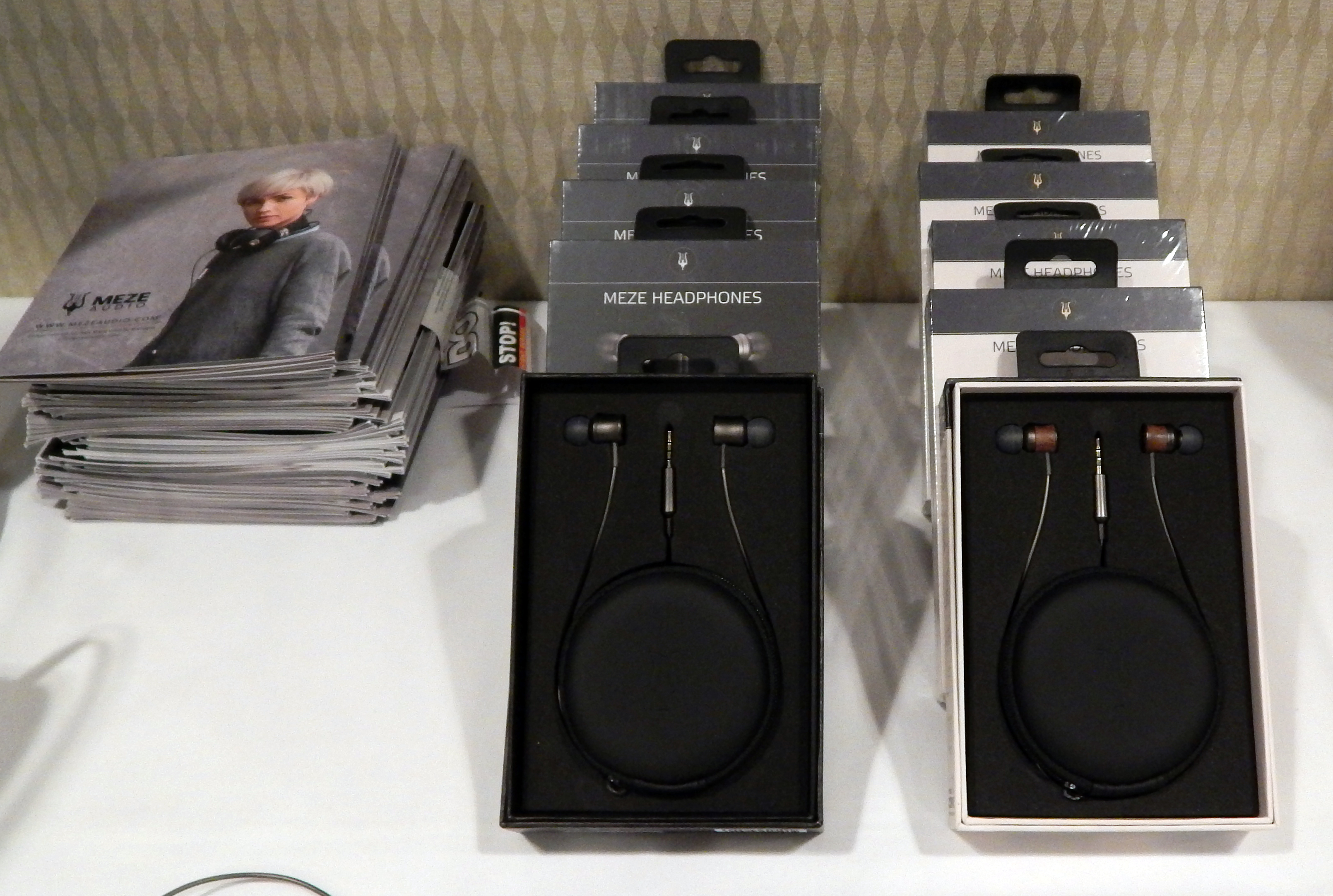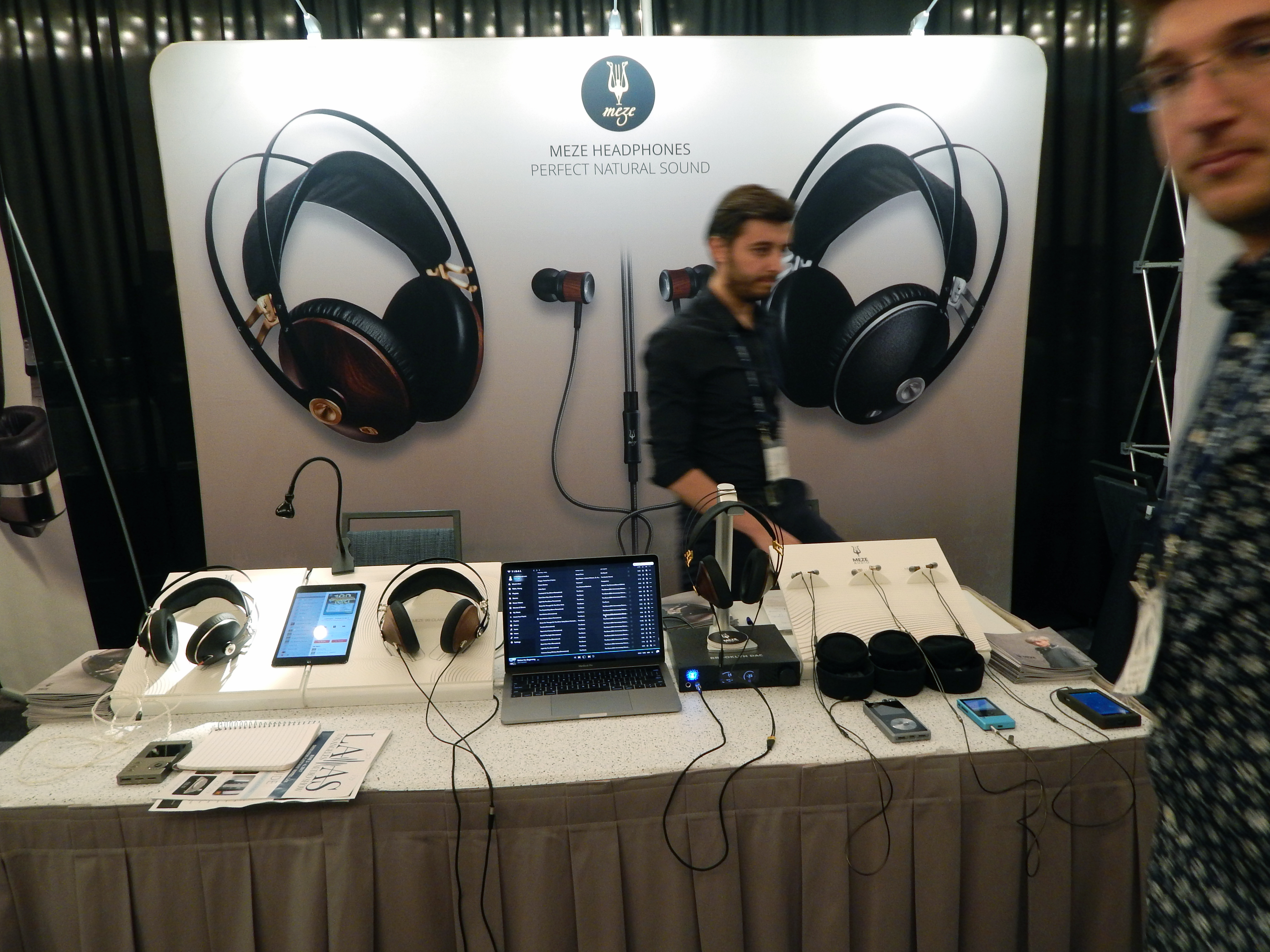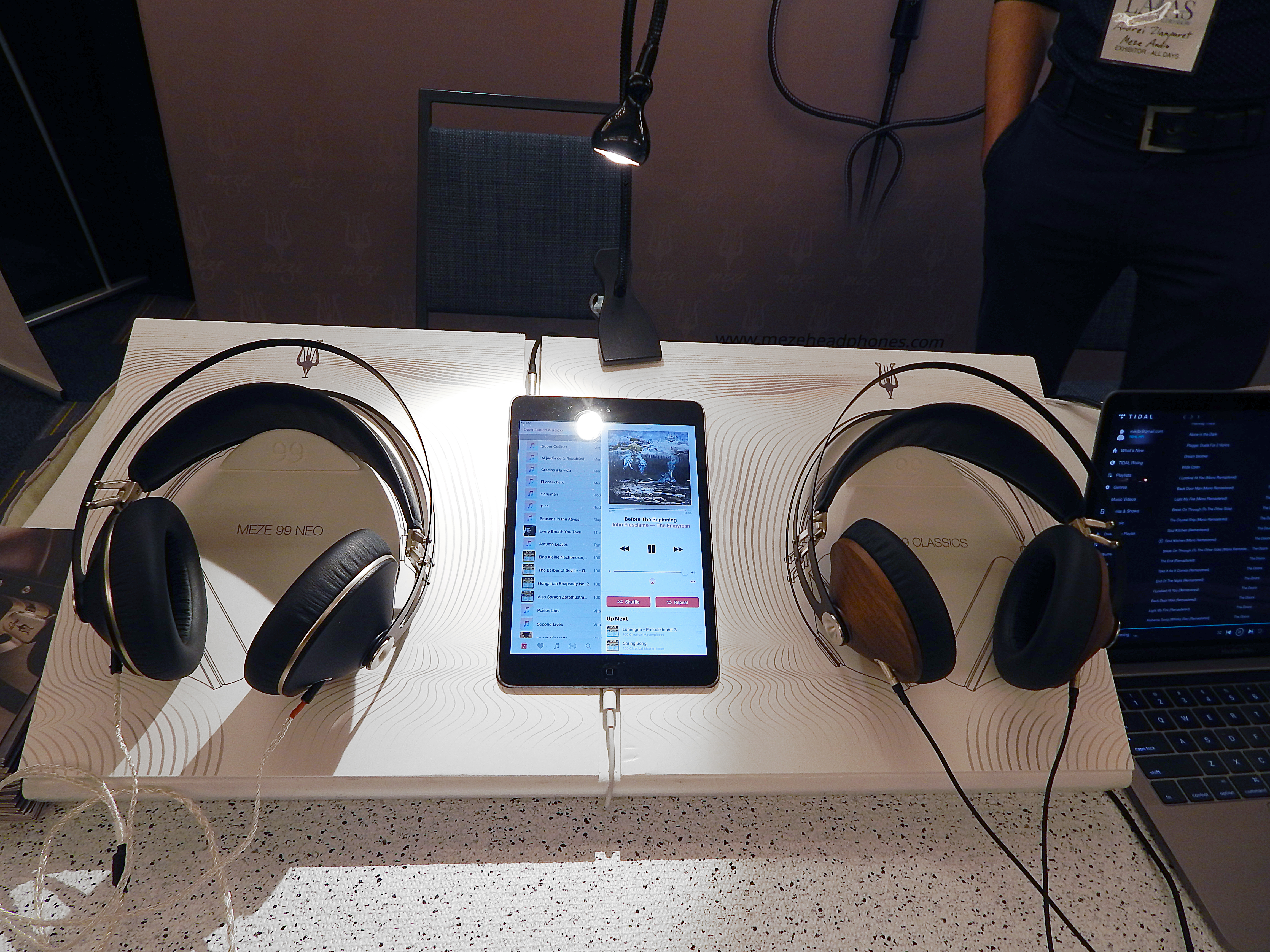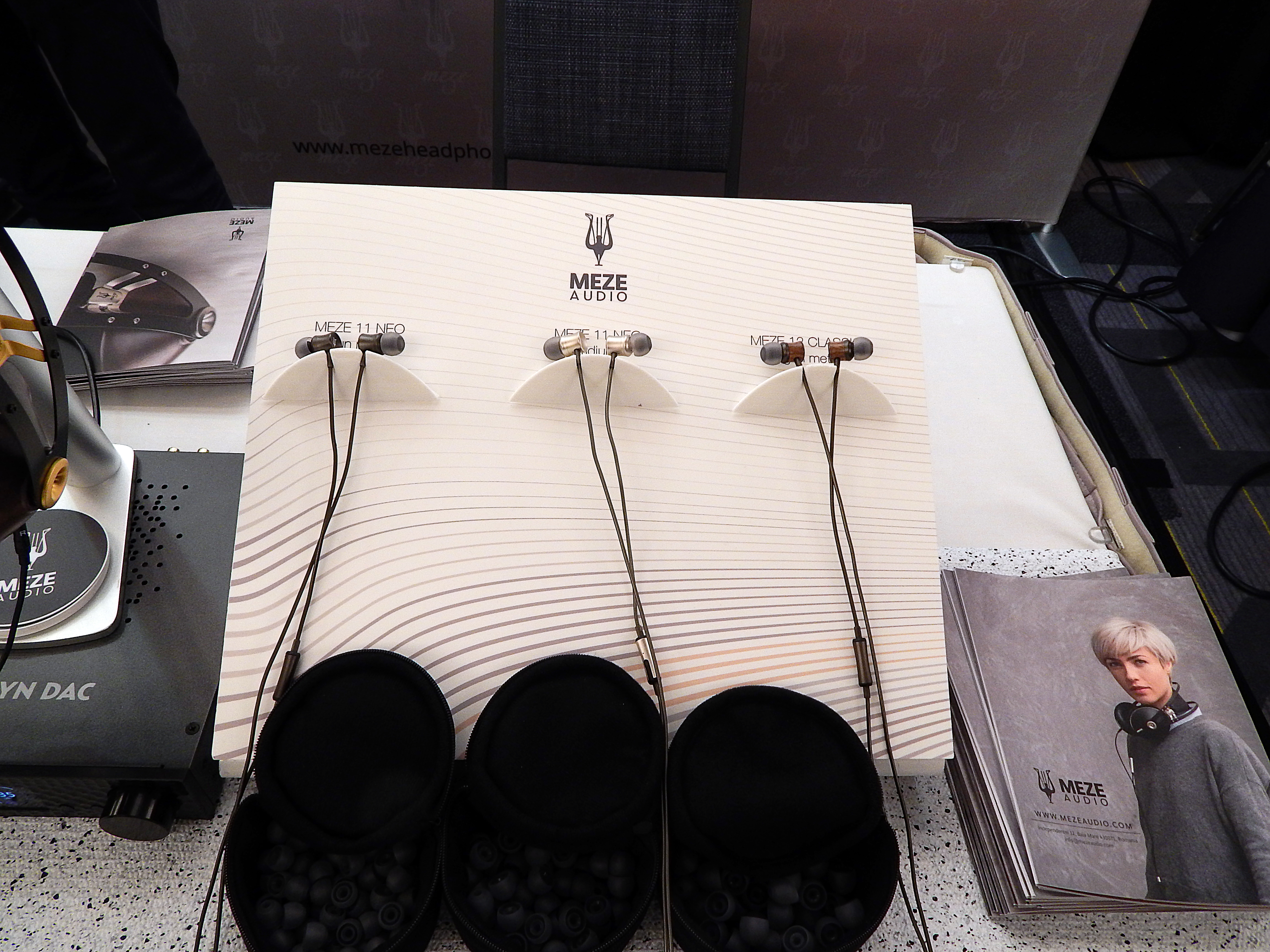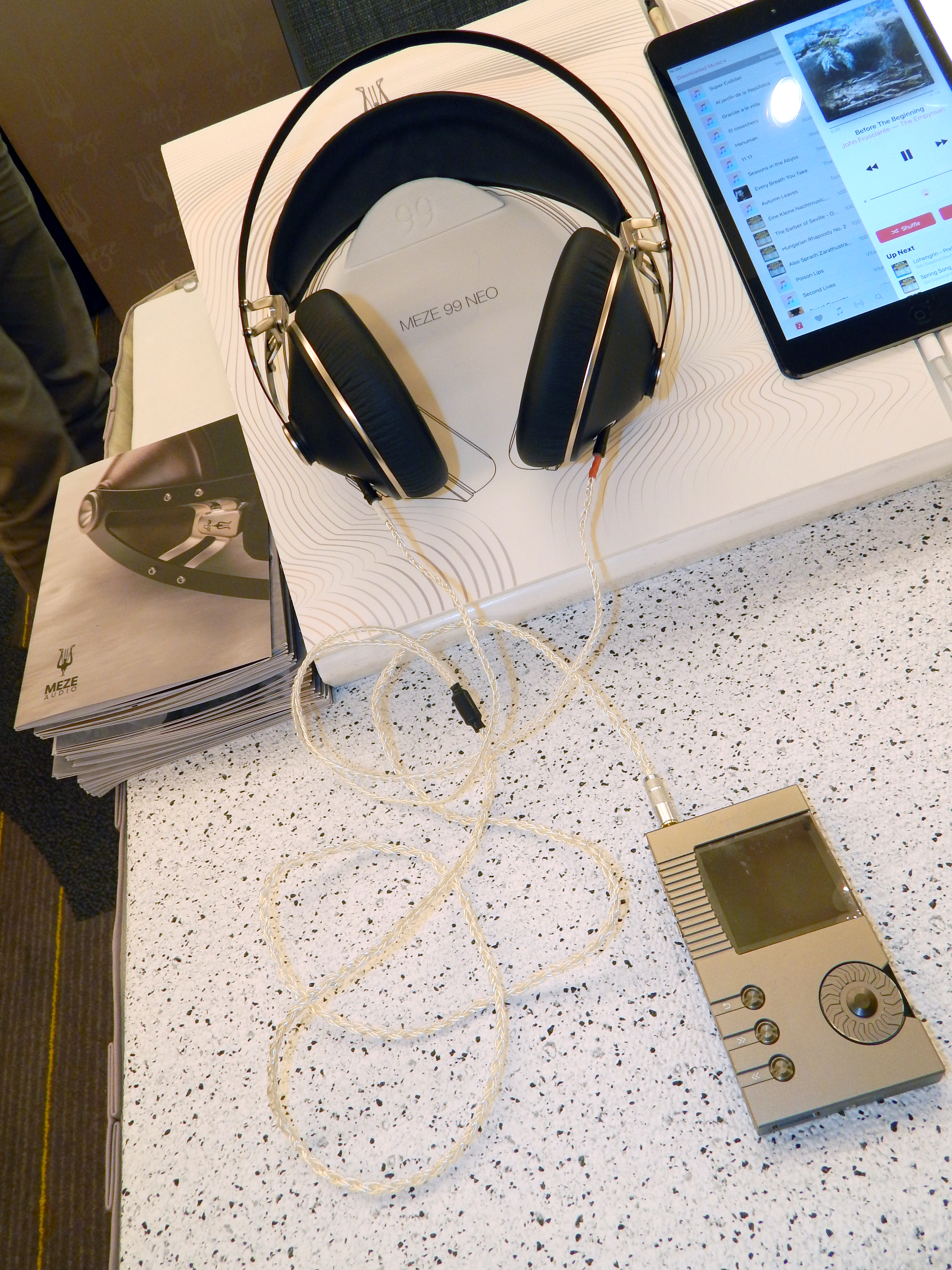 Audio-Technica was showing their AT-HA5050H Tube Hybrid Headphone DAC/Amplifier ($5999 USD) along with their ATH-A2000Z Art Monitor® Closed-Back Dynamic Headphones ($649 USD). The impressive sounding Class A amplifier has eight ¼" single ended outputs with four output impedance settings.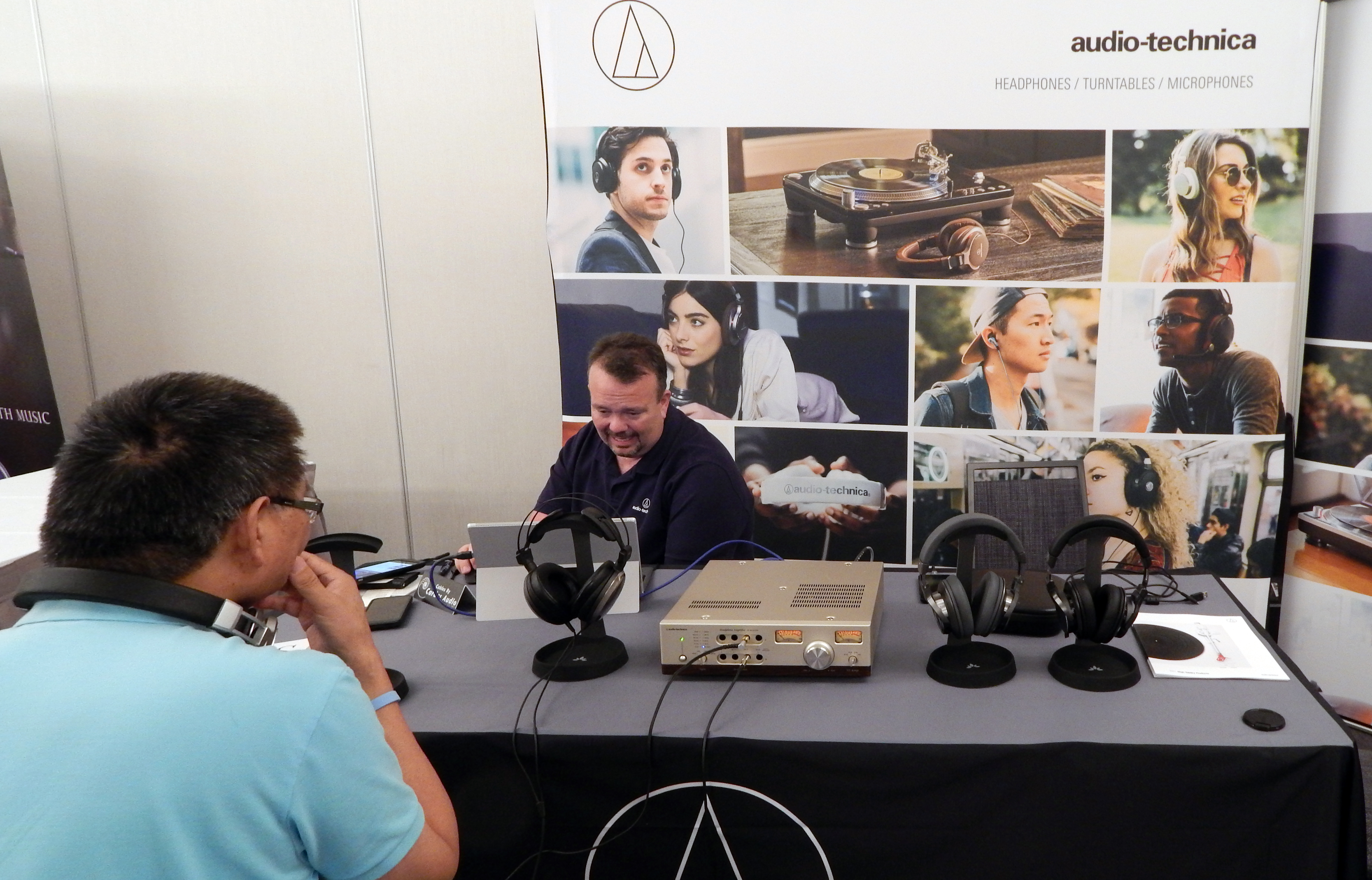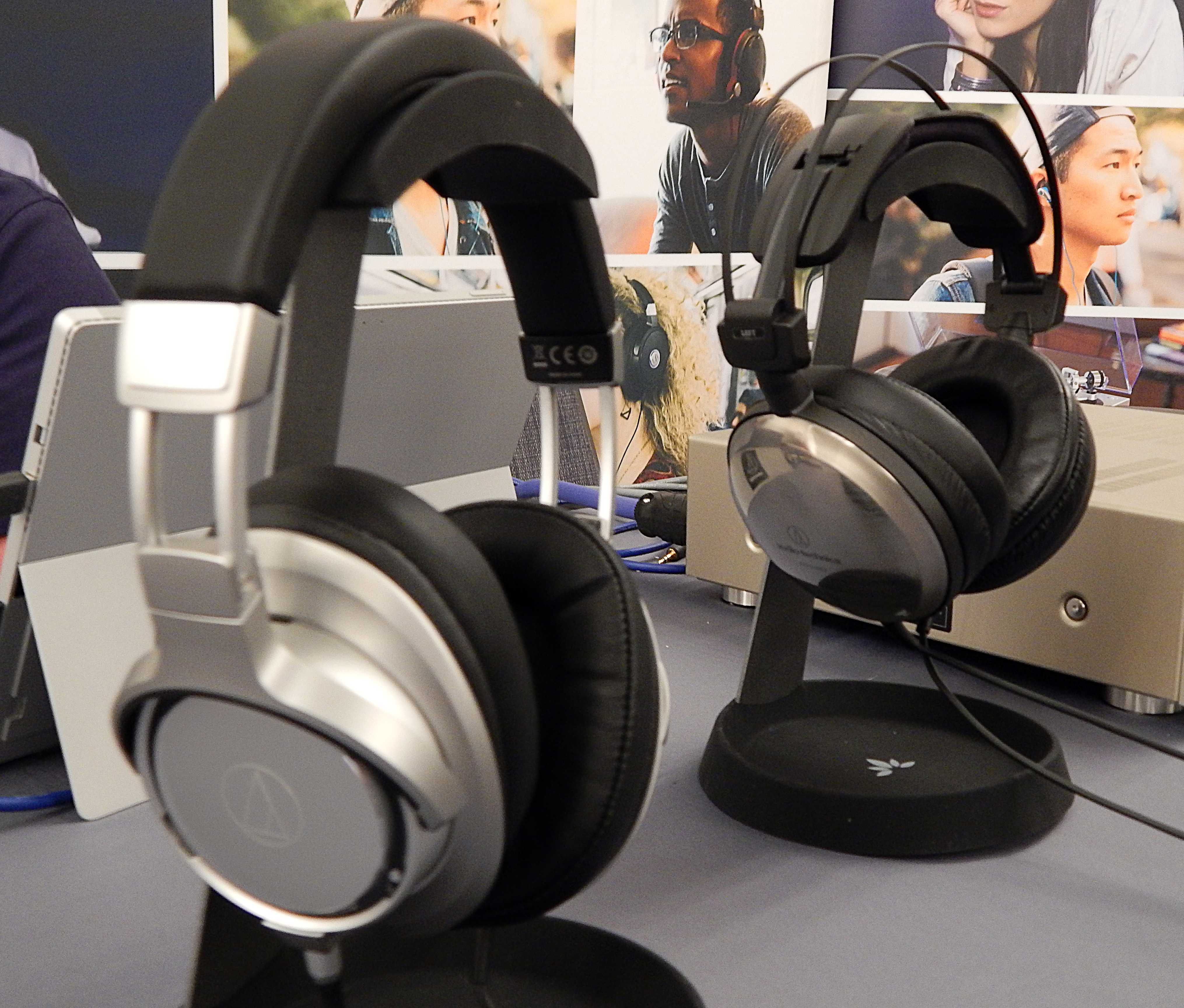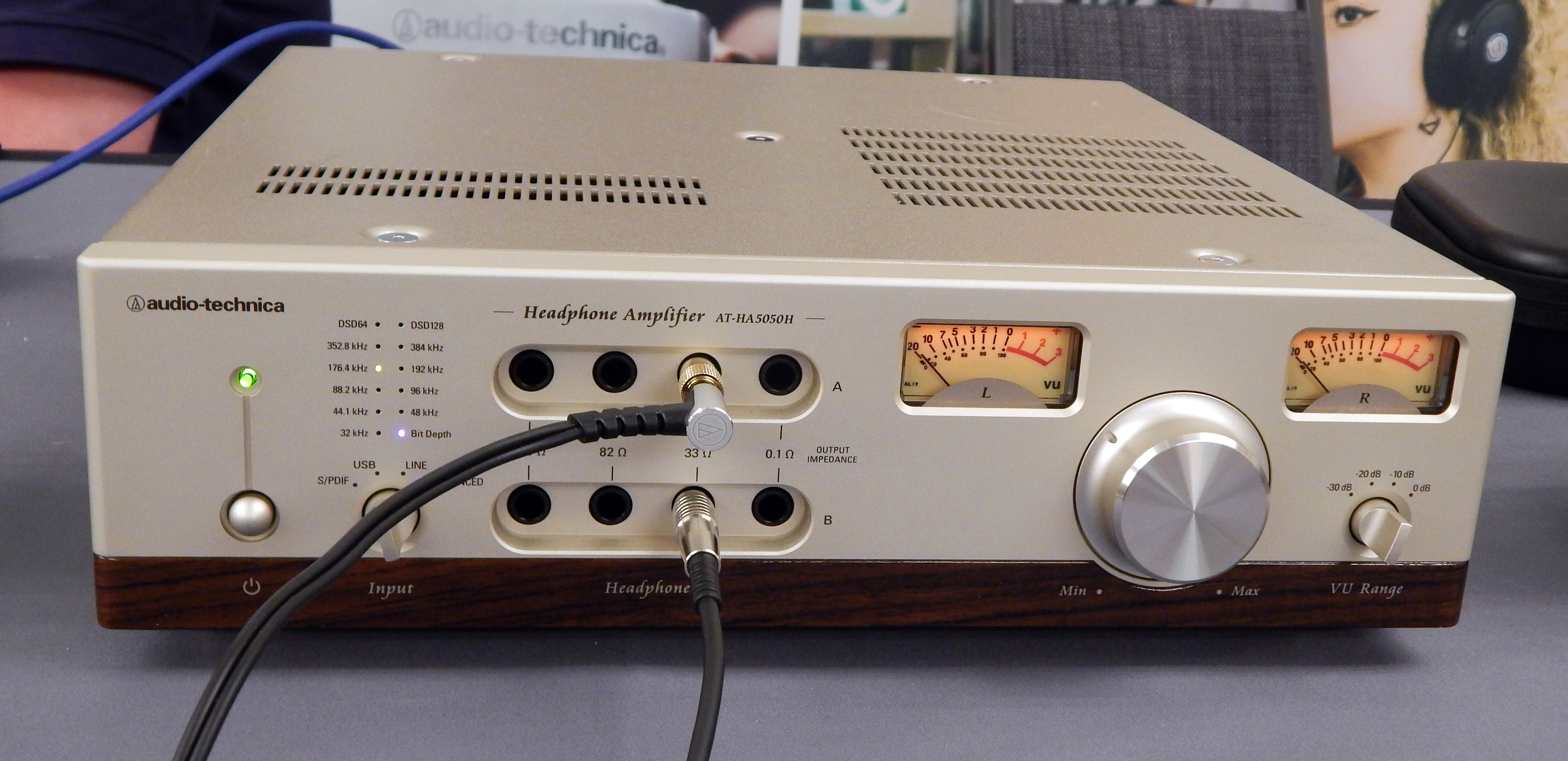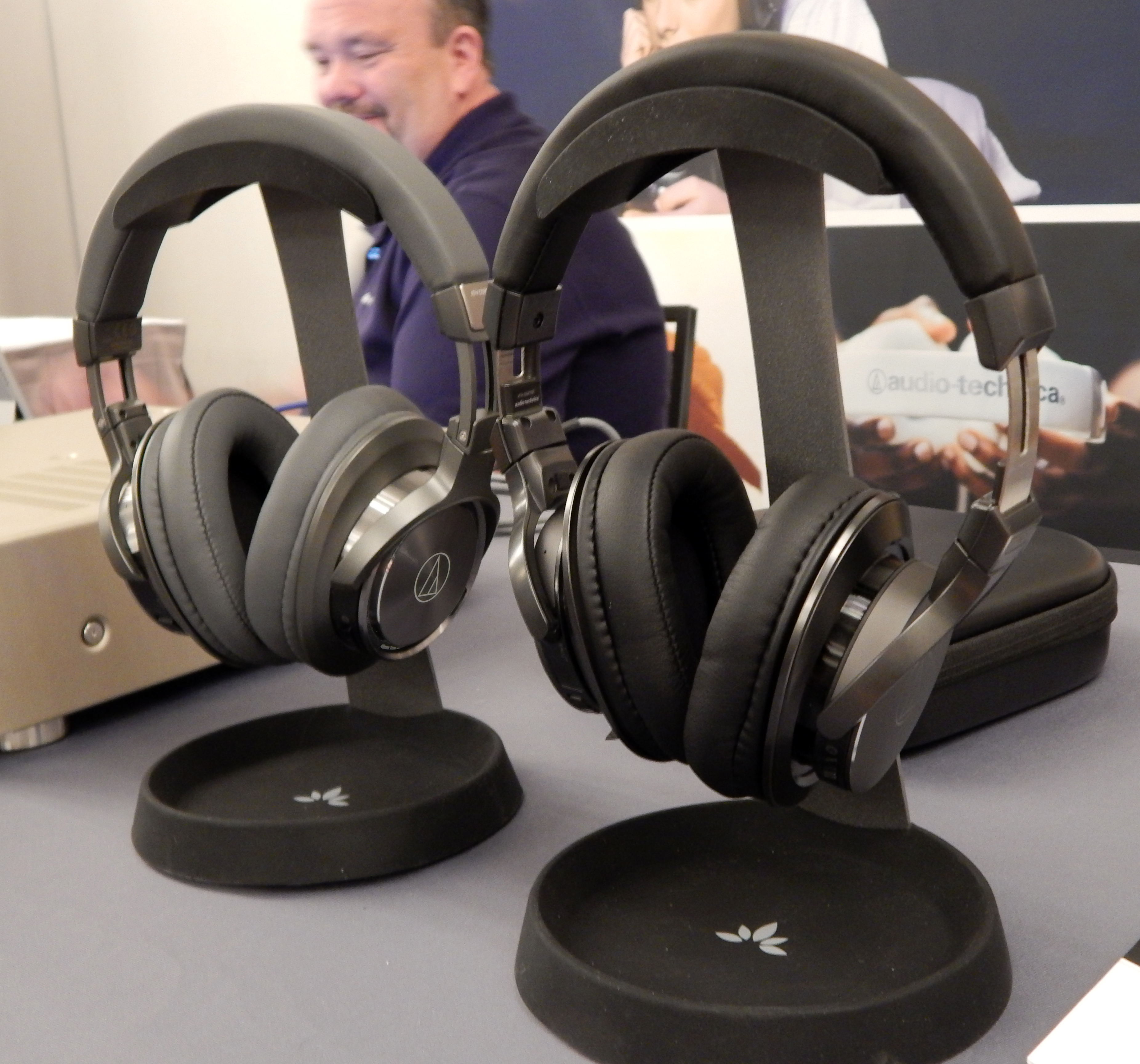 Gingko Audio was offering two unique demonstrations side by side. On one side they were demonstrating their ARCH (Acoustic Resolution Clarifier) Isolation Feet, by having an amplified speaker upon a platform supported by spikes and then the platform by four of the isolation feet, then measuring the energy transferred to the platform and then the table below. The second demonstration was direct comparison of stock headphone cables to DanaCable headphone cables driven simultaneously from the brand new DanaTone Head-Space prototype Headphone Amplifier using the HiFiMan HE1000s and the MrSpeaker ETHER C Flows. Both demonstrations were jaw dropping and proof that great things are happening at Gingko Audio.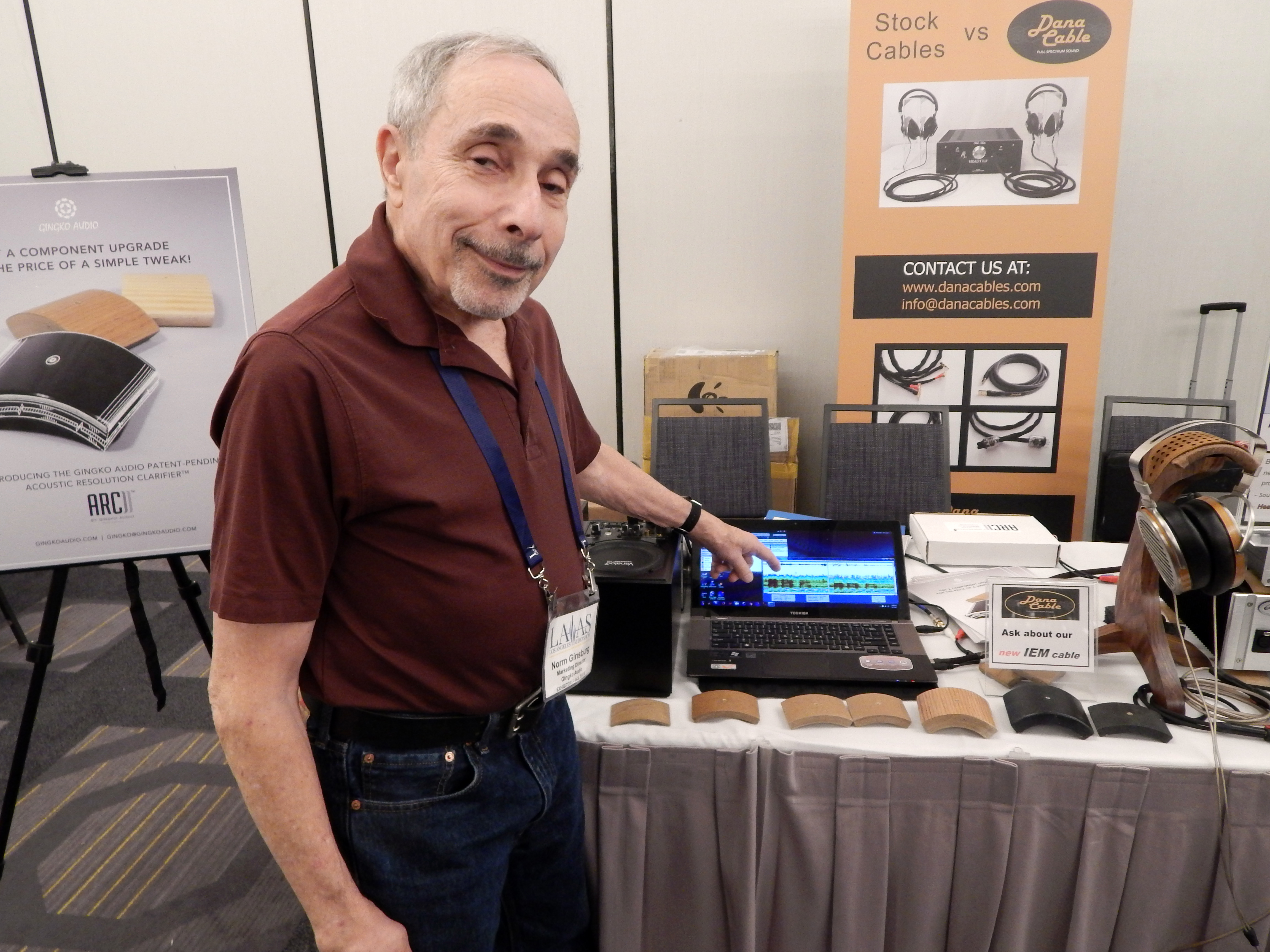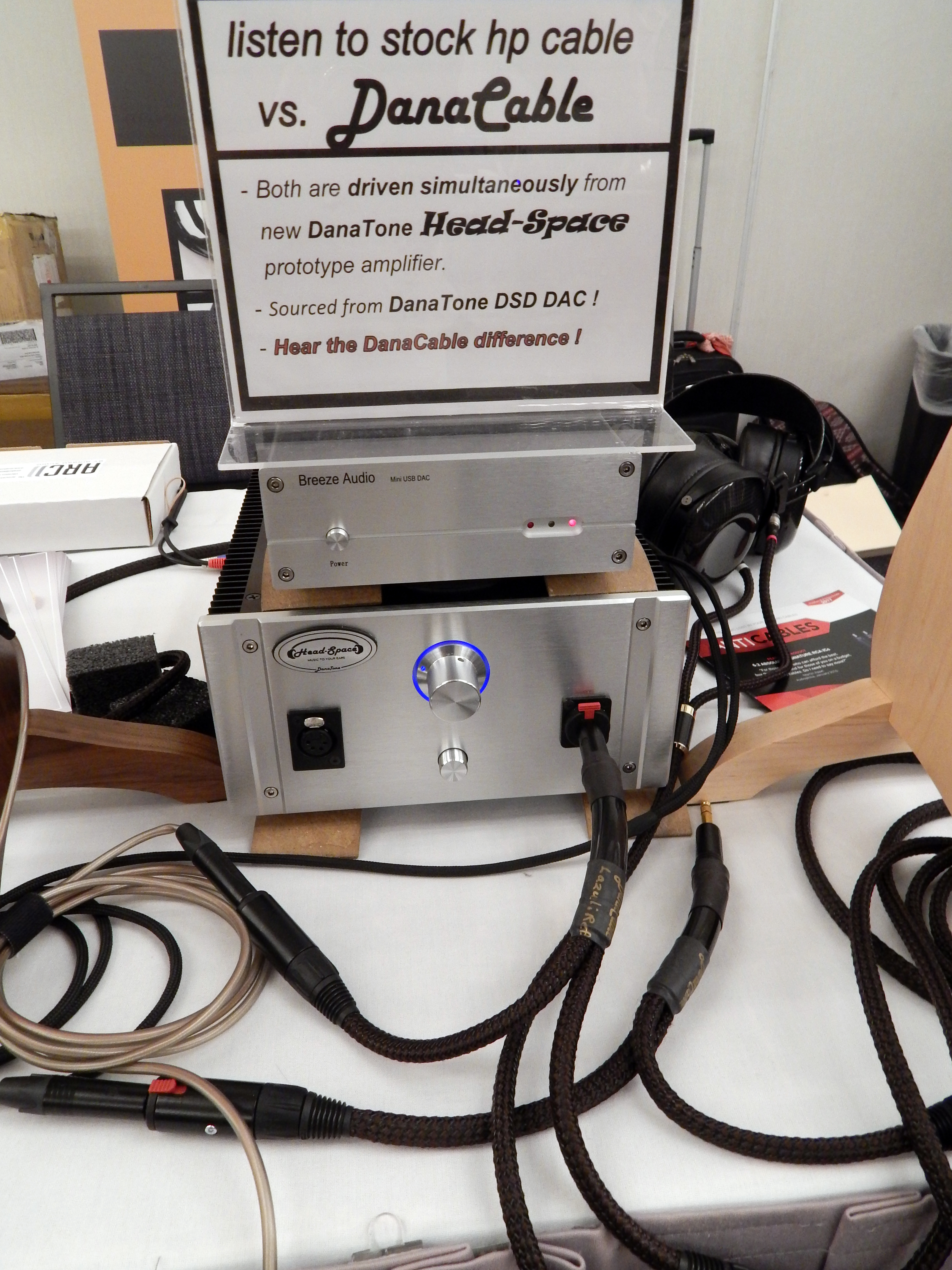 Chord Electronics with their Field Programable Gate Array DACs is deservedly one of the most popular DAC manufacturers, so it was no surprise that they are once again trying to set the bar with their new, soon to be released, Poly Portable Streamer (TBA approx $600). The Poly can be directly plugged into the Mojo DAC ($599 USD) and even comes with a protective enclosure cover. Of course, they also had the world conquering DAVE DAC/Amplifier ($13,000 USD) on hand for your edification.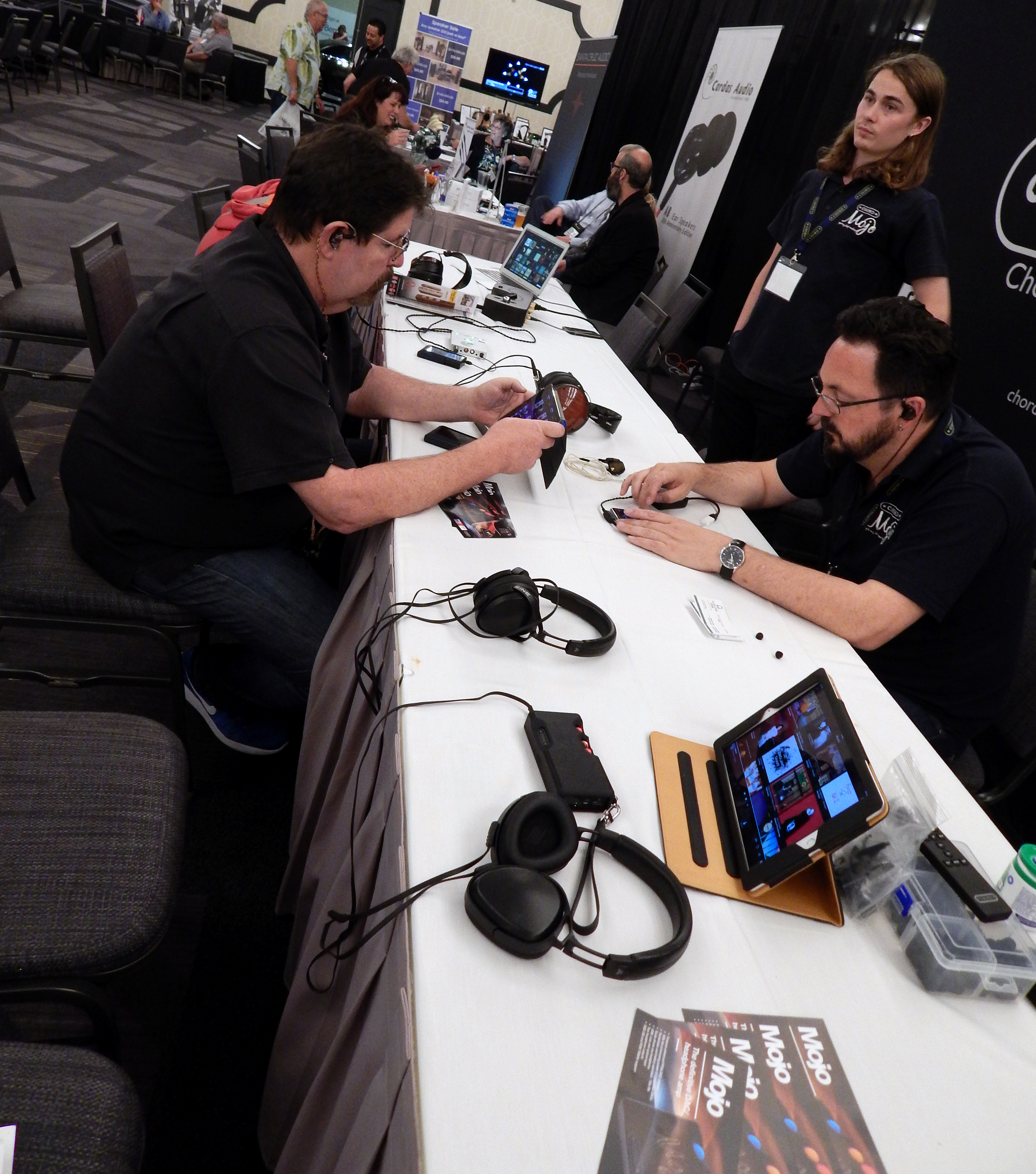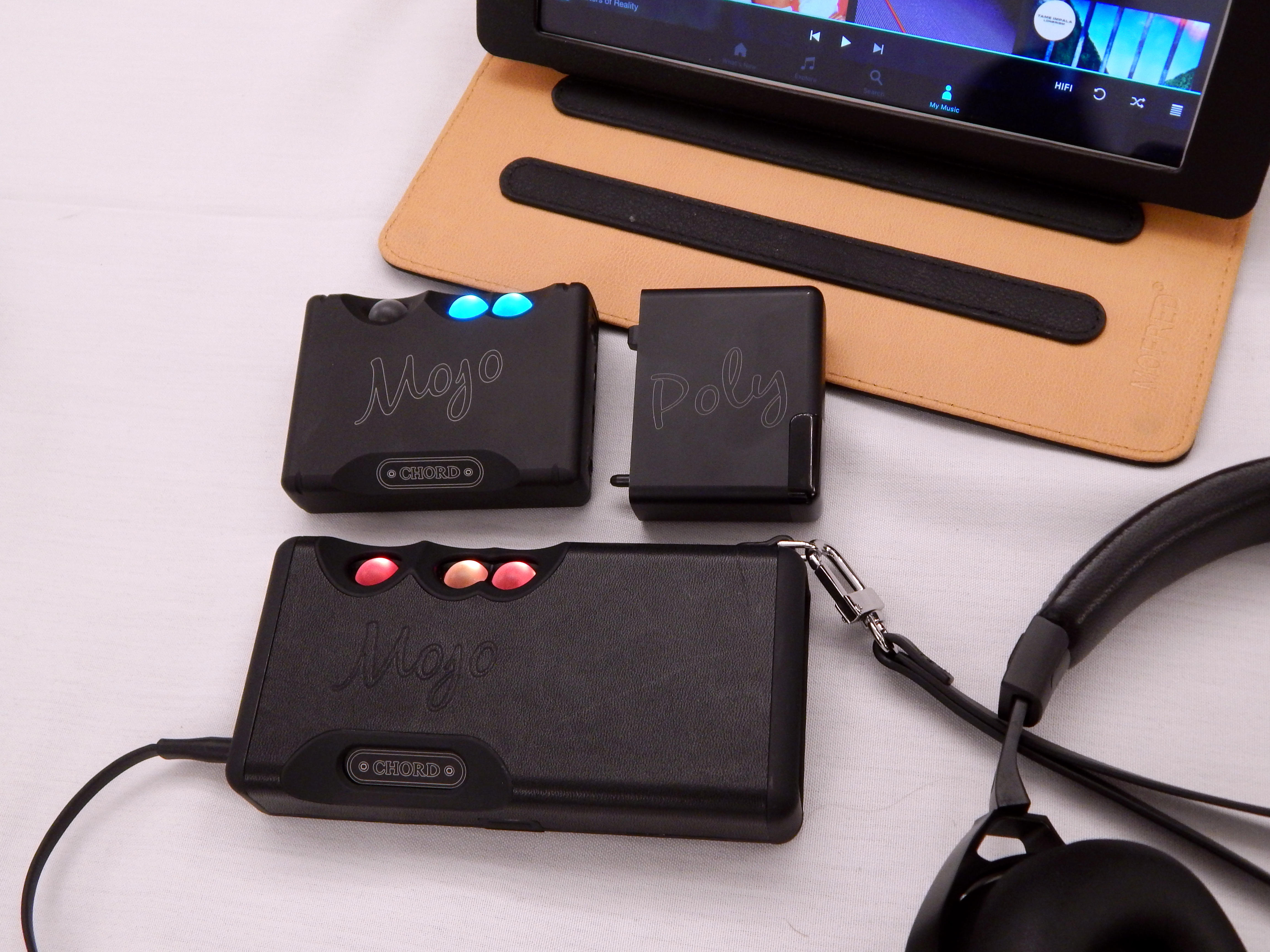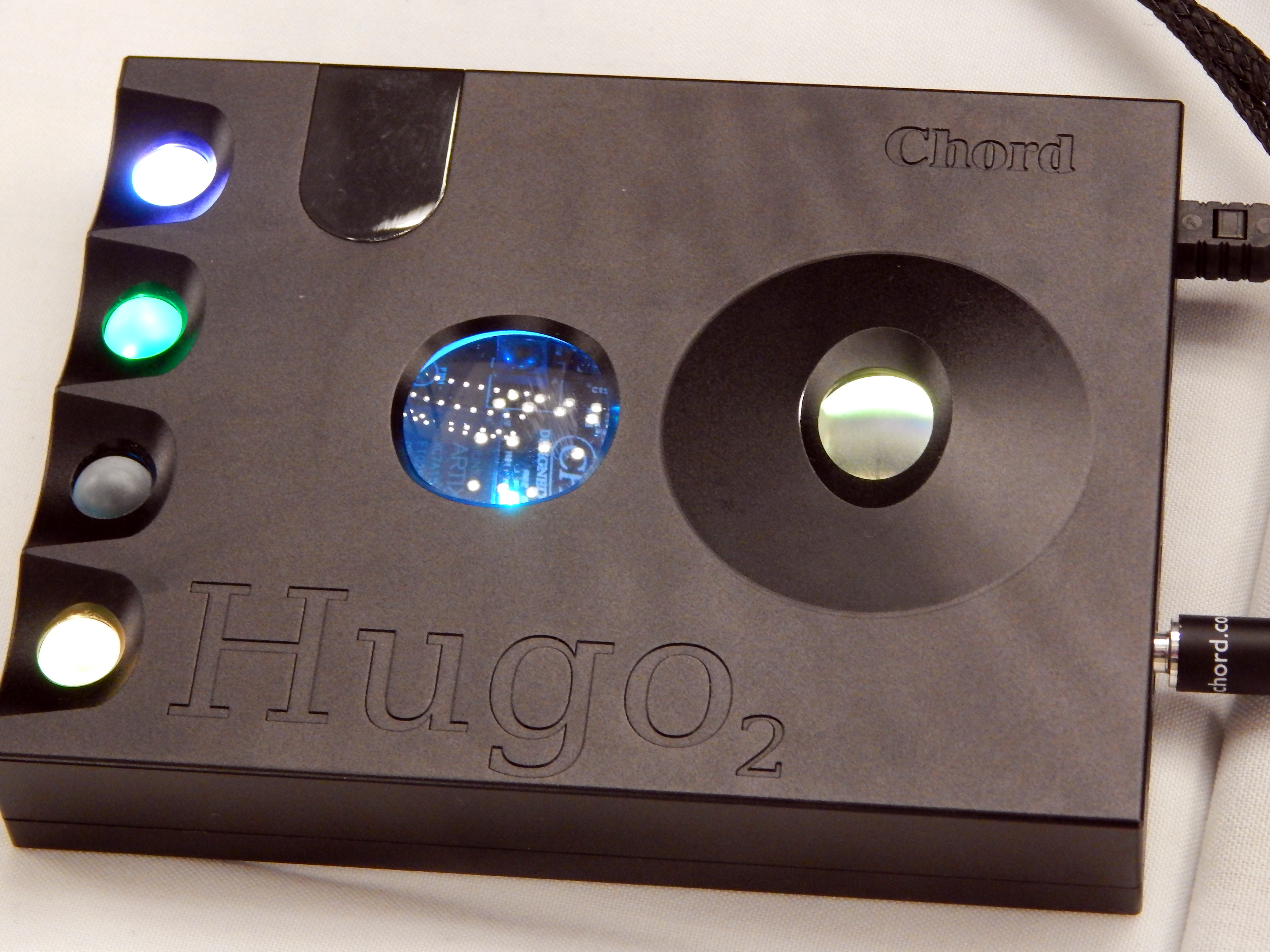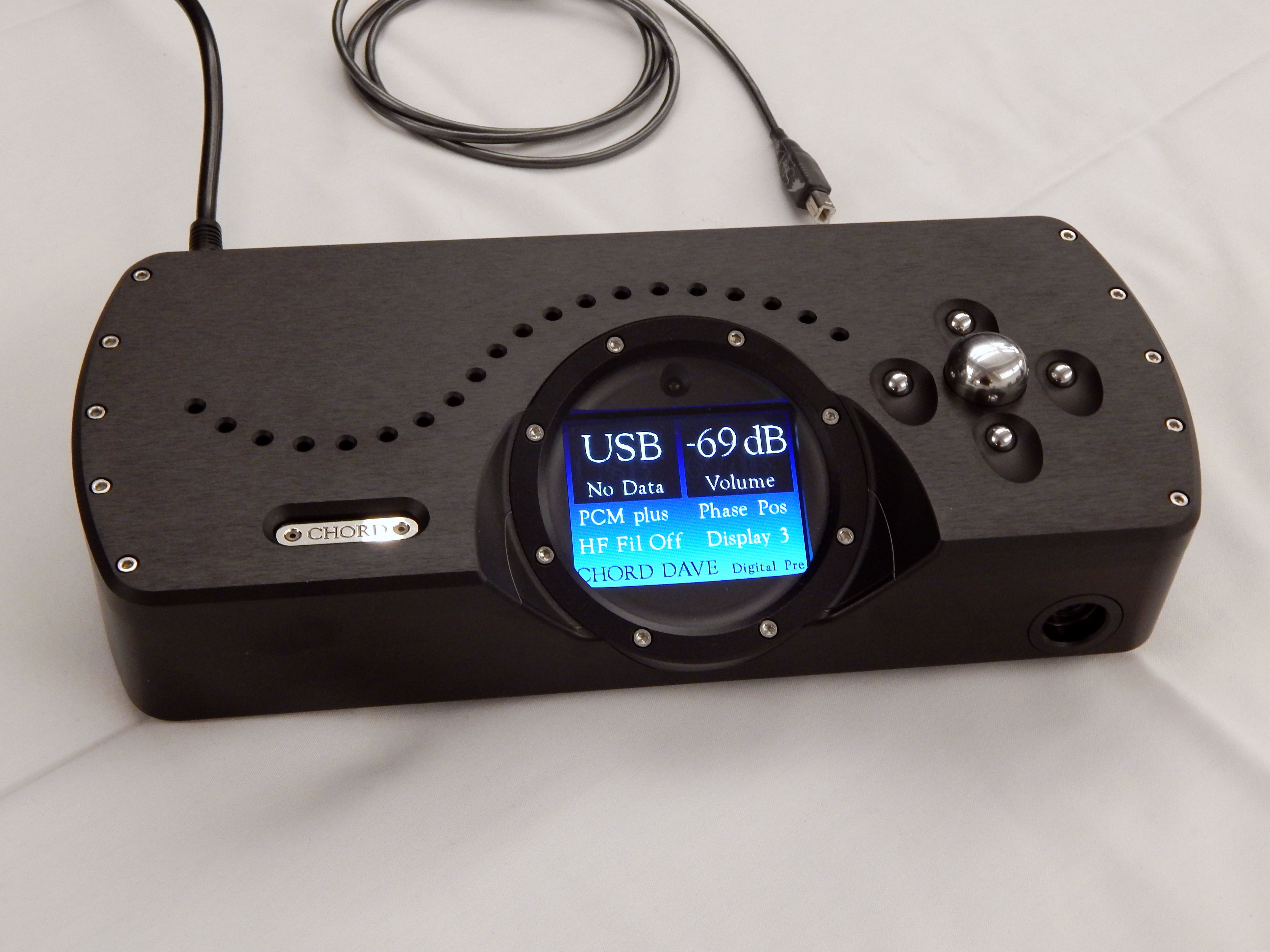 Cardas Audio has been one of my favorite cable manufacturers since the 80s, yet they are always coming up with something new and at the show they were debuting their Clear Beyond interconnect ($3,750 USD for 1 meter). Of course, they were also showing their A8 30th Anniversary Edition IEMs ($350 USD) which incorporate Cardas' Golden Spiral curve in the body design and employ a 10.85mm Ultra Linear, Contour Field, Dual Magnet Driver, and a special Cardas cable that is designed to minimize cable stress, even when the cable is tugged.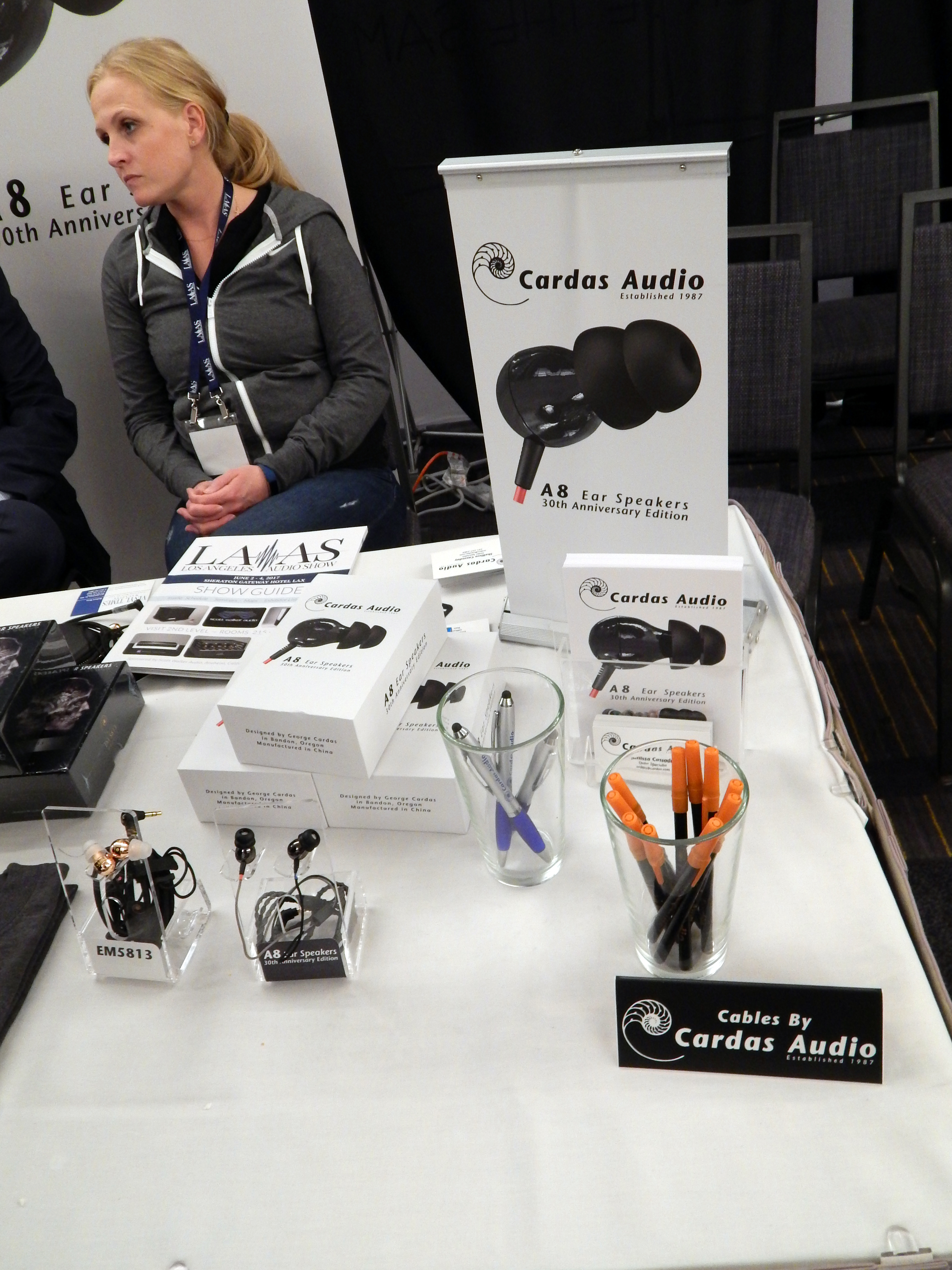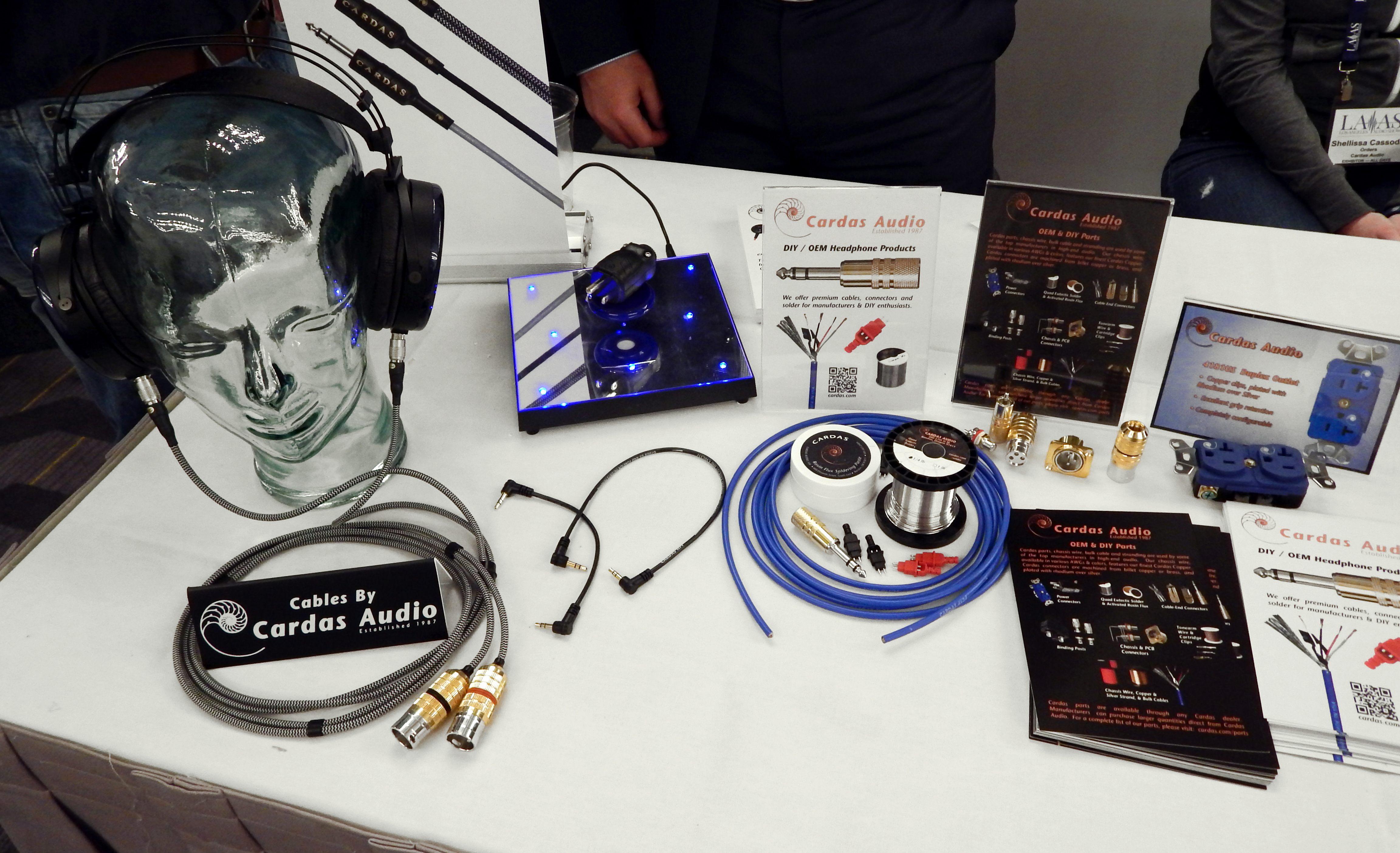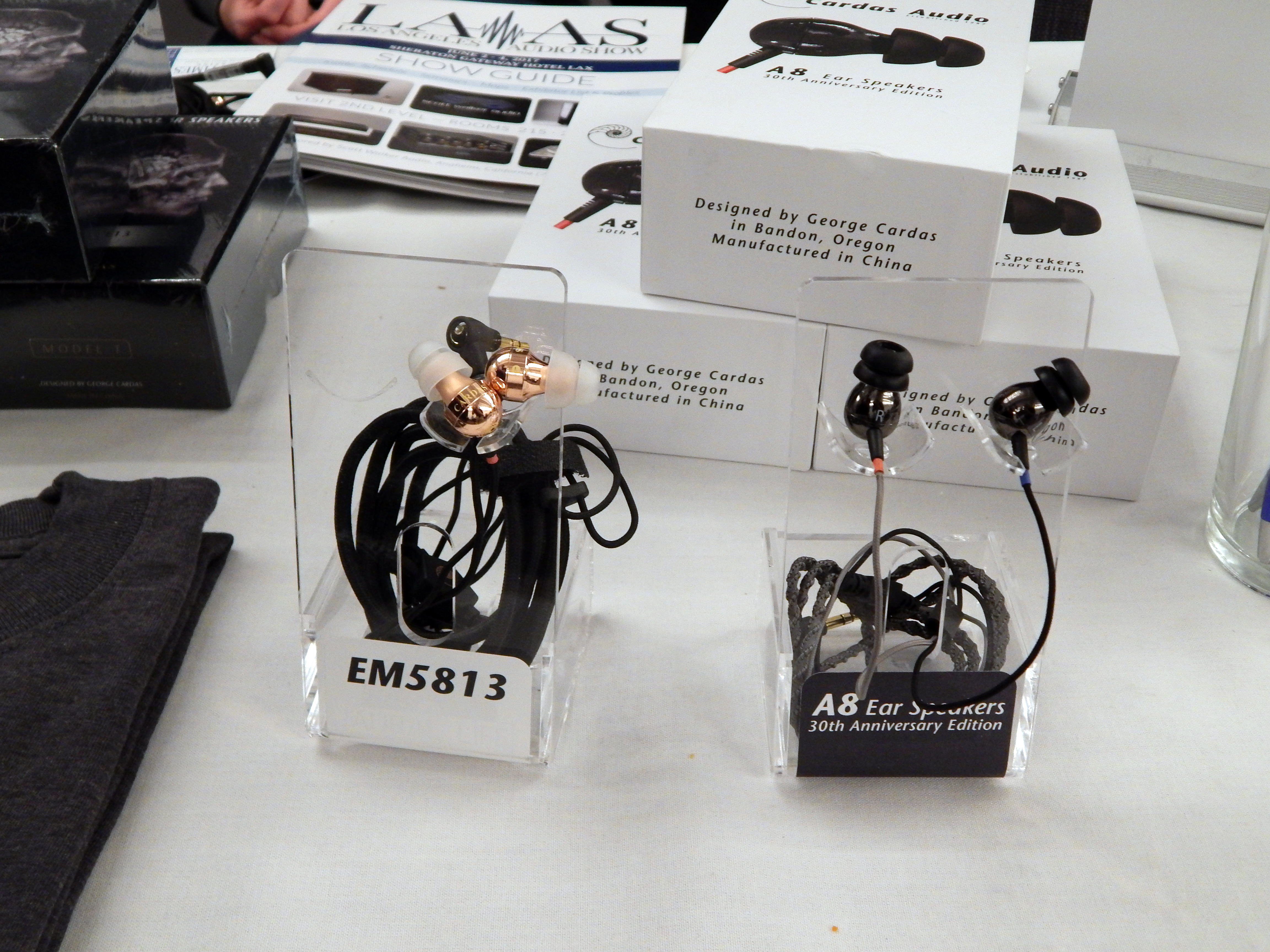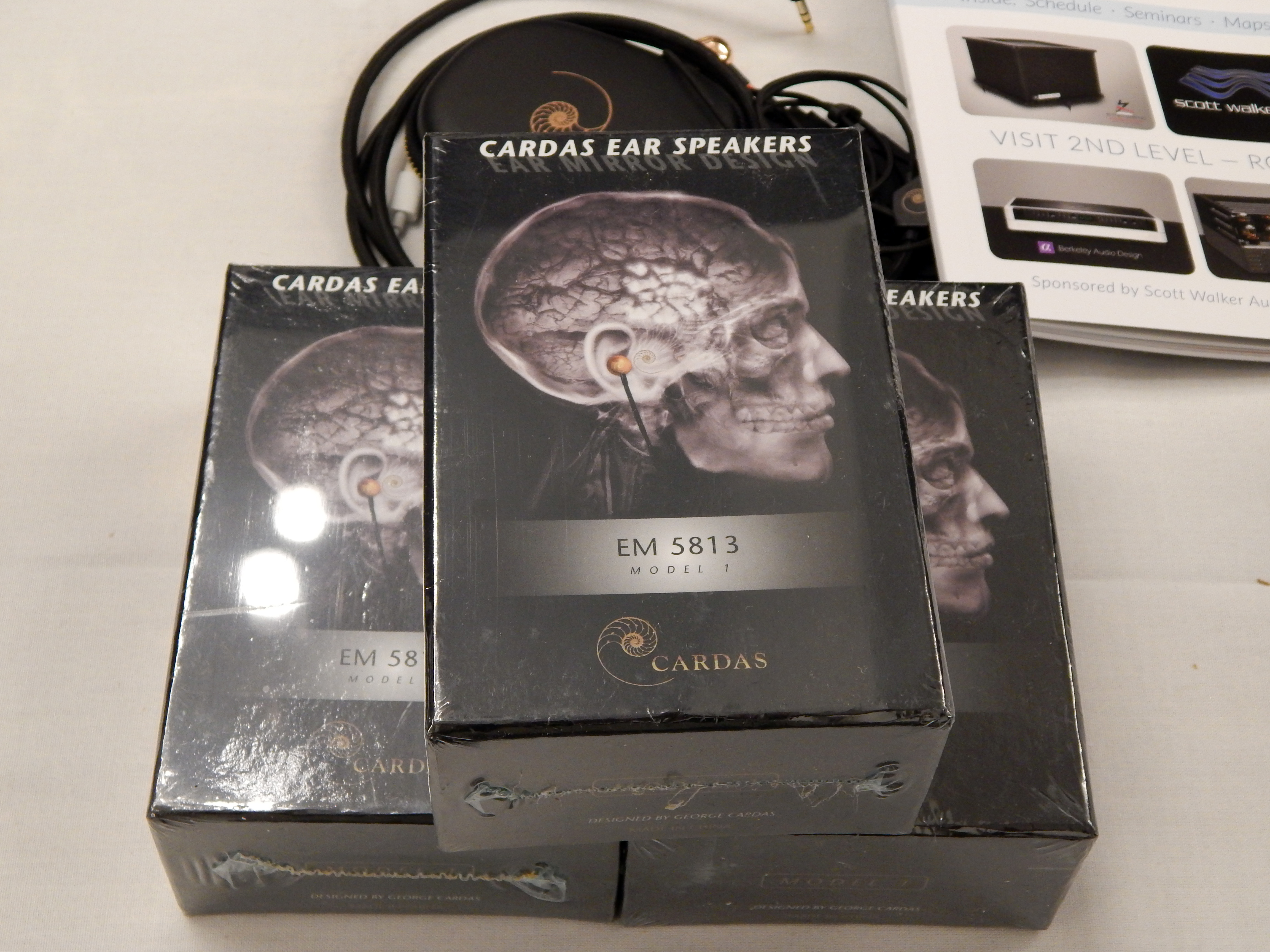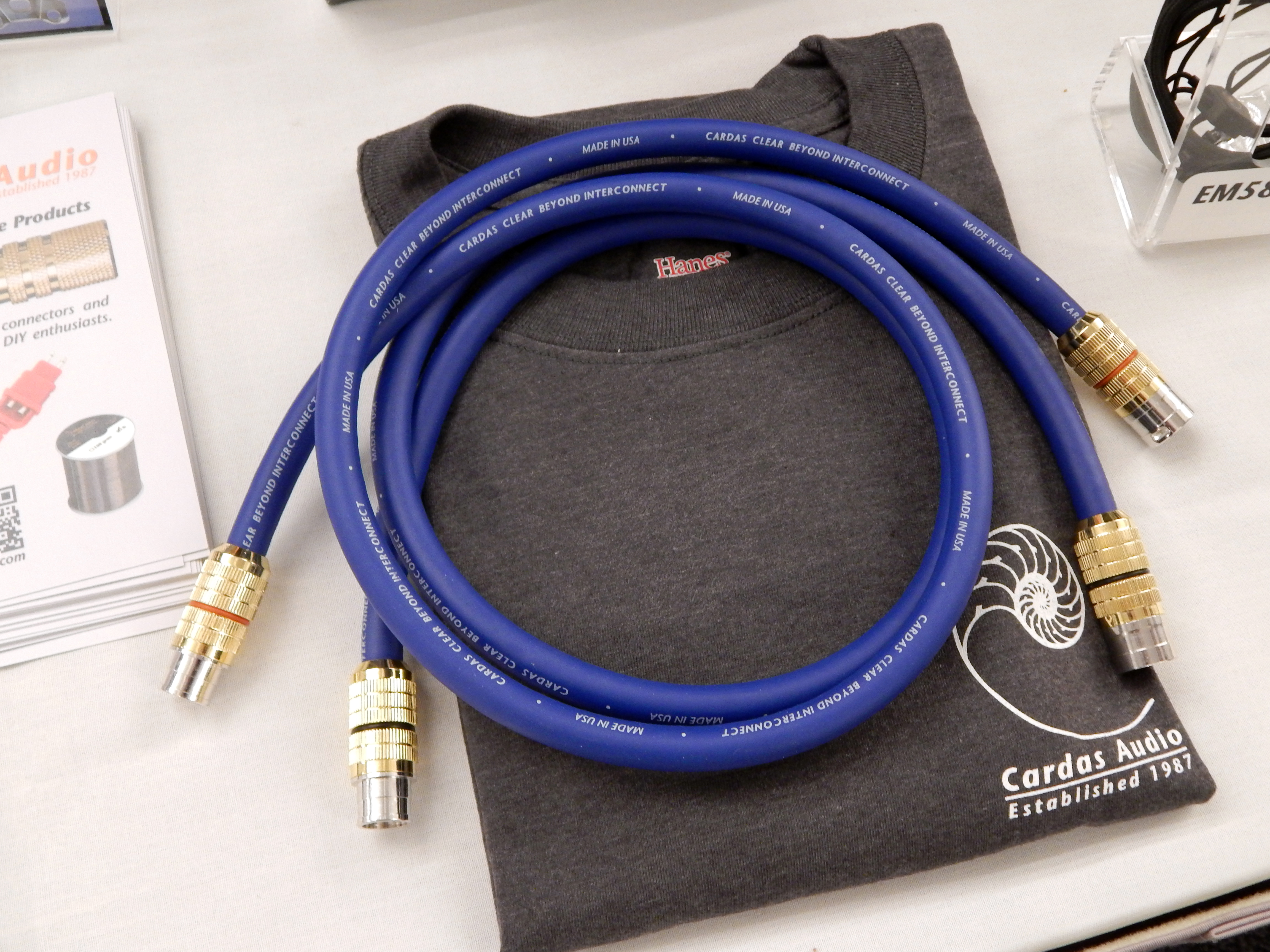 My next visit was to Santa Cruz Audio who set out to build IEMs for Pro audio and arrived at something much more interesting. They began with the understanding that IEMs could provide isolation equal or better than most active noise cancelling headphones, but were confronted with the difficulty of constantly having to remove an IEM to have a conversation (something that occurs rather often in the studio), so they added stereo microphones, a small amplifier and a mixer to allow the wearer to mix in ambient sound, as needed, without removing the IEMs. A built in amplifier meant better sound with cell phones and portable players and also gave them the ability to actively contour the sound to have an extremely accurate frequency response, the resulting product was the SC1000 IEM ($585 USD).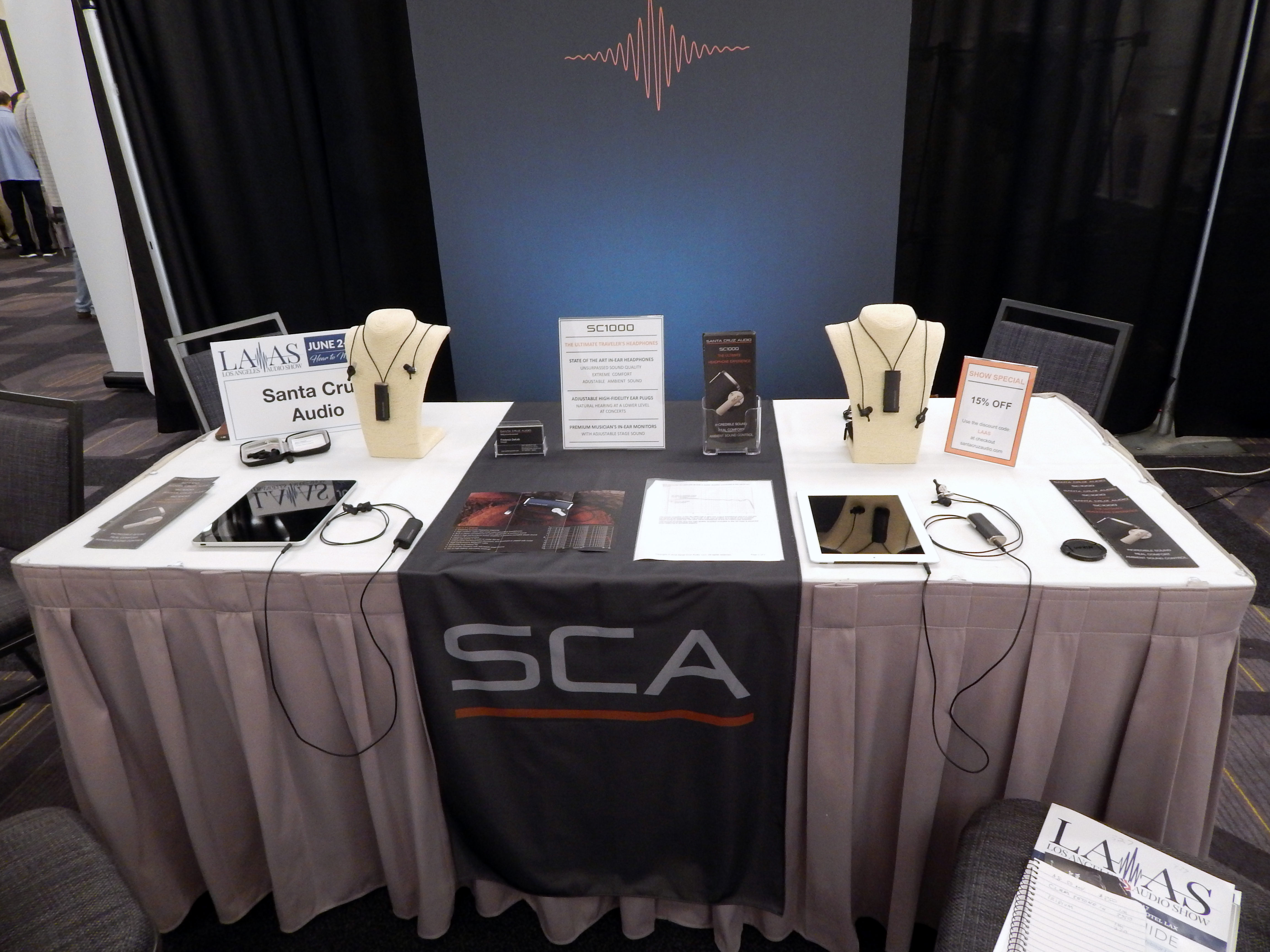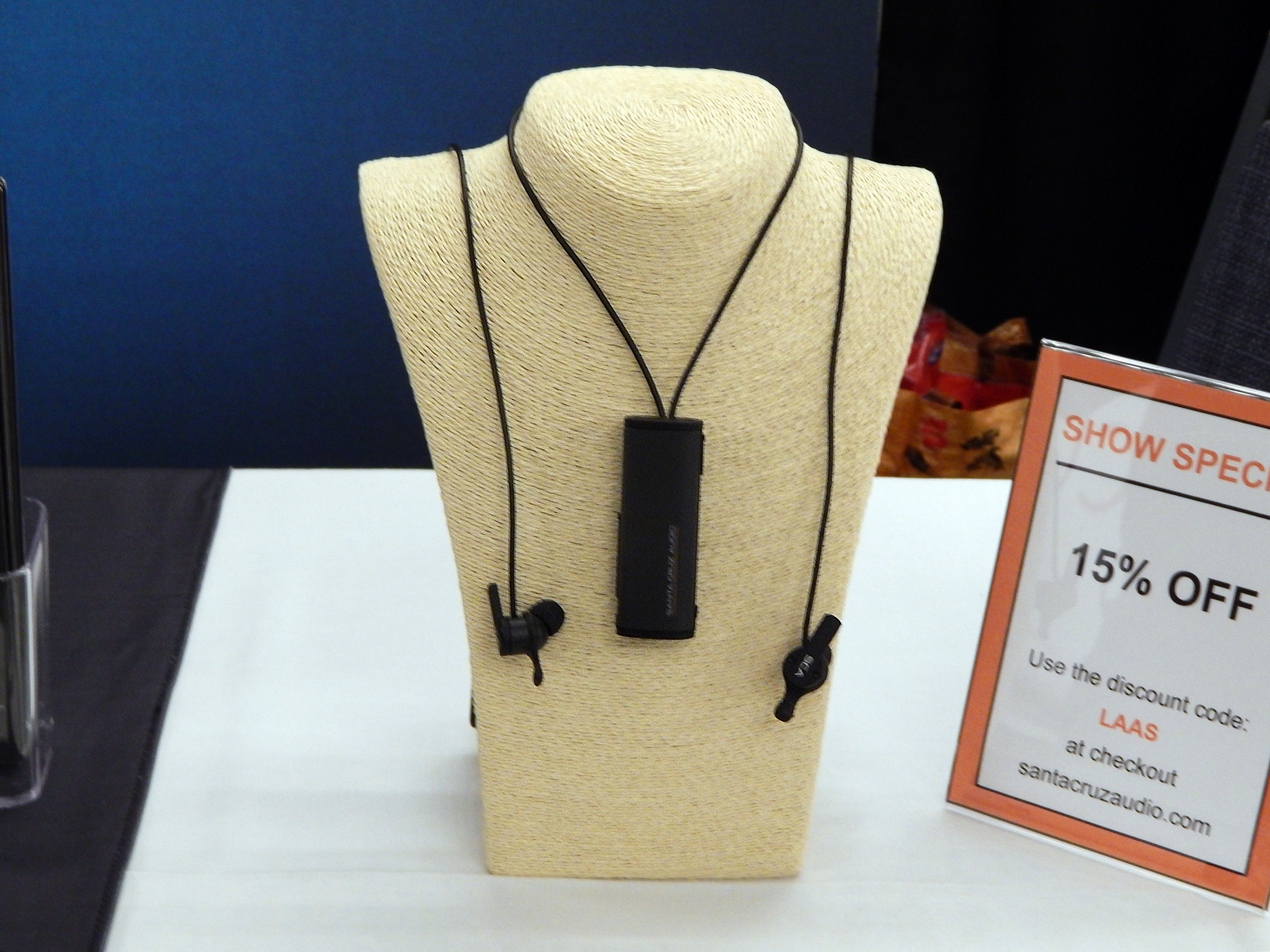 To be continued in PT – 3 of our LAAS coverage.