It has been a while since Headphone.Guru has done a record review and I figured it was time to bring the practice back, so Frank forwarded me Chesky Records' Meiko – Playing Favorites CD, which as an Audiophile recording puts me in the position of actually reviewing three things, the music, the recording and the media, which I am going to handle in reverse order of importance, IE: I'll start with the media.
What I received was a standard CD encoded using the MQA compression scheme, meaning it can be listened to on a standard CD player as a 16 bit/44.1 kHz recording or uncompressed through an MQA processor to approximate the sample rate of the original master (in this case 24/192 kHz).
MQA is an unusual compression scheme in that rather than compressing the bit rate (by sucking out the air in the code such as FLAC or ALAC), it compresses the sample rate by varying the timing of the 44,100 samples per second to place key events more accurately in time emulating a higher sample rate.
The major drawback of MQA is limited playback options (significantly more limited than other high resolution recording formats such as 24/192 kHz which almost all DACs will playback, or DSD or even 24/352.8 kHz and 24/384 kHz or DSD 128). There are only two software solutions I could find currently available; Audirvana and Roon, as my computer won't support Audirvana, I used Roon.
To make a long story short, it sounded much better decoded through MQA than not. The soundstage was larger, more open, airier and more focused. Would it sound as good as the 24/192 kHz master, not likely, but since the recording is available through HD Tracks at 24/192 kHz, you really don't need to compromise if you don't mind paying extra.
Which brings us to the recording; Meiko – Playing Favorites is one of Chesky's Binaural+ series. For those who don't know, a Binaural recording is a special recording designed specifically for headphones. It entails the use of a custom made mannequin (pictured below from my 2017 CanJam coverage) fitted with microphones where the ears are so that all of the sounds are in correct phase in relation to your head when listening through headphones, creating a realistic three dimensional soundstage. Chesky records these Binaural sessions in 24 bit/192 kHz digital and remasters them for two channel (hence the Binaural+). The result lacks the depth of field of true Binaural (which would be nice if made available), but does create a very three dimensional soundstage from the point of view of the singer (it would be nice to have a photo of the session to know the physical relation of the performers to the audience). I did find that reversing the absolute phase moved the musicians from behind me to in front of me.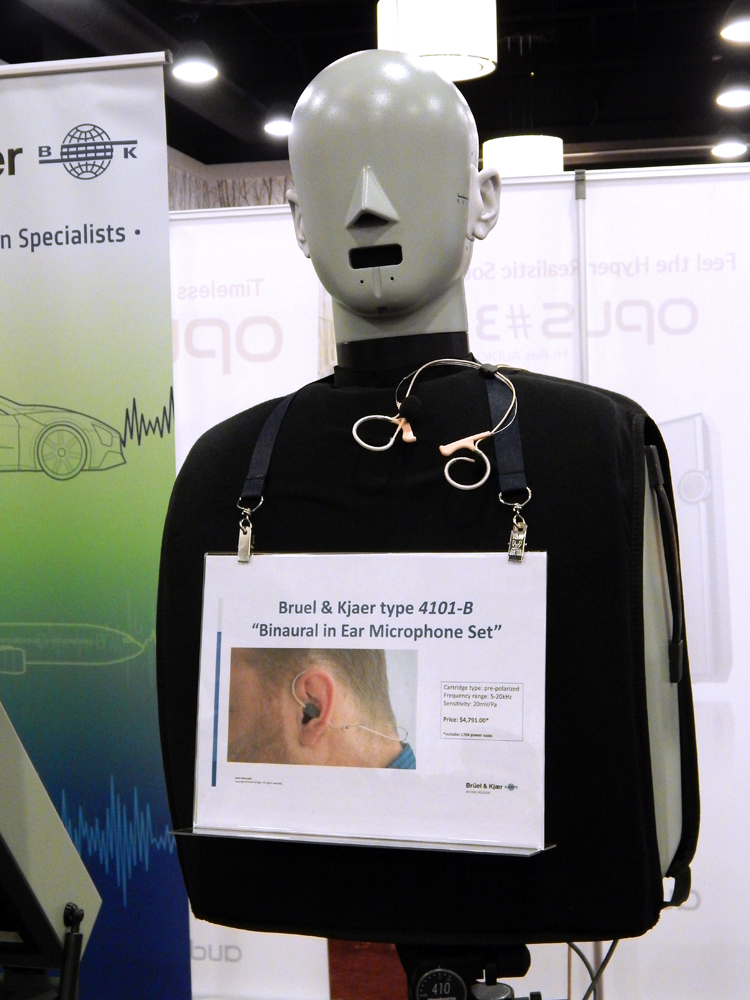 And now to the meat; Meiko – Playing Favorites. Meiko (pronounced MEE-ko, as opposed to the traditional Japanese pronunciation) has a soft silky voice similar to Sade but with a wider vocal range (she sings with a little more expression, less monotone). For Meiko – Playing Favorites she is accompanied by a small acoustic jazz ensemble; credited are Meiko – Vocals, Guitar; Ed Maxwell – Bass, Synth; and Josh Day – Drums. It is a very intimate recording set in a large empty hall inches away from you. The song list consists of a selection of pop song covers beginning with The Cranberries' "Zombie" performed on acoustic guitar with a haunting cello accompaniment. This is followed by a pleasant rendition to make Ben E. King proud of "Stand By Me" which opens with solo upright bass, with guitar, percussion and synthesizer occasionally fading in and out. On the second track Meiko adds a little of that autotune inspired lilt to her voice that is so popular among modern singers for her cover of Jennifer Paige's "Crush".
"No Rain" (Blind Melon) is rendered positively up beat with only a hint of melancholy performed on acoustic guitar and upright bass. Not so with "Fade Into You" (Mazzy Star) made even more poignant with the stark instrumentalization.
Otis Redding would probably lap up the forlorn tone of "(Sittin' On) The Dock Of The Bay". On the other hand Meiko's reimagining of Portishead's Wandering Star is haunting and musical in arrant contrast to the brutally harsh original.
"Come Undone" holds none of the 80s hyper-pop energy of Duran Duran, to its credit I might add, whereas "No Ordinary Love" is the most faithful to the original of any of the covers, though at a slightly slower more emotional pace.
The big standout and most shocking song is "Super Freak", sucking out all of the Rick James Funk and replacing it with a swinging Latin Jazz vibe. Likewise "Show Me Love" (Robin S) shows almost none of its Hip Hop roots. And Erykah Badu's "Bag Lady" is transformed into a socially aware mantra that it should have been to begin with.
To conclude, it is an album definitely worth a listen, which improves with each playback, like a piece of hardware burning in, as you listen more to the singer and less to the song.