So imagine you heard that your favorite vintner, who had recently introduced a new and excellent budget red wine, that favorably competed with the best vintages, was releasing a new white wine. And so you contact the vintner to get a sample, and what you receive instead is champagne. This was my experience with the new MrSpeakers AEON Flow Open headphones (hence forth the original AEONs will be known as the AEON Flow Closed).
MrSpeakers acknowledges that people like to listen to different music, well, differently. Lovers of Classical music and Jazz, often want a sound that is neutral, reproducing the original performance as accurately as possible without enhancement, whereas fans of Disco or Hip Hop prefer something with a little bit of thump, and rock music aficionados can go either way, and occasionally like a little edge to give it that "live" feel. In past, to fill this need MrSpeakers produced two models of their highly respected ETHER and ETHER Flow headphones, the closed back "C" model and the slightly more popular open back standard version. With the extreme success of their new AEON Flow Closed headphones, it is of little wonder that they would want to compliment those with an open backed version.
The AEON Flow Open is clearly similar in design to the AEON Flow Closed, employing the same unique MrSpeakers V-Planar Drive and Trueflow technologies, similar ear shaped ear-cups with an attractive honey comb baffle plate (about two thirds the size and mass of the ETHER), and the same NiTinol "memory metal" and leather strap adjustable headband, with a single anchor point on the ear-cup. The ear pads are the same thick flat leather pad. The also use the same connector and come with the new DUMMER (Distinctly Un-Magical) dual-tip (1/4″ and 3.5mm) headphone cable for greater compatibility with portable devices (1/4″ to 3.5mm adapters put undue stress on 3.5mm output connections). All in all, the build quality and comfort are exemplary, while the design is elegant and functional, in keeping with all MrSpeakers products.
As to presentation, the AEON Flow Open arrived in an elegant black magnetic clasp box, which contained MrSpeakers signature leather hard shell travel case.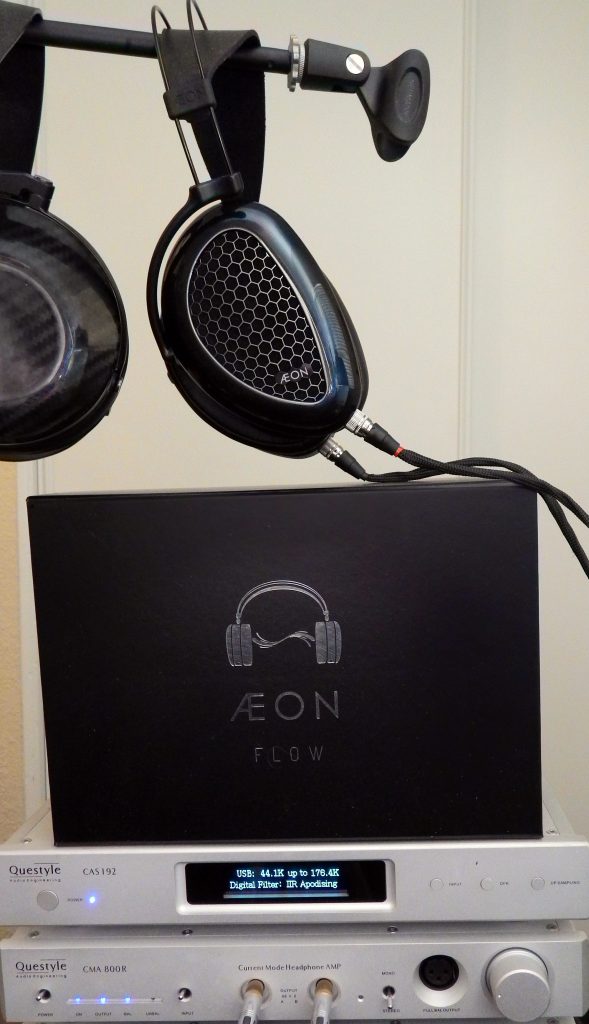 The Sound Check:
The majority of my listening tests were made using my reference desktop system; the Questyle Audio CAS192D Current Mode DAC and CMA800R Current Mode Headphone Amplifier. I also used my reference DAP the Questyle Audio QP2R and my cell phone a Samsung Galaxy J3.
The first thing you notice about the AEON Flow Open is its efficiency, making it competitive with many IEMs for use with DAPs and smart phones. The tonal characteristics are very similar to the ETHER Flows with a warmness to the bottom end and a slight bump in the upper mids. A couple of days after I received the AEON Flow Open, Dan sent me a tuning kit which mellowed and honeyed the upper midrange changing the headphone from an extremely good headphone to a world class headphone rivaled only by headphones ringing in at twice the price.

Listening to "Chemo Limo" by Regina Spektor (Soviet Kitsch – 16/44.1 kHz) the piano was rendered rich and warm with a Baldwin like presentation, close up and intimate in a large hall. Regina's voice was personal and lifelike, as if not miked at all but simply in the room with the piano.

The dynamics were certainly there for live music, Arlo gave a front row performance, enveloping the listener in guitars with the drums just behind ("Coming into Los Angeles" – Arlo Guthrie – Woodstock:Music from the Original Soundtrack – 16/44.1 kHz), with a large soundstage lending life to the open air concert.

It is interesting how different headphones will highlight different instruments when listening to familiar tracks. In the case of "The Firebird Suite" (Robert Shaw & Atlanta Symphony Orchestra – Stravinsky: The Firebird; Borodin: Music from Prince Igor – 16/44.1 kHz), a track I use to evaluate every piece of equipment I review, it was the breath across the various flutes and the byplay between them and the oboe. During the crescendos there is a dance between the flutes, reeds and horns, with a wild intermingling of soloists and sections punctuated by the tympanis, tubular bells, woodblocks and cymbals. Each musician in the very large orchestra was precisely placed and individual, with an ideal seating in a huge concert hall, exhibiting depth as well as width, the tonality of the individual instruments realistic and on the robust side that can only come from well constructed auditorium.

The lush bass lines of Roxy Music's "Out Of The Blue" (Country Life – DSD) lent themselves to richness of the AEON Flow Open, Bryan Ferry's buttery baritone laid bare in a miasma of sound, while Phil Manzanera layered exotic guitar leads in the distance.

Fun is the first word that comes to mind as John Entwistle's intricate high speed bass guitar licks were delineated against a backdrop of Keith Moon's staccato percussion fills as "Pure And Easy" (The Who – Odds & Sods – 24/96 kHz) was played back through the AEON Flow Open, Roger Daltrey's fourth instrument vocals crisp, clear, and emotionally evocative.
I am always impressed by the speed of MrSpeakers planar magnetic headphones, especially in the low frequencies where it really counts. Coupled with the AEON Flow Open's pop but musical tonal balance, you feel compelled to just keep listening, to more and more, to find what else can be enhanced by this magical headphone.
Switching to the QP2R, I decided it was time to investigate the AEON Flow Open's performance with Jazz, selecting "Teen Town" from Heavy Weather (Weather Report – DSD). Jaco's amazing bass riffs taking center stage, supported by his own stint on the drums, creating both rhythm and melody with accents from Wayne Shorter on the soprano sax, with a enveloping aura provided by Joe Zawinul on keys. The results being something very ethereal, with sharp impact and resonance. Overall very airy and spacious and completely engaging.
While I was able to get acceptable levels in the "Low Gain" setting running single ended, I settled on "High Gain" to achieve full dynamics.
Next up was "House of the Rising Sun" performed by Cyndee Peters and Eric Bibb (Opus 3 – DSD128), and I was instantly transported to a smoky night club with a table near the stage, Cyndee's voice liquid and emotive.
I brought up David Bowie's "Aladdin Sane" (David Live – 24/48 kHz) on the smart phone, and while I wasn't able to achieve concert level volumes, the atmosphere of the stadium was all there.
The Summation:
Offering almost electrostatic levels of speed (especially for low frequencies), excellent dynamic range, a natural and musical tonal balance with just a smattering of extra punch on the bottom end, along with a resolution and sonic precision that throws up an expansive soundstage, with both depth and width, the MrSpeakers AEON Flow Open is a world class headphone and goes on my short list of truly fun headphones to listen to. Its light weight comfort and stylish appearance, along with its high efficiency and lavish build quality, make it an ideal travel headphone for use with a quality DAP or portable amp, or even a smart phone if you don't need to be deafened by your music, and you'll never feel awkward walking down the street with them on.
While the ETHER C Flow remains my headphone of choice, the AEON Flow Open along with its brother the AEON Flow Closed reign supreme as the best values in high performance headphones. In fact, if you have been saving up for a more expensive model, I would happily recommend buying both so you have one for serious listening and one for fun time.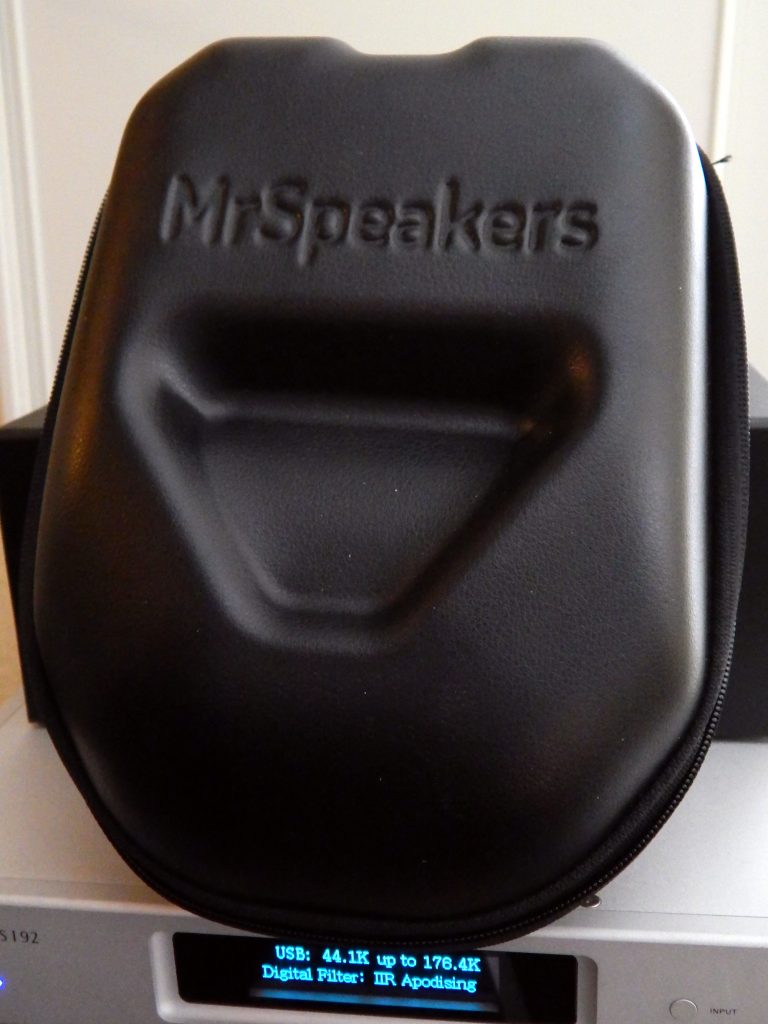 https://www.mrspeakers.com/aeon/aeon-closed-back-headphone.html
Price: $799.99 USD
FEATURES
All new planar magnetic driver with V-Planar and Trueflow technologies
NiTinol "memory metal" headband with hinge-free design
Dyed-through leather headband
New DUMMER 1/4″ and 3.5mm dual-tip fabric covered headphone cable
Includes clamshell travel case
SPECIFICATIONS
Efficiency: 92dB/mW Open
Weight (without cable): 321gr Open
Detachable 2m premium dual-entry cable with 3.5mm and 1/4″ termination
Impedance: 13 ohms
Frequency Response: Yes*