This review began a little over fourteen months ago.
MARCH 22, 2014 – COSTA MESA, CALIFORNIA – At the end of the 2014 SoCal Head-Fi Meet, those of us who were still breaking-down our gear, took our sweet time savoring the remains of that epic day. We had all hoped it would be a fantastic meet, but none of us were truly prepared for such a grand experience, for both attendees and exhibitors alike.
Frankly, it wiped us all out.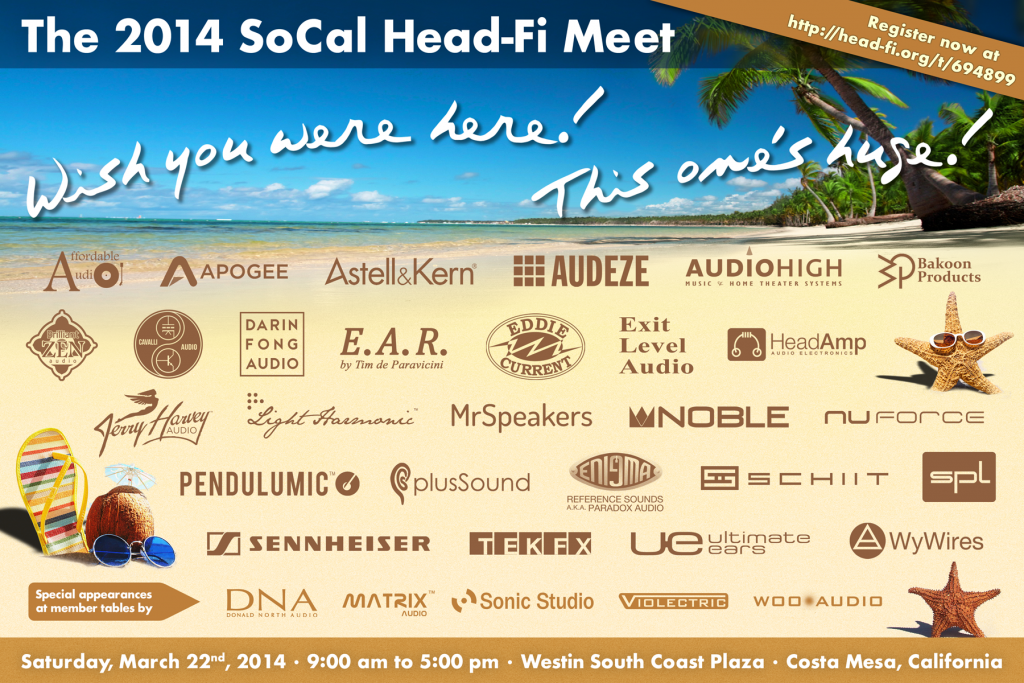 As one of the organizers of that meet, I found myself even further depleted than my fellow Head-Fiers. So, I wandered the halls like a tired mess, not unlike spent salmon, making sure that teardown was proceeding smoothly. I wanted nothing more to catch my breath, to finally chance upon a moment of well-deserved peace, a moment or two of serenity, and to find closure. The last thing I wanted to do was listen to another pair of headphones.
Just then, I passed by MrSpeakers's exhibit, and saw Dan Clark silently inviting me over, headphone in hand. Oh no, he's gonna make me listen to something.
"Hey Warren, you wanna listen to something?"
No, not really…
"Sure," I answered. "Whatcha got?"
"Tell me what you think of this…" Dan smiled as handed me a pair of Alpha Dogs.
As I listened and checked it out, he went on to describe what it was, the subtle tuning changes that were incorporated therein, and about doggie treats and such. It was a nice listen, although, perhaps a bit too backed off and polite from a typical Alpha Dog for my tastes. Quite sweet nonetheless. Of course, what I was hearing wound up being released months later as the Alpha Prime.
As I handed that Alpha Prime prototype back to Dan, he looked around to make sure the coast was clear. Then handed me a second headphone while absolutely refusing to tell me what it was, or anything about it at all. And despite my gentle probing…
"Wait, WTF is this?"
He just leaned back as he gestured for me to take a listen, and smiled.
Now, for those of you who have never met my friend Dan Clark, I'd like to take a moment to describe his smile to you. It's a jovial smile, a wide smile, a disarming smile that – more often than not – puts you at ease. Thing is, this smile tends to be at its widest and most beaming when Dan's got a happy secret. In many ways, it's like a dolphin's smile. It makes you feel good of course, but you definitely get the sense that there's something deeper going on back there than he's letting on about. It's nothing ominous like "how to serve man" or anything like that, more like "so long, and thanks for all the fish."
Anyway, I'm there listening to this whatever-the-heck-it-is. Through my weariness and fatigue, through the stresses of the day and the onset of catharsis, I realize that I am hearing something absolutely delightful. It was balanced, detailed, clear and it sounded better than anything else I had heard that day. It was as if there were little musical fairies in those ear cups singing and playing the music to me. For the record, I was listening to The Sundays, so those fairies sounded a lot like Harriet Wheeler. In any case, it was sublime.
"Seriously, Dan, what is this?"
He gave up nothing, nothing at all, only that coy dolphin poker face staring back at me. But if you should hazard a guess that the headphone was a forerunner of the ETHER, well, you'd be right. Even back then, well over a year ago, it was something to behold, something special indeed.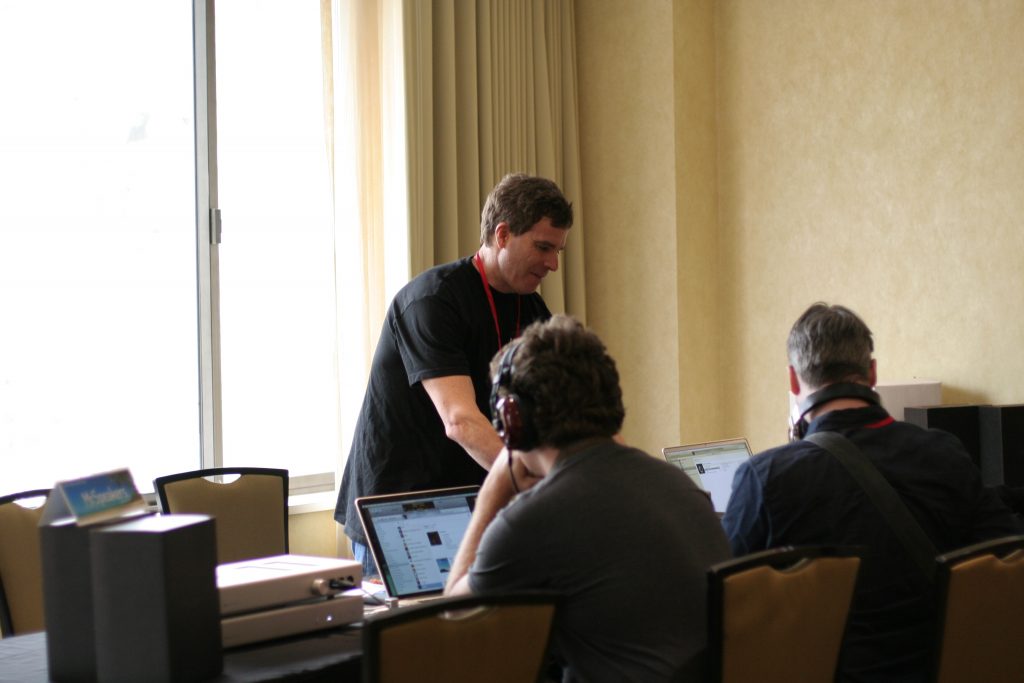 Dan Clark of MrSpeakers setting up auditions at the 2014 SoCal Head-Fi Meet. Hidden somewhere behind him was the early ETHER prototype that I got exclusive ear time with. Photo by Kunal Haritwal.[/caption]
As the months passed, I found myself drawn to the memory of that audition. Yet, I refused to become emotionally invested. As a consumer electronics product developer, I know that prototype units mean almost nothing in the grand scheme of things. More often than not, prototypes differ drastically from the final product… and that's assuming that there is even a final product. Mostly because the vast majority of projects wind up being canceled without ever coming to fruition.
JULY 18, 2014 – SAN FRANCISCO, CALIFORNIA – Three months later, it's now the eve of the 2014 San Francisco Head-Fi Meet, and I've just arrived at the meet hotel. As we're about to check in, we run into Dan Clark, who was finishing up a run. He mentions to us that, if we have time, we should head up to his room later to check out the "Dreadnought". Aha you muthafudger, you finally let a name slip! Ah yes, I know exactly whatchu talkin' 'bout Willis. I'll be there!
Later that night, I'm ushered into a room to hear the Dreadnought.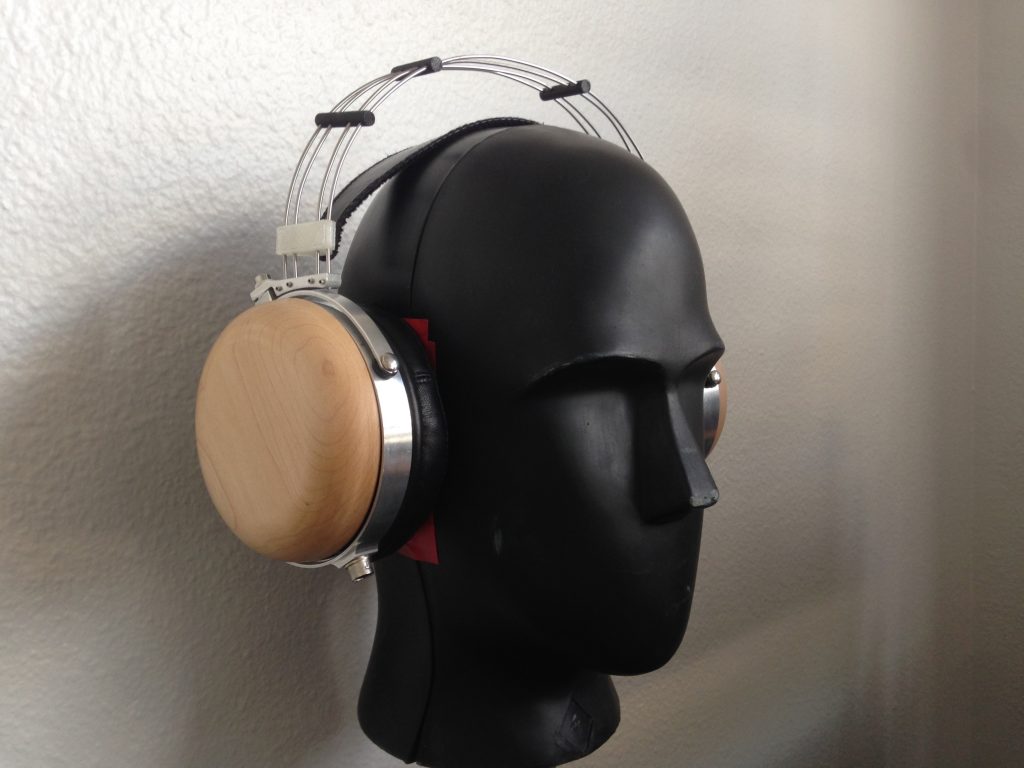 The ETHER as of July 2014, then codenamed the Dreadnought, in its prototype form.
As I auditioned, not one, but two different units, I was absolutely crestfallen. Each one could reasonably be described as the polar opposite of the other, and neither sounded anything like what I initially heard. Of course, I gave Dan my honest feedback, and left the audition thinking that an impending and utter disaster would be imminent, should either of those units ever surface.
I was heartbroken.
Things were pretty quiet for the next six months or so. Dan was hard at work addressing the Dreadnought's issues, so he didn't have a whole lot to say about it. Beyond asking how things was going, I certainly didn't want to bring up anything that might lead to awkwardness. So, we basically just left it alone for a little while. By this time, the Alpha Prime had launched. Community discussion had centered itself around the Prime, and the few of us who knew about the Dreadnought kept very quiet, wondering what was being done to restore it to glory.
Coming out of Winter in early 2015, Dan began to hint at how the Dreadnought was coming along. Short of actually hearing a physical unit for myself, I was hearing everything I wanted to hear in his updates: the very best of each previous incarnation was coming together in one single unit; it was now an open-backed headphone (which I prefer over closed-backed headphones for home listening anyway); and most importantly, I could hear the optimism in his voice… I could somehow hear him smiling… and I knew that meant something good was afoot.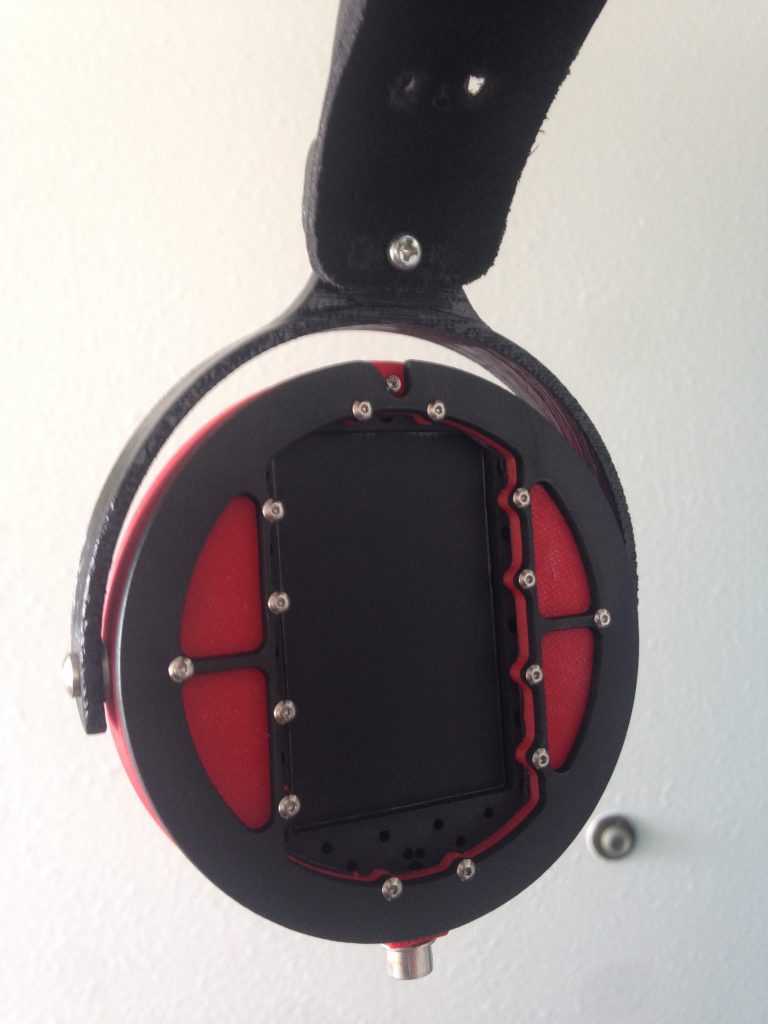 After much development, it seemed that the ETHER's new, and entirely original, V-Planar driver was almost ready.
With the conversion from a closed-backed headphone to an open-backed headphone, the Dreadnought was finally re-christened as the ETHER, to better illustrate the much more expansive soundstage that was possible with that design change.
As CanJam SoCal 2015 approached, I became increasingly busy with prep work for the show, and I found it difficult to meet up with Dan for a preview of the ETHER. However, during that time, a pair or two of ETHER production samples went out to ears that I trust. And the impressions coming back from those guys were quite positive. I began to hope that the unicorn I heard nearly a year before might be one step closer to reality once again.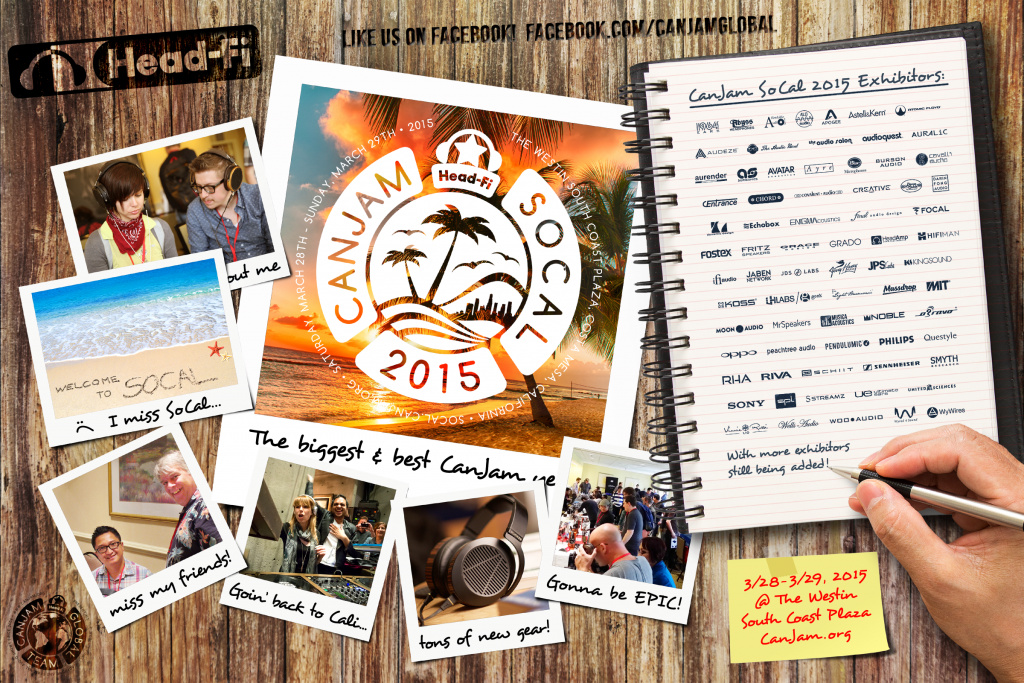 Over a year after I first heard that which would become the ETHER, it seemed that it would finally be ready to show at CanJam SoCal 2015.
MARCH 24, 2015 – LOS ANGELES, CALIFORNIA – Fellow Guru Frank Iacone and I are at Los Angeles International Airport (LAX) waiting for Amos Barnett (a.k.a. Currawong on Head-Fi) to arrive from Tokyo. We're deliberating what to do first (e.g. lunch, hotel check-in, etc.) when it occurs to me that the ETHER is about to be announced later that day in Jude Mansilla's CanJam SoCal 2015 preview video (part II of II).
Thinking that he would be interested, Frank and I ask Amos if he'd like to visit MrSpeakers that afternoon, as San Diego is only a two-hour drive away. Amos is a bit reluctant as he's jet-lagged, and wanted to devote what little time he has here to "companies coming out with new stuff." At this point, Frank and I look at him a little funny. After all, the ETHER is new – and it's pretty big news, at least in our estimation. And that's when it hits us: Amos doesn't know!
Apparently, in performing our duty of keeping the ETHER a secret until the official announcement was out, we all "forgot" to tell Amos about it. So we take a few minutes to bring Amos up to speed, and to let him know that Jude was about to announce the first MrSpeakers headphone that was completely original from the ground up. Moments later, Amos decided that we were going to San Diego, of course.
A few hours later, we're sitting in Dan's office listening to the ETHER.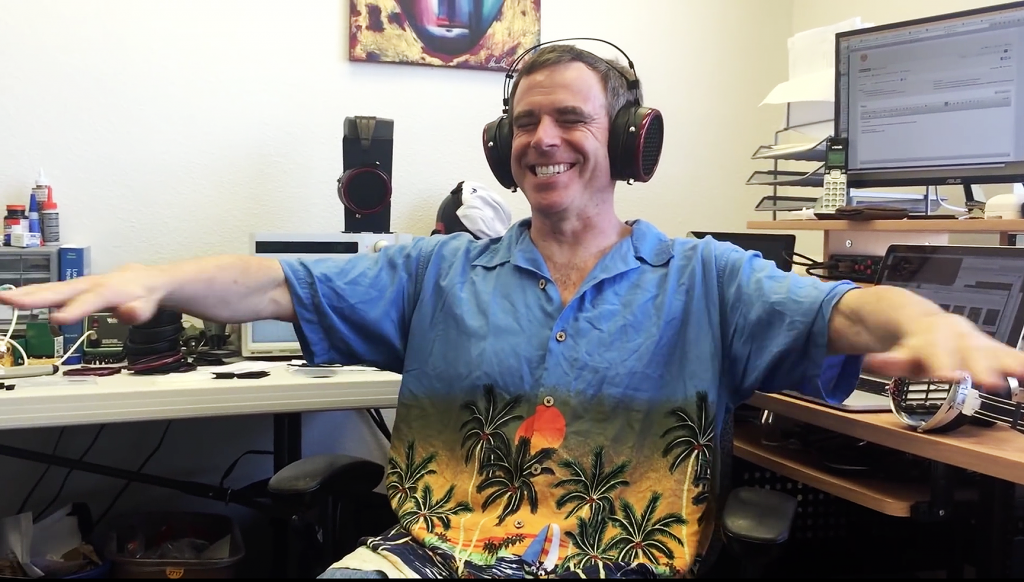 Alia jacta est ("the die is cast"), and we're just moments away from Jude's official announcement of the new ETHER by MrSpeakers. Not much more can be done at this point, and so Dan Clark is finally at peace. Photo by Amos Barnett.
It was, to my ears, everything that I had hoped it would be… certainly everything that it was a year ago and more. It was an eargasmic happy ending to the end of an emotional journey that began over a year ago. So the moral of the story – at least the story so far – is that should Dan Clark ever secretly and furtively ask you to listen to something, say yes.
As for how the ETHER sounds, stay tuned for Part II of this review.