The Naim Uniti Atom Headphone Edition is Naim's latest volley into the growing Personal Audio market. Naim's Uniti series is part of their "just add speakers" design campaign bringing the age-old concept of the high-end audiophile receiver into the modern age with full digital connectivity for those who want to stream music as well as store music locally without having to have a bulky computer in their listening room. As the name implies, the Naim Uniti Atom Headphone Edition is a Naim Uniti Atom with an upgraded dedicated headphone amplifier optimized to bring out the best in your headphones, especially Focal headphones which were used in its voicing, in place of the speaker amplifier.
Naim may be a new name to some in the Personal Audio community, but they have been around for a long time, and have enjoyed a reputation as one of the best British audio companies. Founded in 1973, in 1975 Naim was chosen by audiophile turntable company Linn (considered by many as the best turntable in the world) as the preferred amplifier for their Linn Isobarik loudspeaker, a speaker known for being extremely demanding of amplifiers. Likewise, in recent years Naim has partnered up with Focal, another state-of-the-art manufacturer, this time of speakers. This is why I jumped at the chance to review the Naim Uniti Atom Headphone Edition knowing of their long history of uncompromising audio quality.
The Naim Uniti Atom Headphone Edition: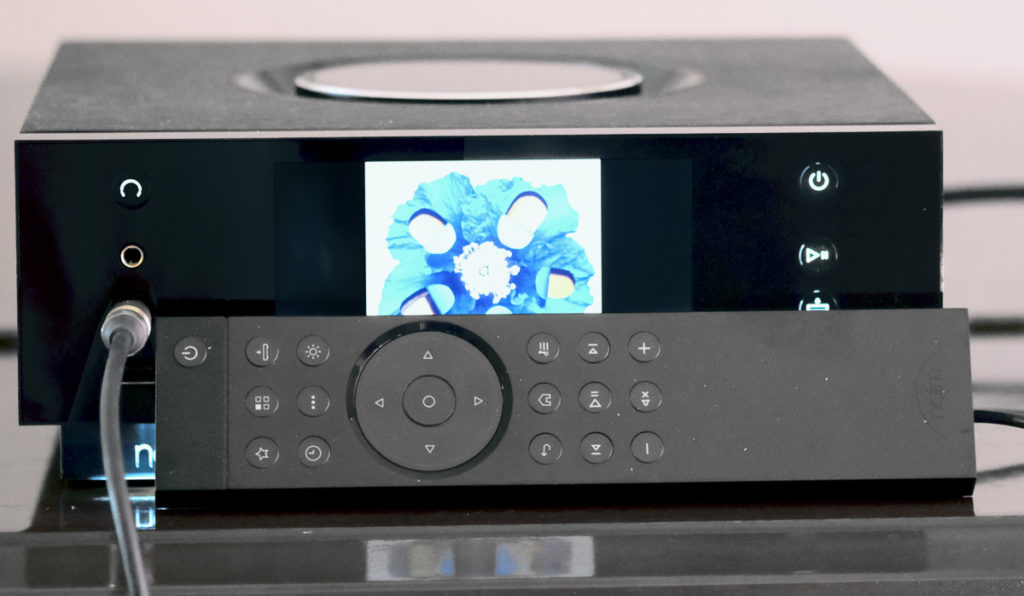 Essentially the Naim Uniti Atom Headphone Edition is a fully self-contained music server with a built-in headphone amplifier and switchable preamp outputs to run to an external amplifier and speakers or self-amplified speakers. Feature-wise it supports the following:
Spotify Connect
AirPlay 2
TIDAL
Qobuz
Internet Radio
Chromecast built-in
Bluetooth
Multiroom Streaming
Alarm Clock
Roon Ready
Both digital and analog inputs
UPnP
USB
It can either stream music from a networked music server or act as a network server itself. Connectivity to your router can be accomplished either via WiFi or Ethernet. Internet Radio and Spotify as well as USB drives and direct connected sources can be accessed from the front panel using the remote while Qobuz and TIDAL are accessed using the Naim App on your smartphone or tablet.
The headphone amplifier is single-ended Class A/AB heavily biased towards Class A. High impedance loads (300Ω and above) are strictly Class A while lower impedance loads will draw into Class AB.
Appearance wise the Uniti Atom is elegant and sleek, a simple black rectangle with heatsinks on the sides and a large knob inset into the top, since it is meant to be a stand-alone centerpiece device this makes sense. On the front faceplate starting on the left you have the Headphone/Preamp out button, below that a 4.4mm TRRRS headphone output, ¼" TRS headphone output, and a USB port, the full-color display takes up the majority of the real estate, then on the right (again in a vertical row) the Power button, Play/Pause button, Source Button, and Favorites button. On the back panel, you have a Coax S/PDIF digital input, 2 Optical S/PDIF digital inputs, a USB port, and an Ethernet port across the top, then below is one set of RCA analog inputs, a set of RCA preamp outputs, a set of 3-pin XLR balanced preamp outputs, a 4-pin XLR headphone output, and a power cord socket. The remote offers "Power/Standby", "Favourites", "Multiroom", "Inputs", "Clock", "Options", "Brightness", a 4 position "Navigation" toggle with a center "Ok" button, "Back", "Home", "Now Playing", "Skip Back", "Play/Pause", "Skip Forward", "Volume Down", "Mute", and "Volume Up".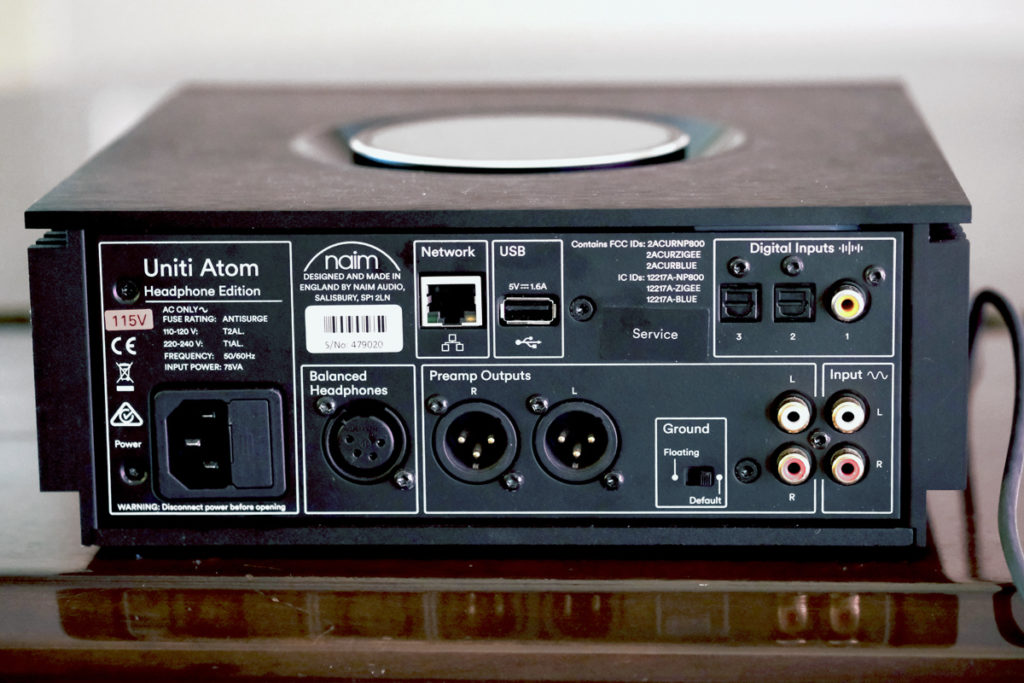 Living with the Naim Uniti Atom Headphone Edition:
I received the Naim Uniti Atom Headphone Edition just before CanJam Chicago so it got plenty of burn-in time. Set up was a breeze and only took a few moments, I simply set it on my desk, plugged in power, plugged in a pair of headphones, downloaded the Naim App to my phone, entered my WiFi password, selected Internet Radio, selected favorites, then selected "Naim Radio" and it was good to go. Everything is pretty much intuitive, which is for the best as the manual is a single sheet of paper with some pictures and basic setup instructions.
Front panel operation is fairly limited, you can turn it on, select a source, select a favorite, play or pause, and of course, there is the big volume knob on the top, but almost everything can be done from the remote except for Qobuz or TIDAL which require the Naim App to access. One might question "Why have a remote when you can do everything from the app?", but the remote is quite convenient, especially if you are not the only one in the household that uses the Uniti Atom. I plugged a USB drive into both the front and back USB ports simultaneously and had no problem navigating the files on both. I then tried connecting a hub to the front port with three drives connected to that and again no problem other than that all three were identified as "Front". I did note that the Uniti Atom did not recognize files on a drive that was formatted exFAT, if this is an issue it is easily corrected by connecting your drive to a NAS (Network Accessible Server).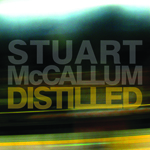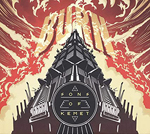 This brings us to the sound checks, for headphone I picked the obvious choice the Focal Celestee which I connected via the ¼" single-ended output on the front. Since my first experience was with the internet radio, I returned to this as a starting point. I started with Naim Radio which showed a bit rate of 328 bps. The first song was a live light Jazz/Rock piece by Stuart McCallum titled "dR Doctor" which was pleasant and musical, with deep rich bottom end. This was followed up by the Sons of Kemet's "Beware" which was a Jazz piece of a completely different ilk with pounding percussion.
Oddly enough, one of the preselected favorite channels was KCRW's Eclectic 24 which is a local station and the only broadcast channel I listen to. Again there was that rich robust bass.
Switching to Spotify Connect, Kate Bush's "Running Up That Hill" from the 2018 remaster of "Hounds of Love" came up, the sound warm and pulsating with clear vocals.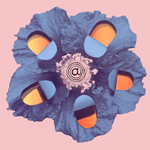 Since the bit rate for Spotify wasn't listed and because the follow-up songs were not listenable, I booted up the Naim App on my cell phone and selected Qobuz picking out "International Athem @ Public Records (Volume 1)" (24-bit/48kHz – Qobuz) by Alabaster DePlume, the live performance of gentle ambient music of synth, violin and percussion had a much more natural and in-room feel than the previous tracks, showing the Uniti Atom scales up quickly with higher resolution recordings. The dynamics were excellent and the timbre was realistic with a slightly aggressive bottom end. The soundstage was up close and personal with a good sense of space.
My next selection was "Beethoven: The Symphonies" (24-bit/192kHz – Qobuz) as performed by Yannick Nézet-Séguin and the Chamber Orchestra of Europe. It was like being on stage with the orchestra in a large hall. The cellos were reverberant and full.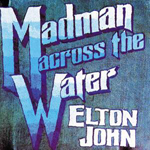 The Uniti Atom was most comfortable with DSD as was evidenced by listening to Elton John's "Madman Across The Water" ("Madman Across The Water" – DSD). The soundstage was huge, with rich piano, thumping bass, tight snappy percussion, and enveloping orchestra.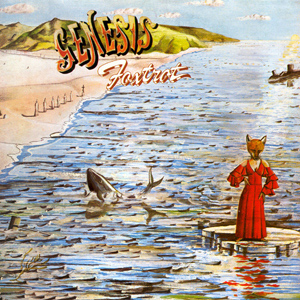 To show that the Uniti Atom can drive more than Focal headphones, I broke out my HiFiMan HE6se and plugged into the 4pin XLR on the back of the unit. This gave the Uniti Atom a real workout playing "Can-Utility and the Coastliners" (DSD) from Genesis' "Foxtrot", not only requiring almost full volume from the Uniti Atom, but digging deep into the subsonic while complementing that with extreme high frequency sounds such as the triangle (which has to compete with all the electric instruments). The result was wonderfully musical with boisterous sub-bass and smooth midrange in an intimate in-studio soundstage.
Conclusions on the Naim Uniti Atom Headphone Edition:
The Naim Uniti Atom Headphone Edition is everything it promises to be, an easy to set up plug and play one-stop solution for headphone amp and music server in an elegant and attractive package that would disappear into anyone's decor. It was incredibly responsive to streaming Qobuz without hiccup even at 24-bit/192kHz (which can't be said for my computer or phone).
While clearly voiced to complement Focal headphones it worked unbelievably well with the HiFiMan HE6se which are both exceedingly demanding and immensely unforgiving.
I found the Uniti Atom to be a little warm on the bottom end, while the mids and high were clear and sharp which should appeal to those looking for that live club sound and lovers of contemporary music. The soundstage was very recording dependant, yet large and full, and the Uniti Atom scaled up considerably with higher resolution music, working best with DSD.
As a fully integrated music server, the Uniti Atom is a wonderful value for the money, and the inclusion of a robust and dynamic headphone amp is just a bonus. Highly recommended.
Manufacturer's Website: https://www.naimaudio.com/product/uniti-atom-headphone
Price: $3,799
Specifications:
AUDIO INPUTS
Digital: 2x Optical S/PDIF up to 96kHz, Coaxial RCA (up to 24bit/192kHz, DoP 64Fs)
Analogue: 1 x Stereo RCA pair
USB: 2x USB 2.0 (Type A connector)
Streaming: Apple AirPlay 2, Chromecast Built-in, UPnPTM, Spotify® Connect, TIDAL, Roon Ready, Bluetooth, Internet Radio, Qobuz
HEADPHONE OUTPUTS
4.4mm Pentaconn (balanced) 4 pin XLR (balanced) 6.35mm (¼ inch) jack (unbalanced)
1.5W RMS per channel into 16ohms
Suitable for headphones from 16ohms
and upwards
AUDIO OUTPUTS
Balanced XLR Preamp output
RCA Preamp output
CONNECTIVITY
Network: Ethernet (10/100Mbps), WiFi (802.11 b/g/n/ac with internal antennae) Multiroom: Sync up to five Naim Streaming products and control via the Naim App.
USER CONTROL
Product: Front panel buttons and rotary volume control
Handheld: Zigbee remote handset included and optional control app for Apple and Android devices
FORMATS
Audio Formats:
WAV, FLAC and AIFF – up to 24bit/384kHz
ALAC (Apple Lossless) – up to 24bit/384kHz
MP3 – up to 48kHz, 320kbit (16 bit)
AAC – up to 48kHz, 320kbit (16bit)
OGG and WMA – up to 48kHz (16bit)
DSD- 64 and 128Fs
Bluetooth – SBC, AAC, AptX, AptX HD
Note: Gapless playback supported on all formats
Internet Radio Provider: vTuner Premium 5*
POWER
Power Consumption:
Typical use: 17W
Network Standby mode: <2W
No-network Standby mode: <0.5W
Auto Standby time User selectable: adjustable from off up to 2 hour
Mains Supply
115V, 230V; 50 or 60Hz
PHYSICAL
Dimensions (HxWxD): 95 mm x 245 mm x 265 mm
Weight: 7kg
Supplied with: Document pack, cleaning cloth, remote, AAA batteries and power lead