The renaissance of personal audio continues. The sound quality that a music fan can bring with them while out and about, now equals or exceeds what could be in their home. Making things even better (or worse for one's wallet), is that the firms churning out all this new sonic joy, continue to be pushed by each other to make higher and higher quality sonic magic, to an ever-expecting audience. The Custom In-Ear Monitor (CIEM) category of personal audio is experiencing this same amazing advance of sonic bliss.
Noble Audio is a newer firm with an experienced team. The Wizard, Dr. John Moulton AU.D. CCC-A, is now at the helm of his own firm, and brings years of experience as an innovator and artist in the CIEM game. John's incredible designs, using a wide variety of physical media, have resulted in some of the most visually stunning CIEM's ever conceived: http://nobleaudio.com/en/lookbook. His experience as both an audiophile and as an audiologist, give him unique insight into the creation of state of the art sound from small portable packages.
Dr. John has created a wide range of CIEMs and Universal IEMs from many price points, all providing a terrific sound for the money. Universals start at $350 USD and Customs at $450 USD. They go up in cost to the pinnacle of the Noble line, the Prestige, to nearly $3000 USD, depending on the material you choose for the shells and the time and "Wizardry" it takes to create them.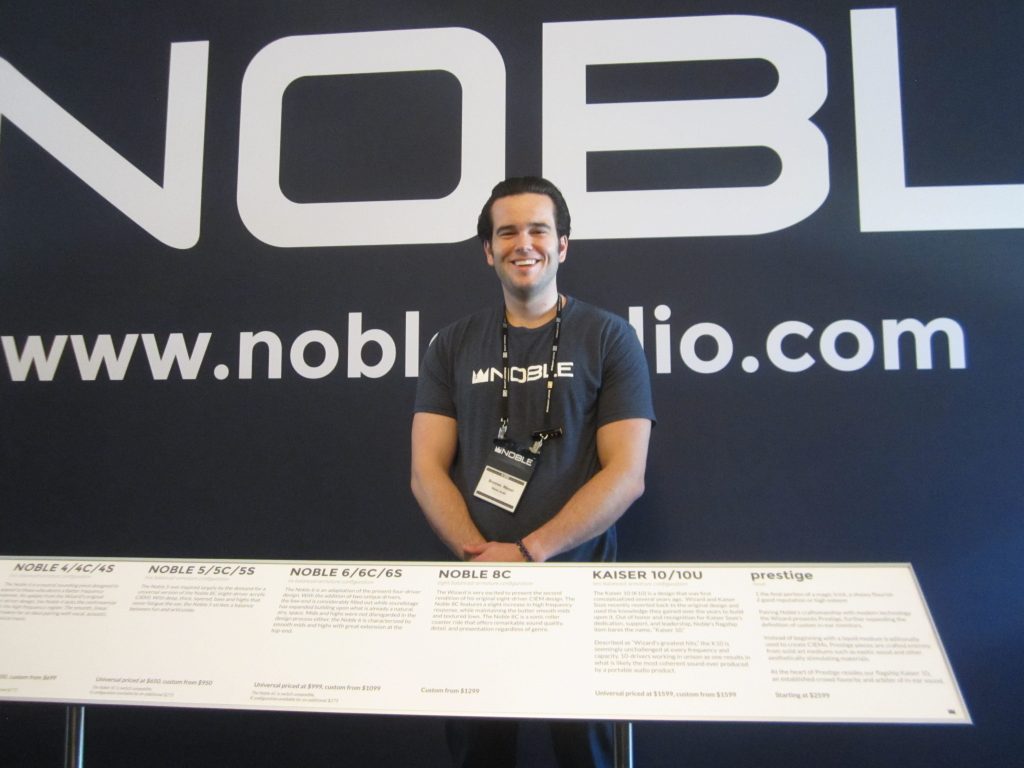 Brannan Mason at CanJam: March 2015
Brannan Mason is the co-owner and business manager of the firm. Brannan is also the tireless traveler who is the face of Noble Audio at industry shows all over the world. He had my ears full of goo in a flash, and seven minutes later we were goo(d) to go!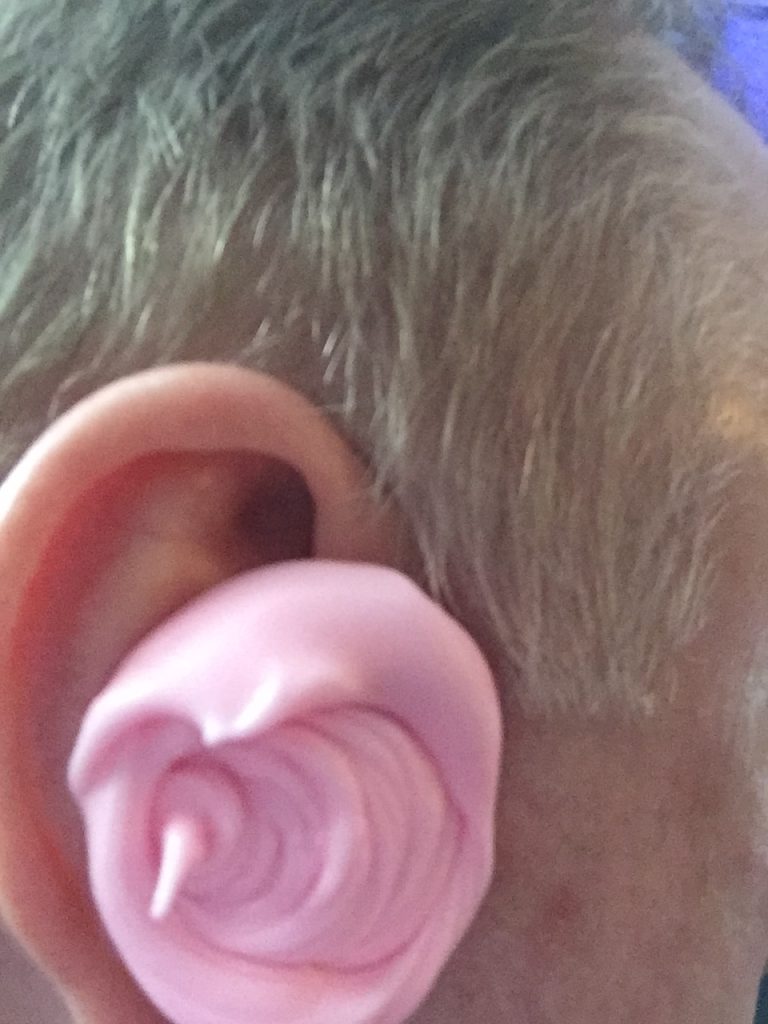 Doing Impressions at CanJam: March 2015
Brannan is a joy to work with, and having watched him do many impressions at several shows, I can attest to his skill and patience. In my experience, he is also one of the best. When my impressions were complete he asked what I would like for my K10s to look like, and I asked for something "Interstellar". Brannan and Noble Audio came through in spades!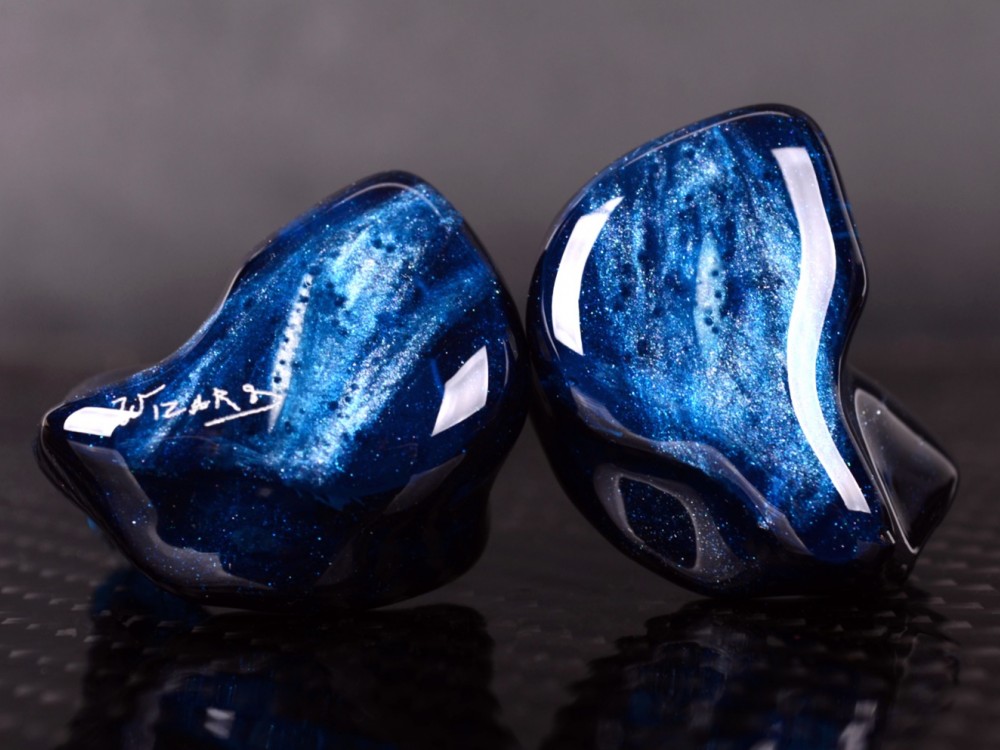 My personal set of K10s
The K10s are a ten driver CIEM consisting of Dual lows, Dual Mids, Dual Mid Highs, Dual Highs and Dual Super High balanced armatures. That is a lot to pack into a small shell along with the crossovers. Noble succeeds in this spatial legerdemain in a fantastic way. My K10s arrived seven weeks after the impressions were received in Santa Barbara. The fit was perfect. I was immediately able to wear them for hours at a time and they were very comfortable with a nice seal. Ambient noise was significantly reduced and the K10s began their siren song in my head.
The K10s utilize an industry standard two-pin connector. I was able to use my Toxic Cables Silver Widow SW25 IEM cables that I also use with my JH Audio JH16s. Handy thing that! They operate at a just under 35 Ohms. Not a lot of power needed to drive, but not so low that you may hear a lot of hiss from noisier amps.
What I found interesting about the Kaiser 10s is that the design had been kicking around for years in Dr. John's head. Named after one of his closest long time collaborators known as "Kaiser Soze" the K10 was born as a synthesis of his best ideas. Their web site declares the K10s the "Wizard's greatest hits". I call them the best CIEMs I have ever heard.
The K10s are one of four upper end CIEMs I have in the collection. Joining them in-house are the JH Audio JH16 FreqPhase, the ACS Custom T1s in silicon and the Ultimate Ears UE11 Pros. All of these CIEMs are superb units. How does the K10 stack up against this strong competition?
First up is the K10 vs. the ACS Custom T1. First blush says this is not a fair fight. The T1s are a three-driver unit (one each for bass, mids and highs). Being the only unit using silicon rather than acrylic, they do have an isolation advantage. I have found the silicon to be superb at noise cancellation. On the other hand, the fit of the acrylic K10s is virtually perfect. Pairing each up with my Fostex HP-P1 DAC/Amp and iPod Classic (IPC) I got down to listening.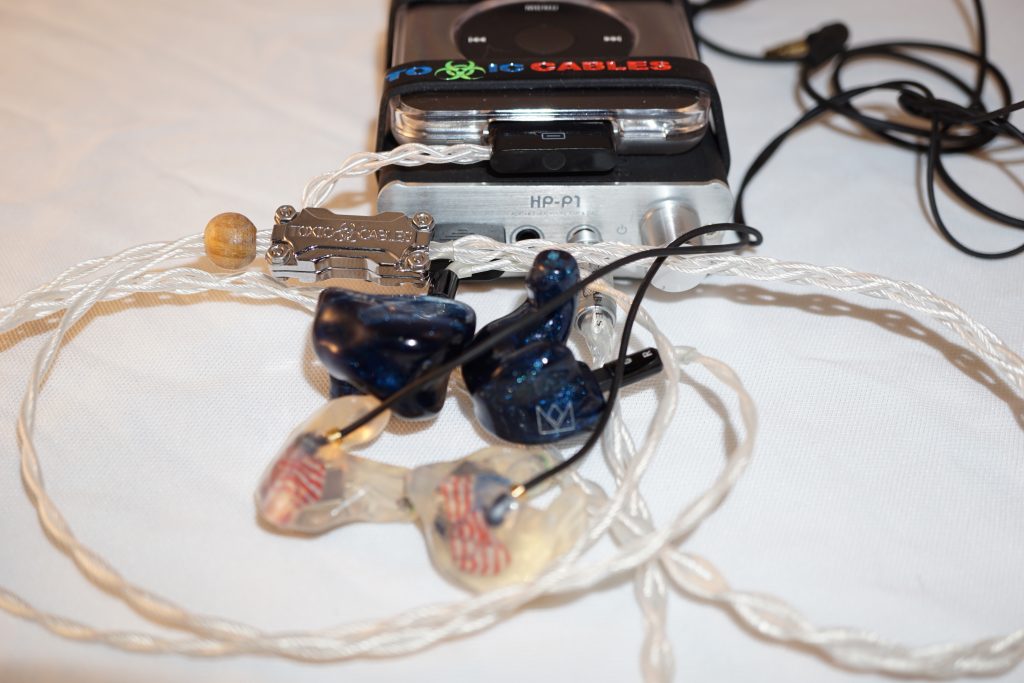 Fostex HP-P1, K10s, T1s and Toxic Cables Silver Widows[/caption]
First up is an old favorite of mine. "Adiemus – Songs of Sanctuary" by Karl Jenkins. (Jenkins – Ratledge 1995 CD Rip AIFF 16/44). This album is an arrangement that uses a massed choir and orchestra. The choir does not sing words, they sing sounds that seem to be words. Called a vocalized harmony, the effect is beautiful and sometimes haunting. Using the K10s, the scale of the performance is preserved in an effortless presentation that conveys the size of the orchestra and choir. The flute's main theme floats over the performers and blends beautifully with their singing. Percussion is crisp and forceful when called for. The T1s also offer a nice presentation. However they are not nearly as clear in their presentation. The sense of separation between instruments is reduced. The sense of scale is also reduced to a "Head Only" experience. The T1s were my first CIEM and when I got them, they amazed me. Over the years they have been surpassed by better approaches to CIEM technology.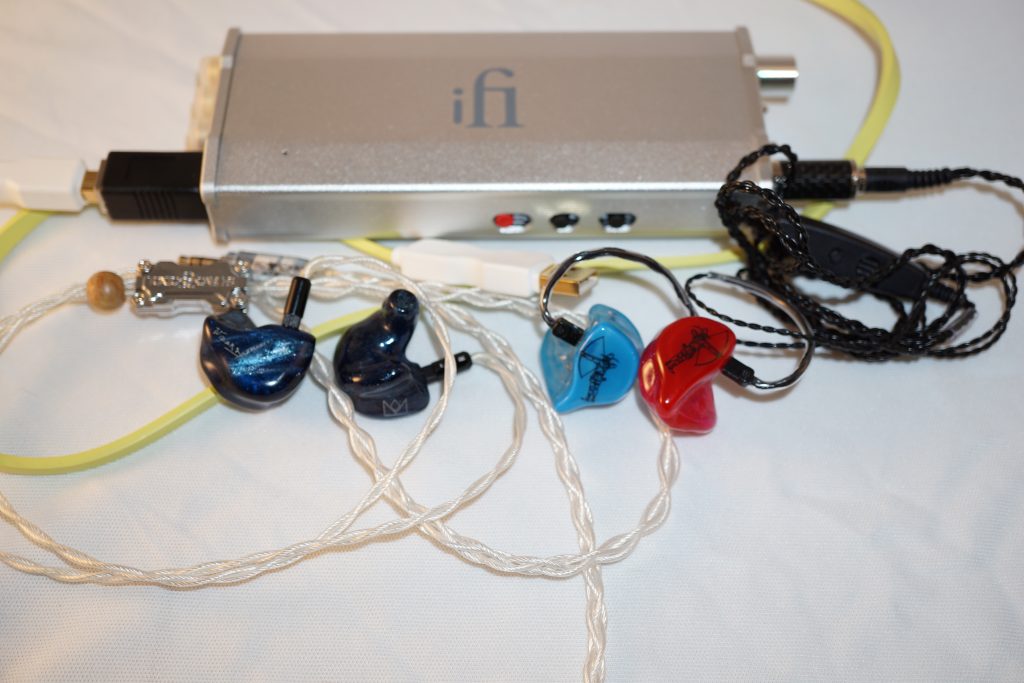 ifi Micro iDSD, K10s, JH16s and Toxic Cables Silver Widows
Next I hooked up the ifi Micro iDSD DAC/Amp to the MacMini with a Light Harmonic 1G USB cable. Using iTunes and Amarra I selected Chris Cornell's "Songbook" (2011 Universal Music Enterprises CD Rip AIFF 16/44). I have always enjoyed Audioslave, one of Chris's former bands. On this CD, he does an acoustic version of "Like a Stone", that I enjoy. Starting out with the JH16s, I immediately noticed the taut clarity of the strumming of the guitar strings. The JH16s area superb stage monitor, and for a couple of years they were the flagship CIEMs for JH Audio. The JH16s were my primary CIEMs for a couple of years and I have many long hours with them. I love their strong bass while I travel. It cuts out the road and airplane noise, while retaining the dynamic qualities of the music. On this song, the familiar sonics washed over me like a warm swim in the lake. Soothing and engaging, it was a thoroughly wonderful listening session.
Switching to the K10s…what I noticed was, a sense of more up top clarity. Cleary, the two extra drivers were adding their 2 cents to the mix. I never felt shortchanged by the JH16s, but the K10s really added some top end quality. The bass was perhaps a bit stronger with the JH16s. However, the coherence of the full-range sound on the K10s was more complete. I love the JH16s, but the K10 has…MOAR….soundstage, width and height, high end etc. Basically everything I love about the JH16s is taken to another level with the K10s. Bravo Noble Audio!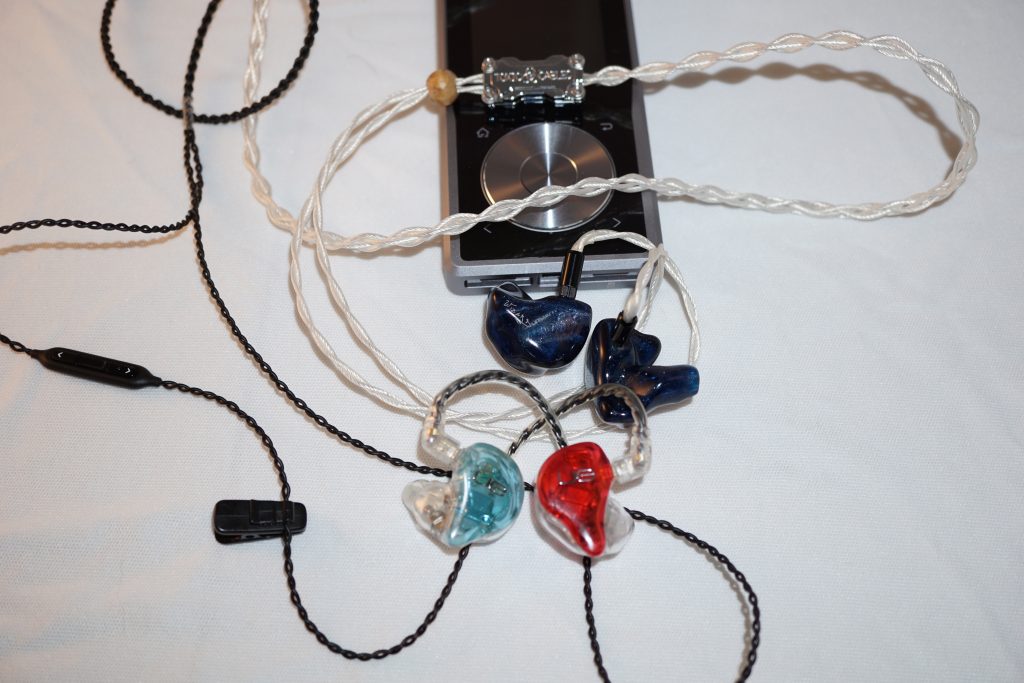 K10s, UE11 Pros, Questyle QP1R DAP, Toxic Cables
I recently received the Questyle QP1r DAP in for review. It is an excellent portable high-end player. I loaded up a Micro SD card with hi-res files and selected a new favorite instrumental from Joe Satriani's new "Shockwave Supernova". "In My Pocket" (24/96 AIFF HDTracks) begins with a slamming bass line followed by Joe's crisp and highly technical guitar work. Joe is also accompanied by a very precise drummer setting the pace for the track. Putting in the Ultimate Ears UE11 Pro CIEMs, I was rewarded with a clear, deep, and precise opening bass line. The UE11s are an unsung hero in the impressive Ultimate Ears lineup. I am somewhat of a bass head due to all my travels. The UE11s suit me well. They tracked the sonic flow with precision and aplomb as I progressed through the track and as happens so often the rest of the album. What I get with the UE11s is a sense of completeness and cohesion. They always present a clean and I would say professional presentation. I have spent many hours with these CIEMs and they are top end.
Switching over to the K10s was an interesting experience coming from the UE11s. The K10s had that extra sparkle up top. They were more party compared to the UE11s corporate perfection. UE11s are 9-5 while the K10s are your best friends out for the weekend. The K10s provided a better sense of the outdoor summer concert. A wider soundstage and highs that climbed to the sky. If I had to choose one, it would be the K10s, but this is not a case of a clear winner, but about my need for more party.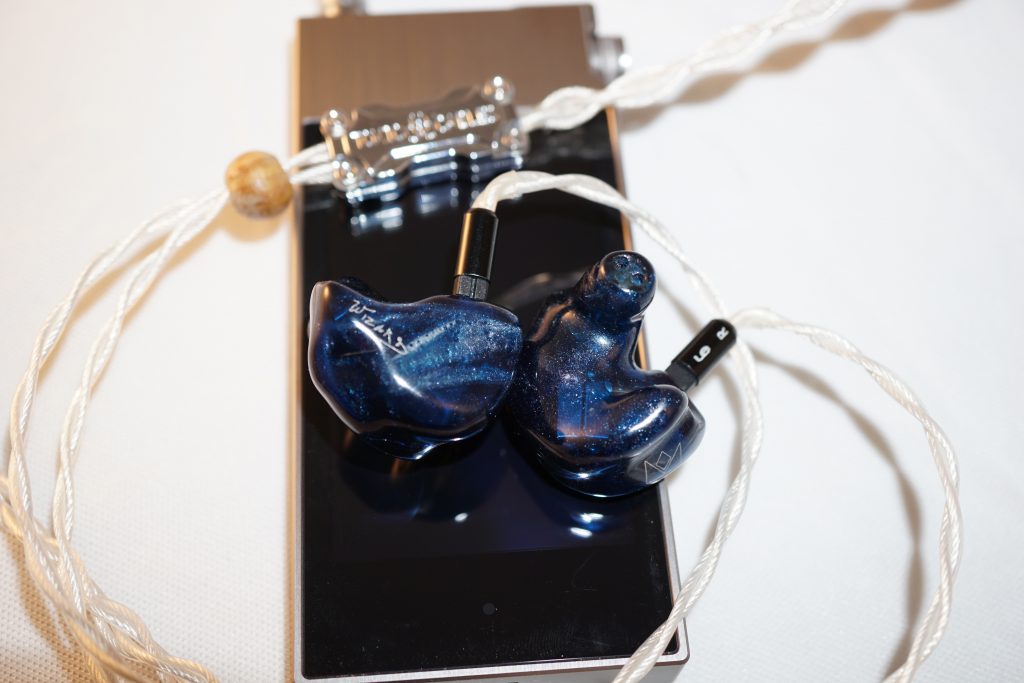 K10s and the Astell & Kern AK120 mkII
To wrap up I switched to the Astell & Kern AK120 mkII, and spent some one on one time with the K10s. The AK has become my reference DAP and I have enjoyed it for nearly a year. Loaded up with 250GB of CD Rip or Hi-Res choices, I settled on Joe Cocker's – "The Best of Joe Cocker's With a little help from my Friends". (CD Capital 1992 AIFF Rip 16/44). It is an appropriate end to this review, as that is what the K10s have become…one of my audiophile friends. Many nights on the road, the K10s have provided the concert at the end of a long day. Sitting in the middle of the virtual crowd, listening to Joe sing this classic tune, put a huge smile on my face. I was as "There" as I could be. Some days, that is all the help you need to get by.
Noble Audio Kaiser 10 (K10) Custom In Ear Monitor – Highly recommended!
*PostScript: Noble Audio also sent along their very handy BTS bluetooth unit, with a short 18 inch (45.72 cm) cable. By plugging in any headphone cable into the small battery powered BTS unit you get about seven hours of hands free talk and song control, without having your headphones plugged into your iPhone or Android device. I was able to use my K10s with my iPhone to make calls, listen to music, pause music to receive a call, etc. without the usual tangle of long cables. I do love Bluetooth! For $99 USD this device is flat out fantastic. Call quality was very good and at seven hours of battery life, a pretty much full day of usage could be had. Thumbs up Noble!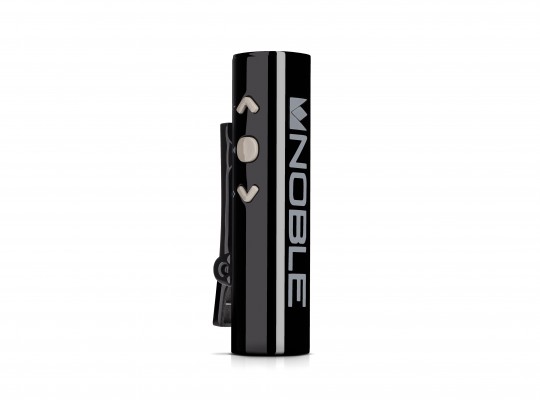 PROS -Exceptional clarity and musicality across the full audio spectrum. -A great 3D soundstage. Unusually "Out of Body" sound for CIEMs -Very comfortable for long listening sessions -Very high build quality -Universal two pin connection for using any favorite cable choice -Terrific customer service
CONS -Expensive. The K10s and their Prestige versions are at the top end of CIEM pricing. -Custom designs may require patience for buyers. It could be two months of waiting.
Supporting Gear:
-JH Audio JH16 FreqPhase CIEMs – www.jhaudio.com
-Ultimate Ears UE11 Pro CIEMs – http://www.ultimateears.com/en-us/
-ACS Custom T1 CIEMs – http://acscustom.com/uk/international/
-Astell & Kern AK120 MKII DAP – http://www.astellnkern.com/
-Questyle QP1R DAP – http://www.questyleaudio.com/product-qp1
-Fostex HP-P1 Portable DAC/Amp – http://www.fostexinternational.com/docs/products/HP-P1.shtml
-ifi Micro iDSD DAC/Amp – http://ifi-audio.com/portfolio-view/micro-idsd/
-Toxic Cables Silver Widow SW25 custom cables -https://www.facebook.com/pages/Toxic-Cables/171820399625727?fref=ts
-Light Harmonic Lightspeed 1G USB Cables -http://lightharmonic.com/products/lightspeed-usb-cables/
-MacMini with OSX Yosemite 10.10.5
-iTunes 12.2.2.25
-Amarra 3.03 http://www.sonicstudio.com/amarra/amarraproducts