Periodic Audio is a brand new personal audio company, but they assert that their staff of designers has a combined 140 years of experience in high end audio. Their focus is very specific, aiming at high performance, high value and high portability; hence their initial offerings are IEMs.
A few weeks ago Periodic Audio sent me what they call their "Experiment Pack" which included a sample of all three of their current models of IEMs; the Mg (Magnesium), the Ti (Titanium) and the Be (Beryllium), figuring each model is designed for different sonic tastes and therefore have different sonic signatures. Periodic Audio's approach to differentiating their IEMs is fairly unique. Rather than varying the cosmetics, casing designs, tuning, number of drivers and configuration of drivers, all three models share the same 21 precision manufactured components, the critical difference being the material employed in making the diaphragm, which means the names actually mean something. A quick look at the periodic table tells us that these three metals have three important differences which effect the sound they produce; mass, rigidity and resonance. To take a simplistic approach to the matter, Beryllium has the highest rigidity to mass ratio while Magnesium has the lowest and Titanium falls in the middle, which means that a Beryllium diaphragm will deform or distort less than one of the same mass made from the other metals giving Beryllium an advantage in both speed and accuracy. As can be seen by the plot (as provided by Periodic, I overlaid the three plots and color coded them) below, the Beryllium has a much more linear response and a wider bandwidth (at both ends).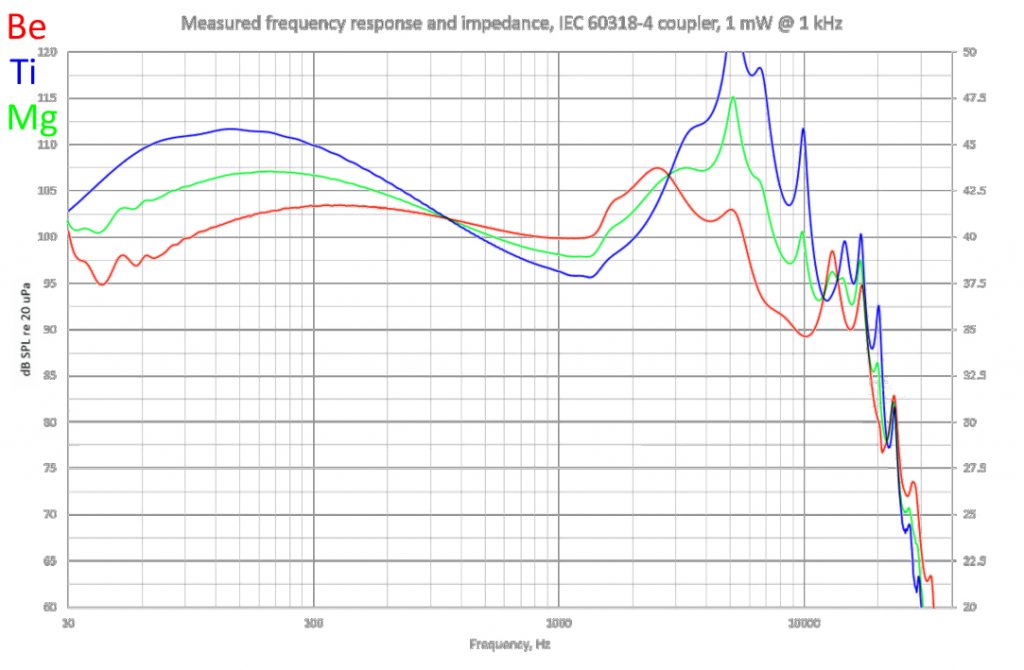 The Tech:
On the issue of Dual Porting and Transducer Magnets, rather than paraphrasing, I'll just quote Periodic Audio;
Dual Porting
The enclosure is ported on both sides of the transducer. The rear port (visible on the top of the IEM) is to optimize the performance based on the internal volume of the IEM. The front port (visible on the bottom near the ear) is ported based on the average length (there is a standard for this that we tested against) of an ear canal. Both ports work together to extend bandwidth and reduce diaphragm motion over a 2 octave range. Technically speaking this enables us to provide incredible sensitivity and dynamic range. To the end user, this equates to "you are there" realism, much lower distortion and all of the music represented accurately even at low volume settings.
Transducer Magnets
They're preposterously big. The left and right stick together if they get close to each other (try it!). This puts more cost into the products, but increases the overall sensitivity of the design. As such, we do not need to pull as much power from an amplifier and can maintain a higher impedance. This presents a much friendlier load to every source component. The goal is for the source electronics to be working in their comfort zone, thereby actively avoiding the types of distortion that result from electronics working too hard. For the consumer this means they're guaranteed a High Fidelity mobile audio experience regardless of the source component (laptop, phone, tablet, etc.)."

What you get:
In keeping with their stated goal of minimizing expenses that don't relate directly to sound, the Periodic IEMs came in a plain thin white box with minimal graphics. Inside along with the IEMs and a single sheet owner's manual (how much of a manual do you need for IEMs?) was a small round brass tin for a carrying case and inside of that was a 3.5mm to ¼ " adaptor, a dual mono airline adaptor, three sizes silicone tips (including one pair dual flange tips) and three sizes memory foam tips. All in all, an elegant, if not ostentatious, presentation, providing all that is necessary to enjoy their product.
The three models are identical in appearance other than the metallic end cap which is colored to match the metal of the diaphragm to identify the model. Interestingly enough, the metal end cap serves a function other than basic identification and aesthetics; it is designed to be a counter weight so the IEM sits in your ear properly.
"The counter balance sets the center of gravity perfectly to avoid pressure on your Tragus, and/or Anti-Tragus, as these are the areas you'll notice pain after extended IEM use. This was a lesson learned by Dan when he was developing hearing aids for Siemens."
In essence, they are small, elegant and well constructed.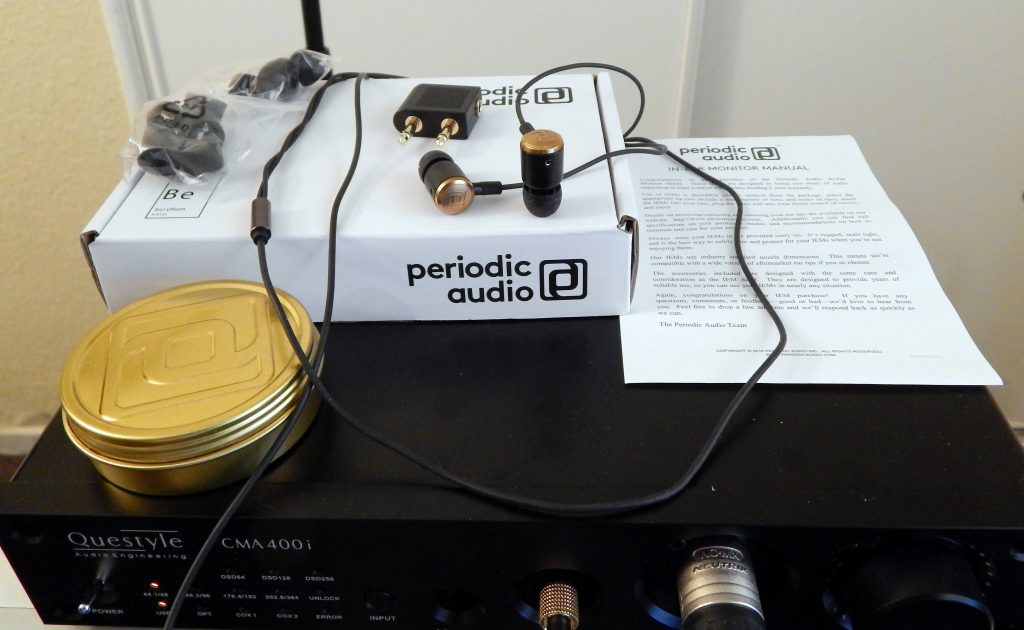 What you'll hear:
I performed the majority of my listening tests using the Questyle Audio QP1 Current Mode Portable Music Server since this is the type of device that most of you will be using with IEMs of this caliber. I also spent some time with my reference desktop system (Questyle Audio CAS192D DAC and CMA800R Headphone Amplifier) and my Cell Phone (Samsung Galaxy Light) to have a complete picture.
The Mg is a good all around rock and roll IEM as evidenced by listening to "Paper Tiger" (Beck – Sea Changes – DSD), presenting a mellow laid back but tight bass and percussion, with a slightly forward and intimate midrange and vocals, with the orchestra and guitars crisp and painted on a large background.
This impression was reinforced by Shawn Colvin's "Sunny Came Home" (A Few Small Repairs – 16/44.1kHz) giving an almost Ukulele tenor to the opening refrains of the Mandolin, the entire presentation was close and natural with a coffee bar feel.
The Ti on the other hand is for those who like to be a bit farther back in the audience of stadium sized very live amphitheaters. "The Music of the Night" (Phantom of the Opera [Original Motion Picture] – DSD) gave a real sense of theatre with great depth and width to the soundstage and a palpable distance between the performers and listener.
Due to their peak in the higher frequencies, seal became an important factor with the Ti causing me to experiment with the memory foam tips, but I settled on the silicone in the end as creating a better seal resulting in improved bottom end and overall tonal balance.
I got that same Larger than Life feeling from "Karn Evil 9: 3rd Impression" (ELP – Brain Salad Surgery – 24/96kHz), bass deep and fast, midrange and treble detailed and airy.
On to the Periodic pièce de résistance; the Be. I began my evaluation with "Non Mi Lasciare" as performed by Dario Baldan Bembo (70 Italia – 16/44.1kHz), a magical combination of Piano, Synthesizer, Orchestra, Electric Guitar and Bass, Drums and Operatic Vocals it tells me a lot about a particular piece of gear all in one go. The Piano was rich with excellent attack while the subsonic Bass pedals added layers of authority complemented by a not quite honeyed Guitar and Vocal midrange while the cymbals had a definite snap, but not quite sibilant. The soundstage was large but not as distant as with the Ti, creating an enveloping experience without being overly fatiguing.
Dean Martin's "Everybody Loves Somebody" (Dino:The Essential Dean Martin – 16/44.1kHz) hit the Be sweet spot of Jazz Combo backed by a small Orchestra in a large nightclub. Overall providing a very natural sound, especially with the voice and upright bass.
For live performance I turned to the Blue Man Group and their cover of "Baba O'Riley", the sense of being in a huge arena was evident with the first few strains and audience reaction. Tracy Bonham's vocals and violin were transcendent, and the multiple percussionists made for a fully immersive sensation.
While I was performing my evaluations I had the good fortune to come in possession of a prototype Questyle CMA400i Current Mode DAC/Amp, a desktop DAC/Amp specifically designed to be compatible with IEMs. While not quite as warm as the QP1, it was able to bring out the absolute best in the Be as was immediately clear listening to "Can-Utility and the Coastliners" (Genesis – Foxtrot – 16/44.1kHz). Rutherford's subsonic Bass was riveting, while the growl of the Bass Guitar was rendered with full tonality. The triangle and cymbal rivets were clearly audible without any spitting, and the three dimensionality of the sound stage was epic.
I usually open with "The Firebird Suite" (Robert Shaw and the Atlanta Symphony Orchestra – Stravinsky:The Firebird Suite -16/44.1kHz), but I wanted to share my experiences with the CMA400i. The tonal balance was very linear and natural. The ability to differentiate between different similar sounding instruments not only spatially but tonally was wonderful. The dynamics were tangible and the soundstage exhibited height, width and depth.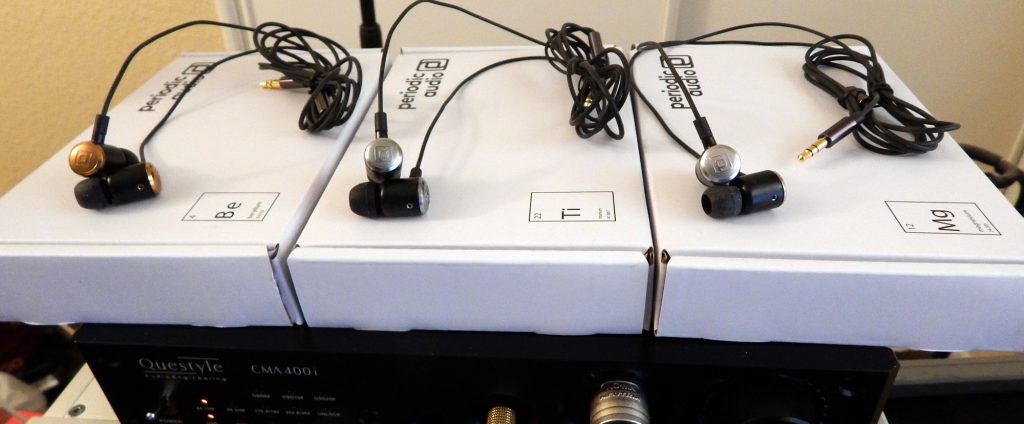 The Gist of it all:
Periodic have succeeded in their goal of producing a single IEM design that can produce different sound for different styles of music based entirely on differing diaphragm materials. All three models provide excellent sound, with tight bottom end and a large detailed soundstage. While none of them can exactly be described as forgiving, the Ti is the most critical and really needs a strong musical source, in my tests it worked best with the QP1 which is a little bit warmer than the desktop units, and significantly more musical than my phone (actually more musical than most DAPs and portable amps I've listened to).
Much to my surprise the Be sounded great with my phone, or for that matter, anything I played through them, but if you match it with the right electronics, in my case it was the Questyle Audio CMA400i, it becomes a true audiophile quality IEM.
Specifications:
Mg – Price: $99USD
Frequency Response – 20 Hz to 30 kHz
Impedance – 32 Ohms nominal
Sensitivity – 101 dB SPL at 1mW in ear
Power Handling – 20 mW continuous
THD – Less that 1% THD at 1mW
Ti – Price: $199
Frequency Response – 16 Hz to 30 kHz
Impedance – 32 Ohms nominal
Sensitivity – 96 dB SPL at 1mW in ear
Power Handling – 20 mW continuous
THD – Less that 1% THD at 1mW
Be – Price: $299
Frequency Response – 12 Hz to 45 kHz
Impedance – 32 Ohms nominal
Sensitivity – 100 dB SPL at 1mW in ear
Power Handling – 20 mW continuous
THD – Less that 1% THD at 1mW