I've been thinking a lot about digital to analog converters lately. You see I've been collecting CDs since the format was introduced in 1983. In my experience, two factors have a huge impact on how these silver discs sound: 1. The quality of the mastering where the original tape (if there is one) is transferred, and 2. High quality digital to analog converter. With all the investment I now have in rare and not-so-rare CDs and given that I look for the better mastering of an album already, I really need a great converter.
PS Audio
has been a brand I've been a fan of PS Audio lately because my friend Mark has the PS Audio DirectStream and it sounds incredible. I also got to talk a fair bit with the designer Ted Smith at the last Rocky Mountain Audio Fest and he really knows his engineering. No doubt that Ted hit a grand slam with the DirectStream but recently our Gurufather Frank asked if I would be interested in reviewing a different PS Audio product by the name of
Sprout
. I was somewhat familiar with it since it was a very successful crowd funding design. PS Audio sent one out and I've spent a little over a month with it. The Sprout was designed by PS Audio founder Paul McGowan's son Scott.
The Sprout has turned out to be one of the most fun and versatile audio components I have ever used. It does just about everything and it introduced me to (finally!) some decent Bluetooth sound. So what is a Sprout? It is a digital source…and by digital I mean coax input DAC, a 24/192 usb DAC, and a Bluetooth receiver! It is a preamplifier. It is an amplifier. Got vinyl? It has a moving magnet phono stage. It has a pair of line level analog inputs as well for good measure. Oh yeah, there is the all-important standard ¼" headphone jack on the front. There are nice quality banana style speaker terminals on the back that look like the WBT clear ones. This is both the entry to a high quality "office system" or an excellent entry point for a great high end system. Add sources like a turntable or laptop computer and speakers and you are good to go. At $799, this small cigar box sized device handles just about any input.
Build quality is impressive. I especially liked the "action" of the selector and volume knobs on the front that appear to be nicely machined aluminum. The top is a wood grain like cover that adds a nice bit of warmth to the silver flaked metal design. Packaging is very well done-compact and well engineered to have a clear piece of polymer securely hold in the device. The owner's manual is written in plain English and covers all the bases on nice quality gloss paper. It really is amazing what you can get for the money these days from the better audio manufacturers.
To break-in the unit, I first started out listening to some Grados, the PS500 and RS-1i models. For a source I used two digital sources: my i7 chipped Macbook Pro with the latest version of Amarra and a slew of 16/44 and 24/96 files and a Sony SCD-777ES sacd player which outputs a solid bitstream over spdif to the Sprout's coax digital input. Digital cable was a recent Stereovox spdif which I have found to work very well. My goal was to test the Sprout two ways – as a desktop DAC and headphone amp for headphone listening as well as a nice integrated amp driving speakers. On the latter I chose a rather difficult load, my Magnepan 1.7s. It's a completely unfair challenge for a 50 watt integrated. But more on that later.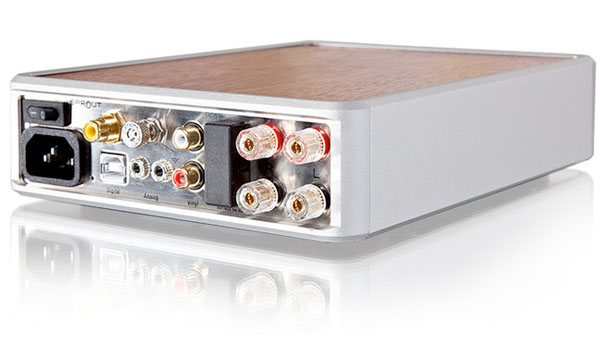 So how does this audio "swiss army knife" sound?
Let's start with a really cool feature in Bluetooth. I've been a little disappointed in Bluetooth demos in the past. It's not quite up to normal CD playback or computer audio files in my experience. I pulled out my iPhone 5S which I have loaded with uncompressed music files that I like to play via the excellent Denon Music Player app. To get music from the Sprout I just needed to do two simple things: 1. Turn on the Bluetooth feature and 2. Go into the iPhone settings menu, select Bluetooth option, and select the Sprout to "pair" with. Easy as pie. I loaded in my
Art Pepper Meets The Rhythm
Section tracks. Very nice sound and once you have a nice volume level set on the Sprout you can of course use the 5S volume control for refinements. So convenient to use the iDevices when doing work or having a get-together with friends and wanting something a little low in volume in the background. On the Sprout, Bluetooth is a feature well implemented and easy to use. I was off to a good start. There are any number of excellent Bluetooth speaker boxes on the market now but the Sprout makes a case for just buying some budget audiophile monitors and having even more versatility in what sources you can use.
Next up was my Sony player serving as transport to the coax digital input. A nice feature for customers wanting to leverage a CD player or dedicated transport. I listened to a variety of music from The
Beatles
to
Zeppelin
. I love the pre-George Martin mixes on Help. They sounded terrific on the Sprout. One very sad event though was the passing of mastering great Doug Sax. One day in my review session I honored his work by playing some of the jazz titles he had put out on CD under the Analogue Productions label. It was bittersweet as they only reminded me more of what a great engineer Doug was. Art Pepper Plus Eleven sounded warm and wonderful. Such a natural saxophone sound came through the Sprout. Mel Lewis' drumming was nicely keeping the beat.
However it was the hirez DAC playing computer files that really impressed me. I used a Shunyata Venom 3 usb cable into the USB input on the back of the Sprout. Running Amarra I selected some current favorite tracks. Lately I've been buying the new Led Zeppelin box sets that I really enjoy. In the box is a download card but you can also get the music from HDTracks. Physical Graffiti's Kashmir sounds wonderful. If I were to describe the Sprout's sound I was say it was quite even through the frequency range, not harsh on the highs. Resolution is not on par with something like the reference-level DirectStream but it's surprisingly good at this price point. Bass is excellent, especially the critical mid-bass region. Midrange is natural and open.
But enough of these audiophile attributes…does it rock? Yes!
Let's examine a few other hi-rez and 16/44 tracks on heavy rotation in my system lately:
* What Is and What Should Never Be from Led Zeppelin II (hi-rez). Listen to the drums on this song. John Bonham signature heavy slamming is there in all its glory. Bombastic in all the best ways. Page's guitars on II are very present and crunchy on the section where the guitar is echoed between the left and right speaker. Plant's vocals are stellar.
* The Song Remains The Same from Led Zeppelin's Houses of the Holy (hirez). This classic, heavy driving intro to Houses of the Holy is really special in the new high resolution mastering and the compact Sprout creates a nice, big sound.
* Isabella's Table Dance from
Charles Mingus
' Tijuana Moods. Mingus said this was his best album. And that certainly makes sense as the performance is sublime. This track has a great deal of presence from the castanets to the Mingus nicely recorded bass to Isabella's Mexican vocals. The Classic Records gold CD has tremendous clarity that budget DACs just don't get right to my ears. Fortunately the Sprout DAC was up to the task and the pace and rhythm on this track was well preserved. The sax is amazing at 5:30 into this long track. Such smooth sound. And the interplay between this sax and Mingus upright bass is dead right. Now I wanted to try some more acoustic and mellow tracks…
* Mud In Your Eye, a very underplayed track from
Nils Lofgren's
excellent Acoustic Live remains a test track for me as the better DACs always get the "feel" of the guitar right. A good DAC pulls out all the details and the Sprout did not disappoint. Nils' singing was spot on and the dynamics on the track were all preserved.
* Into the Mystic, from the Van Morrison live classic "Too Late to Stop Now" was just superb. Such midrange presence on this early pressing CD. Again the Sprout got all the details right and there was just a flow to this. Van is one of my favorite musicians so I know this track like the back of my hand. Solid vocals from Van, excellent sax presence from Jack Schroer…just a fantastic track.
Next up was some long-term evaluation of the headphone amplifier using both coax digital inputs and high resolution digital files via Amarra. I really liked the headphone sound quality. Again, very even from top to bottom of the frequency range. It matched up well with both the Grado PS500 and Grado RS-1i cans. Bass was very solid but the midrange was what kept me listening for long hours. Highs were nicely extended as well. One nice feature was how quiet the Sprout switches off the speakers when the headphones are plugged in. Admittedly I did not use any hard to drive cans in the review listening but the volume control was only around 50% for the Grados so I think there is probably plenty of juice on tap for harder to drive cans like the Audeze brand. Unfortunately I run a low output moving coil at home so I could not evaluate the moving magnet phono stage of the Sprout but my bet would be it is solid.
So what happened with the Magnepan 1.7s? Scoggins, are you crazy? Well yes, but in this case the 50 watt amplification of the Sprout was up to the task of driving these 4 ohm speakers to pretty decent volume levels. I've been listening to Charles Mingus' classic Tijuana Moods on the 1.7s with the Sony CD player as the input and the clarity of playback is surprisingly good. Well defined mid-bass and a nice, open midrange. I cannot believe this little cigar box is producing this much sound and this high a quality sound. The old Fi magazine blues sampler mastered by Paul Stubblebine sounds amazing. My cherished gold CD of Nat King Cole's Greatest Hits mastered by Steve Hoffman sounds terrific. The smoothness of Nat's voice and the "body" of it is very natural. The orchestration behind the singer on "Unforgettable" is just right.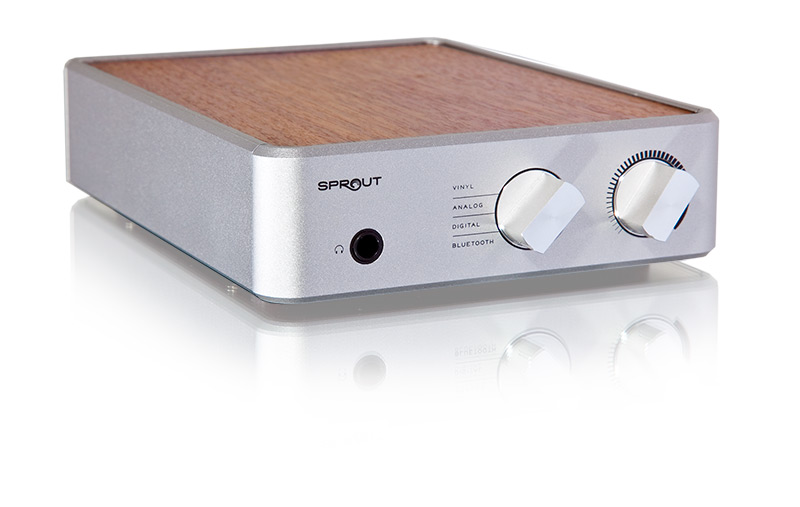 Scott McGowan and team, I am impressed. Very well done. Paul McGowan, let me just say that the apple does not fall far from the tree. The PS Audio Sprout is highly recommended for headphone rigs and two channel systems alike. It is also a tremendous value.