Parents, are you concerned with your children and hearing loss? As a parent who has one special needs daughter and grandchildren, the concern for me is real and as a parent, I was looking for ways to introduce my grandchildren into the world of headphone listening without any danger of hearing loss. Statistically, 1-in-5 children listening to headphones today are facing noise-induced hearing loss. One option parents have is to work with companies who are inspired by more than money and dedicated to finding a solution to eliminate the problem. Puro is one such company who designs products to prevent hearing loss and offer studio grade quality sound from products aimed at music, movies and playing video games.
Meeting Niki Russell and her dad Dave back in 2015 at the SoCal CanJam was interesting and educational as well. Niki mentioned she was partially deaf. When I met her she was 20 years old and had lost hearing due to listening to headphones at excessively loud levels. Dave told me that Puro was created after research into the issue with a simple mission to create products for children and prevent what happened to his daughter from happening to other children. Clearly, this was a personal mission for Dave and Niki, to help solve the problem of how to prevent hearing loss and make sure future generations of children do not have to be subject to what Niki went through and are able to enjoy a safe and rewarding experience.
The journey started with countless hours of product development and testing, along with research from Dr. Sean Oliver of the Harman Institute, allowing them to create their Puro Balanced Responseheadphone technology. Puro is a small family owned business that is producing products designed to eliminate noise-induced hearing loss, a big goal sure, but for the Russells, it is personal, generating a commitment to working with audiologist and schools to talk about and produce safe listening, with high-quality products that are designed to help them achieve that goal and prevent hearing loss for our children and grandchildren and make listening both safe and enjoyable.
On the about page of the Puro site is the story of the Russells and I suggest you read it and see that Niki and her Dad, Dave Russell, are genuine and totally committed to family and our children. The products they create are all genuine and their vision is to reduce hearing loss in children and prevent it in its entirety.
Harper's First Adventure with a Wireless Headphone
Puro sent me two samples for my grandchildren. Harper is going to be three years old in July and I asked my daughter Karla if I could give one to her and then share her experience with it in a review for Headphone.Guru. Surprisingly, she was not reluctant to give me permission to use the PuroQuiet ANC (Active Noise Cancelling) Headphone, mostly because I explained Niki's story and told her that the PuroQuiet cannot go above 85 DB so there was no chance of having the headphone hurt her hearing. Furthermore, on top of Puro's Puro Balanced Response technology, the PuroQuiet is equipped with Active Noise Cancellation. The PuroQuiet blocks out daily noise and background sound up to 22 dB, complemented by 82% noise isolation, allowing for lower listening volumes in noisy environments. (Also, Puro's dual mic system provides the PuroQuiet a mic for the ANC as well as a vocal mic for making phone calls for children who have graduated to cell phone use.)
The fact that it was wireless made it more enticing since Harper, like most toddlers her age, is mischievous and likes to play with phones, remotes, and wires. The ability to put a comfortable headphone on her head without a wire was the key to the magic of her being able to enjoy her movies with her own personal home theater on her head and listen to music, which for me was the goal.
My children all grew up listening to music, partially because over the years of my non-stop listening in my home and travels, they were all introduced to music at a young age. My granddaughter is following in their footsteps. She comes over to the house and always asks me to put on her favorite music in the living room which is where the music system is currently located. Her favorite movies are Moana and Trolls, so when she comes over, she wants to listen to Trolls or Moana on the system and she loves to dance to the music. She also loves listening to "The Fighter" the Keith Urban and Carrie Underwood duet. Immediately noticeable was the glow on her face when I gave her the PuroQuiet ANC and she opened the box and put them on her head.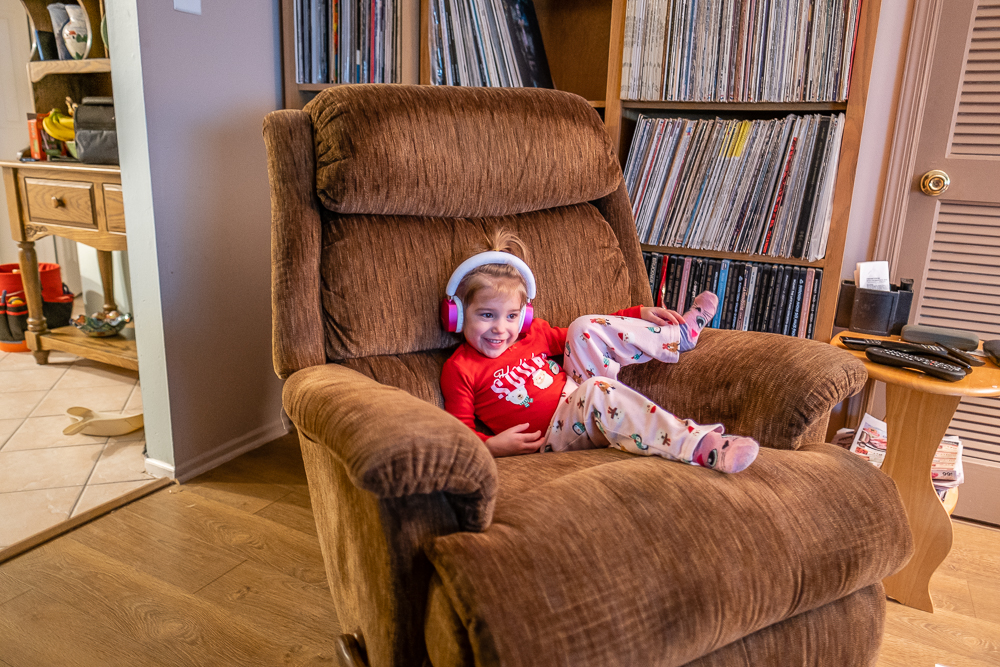 Setting the Bluetooth was easy, my son-in-law Rob paired it to his iPhone and Harper started listening to the music. Harper started smiling and dancing as this was her first time listening with a headphone and she liked what she was hearing. The expression on her face is priceless and she was so enamored with the sound she did not want to take off the PuroQuiet, as she was thoroughly enjoying her music with the headphone and did not want it to end. She kept asking me to play the Trolls soundtrack so I hit the play button and the music kept flowing and she kept dancing. The playing of movies was going to be done in her home on the 65 inch screen of the Samsung home theater and Harper was excited at the prospect of watching movies, so I told Rob to set the PuroQuiet up so she could watch Moana and she was dancing and thoroughly enjoying her first experience with a movie on the PuroQuiet wireless headphone and brought a big smile to my face. The Bluetooth was an easy sync with my LG OLED 55 inch and Harper's first look while watching was pure magic. She was watching the movie sitting on her Pappa's chair and totally consumed with the movie. She was quiet and the house was quiet, as she was into the movie and enjoyed the headphone. The comfort level was excellent and she never complained that it was uncomfortable, so much so, that she left them on for her entire visit with Mimi and Pappa. The feeling for me as a headphone geek and an audio nut was of relief that she was not only enjoying them but that I was successful at introducing her to the music and home theatre experience with her first headphone and made it a magical experience for her.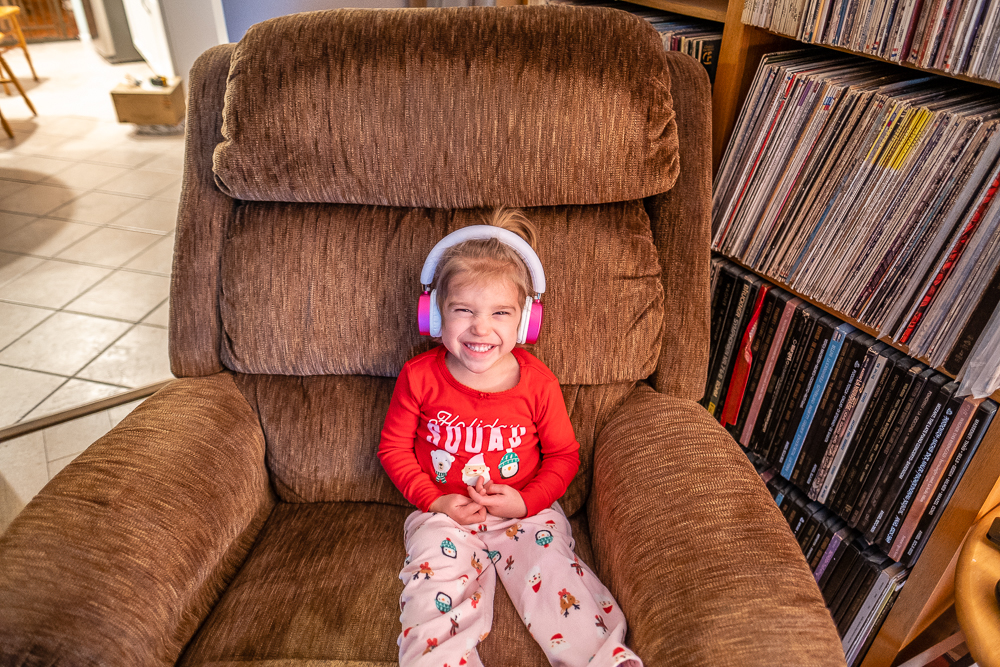 After Harper's visit, a couple of days later, I asked my daughter Karla if Harper was using the PuroQuiet and she told me, "Dad, I am so happy you gave her the headphone." My daughter told me she was watching movies when she came home from daycare and was totally involved. The experience for my daughter watching her daughter with headphones on, also became an experience. My daughter and son-in-law both loved the PuroQuiet. Rob told me the noise levels were acceptable on full volume and he said the sound was fantastic with an excellent midrange, as well as, excellent bass. He told me that if they had any adult pairs he would want one but was thankful knowing that Puro had succeeded in offering a product that was reasonable in price and had excellent sound quality. My daughter told me it was stress relieving for her as well because Harper was quiet and it helped my daughter to take care of my grandson who is still a baby. She felt relaxed and told me it was one of the best presents that I gave Harper.
Final Thoughts
Meeting Dave Russell and his daughter Niki back in 2015 was an eye-opening experience for me both as a parent and grandparent. 1-in-5 children with noise-induced hearing loss is a serious problem that seems to get little press and hardly is talked about among parents. I see many kids using headphones in parks or at children's events and I am not sure if any other brand has the protections or the technology to protect hearing loss. My wife is a first-grade teacher and she has many students who use headphones and most of them are inexpensive headphones that play too loud and concern her. Teachers, in general, are so busy trying to teach children how to read and write that they never get into headphones and there is no course offered that explains the consequences of what hearing damage can be done with loud listening whether that be a stereo or a home theater.
My daughter is protective of her children and is aware of what loud home theater and listening can do to a child's hearing. Her rules are low listening levels on TVs at home or even at my home when she visits. She insists on protecting her children's hearing. The Russell's are on a mission as they have dealt with noise-induced hearing loss on a personal level and made this a family long term goal with products designed to protect against hearing loss and backed it up with technology and research so no children using their products are subject to what happened to Niki Russell. They believe that through education and knowledge their products will help to protect children and people from noise-induced hearing loss. The retail price of $99 makes the PuroQuiet ANC Headphone an easy recommendation and a terrific value for safe listening. The smile on Harper's face says it all and a big thumbs up to Niki and Dave for delivering a product that makes kids smile. Highly recommended.