When I first took the Resonessence Labs Herus out of the box, I was a little skeptical whether something so small could impress. I know, I know… size doesn't always matter; but when it comes to audio, I find that most times it actually does. However, when I first held the Herus, I was immediately struck with the solid construction. For something so small, it had a good feel and heft to it. So I decided to proceed and give it a real spin. (I would like to thank Francois from High End Audio Exchange for the opportunity to hear this little wonder that he sent to me as a loaner.)
The Herus is designed and manufactured by Resonessence Labs, a company located in beautiful British Columbia (Canada), where their products are designed and manufactured. They have a wide range of offerings from the tiny/portable Herus right up to their flagship Invicta and Invicta Mirus DACs. All of their products are based on the highly touted ESS Sabre chipset. I've heard (and even owned) several ESS Sabre based DACs over the past few years and although some were truly outstanding, some left me wanting. But after my sessions with the Herus, I now desperately want to hear their top of the line Invicta DAC.
While it is small, the Herus has the ability to play high-bit audio from 44.1kHz right up to a whopping 352.8kHz. It supports PCM, DXD and even DSD64/128. This is impressive for a full sized digital to analog controller, but for something that is so tiny and portable, I am even more impressed. Throw in the asynchronous USB 2.0 support and you essentially have all the functionality of a full sized DAC and 1/10
th
the size. The setup is quite simple; one USB input and one headphone output. The headphone output is thankfully a ¼" stereo headphone plug. Most of my audiophile headphones are terminated with the ¼" plug and as a result the Herus can accommodate them without an adapter.
As mentioned, the construction and build quality of the Herus is top shelf. Although petite, it does carry some heft to it and feels solid in one's hand. The bottom side is outfit with a rubber base that is ideal to keep the Herus from sliding around on your desktop and holds it firmly in place. Simply plug in the Herus and watch the light turn on. Initially red while the device is setup and then a steady blue to let you know that you're ready to roll. Using it with my iMac was stupendously simple. As it supports USB 2.0, it was literally as simple as "plug and play". The Herus' internal headphone amplifier is simple and effectively controlled via your computer's software.
There was however, one slight idiosyncrasy that did come up with the Herus as I tried several headphones with it quickly. When you unplug a pair of headphones and insert another pair (or even the same pair), the volume in your player is turned back up to maximum. So you'll have to remember to turn down the volume before pushing play again. The reason for this is that due to the nature of stereo headphone plugs, during the insertion/removal, a very quick short is caused when the plug on the headphones bridges across the left and right channels of the unit. During this time, if music is playing, the Herus will attempt to drive the signal into short circuit. The USB chip then resets to its default state and the volume is turned up. This wasn't too big of an issue as I just turned off the music when swapping out headphones.
There was added bonus of that came along with the Herus that I didn't anticipate until after a few weeks with it. It can also serve as a portable headphone amplifier/DAC for Apple or Android devices. That's right, you can use the Herus as a portable unit with your Android phone, iPhone or iPad. For Apple products, simply pick up the Apple Camera adapter and a USB A-B converter and you're off to the races. Just as it did with my desktop iMac, the Herus worked flawlessly with both my iPhone 6 and iPad Air. Throw in the range of supported codecs and bitrates and you certainly get a lot of options to play with this tiny package.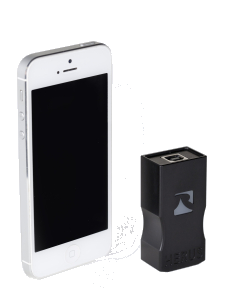 My setup was primarily listening to Apple Lossless and 192kps music from my iMac directly fed into the Herus through USB. The headphones I primarily used for this review where the Grado PS1000e's, Fostex TH-900s, Sony MDR-Z7s, and beyerdynamic T51p's. I did try my Shure SE535 IEMs, but unfortunately the noise floor for these really sensitive IEMs was a bit too high for me to use them effectively. However, the noise floor was dead silent with the headphones noted above. I did also try using the Herus as a portable amp/dac with both my iPad Air and iPhone 6 with equally great results.
First up was the band Chicago. I've been a big fan of the band since the mid-1980s. Not only can I appreciate a great rock band, I can truly appreciate a fantastic brass section (being a life-long trumpet player of over 30 years). Listening to "Saturday in the Park" just brought a smile on my face (especially considering that it's January and about -10
o
C here in Toronto). Initially I was captivated by the vocals that the Herus was able to portray with a clear sense of realism and clarity. Peter Cetera's vocals were wonderfully portrayed and left chills running down my spine when "Stay the Night" came up on my playlist. For such a small player, the sound staging and imaging sounded very big and expansive. The clarity was certainly there, as were minute details in the recording. The one small issue I had (as I've had with most Sabre based products) is that I heard a slight emphasis on the upper mids and a tiny bit of glare on the treble when Chicago's legendary brass section took center stage. I might also chalk part of this up to the Metrum Hex DAC that I've been primarily listening to since its arrival last October as it is a wonderfully analog sounding N.O.S. DAC (and my review can be found here:
http://da6.18f.myftpupload.com/metrum-acoustics-hex-dac/
), but I have had similar issues with other Sabre based products like the Wyred 4 Sound DAC-2, Benchmark DAC-2 or several of the Peachtree digital to analog converters.
Next up was John Mayer's "Waiting on the World to Change" from Continuum. Interestingly enough, I found the vocals; while still very clean and engaging, slightly pulled back when comparing them to my Astell & Kerns AK100II. But the comparison isn't totally fair as the AK100II runs approximately 2.5X the cost. But nonetheless, the vocals were a bit more ethereal and organic on the AK100II. The Herus however still managed to bring the goods with regards to the overall presentation and my Sony MDR-7Zs have never sounded better. The bass was outstanding, great punch, bloom (though never too much) and definition. The Herus is able to portray the essence and feeling of the lowest registers while never giving up on even the smallest details and nuances that is often times overlooked with lesser players. The Sony MDR-7Z and Herus seemed like a match made in heaven with perfect synergy that had me thinking that the whole was definitely worth more than the sum of the parts.
Finally, I moved over to some Jethro Tull and my Grado PS1000e headphones. Grado headphones are world renowned; especially for their magic with great rock music. The PS1000e's are their latest update to their top of the line product and has been a staple in my collection since they arrived last summer. As soon as I plugged them into the Herus I knew the match was in for a treat. Immediately I thought: "wow, they sound wonderfully big and still manage to capture the Grado snap and quickness that just has me smiling from ear to ear". Aqualung was even more magical with the PS1000e's played through the Herus. It was able to deliver all the power that these large headphones (with 50mm drivers) required without breaking a sweat and the music portrayed through this combination was as good (if not better) than many full sized desktop rigs that I've heard costing 2-3X that of the Herus. The flute was wonderfully nimble and detailed, the glare that was slightly there with previous recordings was no longer present, the mids were still slightly pushed back (again, I want to stress the word "slightly") and the bass was ever so satisfying with its ability to offer punch, bloom and detail and nary a sacrifice had to be made in each category for the other.

For such a small unit, the Herus sounds B-I-G. The ability of the DAC to pull the smallest details from your digital recordings (including high resolution or DSD files) is truly amazing as it holds its own against several much larger and more expensive offerings. The amplifier section worked very well with my more efficient headphones like the Sony Z7s, Fostex TH900s, or Grado PS1000e's; heck it did an admirable job with my 300 ohm HD800s as well. Maybe not ideal for the Sennheisers, but for a portable or workplace DAC/Amp of this size, I was certainly impressed.
Overall I was very impressed with the Herus. If you're looking for an all-in-one workplace or on the go USB DAC/amplifier combination, it's hard to think of any other I could recommend (especially at this price point of $350). The ability to play everything from 44.1kHz files right up to 352.8kHz monster files and from PCM to DSD 64/128, is a feat unto itself. Add the built-in headphone amplifier that performed admirably with my finicky Sennheiser HD800s, I have no problems recommending this little wonder. It offers a clean and transparent sound that can only be achieved from larger and much more expensive products. The added bonus of the Herus working with my iPad Air and iPhone 6 put it over the top for me as not only is it a desktop USB DAC, but can also serve you as a portable DAC/amp for your Android or Apple devices. Resonessence Labs has really knocked it out of the park with the Herus.