This is a first for me on Headphone.Guru: a speaker review! Imagine that? Before I got into personal audio, I lived a full life with a 2.0 speaker setup. As they say, I was fat, dumb and stupid and loving life. Then my daughter was born about 12 years ago and I needed to find another medium in which I could continue to listen to music but not have to give up too much on sound quality. Grado headphones were the gateway drug for me starting off with the venerable SR-60 and then graduating up the line all the way up to the limited edition GH-1 and PS1000e (which I still happen to own). Since then I have improved my 5.1 home theater setup and purchased the Pioneer A4 WiFi Speaker (tuned by the famed Andrew Jones) for our dining/living room area. To get a chance to review the Riva Turbo X was a real surprise for me, but a very welcomed one to say the least. As great as say the Sennheiser HD800S headphones are for sound staging, no headphone can compete with a well-built speaker setup and now that my two children are a bit older, I have ventured back to more speaker listening.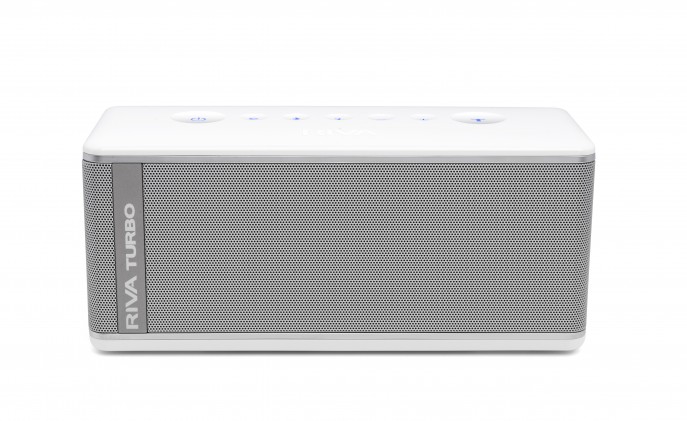 The Riva Audio Turbo X is a Bluetooth Speaker that works with any device that is Bluetooth enabled; from your mobile phone, to your laptop, and to your iPad. Hooking it up is incredibly simple, just add it as a Bluetooth device and make sure the 26+ hour battery is charged up. Being a subscriber to Tidal, I literally had access to millions of lossless albums at my disposal through either my iPhone or iPad with the Turbo X and I threw as much different music at the speaker dock that I could to run it through its paces. As mentioned, the Turbo X is battery driven, so it's fairly simply to take with you outside for a picnic, backyard barbeque or on the road. An additional accessories is a very nice carrying/storage case to protect the unit during travel. I would suggest picking up this option to protect your Turbo X when on the go. The impressive battery life just kept going and going, I tried to run the battery down, but this was no small order. The manufacturer lists this specification at 26+ hours and I can confirm that it was a few weeks of use before I had to recharge the unit.
Here are the full technical specifications listed by Riva Audio for the Turbo X:
Technical Specifications
Speakers
Three ADX 60mm full range proprietary drivers and four ADX custom dual piston bass radiators
Amplifier Power
45 Watts RMS
Remote Control App
RIVA Ground Control for both iOS and AndtroidTM
Dimensions
230mm L x 89mm W x 105mm H
Weight
1.36 kg (3.0 lbs)
Speakerphone
Microphone with Noise & Echo Canceling Technology
Bluetooth Range
10 m (33 ft)
Audio Codecs Supported
SBC, AAC, aptXTM+
Surround Sound
ADX TrilliumTM
Proximity Sensing
Yes
Battery Playing Time
26+ Hours at 75dB
Some of the main features of the Turbo X include a seamless Bluetooth setup, Riva Audio's patented "TrilliumTM Audio Technology" that "enlarges" the audio images without sounding compressed (as my title alludes to, yes, the Turbo X sound B-I-G), TurboBoost (allowing you to really crank this speaker with minimal distortion to a whopping 100dB, TrilliumTM Surround (offers an enveloping and deep sound stage) and speakerphone functionality that converts the Turbo X from an outstanding portable speaker to a solidly performing speakerphone! The folks at Riva really threw a lot into this unit and the build quality and performance really impressed me from such a portable speaker. Unfortunately as I write this review, it is the middle of winter here in The Great White North and ideally I would have loved to have reviewed the Turbo X poolside in my backyard. But regardless, I put it through its paces as best as I could indoors and the results really impressed me…more on that later.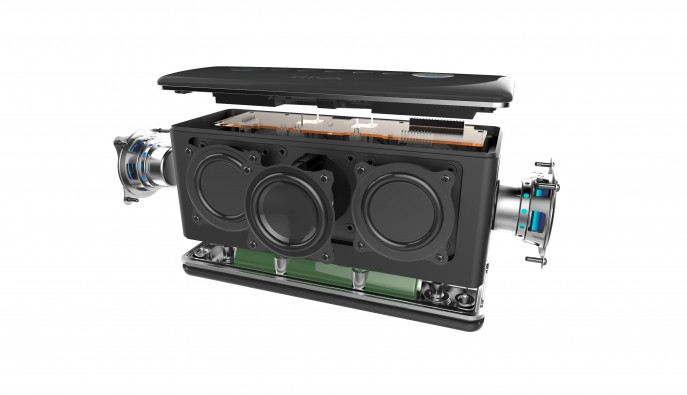 Un-packaging the Turbo X and you will immediately find that this is one solid piece of gear! While it is small, it certainly is very well put together and never comes off as poorly constructed. The folks at Riva really did a fantastic job on the industrial design of the Turbo X. The polymer based feet on the bottom do a fantastic job of ensuring the Turbo X is firmly situated on your table-top with little to no worries of it sliding off due to a mishap. With three active drivers and four passive radiators, the Turbo X sounded much bigger than its 23cm x 8.9cm x 10.5cm size. I tested the Bluetooth range and found that it was reasonably good up to about 25 – 30 feet. After that some minor drop outs occurred beyond this point up to about 38 feet. The App Store Riva Turbo X app was a great way to get a hold of the functionality of the unit without having to constantly get up and change the settings. Using this application and setting up the Turbo X via Bluetooth was a snap and I was off to the races in just a few quick minutes (if not less).
My setup for this was quite simple; I used both Apple Lossless files on my iPhone and streamed Tidal through my iPhone 6 (HiFi lossless mode) to the Turbo X. I suppose my main comparison for this review was the now discontinued Pioneer A4 WiFi Speaker which I've owned for a few years now and used it exclusively in our dining room to offer background music. While not a completely fair comparison as the Pioneer A4 is more of a home WiFi system (and considerably larger than the Turbo X), I wanted something to compare what I was hearing with the Riva speaker that I was very familiar with. Initially I tried the Turbo X with the default settings; however I quickly came to determine that I preferred the TrilliumTM Sound activated and the Turbo Mode fully engaged. With these two features turned off the Turbo X wasn't as engaging or ethereal in its sound for my tastes.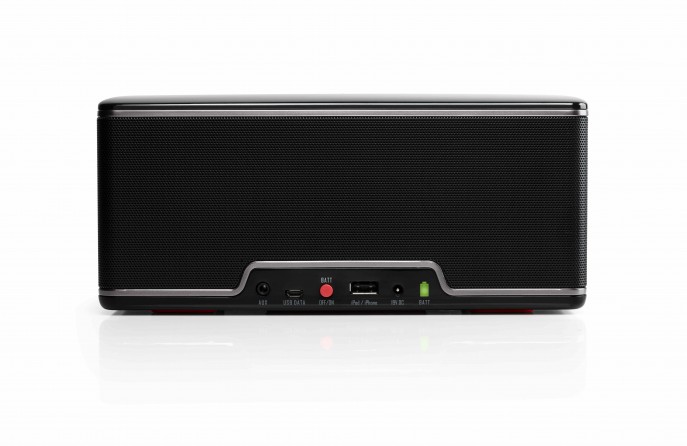 My first selection was Holly Cole's self-titled album "Holly Cole". This is one of my favourite female vocal based jazz recordings. Holly is a true talent with a very sultry and seductive style. With this recording I was immediately struck at how this little speaker unit could sound so darn B-I-G! My dining / living room was filled with music that seemed to penetrate every little nook and cranny. In fact, my wife had a hard time locating where the music was coming from as the sound was so expansive. The bass was very good, again considering the size of the unit, the stand-up bass played on the recording was not pushed back like on so many other small Bluetooth speaker setups, but rather it was right there with Holly's most excellent and clear vocals! The one area that small Bluetooth Speakers can however suffer from is in the vocals where they can sometimes sound as if the singer is singing through a rolled up newspaper or toilet paper roll. For the most part, the Turbo X avoided this common pitfall that so many of its competitors share; however, I could still detect some tendencies in that direction with Holly's voice when she sung Charade. The treble was very nicely extended and the Turbo X never came off as dark or slow. In fact, I would saw that the three speakers sounded fairly quick and lively. There was a bit of an upper mids/lower treble resonance that at times offer a slight glare to the music that I was not used to, but I'm not sure how much of it could be attributed to room dynamics? Still being a bit chilly outside here in Toronto, I wasn't able to take the Turbo X outside and compare the sound. Overall however, I very much enjoyed this classic recording with the Riva Speaker unit, it was a revelation that portable speakers have really come a long way from what I was used to even just a year or two ago.
Next up I decided to really put the bass through its paced when I selected "Enter Sandman" by Metallica (Black Album). This lead track on this '80s classic rock album is a great test for a unit's ability to portray bass and its ability to envelop you. This song through either the Hifiman HE1000 or Audeze LCD-4 headphones is truly an experience. So coming from very lofty expectations I was impressed with the Turbo X to portray this classic recording. Now the bass was more on the "taught and defined" side of things, but considering the very small package of the Riva speaker unit, I was caught off guard that great quality bass didn't have to be sacrificed for portability. The clarity of the bass was impressive and the transition into the mid frequencies was very natural. James Hetfield's vocals were up front and energetic. Never once did they seem subdued or pushed back in the sound stage. The mid-range is definitely a very strong point for the Turbo X speaker unit. This is area is a substantial upgrade to my Sony Bluetooth speakers that I primarily use in the backyard. The treble on this recording was a bit better behaved and smoother than with Holly Cole's album. Overall I was very impressed with Metallica's Black Album and the Turbo X was able to capture the raw energy of the band and really showcased just how great a drummer Lars Ulrich's really is!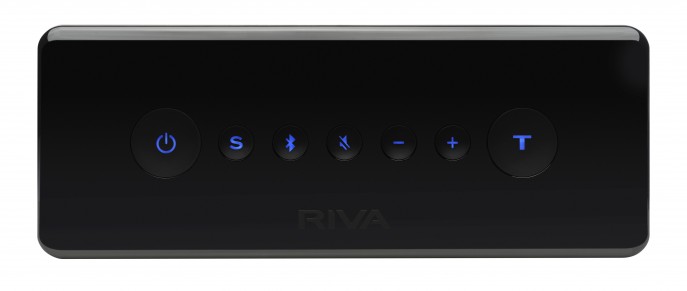 Finally I just had to throw Jazz at the Pawnshop at the Riva Speaker to test its ability to portray a very expansive and precise sound stage. For this recording, I used my Apple Lossless version via my iPad Air and Bluetooth. What I heard was an incredibly immersive sound…and one that I didn't think possible from such a small unit! Each instrument was clearly set independently from the other with no hint of smearing between the players. What really got me was just how "real" the audience sounded in the background as they whispered amongst themselves prior to and after each song. So you can definitely colour me impressed with the Turbo X's ability to portray both air and space in a very convincing way!
Overall the Turbo X Speaker unit was a joy to listen to. I previously had turned my nose up at such small and portable units based on my experiences with other speakers. But Riva has come through with a great little unit that you can enjoy both in the privacy of your home, or take with you outside and allow you to enjoy your tunes without having to sacrifice sound quality for that portability. Is it perfect? No, there were a few issues I could detect, but when taken as a whole the $299 price tag is well worth it in my opinion. You get one solid speaker system that is very well put together and small enough to take with you to the beach or on a picnic and sound quality that doesn't sacrifice transparency for portability. Well done Riva!