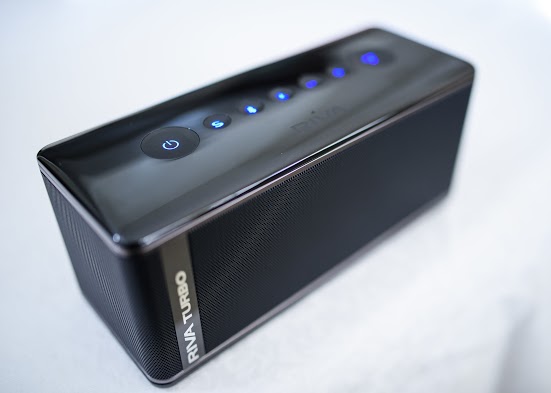 RIVA Turbo X
INTRODUCTION
I know what you might be thinking……….…."Why am I reading a review about a Bluetooth speaker on headphone.guru?" Well, there are actually two answers to that question.
Firstly, and unless you've been in hiding for the past few years, Bluetooth speakers (along with headphones) are now a REALLY popular way to consume and enjoy music. As this technology continues to develop, we are now just arriving at the point of having products that have "audiophile credibility". And no, Bose/Beats……I'm not looking at you just yet.
Secondly, and perhaps more importantly, the RIVA Audio Turbo X was engineered by Donald North, who is well known within the headphone and personal audio community as the designer of the popular Stratus and Sonnett tube headphone amplifiers. Donald contacted me just prior to CES and asked me to stop by RIVA's demo room and I'm so happy I did. The rest as they say, is history.
So who is RIVA?
RIVA was launched by Audio Design Experts (ADX) in early 2014 and is the brainchild of Rikki Farr, who is a globally recognized designer of audio products and producer of live performances including Pink Floyd, Led Zeppelin, Rod Stewart, Tom Petty, Miles Davis, Bob Marley, The Who, Jimi Hendrix, The Doors, and others. It was clear during my short visit to RIVA's demo room at CES, and in chatting with Rikki, that he is on a mission. And that mission is to make the accessibility of high quality music reproduction something that is achievable for all. From RIVA's website, the following excerpt highlights the brand's objectives:
RIVA is a revolution, a bold new standard and a defiant rejection of the idea that people cannot afford great audio and therefore must accept the bland experience of today's tin-can wireless speakers.
Lofty goal indeed.
So in a nutshell, can a veteran team of audio industry and audio design experts come up with a Bluetooth speaker that actually sounds……..……musical? Read on and find out!
Design, Build Quality, Features
The RIVA Turbo X is the first release of the RIVA brand and is a relatively small and lightweight speaker. It measures 9.1 x 3.5 x 4.1 inches, weighs in at 3 pounds, and is available in white and black.
In handling the Turbo X for the first time I was really struck by how well thought out and well designed the unit is. The speaker has a high gloss finish on both the top and bottom giving it a sophisticated, classy appearance. The top of the Turbo X features recessed touch capacitive controls with a soft blue glow when in operation, and the bottom features red rubber pads that both protect the speaker as well as provide isolation. Two really neat discoveries: 1) the ability to remove one of the red rubber pads and use it to cover the recessed ports on the back of the unit, and 2) The top panel features a proximity sensor so when you put your hand on top of the unit, the buttons that are not in current use illuminate. Very cool.
Control of the speaker is done via the touch capacitive controls on the top panel. Additionally, RIVA has a dedicated app for IOS or Android which acts as a fully featured remote control for the unit as well as providing useful battery life information. The Turbo X has a highly powerful battery that can provide up to 26 hours of playback, and comes with a partial charge out of the box.
Bluetooth pairing was a cinch and within a few moments I was up and running with the confirmation coming via a female English-accented voice saying "Turbo is paired". Playing tracks from both iTunes as well as Tidal, I'm really impressed with the ease of use and the seamless integration of the speaker and it's app.
In addition to the regular, default listening mode, there are two additional modes that can be accessed either via dedicated buttons on the top panel and/or via the app. These are the Turbo and Surround modes.
The Turbo mode is an internal EQ boost which in effect kicks the speaker into "overdrive" mode. Essentially to enable maximum volume form the unit, Turbo needs to be engaged. Visually, volume actually goes up to 11 (instead of 10 in normal mode). Additionally, there is also an audio cue with a race car sound when Turbo is engaged. One minor inconvenience is having to hit an extra button to get to maximum volume but there is an easy workaround. I usually just kept the speaker on Turbo mode all the time and lowered the volume as needed.
The Surround mode, as explained to me, was designed to enhance video applications but works very well for music too. Like the Turbo mode, this setting does not degrade the sound quality and provides a different and useful presentation if and when called for.
Other useful features include the ability to charge your phone via the USB port on the back of the unit as well as a fully featured speakerphone function with a built in microphone.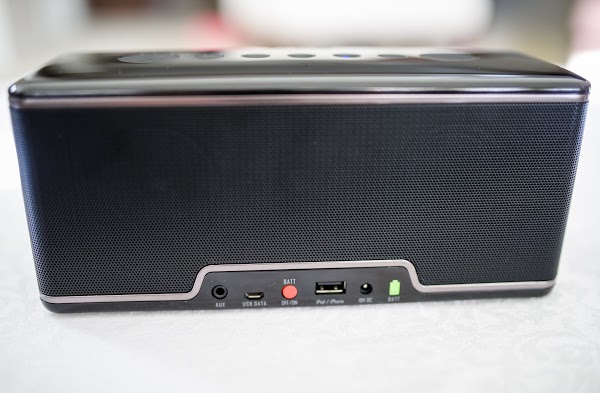 Sound
It's important to set up proper expectations of what a single small Bluetooth speaker should sound like and what it should compare to. The Turbo X falls into the larger portable, battery powered category of Bluetooth speakers such as the ubiquitous Bose Soundlink Series. It does not fall into the same category as the larger AC powered desktop units, such as Peachtree's Deep Blue.
Okay, with that out of the way I can say that I had a big grin on my face when i first fired up the Turbo X. The speaker sounds coherent and natural with no part of the frequency response exaggerated and with a prominent midrange which makes it sound very musical. The bass is well controlled, defined, and most importantly not muddy or bloated like many Bluetooth speakers I've heard.
Placement of the the speaker is important and RIVA provides some guidelines in the Owner's Manual, for example, placement in the corner of a room facing out will result in a stronger bass response. I did find that the speaker sounded best when directly facing the listening position; however, it was still very usable and engaging in less optimal positions too.
One of the tests I did was to see how the RIVA could handle jazz and piano. Firing up Taylor Eigsti's Lucky to be Me, I was pretty awestruck at how within a minute or two I just got lost into listening. Engaging both Surround and Turbo modes, and two things happen: the sound becomes more immediate and
engaging, and the stereo separation is even more enhanced to the point where I'm actually hearing air and space between instruments. This is incredible stuff coming from a very small box.
Moving on to Mazzy Star's Seasons of Your Day, and Hope Sandoval's dreamy vocals on the track California come through with much of the emotional delivery intact from my larger rigs. The Turbo X has a fantastic midrange and female vocals are really given a chance to shine. The end of this track has some great dynamic swings along with delicate acoustic guitar work. Again, the speaker shines in its ability to create a nuanced stereo image.
What about bass? For this, I turned to Recondite's On Acid streaming from Tidal. The bass is clean, coherent, and can hit hard when called for. Individual bass notes were easy to pick out and the bass always stayed in control at whatever volume level the speaker was set at. I like amps that can go to max volume without distorting and I'm happy to report that the volume can be pushed to the max level without the speaker distorting.
One minor nitpick that I found was that I could not turn off the audio tones and prompts completely. I would personally prefer to have the option of disabling the audio cues when changing volume or functionality but I understand the design decision and I would imagine the majority of users would want the audio cues as is.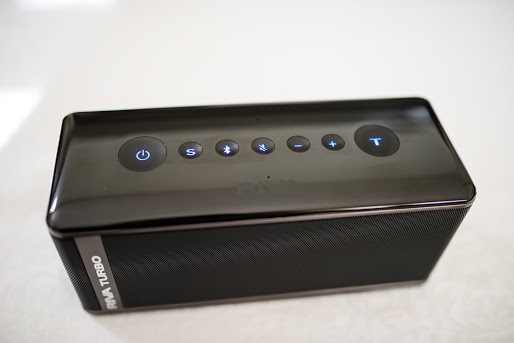 Conclusion
At $349, the RIVA Turbo X has really impressed me and is the first Bluetooth speaker that I've heard that really nails it in terms of stereo separation and clean imaging. Vocals sound vibrant, dynamic, and full of life. Bass is very clean with sufficient output to satisfy all but hardcore bassheads. Couple it's excellent sound with it's dedicated app, great ergonomics, battery life, and a plethora of useful features, the RIVA Turbo X should be on everyone's radar.
Going back to my original question, "Can a veteran team of audio industry and audio design experts come up with a Bluetooth speaker that actually sounds…………musical?" Yes, they can and they did a fantastic job with the RIVA Turbo X. Very highly recommended.