Swan Song Audio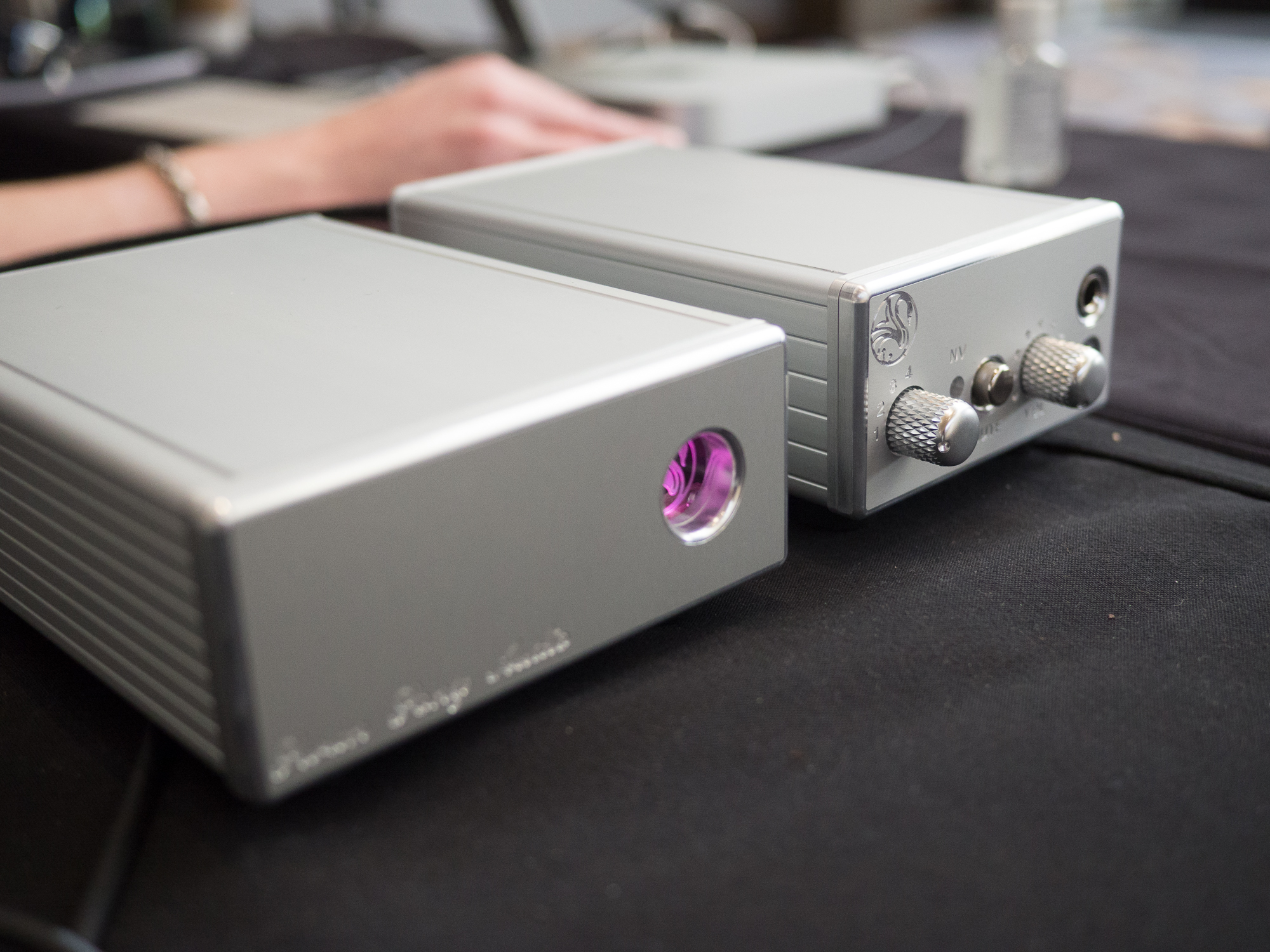 My first stop of the day was to Swan Song Audio who were showing their new DAC/Amp. Their setup allowed listeners to switch between output chips on the fly and to tell Swan Song which they preferred. The 'winner' would be going into the final production run!
Owner Tony Crocker said that, while they were excited about using the new TI PCM 5142 DAC chip, they really focused their efforts on the power supply and analog stages, since that's where so many competitors fall down.
I liked what I hear and got the impression that Tony and his crew were really passionate about what they are doing. I can't wait to find out which chip won! Pricing was TBD.
Campfire Audio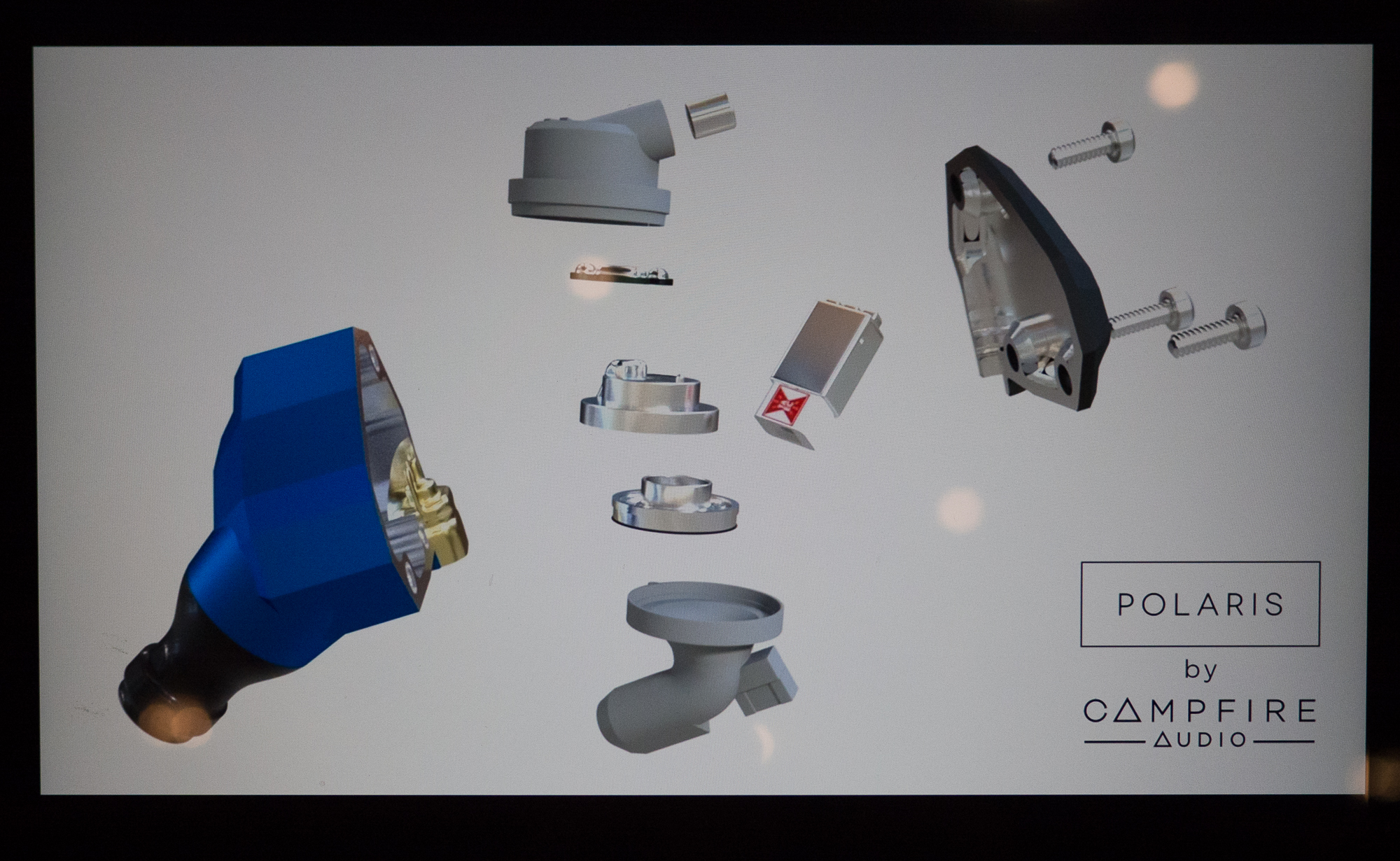 Next stop was to visit my friend Ken Ball at Campfire. After a cordial chat, he referred me to his Campfire IEM expert, JD Stewart.
JD extolled the virtues of their latest offering, the Polaris. Polaris is a Hybrid design featuring a Dynamic Driver AND a balanced Armature. They are a beryllium body and also have what Campfire are calling a Polarity Tuned Chamber. According to JD, these are 3D printed tuned chambers in front and behind the driver allow them to optimize the performance of the dynamic driver. MSRP is $599 for the pair.
More info at https://campfireaudio.com/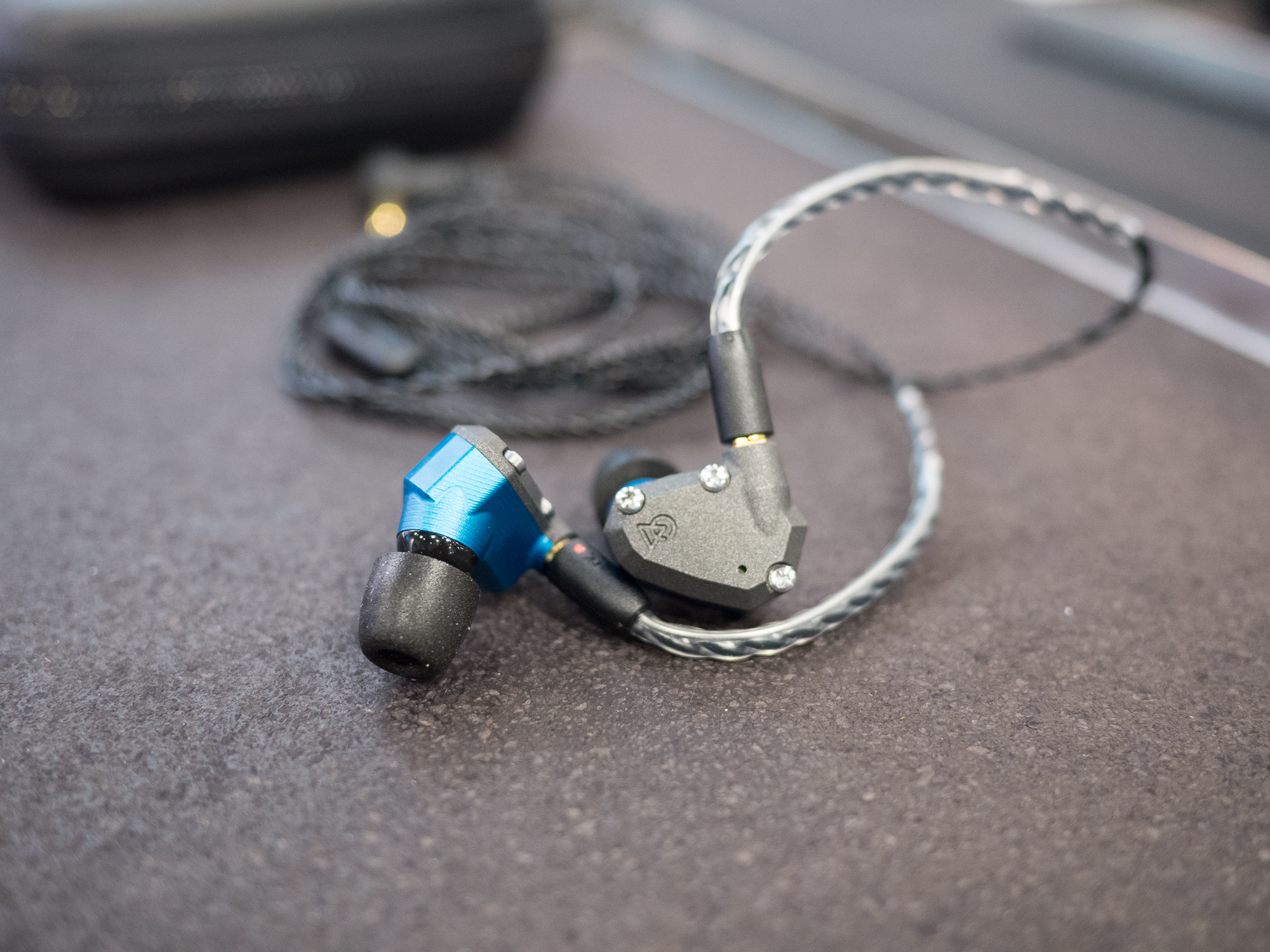 Audio-Technica
Onward I went to the audio-technica booth where Bob Peet showed me their brand new ATH-ADX3000. These are their new flagship open back designs They were driven by their ATHA5850 amplifier.
The sound from the combination was VERY fast…like almost electrostatic fast. It was extended up top without sounding bright.
Pricing for the headphones is $2,000 with availability expected in November 2017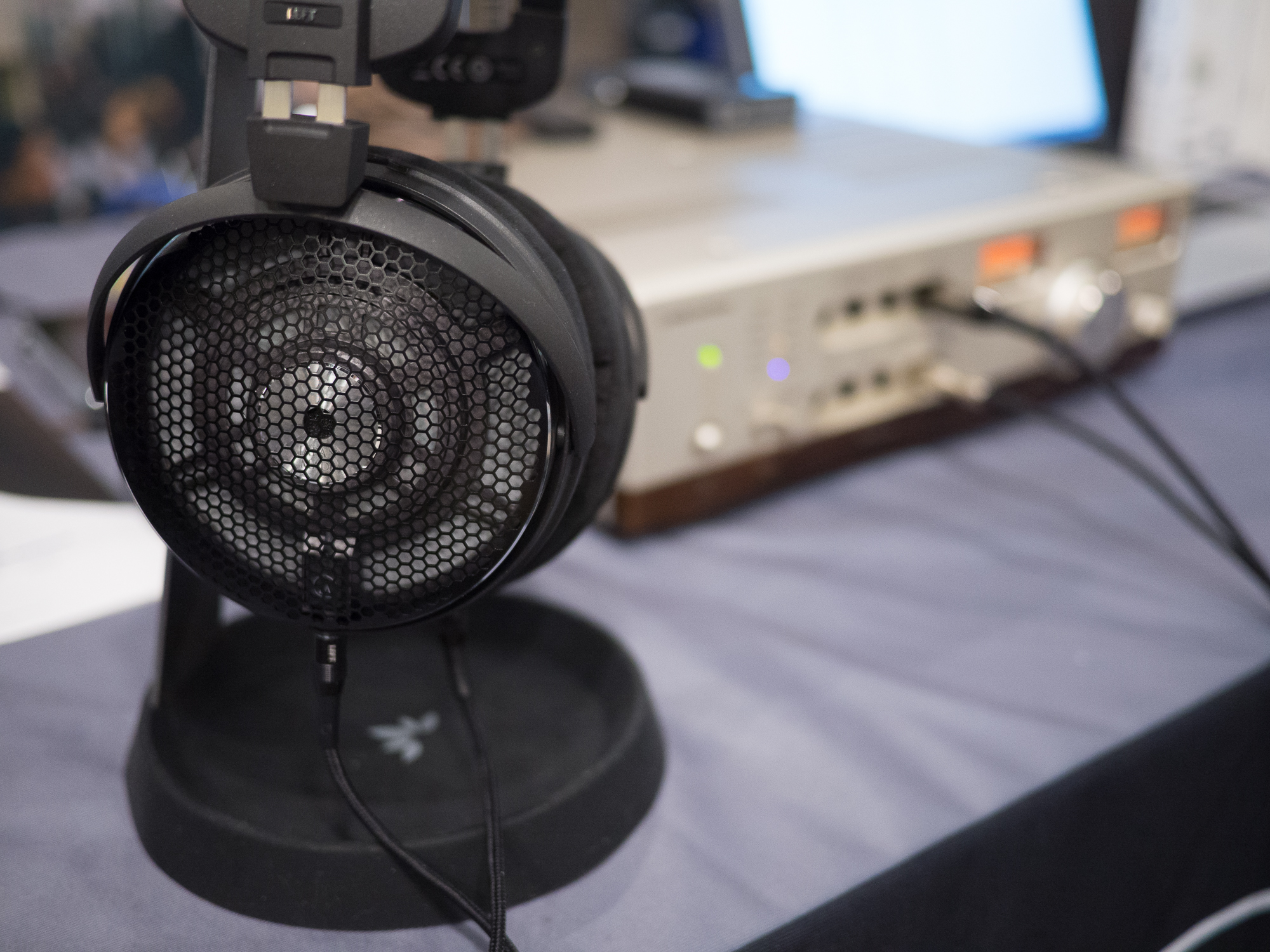 Astell & Kern
Owen Kwon of Astell & Kern showed me their newest version of the wildly popular AK70, which now features dual DAC's (Cirrus CS4398) , USB digital out and higher powered balanced output. Price: $699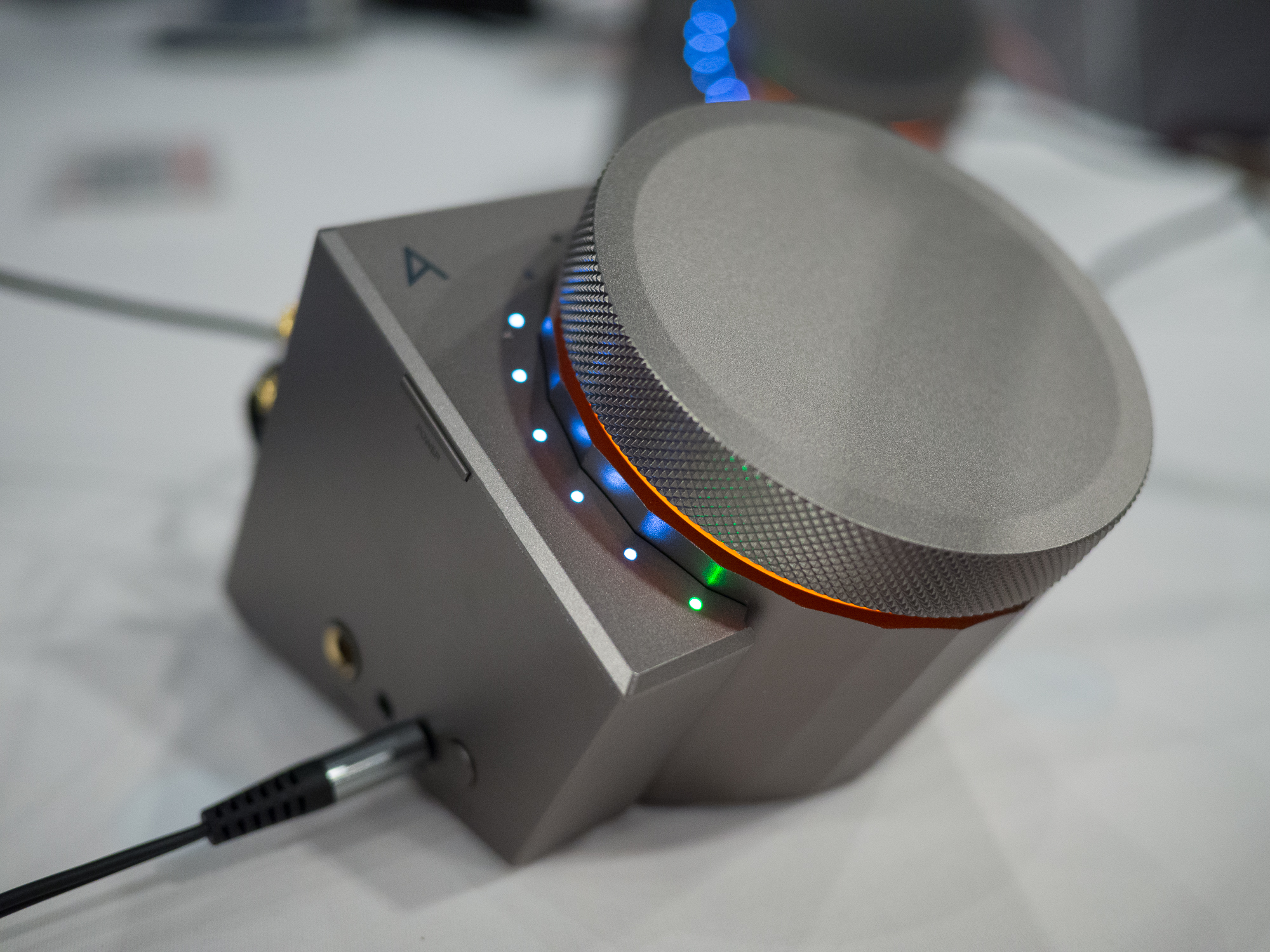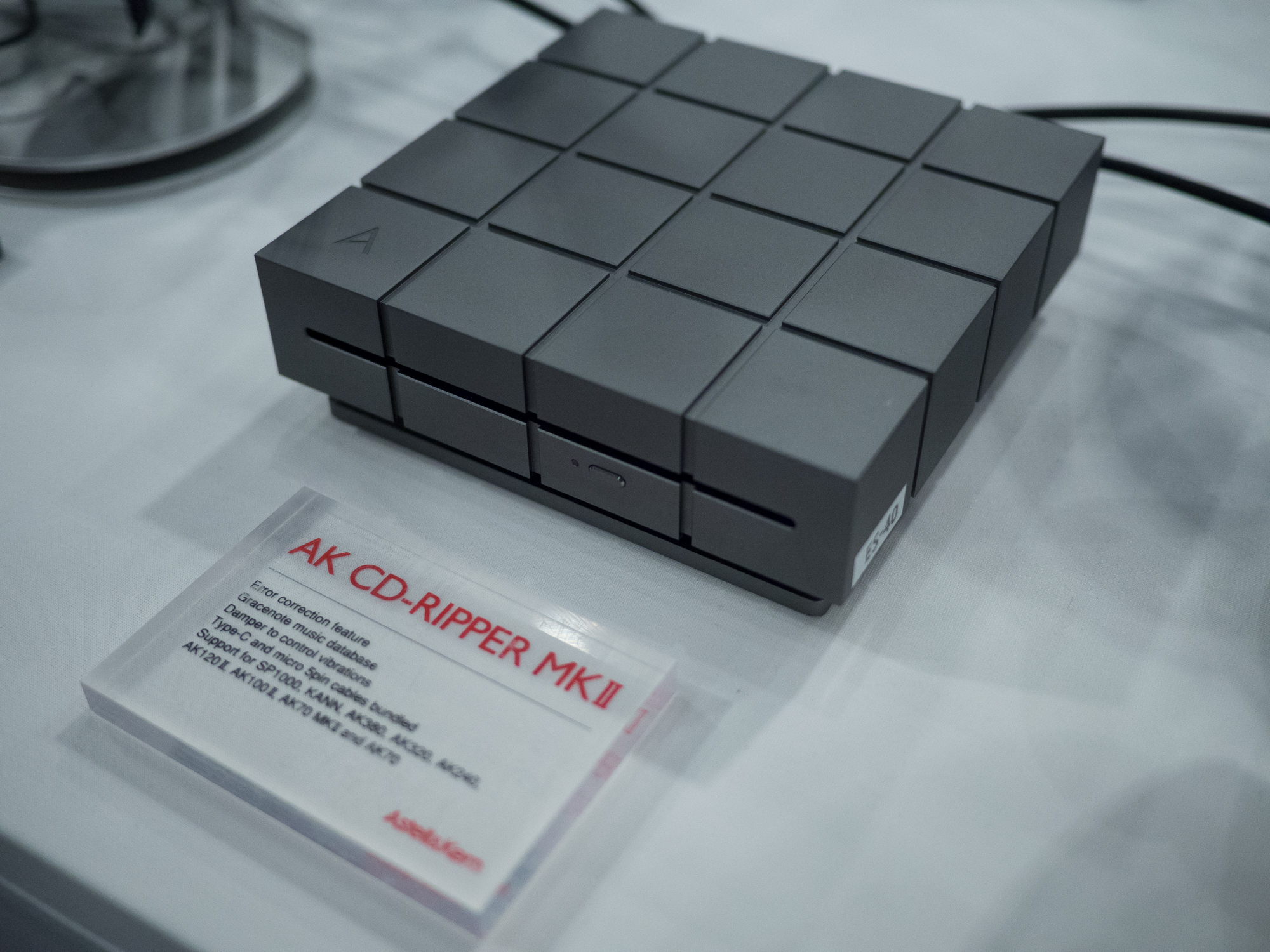 Final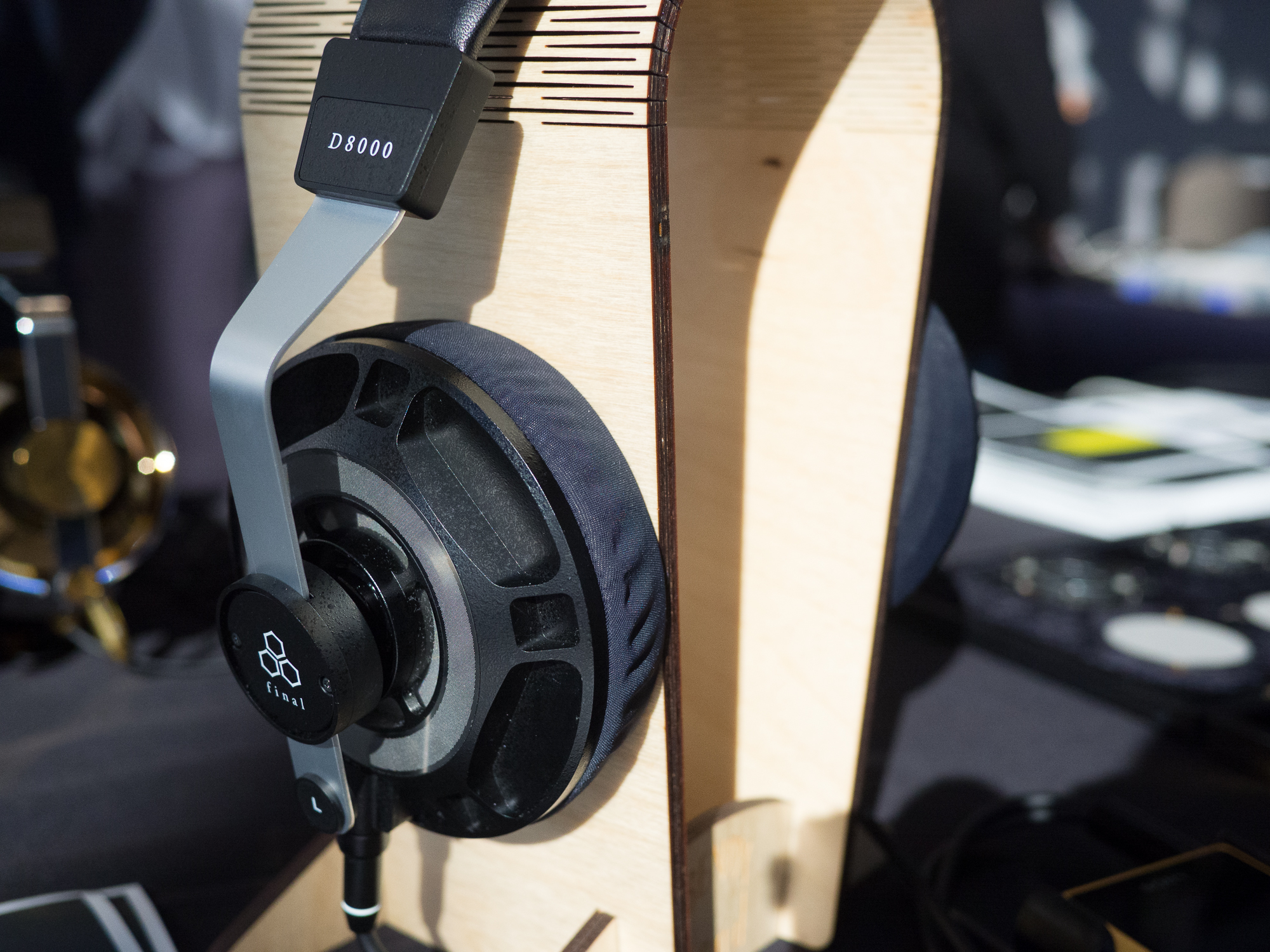 At the Final Audio booth, Michael Brown was excited to show me the new D8000 headphone that will be launching in November at a retail price if $3,800.
They were also conducting a very cool hands on seminar where people could assemble their own IEM's and take them away with them!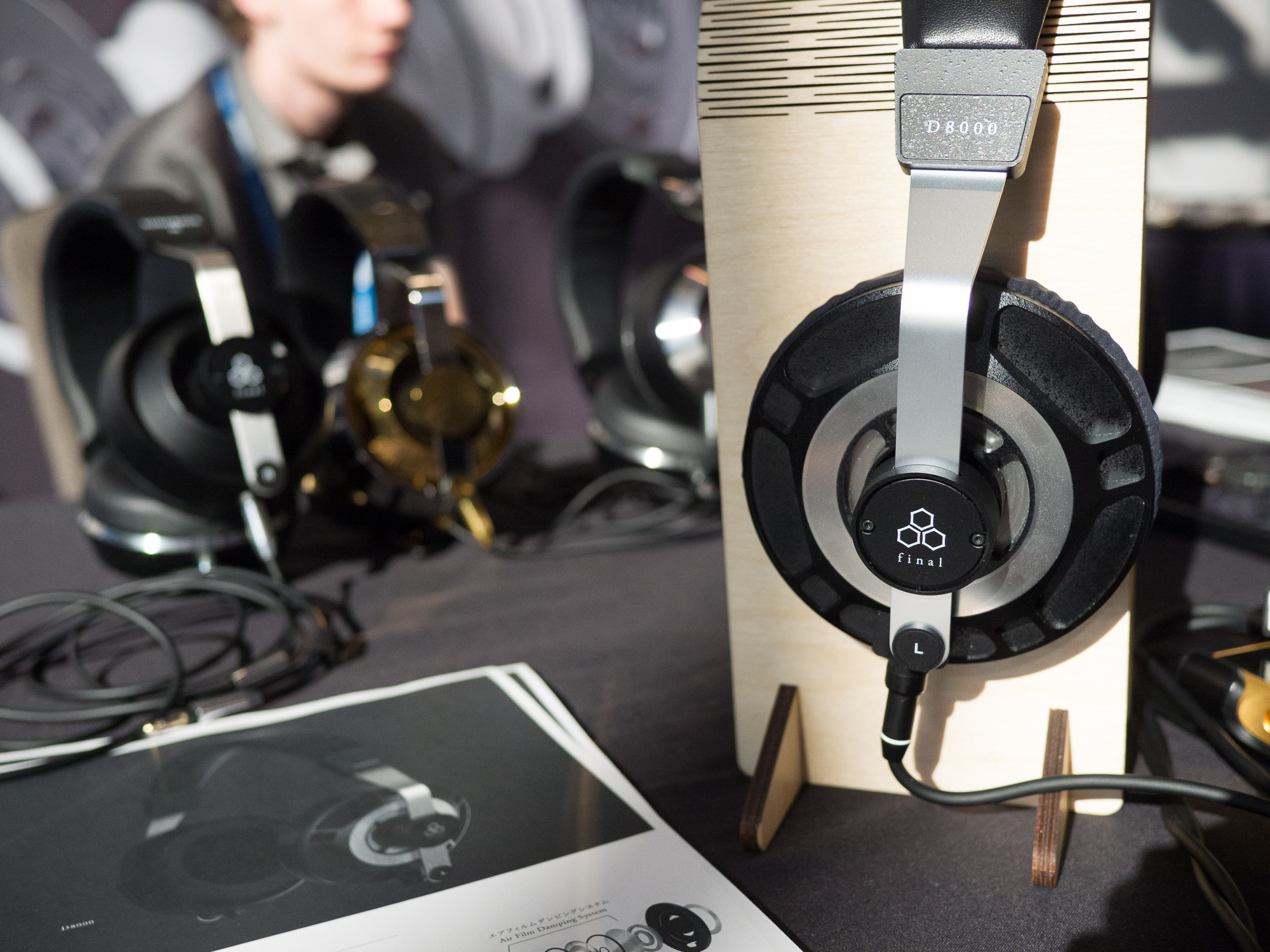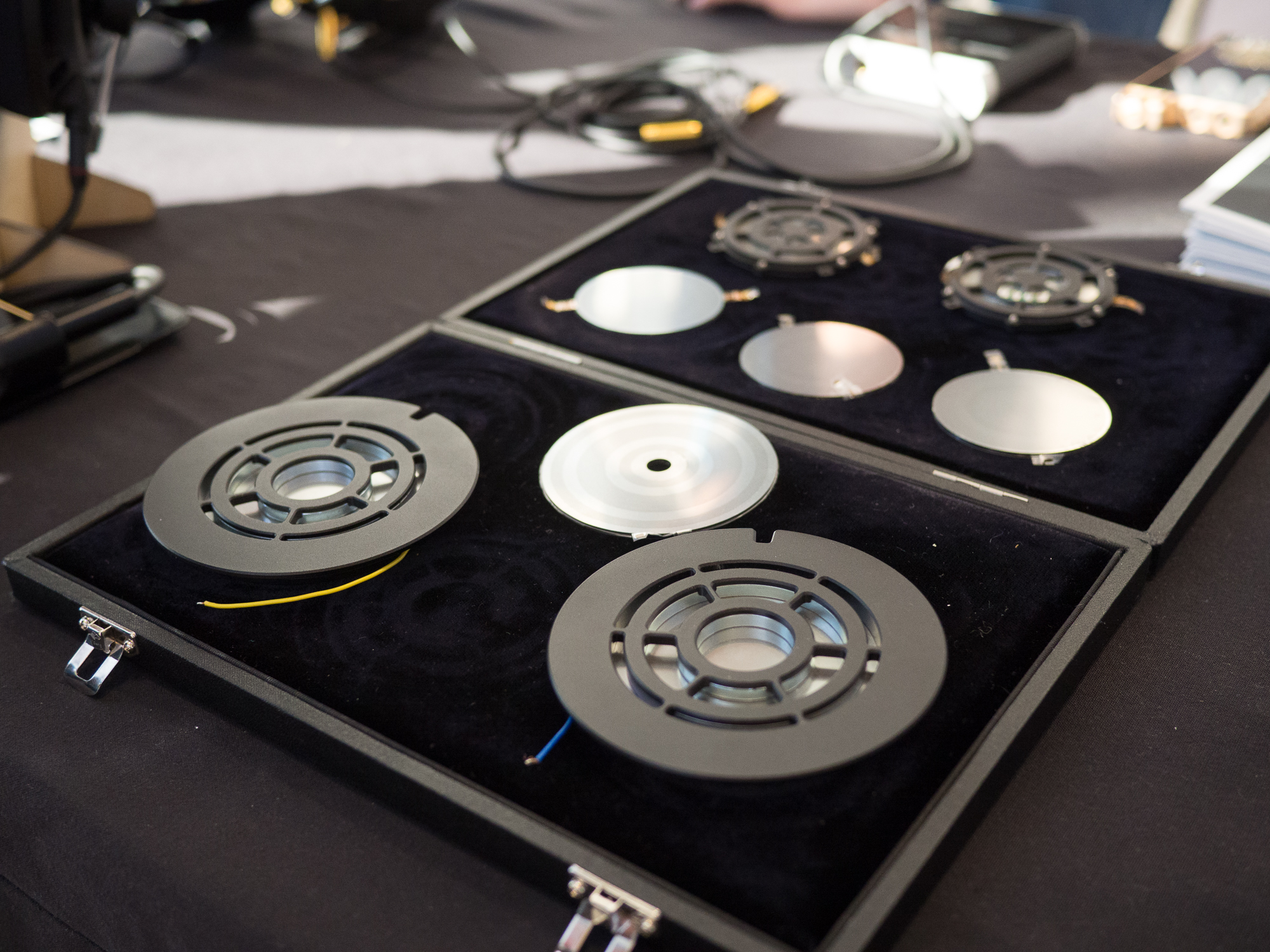 NAD/PSB
At the NAD/PSB booth, Jeff Earl was showing off new Bluetooth headphones from both companies. PSB had the M4U-8 and NAD's offering was the HP70.
Both models were $399 retail and ship in November.
Both feature the option to use Active Noise Canceling…or not. They use different NC chips, however.
The biggest difference between models, other than the styling, was the battery. The NAD model uses an all-internal rechargeable battery, while the PSB model uses Triple-A batteries (which can be rechargeable as well.)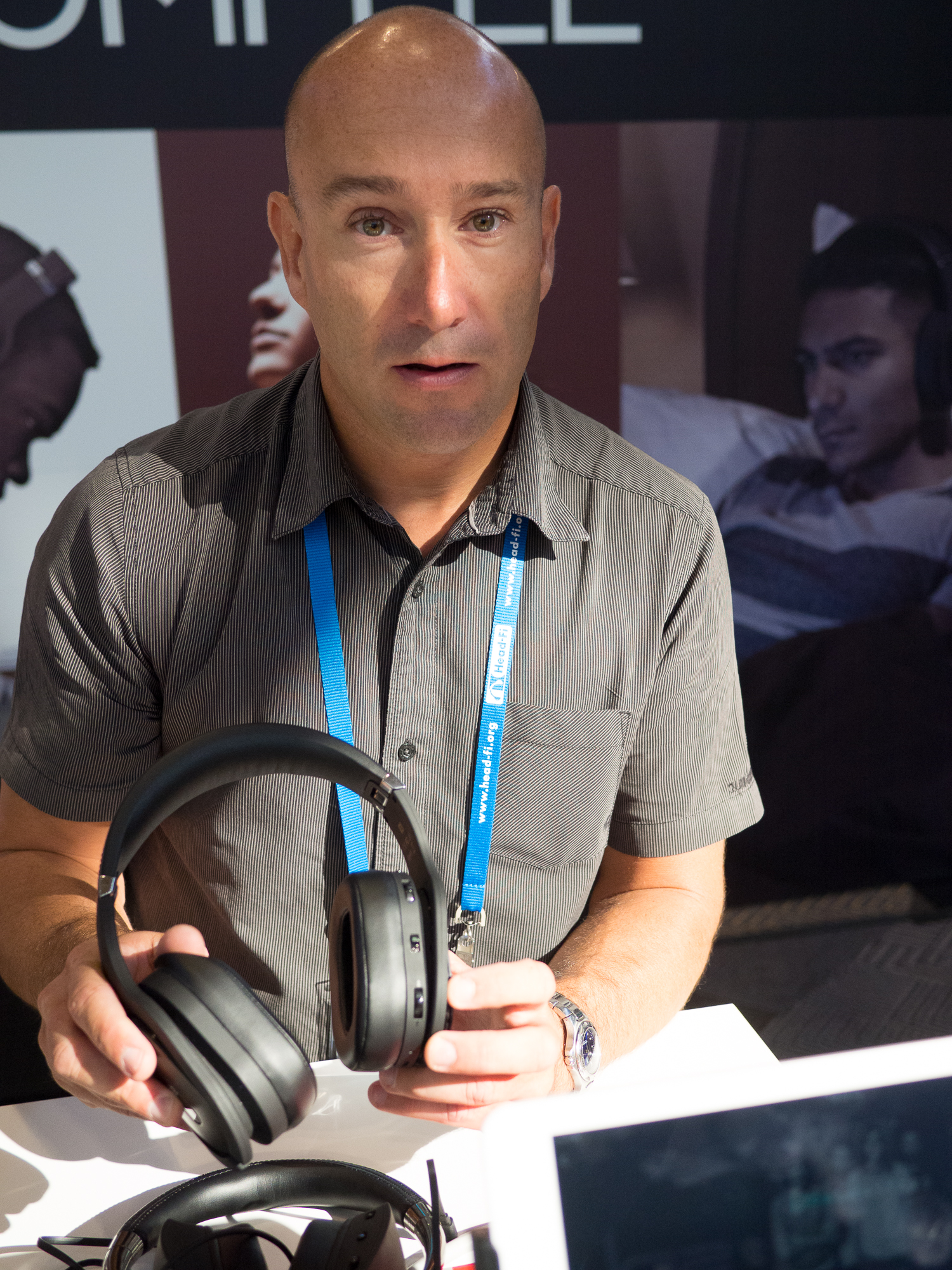 Modwright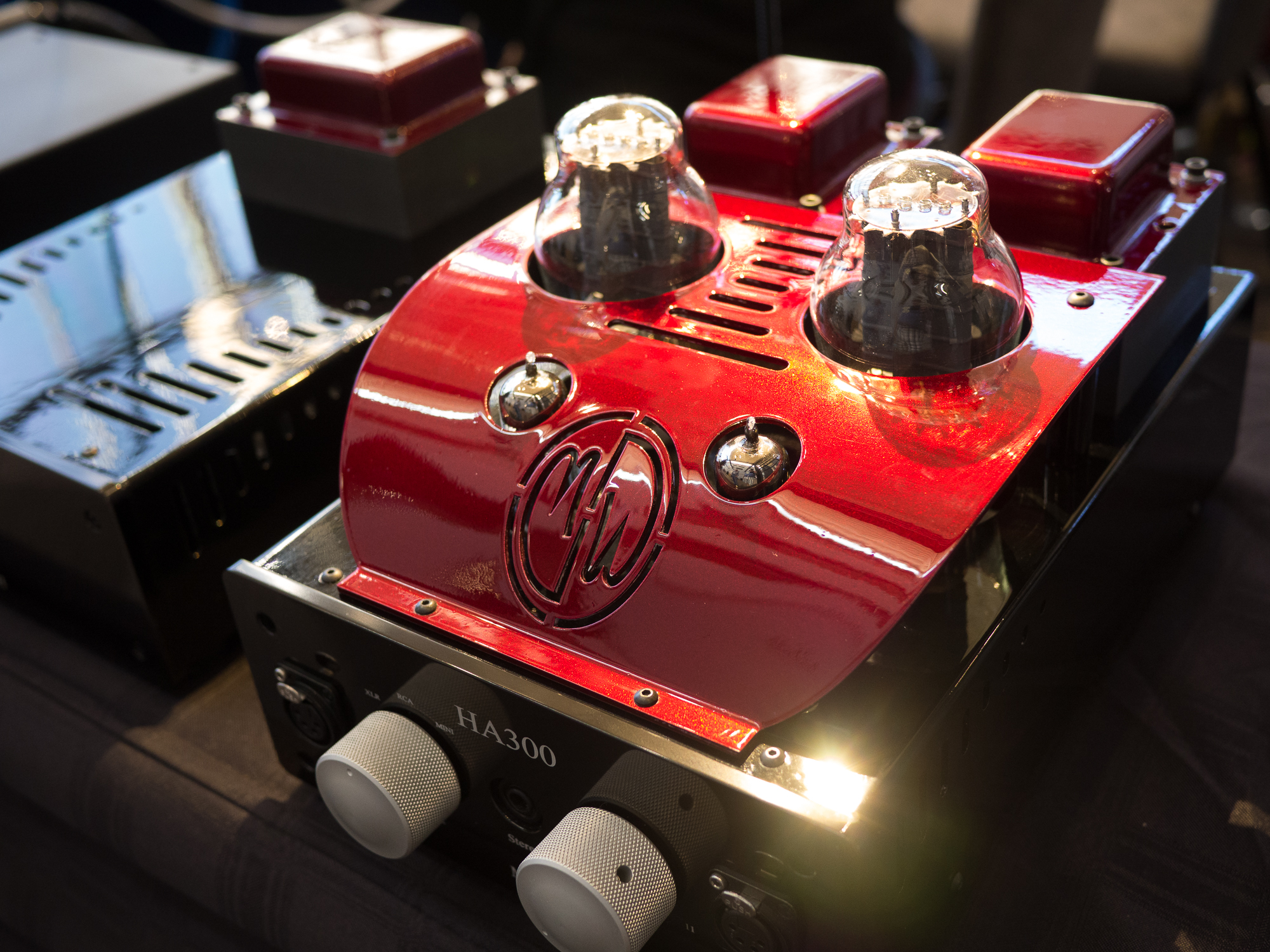 The visit to my friend Dan Wright's booth was rewarding as always! He was showing off his latest offering, the 300B based HA300 integrated amp/headphone amp. The tube compliment includes 2 6BM8's driving the 2 300B's delivering 12 W/ch to the speaker taps (into 8 ohms). The external PS300 power supply features 2 transformers and 5 separate supplies! The sound had Headphone Guru Frank Iacone drooling. Look for a review in the near future! Pricing was not yet determined.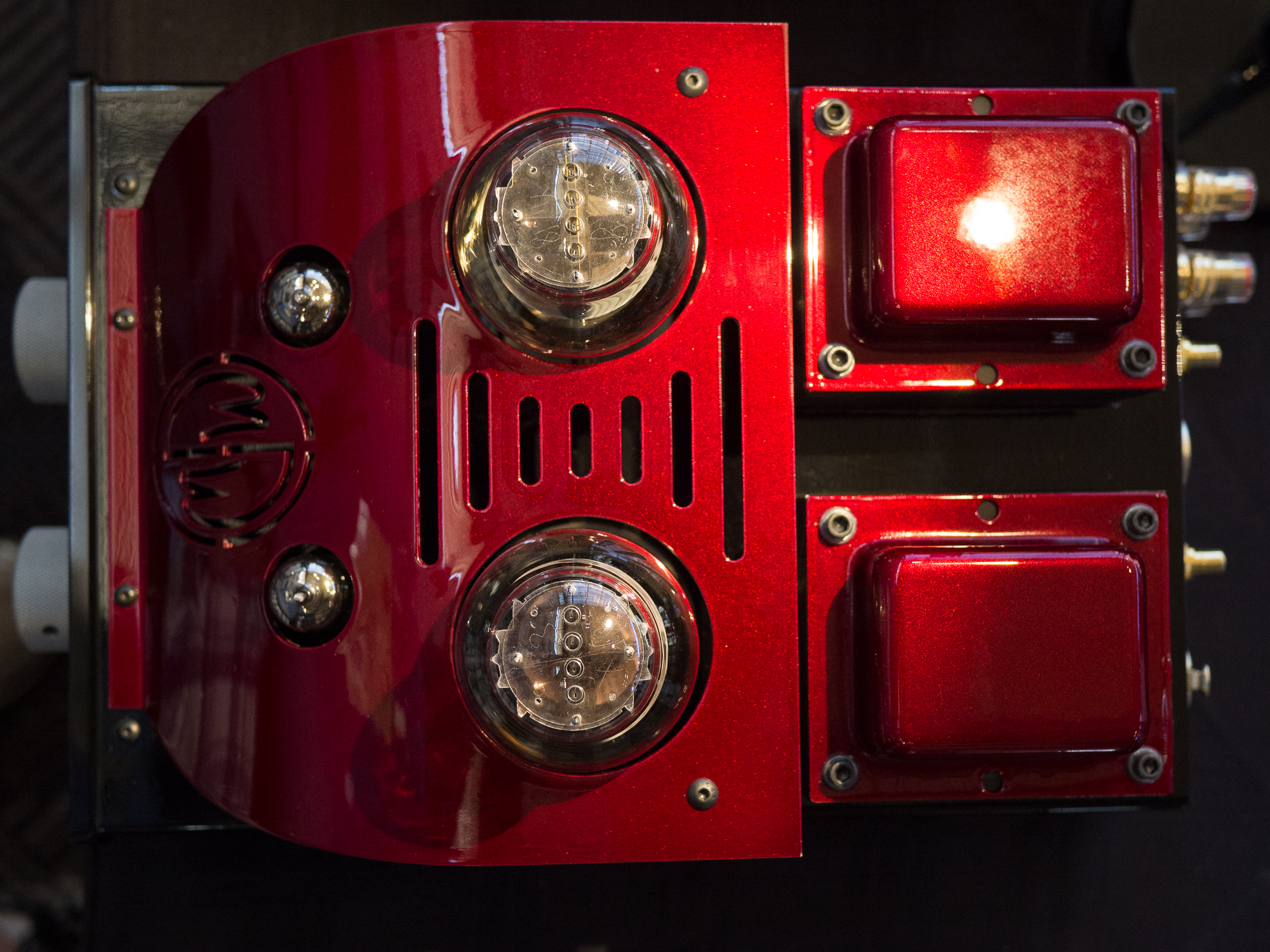 Dan was also showing his fantastic Tryst headphone amp as well as his Oppo tube mods. This booth was a complete treat!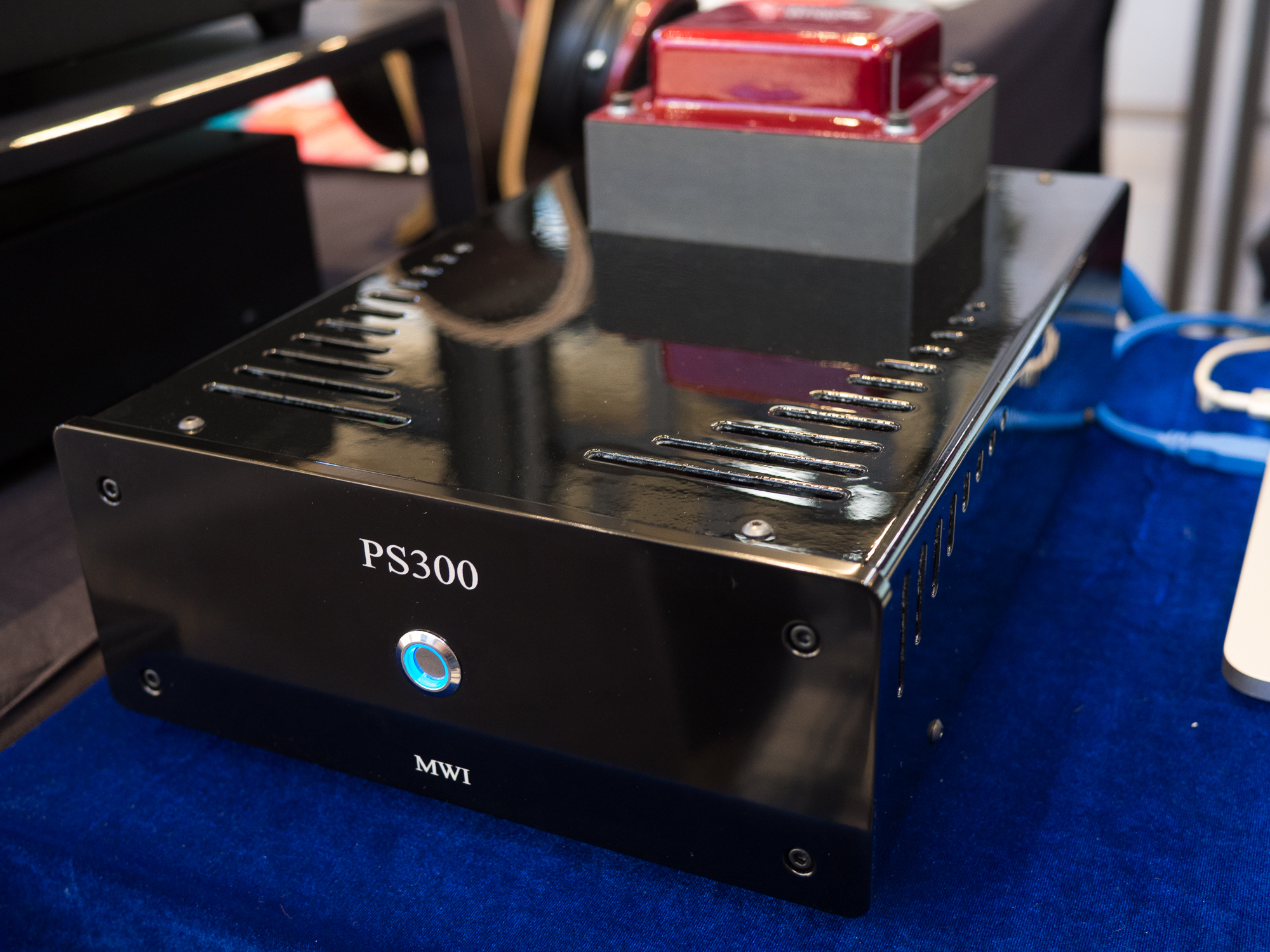 Dana Cables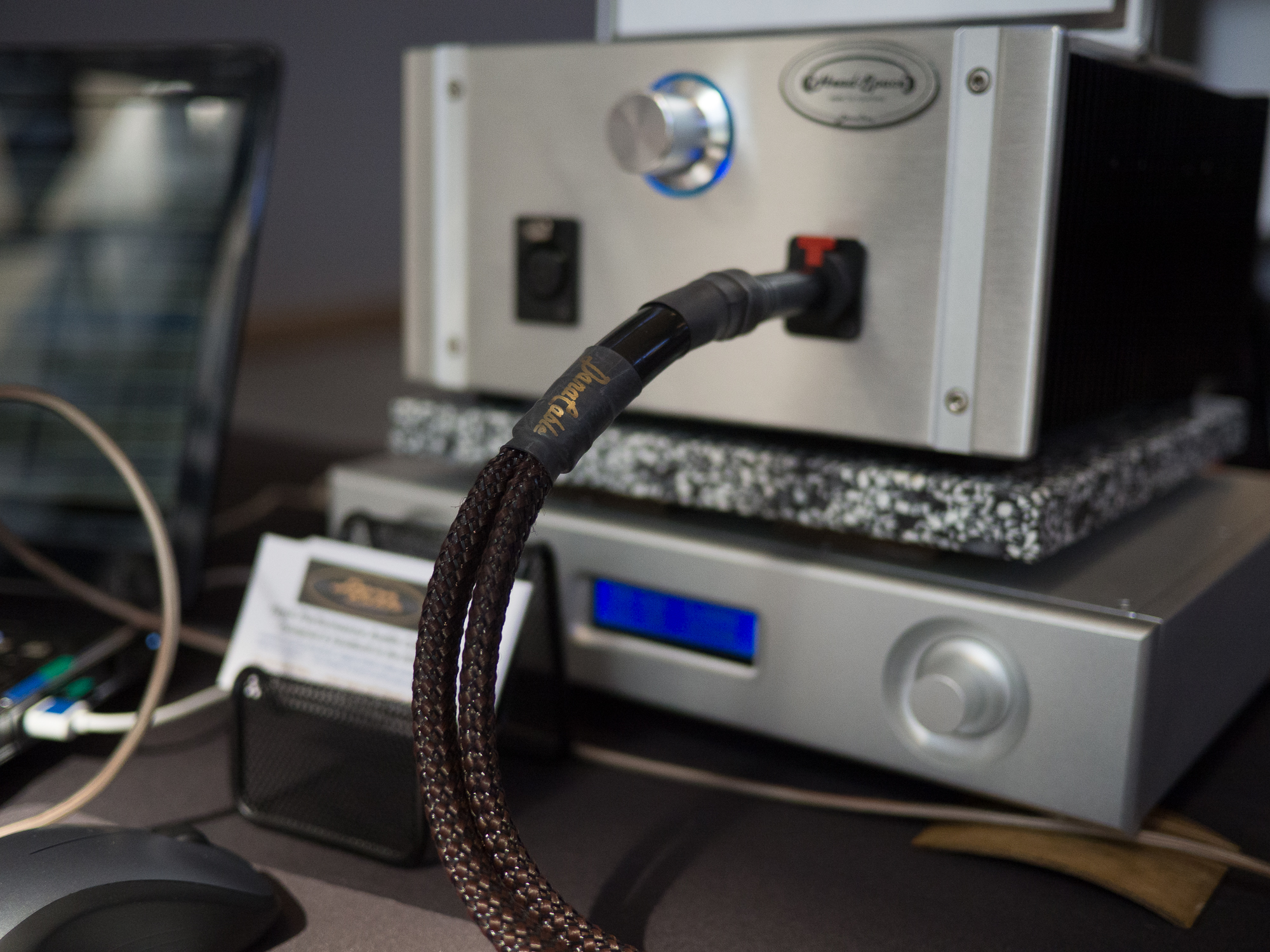 Dana Robbins was on hand doing a fascinating demonstration of his Lazuli Reference headphone cables. He made a Lazuli reference Y-Adaptor to allow people to swap headphones to immediately get a sense of the difference provided by his cables vs. the stock headphone cables. Even in a noisy room, the difference was evident when using a resolving headphone, like the HE-1000's he had for the demo. Pricing for the Lazuli Reference HP cables starts at $1,199.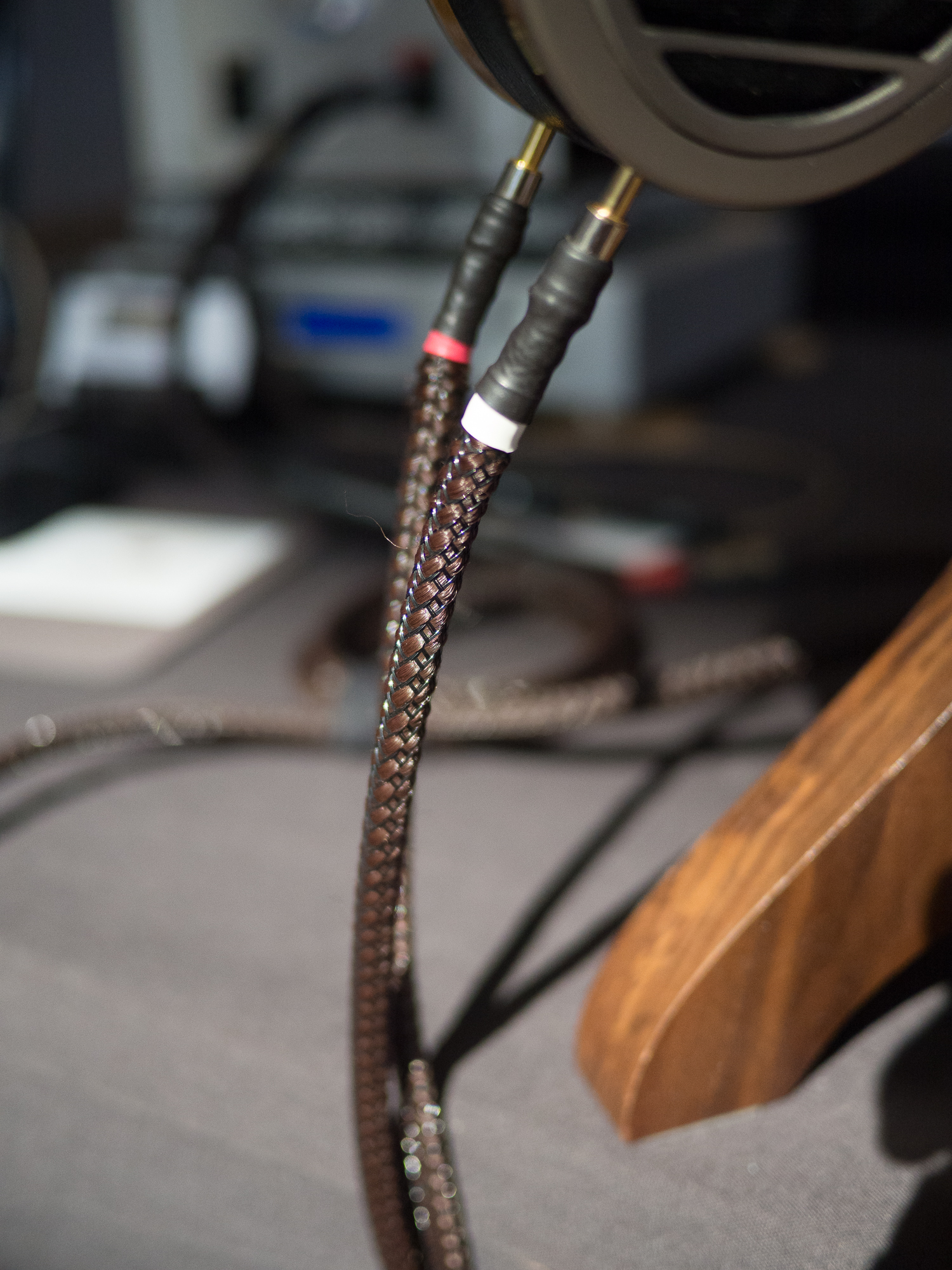 iFi Audio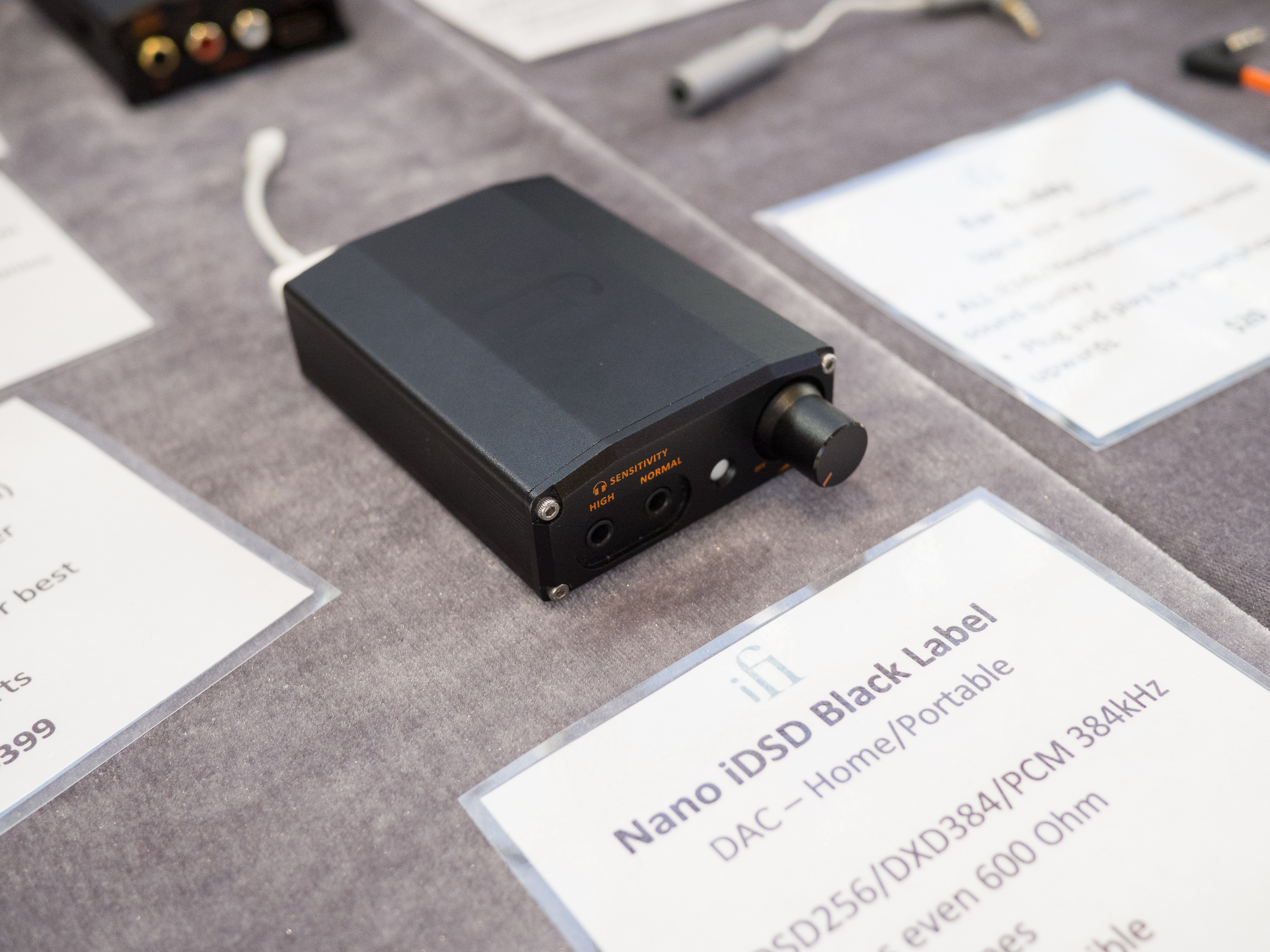 Vicky Pickles was tickled to tell me about their new Nano iDSD. This is a diminutive (163g) DAC that packs quite a feature set. You can play all the currently available hi-res formats including DSD256, DXD384 and PCM 384! Oh, and it includes an MQA decoder! All for $199!
SPL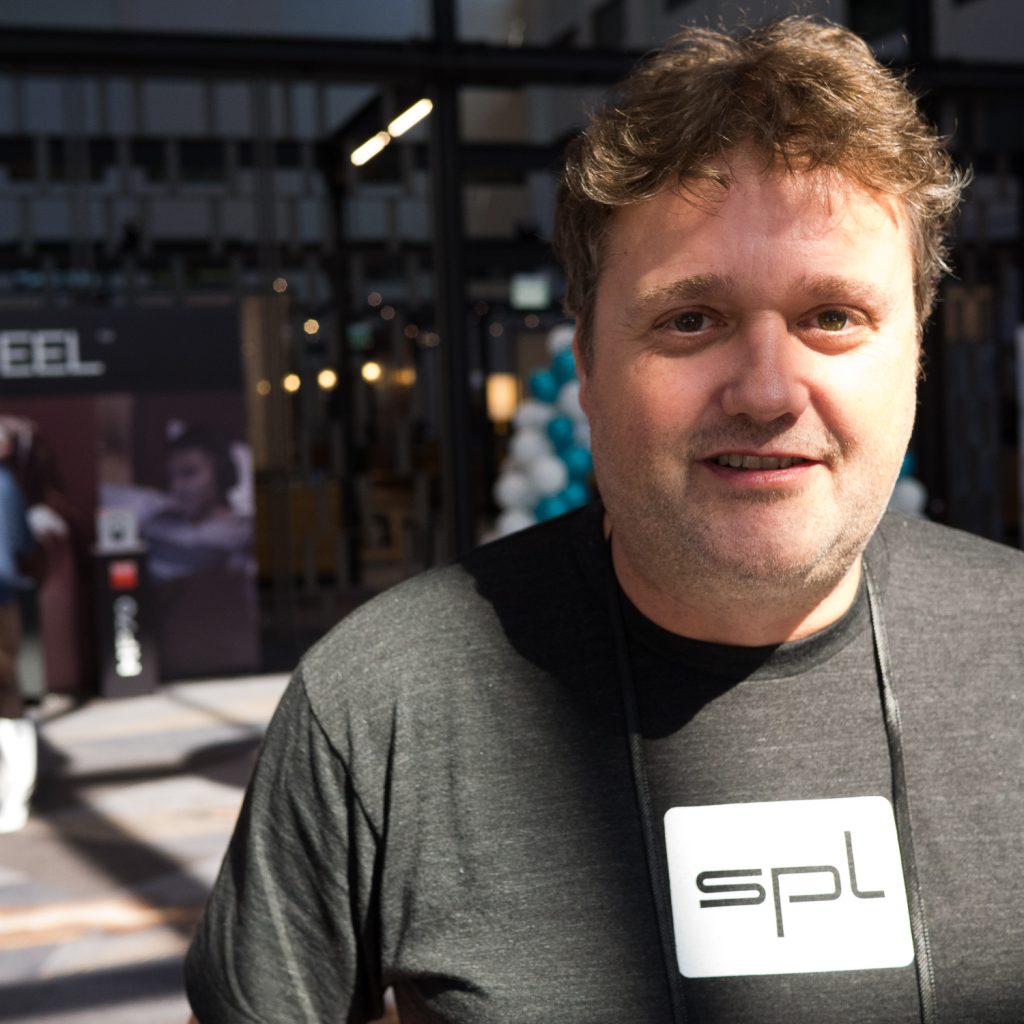 Hermann Gier of SPL fame explained the difference between balance, crossfeed and their Matrix. By the time I left his booth, I simultaneously felt like I knew more and yet knew nothing compared to him. He explained how the original intent of his design was to allow professionals to mix audio wearing headphones. By moving the image from the sides of our heads to a more frontal image, he creates a more realistic listening experience for the headphone wearer. The experience was eye-opening! If you get a chance to audition his Phonier amplifier, I highly recommend that you do! The Phonitor X will set you back $2,499.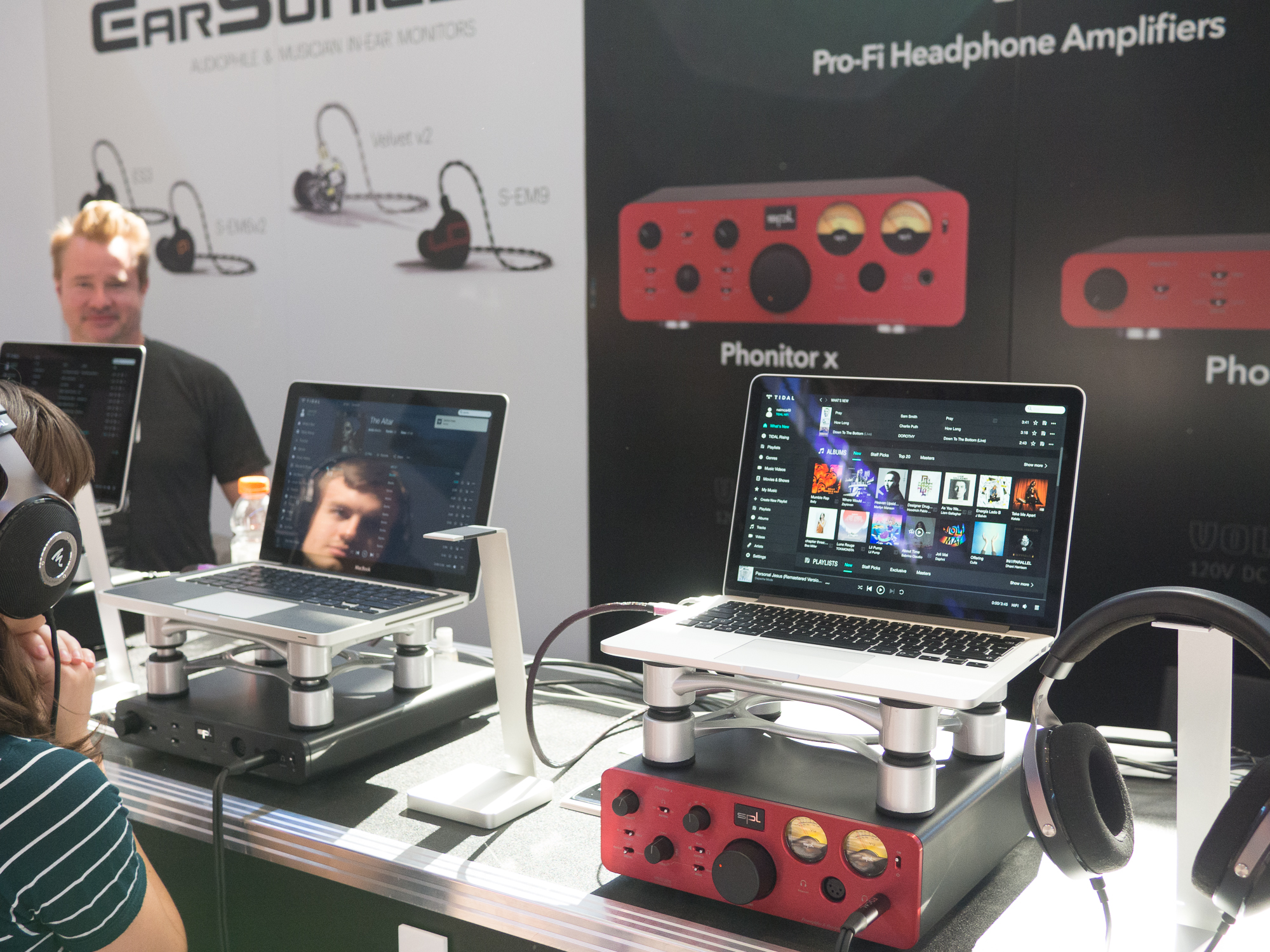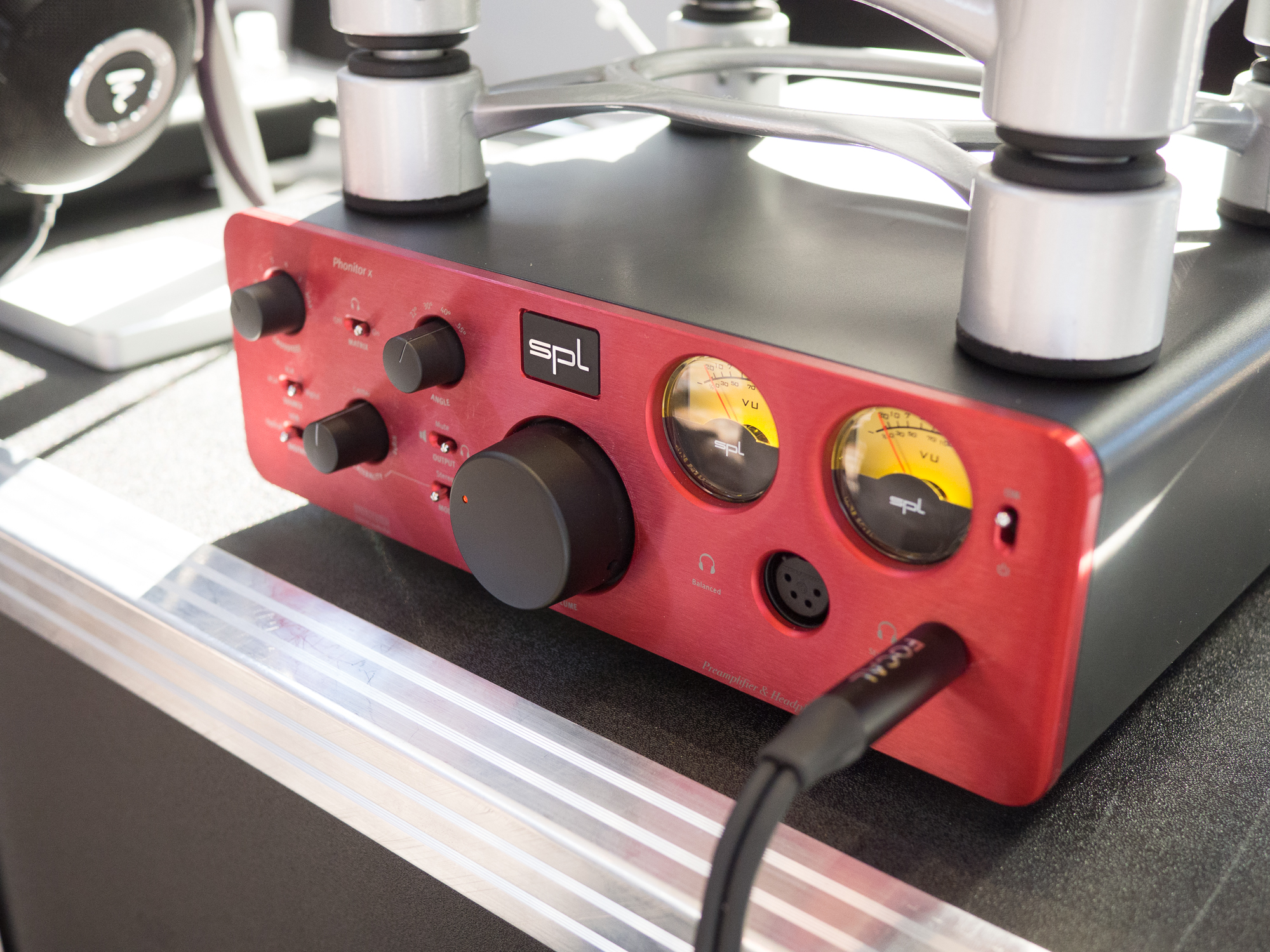 Ear Sonics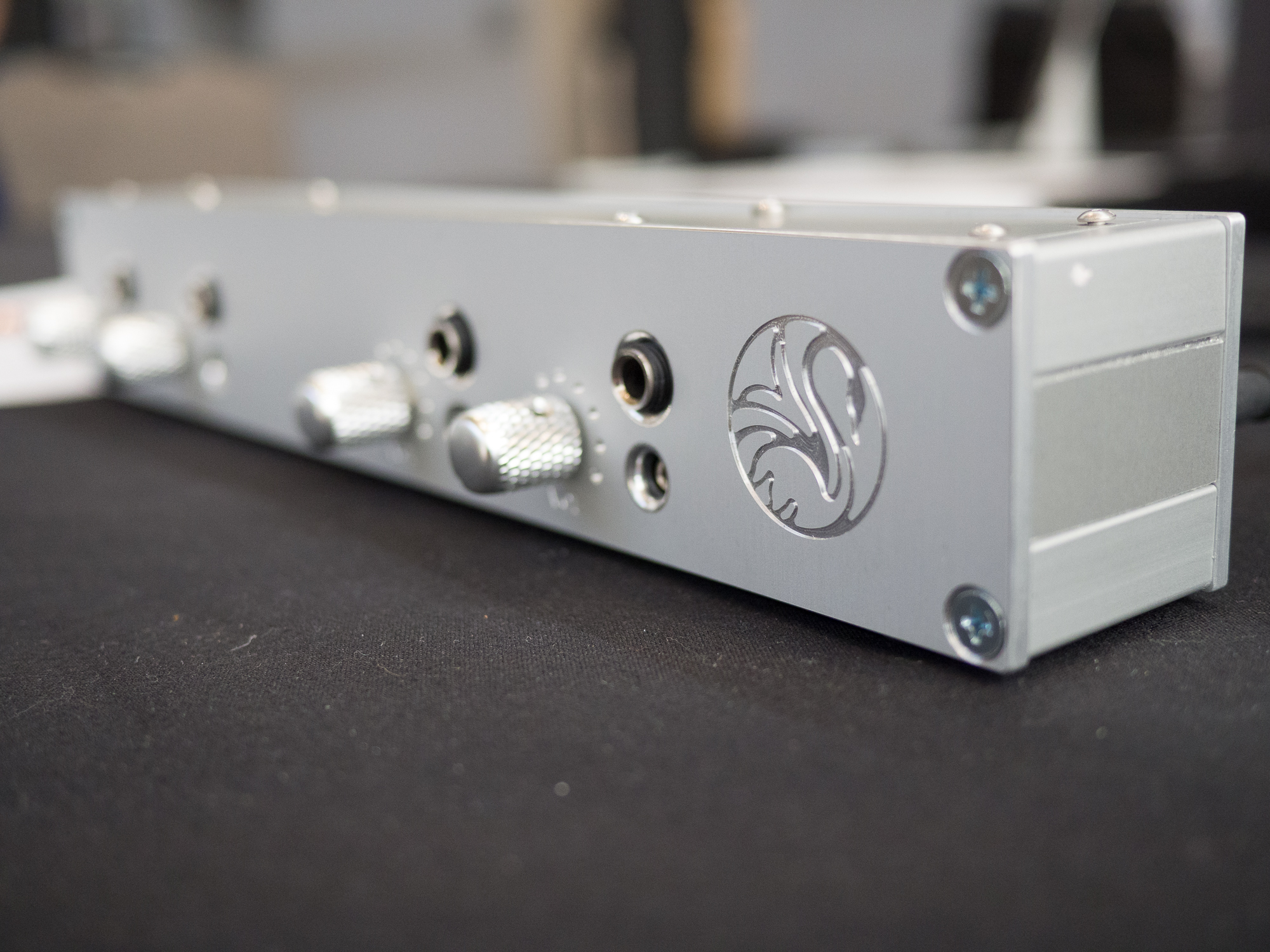 Patrick Higaki of Ear Sonics showed his his line of IEM's. At the entry level, he has a terrific sounding model called the SM2 at $299. They were light and comfortable for all-day wearing. Their top of the line universal design is their S-EM9…a 9-driver model with a price tag of $1,899. They also make a $30 pair of in-ear plugs that filter the sound based on the frequency, allowing you to wear them in crowded noisy situations and still hear nearby conversation. They will also protect your hearing at concerts while still letting you enjoy the show. That's $30 well spent!
They also make a custom line that will run you between $500 & $2,000.