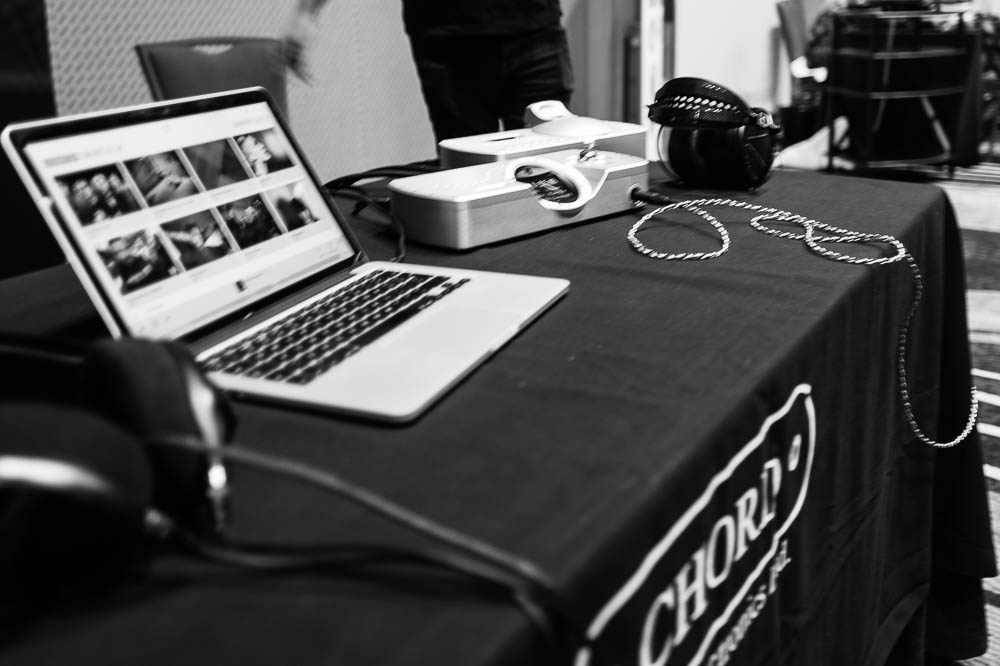 Chord Electronics was showing their award-winning reference line of Gear which included the mighty Dave DAC designed by engineering genius Rob Watts. The Dave is a sophisticated DAC that offers exceptional clarity and musicality. The Dave also can be used as a preamp. and it's BNC coaxial input samples 44.1 kHz to 384Hz. The USB B input decodes PCM and DSD. Priced at $10,600 it sounds amazing and will work well in any headphone or HiFi system. The Dave is one of the best preamp/DAC/headphone amp in current production made today.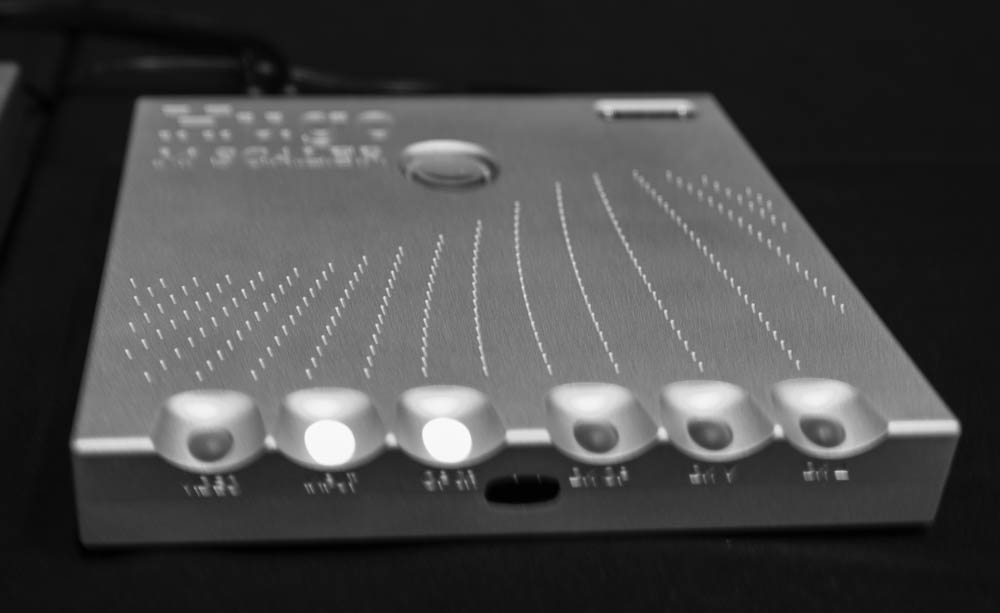 The Hugo M Scaler is another product from the mind of Rob Watts the creative force behind all the digital designs from Chord. The Hugo M Scaler an advanced upsampler. Rob's unique filter design is the most advanced currently in production and will upscale 44.1kHZ up to 705.6kHZ which is passed to a suitable DAC. The Hugo M Scaler working with the Hugo TT 2 or the DAVE creates the next level of reference digital conversion and is a must-hear for anyone wanting to hear what is now available from digital recordings. Priced at $4995 and designed to perfection.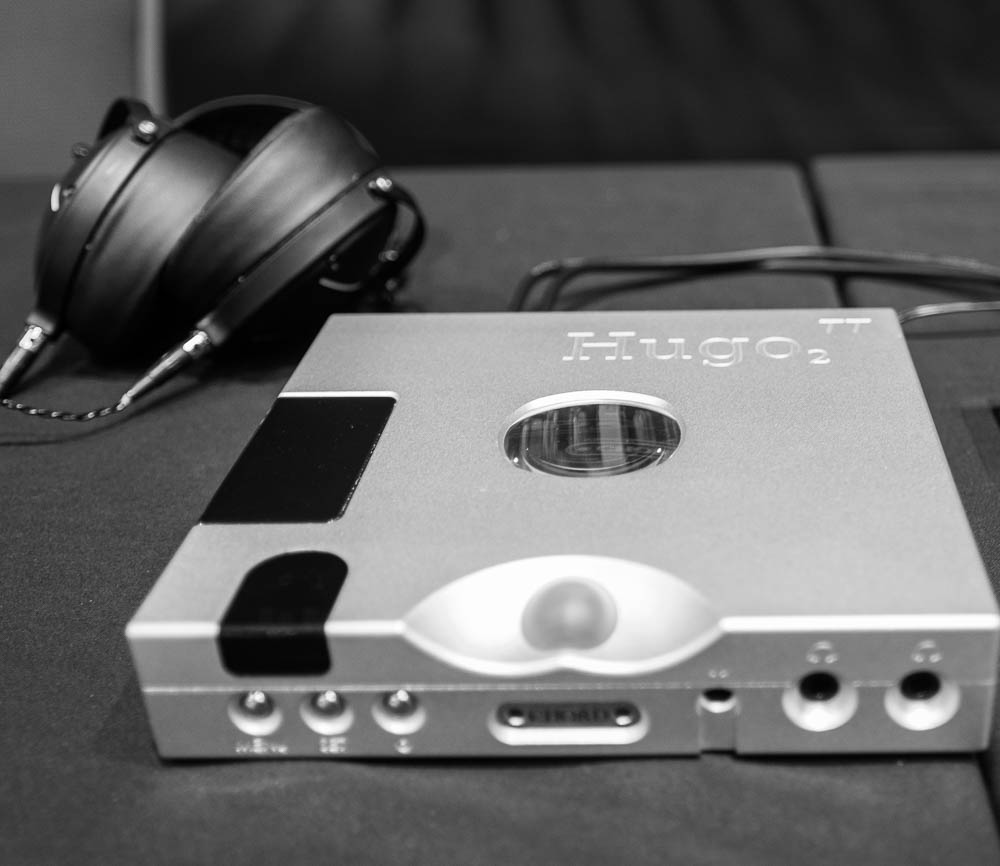 The Hugo TT 2 features a redesigned case by John Franks and had 5 times more processing power than the original Hugo TT. The new processor can upsample PCM tom 768Hz and does DSD 512 playback. The built-in headphone amplifier makes driving difficult headphones a revelation. Using high-quality parts and built for a lifetime of reference listening can be paired to the Hugo M Scaler for the ultimate in musicality. Offered at $5795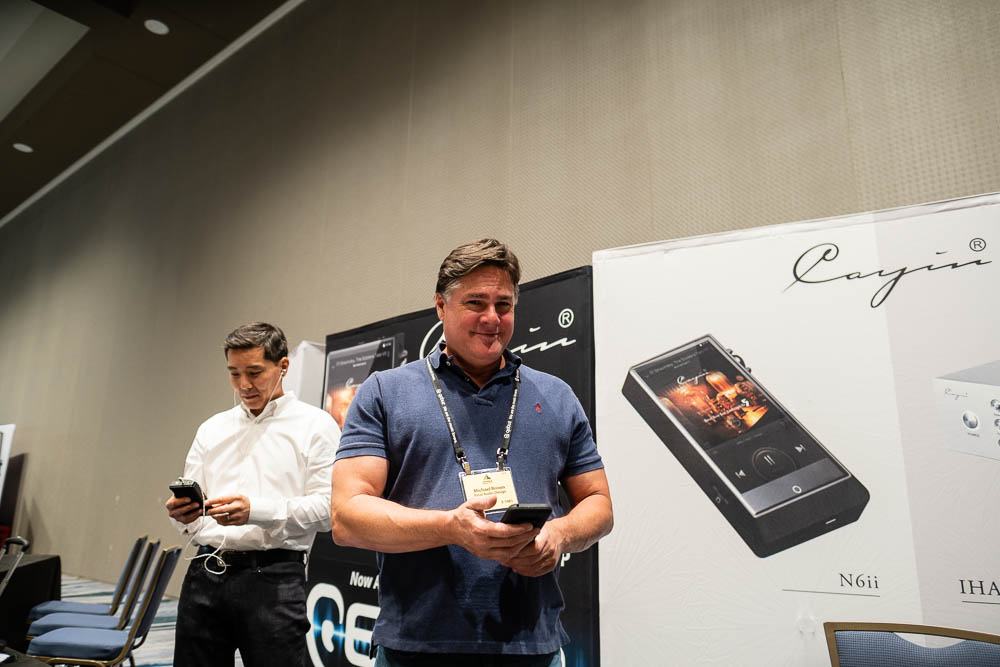 Michael Brown the US distributor for Final Headphones and Cayin in the US were showing the Cayin products with the new planar magnetic designs from Final and Cayin Electronics.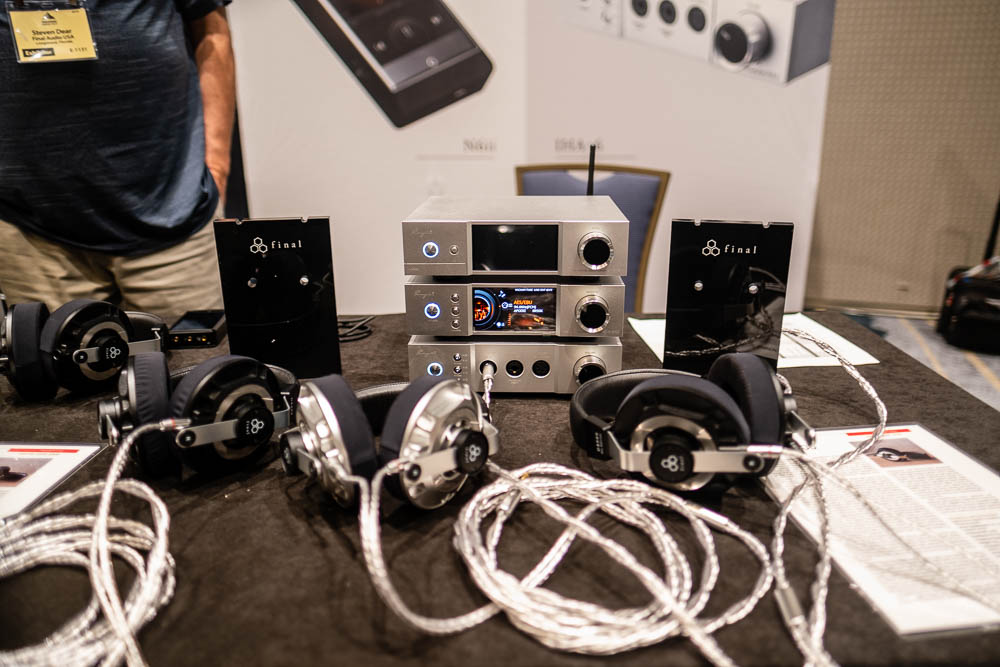 The sound was exceptionally transparent with the new D8000 ($3799) which sounded balanced and offered clarity with excellent tonality without being bright. An impressive new design from the folks at Final. Built masterfully in Japan by hand this new D8000 was captivating while listening.
The D8000 Pro priced at $4300 and built-in Japan by Final Audio was paired to the Cayin 6 series electronics stack. The new pro has been tuned for a pro audio engineer for professional use with its increased clarity and is designed for loud levels of listening in contrast to tho the D8000.
The Cayin THE iDAC-6 & iHA-6 by Cayin was paired with the iDAP-6 music stream. The complete package offers headphone listeners an easy solution for streaming and is priced at $2800, The DAC uses a modified Sabre 9028 chip and works with everything and is capable of detail and will extract the most from the Final D8000 series of planar magnetics.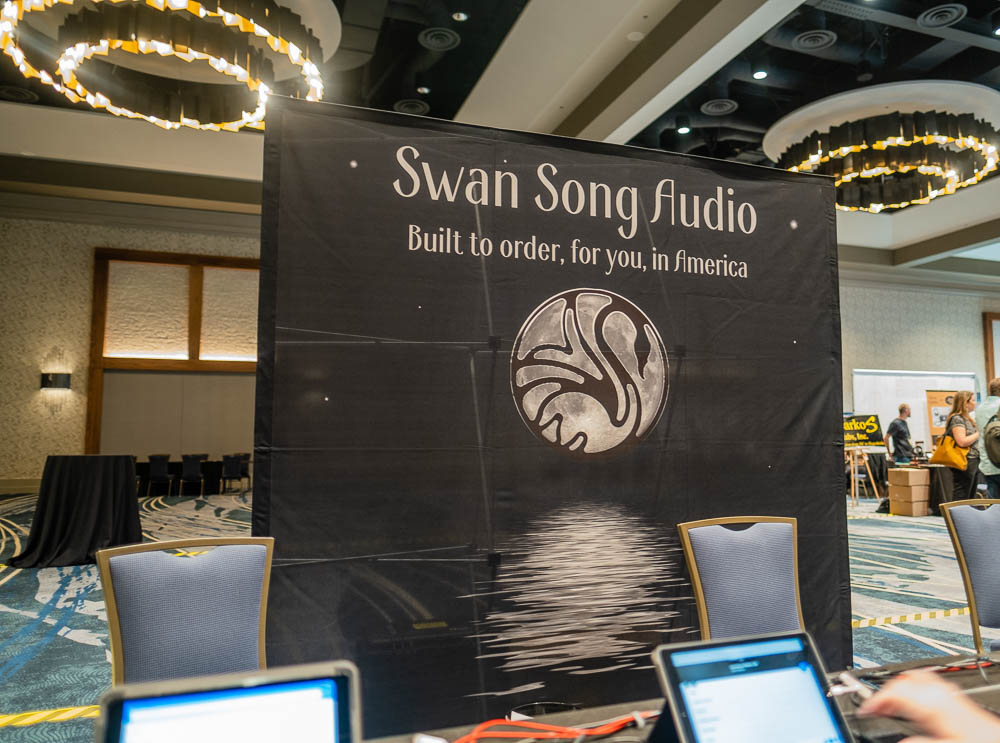 Tony Crocker CEO and master chief designer at Swan Song was showing his line of custom-designed amplifiers and DAC's. Built with quality materials in Oklahoma, the striking designs are an adventure in sound and represent Tony's creative side and engineering skills.
The Symphony line of the product starts with the Allegro which is a custom-designed DAC, preamp, and Class A Headphone amplifier in a high-quality chassis. The Allegro can be used as a high-end Headphone Amplifier or as the engine for a home stereo system. The custom design can be configured any way the customer desires and can be the cornerstone of any home system or used as a headphone amplifier/DAC combo. $2800
The Andante is a tube gain stage that can be used with the Allegro and can be fitted with either the 6CG7,12BH7 or 12AU7 tubes letting the user adjust the sound of the system for their individual taste. $2200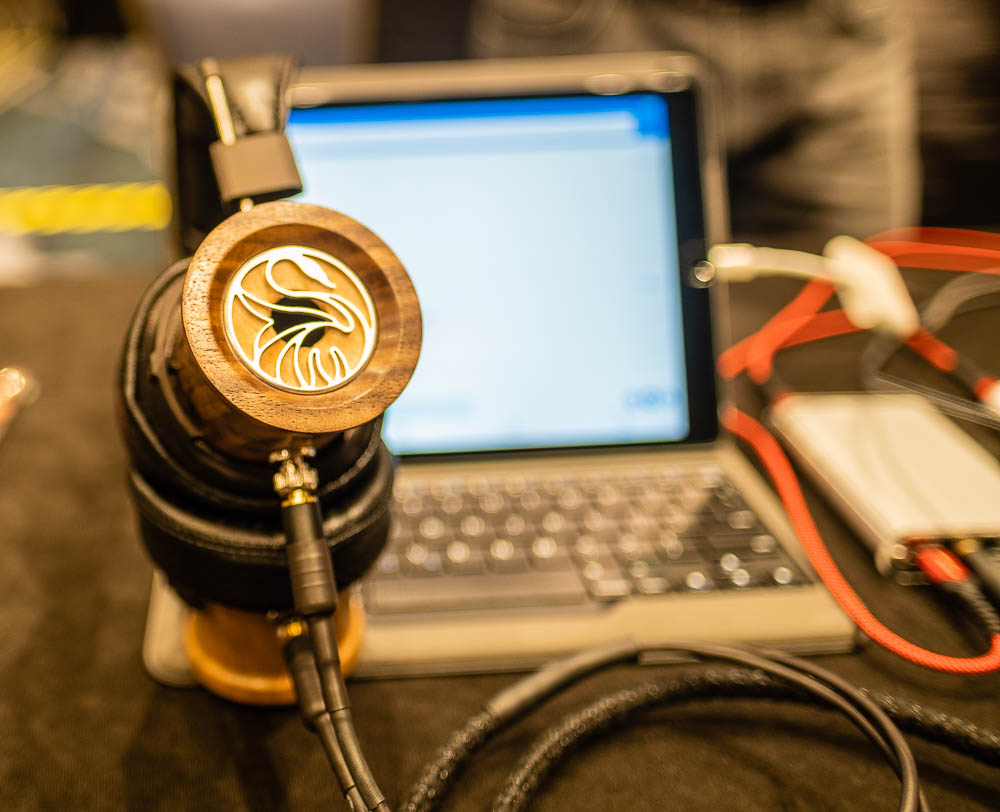 The beautiful cups of the Swan Song Headphones were designed by Shipibo Audio based in Poland with Nhoord drivers and New Zealand Leather pads unequalled in the industry for comfort and sound. Tony designed 22 AWG high-quality silver strands for the headphone cable that offer the best in transparency and make the new Swan Song design stand out for detail retrieval and sound quality.
The walnut cup added to the sound and brought out the tonality of the instrument. I found the midrange to sound clear and accurate with excellent treble and bass extension. The new design from Swan Song is custom made by hand with the finest parts and priced at $1950 Check out all the products Swan Song offers on their website; https://www.swansongaudio.com/cygnet-class-a.html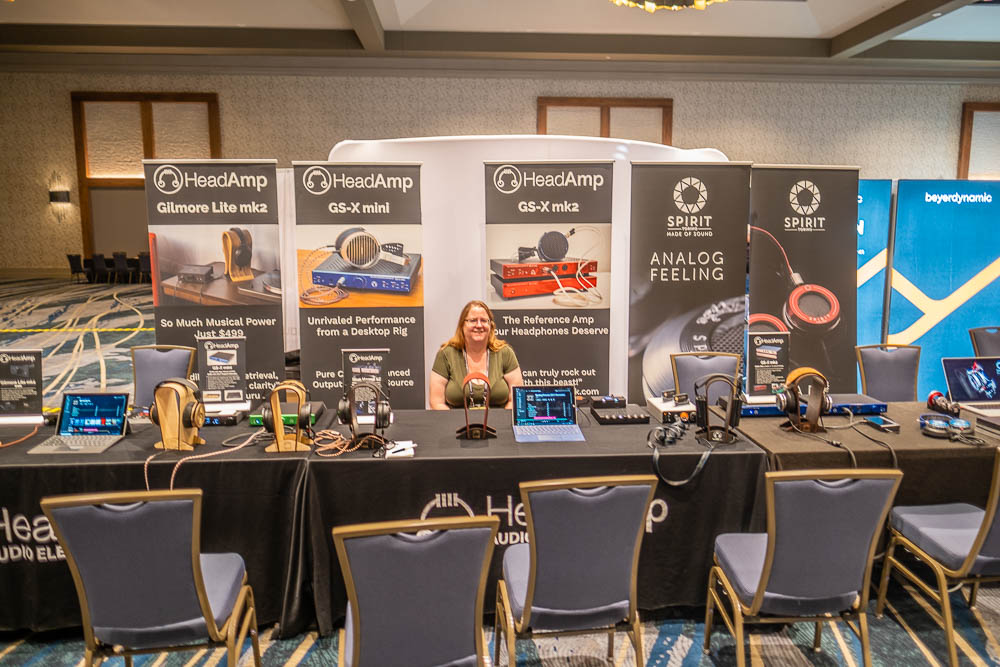 HeadAmp was showing the GSX Mini balanced design that will drive the most dynamic and planar designs easily. Priced at $1795 Justin Wilson's new design creates a more affordable package in a single chassis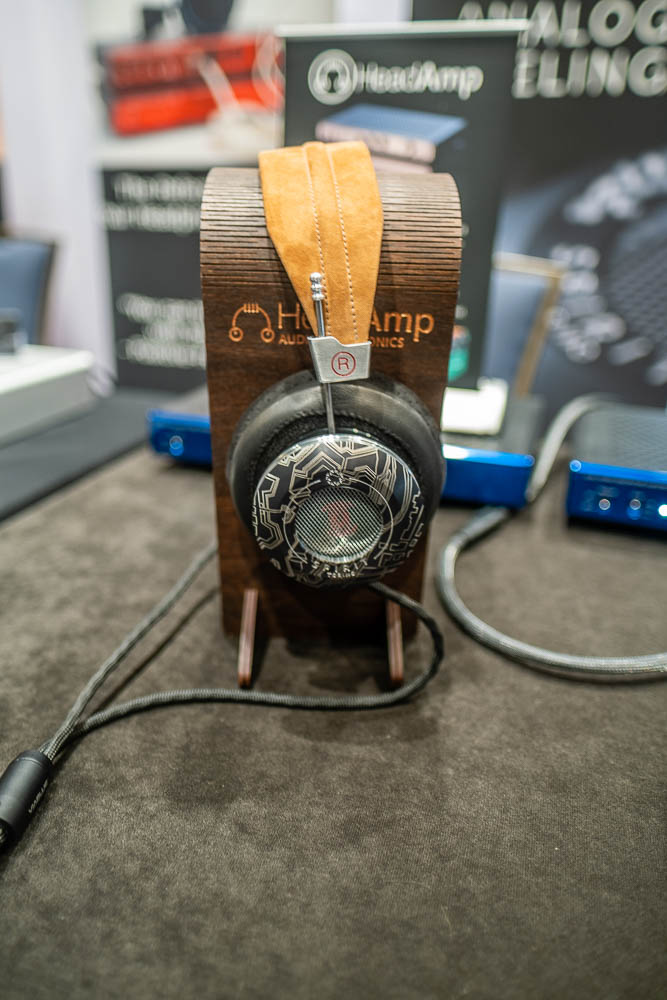 The Spirit Torino headphone hand made in Italy sounds wonderful. The striking cup design paired with the GSX Mini is a 64-ohm design that can handle up to 4000 MW and has a comfortable earpad with a beautiful leather headband. The sound was excellent with a terrific midrange and read our full review of this wonderful isobaric open circumaural design by Gary Barker here:https://headphone.guru/spirit-torino-twin-pulse-isobaric-open-circumaural-headphone-a-better-mousetrap/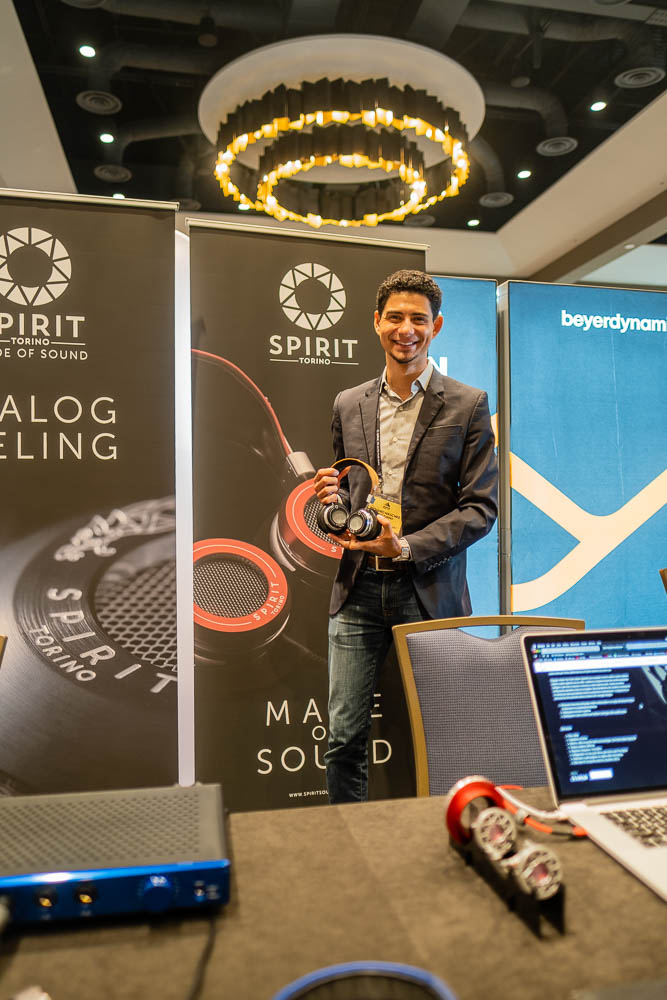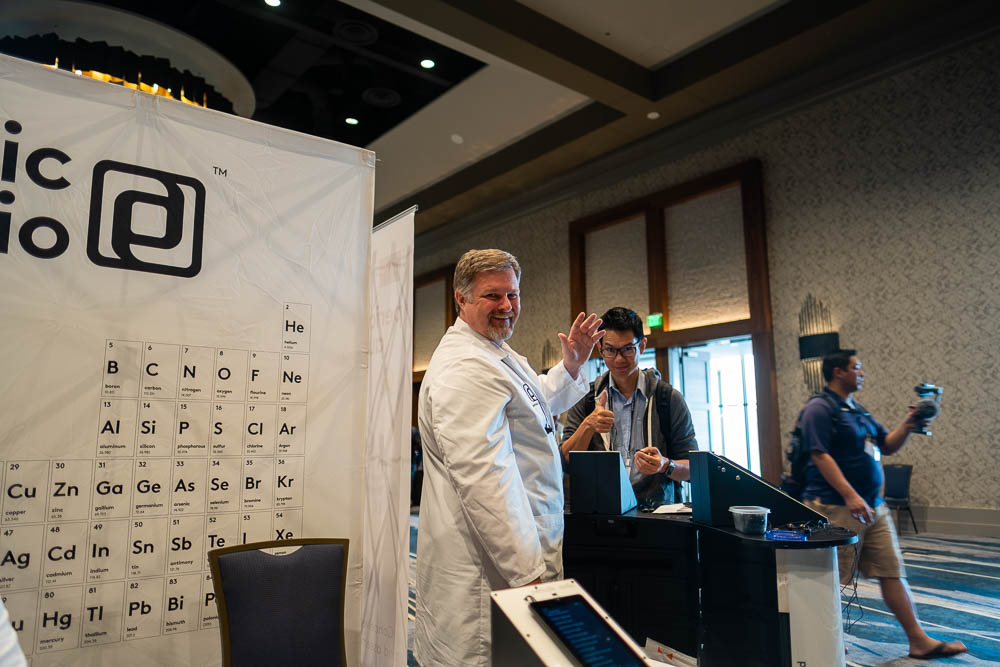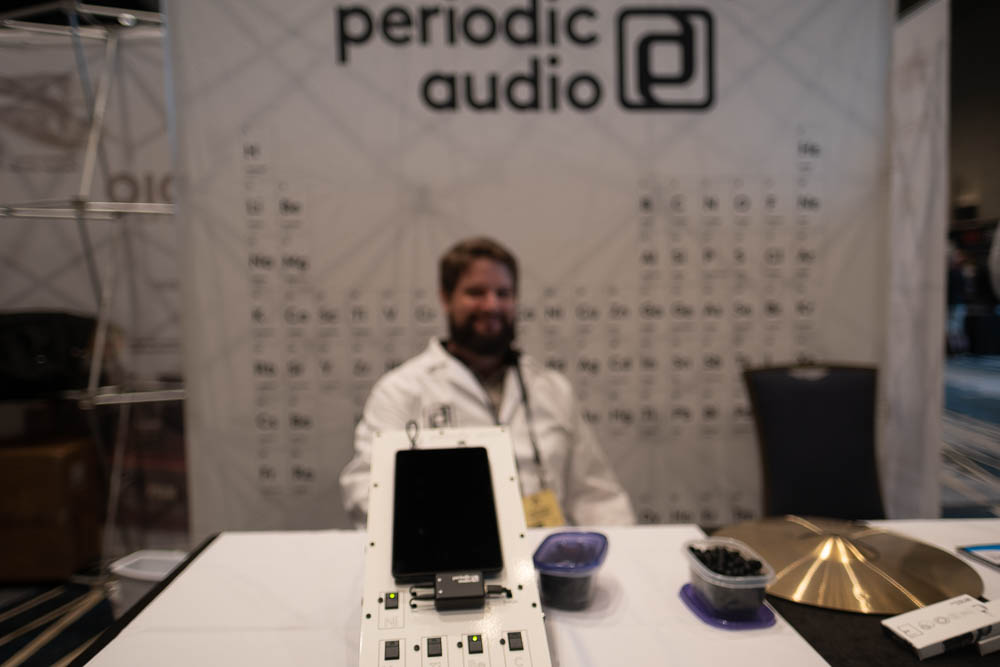 Periodic showing their affordable IEM line starting at $99 on up to $399 for their reference carbon diamond audiophile design in-ear monitors.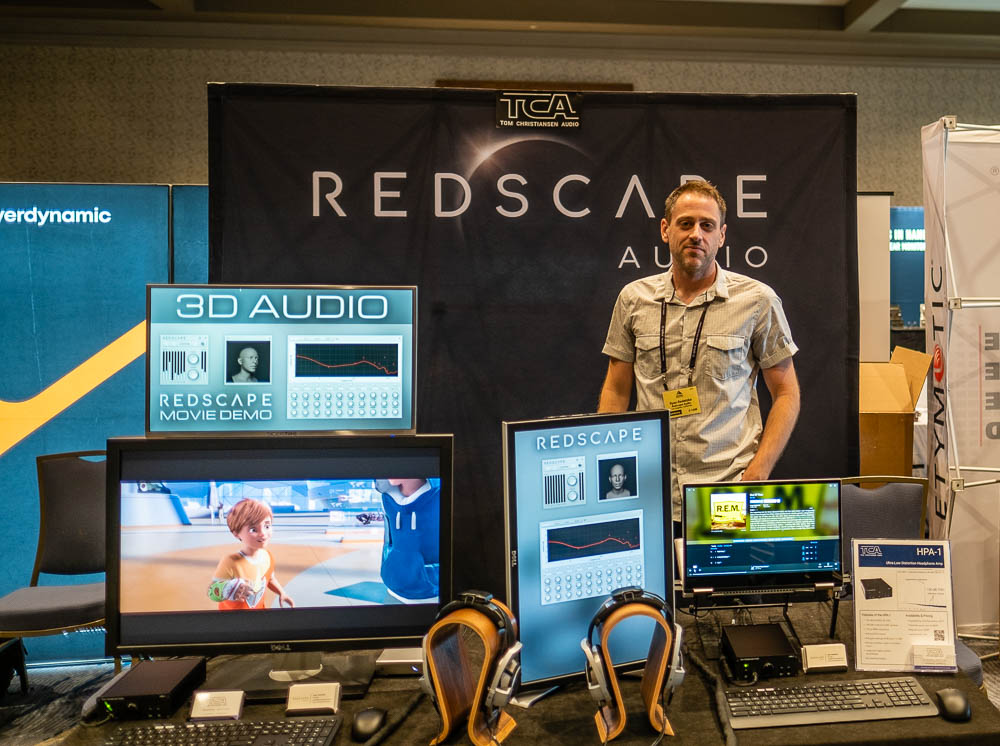 A software package designed for windows-based systems. The $199 software package including the USB Head Tracker that can attach to most headphones in order to track head movement, has a 3D soundstage for both music and movies. Designed for both music and movies it creates a wonderful listening experience I was impressed at how the Redscape software fixed issues with the Sennheiser HD800 a made it more musical and unfatiguing. Unavailable for Mac-based systems but in the development stage I look forward to it when it is released for Apple products. If you are looking for an experience check out the demo on their website here:https://www.redscapeaudio.com/.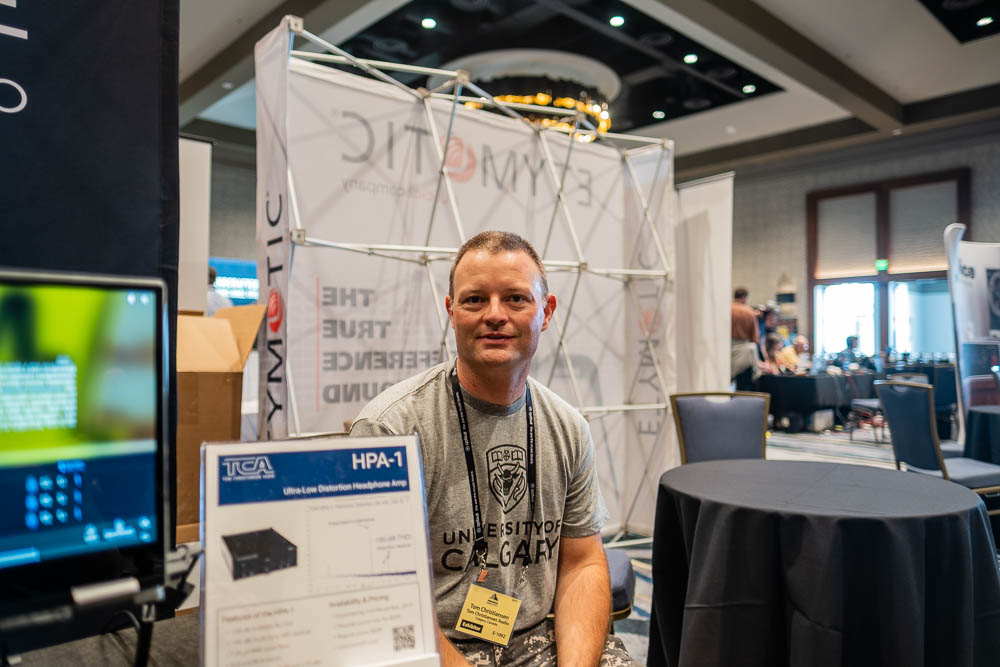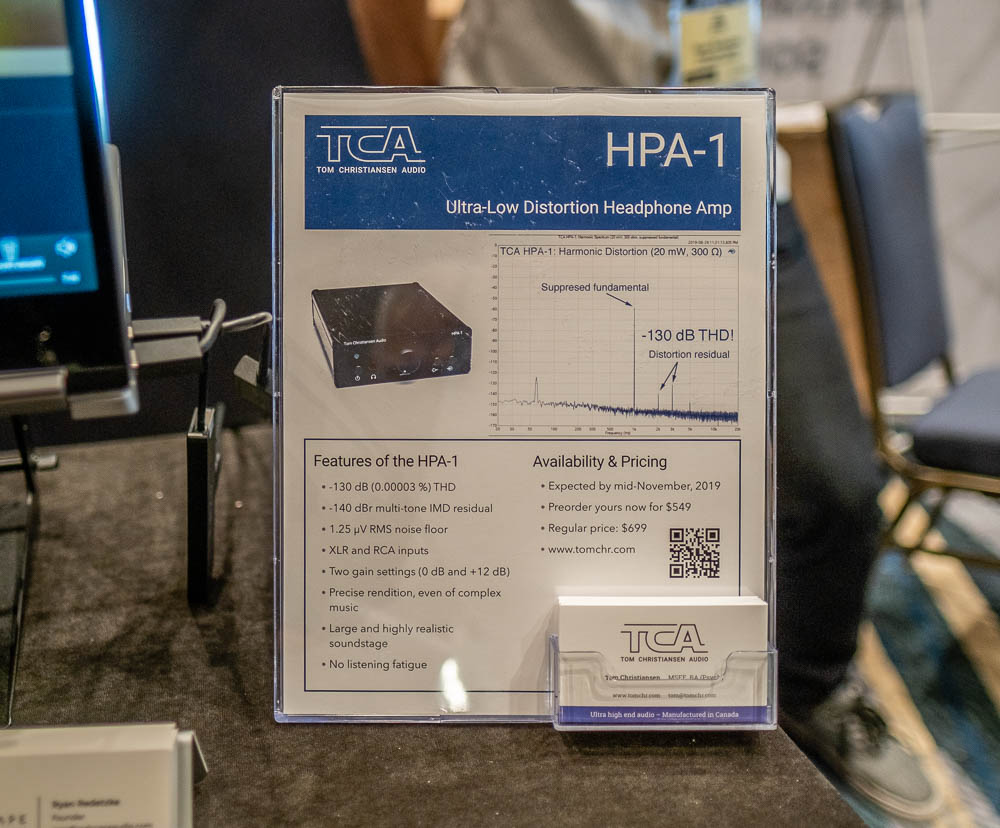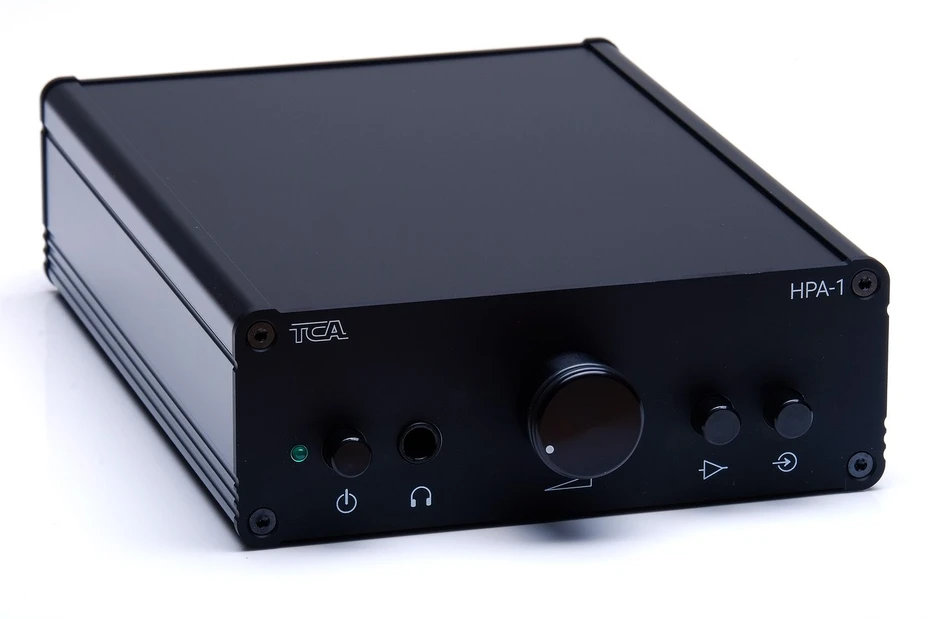 The TCA HPA-1 is an impressive design from Calgary audio maker Tom Christiansen. The new low noise design incorporated high-quality parts with a Japanese chassis which was striking for a design in this price range. The HP-1 offers 1 watt of power, enough to drive most headphones without noise and no distortion. Built to last in Calgary this Canadian design is sure to capture the market.
Features include two inputs one XLR balanced and 1 RCA single-ended selectable by a switch on the front of the amplifier, a two-stage gain setting for easy adjustment, and the standard 1/4 inch headphone jack. The preorder price is $549 for the first 40 units sold and $699 when the amp is released in December. Order at the TCM website located here: https://www.tomchr.com/products/hpa-1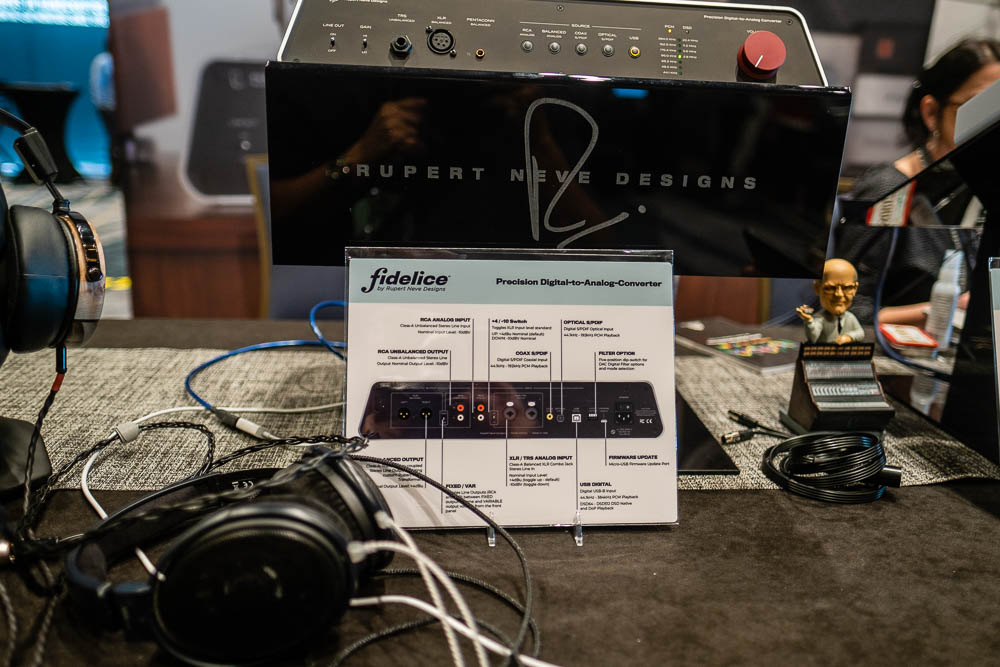 Josh Thomas General Manager from Rupert Neve Designs was showing their new Fidelice line of reference Personal Audio products. On display was the Fidelice Precision Digital-To-Analog Converter (TBA- approx $5000).
Recognizing that the analog section is the most important part of a DAC the Precision DAC is built with a pure Class A topology has transformer-balanced XLR outputs, while the Headphone Amplifier section is an upgrade of the award-winning Rupert Neve RNHP with both 4 pin XLR and Pentaconn balanced outputs along with the standard 1/4″ single ended output.
Providing studio-quality Digital to Analog Conversion, the Precision DAC supports the highest available DSD standard of DSD512 and PCM is capable of 32 bit/384 kHz. The Precision DAC rear panel has 5 selectable filters two of which are actually applicable to DSD. Designed as a true reference system and paired with Alex Rosson's new planar design, the RAD-0 by Rosson Audio Design, it was world-class reference music with the Fidelice Precision DAC/Headphone amplifier. The new line of Reference Rupert Neve Designs offerings promise the listener an experience that will not soon be forgotten.
We would like to thank Walter Liederman, affectionately known as Underwood Wally, for sponsoring our show coverage and making it possible for us to take our team of writers to this beautiful venue. Without the support of Underwood HiFi, it would have been difficult to provide our complete coverage and for that, we are truly grateful Please check out Wally's website https://www.underwoodhifi.com/ and support him so we can continue to offer our special coverages.
To be Concluded in part six of our RMAF 2019 coverage.