Schiit Audio Bifrost 2 DAC And Ragnarok 2 Nexus Int. Amp.
A true multi-bit Hi-Res Audio DAC meets Nexus-level amplification.
Yes, it's pronounced, SHIT!
There is no person with that name associated in any way with this relatively new company.
Would you think of this as a name for a startup? As it happened this Schiit company started in 2010 when two audio industry veterans decided it was time to produce their Schiit audio products. The two audiophiles are Jason Stoddard, formerly of Sumo Audio, and Mike Moffat, formerly of Theta Audio. They began with a nascent idea to build highly innovative Audiophile quality components at a reasonable price. So how do you tell people how they sound? I decided to listen and review each component separately, and then in a final analysis combine each part into a system. In total, the complete Schiit system includes their $699 Bifrost 2 DAC feeding the $1499 Ragnarok 2 integrated power amplifier.
Schiit says, "Designed and built in California. The vast majority of the total production cost of our audio components chassis, boards, transformers, assembly, etc — goes to US companies manufacturing in the US. Our chassis are made minutes from our facility. Our PCBs are done just over the hill from us, or done in Nor-Cal. Our transformers are also made in California. We ain't just putting in the last screws and calling it done."
The Bifrost 2, Nomenclature
In Norse Legend Bifrost is a flaming Rainbow Bridge connecting Asgard to the earth.
In our world, the Bifrost 2 is an upgraded version of the original Bifrost DAC. Like the whole line of Schiit products, it comes in the company's distinctive and familiar form factor. That is a thicker than most matte finish aluminum cover with a rounded edge that serves double duty as the front panel. The DAC measures 9″ Wide at the front panel, 6″ deep and 2.125″ High. I would characterize this distinctive Schiit form factor as Minimalist Modern. Pricing for this piece of Schiit is $699. Around back at the rear where you make connections, the updated Bifrost 2 now comes with added plug-in Balanced XLR and an RCA unbalanced / single-ended output modules.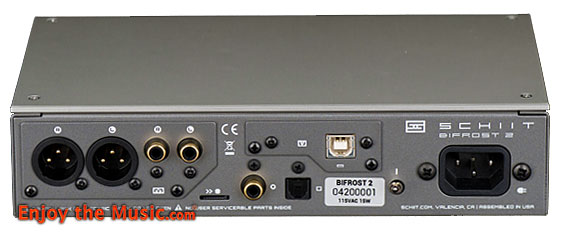 Across the rear panel moving to the right you have the Firmware upgrade slot, then an RCA S/PDIF input. Also, there is an Optical input, just above a USB input, an ON/Off switch and far-right the IEC power cord socket.
Besides those options, it comes with a very nice milled aluminum remote control. As you would expect the remote allows you to select inputs, mute, change phase, or select the XLR Balanced Output or the single-ended / unbalanced RCA outputs. What I find to be useful is that a small slot on the back of the Bifrost 2 that accepts a mini SD card. So in the future, if Schiit happens, and you want to install a Schiit firmware upgrade that little slot allows you to download the new software to an SD card and then load that new Schiit into the Bifrost 2. Below are photos of the silver and black versions.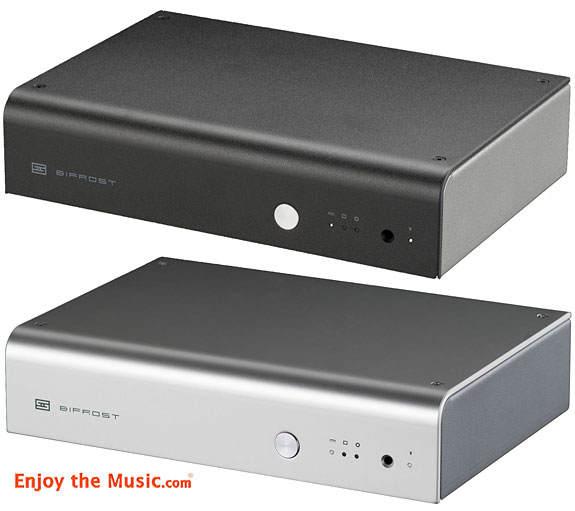 Inside The Schiit Bifrost
The designer Mike Moffat has a no snake oil purist approach. He contends that multi-bit DAC's provide the best sonic performance. More common is a cheaper reduced bit "delta-sigma" DAC's. The Bifrost 2 uses multi-bit DAC's coupled with Schiit's DSP-based closed-form digital filter. They are combined in a unique True multi-bit topology, using current-production, medical / military grade digital-to-analog converters. Bifrost 2 uses a unique D/A converters and a proprietary time- and frequency-domain optimized digital filter. In the case of the Bifrost 2 two AD5781 converters are used for the multi-bit chip implementation to do the conversion.
While the digital filter is implemented on an Analog Devices Sharc DSP. Also, the Bifrost 2 innovates an all-new "Unison USB", This USB input is based on a general-purpose PIC32 microprocessor, using precision local clocks and complete electromagnetic and electrostatic isolation. No off-the-shelf USB, this unique UAC2-compliant input provides the highest performance and lowest power draw of any USB input offered to date.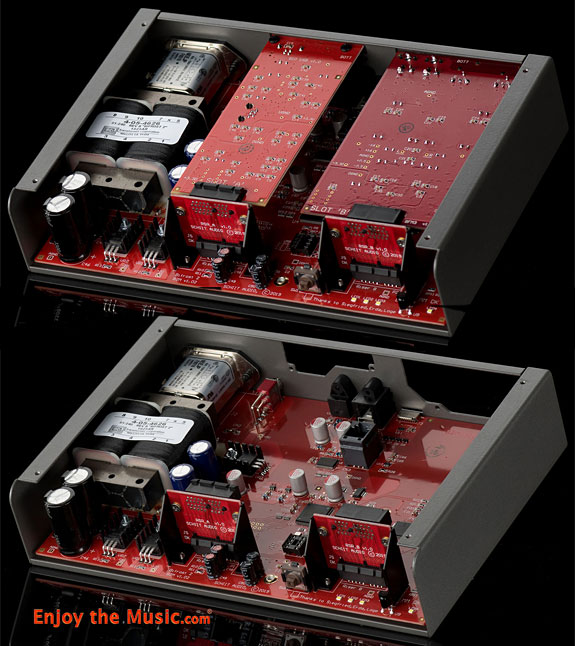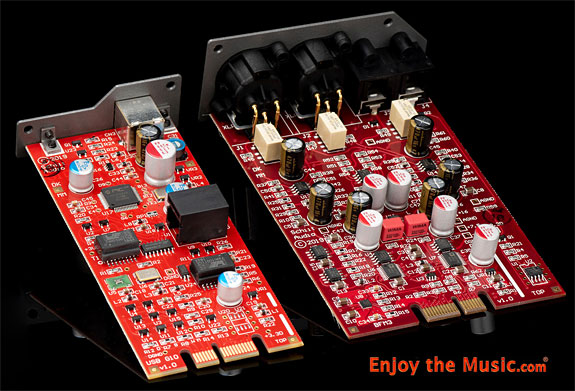 The Schiit Bifrost Sound
The first thing I did was unpack the Bifrost 2 and hook it up to my Parasound P5 Preamp. Sent that to my reference Sanders Magtech Power Amplifier. My tunes will then emanate from a pair of Aurum Cantus V30M Stereo Monitors. I was told the Bifrost 2 is burned in at the factory. So this makes it very easy all I need do is plug in some sources of music.
Right out of the box I can hear an airy softness. The overall Bifrost frequency curve seems to favor a slightly more prominent bass line. The bass is not at all offensive, nothing is missing it just sounds a bit plump. A very slight touch of something like a vacuum tube sound. Thinking I should let it run in a little more I left it playing tunes via Pandora blue tooth. Guess what? No change, all through the audition period the sound quality remained constant. I guess they do burn in their components before they ship it out. About that sound; my heart's desire is a very believable and tangible performance space between my speakers. And what you will hear and more importantly what you see when you close your eyes is deep wide and live. In a very subtle way, the bass warmth suffuses the rest of the soundscape affecting even midrange textures.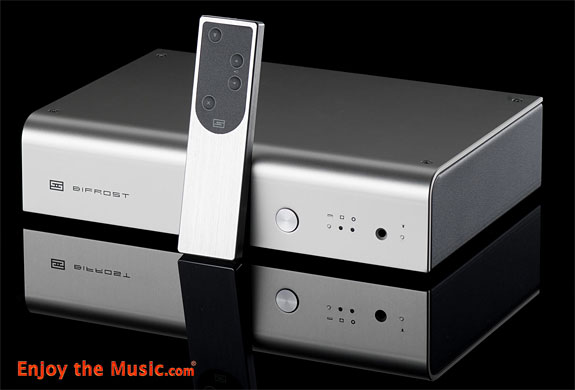 Let's hearken back once more to my reference CD, BASIA Time and Tide [Epic EK40767]. As the British 'philes would say the music has a wonderful pace. For me, there is a big Audiophile question. Can a really good audio DAC recreate the stage panorama including all the performers in your listing room? I am a sound stage lover and this little DAC does exactly what I need. It is a creative and immersive tool placing me at the edge of the stage.
Listening to my reference Nils Lofgren CD/SACD recording and a lot of Blue Ray streaming. I believe I have a lock on what it can and can't do. So now at this juncture, let's continue to the next evaluation.
Schiit's Ragnarok 2 Nexus Integrated Amplifier
Nomenclature: In Norse Mythology: Ragnarøkkr (Old Norse) refers to the end of the world. Some officiants who are fans of Composer Richard Wagner call this work the "Twilight of the Gods." So! Let us take a look at The End Of The World. Note: My review sample Ragnarok Amplifier came with the optional Phono stage and DAC Modules. These modules make this amplifier future proof. If at any time Schiit happens to issue an upgrade it would be easy to remove and swap out the modules. It has the same house designed form factor as the Bifrost 2, a brushed aluminum top cover rounded at the front edge so it also serves double duty as the front panel. The outer case measures 16″ wide by 13″ deep by 4.25″ high. The company features an innovative motorized 128-step ladder resistor volume control knob. This stepped (detented) attenuation volume control can be adjusted (of course) by the milled aluminum handheld remote.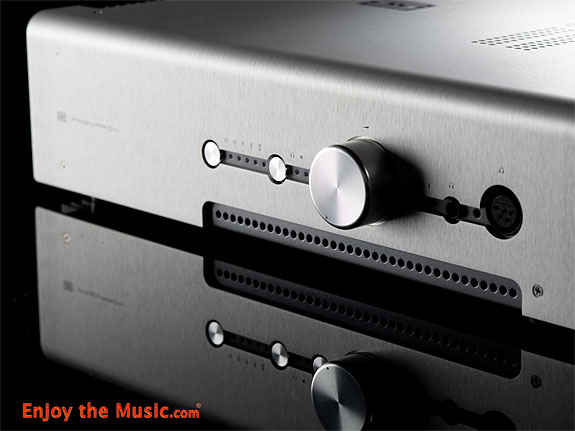 The remote controls push buttons duplicate the front panel selection of Volume, Gain, Speaker / Headphone, and mute functions. All of the same amplifier controls are accessed with front panel pushbuttons. Looking at the front panel…on the left side is a source select button that will allow you to select five different inputs. The first two inputs are designated by a symbol depicting a Balanced XLR input. Next to that a button allowing you to select three options, for Speakers or Headphones or both at the same time. The fourth control button is an amplifier gain control with three positions, which can be very helpful for adjusting to adapt to various headphone sensitivities. The fifth feature is a front-panel headphone jack. And last, on the right front is a set of XLR headphone jacks.
Baby Got Back
Let's look around the back of the Nexus amplifier at the input and output connections. On the left and top right side, there is a pair of Euro standard speaker binding posts. Between them is the on/off power switch and the IEC line power cord plug-in and fuse. Again left side, two pairs of XLR line input sockets and next to that a pair of RCA Hi-Output moving magnet Phono Connections.
Note: If the amplifier was purchased as an amplifier only then these same RCA connections would function as a normal line input.
Continuing to the right of that is a USB digital input and next to that an RCA line input. Even more: Let's keep going. There is a grounding lug under the IEC power socket. Moving to the right another pair of RCA's connections designed to drive a separate preamplifier or a powered subwoofer. And last but not least a pair of XLR jacks that duplicates the RCA line output option to a preamplifier or active subwoofer.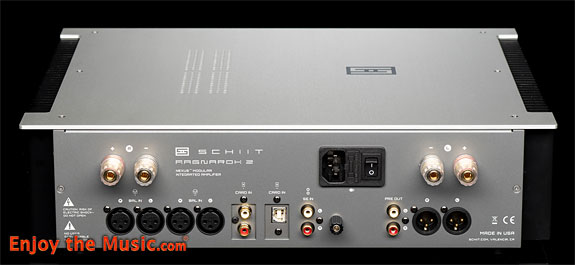 Schiit Ragnarok's Sound
The Schiit people told me the Nexus is burned in for 24 hours before the amplifier leaves the shop, so I was able to get right on it. This makes things easier, all I need do is plug in some music / line sources. For that, I used my line-level reference. A Sangean Digital Tuner feeding my Music Hall 25.3 DAC, plus my Sony CD/DSD deck and SOTA Series 4 Nova turntable. "In Heavy Rotation, I love this phrase that I heard many years ago". Let's throw my new reference recording at the End of the world Ragnarok!
One year ago I purchased from Chad Kassem of Acoustic Sounds a vinyl copy of a Nils Lofgren album, Acoustic Live [APP 090]. This is a super quality two-record vinyl reissue. Spinning this Vinyl recording is a big improvement and a better musical experience than the same DSD version. There is just more information buried in the grooves of this audiophile quality recording. At the same time, there is an expanded range of dynamic contrasts that make the performance more lifelike. My favorite song on this record is Some Must Dream. Now as you listen you can hear the subtly present live sounds of the surrounding venue. That space is, in fact, a complex mix of many small whispers of sound.
For me, a large portion of this quality is described by the word "continuousness" that is used to describe an organic live presence as you listen to a complex bass guitar cord that naturally decays into silence. There exists an underlying quality containing a subtle timbral warmth that mimics the even-order harmonic quality of tubes. A frequency plot would likely look ruler flat. Every detail is present nothing is missing even as transients are rendered with a velvet glove. Let me tell you about the Nexus optional Moving Magnet Phono Amplifier. As it turns out this little optional plug-in Phono Module is shockingly good. As our British cousins would say I have been "Gob Smacked."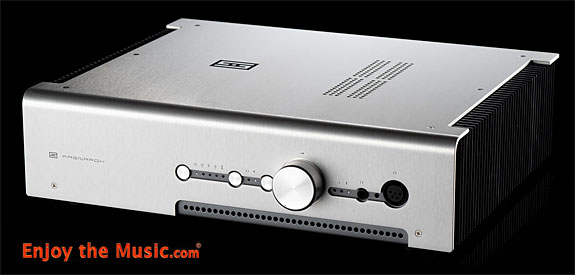 Plugging the Bifrost 2 into the Ragnarok Amplifier we now have a basic two-component system. First, let us revisit the DSD copy of that Nils Lofgren album. I described the DSD sound of this recording when I used it to evaluate the Bifrost 2. This poses a big question, does using the combination of the Ragnarok Amplifier with the Bifrost influence the sound of the Bifrost, the answer is YES? To duplicate a reference source I need to play the same recording I used before to evaluate the Bifrost 2.
Once more Nils Lofgren is as big as life, Clean, clear sound with a touch of warm tonal inflections. The Bifrost 2 connected to the Ragnarok amplifier makes all the difference. The performance is quieter than my reference Preamplifier and Power Amplifier. This level of resolution could not exist if the electronic components were not dead quite. The last part of this evaluation should include the built-in headphone amplifier. I listened with my mid-quality Crown Headphones. By comparison, Nils performance seems to have changed, the sound now exhibits a noticeable frequency shift. I can hear excessive bass on the low end with more treble energy in the upper midrange. However, this is the characteristic frequency response inherent with these headphones. Conclusion: Like it or not, this is the Nexus headphone amplifier telling me the truth and nothing but the truth. The quality of the headphones dictates what you will hear. That's just as it should be.
Coda
Messieurs Jason Stoddard and Mike Moffat set out to make truly unique music instruments by any measure they have succeeded!
Combining the Bifrost 2 with the Ragnarok, one voice joins them together. They both contain the very same underlying personality. Take a little bit from here and add a little bit from there and the sound quality is more than the individual parts. At this price, the build quality is far above the ordinary. It is not typical of that you will find within comparable high-end audio components. Factor in the quality of the reproduced musical reality and then add the upgrade capability built into these components will certainly yield many years. There is no other conclusion to make but: Highly recommended!
Remember to Enjoy The Music and Semper Hi-Fi!
Reference System:
Sources:
SOTA Nova Turn Table, Grado Laboratory Standard Tone Arm, Denon DL-301 II Cartridge.
Sony UHP-U1 Universal disc player.
Music Hall upsampling DAC 25.3 with headphone amplifier, Yamaha WXC-5 Wi-Fi Blue Tooth Receiver.
Reference Amplification:
Sanders ESL power Amplifier, Prima Luna Prologue 2 Integrated Amplifier.
Speakers:
Aurum Cantus V30M, with Mark Daniels Omni Harmonizer tweeters.
Speaker Cables:
Kimber Kable 12TC @ 11ft. And a Kimber Kable 8TC 18″ to tweeter speaker.
Interconnect Cables:
Monster Reference four pairs, 2.5 meter, 1 meter and 1.5 meters, Nordost Red Dawn, Music Hall1 meter Phono cable.
1 meter, Audioquest Cinnamon XLR 1 meter.
Chord Silver Siren 1 meter, Homemade Teflon RCA 1 meter, Autobahn 0.5 meter digital.
Power Conditioning:
Wire World 10 gauge IEC line cord, Power Cords: Kaplan Cables 12 gauge IEC.
Power Conditioning:
Islatrol Industrial 20A AC line conditioner, Richard Gray 20A Sub Station
Alpha Core Balanced Transformer Power Supply, and Audio Power PE-1 power enhancer.
| | | |
| --- | --- | --- |
|  | Ragnarok Int. Amp. | Bifrost 2 DAC |
| Tonality | | |
| Sub–bass (10Hz – 60Hz) | | |
| Mid–bass (80Hz – 200Hz) | | |
| Midrange (200Hz – 3,000Hz) | | |
| High Frequencies (3,000Hz On Up) | | |
| Attack | | |
| Decay | | |
| Inner Resolution | | |
| Soundscape Width Front | | |
| Soundscape Width Rear | | |
| Soundscape Depth | | |
| Soundscape Extension Into Room | | |
| Imaging | | |
| Fit And Finish | | |
| Self Noise | | |
| Value For The Money | | |


Check out Enjoy the Music!
See many great reviews by Enjoy the Music.com at this link.
Specifications
Schiit Bifrost 2 True Multibit
D/A Conversion IC: Analog Devices AD5781ARUZ x 2
Digital Filter: proprietary Schiit time- and frequency-domain optimized digital filter implemented on Analog Devices SHARC DSP processor, running 8X oversampling
Analog Stage: Differential, based on LME49724 for both balanced and single-ended output, direct-coupled throughout
Frequency Response: 2Hz to 100kHz (-1dB)
Maximum Output: 2.0V RMS single-ended RCA and 4.0V RMS balanced XLR
THD: <0.003%, 20Hz to 20kHz, at max output
IMD: <0.004%, CCIR
S/N: >114dB, referenced to 2V RMS
Inputs: Coaxial S/PDIF, TosLink optical S/PDIF, and USB
Input Capability: Up to 24-bit/192kHz for all inputs
Input Receiver S/PDIF: AK4113, USB: Schiit Unison USB, based on Microchip PIC32 microprocessor
Output: RCA unbalanced / single-ended and XLR balanced
Output Impedance: 75 Ohms for both
Power Supply: 24VA transformer, eight stages of regulation, including separate supplies for critical digital and analog sections
Upgradability: Autonomy architecture with externally replaceable DAC/Analog Card and USB Input Card, plus MicroSD card slot for firmware updates
Remote Control: Included, controls source selection, phase invert, and mute.
Size: 9 x 6.75 x 2″ (WxDxH)
Weight: 5 lbs.
Price: $699
Ragnarok Integrated Amplifier
Power Output, Speaker Outputs:
8 Ohms: 60 Watts RMS per channel
4 Ohms: 100W RMS per channel
Power Output Via Balanced Headphone Output:
32 Ohms: 24W RMS per channel
50 Ohms: 15W RMS per channel
300 Ohms: 3W RMS per channel
600 Ohms: 1.5W RMS per channel
Power Output Via Headphone Output
32 Ohms: 6W RMS per channel
50 Ohms: 3.75W RMS per channel
300 Ohms: 750mW RMS per channel
600 Ohms: 375mW RMS per channel
Frequency Response: 3Hz to 350kHz (-3dB)
THD: <0.01%, 20Hz to 20kHz, at 100W RMS into 8 ohms
IMD: <0.01%, CCIR, at 100W RMS into 8 ohms
SNR: >115dB, A-weighted, referenced to full output
Damping Factor: >80 into 8 Ohms, 20Hz to 20kHz
Gain: 2, 8, or 25 (balanced XLR, half those gains through headphone SE output)
Input Impedance: 10kOhms
Crosstalk: >95dB
Inputs:
Two pairs XLR balanced inputs
One pair RCA single-ended input
Two Module slots, one small and one large
Topology: Nexus differential current feedback with nested differential stages
Oversight: microprocessor-controlled monitoring and management of critical operational points, with relay shut-down for DC, over current, thermal, and other faults
Power Supply: 600VA transformer with dual mono main rails, plus boosted, regulated supply to input, voltage gain and driver stages, plus separate, isolated and regulated rails for microprocessor management.
Size: 16″ x 13″ x 3.875″ (WxDxH)
Weight: 32 lbs.
Price $1499
Company Information
Schiit Audio
22508 Market Street
Newhall, CA 91321
Factory Address
24900 Anza Drive
Unit A
Valencia, CA 91355
Voice: (323) 230-0079 (For timely answers, they strongly encourage email. Schiit does do not accept orders via phone. Just email them, OK 🙂 )
E-mail: info@schiit.com
Website: www.Schiit.com