Introduction:
Sennheiser is one of the most successful companies in the audiophile world. They have released many impressive products such as the legendary Orpheus, HD800, and HD600/650 full size cans.
Recently, the company has released HDVD800 that maintains a technology for high-end headphones. As mentioned in this review, HDVD800 performs better with Sennheiser's own headphones in accordance with the impedance synergy. In addition, HDVD800 has a balanced output that provides a more powerful overall presentation.
I would like to thank Sennheiser Turkey and Ozgur Kavuncu from Bircom for sending me HDVD800 in an exchange with this review.
Build Quality:
HDVD800 has a metal and high quality main body. On the top, there is a glass that allows users to see a part of the inside. The glass on the top seems to be shock resistant and to have a good quality. Considering its rivals, to see inside is a bonus given by HDVD800.
On the front part of HDVD800, there are two single ended and two balanced outputs, a volume pot, a switch to choose inputs/outputs, and a power button. The overall quality of the manufacturing materials look premium, but the volume potentiometer might have steps like Violectric amps' pots.
On the backside of the unit, there are USB, AES/EBU, optic, and coax inputs as well as balanced outputs for DAC section, and balanced inputs for the amp board. As a conclusion, there are no setbacks about the inputs/outputs of HDVD800. In general, HDVD800 has a strong, attractive, and chic build quality. As a preference, the volume pot might have a little heavier turning sensitivity.
Sound:
The review is mostly based on the amplification board of HDVD800.
Low Frequency:
HDVD800 has a natural, non-fatiguing, and resolved low frequency presentation. Although it is not the best in terms of the bass depth, it provides a nice performance. In fact, it is mostly linked to tracks listened; HDVD800 possesses a bass depth that shows parallelism with quantity recorded in tracks. There are neither overpowering nor releasing unnecessary notes.
The quantity focus slightly leans towards mid-bass presentation. Even if it doesn't tighten the stage, it may affect the space around instruments. The mid-bass presentation is located slightly distant in the stage, so that it doesn't outperform the other frequency ranges with the exception of very crowded tracks. In some low quality metal tracks, the mid-bass presentation becomes more prominent and a bit thumped. If we listen to HD800 on HDVD800, that wouldn't be a problem. It gives a good body to the general spectrum of HD800.
In general, HDVD800 offers a natural, resolved, and well-positioned low frequency presentation. It is not exactly suitable for bass-heads, but it sounds musical and smooth. In addition, the low frequency of HDVD800 is easy to follow.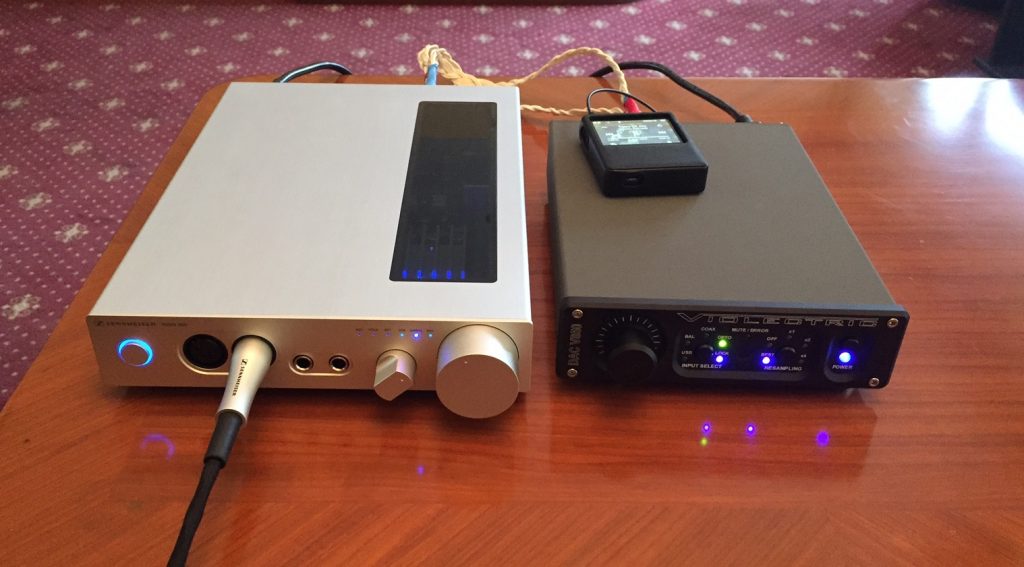 Mid Frequency:
The midrange maintains a neutral and balanced position in the stage. It is neither recessed nor too forward. The best part of the mid presentation is its tonality and musicality. It is not only natural, but it also provides a high level of resolution and emotional notes without sacrificing details and transparency. HDVD800 possesses controlled vocals and it creates a clean space around them. Congestion or a mess problem doesn't occur when it comes to too forward or very powerful vocals with the high octave.
In sum, HDVD800 offers a good midrange performance, even if there are better amps in the market. On the other hand, users may find other amplifications' vocals colored when they switch from HDVD800.
High Frequency:
HDVD800 has a forward, slightly sharp, and thin treble presentation. Its forwardness is a consequence of its stage dimensions, since it cannot recreates treble notes in a sufficiently horizontal line. However, neither the sharpness nor the forwardness is disturbing.
The in-depth positioning of the treble presentation is impressive. Also, HDVD800 provides a good feel of detail in the treble section. Some may want it to have more effortless and weightier treble notes, but it offers a good performance in terms of the resolution and the tonality.
Soundstage and Separation:
HDVD800 maintains a deep stage, but its width might be better. The stage depth helps the amp to have clear layers and that results in a good in-depth separation. On the other hand, treble notes that are horizontally located sound a bit too close due to its narrow stage structure. Sennheiser seems to have tried to solve such congestion problem by thinning the treble notes. In general, HDVD800 offers a good positioning as well as a nice imaging and its presentation is easy to follow.
General Difference of the Balanced Output:
The low frequency presentation becomes more prominent, more powerful, and also more controlled when we plug headphones into the balanced output. The instrument notes are now clearer and the imaging is better in accordance with a more impressive instrument definition.
Pairing:
HDVD800 is specifically designed and manufactured for Sennheiser's own headphones such as HD800 and HD800S, so that it has a better synergy with those full-size cans. This review consists of the test results determined with HD800 and HD800S. On the other hand, I had a chance to listen to Hifiman HE1000 on HDVD800. There is not a bad synergy between two, but the combo sounds neither perfect. I wouldn't recommend HDVD800 for headphones that have low impedance due to its output specs and structure.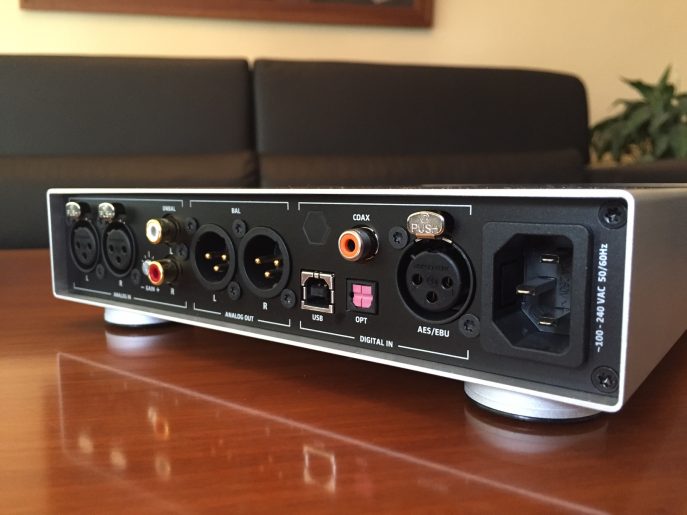 The Dac Board of HDVD800:
HDVD800 is known as an all-in-one unit. However, the performance of the dac can be described as decent and the detail as well as separation levels are not excellent. HDVD800 could have a better dac board considering its impressive amplification performance. On the other hand, HDVD800 users would get both stellar amp and satisfying dac till they get a better source. Considering its price, I would pick HDVD800 over a combo consisting of a $1500 priced amp and a $500 priced dac.
Comparisons:
Questyle CMA800R vs Sennheiser HDVD800:
CMA800R offers a more prominent low frequency presentation. Due to the fact that CMA locates the lows closer in the stage, HDVD800's bass presentation is easier to follow. Both maintain a similar amount of low frequency resolution, but the HDVD800's mid-bass presentation carries a bit stress in fast metal tracks.
In the midrange, HDVD800 sounds more distant, while CMA locates notes more forward in comparison. In my opinion, HDVD800 has a truer and more neutral location, but there is no accounting for tastes. As for the tonality, HDVD800 is darker by a small margin, but CMA releases more dynamic and powerful notes. The resolution level is similar, but CMA sounds more effortless and slightly more detailed. They seem to have a similar performance in the midrange, but CMA seems to step forward in accordance with its technical superiority over HDVD800.
In the treble section, CMA sounds more expansive and effortless, while HDVD800 sounds closer and clearer. In fact, the difference between the two reminds me the treble comparison between HD800 and HD800S. HD800S is easier to follow in the treble section due to the fact that it releases sharper notes. CMA creates better low harmonics in the high frequency range, while HDVD800 sounds leaner by a small margin.
CMA800R offers a wider stage that results in a more airy presentation. HDVD800 provides a deeper stage and it betters CMA800R in terms of the in-depth layering, although it creates a smaller picture. Also, HDVD800 offers a better focus as well as a presentation that is easier to follow.
In sum, both have a similar sound quality. I would recommend HDVD800 to audiophiles who prefer natural tonality, non-fatiguing but sharp treble, and a stage structure that is easier to follow. On the other hand, CMA800R would be a better choice for those who want to hear bigger instruments, a better overall resolution, and more intimate vocals.
Violectric V280 vs Sennheiser HDVD800: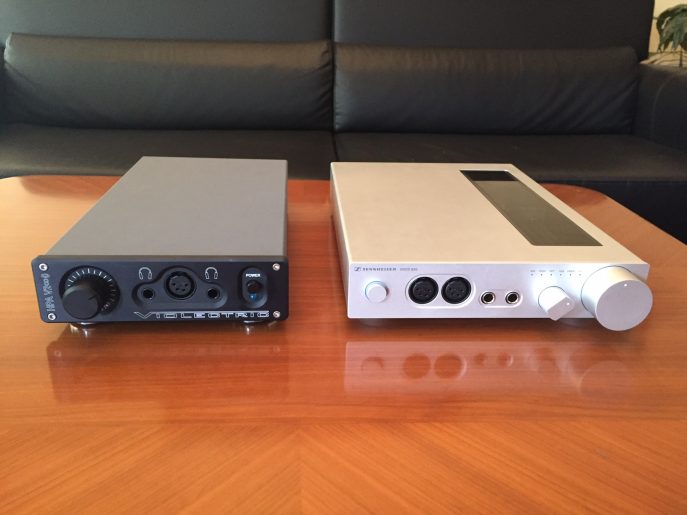 HDVD800 provides a tighter and slightly distant located low frequency presentation. V280 seems to be a bit messy, but it betters HDVD800 in terms of the low frequency depth. The resolution level is similar, but V280 sounds more effortless and airy.
In the midrange, HDVD800 provides more natural notes with a better tonality on both male and female vocals. HDVD800 has more control, but it may reduce the space around vocals due to the mid-bass structure difference. V280 maintains midrange resolution superiority over HDVD800 and it sounds more effortless.
HDVD800 has a more intimate treble presentation and it sounds more natural. V280 possesses a more expansive treble positioning and notes are slightly more prominent. V280 offers a more colored but airy treble presentation, while HDVD800 is tighter, more natural, and non-fatiguing.
V280 has a wider stage and recreates more three-dimensional instruments. The distance between instruments are longer and the space around them is clearer. On the other hand, HDVD800 has a deeper stage and its presentation is easier to follow.
HD800 vs HD800S on HDVD800: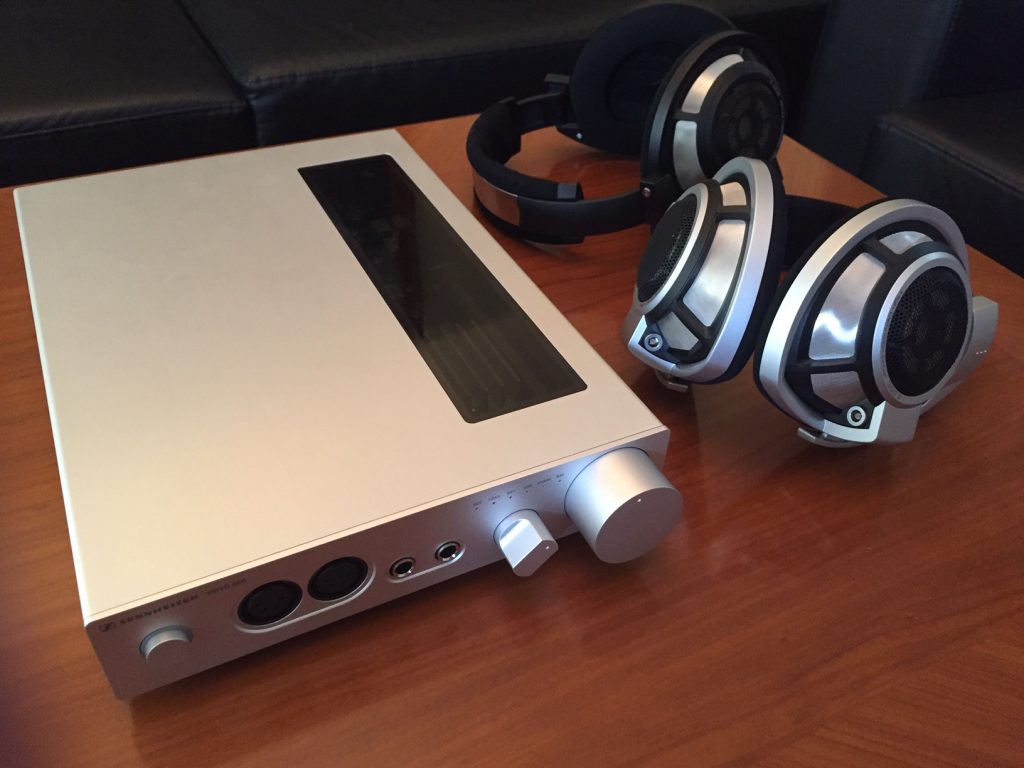 The new model carries more low frequency quantity, but HD800 offers a more controlled mid-bass presentation at the cost of reducing overall weight. In addition, HD800S has a more emotional low-end, while HD800 is tighter.
HD800S provides a darker and a little stressed midrange approach with a better instrument definition, while HD800 releases more airy and open toned notes.
HD800 has a laid-back treble structure in comparison with HD800S. HD800S offers a more colored, sharper but more resolved and detailed treble presentation.
HD800S maintains a more intimate stage structure, but HD800 seems to take the advantage in terms of the stage depth. On the other hand, HD800S has a wider stage with a better separation, while HD800 provides a more airy presentation.
Final Words:
Sennheiser HDVD800 is an impressive sounding unit that maintains a well-tuned amplification board. Although the dac part offers a decent performance, it would content many customers with the build quality and the driving power of the amplification. Sennheiser HDVD800 is priced at $2200 (in the U.S.), but it can be found for $1799 on Amazon. Please click here for more information.
Equipments used in this review:
Sennheiser HDVD800, Sennheiser HD800, Sennheiser HD800S, Hifiman HE1000 , Questyle CMA800 R Amp, Violetric V850 Dac, Violectric V280 Amp, SilverFi Reference-1 Cable