When the Headphone Guru asked me to review Sony's new flagship IEM's, the XBA-Z5's, I was ecstatic! These are the new, top-of-the-line IEM's and I get to play with them for a month and write up my thoughts (I mean review them). Dude, no brainer… sign me up! Sounds simple enough, yeah, piece of cake, no sweat, anybody can do that. Well, that was a few months ago and in case you haven't figured it out, I'm new at this. Everyone has a story about his or her "first time", so let me tell you about mine. No, not that first time, I'm talking about writing a review. Every reviewer has to start somewhere.
I guess you could say I'm not your typical reviewer. I haven't memorized the glossary of describing sound definitions and I haven't auditioned every new piece of personal audio equipment that's come out in the last five years (or even 5 months). I've just got passion and I've got ears… yeah, that's right, two of 'em! So let's see how far that gets me. Anyway, back to my "first time". I just happened to get lucky/unlucky and my first review happens to be a fancy in-ear monitor that I was so excited to check out, but had absolutely no clue how to use. If you are expecting this review to explain how the Z5's sound signature resembles Sony's other IEM's or if you are expecting me to go into detail about how they compare to other IEM's on the market, you're barkin up the wrong tree. Yet the Sony XBA-Z5's and I have been in a capricious relationship for a long time now. The Z5's and I have had good times, bad times, extremely awkward times, and there were moments where I was sure one of us would not make it out of this review alive. Through all of that, we've gotten to know each other pretty intimately. I can honestly say that I have never shoved any of my other personal audio equipment that far in my ear before. Not on purpose, at least.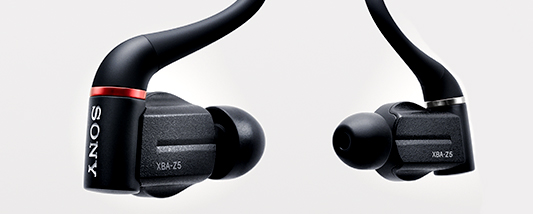 The Sony XBA-Z5 Ultimate Hi-Res IEM is a universal in-ear monitor that uses a hybrid three-way driver. They employ a 16mm dynamic driver unit with ALCP working along with a newly redesigned full-range linear drive armature and Magnesium Super Tweeter armature (giving it the best of both worlds). The Z5's come with seven varying sized ear tips, three hybrid silicone ear buds (Small, Medium, Large), and four noise isolating ear buds (SS, S, M, L), which would provide most people with more than enough options to get a good fit and feel to satisfy their needs. I, on the other hand, am a high maintenance, huge pain in the ass in the IEM fit/feel department. I spent the first two weeks of this IEM relationship trying to get them to stay in my ears without using duct tape or super glue. When they finally did stay in, any music I played sounded like hollow ass. I was almost certain this was not the sound Sony was going for when they were voicing these. Just to be sure, I consulted with my fellow guru, and newly appointed IEM mentor, Warren Chi, and he concurred. Apparently, I have petite ear canals or a difficult ear shape, which meant I needed different ear tips. As you can see folks, a proper seal and good fit is an essential part of IEMs, especially if you expect to get the full bass and isolation effects. Since I couldn't get a suitable seal with these IEM's, it rendered hearing the actual sound characteristics impossible. So the guru's suggested I return the Z5's so they could give the review to someone else. Oh, hell no! No way. That's not fair! I'd feel left out. So, instead, I went out and bought every aftermarket ear tip I could find. About 15 pairs of them, and I just kept trying until I found the right fit for me. This ended up being the "xs foam & silicone" ear tips out of the Monster SuperTips sampler pack ($20 from Frys Electronics). It's amazing the difference a good fit and proper seal makes. So this is what they're supposed to sound like! Everything was starting to make a little more sense.
The Z5's took me by surprise. It's like they put my music into 3-D. They have great imaging and the soundstage is spacious. It's similar to a live theater, but not a huge, impersonal amphitheater and more like a smaller intimate venue. A venue where it's just you, the Z5's and maybe a couple hundred of your closest friends. The highs are detailed and airy and the mids are solid. I wasn't prepared for the bass these babies can give ya. Listening to Apex Twins newest album Syro on TIDAL, I could feel that punchy, in your face bass – the kind that makes me think my brain is actually going to liquefy and run out of my nose. The Z5's made my music much more intense than I ever thought they would. I found myself gravitating towards electronic or dance music and live recordings, especially ones with female vocals. Delicate, yet empowering female voices like Nora Jones, Tori Amos, Adele and Diana Krall were a perfect fit for the Z5s. My favorite album to showcase the Z5's is Sara Bareilles' Brave Enough: Live at the Variety Playhouse (thank you Michael Liang for the music suggestion). It's one of my favorite go-to albums right now and sounds fantastic paired with these IEMs. Her voice is great and the recording is even better. The Z5's capture Sara's charisma and attitude, which is a big part of her music. It was as if she was right in front of me. The detail in the sound is the highlight of these little babies for me. The sound that bursts out of these is amazing.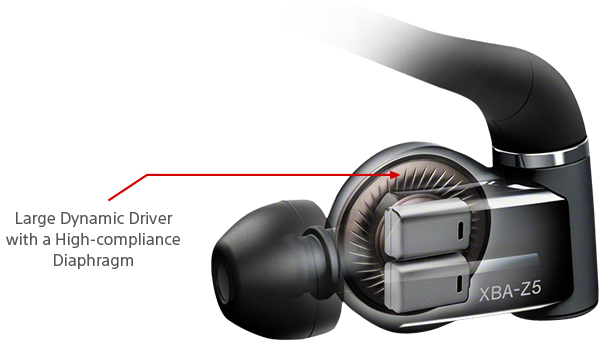 I would expect for these headphones to be three times the size for the amount of dimension they portray. On the surface, these aren't the head turning hotties like some of the other universal IEM's out there, but they are appealing in a classic, minimalist way. They are solidly built and easily handled all of my unnecessary roughness like a champ. I've already discussed the issues I had with the size and fit of these but I don't really think that is Sony's fault entirely. Or even a problem of these IEM's in particular, it was more of a "user error ", an incompatible issue. The comfort and fit of a universal IEM is a personal thing, and considering my lack of other IEM partners, I just can't say there is anything they could have done differently.
I'm so glad I was too dedicated (stubborn) to give up on the Sony XBA-Z5's. Thank you to my fellow guru Frank for being so supportive, kind and beyond patient with me. Anyone else would have just strangled me with the Z5's silver-coated OFC Litz cable. I am truly grateful for the opportunity I was given but I'm mentally, emotionally and physically exhausted from all the effort that it took. It made me realize that reviewers don't get enough kudos for the overall time and effort they put into a review, from start to finish. I'm sure I could have blackmailed someone into editing this review for me so it would fit the standard audio review format. I also could have omitted all the bimbo mistakes, added more technical mumble jumble and acted like this wasn't my first rodeo. I chose not to do that because I'm me. I'm excited, passionate, acquisitive, and still a bit rough around the edges. And I'm new. This was my "first time" and I'm not going to act like I've mastered it, or even got the hang of it yet. There are more than enough experts around here who have earned the right to a polished review and I'm in a hurry to join them. I'm having way too much fun listening, learning, and experiencing all the amazing parts of this hobby that I never even knew existed. So now there's only one thing left to do. Pack up my Z5's and send them back to Sony (only a few months late, and it is totally my fault). I'm still in shock that I scored the Sony XBA-Z5's for my first review. They certainly are Sony's' flagship IEM for a reason! I am really sad to see them go. The Z5's are truly amazing and even though we we're an awkward fit, the experiences we shared are something very special. I'll always remember my first.
Sony XBA-Z5 Ultimate Hi-Res In Ear Headphone – $699.99
[separator type="thick"]
Technical Info:
Audio
Driver Unit: Closed, Hybrid 3-Way (BA full-range Linear Drive + BA Super Tweeter + 16mm dynamic)
Power Handling Capacity: 100 mW (IEC)
Sensitivity (db): 107 dB/mW
Frequency Response: 3 – 40,000 Hz
Audio Features
General
Case Type: Nylon Carrying Case
Type of Use: Portable
Impedance: 32 Ω at 1 kHz
Design: In-the-ear
Power Handling Capacity: 100 mW (IEC)
Headband: No
Plug: Two mini plugs supplied: Gold-plated, L-shaped mini jack Gold-plated, 3-pole mini jack (L+R)
Frequency Response: 3 – 40,000 Hz
Sensitivity: 107 dB/mW
Hardware
Headphone Type: Vertical in-the-ear style hybrid earbuds
Cord: Two pairs of detachable, silver-coated OFC Litz cables: Stereo Balanced Audio, detachable (L+R)
Power
Power Handling Capacity: 100 mW (IEC)
Speaker
Impedance: 32 ohms at 1 kHz
Type: Closed, hybrid
Weights and Measurements
Cord Length (Approx.): Stereo Connecting Cable-47 1/4 in. (1.2 m) Balanced Audio Connecting Cable-47 1/4 in. (1.2 m)
Weight (Approx.): 11 g (0.39 oz) without cord