SONY HAP-Z1ES High Res Music Player
Introduction
When it comes to home audio, Sony and I go way back. The first digital component I ever purchased was a Sony CD player in November, 1984. I remember dutifully completing my research, or so I thought, on compact disc players and then patiently waiting for the right sales at my local audio store. When the big day came, I remember being very eager to take possession of my new prize, a type of playback medium which in those days seemed as high tech as the Millennial Falcon. When the big day finally came, I also purchased a few compact discs from a neighboring Harmony Hut, then made my way home to listen. Unpacked, plugged in and ready to play my first CD. Wow. The sound. It was, in a word, dreadful. It also induced headaches every time I used it. I couldn't stand to listen to an entire compact disc! I would clench my teeth and remind myself that "this is what perfect sound forever really like sounds like. I must learn to enjoy it". Sony probably didn't know it, but my consumption of Tylenol went up. There was a direct correlation with trying to listen to music on through this CD player and my intake of Tylenol.
Now, 30 years later, the Sony HAP-Z1ES Hi Res Music player has brought me full circle with Sony and I'm pleased to say, this is time around it was a completely different experience.
Details
Sony (along with Philips) brought us the compact disc. Love it or hate it, digital audio was revolutionary. Literally, billions and billions have been served, but corporations like Sony can read the tea leaves, too. In today's market, fewer and fewer CD players are being manufactured and purchased. Substantially less real estate is taken up in your local electronics store for those little silver discs as these days, partially as a matter of convenience, people play digital music files instead.
Enter the HAP-1ZES Music Server. It's a file server and digital-to-analog converter in a single package. The Music Server stores up to 1 TB of two-channel music files in virtually every format you can think of. It also has, what Sony terms, a Digital Sound Enhancement Engine, or DSEE. Sony's literature explains that the DSEE works in two ways:
Frequency Response restored with DSEE
"Digital Sound Enhancement Engine (DSEE) technology works in two ways to deliver natural sound with a spacious feel. The first enhances compressed file sound quality by revitalizing the high-frequency signals that are normally truncated during the compression process. The end-result is an accurate and spacious, must-hear experience."

Time Domain restored with DSEE
"The second way Digital Sound Enhancement Engine (DSEE) technology revitalizes your favorite compressed and uncompressed music files by retrieving the waveform tail. In doing so, audio response remains more coherent and full-bodied, with a smooth finish."
The HAP-Z1ES utilizes Ethernet connectivity (wired and wireless) for downloading files. Analog outputs include one pair of unbalanced (RCA) and one pair of balanced (XLR). A USB port is also provided for a separate hard disk drive. There are no digital outputs anywhere on the Music Player. A remote control
and detachable AC power cord are also included. The Music Center is deceptively heavy, weighing in at nearly 32 pounds.
Listening Impressions
As a matter of perspective, I want to mention that my previous reference for digital FLAC and WAV files is though PC, using JRIver Media Center, employing the latest updates as they became available while upsampling 44.1 kHz/16 bit files to 192 kHz/24 bits. Files were ripped from CD using dBpoweramp's CD Ripper. The sound quality was usually involving but with a noticeably higher noise floor, even with a dedicated amplifier.
After downloading the Sony's free HAP Music Transfer software to my PC and connecting the supplied LAN cable from my ASUS router to the HAP-Z1ES, I began to copy FLAC and WAV files from my computer's music library into the Hi Res Music Player. No fuss, no muss. In less than 30 minutes, I was viewing song titles pop up on the unit's display. Sony recommends that this wired connection for transferring large numbers of files. It's simply faster than attempting it wirelessly. Once this is completed (mine took less than 36 hours), you can use easily use the wireless LAN connection for future downloads.
I didn't engage in any serious listening until I had logged 300 hours of music played. The High Res Music Player allows you to put a files on repeat and that's just what I did – day and night for 12 days. Finally, the moment of truth had arrived.
FLAC files ripped from CD: One torture disc I have is The Best of the Texas Tornados. I enjoy the music, in particular, Is Anybody Goin' To San Antone. Sonically, however, it is – well it's my personal torture disc for good reason. I use it to find out how well a source handles bad sound. Let's just say through the Sony's Hi Res player, it still sounds bad, but less so. In that regard and with this CD/FLAC file, it's probably the least offensive sounding player I've heard. I guess you can't always expect to make a silk purse out of a sow's ear.
On to something much better sounding, give Flight of the Cosmic Hippo from Bela Fleck and the Flecktones a listen. Through the HAP-Z1ES, the title track's bass is tight, taught and tuneful. This Sony can do bass!
Or play Dire Strait's 1992 On Every Street. Perhaps their best album, Mark Knopfler's voice is presented in its natural, gravely glory. Instruments are clearly differentiated from each other, which is no easy task. Many lesser digital font ends congeal and harden the sound of this album. Not the case here as the music is presented in a rhythmic, detailed and natural manor.
Hi Res FLAC files: Several from HD Tracks and Acoustic Sounds. One of these gems included The Beach Boys album Pet Sounds (192 kHz/24 bit). I would describe the sound as clear and crisp, not at all edgy. On the track Sloop John B, did you know there was a tuba in there? Until I downloaded this album in 192/24, neither did I. Yet there it was, clear and crisp.
DSD files: In addition to the DSD files provided by Sony, I purchased a few DSD files from Acoustic Sounds. Two of these include The Carpenters Singles 1969-1981, Patricia Barber's Café Blue.
I found the DSD versions of these artists (I'm aware they were not originally recorded in DSD) to be more engaging and more natural than their respective CD quality files. I also found the quality of DSD files to vary, just as you would find with any CD or hi res audio file.
Listening to The Carpenter's Singles 1969-1981 that first night was one of those moments that audiophiles relish. I found individual voices and instruments to be very audible, each neatly and clearly separate while occupying their own spaces, not masked in some kind of impenetrable digital sonic brick wall. Instrumental and vocal timbres were simply natural, organic and for, lack of a better word, rounded. Listening to the track Superstar, Karen's voice literally startled me with its natural and open sound. I'd never heard that before in any digital format.
On to Café Blue from Patricia Barber. The results were much the same. Natural, organic and rounded. Sonically, it is certainly a step up from the CD.
Using the DSDEE: Users have the option of listening to non-DSD music files as-is or using the Sony's built in up sampling filters for all non-DSD files. I can say I preferred using the up sampling filter. Without the filter on, the music still could still sound good, but with it turned on, music took on a more natural, rick and non-fatiguing tone. Additionally, you can also set the oversampling filter to one of two settings: natural or detailed. With my 'phones and amp, I preferred Natural every time. The detailed setting was, to me, analogous to turning the sharpness setting on your flat screen all the way up. Plenty of detail, but artificial.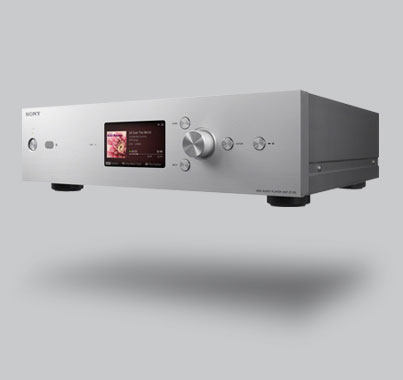 Conclusion
While my purchase last year of the HAP-Z1ES file player as a digital front-end component has brought me full circle with Sony, my experience this time around has been very positive. Sonically, the HAP-Z1ES brings to the table a rich, immersive sound that simply draws you in and holds your attention. Are there even better sounding digital components than the HAP-Z1ES? Absolutely! Most likely, though, to obtain a significant improvement in sound quality you'll have to spend much more money. But considering that the Sony HAP-Z1ES looks great, sounds superb, has a slick smart phone/tablet app that serves as an interface for a remote, you've got yourself a winner. On top of that, let's not forget that firmware upgrades from Sony (there has already been one) are available via download. This means the sound quality of this player can only get better. In fact, The HAP-Z1ES is, for me, a plateau product. By that I mean that my obsessive quest for the most suitable digital front end component has finally ended for the foreseeable future. I can catch my breath, enjoy the view and simply revel in the music.
Are there any quibbles? A couple of minor ones. There is a clicking sound the unit makes when switching between files of different resolutions and some minor aspects of the app interface that make the experience slightly less than it should be. Hopefully, these can be fixed with future firmware upgrades. Aside from that, I am a happy camper. If you are in the market for a new home digital audio component, make sure you audition the Sony HAP-Z1ES. Even if your budget is higher than the MSRP $2,000 asking price, you just may find it to be the best digital audio component for you. Think about it: by purchasing the Sony HAP-Z1ES instead of a much more expensive component, you could simply pocket the savings, invest in upgrading your headphones, headphone amp or simply use the savings to purchase a boatload of high-res files. From the company that first gave us the compact disc in 1983. Happily and highly recommended.
Headphones Used for the Review:
Beyerdynamic DT1350
Audeze LCD-2 w/ FAZOR
Amplifier:
Cables:
Audioquest Forest RCA (0.6M)
Power Conditioning: