Part 1:
The Home Entertainment Show began as an alternative for high-end audio to CES (the Consumer Electronics Show), which had switched focus away from audio and towards electronic gadgets. So successful was T.H.E. Show Las Vegas that a second show was spun off in Newport, which was so successful in turn that it eventually replaced T.H.E. Show Las Vegas entirely. Richard Beers, the vision behind T.H.E. Show Newport, saw that the future of high-end audio lies in the growing personal audio community, and sought to reach out to this community by including a separate area dedicated to personal audio. Unfortunately, earlier this year, Richard Beers passed away. Desirous to continue Richard's legacy, following Canjam SoCal 2016, the organizers of T.H.E. Show Newport 2016 reached out to Headphone.Guru's own Frank Iacone and asked if Headphone.Guru would be willing to host the personal audio portion of the show. Thanks in part to Frank's efforts, T.H.E. Show Newport 2016 was the most successful to date, boasting a significant increase in attendance over last year.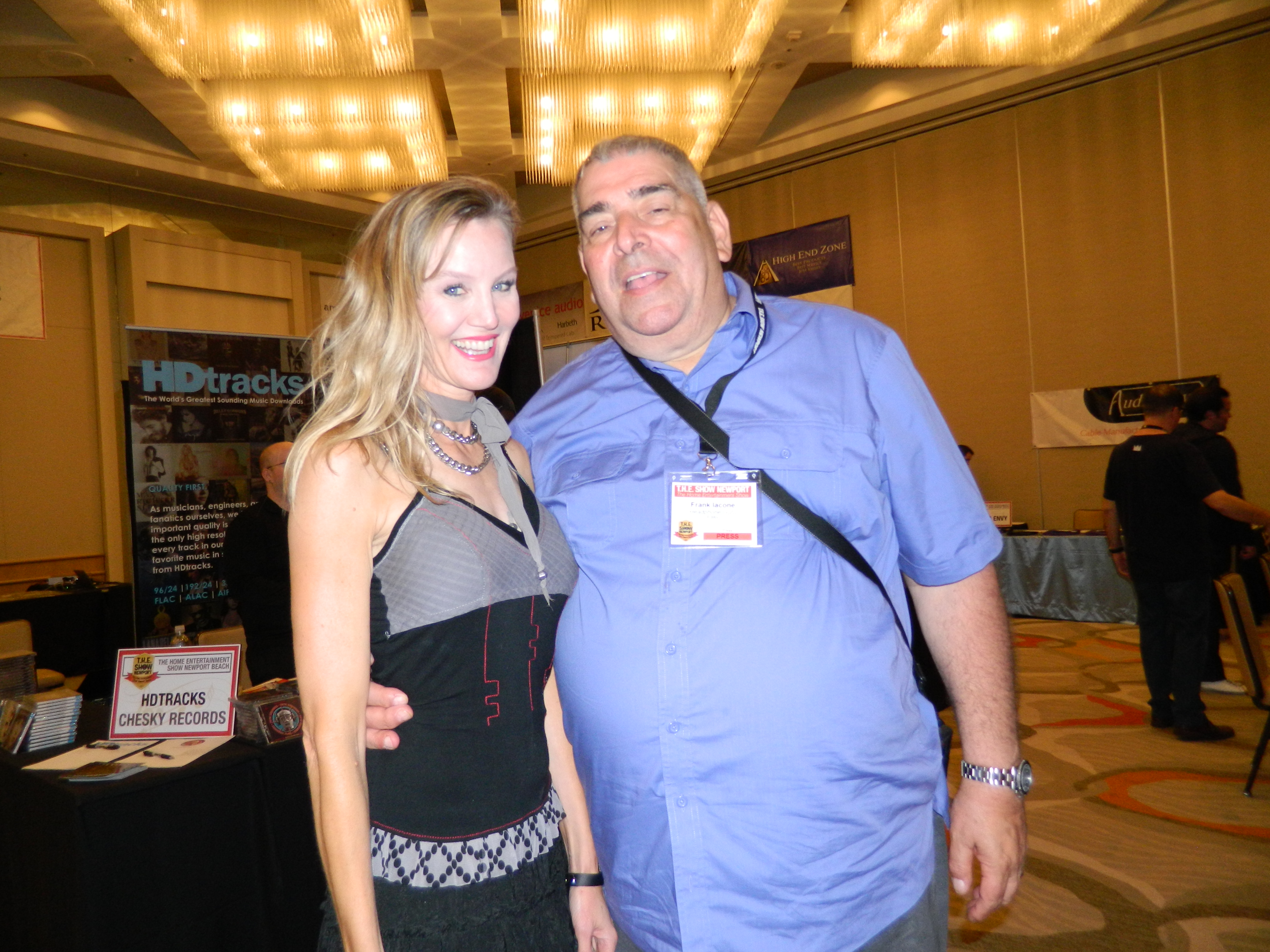 9:45 A.M. Friday morning, T.H.E. Show co-founder Bob Levi and President/Founder of the Los Angeles Orange County Audiophile Society, assisted by T.H.E. Show's Marine Presson and Maurice Jung, The Absolute Sound's Robert Harley, Positive Feedback's David W. Robinson, Enjoy the Music's Steven R. Rochlin, and Stereophile/AnalogPlanet's Michael Fremer, performed the ribbon cutting officially opening T.H.E. Show Newport 2016 with a few heartfelt words on Richard Beers' passing.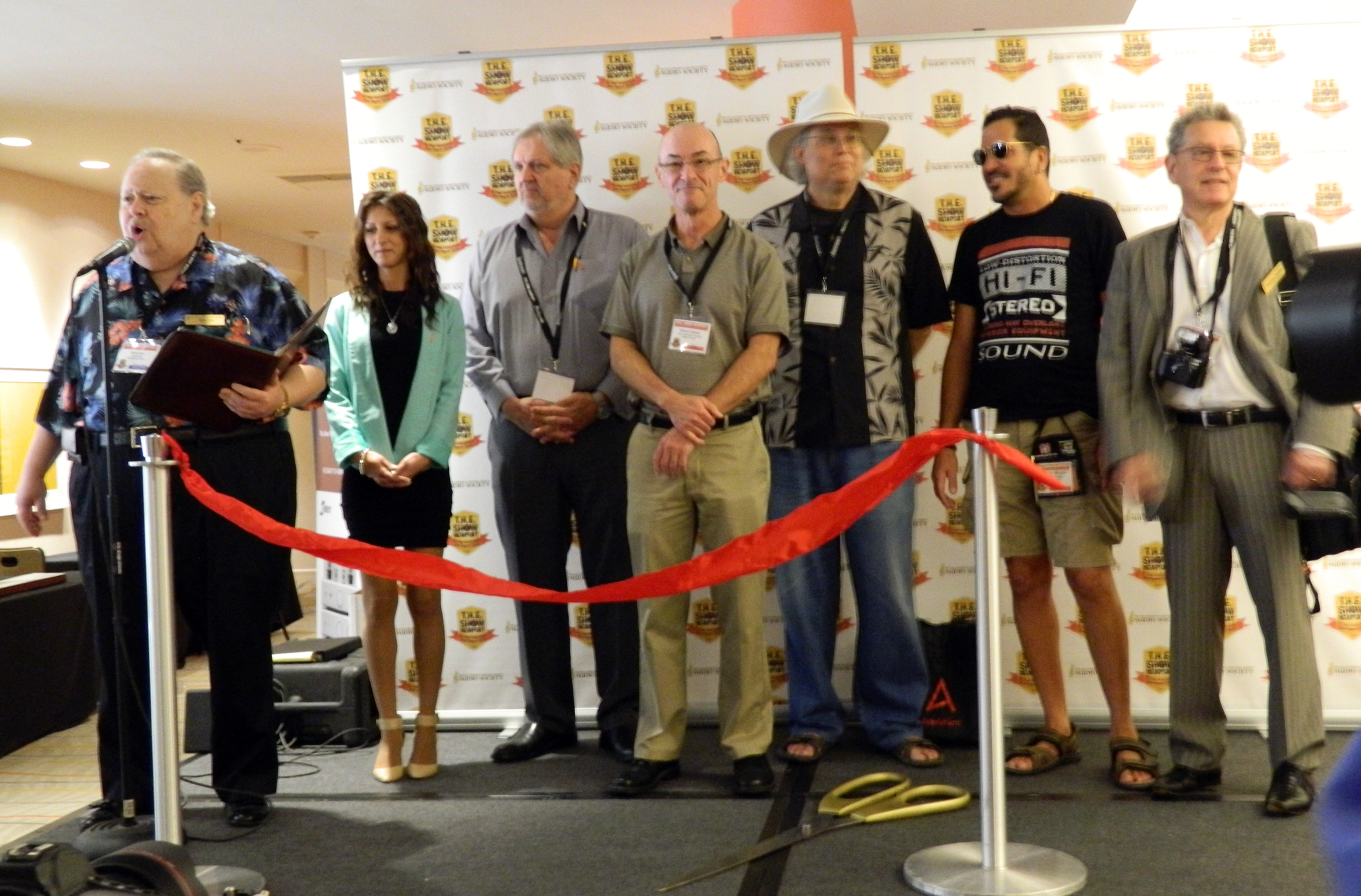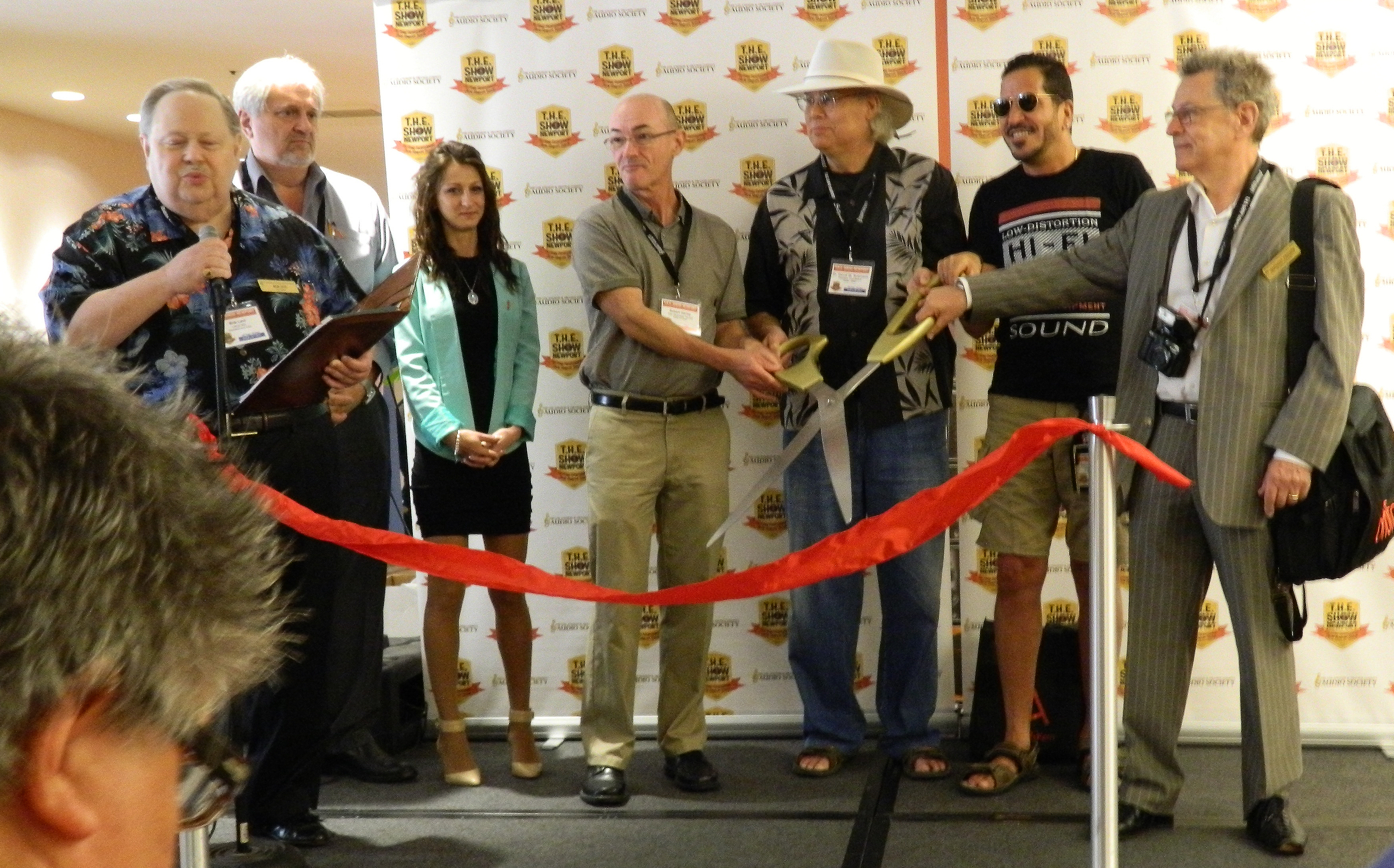 Following the ribbon cutting ceremony, I began my coverage of the show by proceeding to the Presidential Suite on the thirteenth floor (the largest of the private rooms), which was shared by ENIGMAcoustics, Questyle Audio, Westone, and The Source AV (one of a new breed of high-end dealers who truly gets it and is fully invested in the personal audio community). Representative of a growing trend of personal audio manufacturers expanding into the world of home audio (loudspeaker systems) the main room was dominated by two systems featuring the Latest iteration of Questyle Audio's impressive 5GHz Wireless Audio System (TBA) driving Focal Sopra Nº2 ($13,999) and Focal Sopra Nº3 ($19,999) speakers using a Questyle Audio QP1R ($899) as a music server via the optical digital output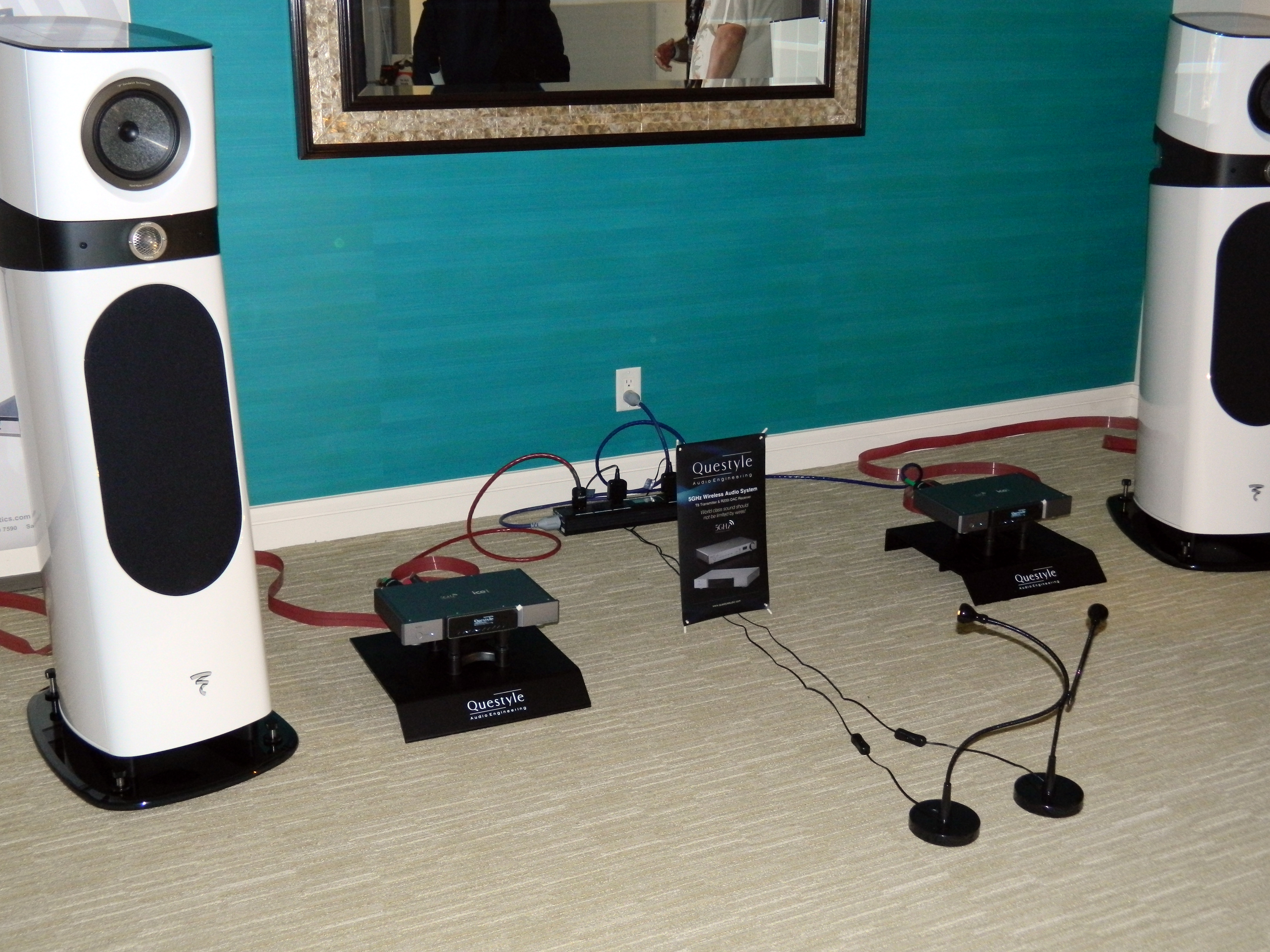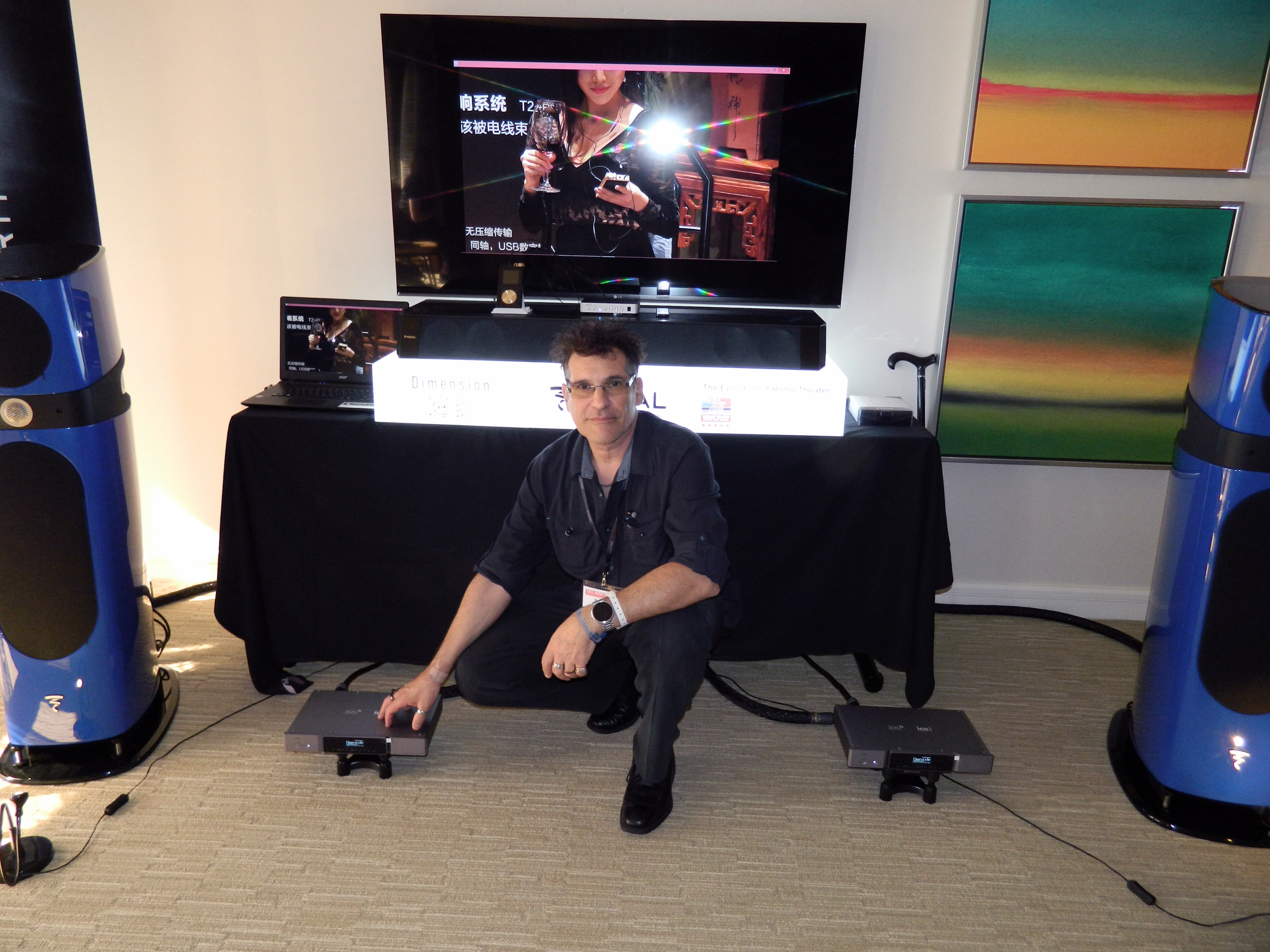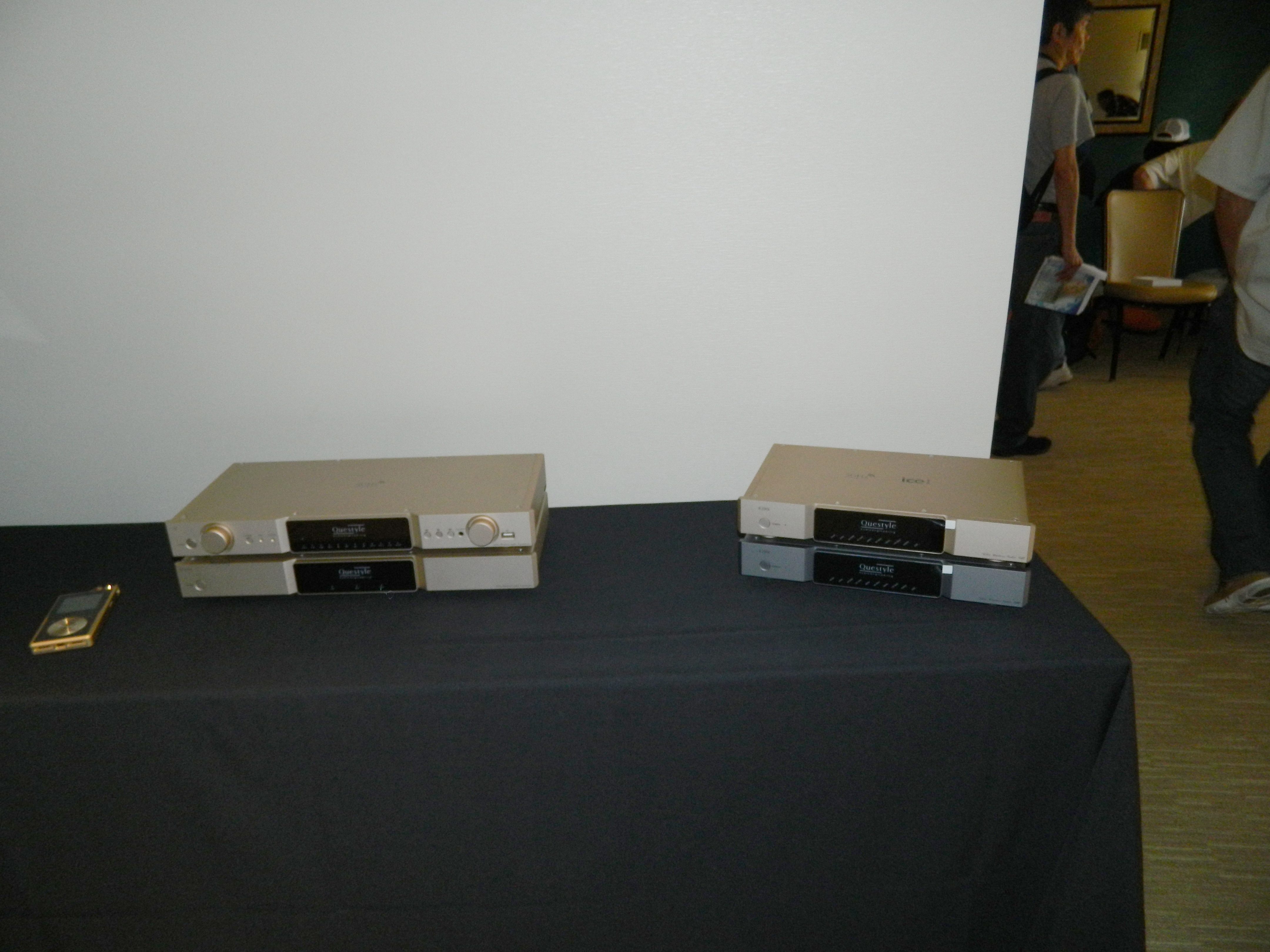 Two separate listening stations were set up for Questyle Audio's extensive line of headphone amps and DACs including their recently introduced CMA600i Current Mode Amplifier/DAC ($1,300) and their new flagship Gold series CMA800P Current Mode Preamplifier ($3,500), CAS192D True DSD DAC ($3,000), and 2 CMA800R Current Mode Amplifiers ($3,000), all featuring ceramic circuit boards for extended noise floors and lower distortion, in a fully balanced configuration driving the wonderful ENIGMAcoustics Dharma D1000 Hybrid Electrostatic Headphones ($1,190), a truly must hear combination.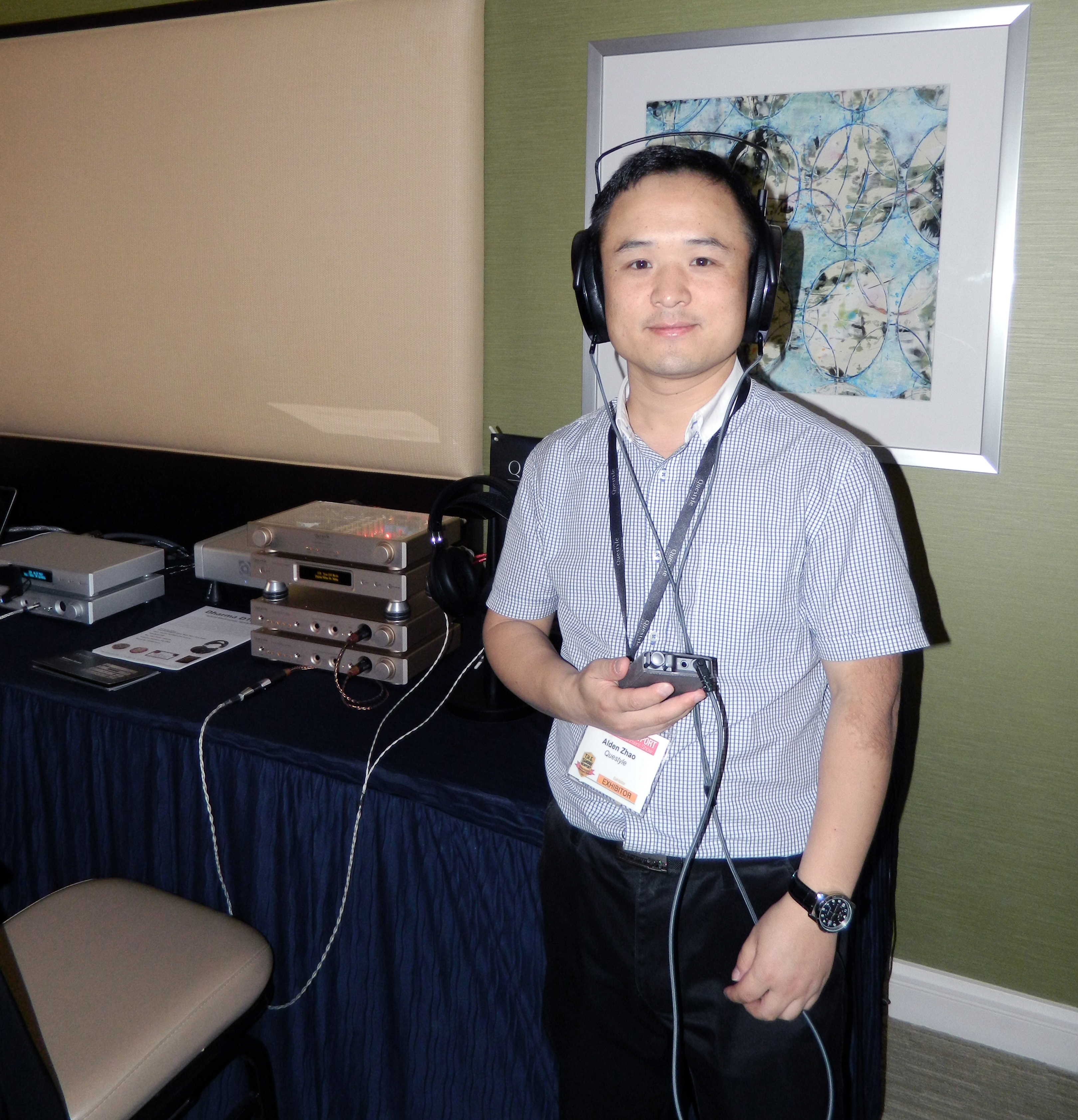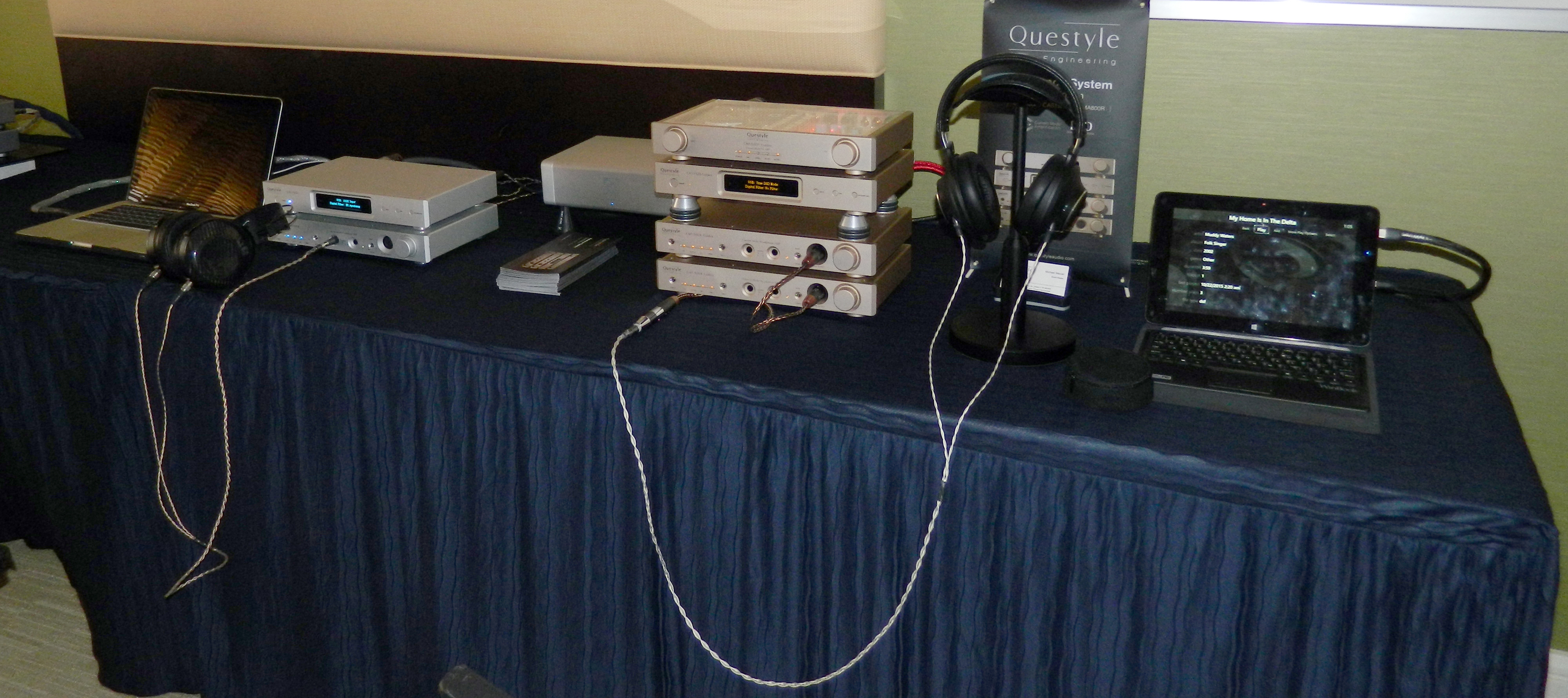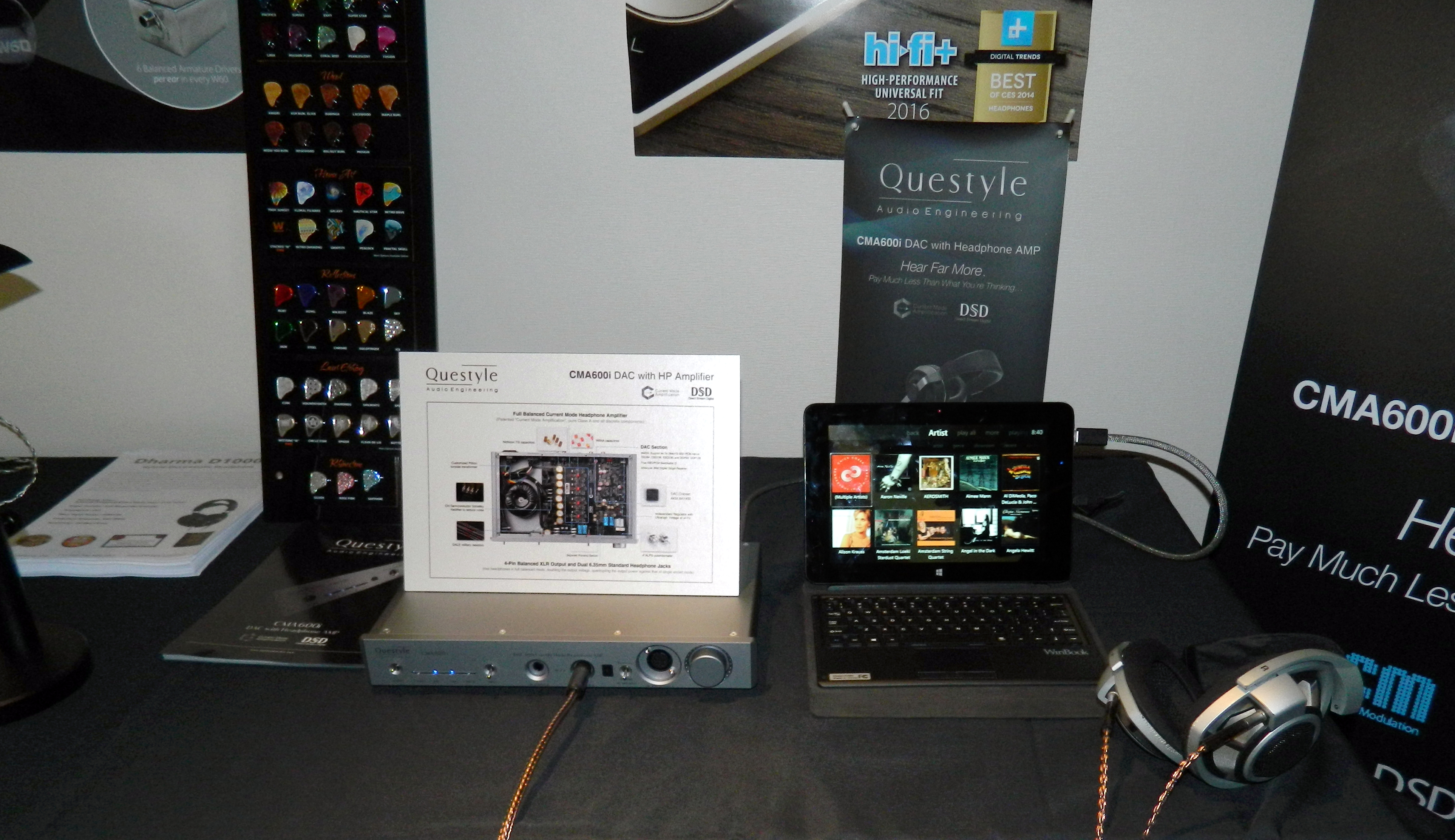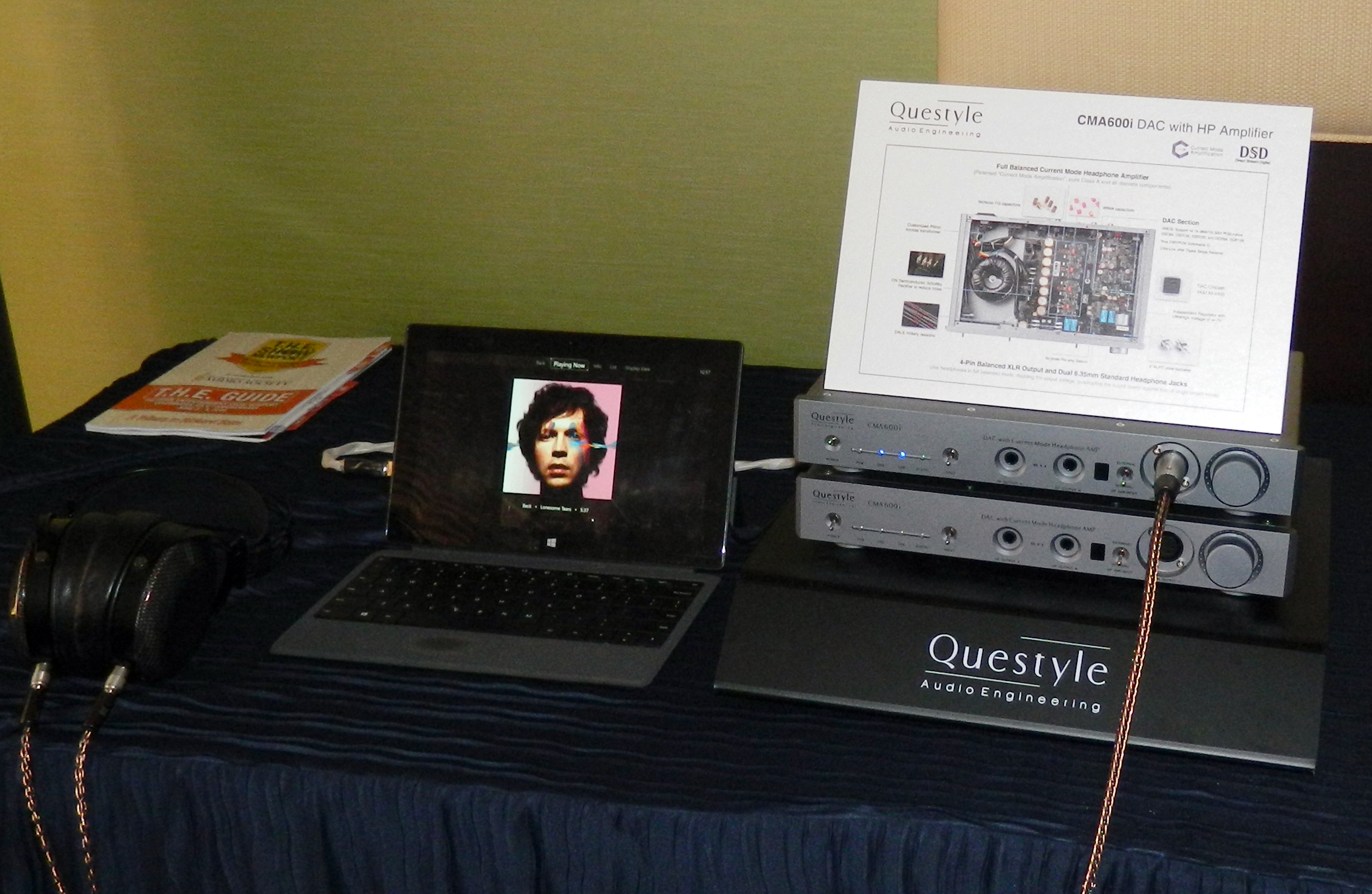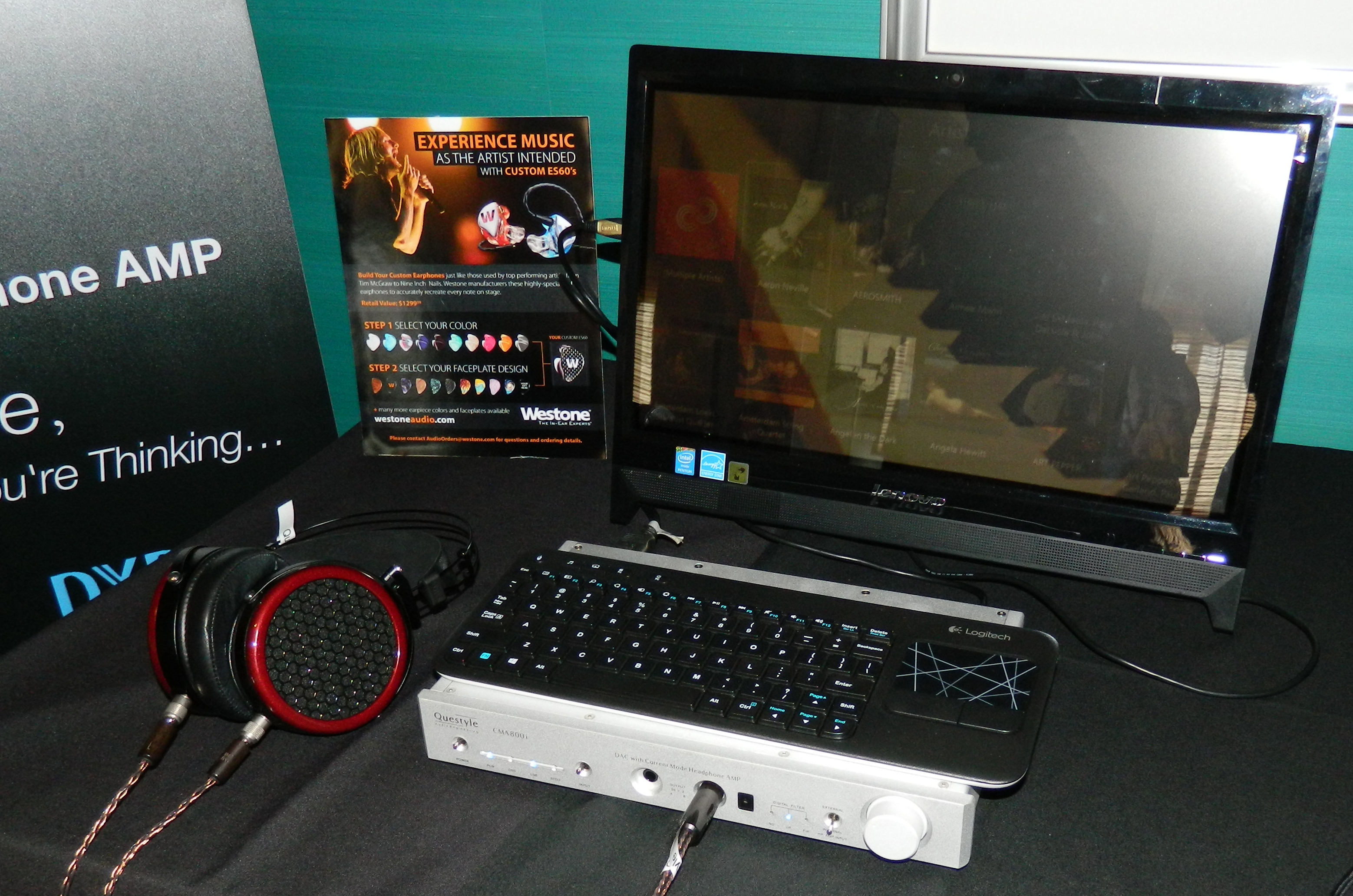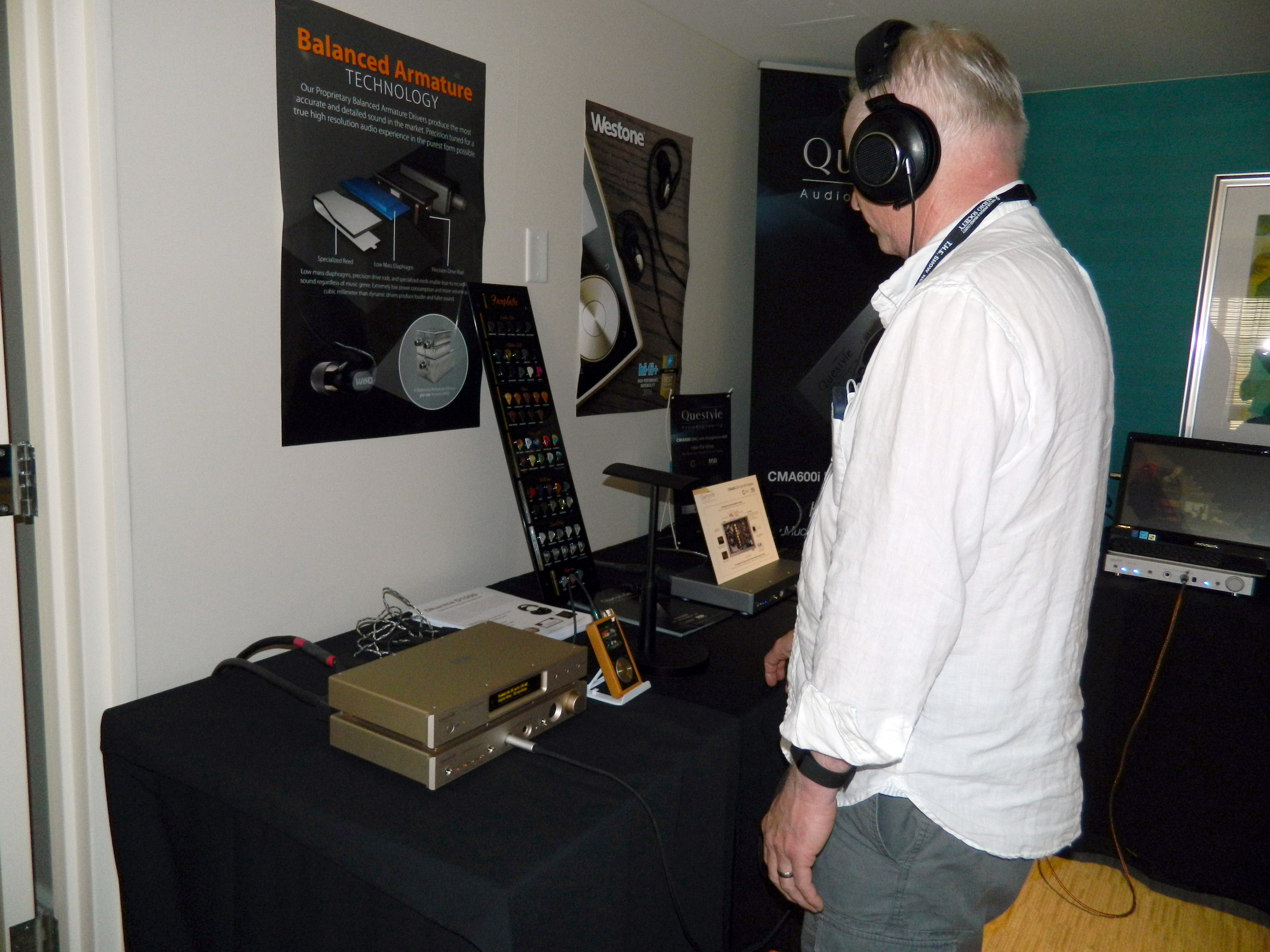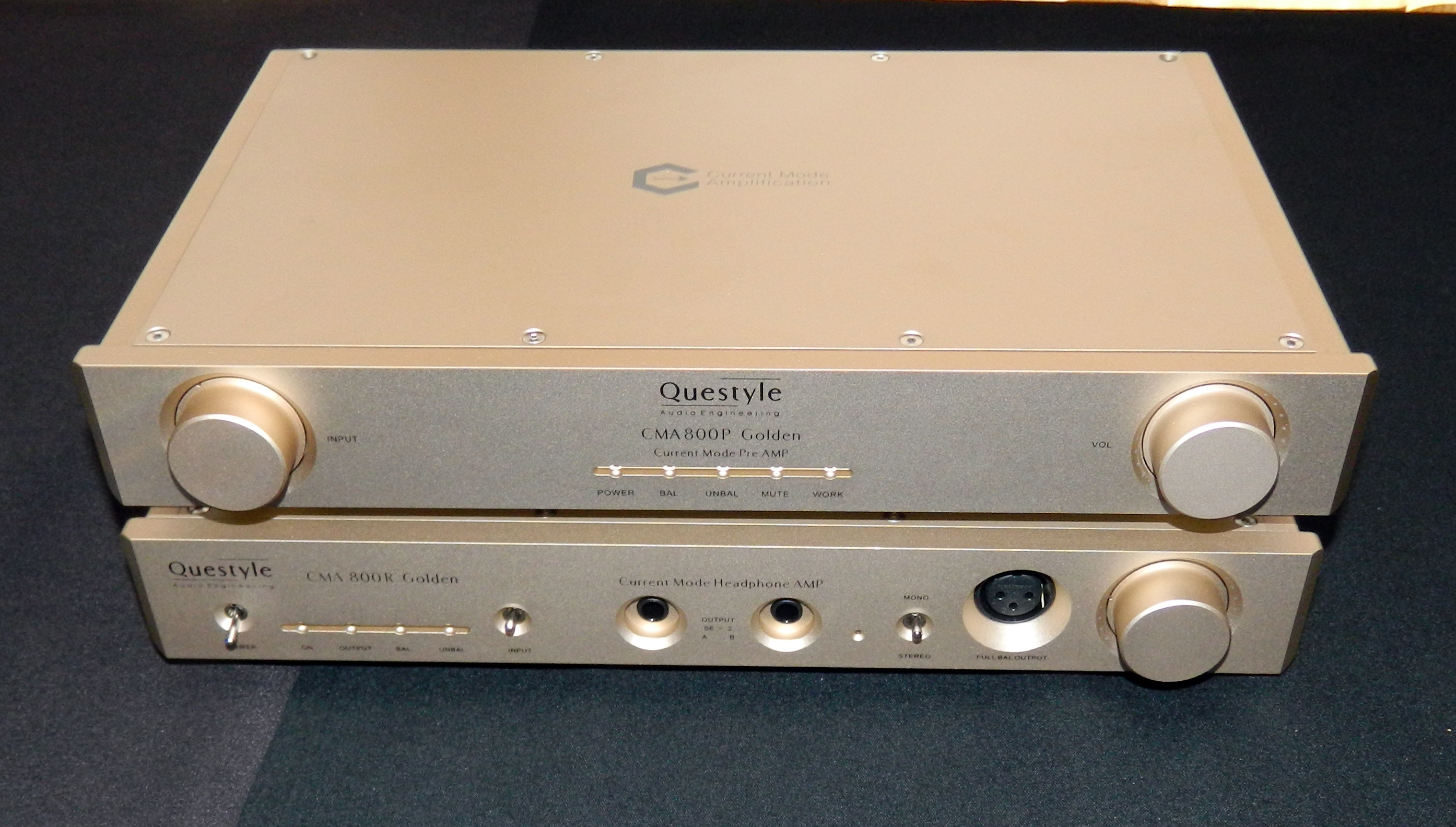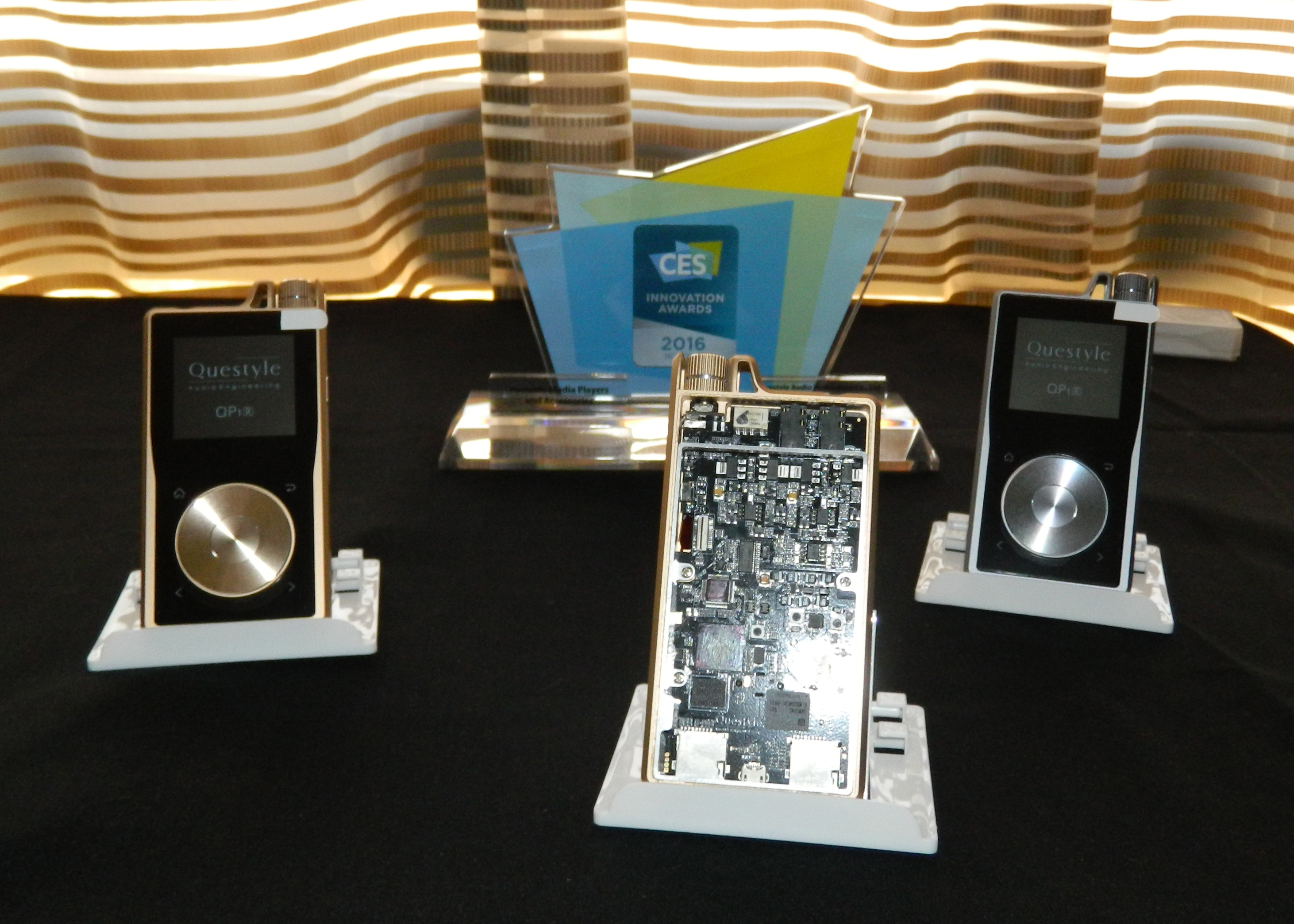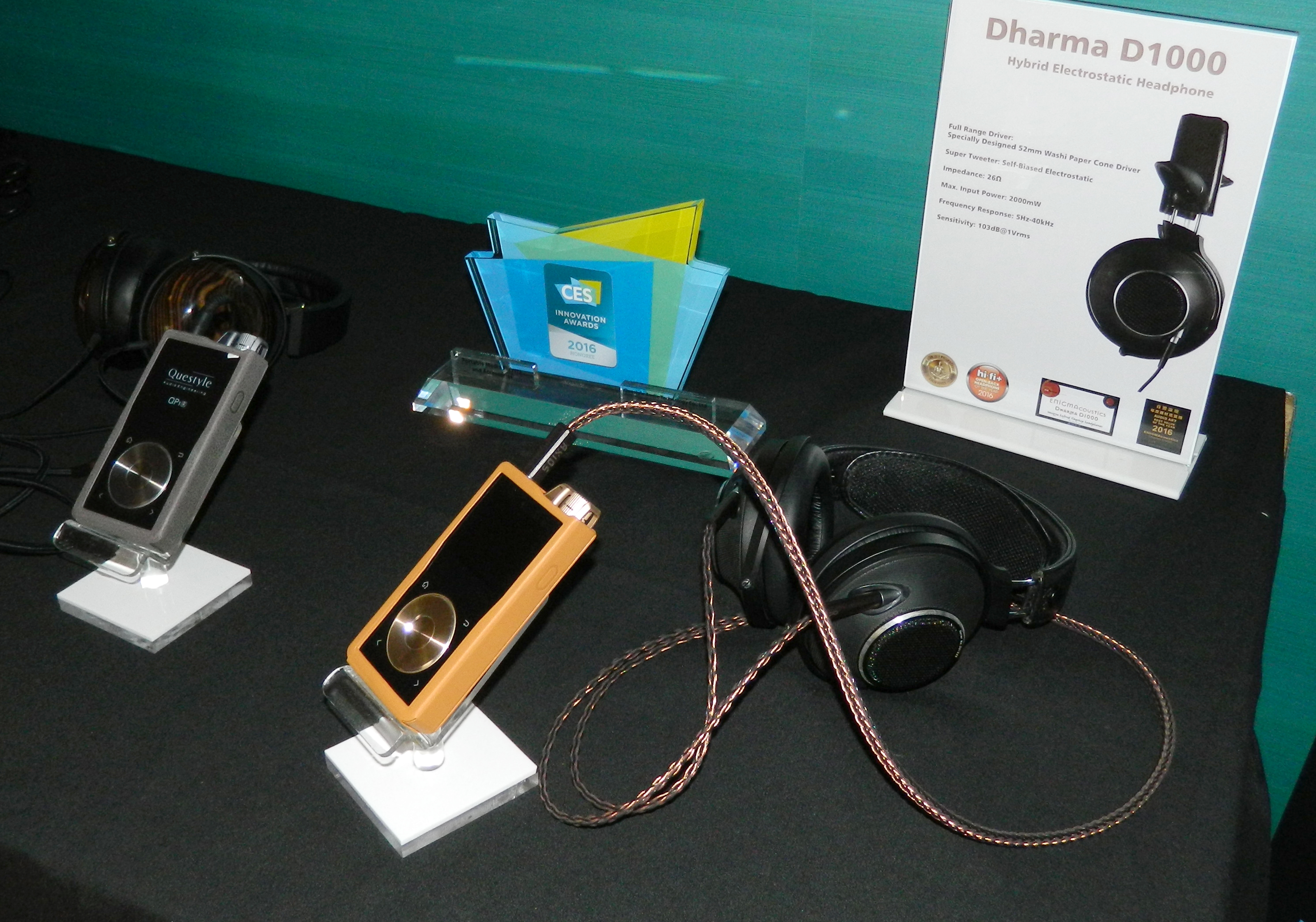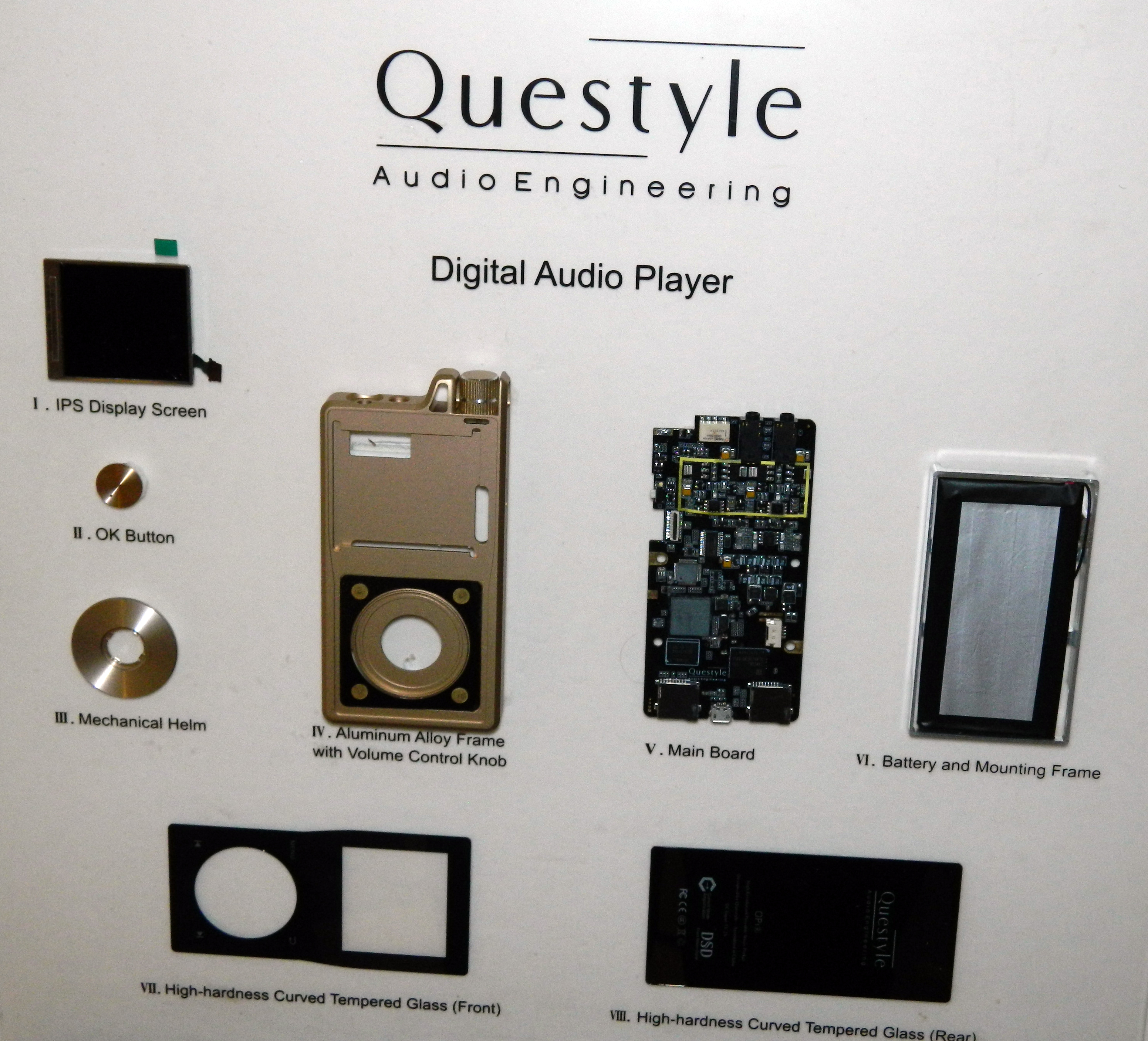 Westone was set up in the main room of the Presidential Suite, showing their full line of universal and custom IEMs, and introducing their new Bluetooth cable with MMCX connector (which should be available in mid June, price TBA) making their entire line Bluetooth capable. They were also highlighting their AM PRO series, available in three different models; the AM PRO 10 single balanced armature ($189.99), the AM PRO 20 dual driver ($339.99) and the AM PRO 30 triple driver ($439.99) all featuring their patent pending SLED Technology that allows ambient sounds in without compromising low frequency reproduction. Another product which caught my eye was the Adventure Series Alpha Earphones ($149.99) designed for outdoor use it is weather resistant and has an AWACS reflective cable.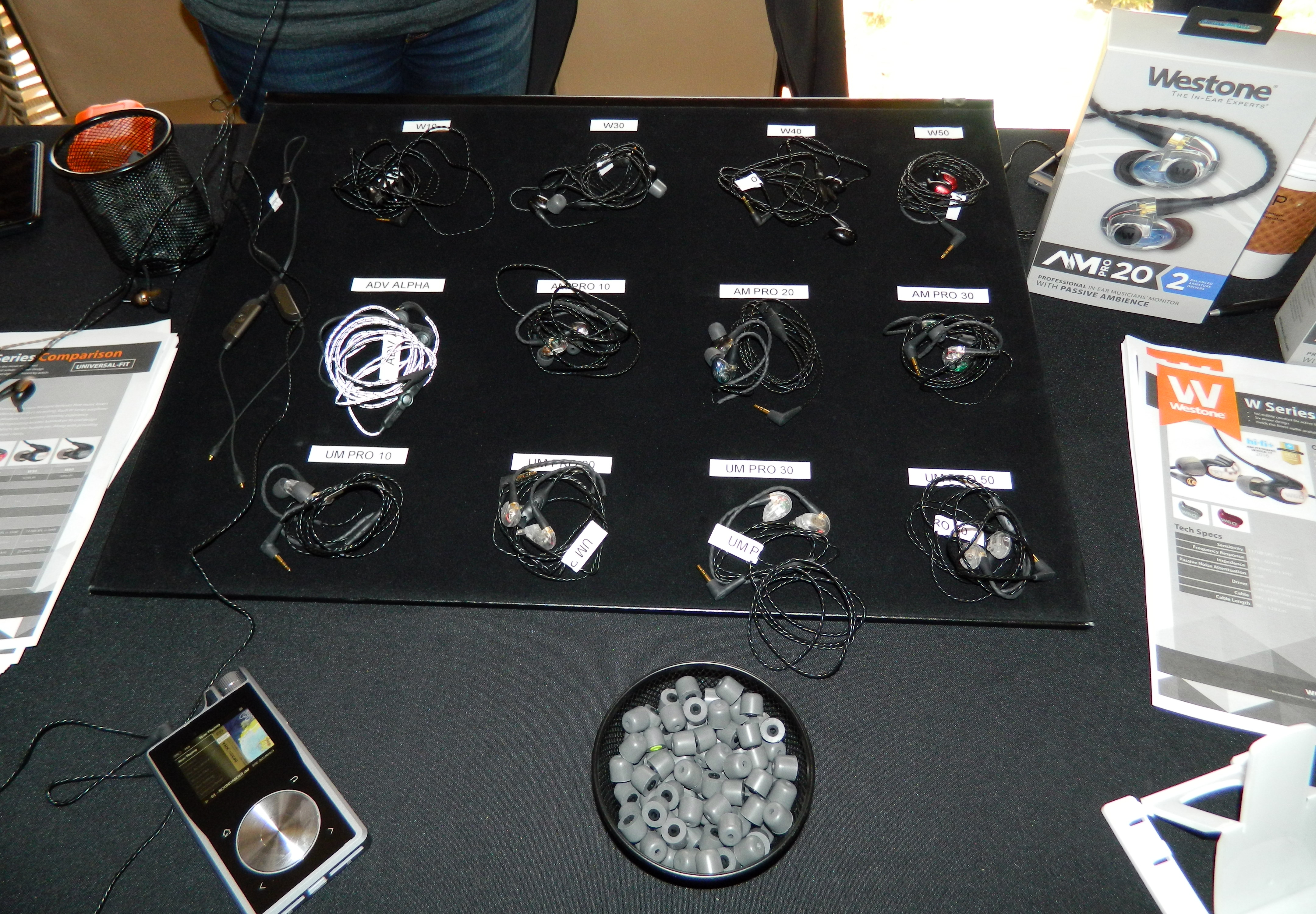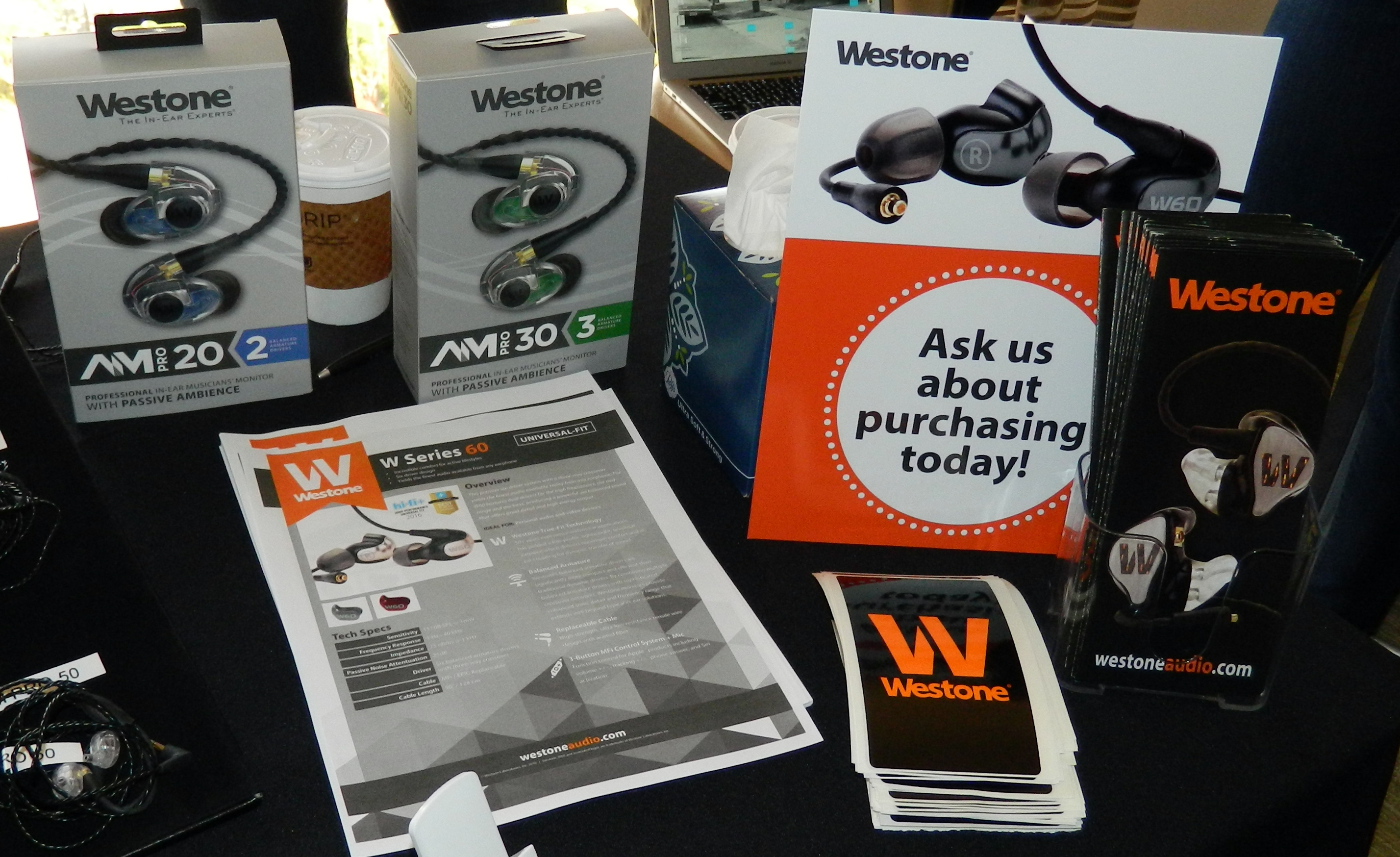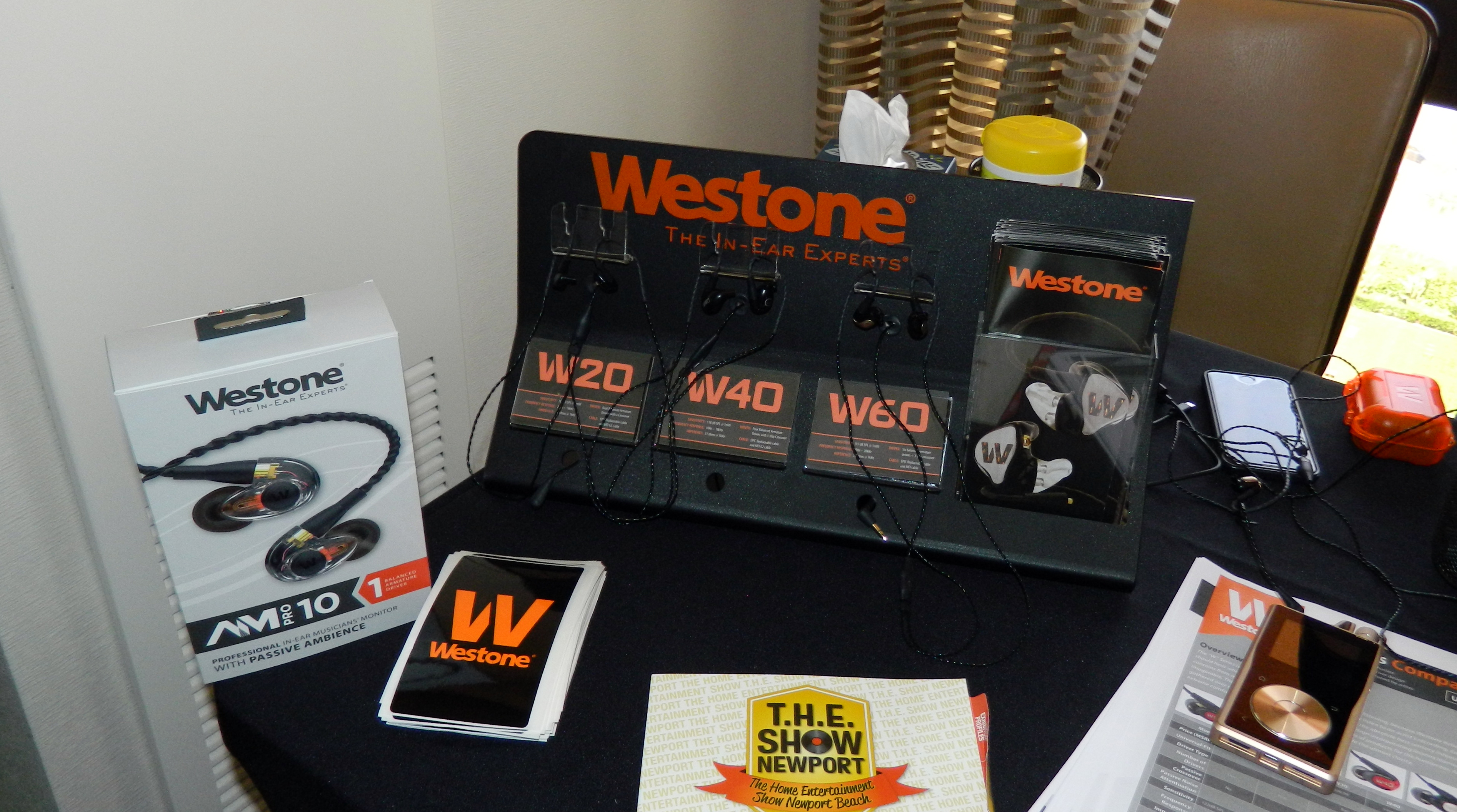 In the adjoining room I found the world class ENIGMAcoustics Mythology M1 loudspeaker ($14,700) employing their patented Self-Bias Electrostatic super tweeter being driven by a Moon by SimAudio 700i ($15,000) fed by a Moon by SimAudio 650D CD player ($9,000), one of the best sounding presentations at the show.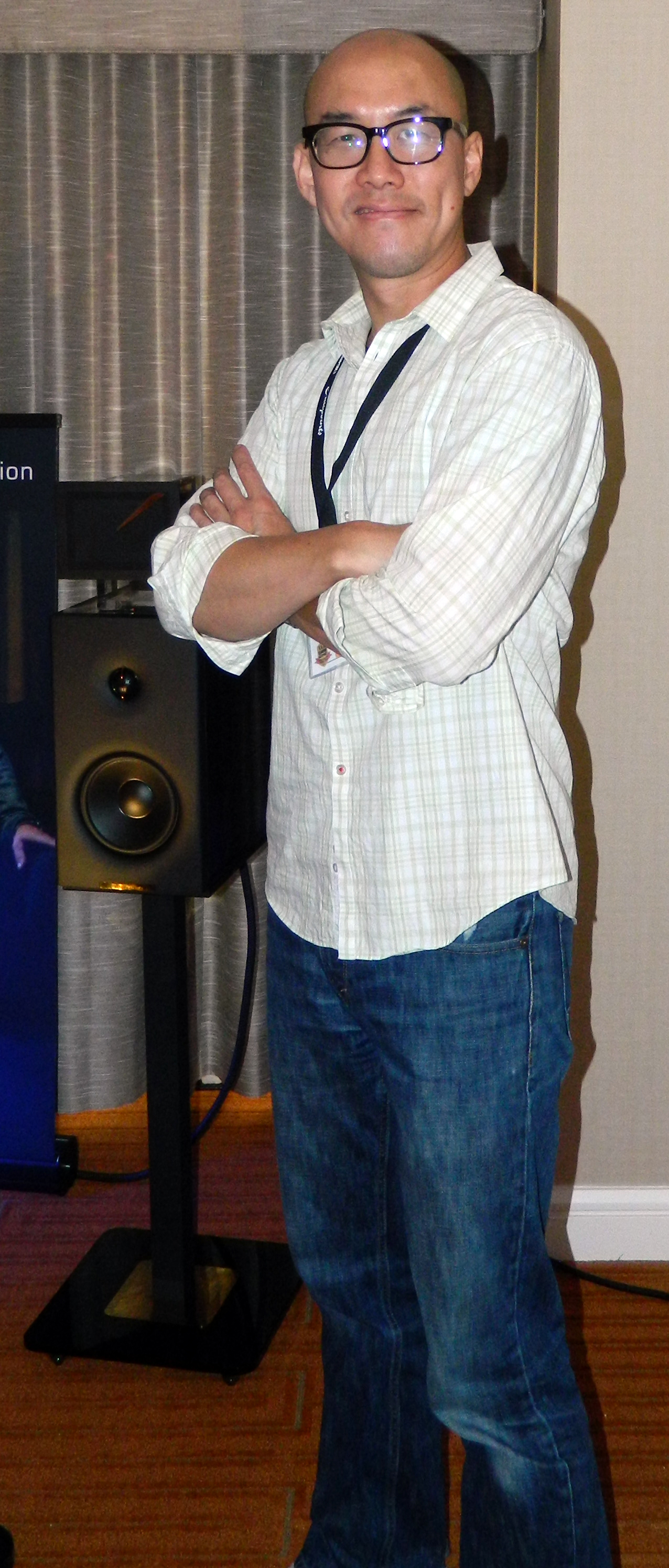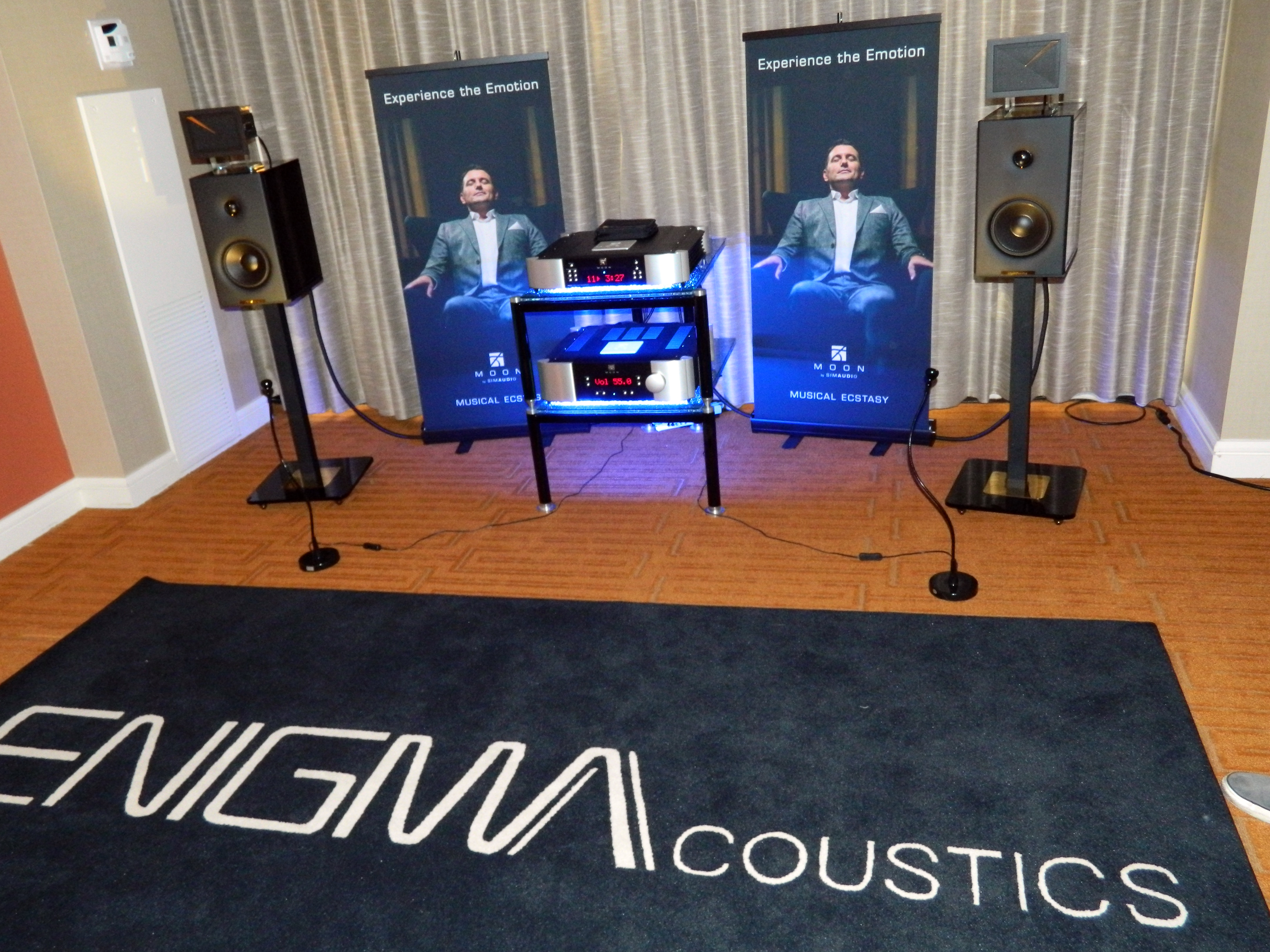 Also on display were the beautifully finished Meza Classic 99 headphones ($309)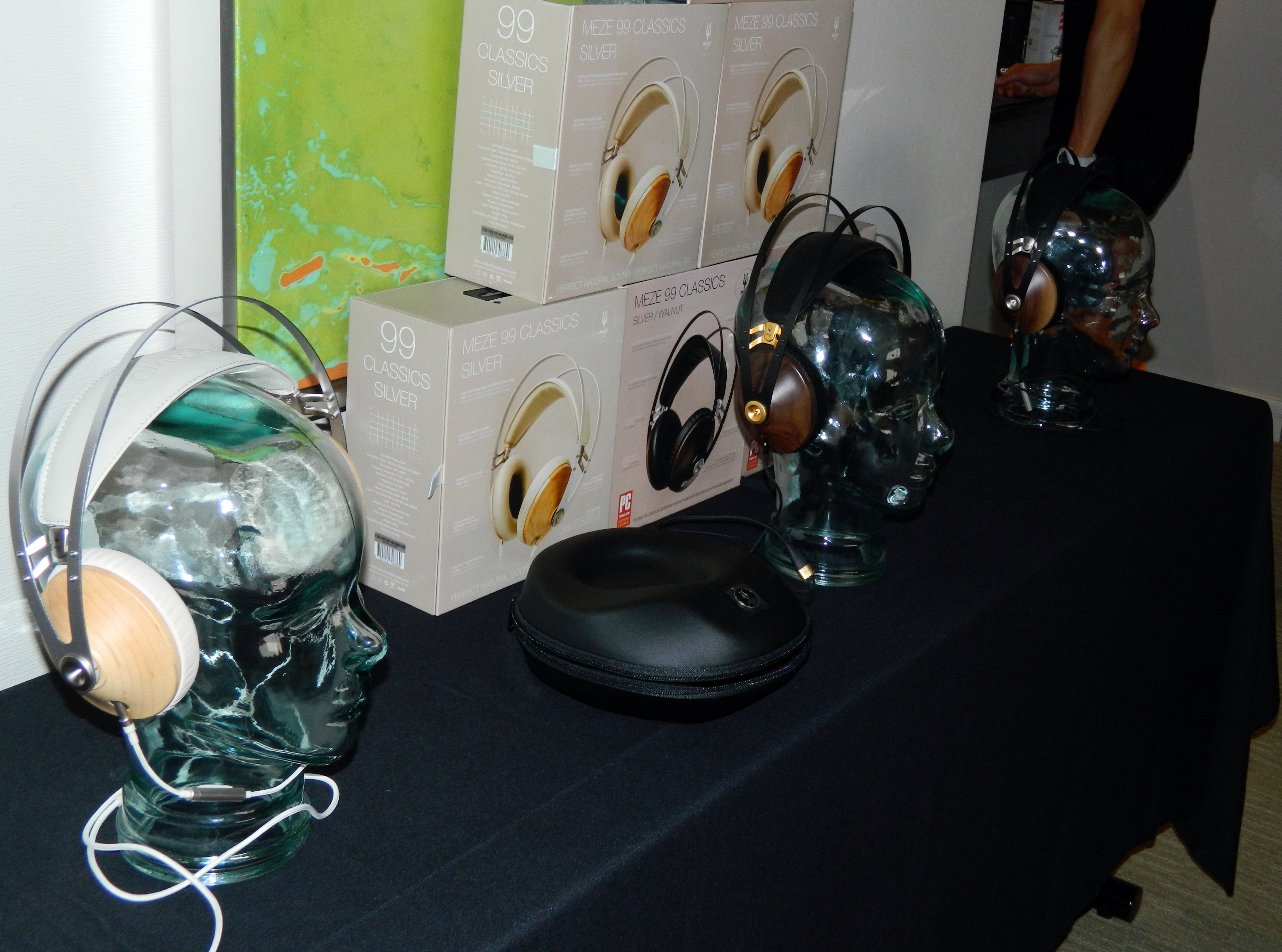 Echo Box Audio who were demonstrating their Finder X1 IEMs ($199 for the standard X1, $229 for the X1I – Apple – and X1A – Android) which have solid titanium shells and feature 9.2mm PEEK (Polyether ether ketone) diaphragm dynamic drivers and silver plated copper cables giving them a frequency response of 15 Hz to 35 kHz, and include Comply tips for an excellent fit. Echo Box Audio was also showing their upcoming portable lossless and Hi Res Music streaming player the Explorer ($499 matching dock available $75). Attractively shaped like a pocket flask, and sheathed in a choice of four woods (maple, mahogany, zebra wood, and ebony) the WI-FI and Bluetooth capable Explorer comes packaged with 3 months of Tidal, plus an ongoing discount. It features the Texas Instruments Burr Brown PCM 1792 DAC able to decode both PCM and DSD, a Rockchip RK3188 Quad Core 1.6 GHz processor (running stock Android 4.2 Jellybean), 64 GB internal storage with a single micro SD Card slot for expansion and a 3,700 mAh Lithium-ion battery for eight to fourteen hours of playback.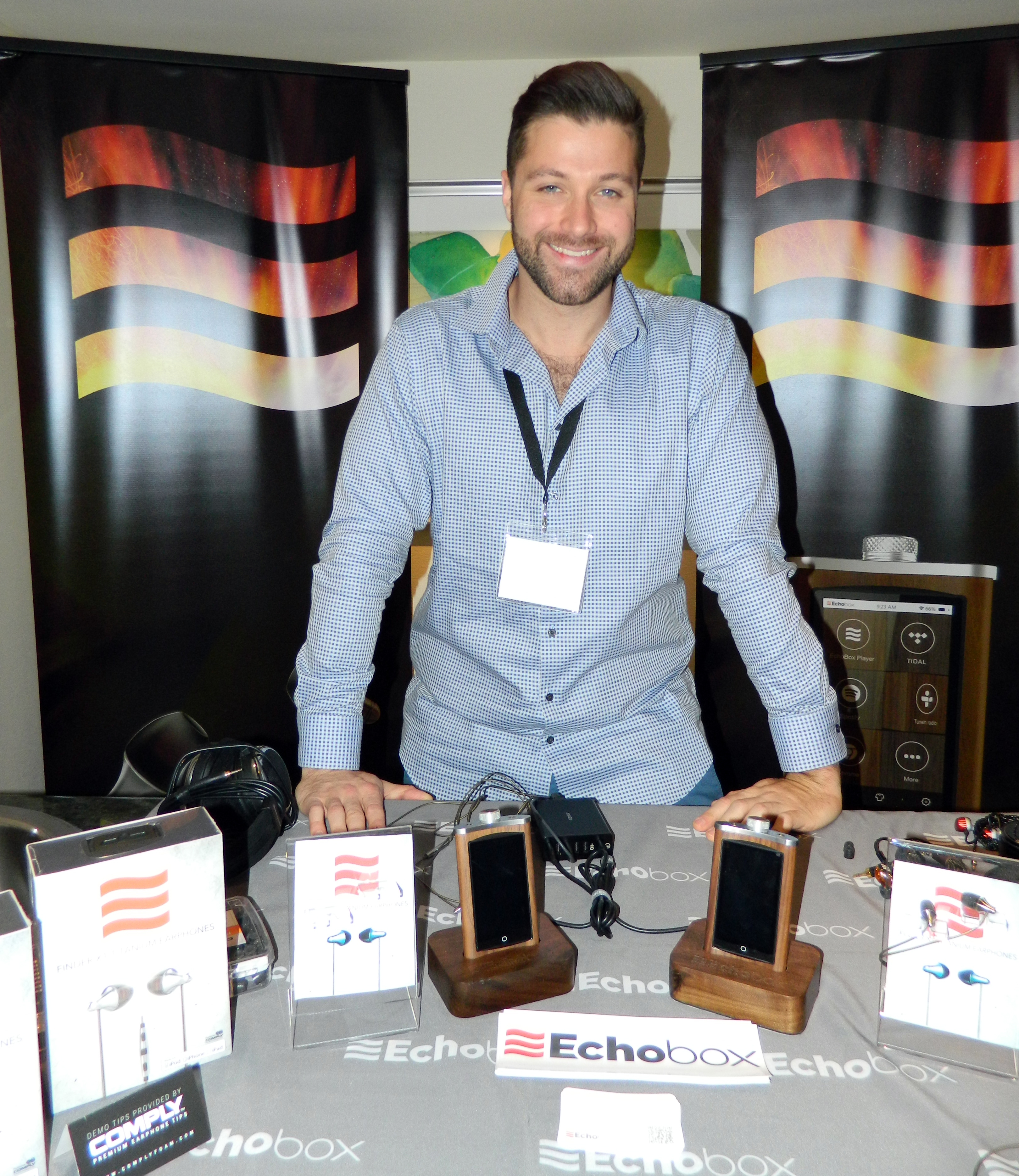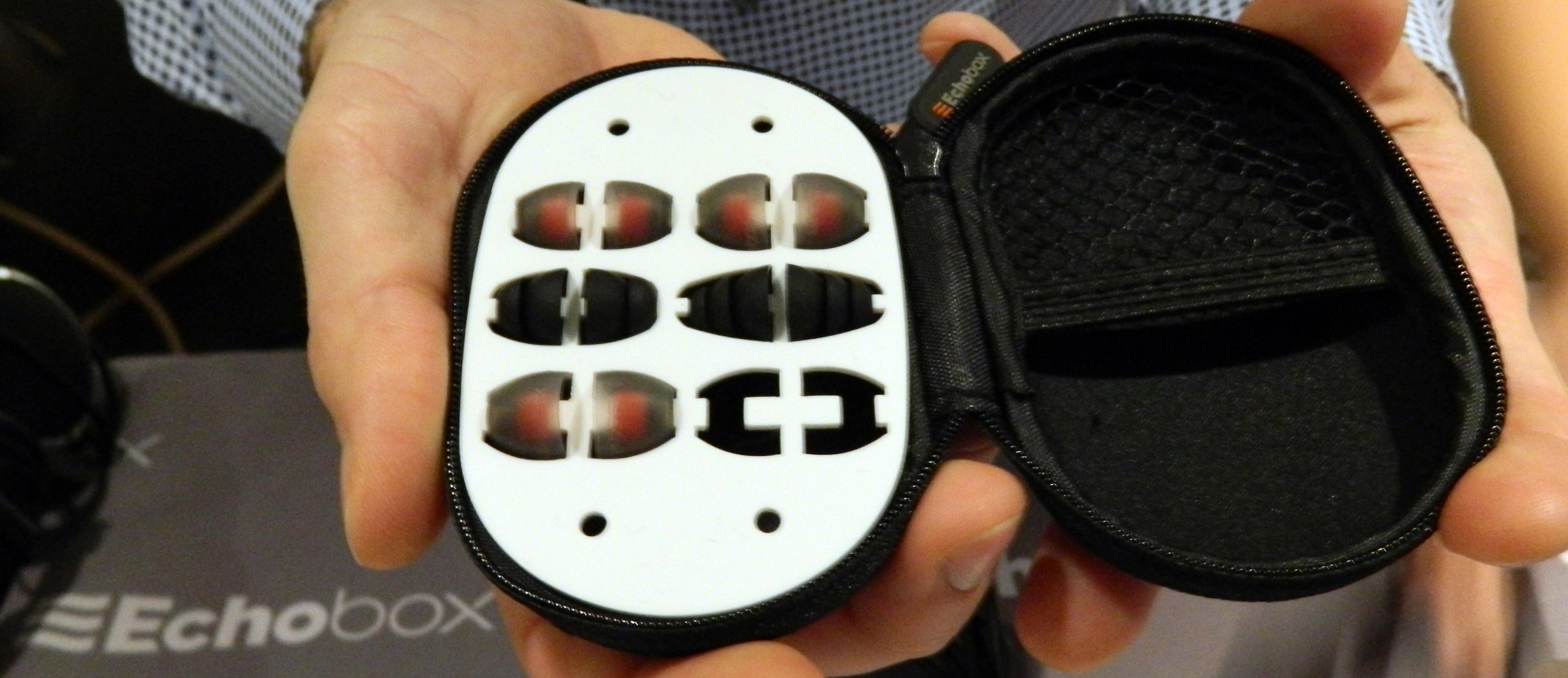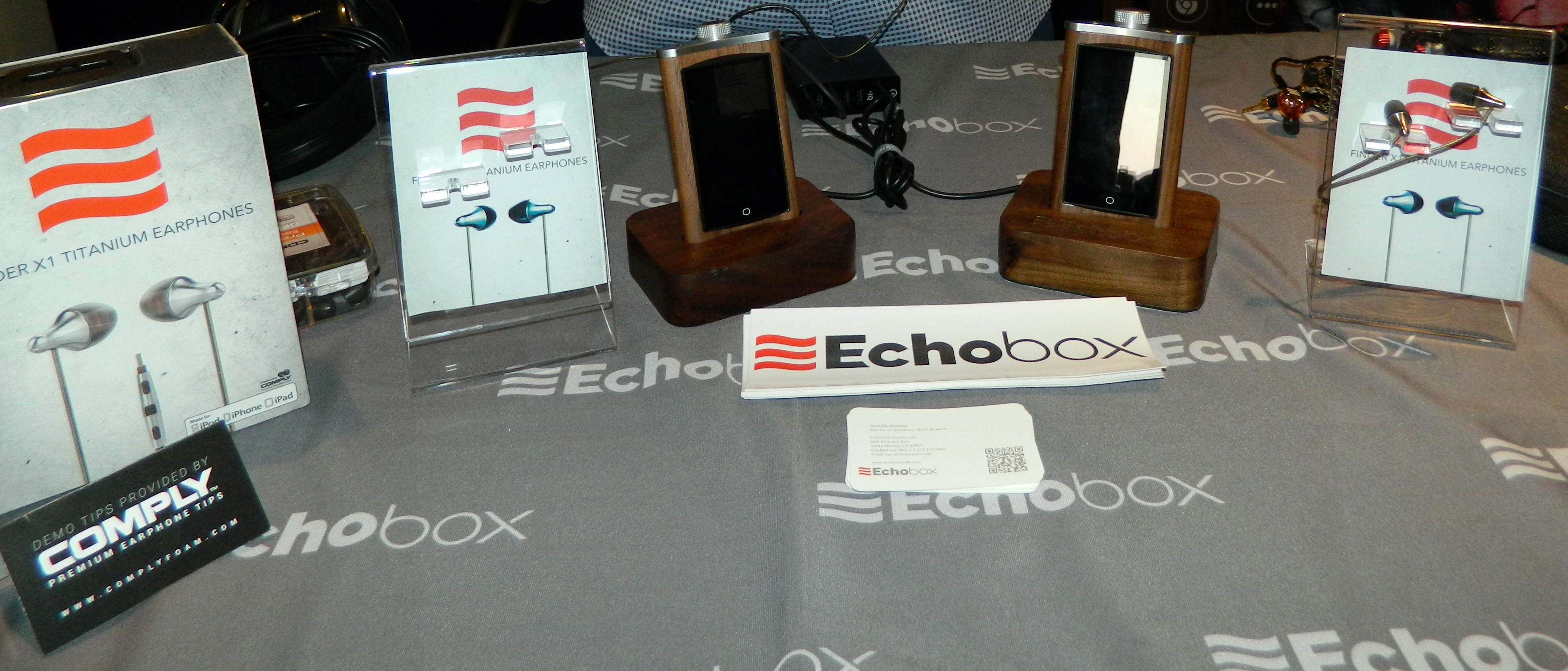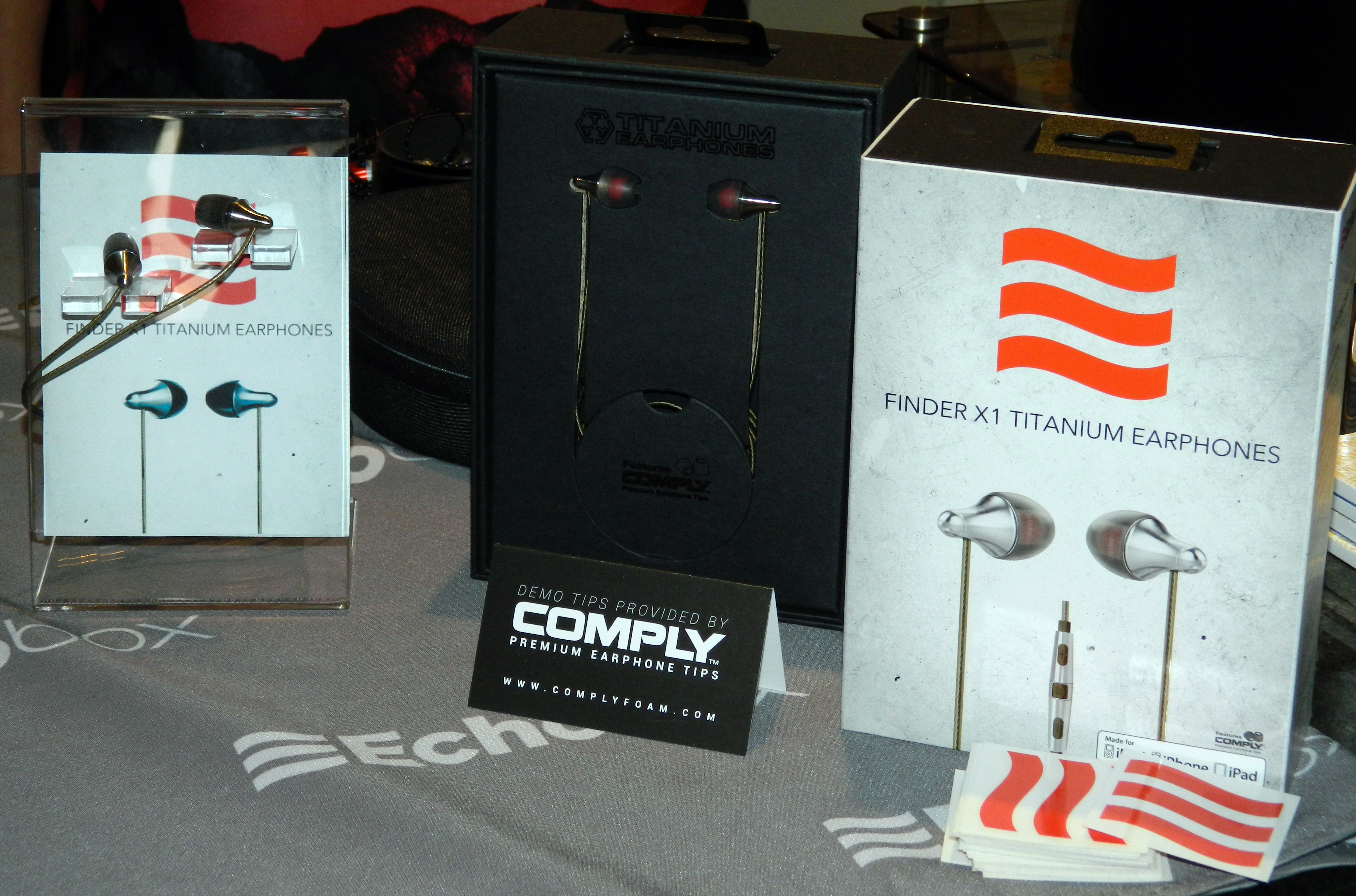 Next door, in another room shared by The Source AV, was Woo Audio where they were showcasing their new WA8 Eclipse portable vacuum tube headphone amp/DAC ($1,799 black and space gray, $1,899 gold), a Class A, single ended triode design coupled with the ESS SABRE DAC for desktop performance in a portable package, with up to 4 hours play time from its 3,400 mAh rechargeable Lithium-ion battery. Taking up the far corner of the room were the massive Woo Audio WA-234 Mono blocks (only $15,900). These all triode, single ended Class A amplifiers are unique in that they are designed to drive both headphones and loudspeakers. What makes the behemoths especially cool is their selection of "tube switching keys" which allows for instantaneous tube changes without hours of fiddling with bias settings.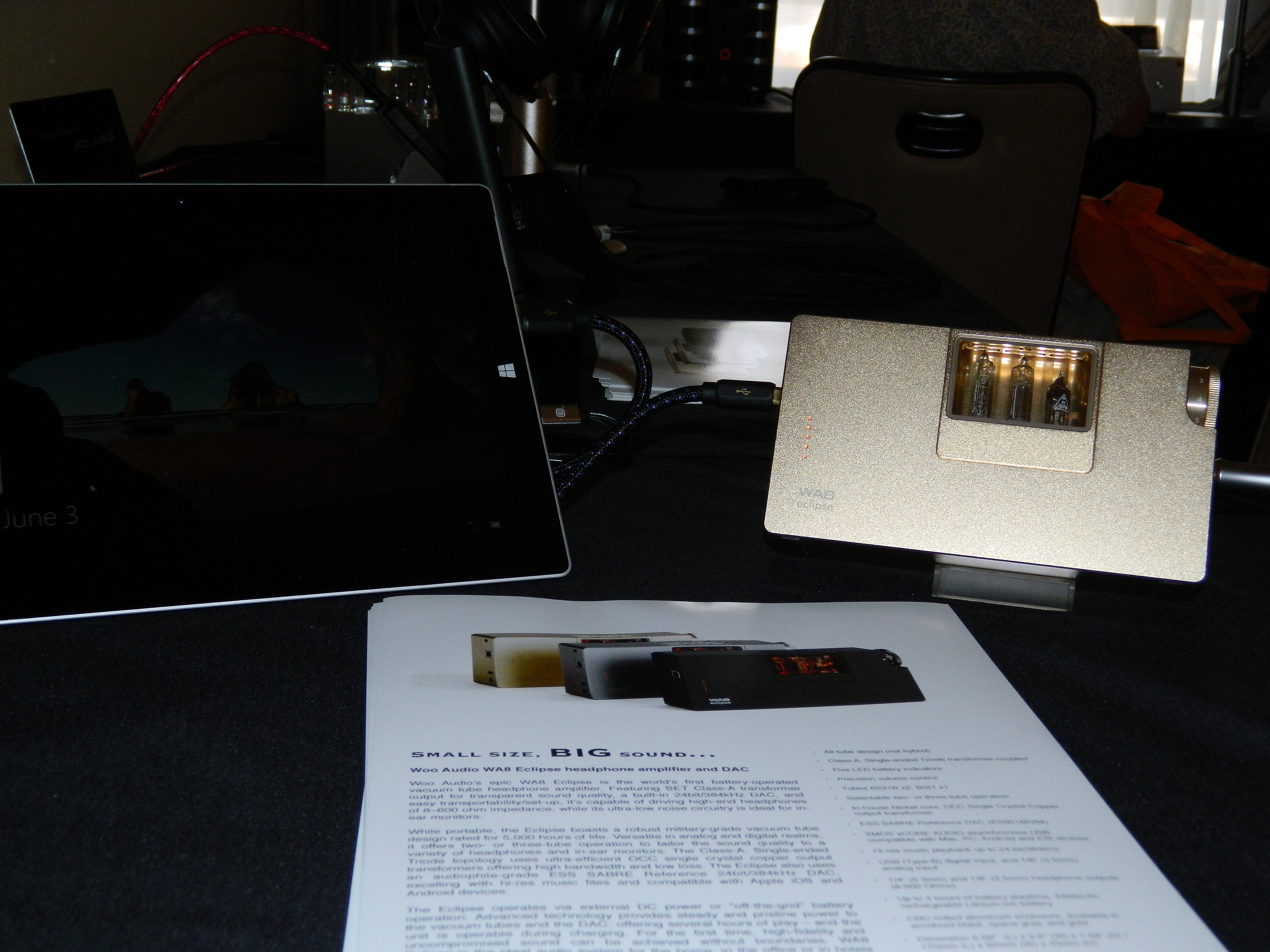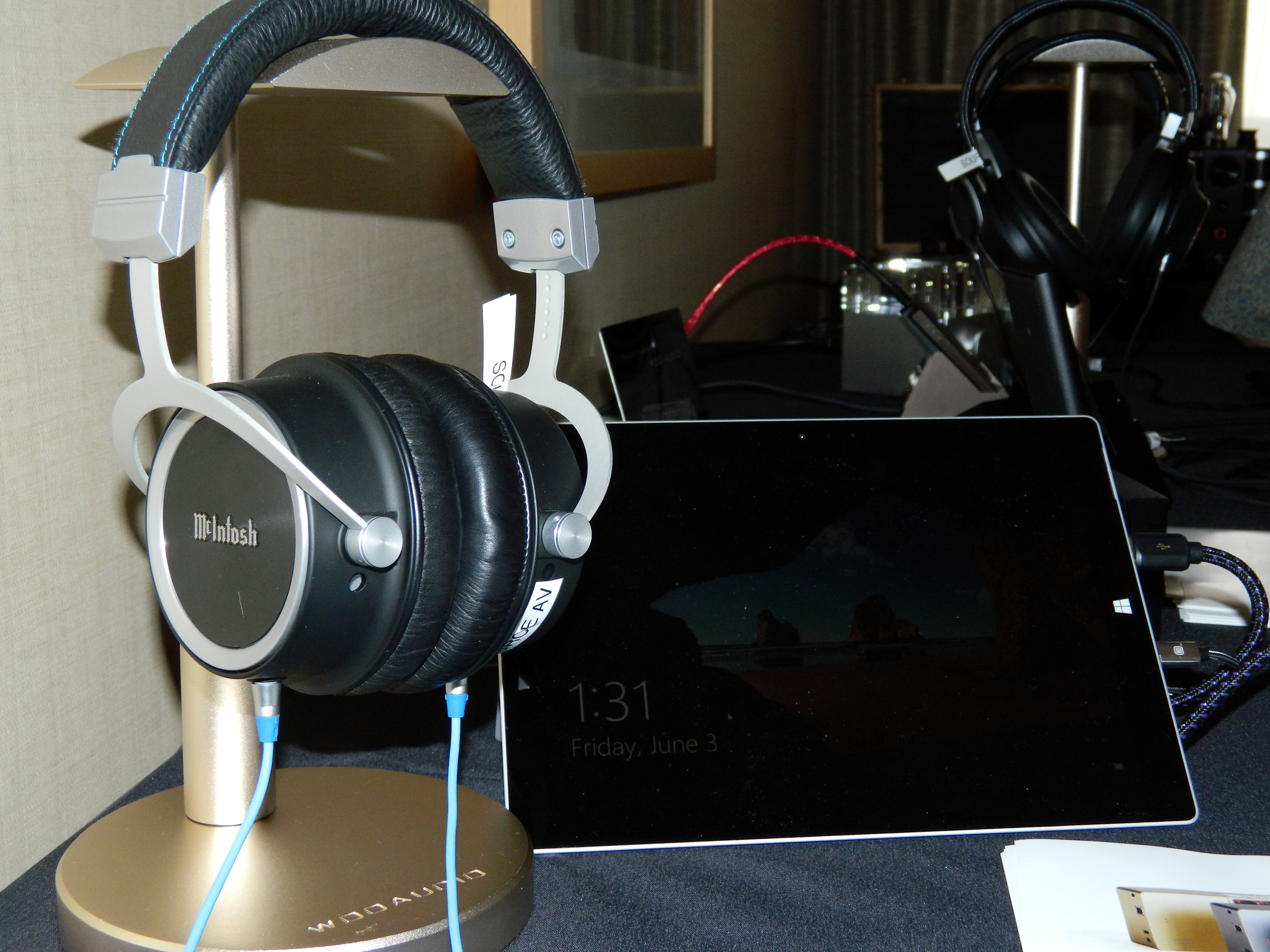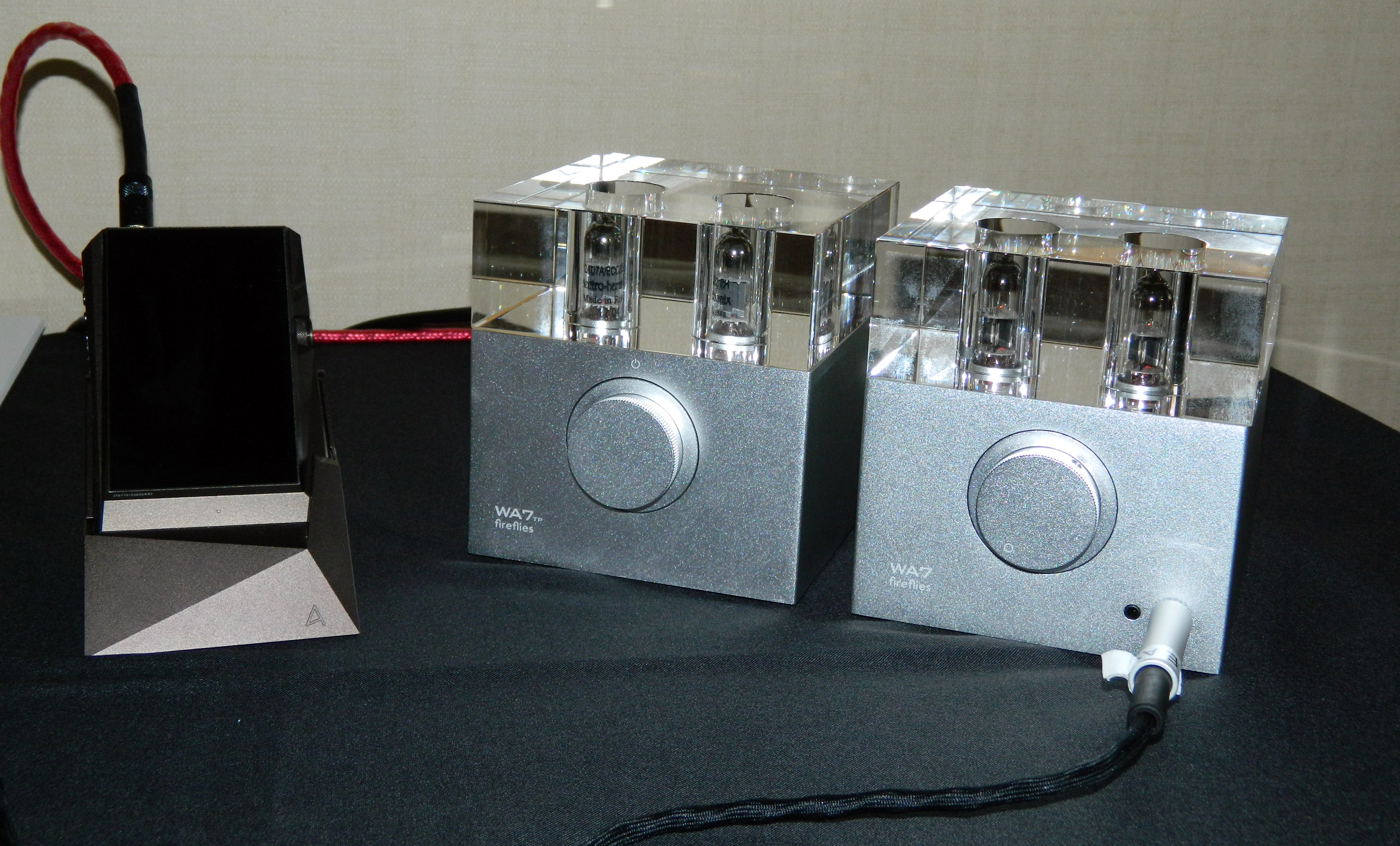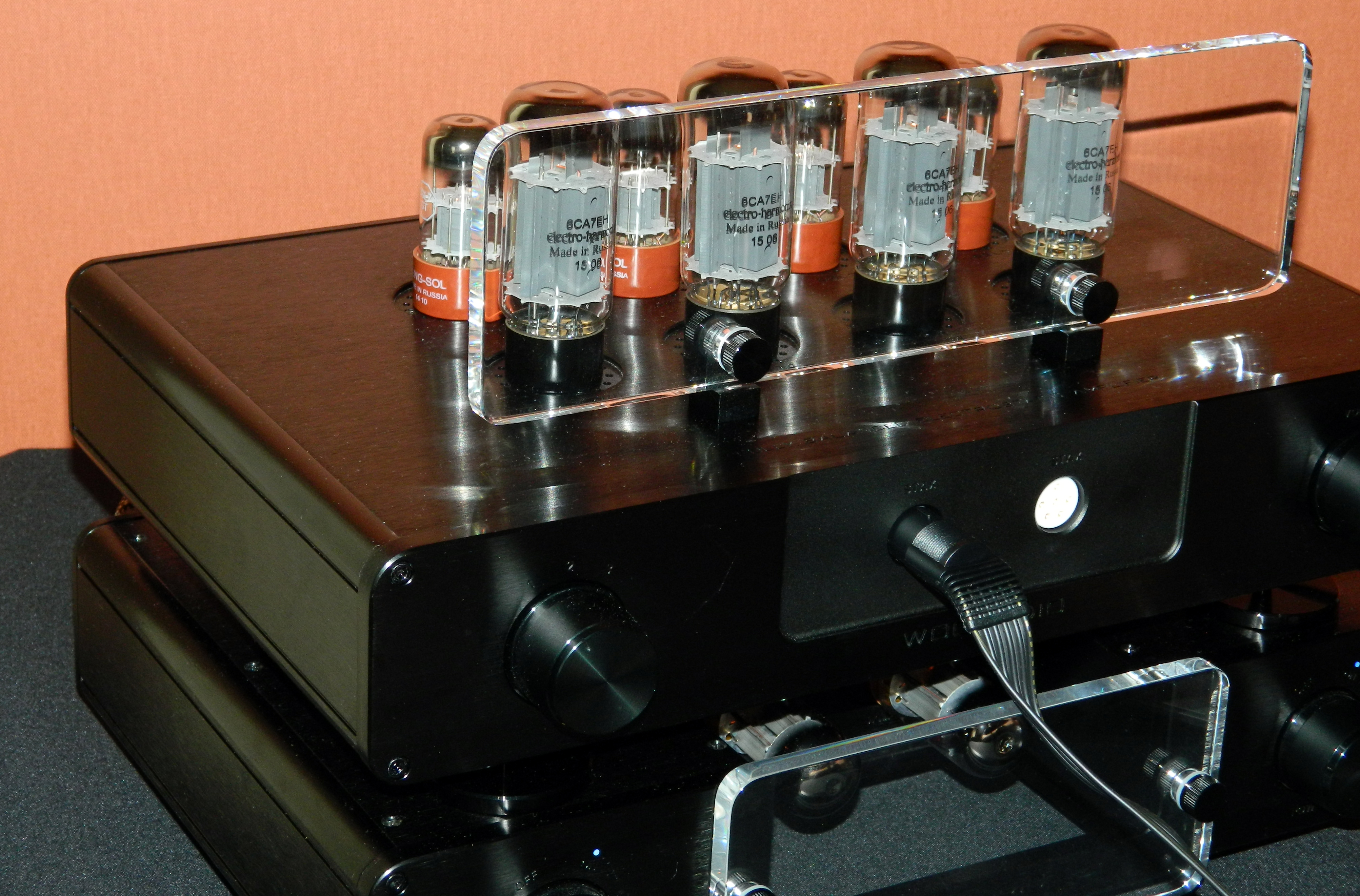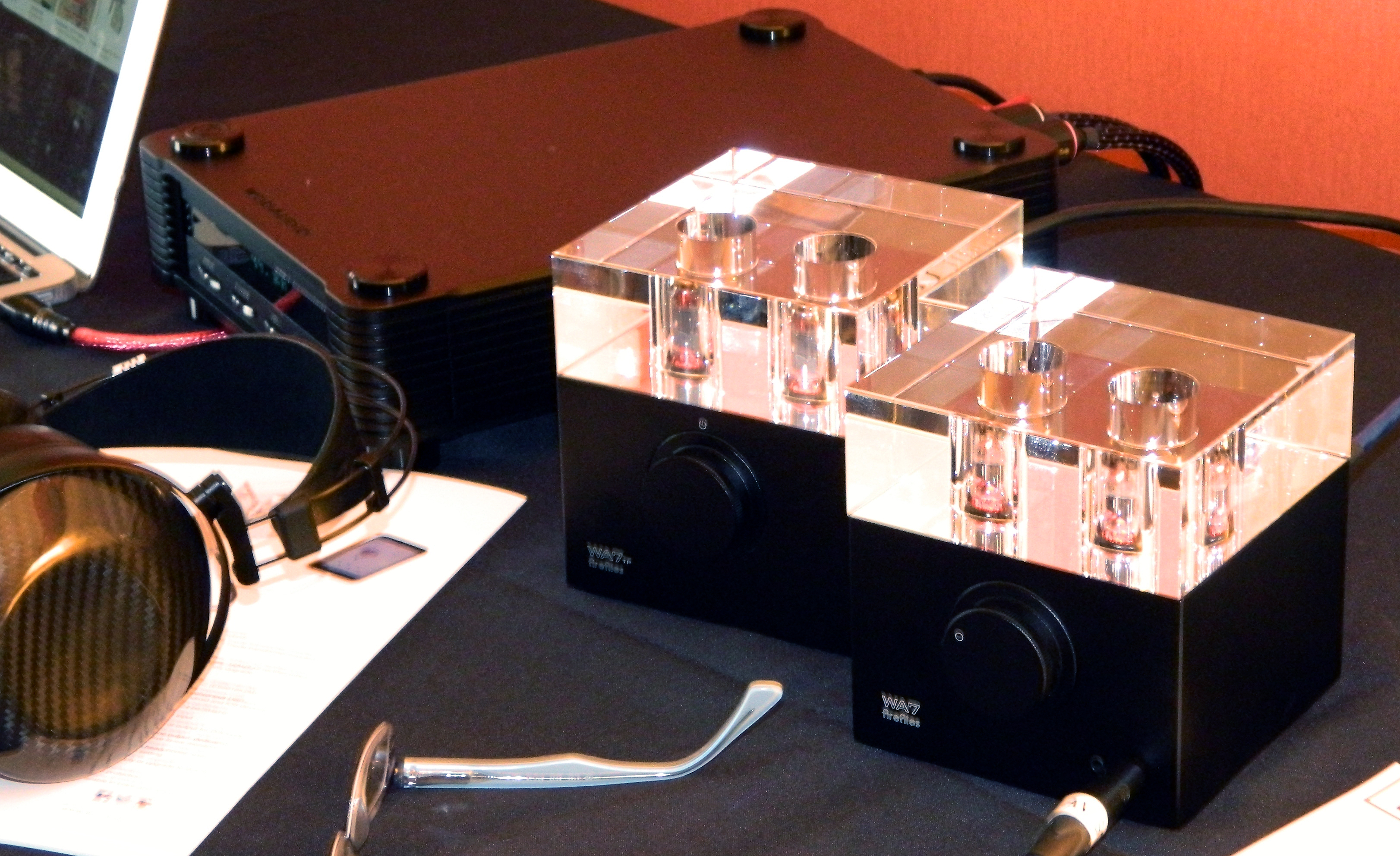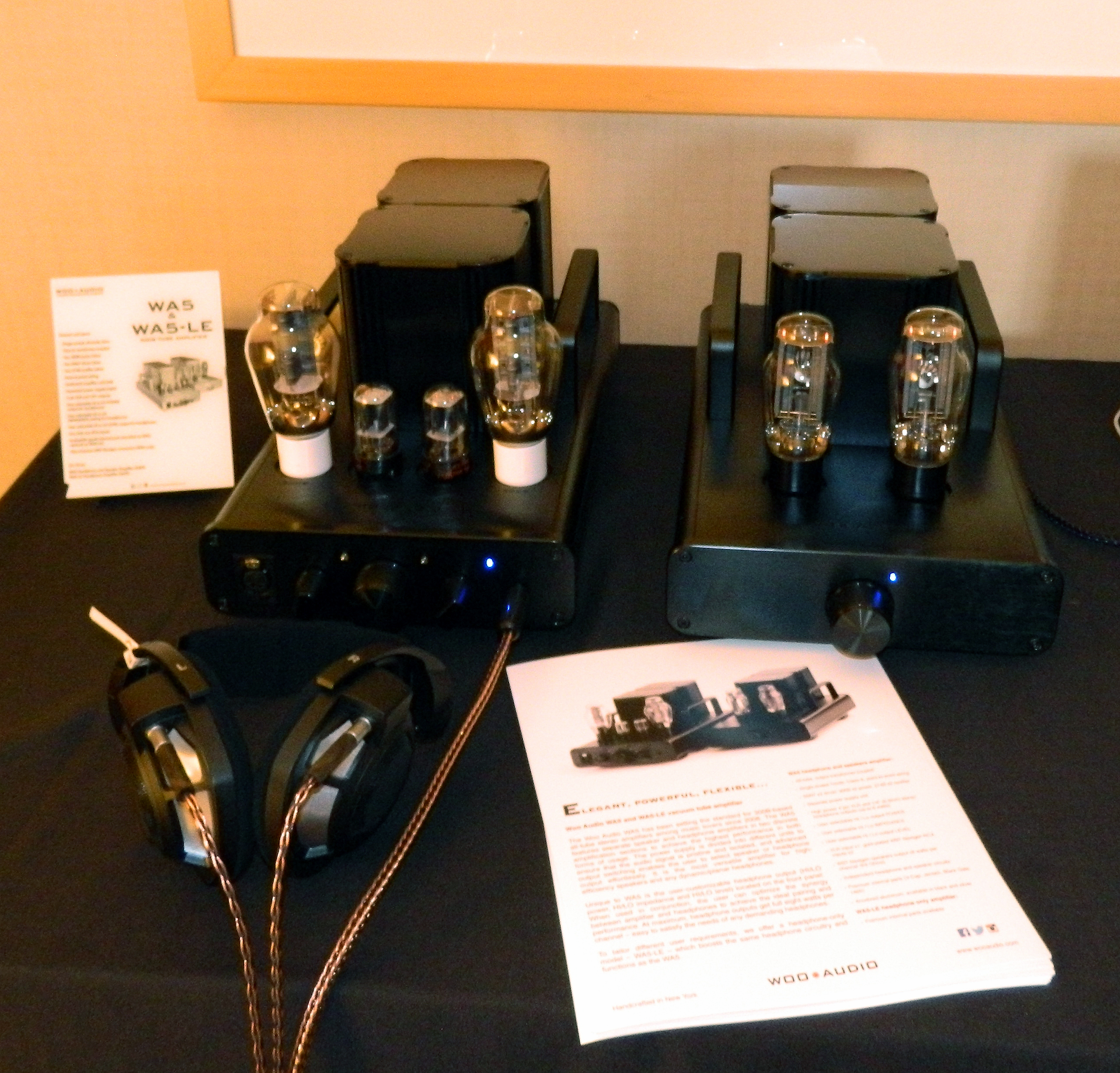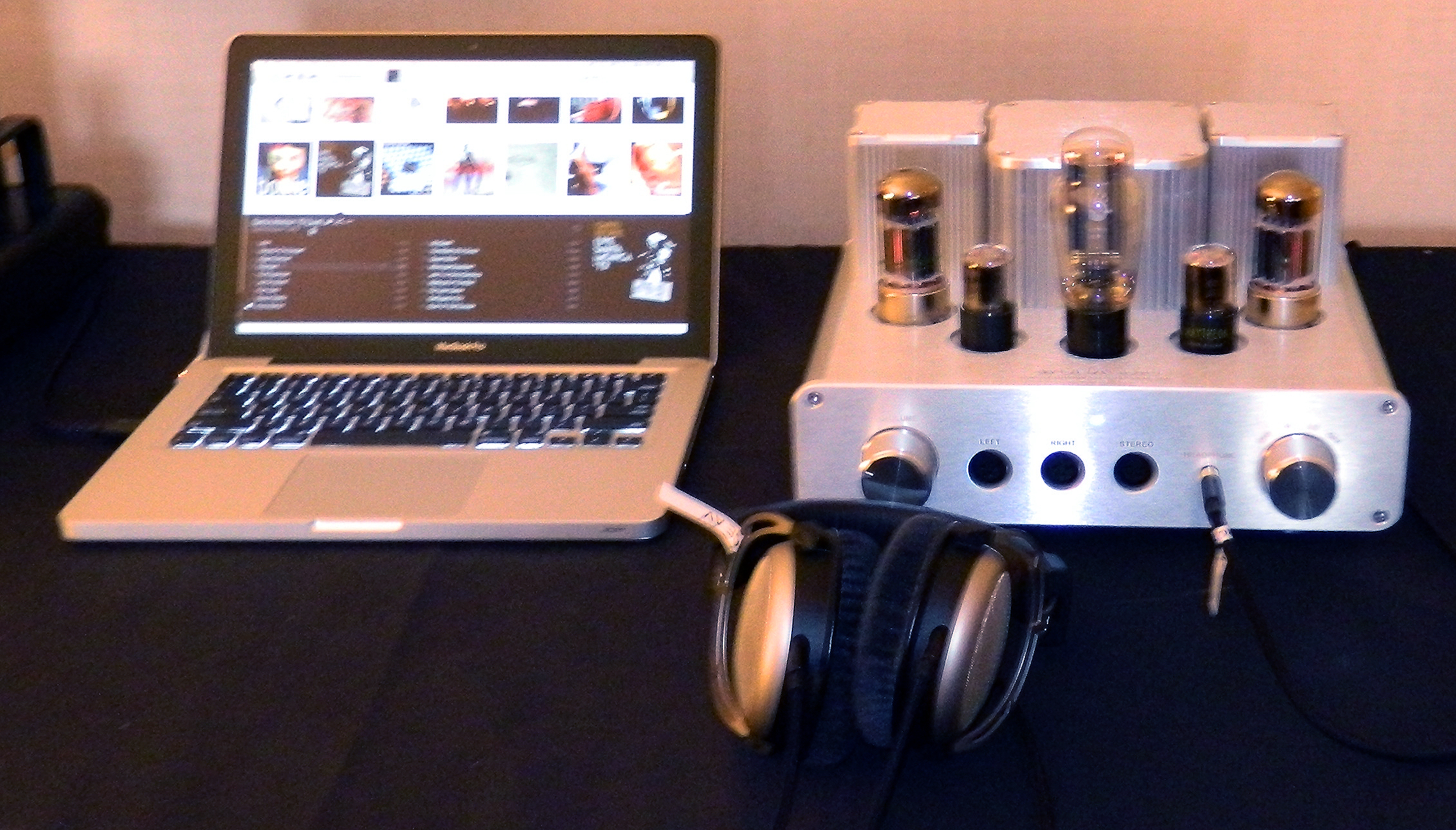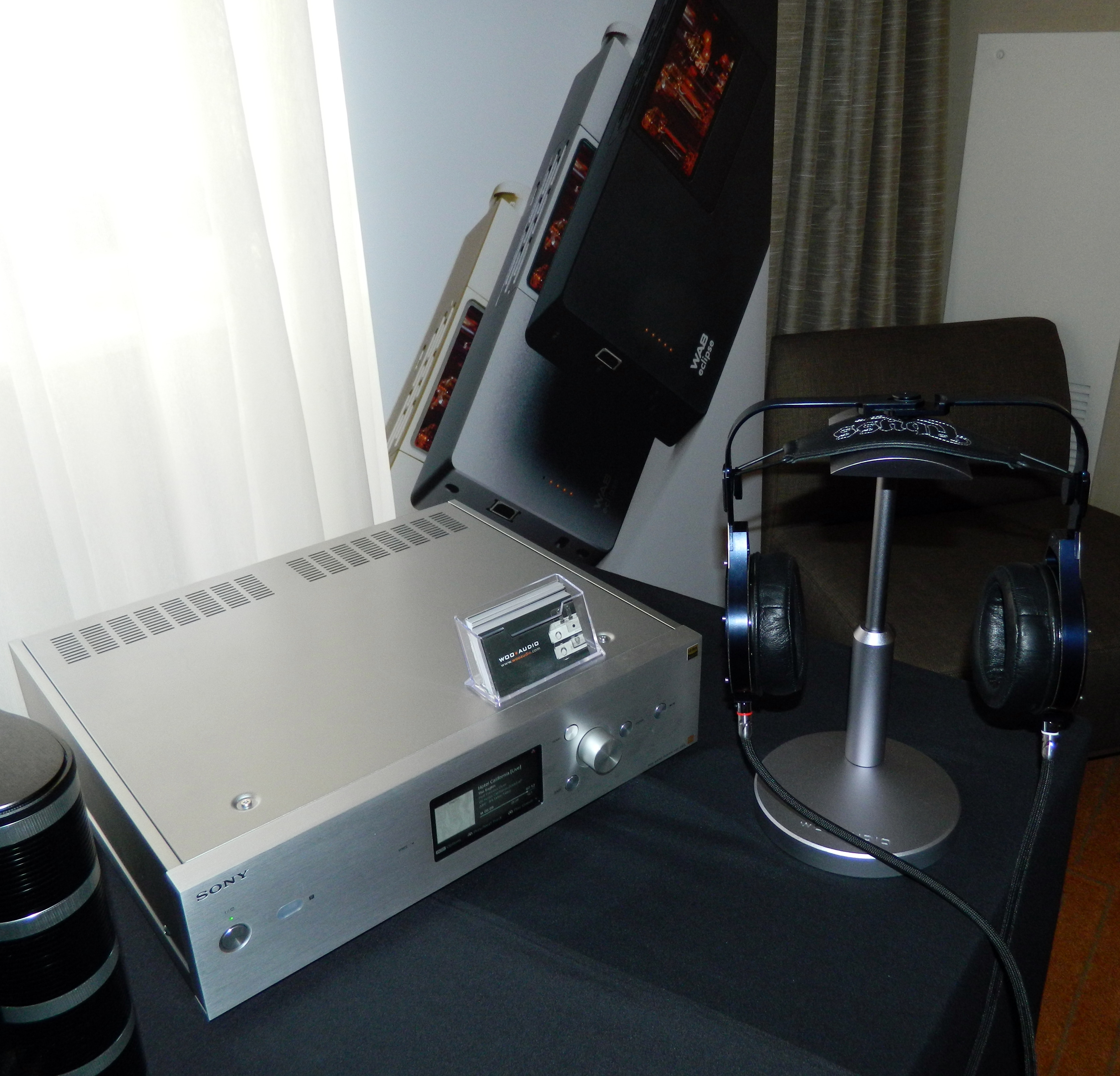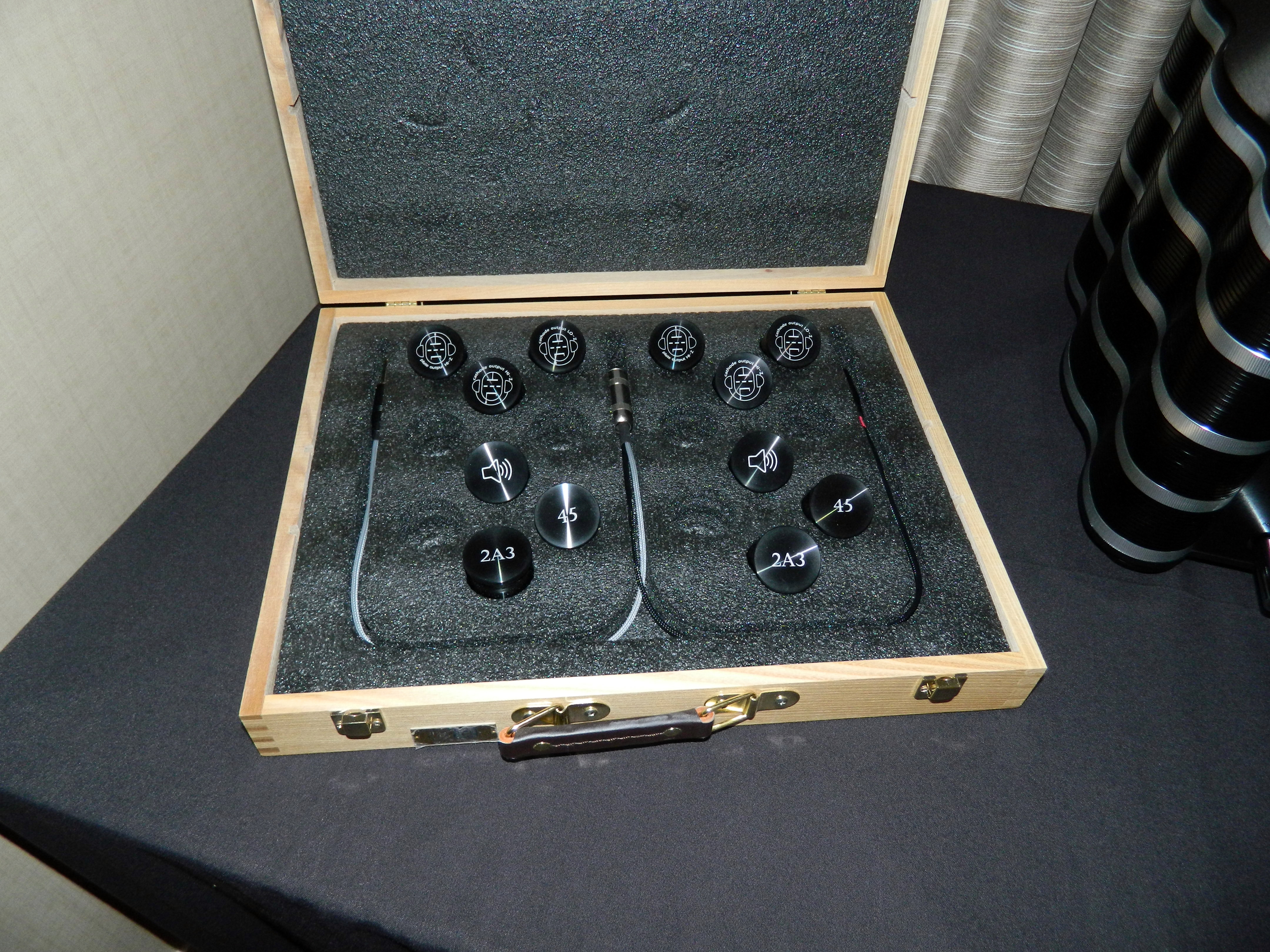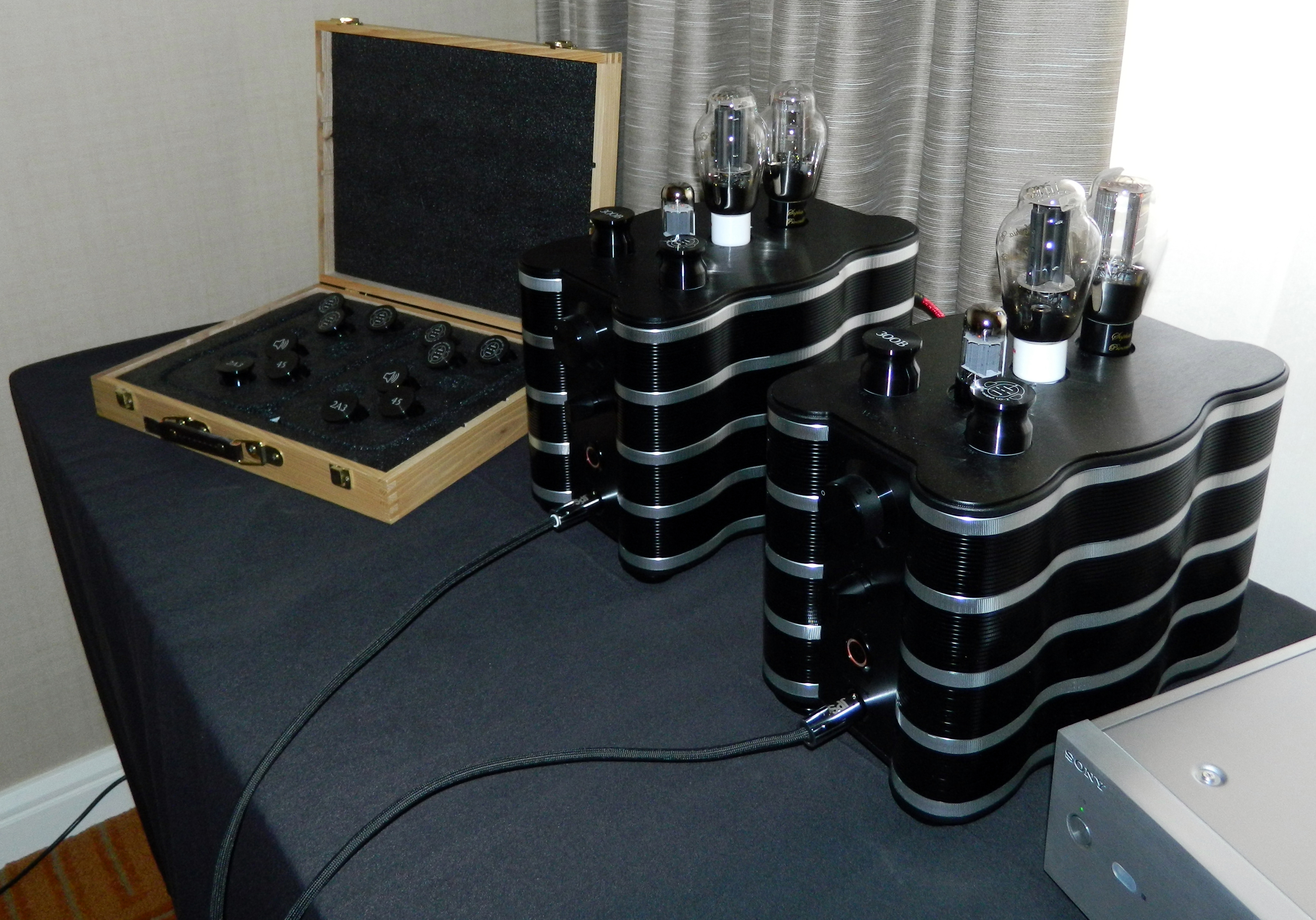 Then it was time to rush down stairs (elevator?) to T.H.E. Marketplace in the Grand Ballroom for a quick tour of the headphone area which was already beginning to fill up with excited audio enthusiast.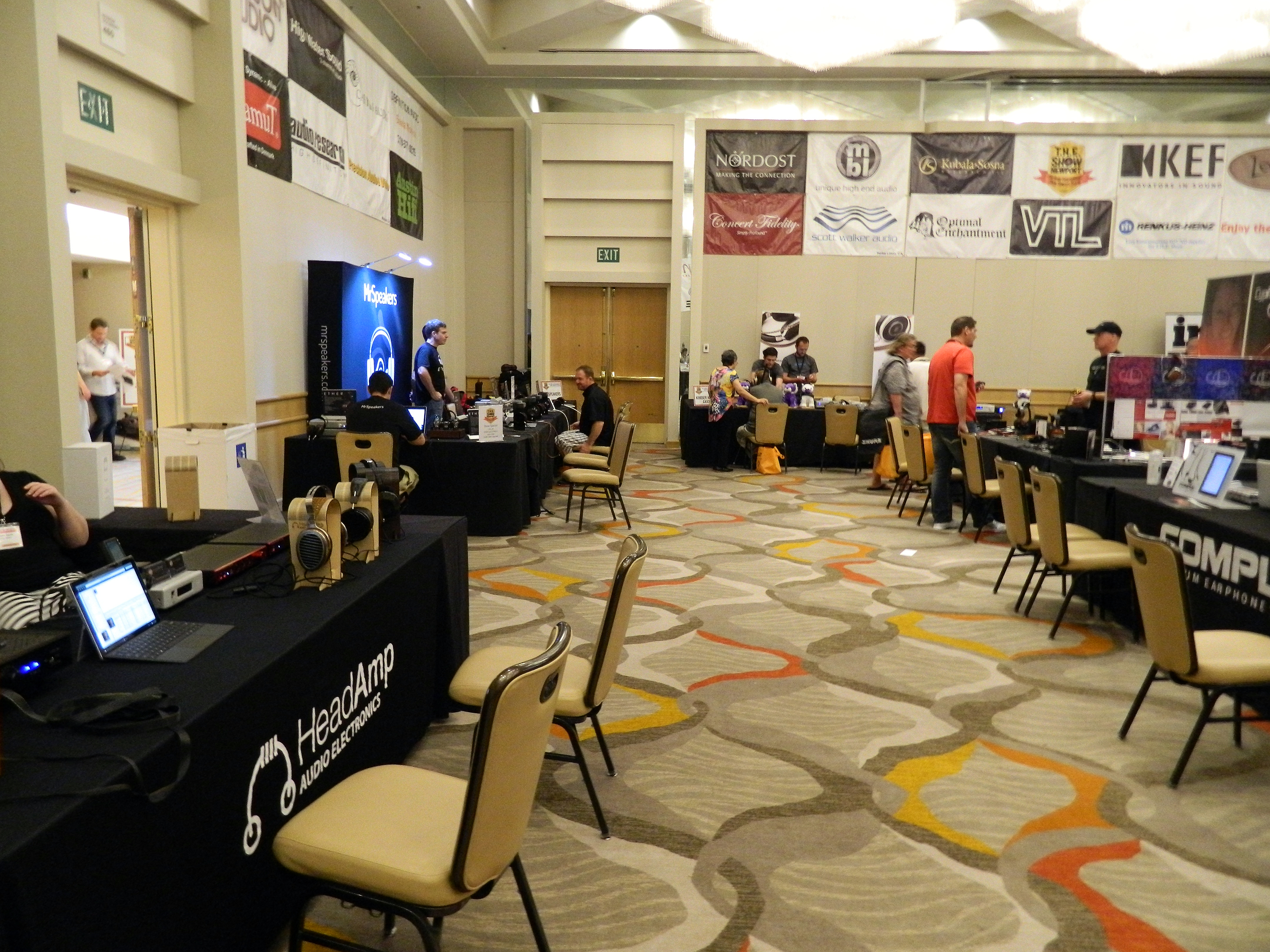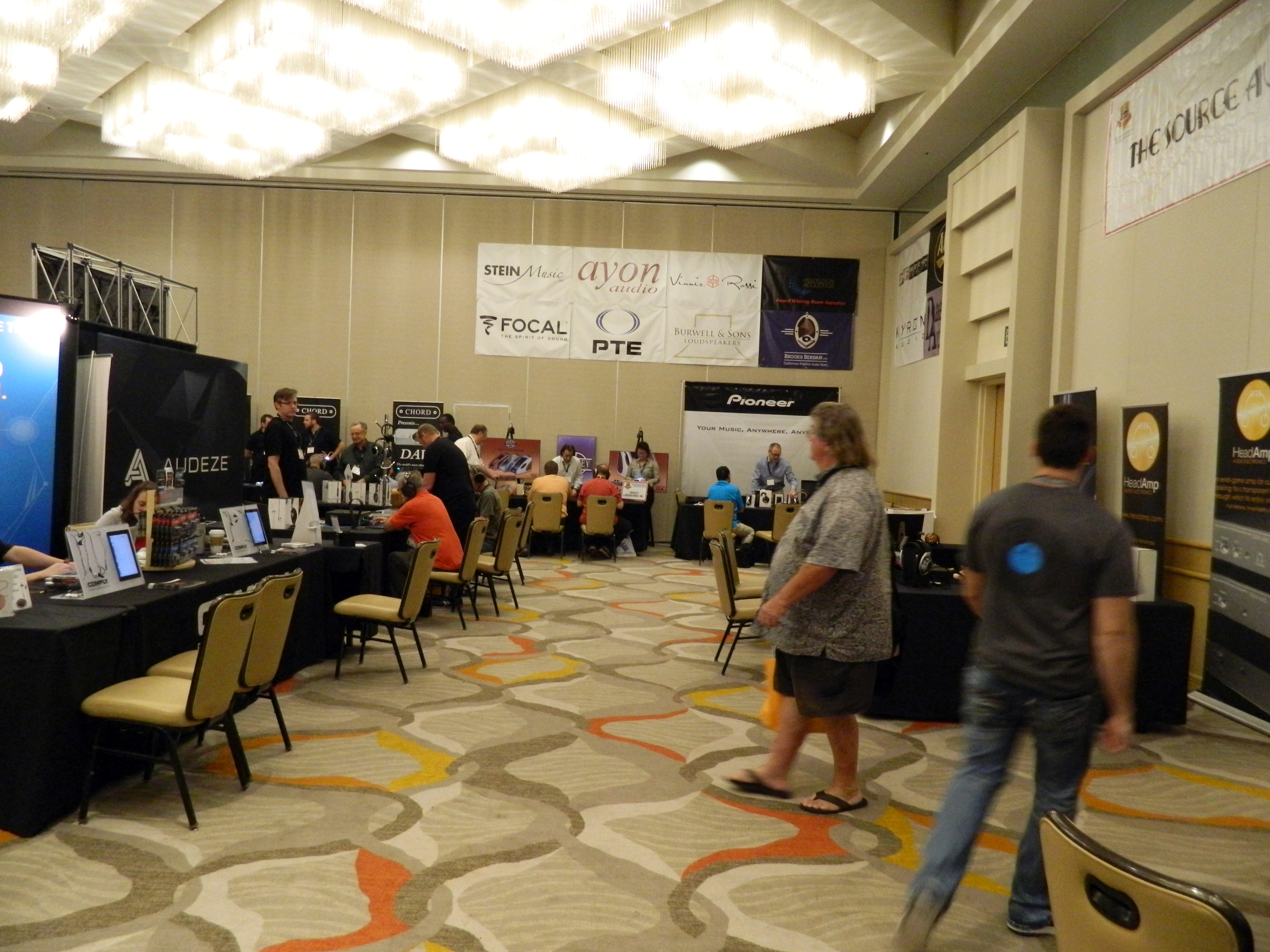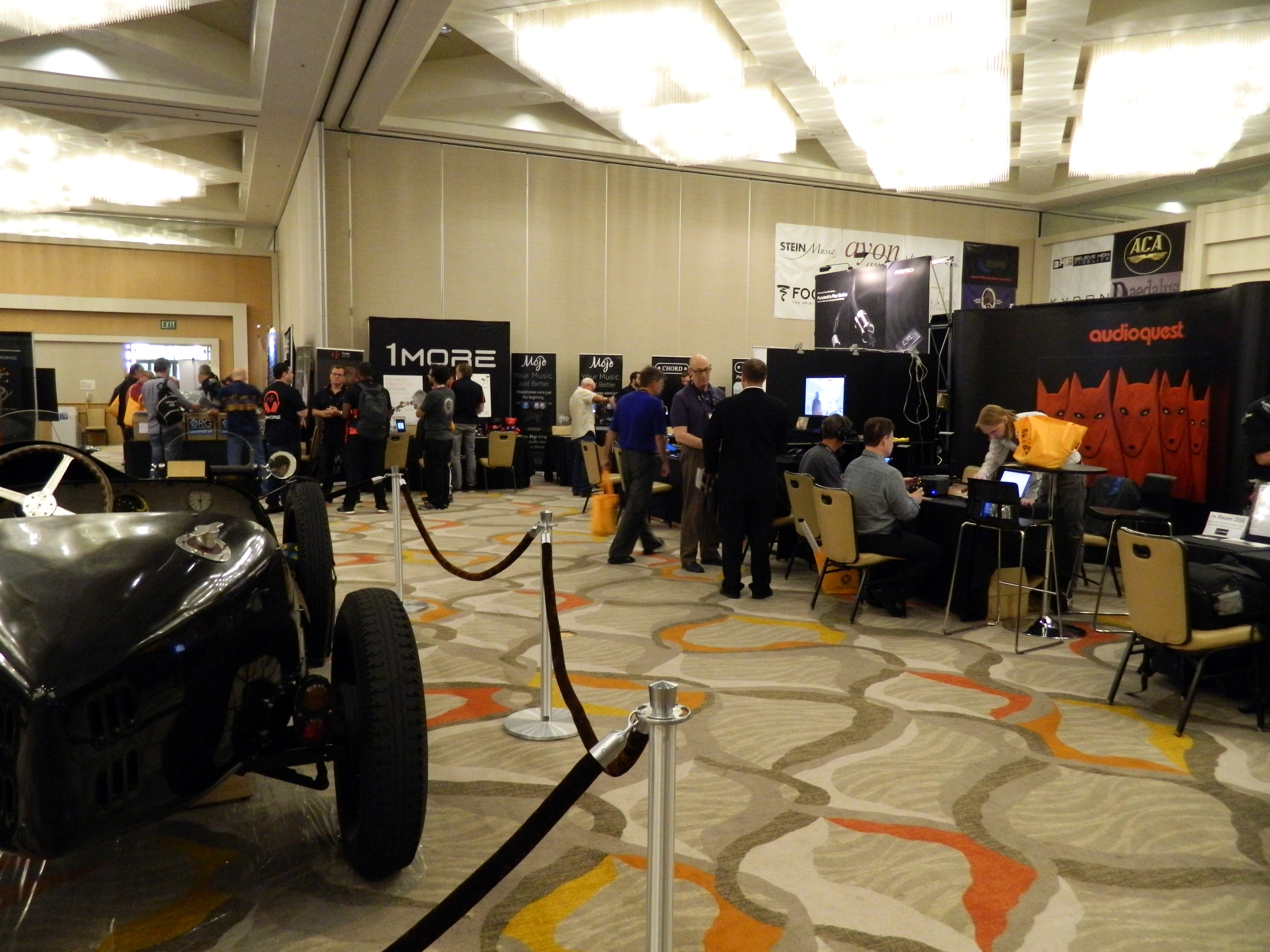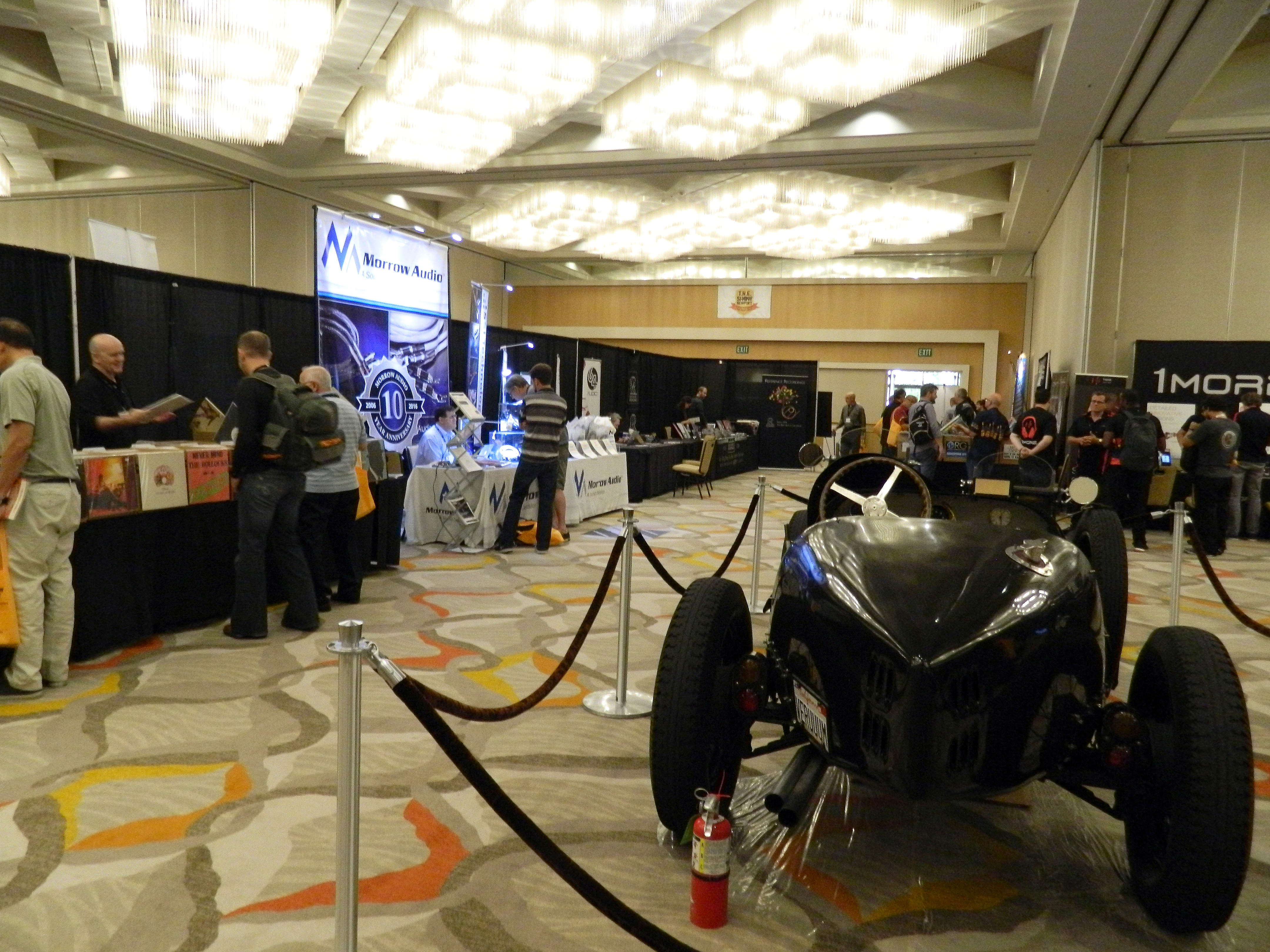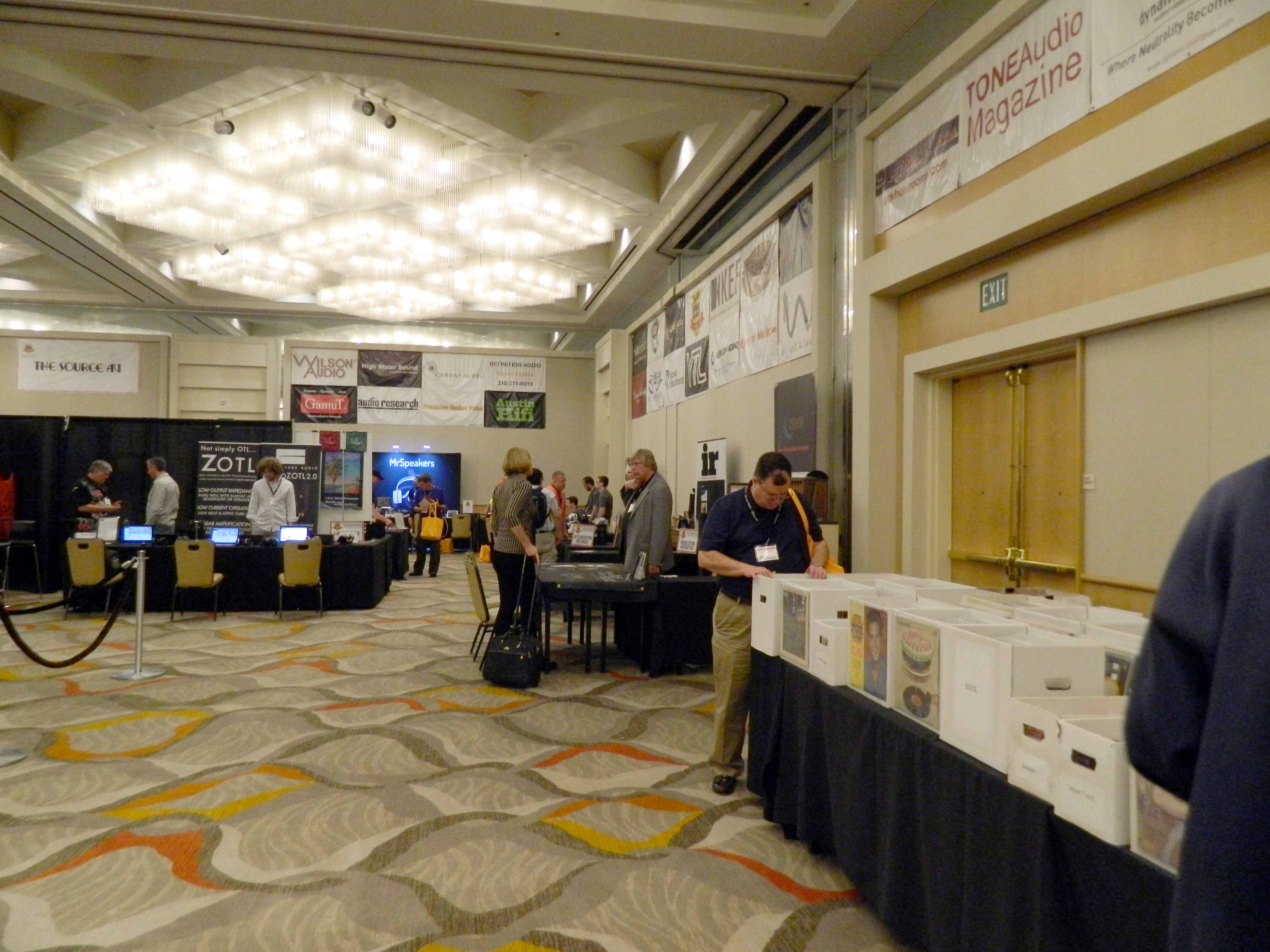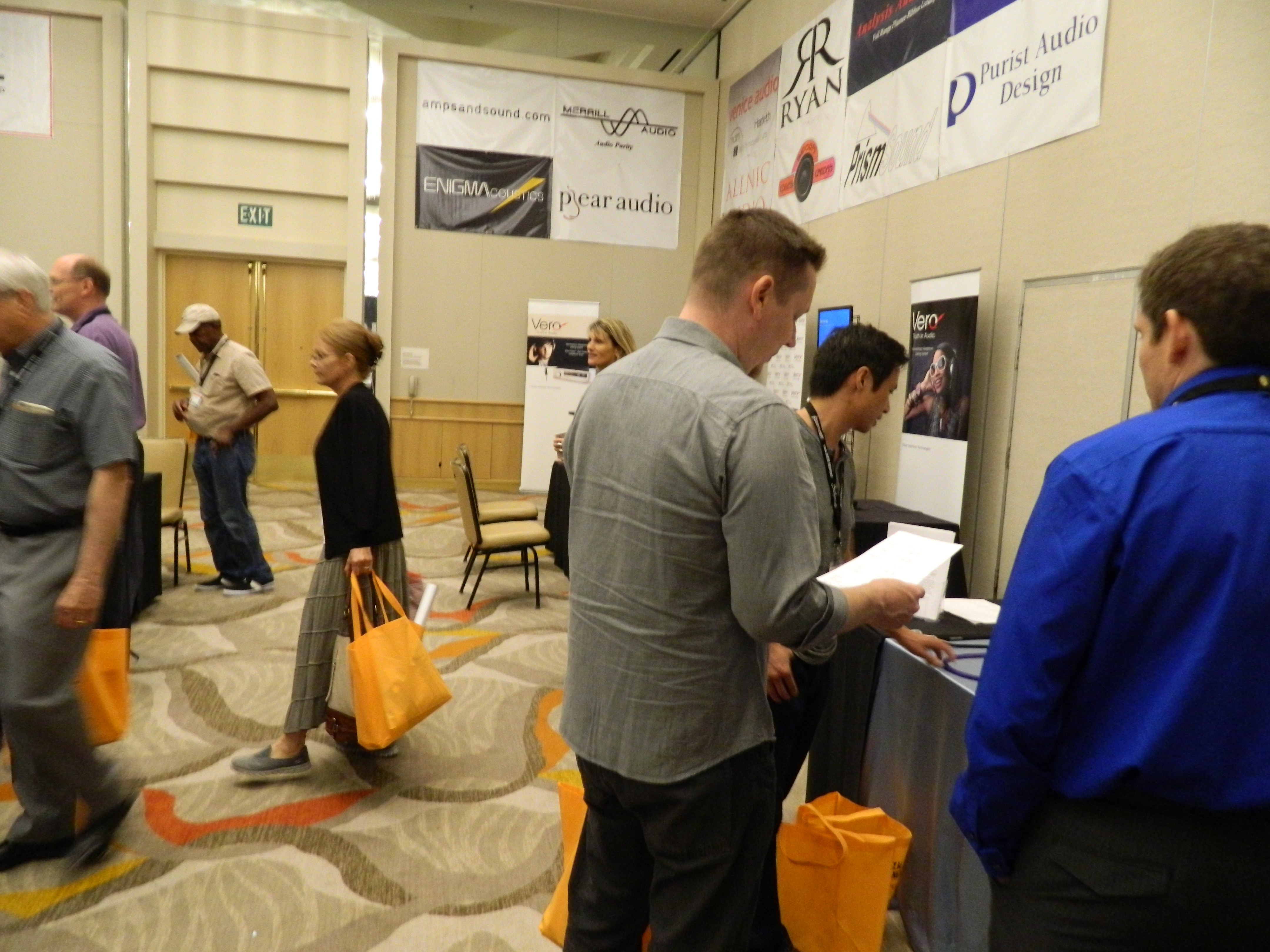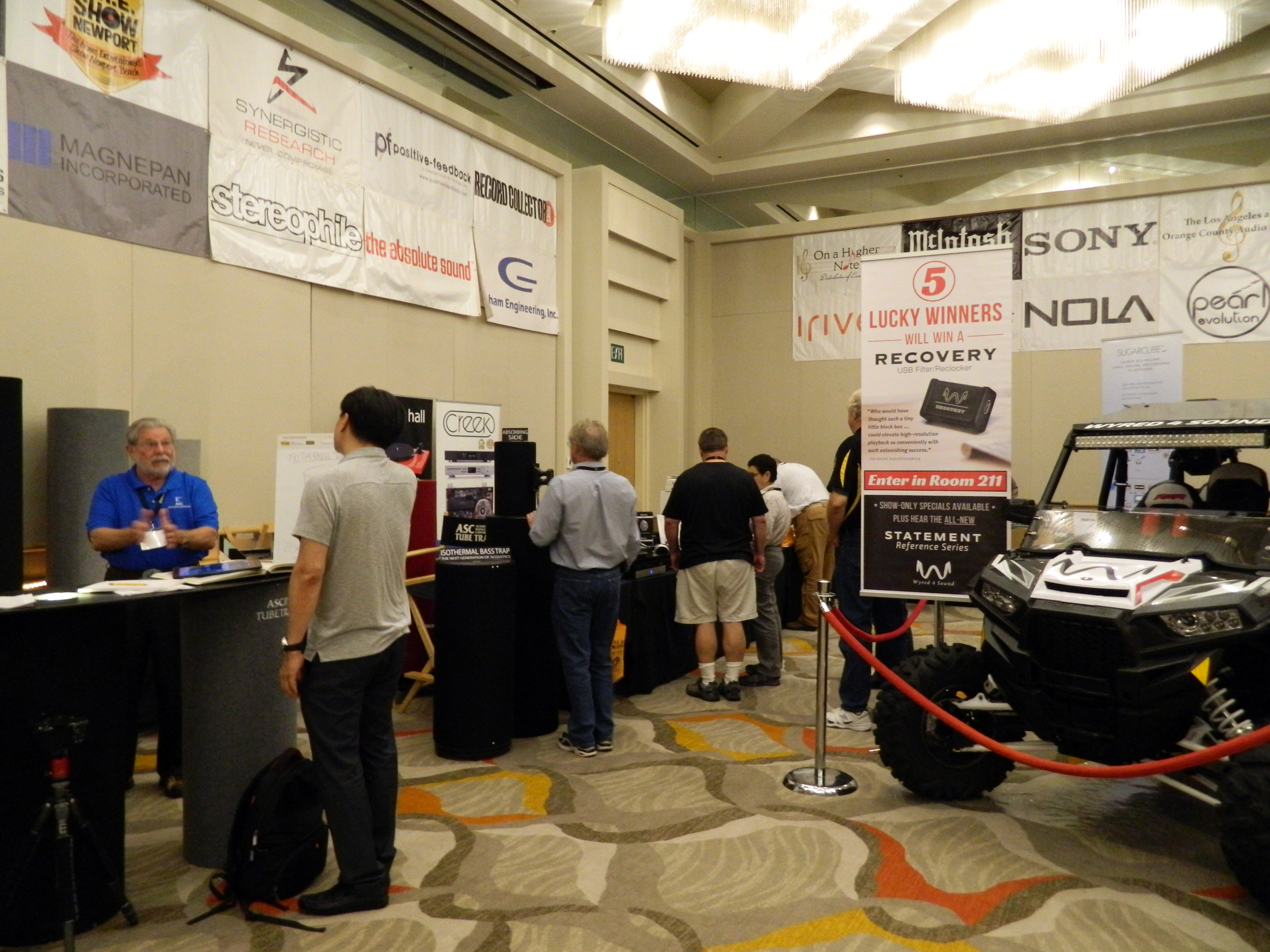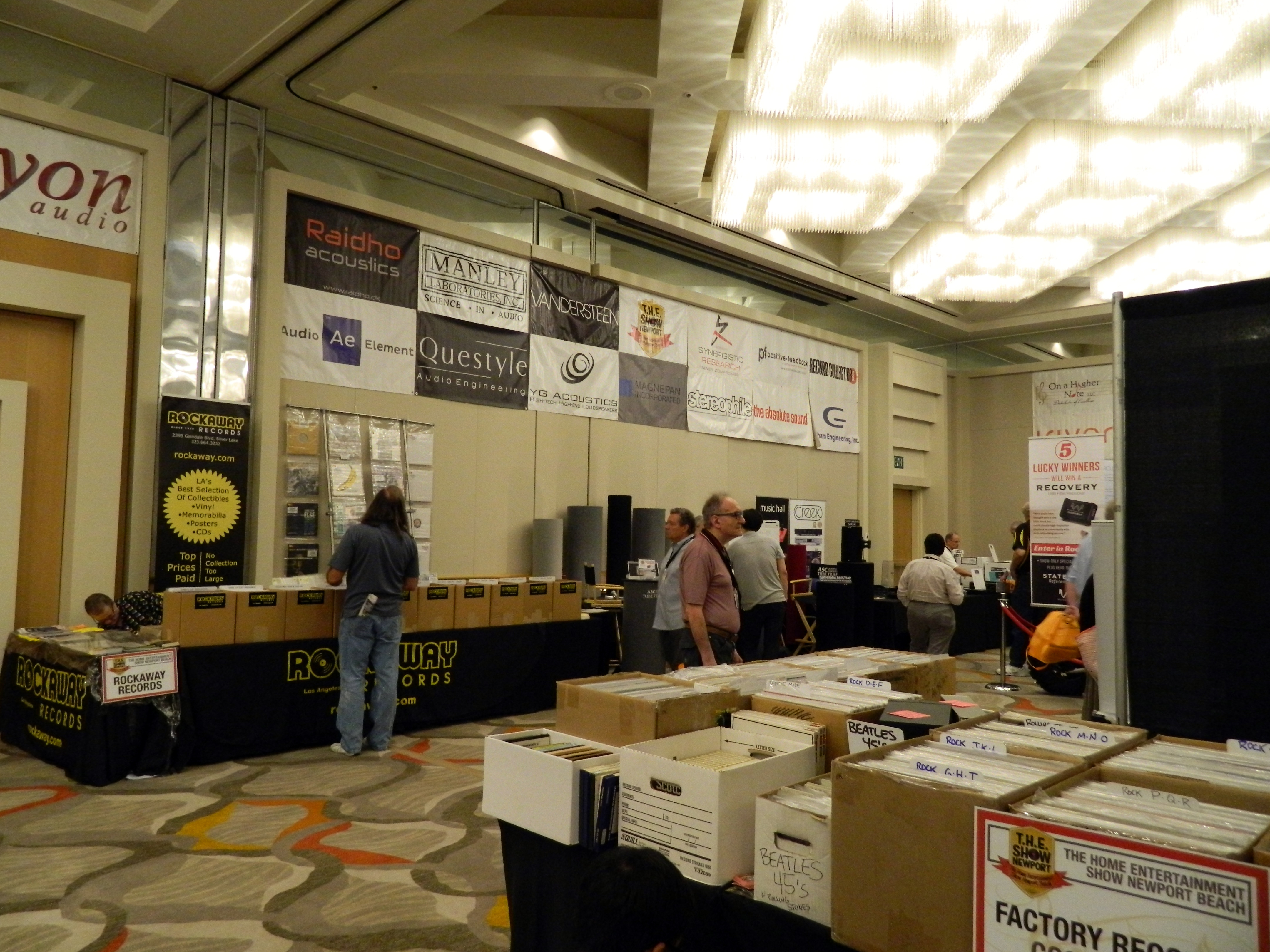 My first stop was MrSpeakers who had commandeered a complete corner of the ballroom to demonstrate the versatility of their Ether ($1,499.99) and Ether C ($1,499.99) headphones by coupling them with a host of top of the line headphone amplifiers, where I spent a judicious amount of time listening to what is becoming one of my all time favorite headphones, the MrSpeakers Ether Electrostatics (TBA) which, while still in the development stage at this time, will hopefully become available soon.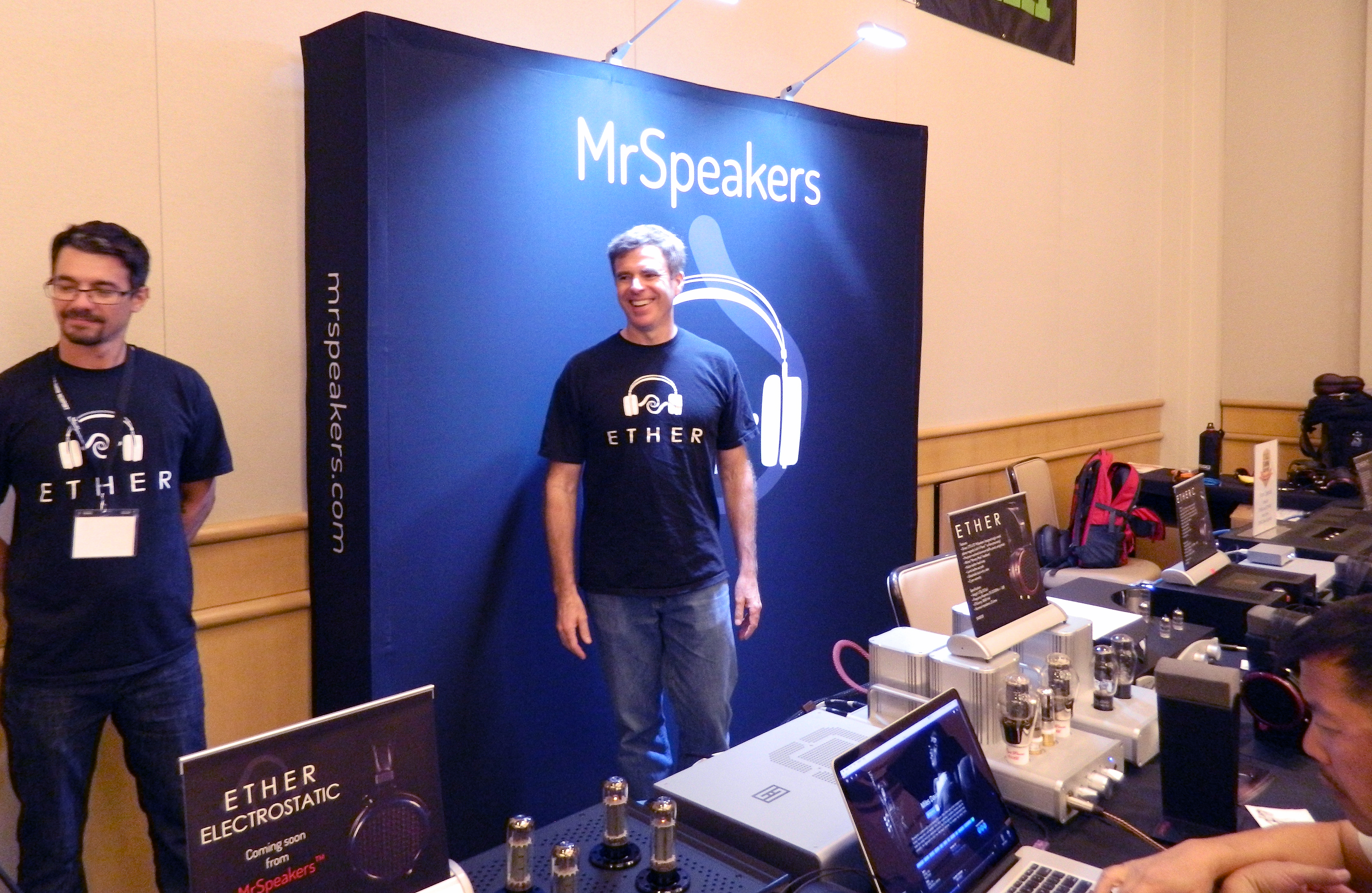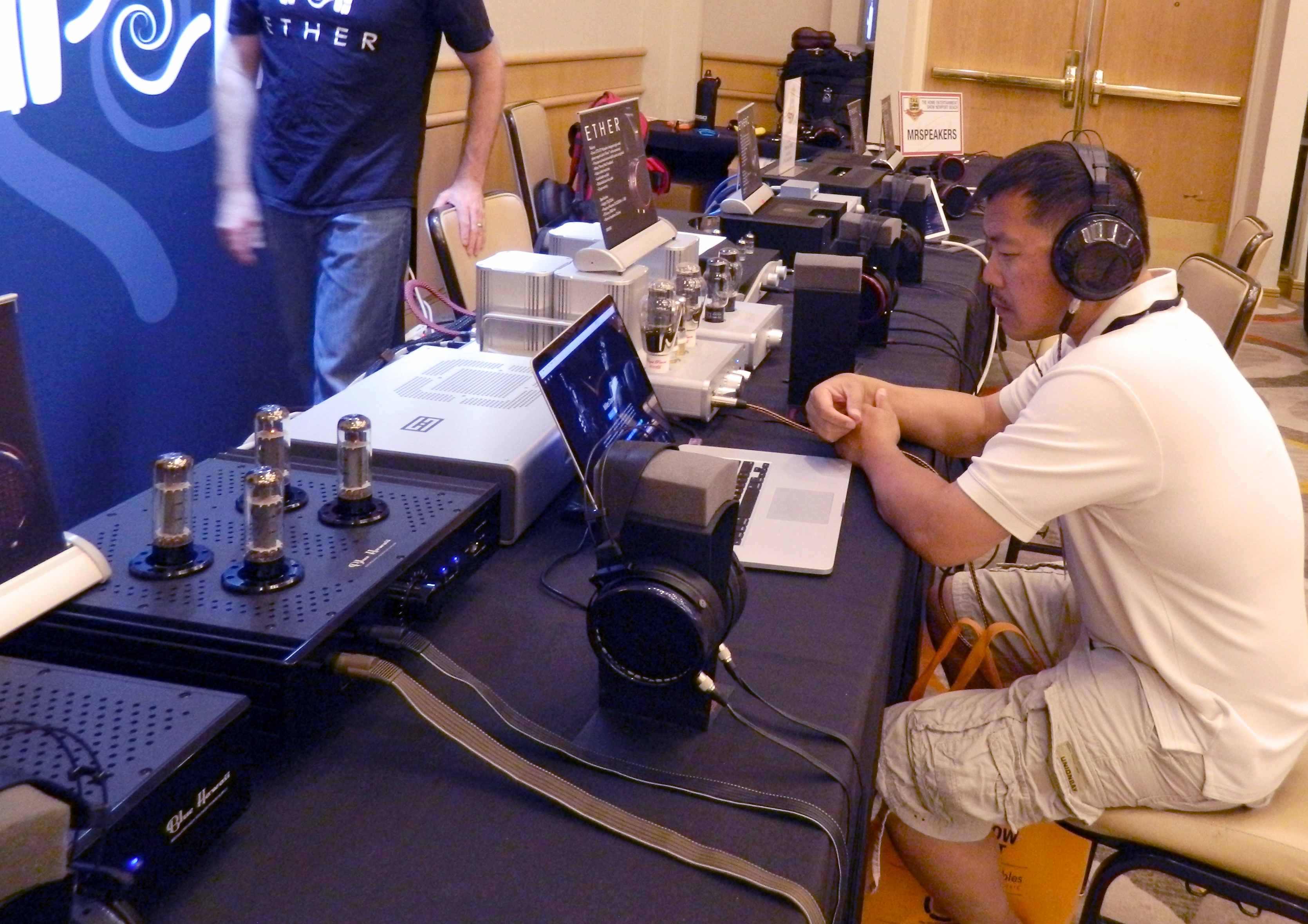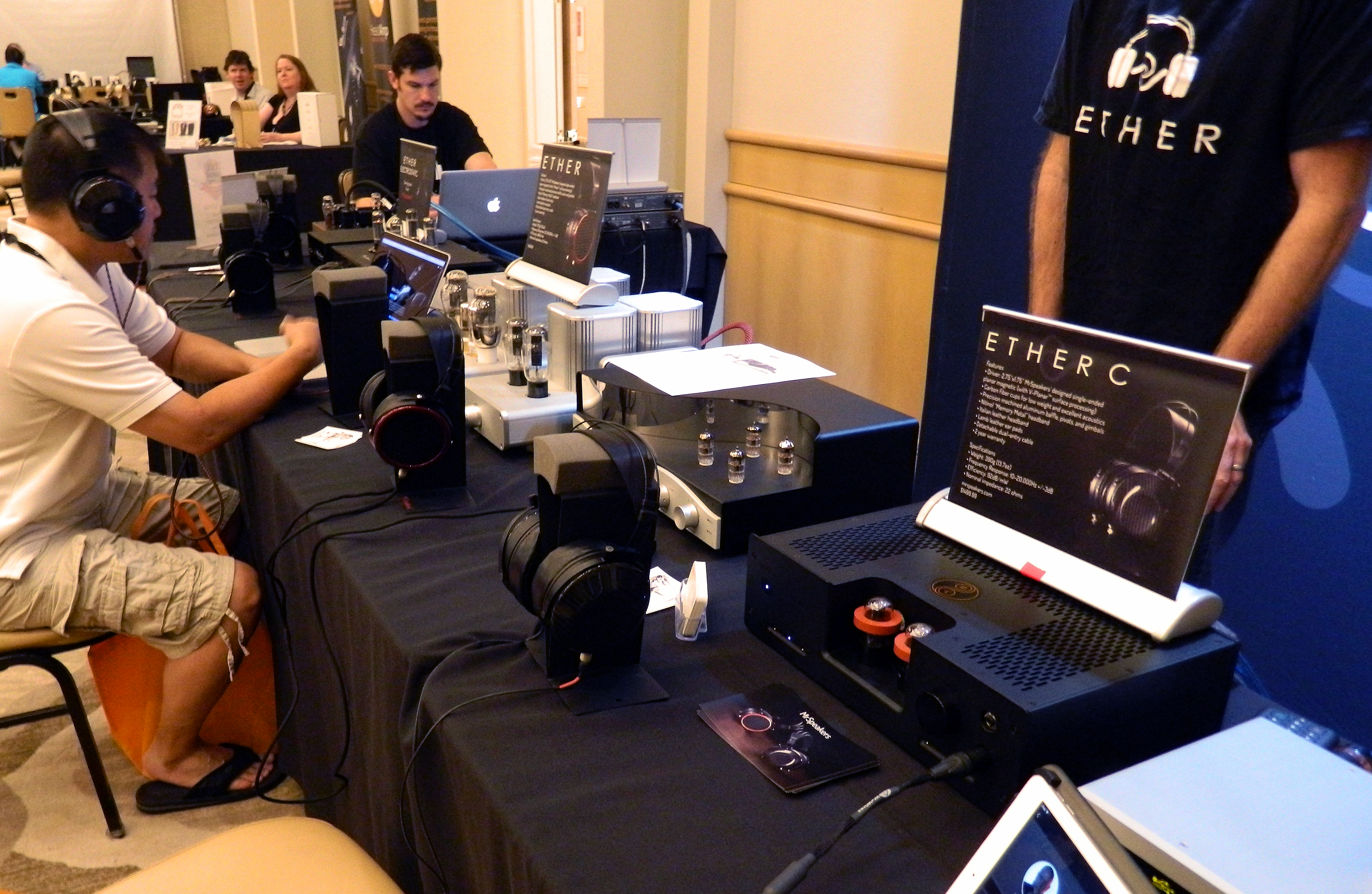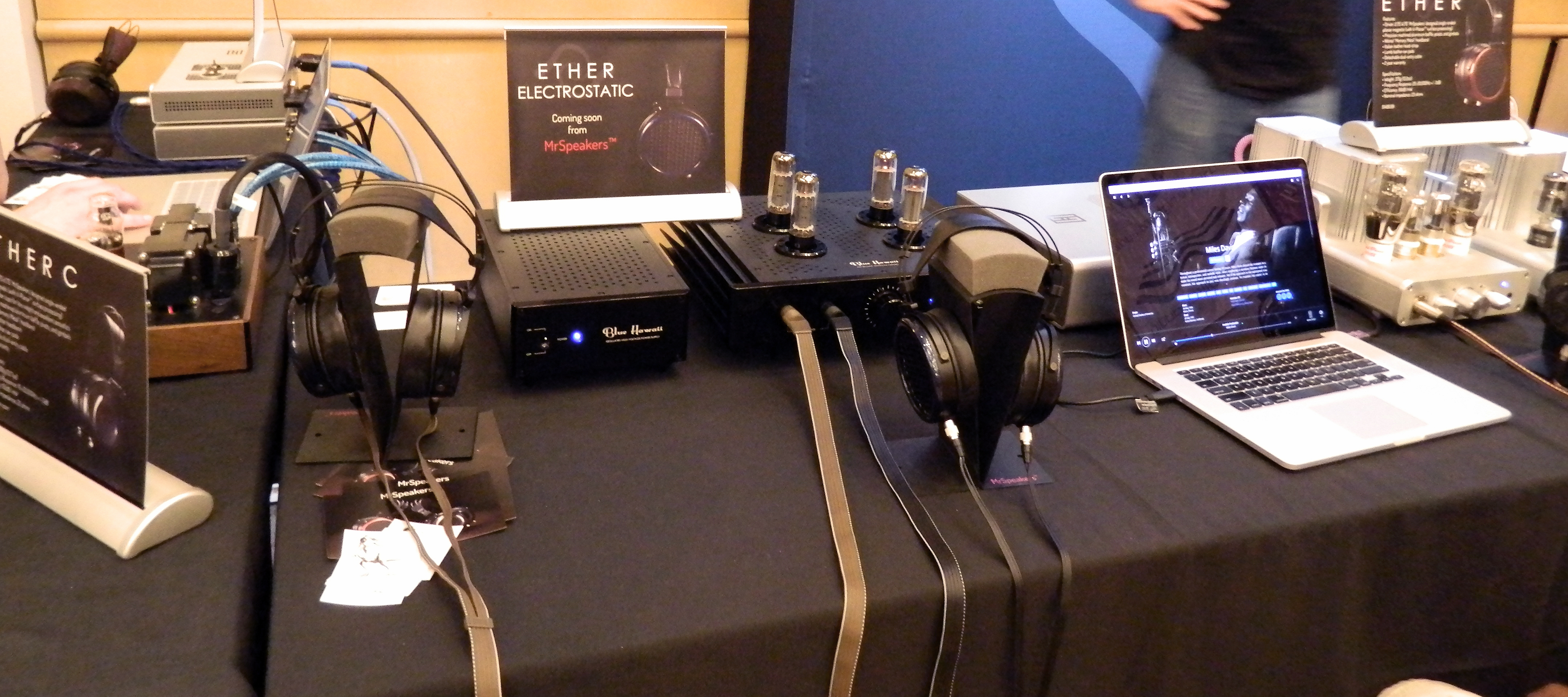 After reluctantly prying myself away from the Ether Electrostatics, I moved on to HeadAmp Audio Electronics where I was drawn to a very pretty dual chassis, dual mono headphone amplifier the GS-X mk2 ($2,996). Hand assembled in the USA, the HeadAmp GS-X mk2 pushes an incredible 6 watts (@ 50 Ω) of Class A power, making it a great match for the HiFiMAN HE-1000s on display. Almost as exciting was the BENDY head headphone stand ($79), winner of a Richard Beers Innovation Award. Made from Baltic Birch Plywood, employing a novel patent pending design, the BENDY head conforms to the shape of your headphones headband to prevent wear and pressure points. The BENDY head is available in three finishes and manufactured in Southern California.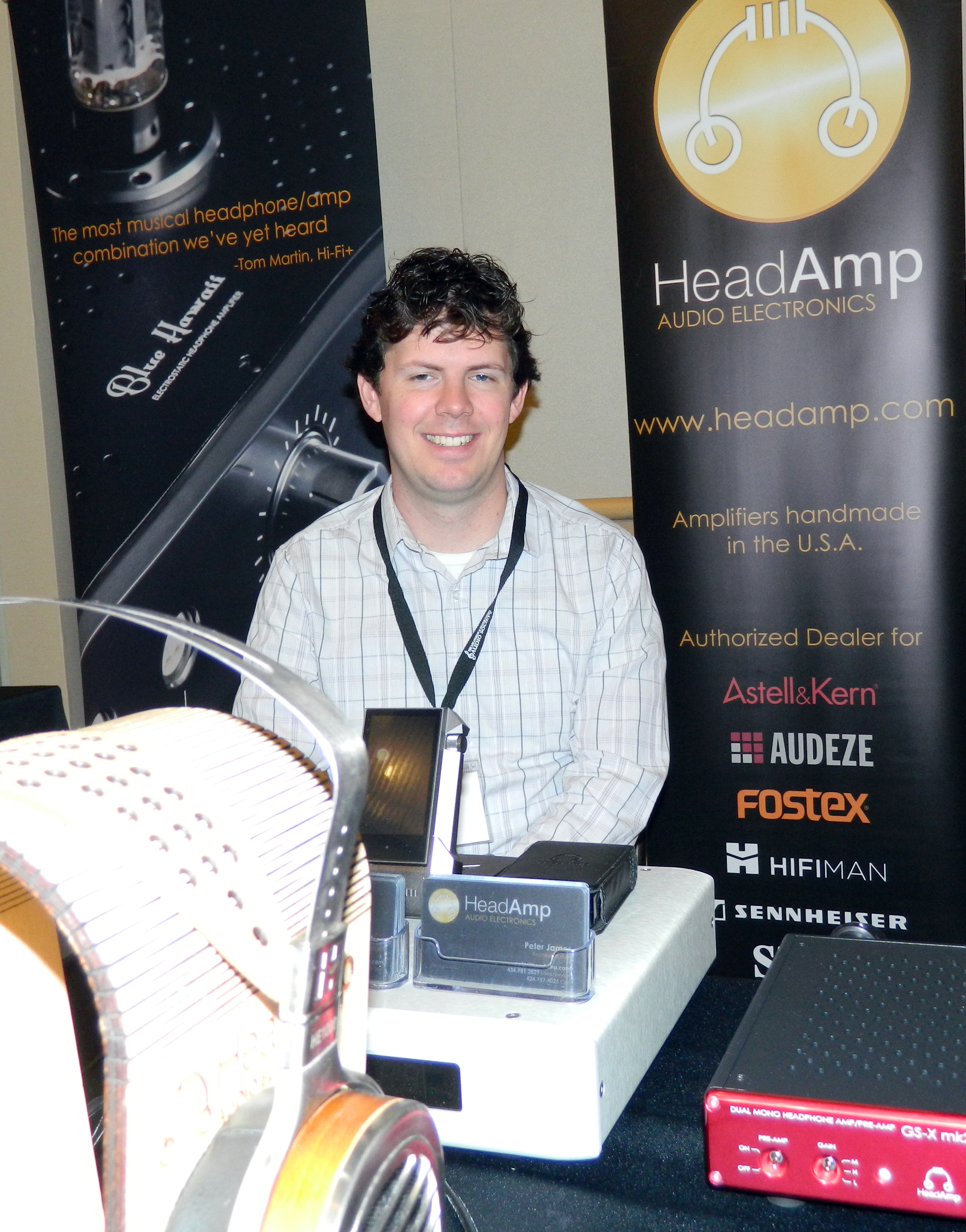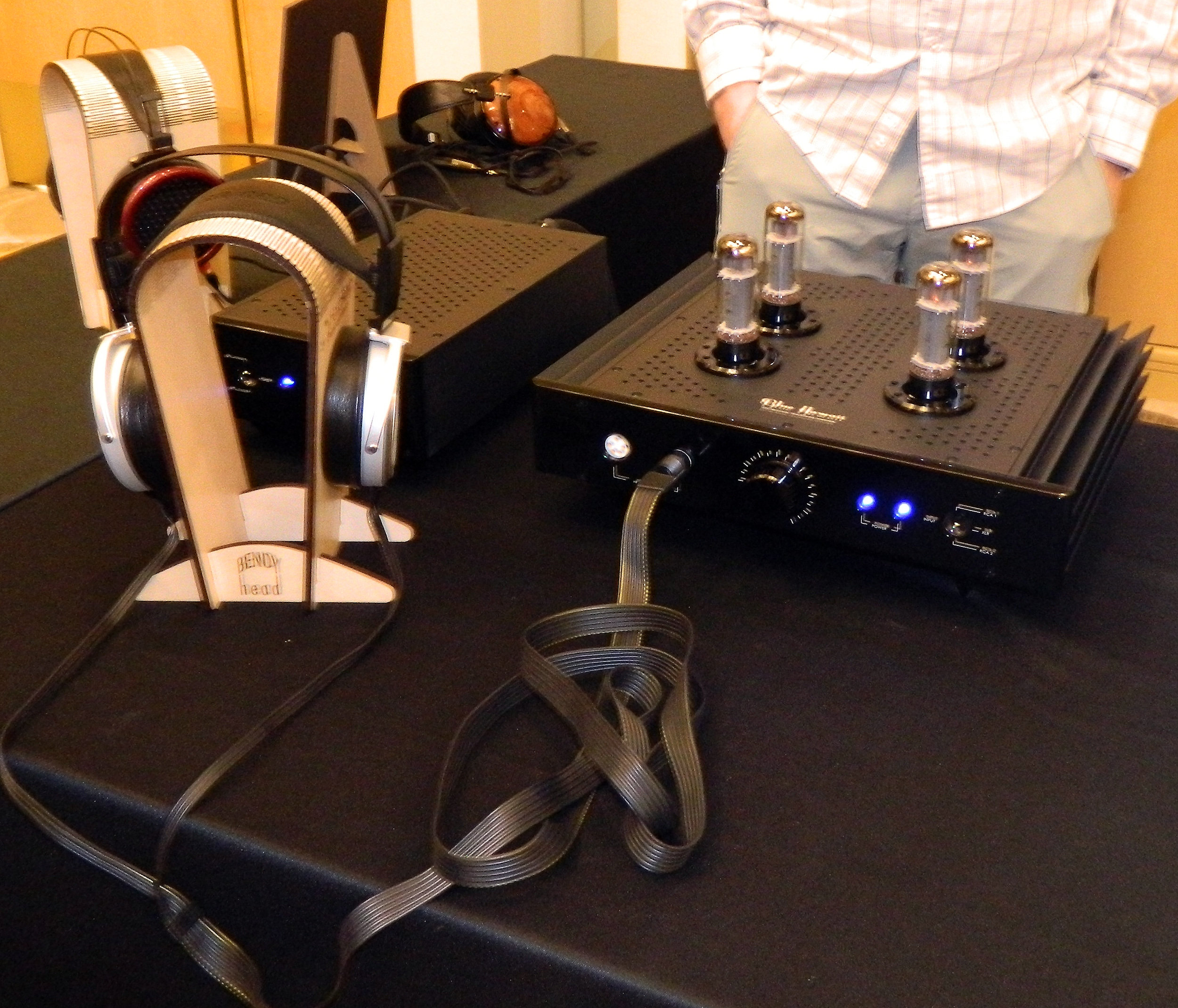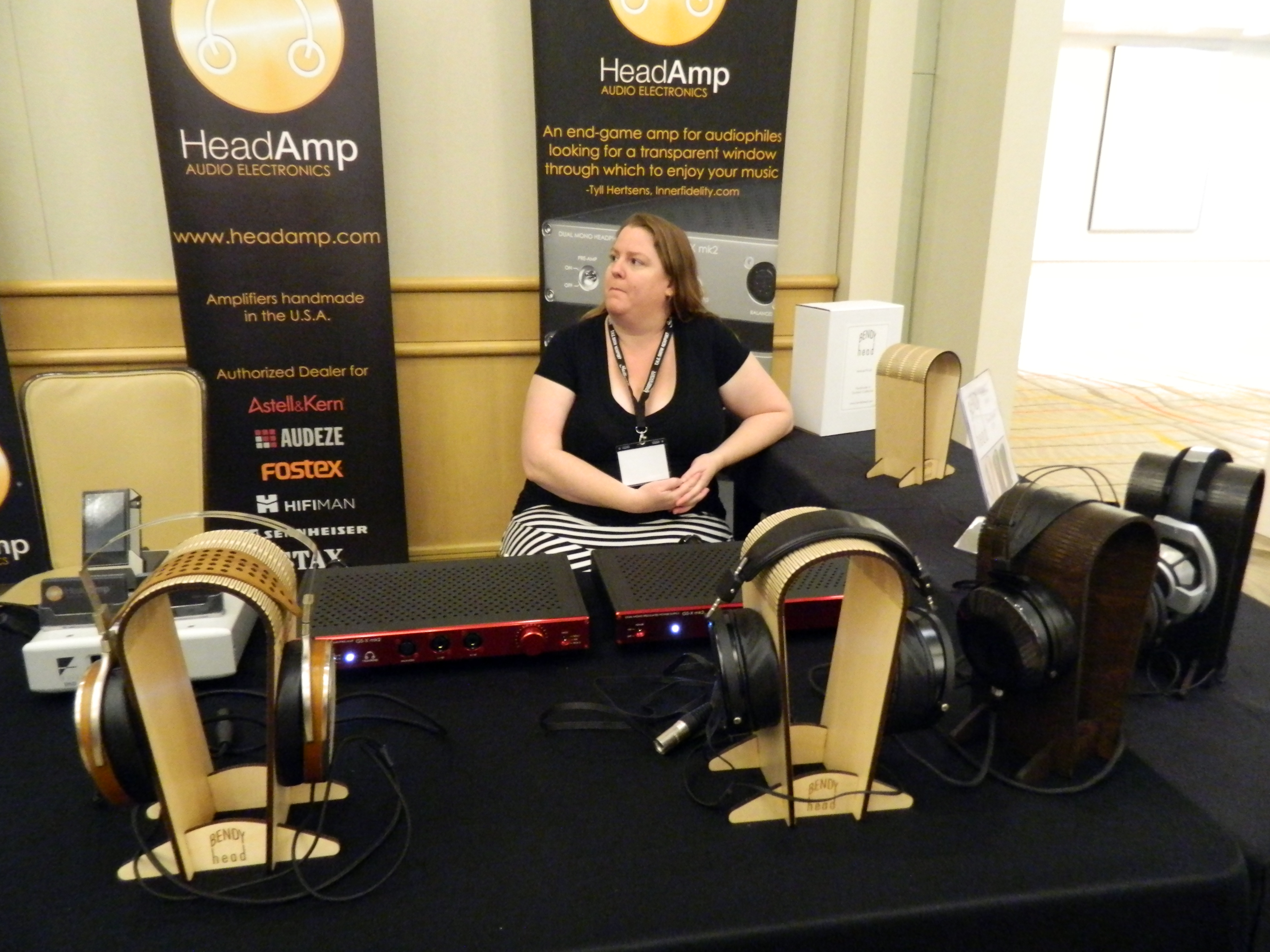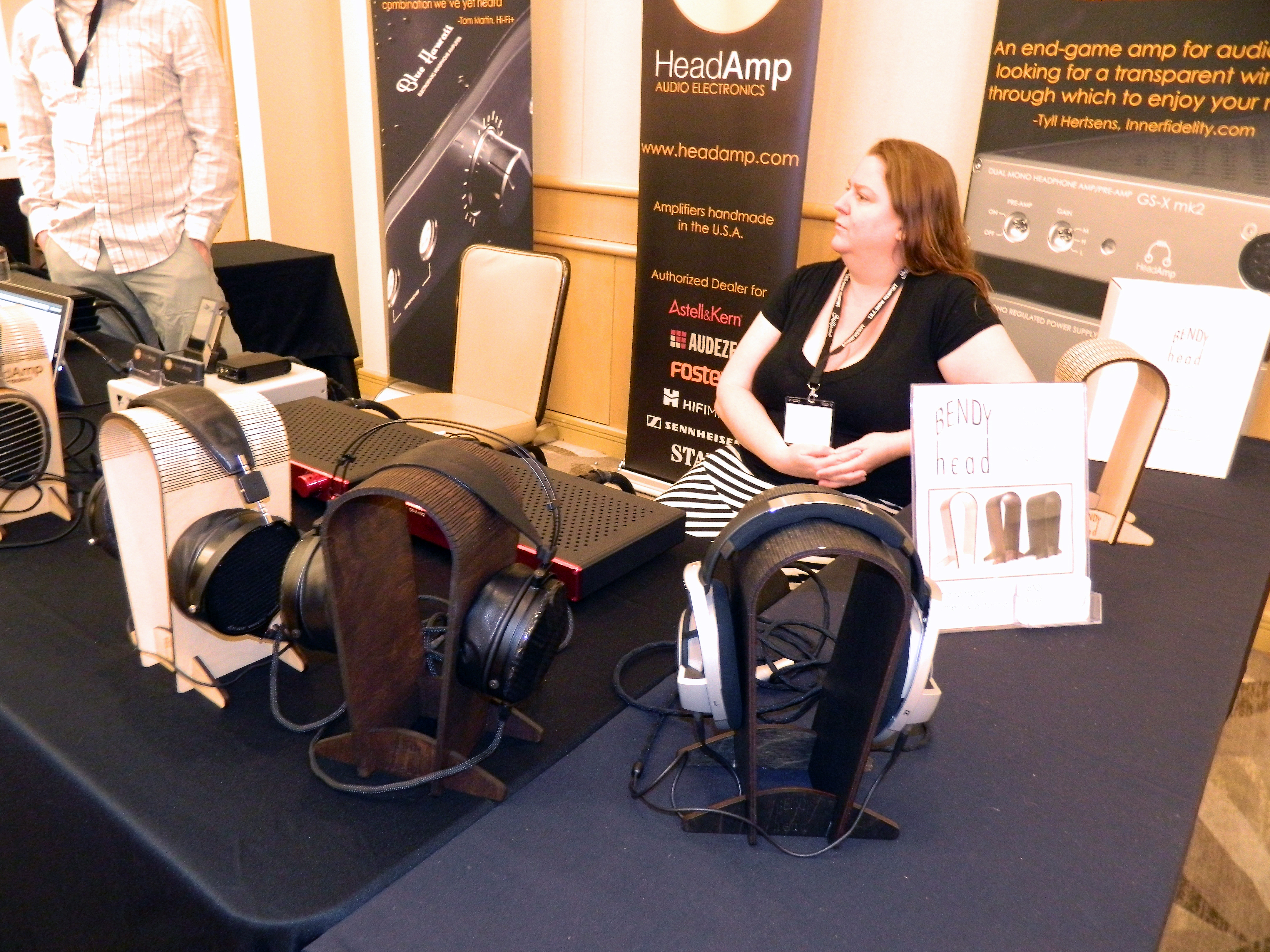 Pioneer had an interesting set up in that they were running a turntable (PL-30 $300) through headphones (SE-MHR5 $299.99), albeit through a receiver (SX-N30 $600), but it was nice to see the big names embracing analog. What they were promoting, though, was MQA, running an A/B comparison of 192 kHz FLAC files with 192 kHz MQA files both made from the same original master (presumably 384 kHz or 768 kHz, it wasn't specified). The FLAC files being of course down converted to 192 kHz, then stored in FLAC files of an unspecified level of compression and the MQA files being compressed to 192 kHz using the MQA process. The dubious nature of the comparison aside, there was definitely a noticeable difference, and in some cases a quite remarkable one. The comparisons were being made using the Pioneer XDP-100R ($699.99) as a digital source run through the Pioneer U-05 USB DAC (not available in the US) to a pair of Pioneer SE-MASTER1 headphones ($2,500).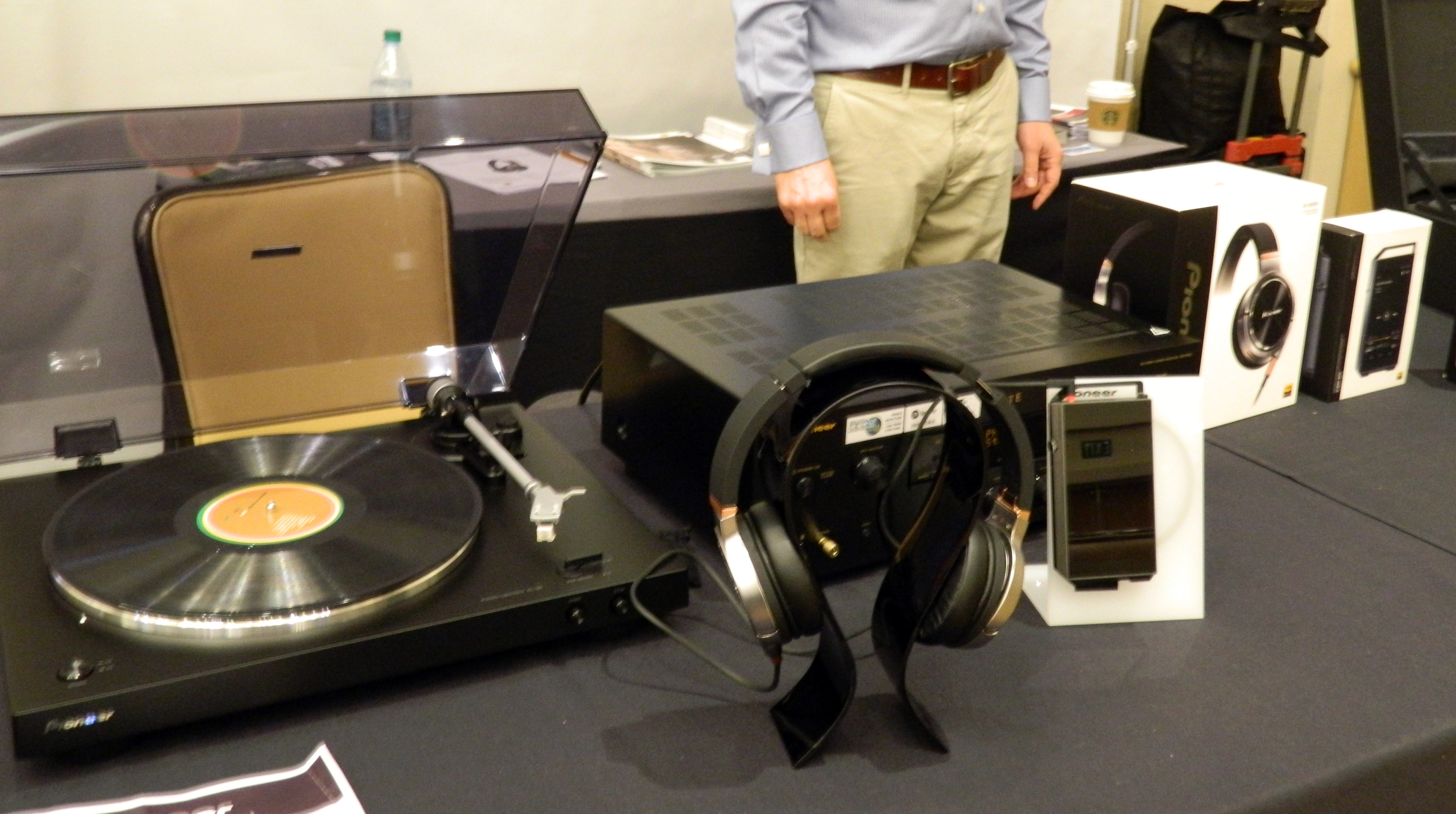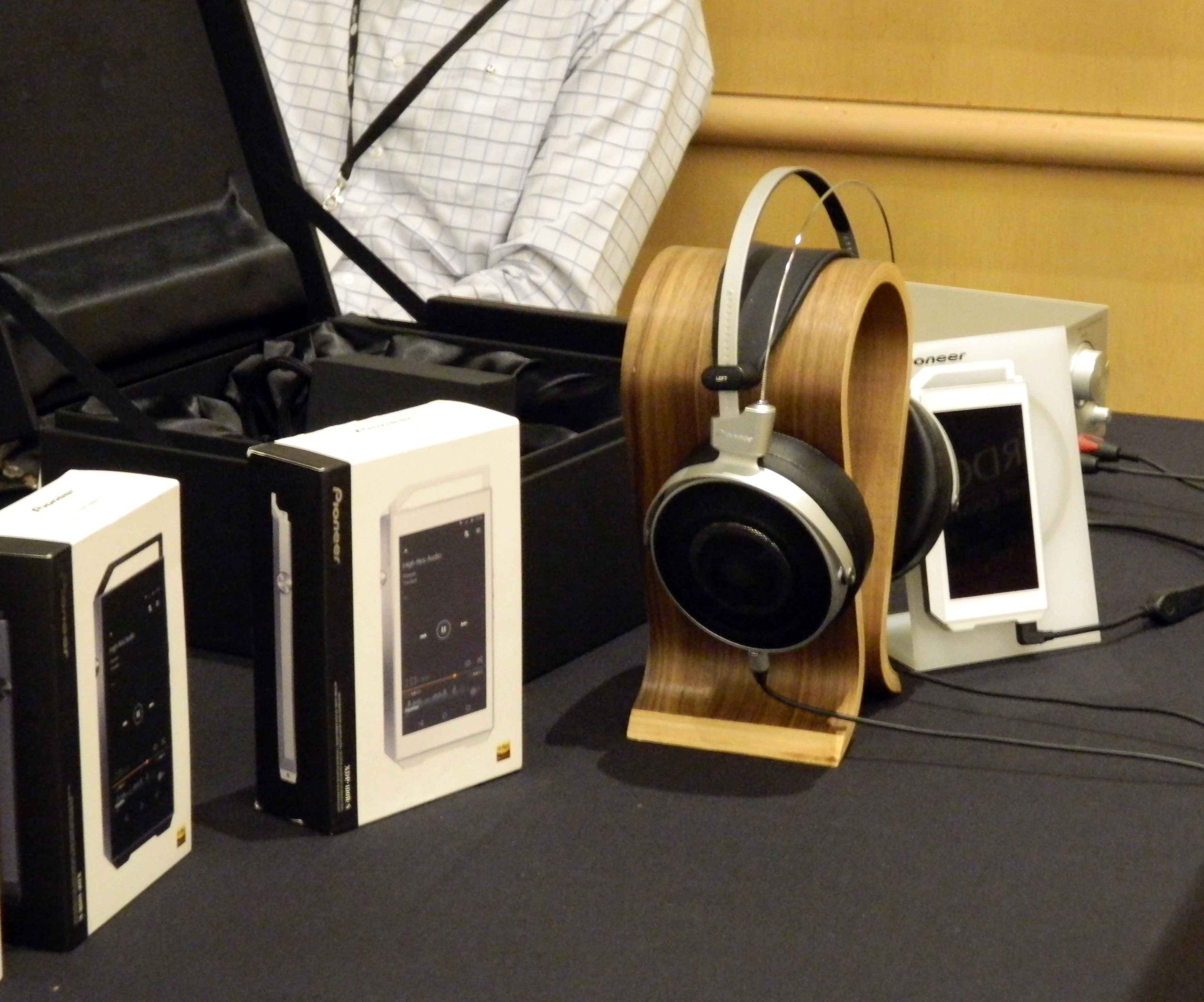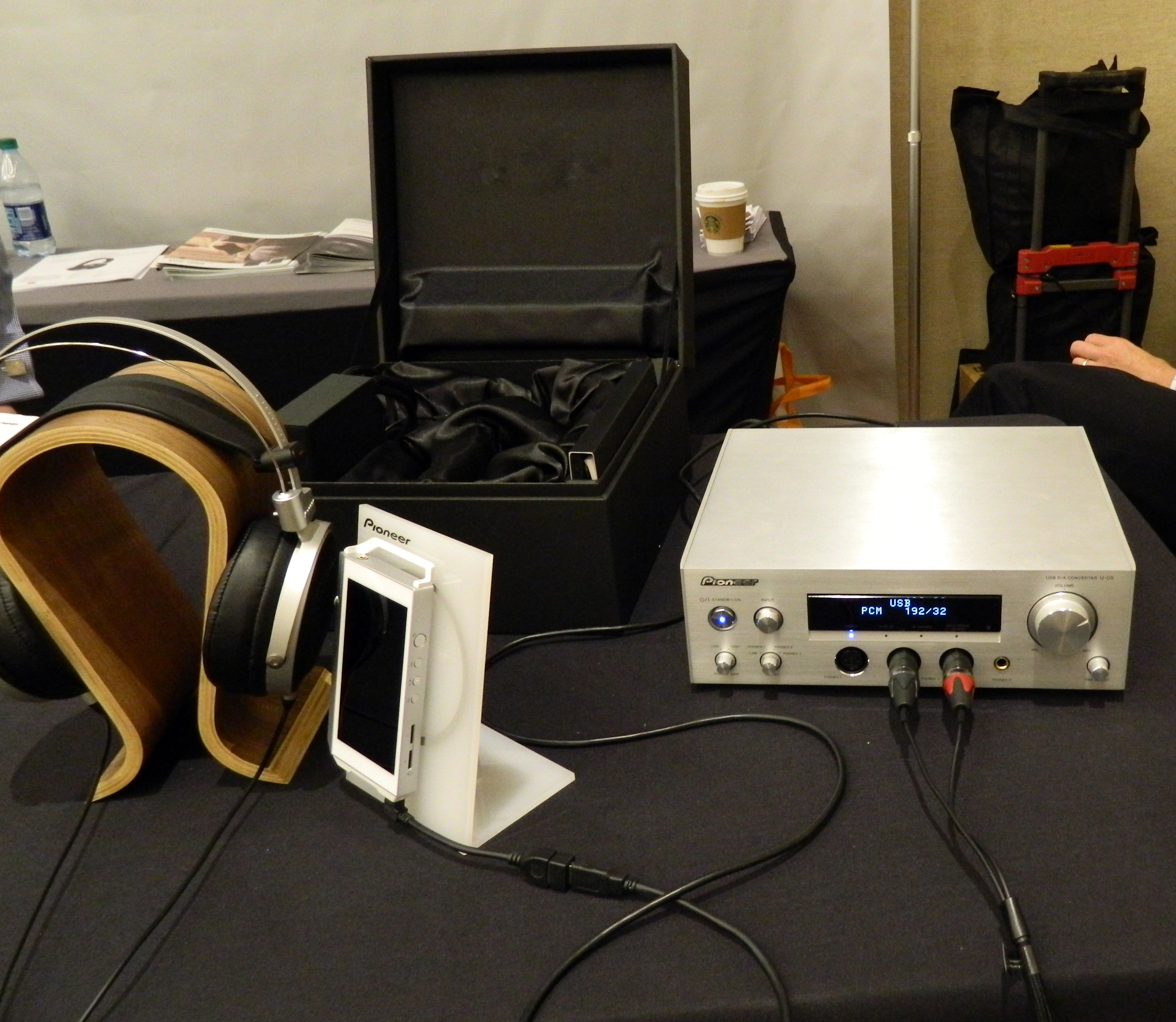 Leading the pack of high performance inexpensive IEMs is 1MORE with five amazing offerings below a hundred bucks. Garnering a coveted Richard Beers Innovation Award, their flagship 1MORE Triple Driver In-ear Headphones tuned by Grammy Award Winning Sound Engineer, Luca Bignardi, offers a presentation, performance and build quality that one would expect from IEMs costing many times as much.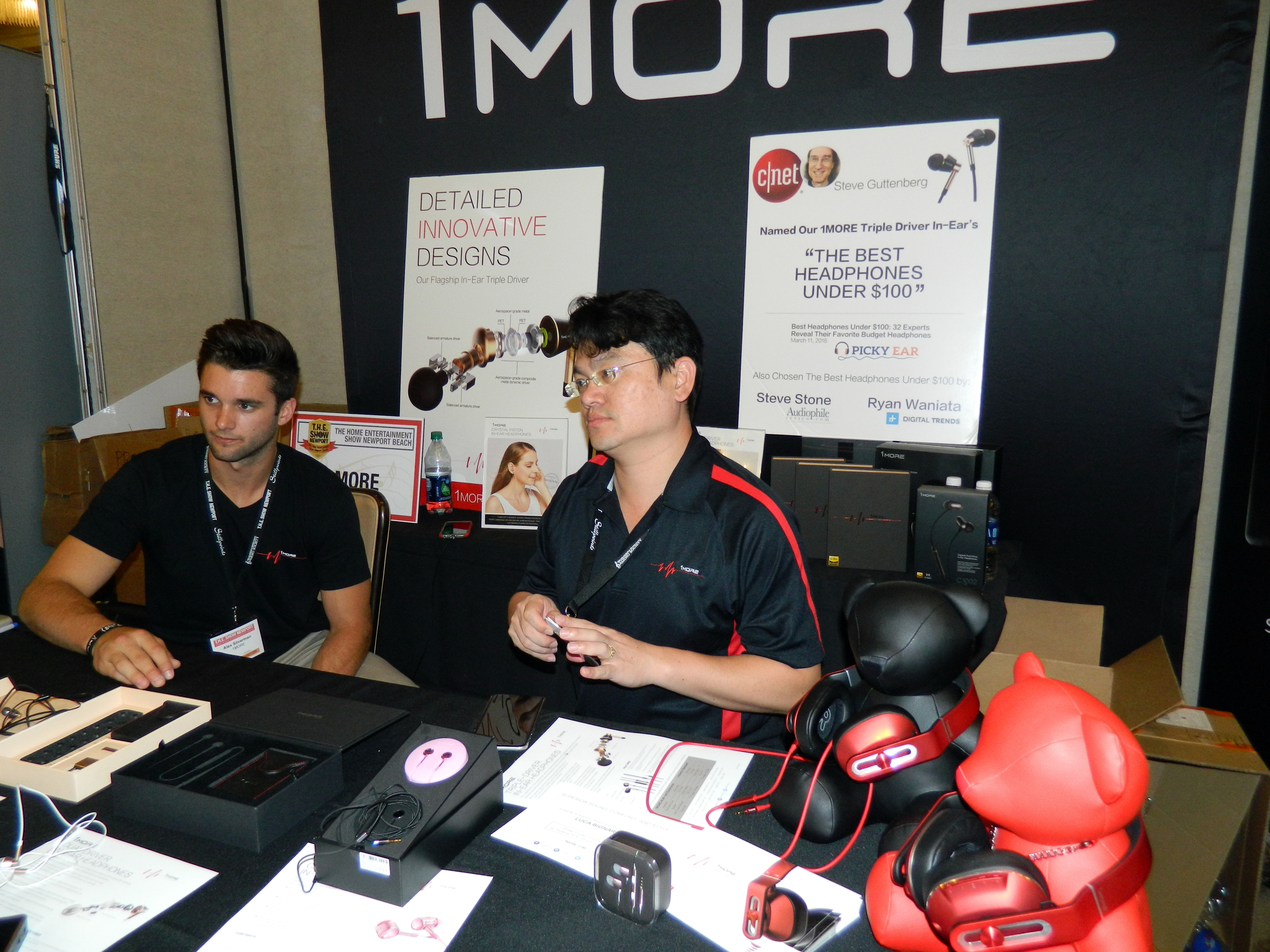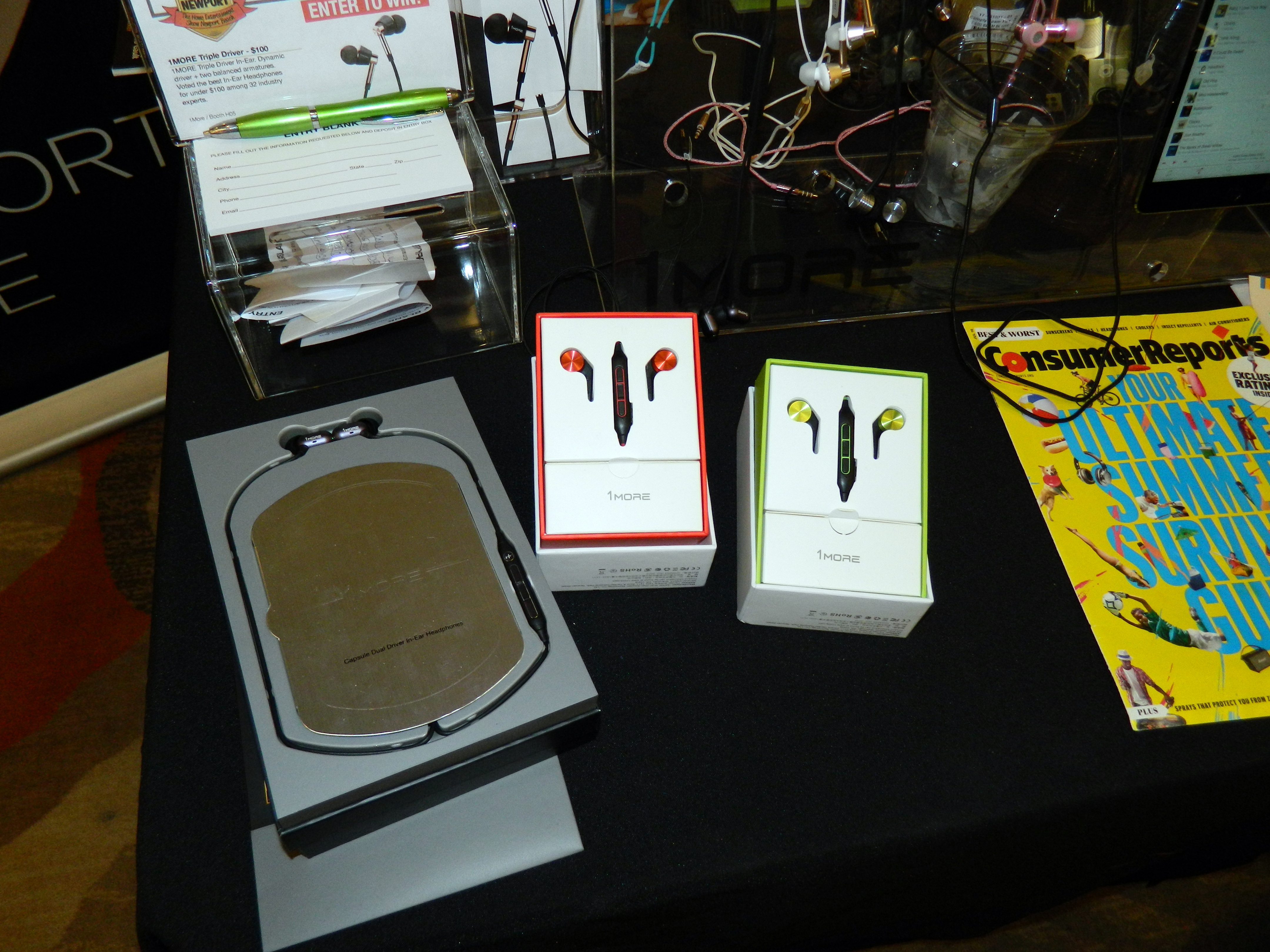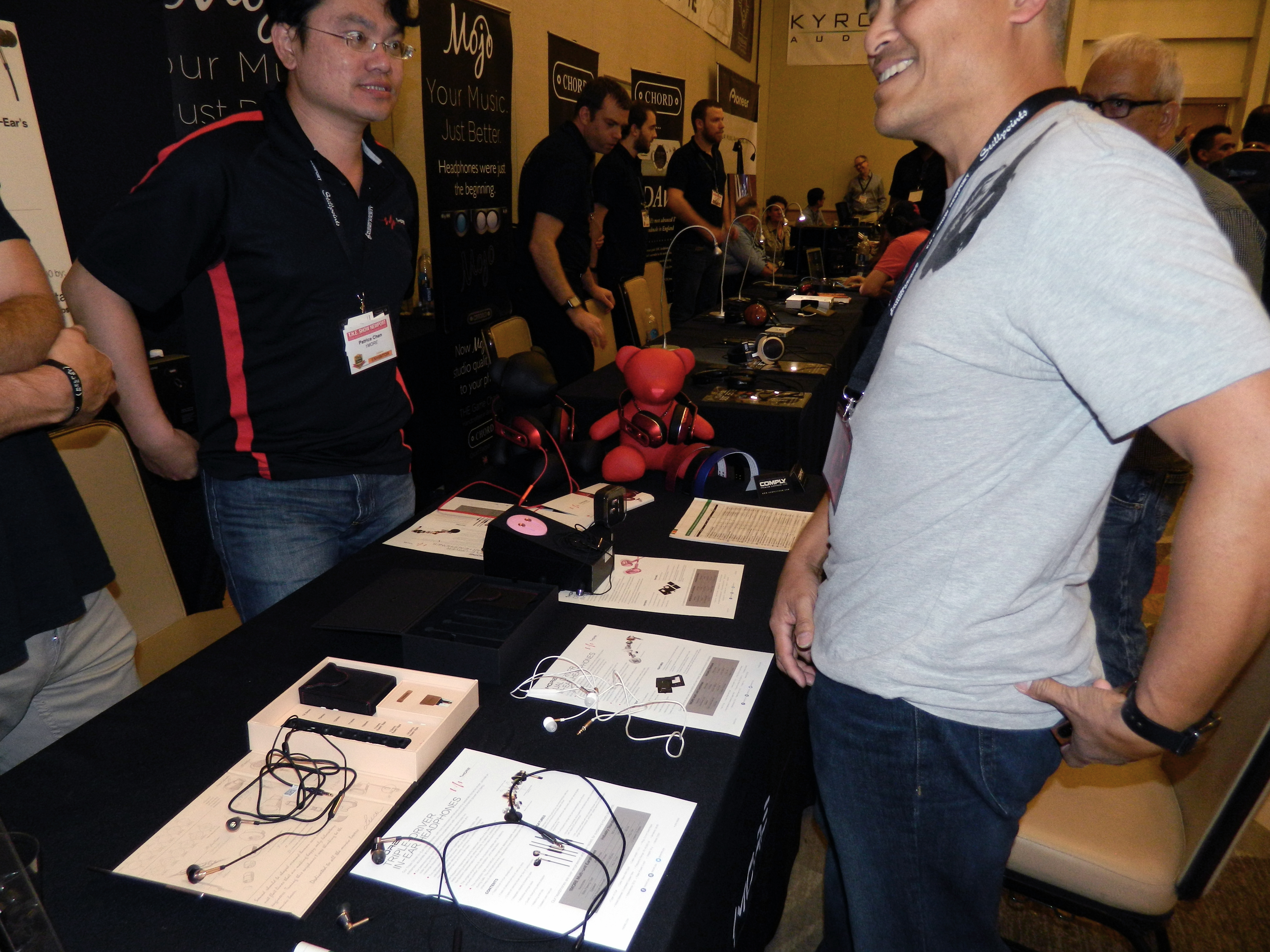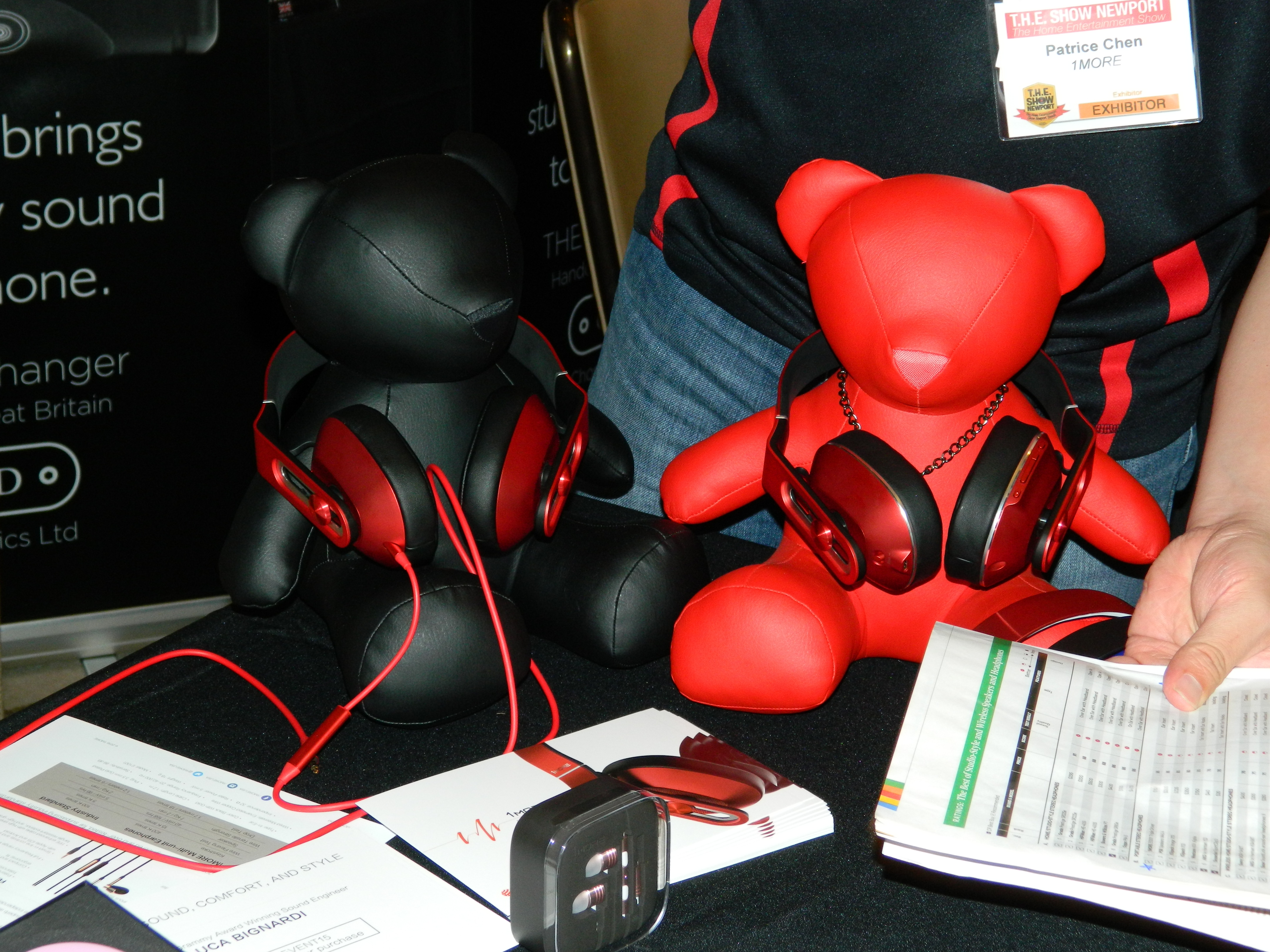 Chord Electronics with their Spartan 6 Field Programmable Gate Array have dominated audiophile quality DAC design for some time, and have now set a new bar with their price no object statement piece, the DAVE ($13,000). What is genuinely awesome is that they are able to boil similar performance down into the humble Mojo ($599). Fetching and durable, the Mojo is carved from a solid block of aluminum. Devised for use with Smartphones, it has USB, Optical and Coaxial inputs able to process up to 768 kHz files and DSD 256, with a battery life of up to 10 hours.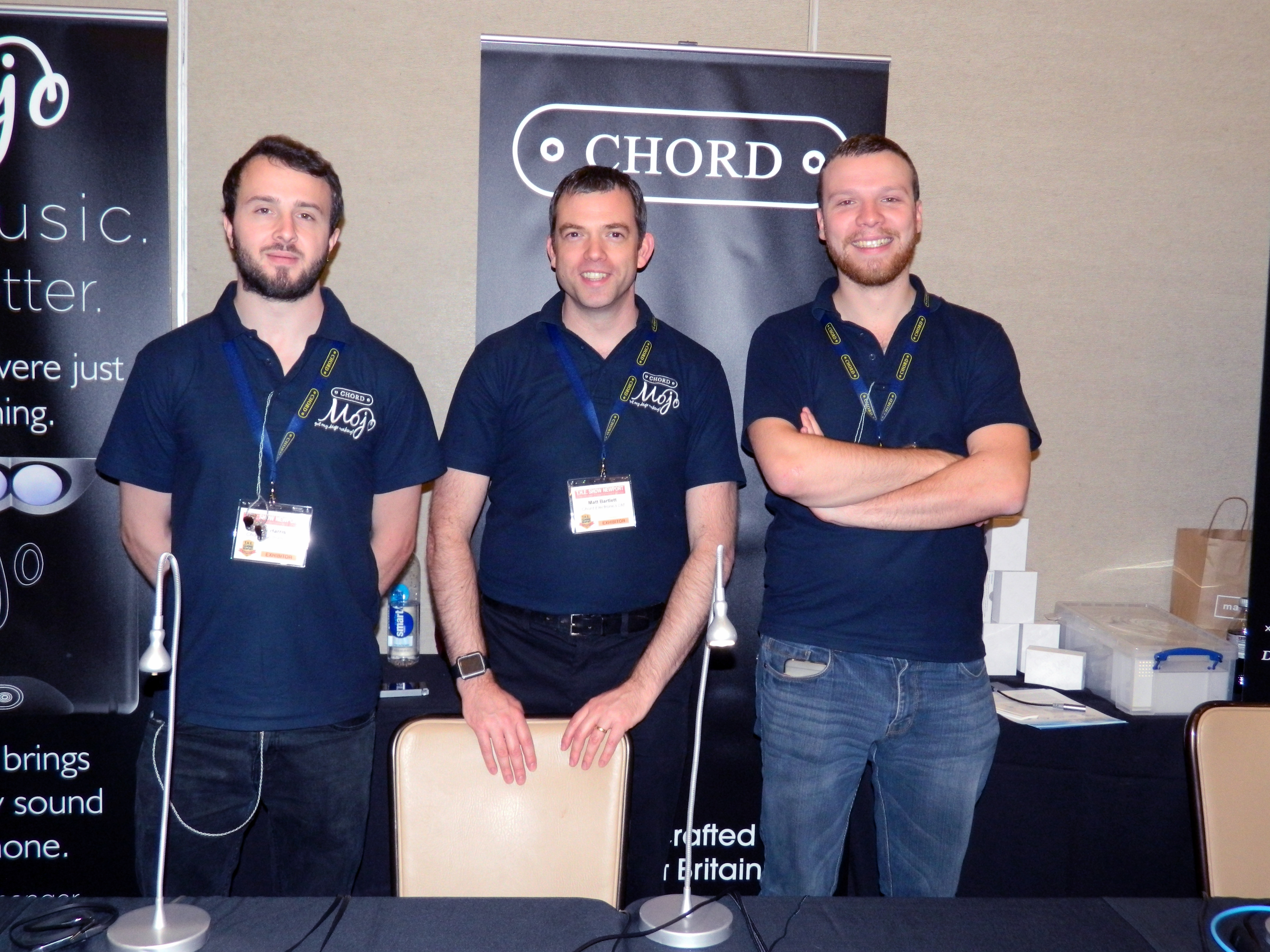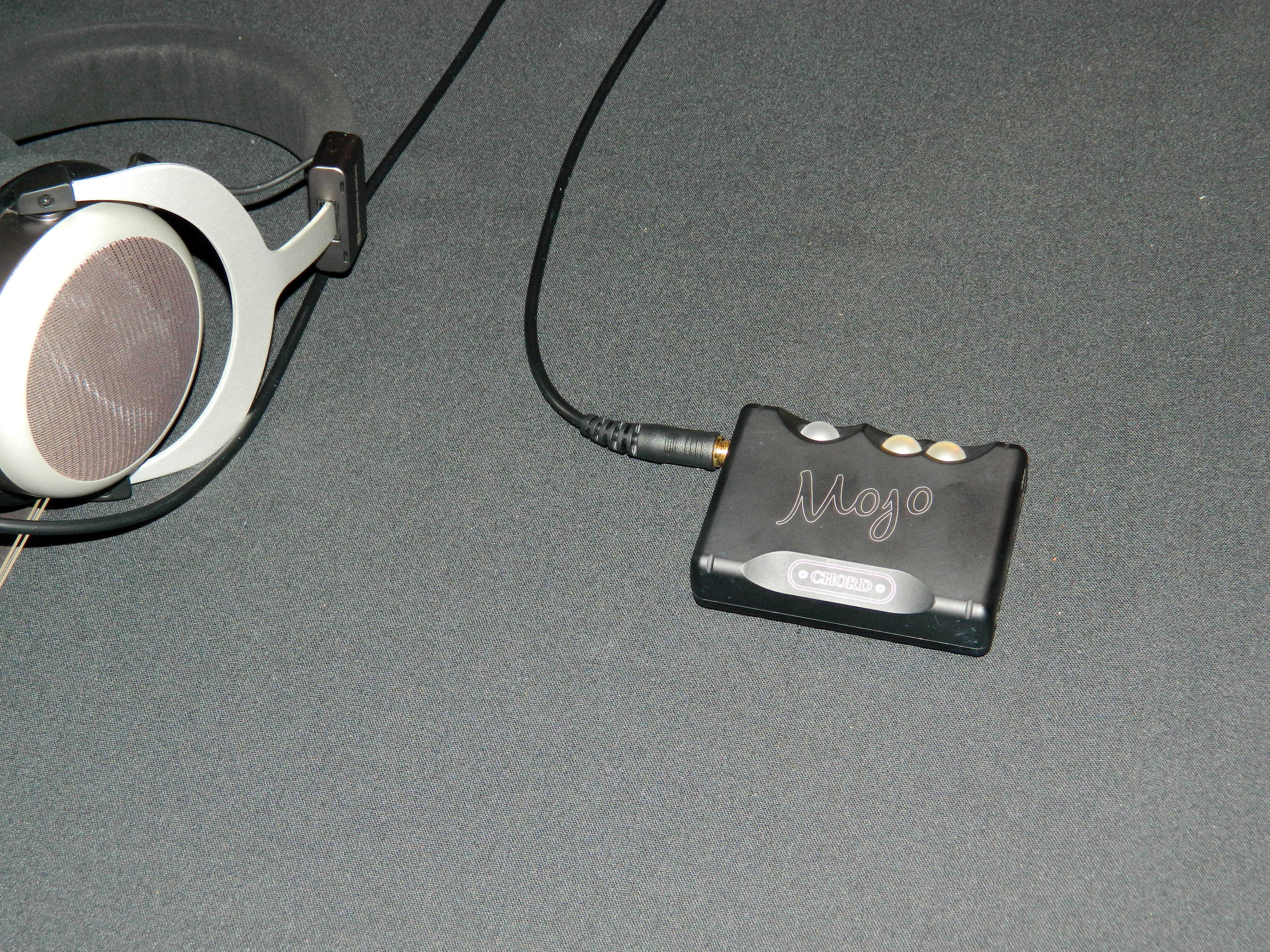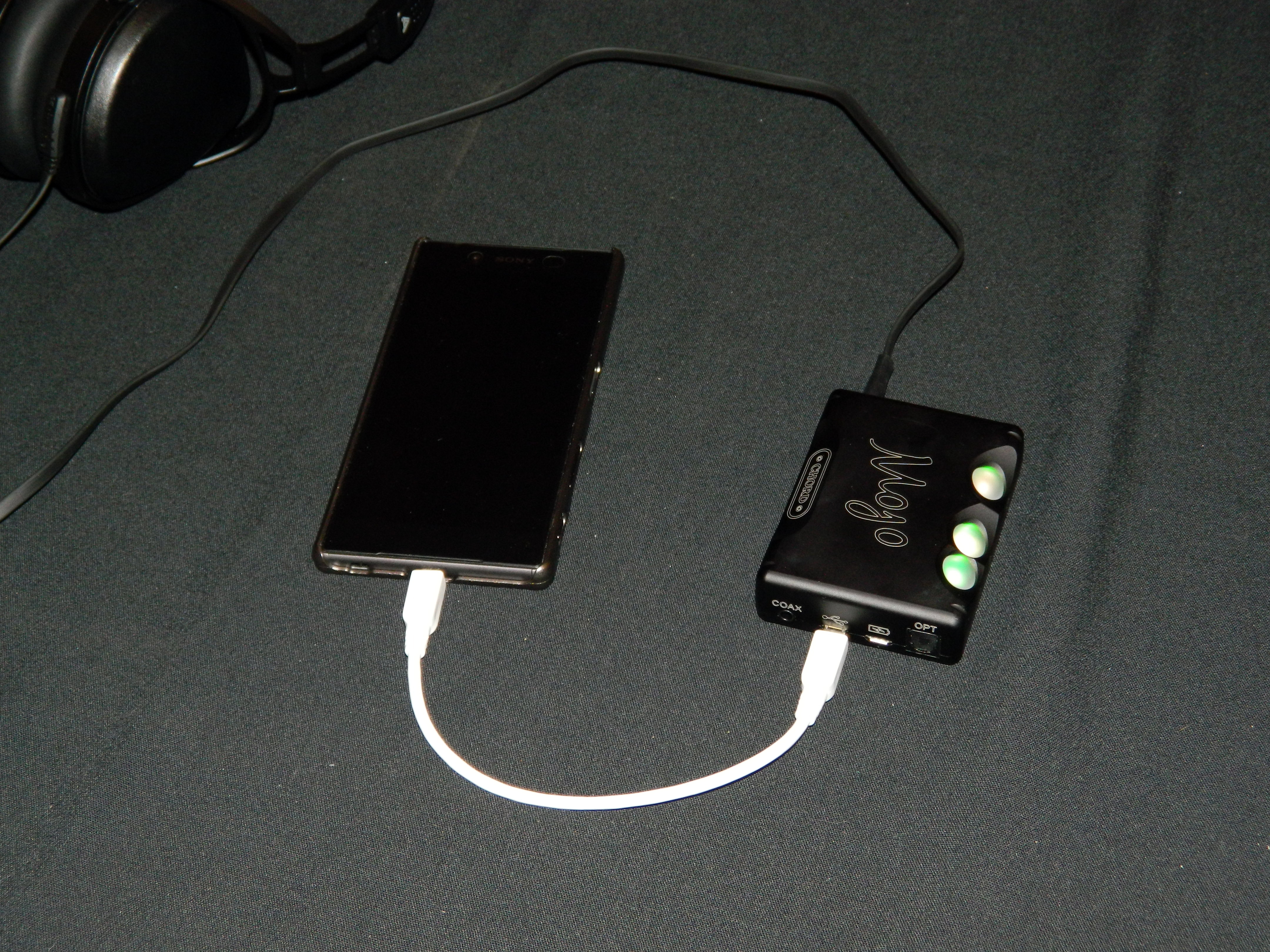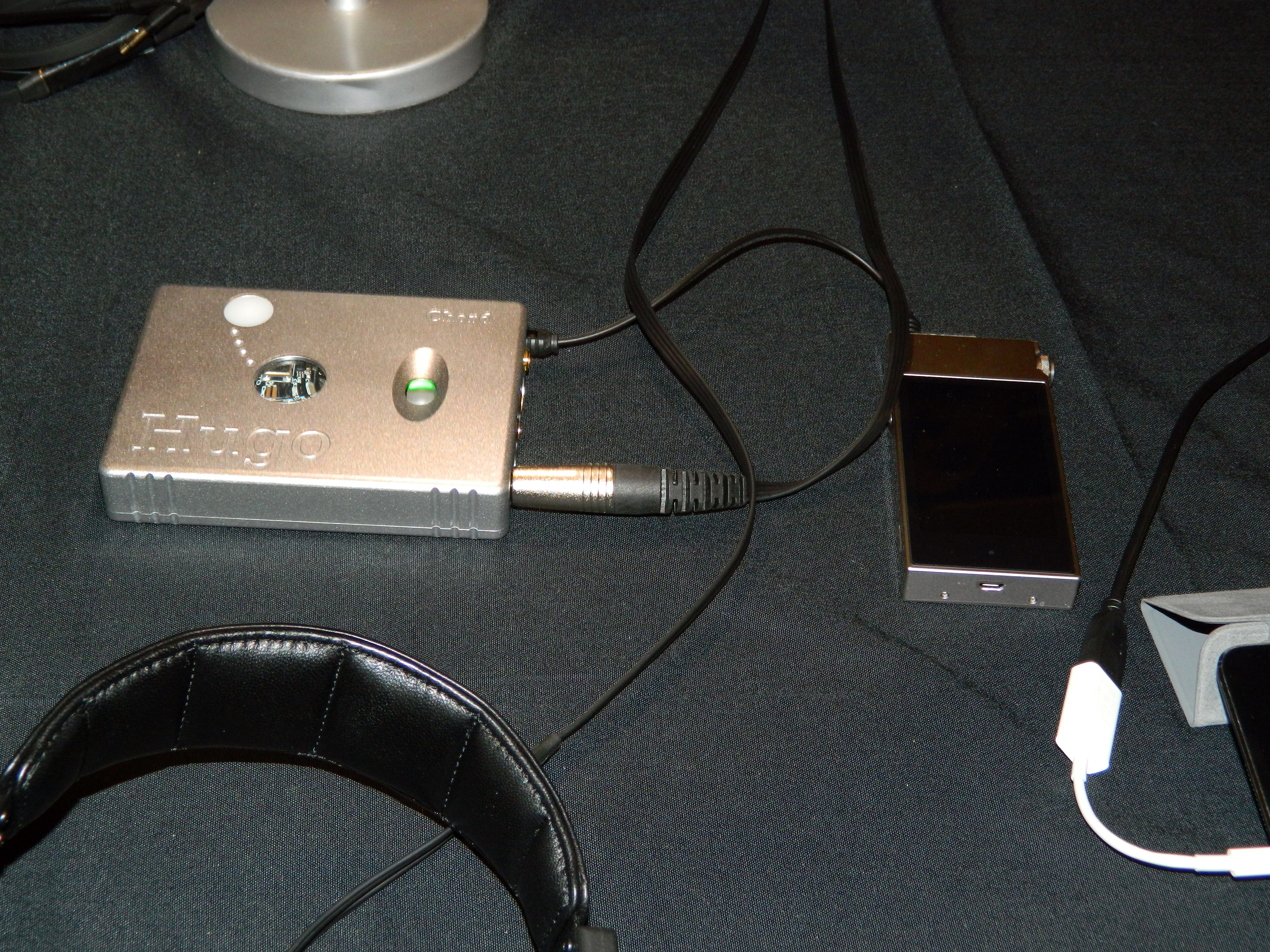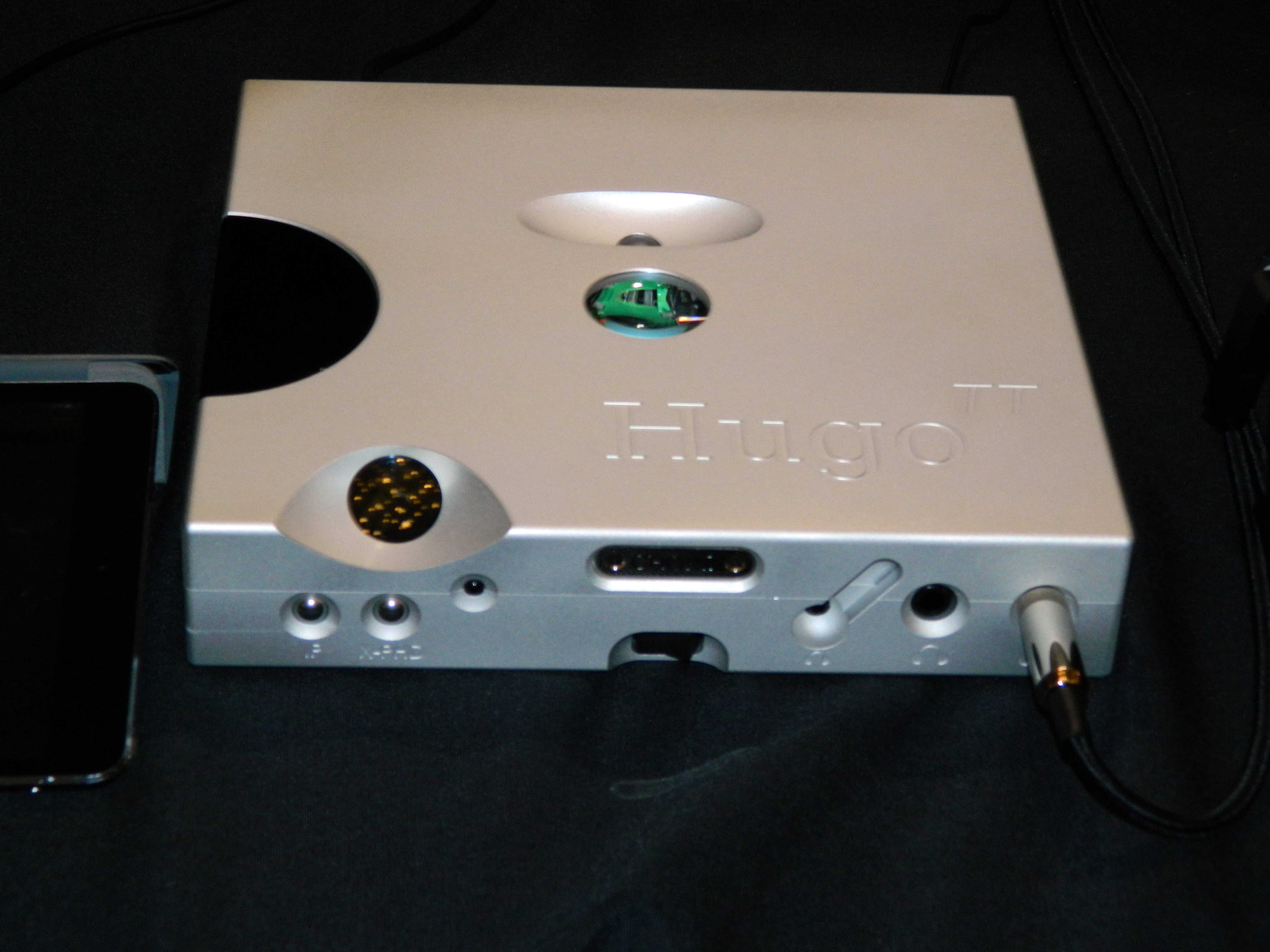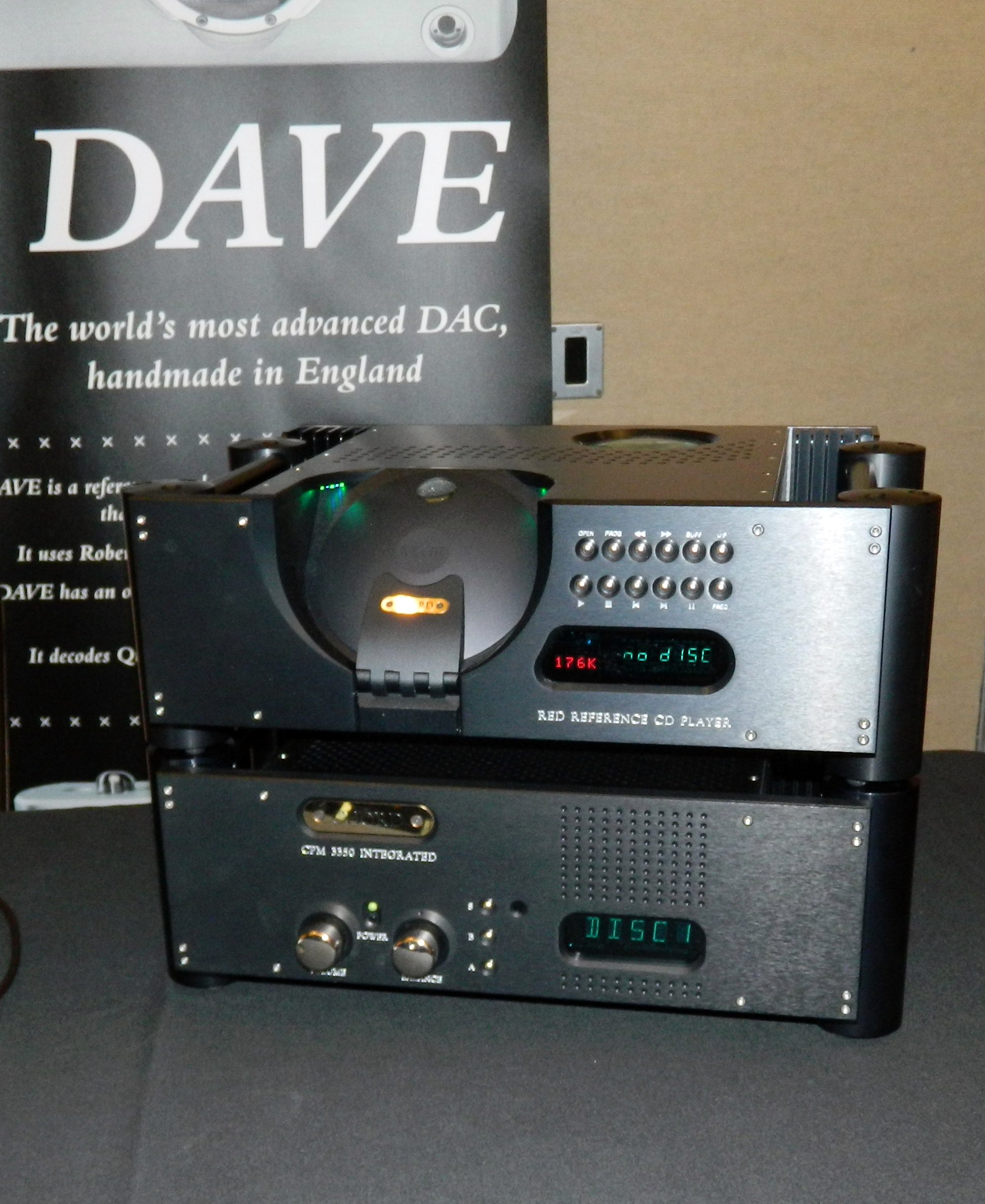 Known for their distinctive planer magnetic headphones like their new SINE On-Ear Headphone ($449), Audeze was showing off their impressive amplifiers, The King ($3,995) and the Deckard ($699). Developed by Bascom King, The King is a Class A Triode Tube/MOSFET Hybrid headphone amplifier, employing NPN MOSFET transistors for a current mobility 2.5 times faster than their PNP counterparts.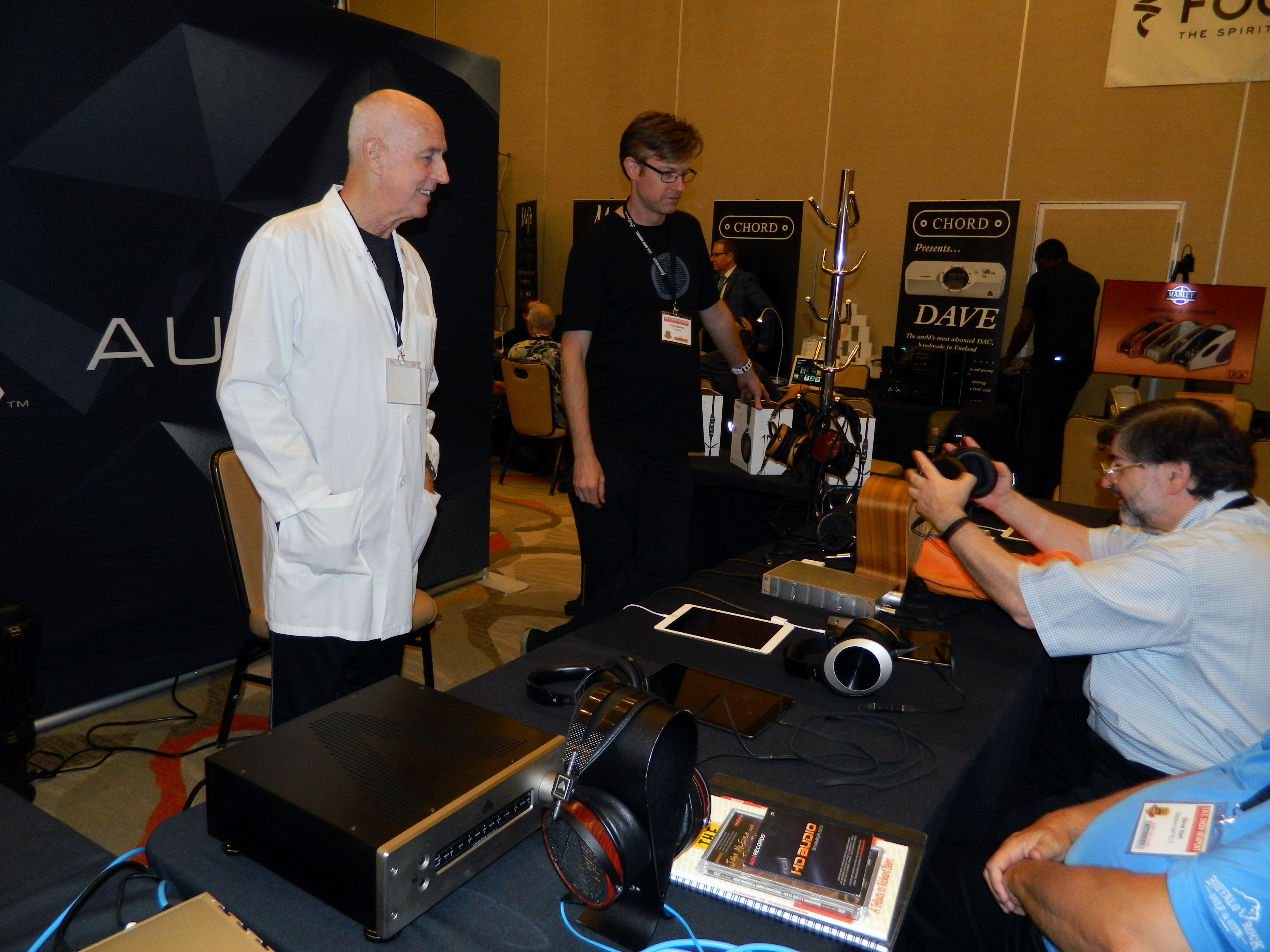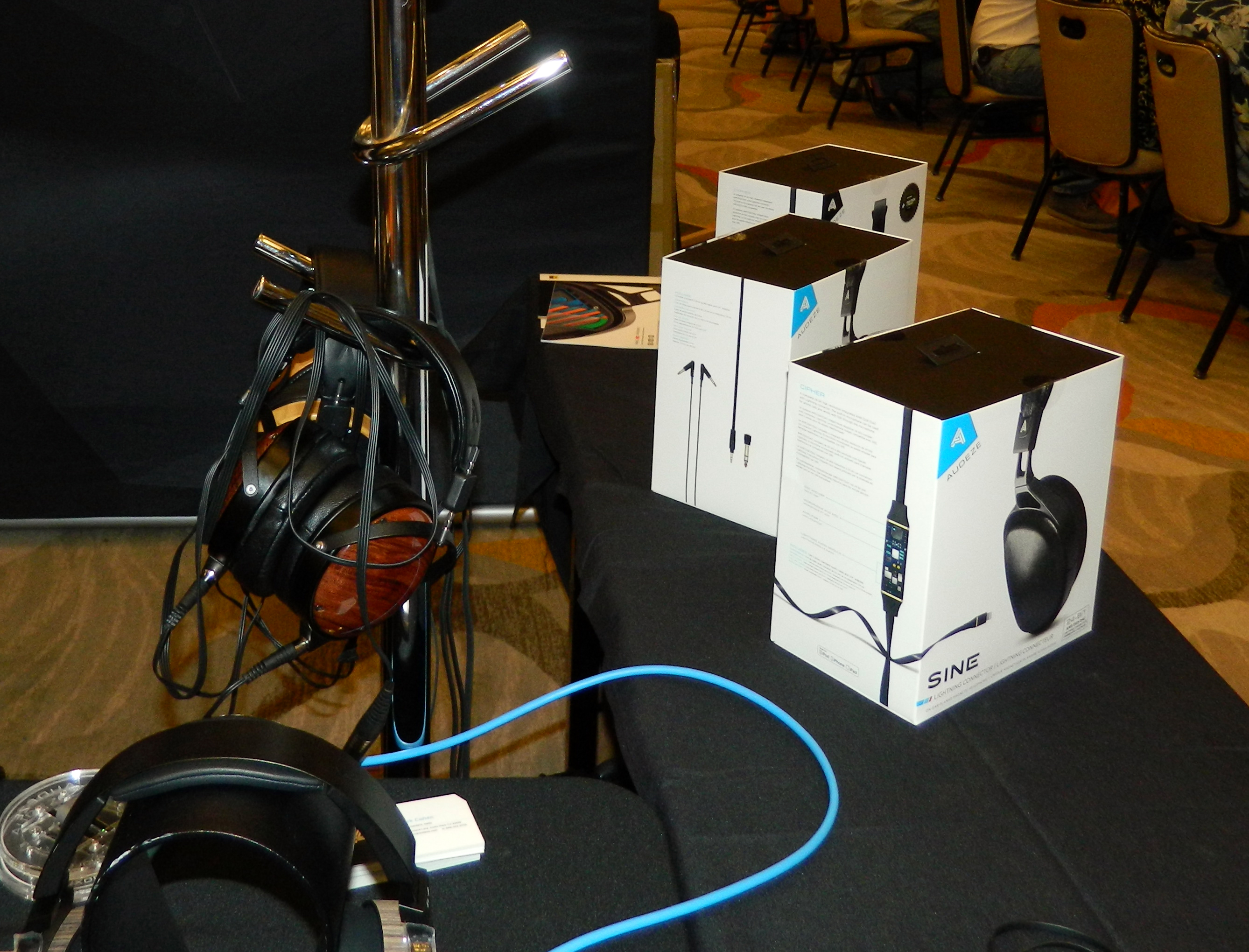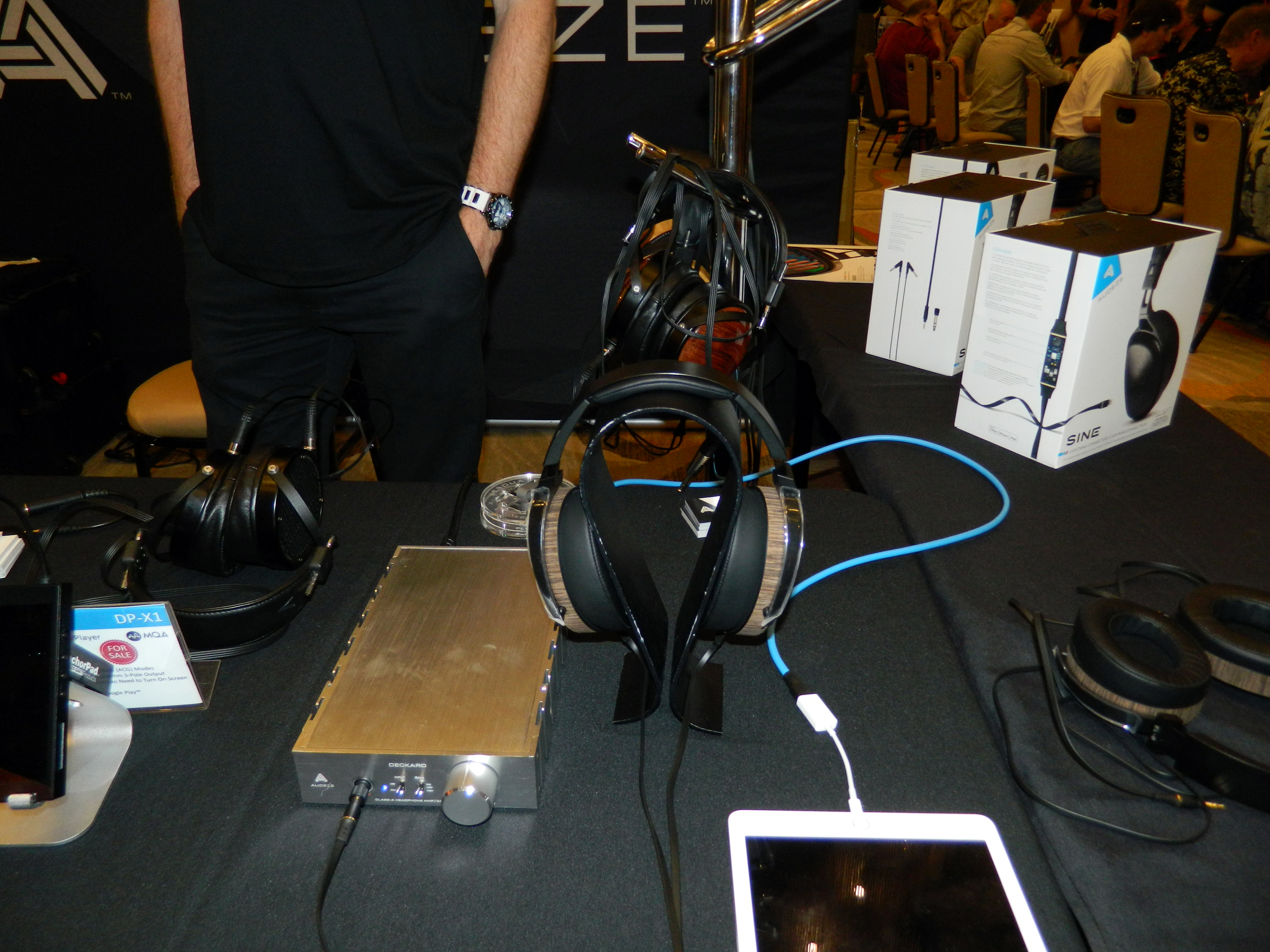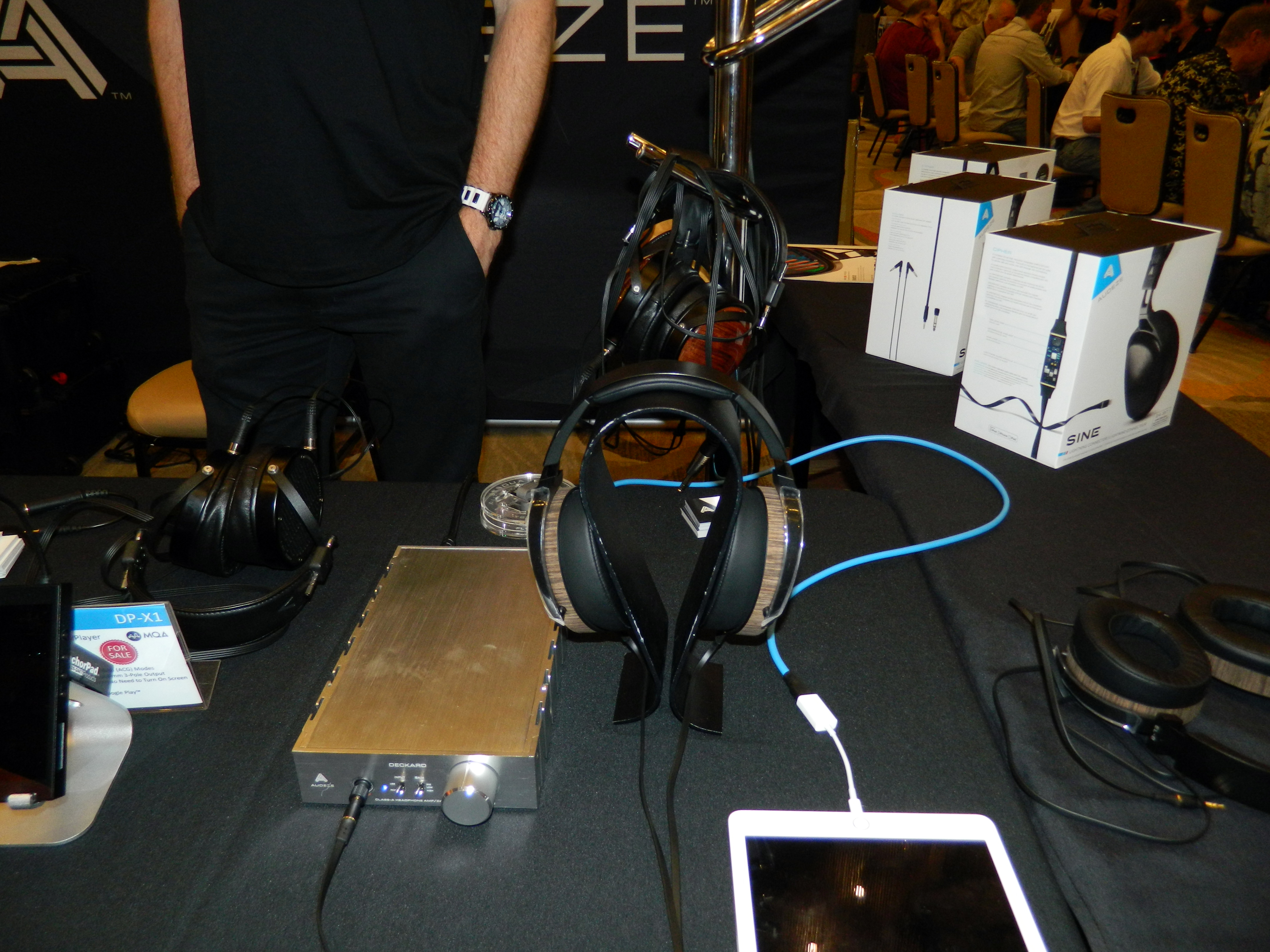 Comply memory foam tips are quickly being adopted as the standard for many IEM manufacturers, they come in four core sizes and three styles; Isolation ($19.99) for better sound quality, Comfort ($21.99) for long term use and Sport ($14.99) with better grip, durability and ventilation.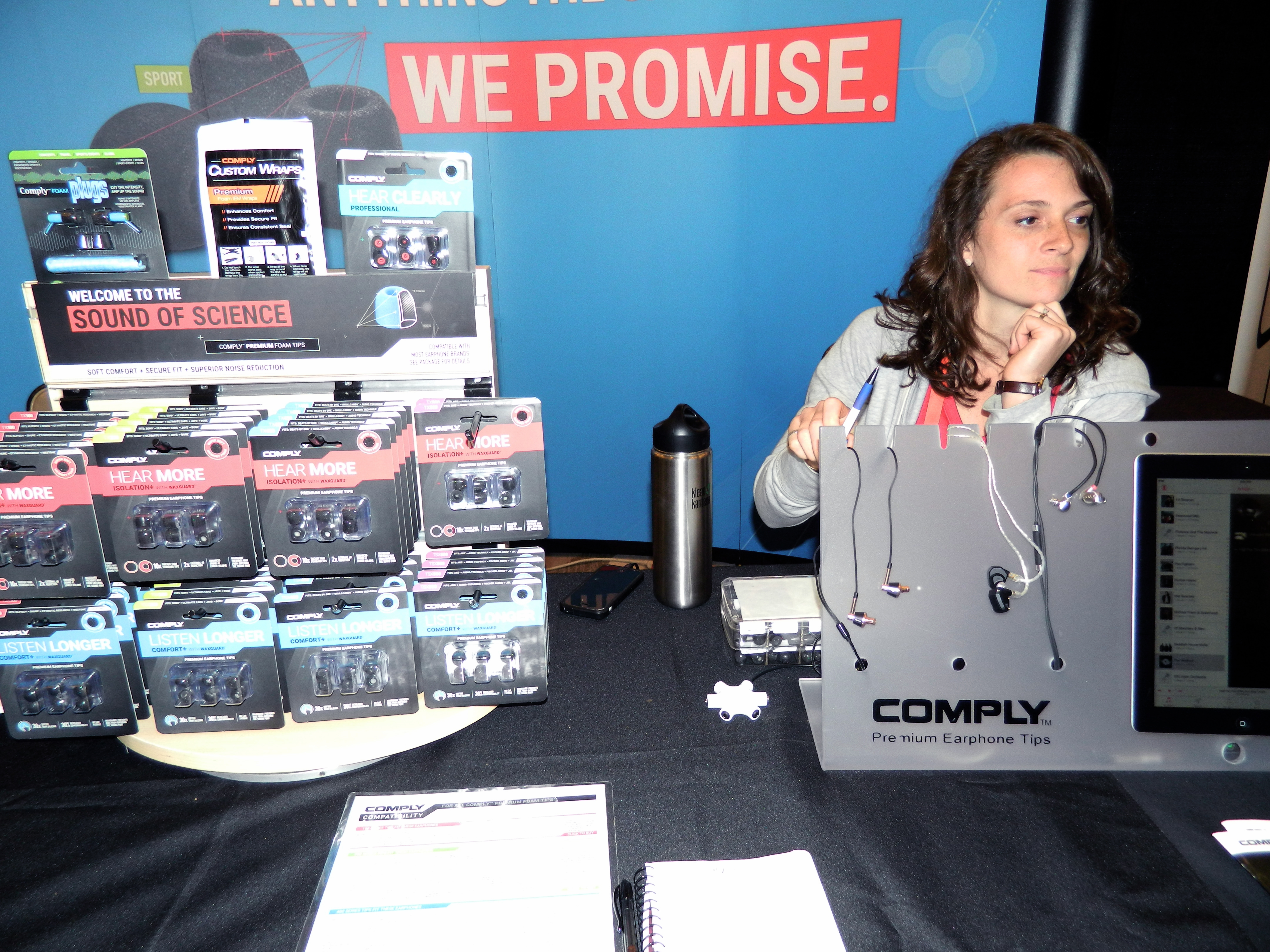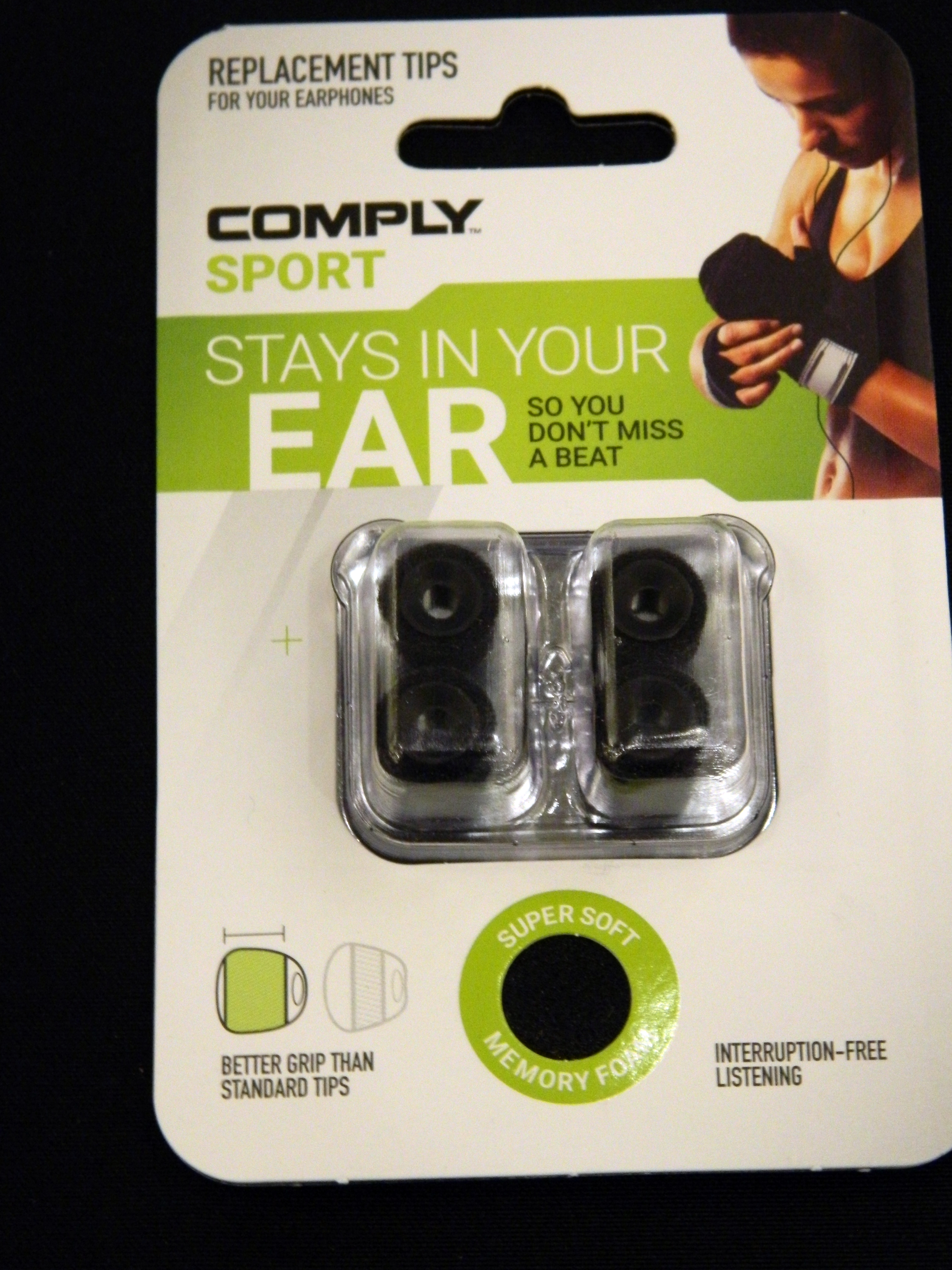 Ray Kimber has been an Icon among the audiophile community for over 37 years and Kimber Kable's new AXIOS line of custom hand crafted headphone cables shows why. The AXIOS cables are a weave of 16 OFHC copper 24 gauge stranded conductors that can separate seamlessly into two 8 wire braids which terminate in handsome hand polished hardwood connectors. It comes in two configurations 1Y ($698 – 1.2 meter) and 2Y ($848 – 1.2 meter) for dual balanced setups (there is a $100 termination charge for Sennheiser HD800 style connectors).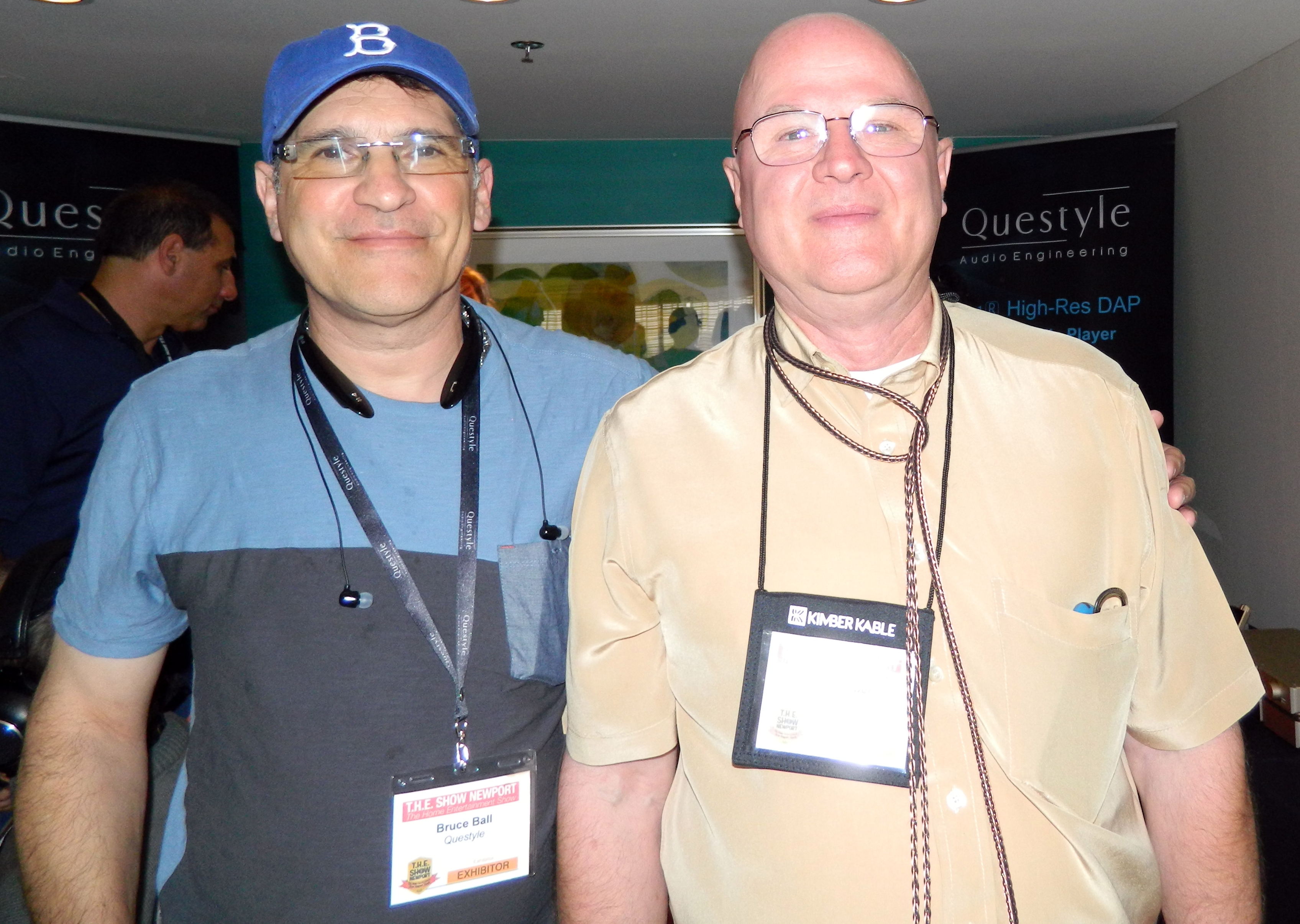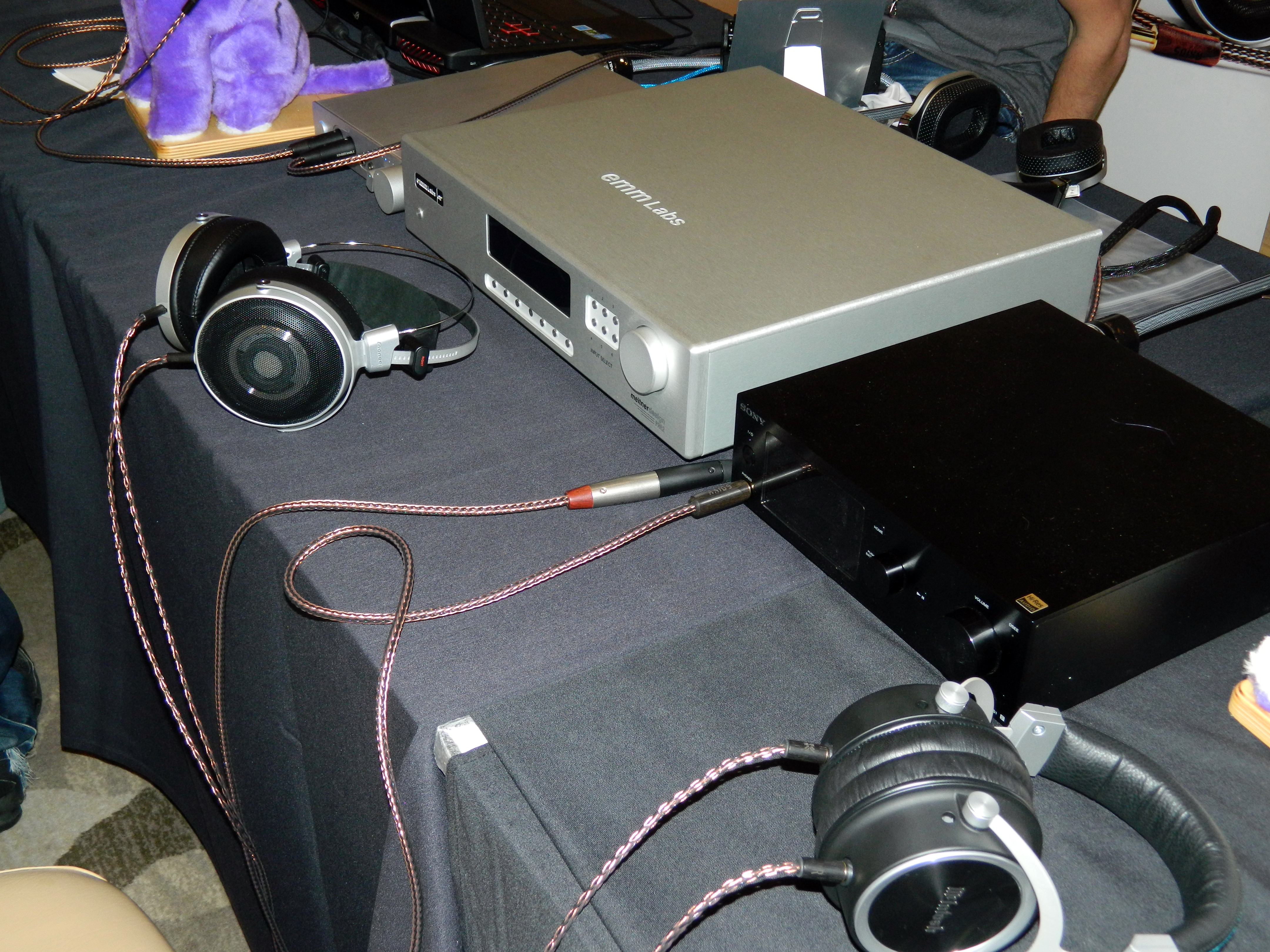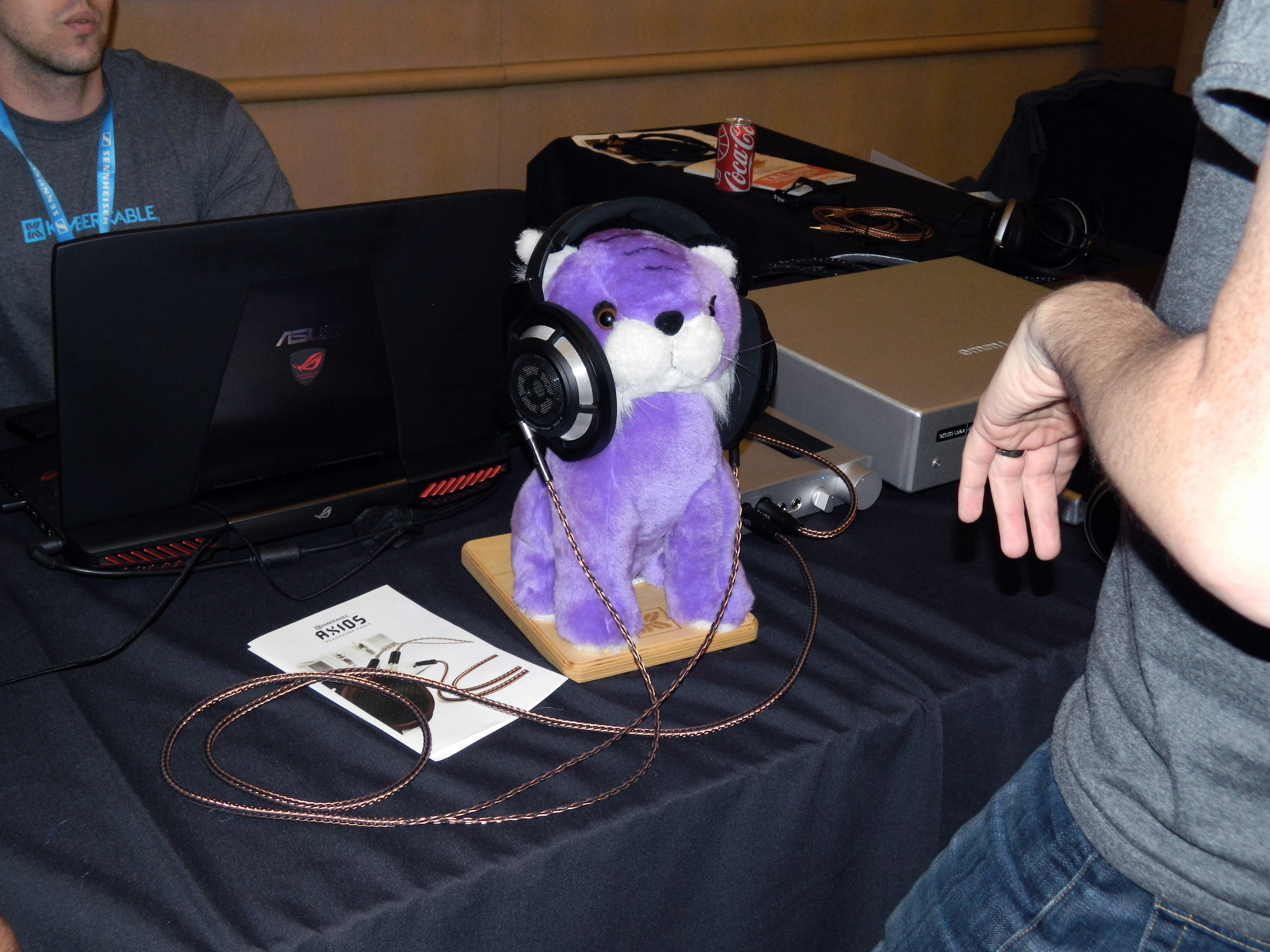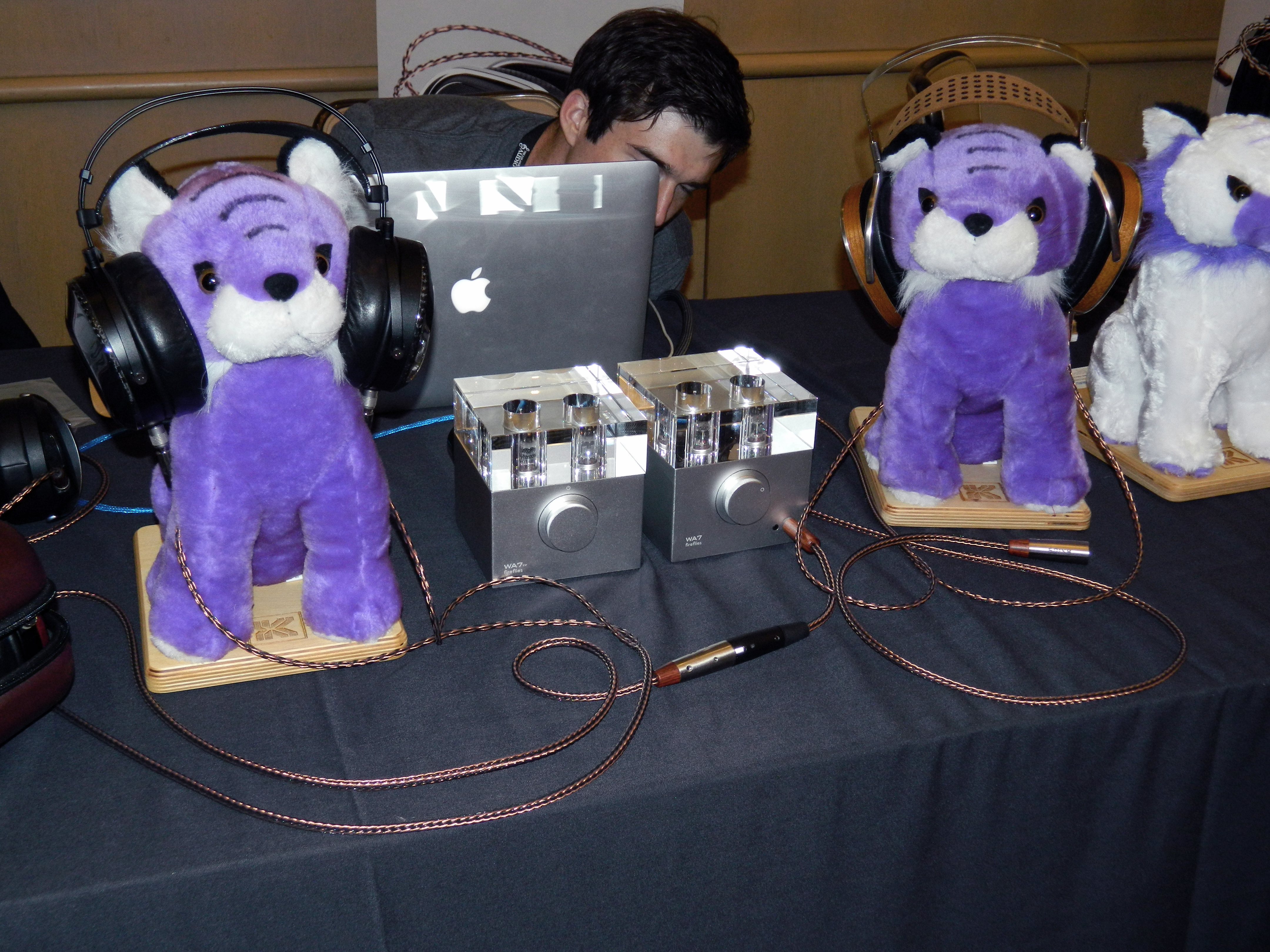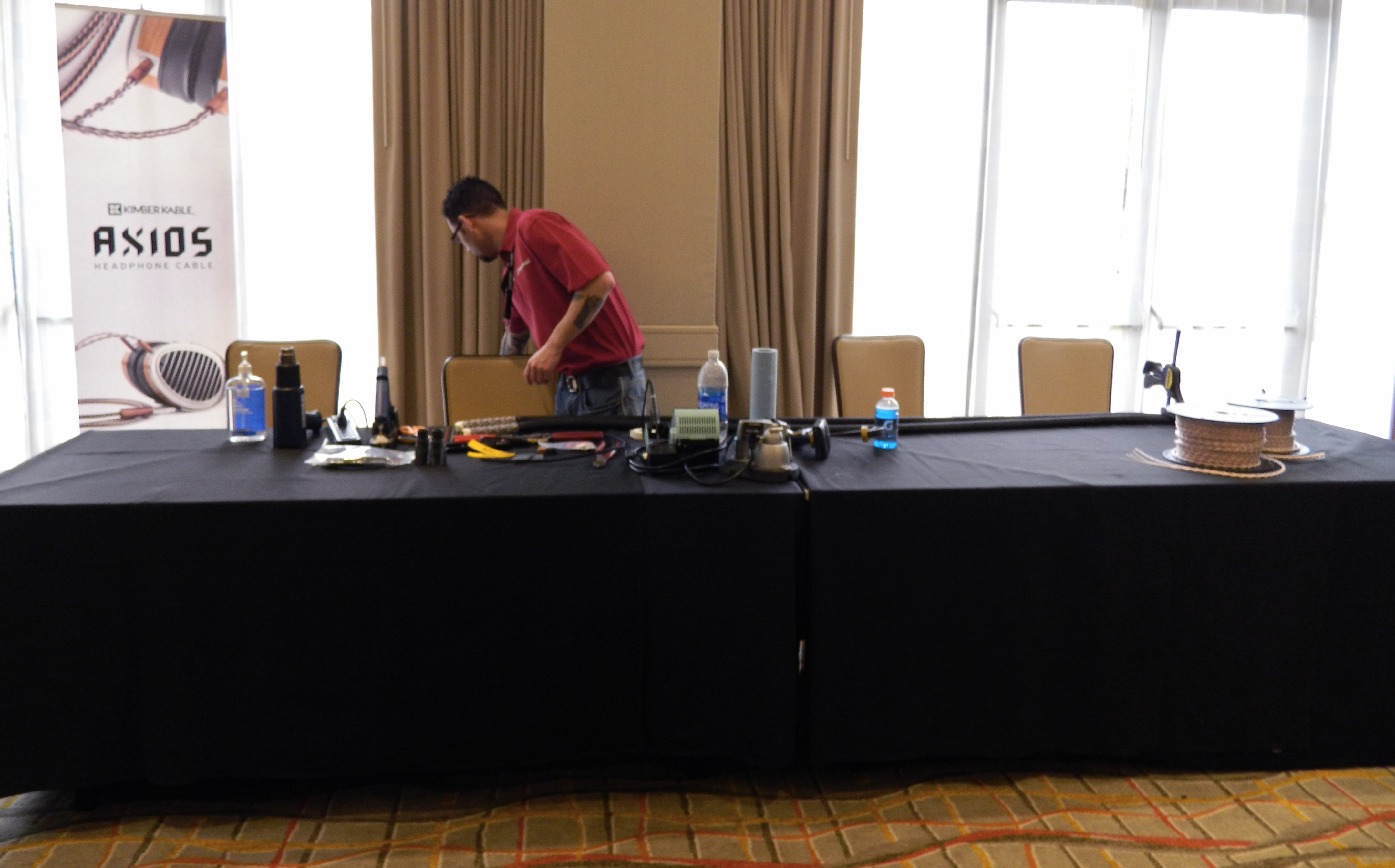 Zero hysteresis Output Transformer-Less or ZOTL architecture is what sets Linear Tube Audio apart from the fray. Based on David Berning's complex patents, ZOTL amplifiers exhibit a greater linearity than normally associated with tube amplifiers and the MicroZOTL2.0 headphone amplifier and preamp ($1,100) is no exception.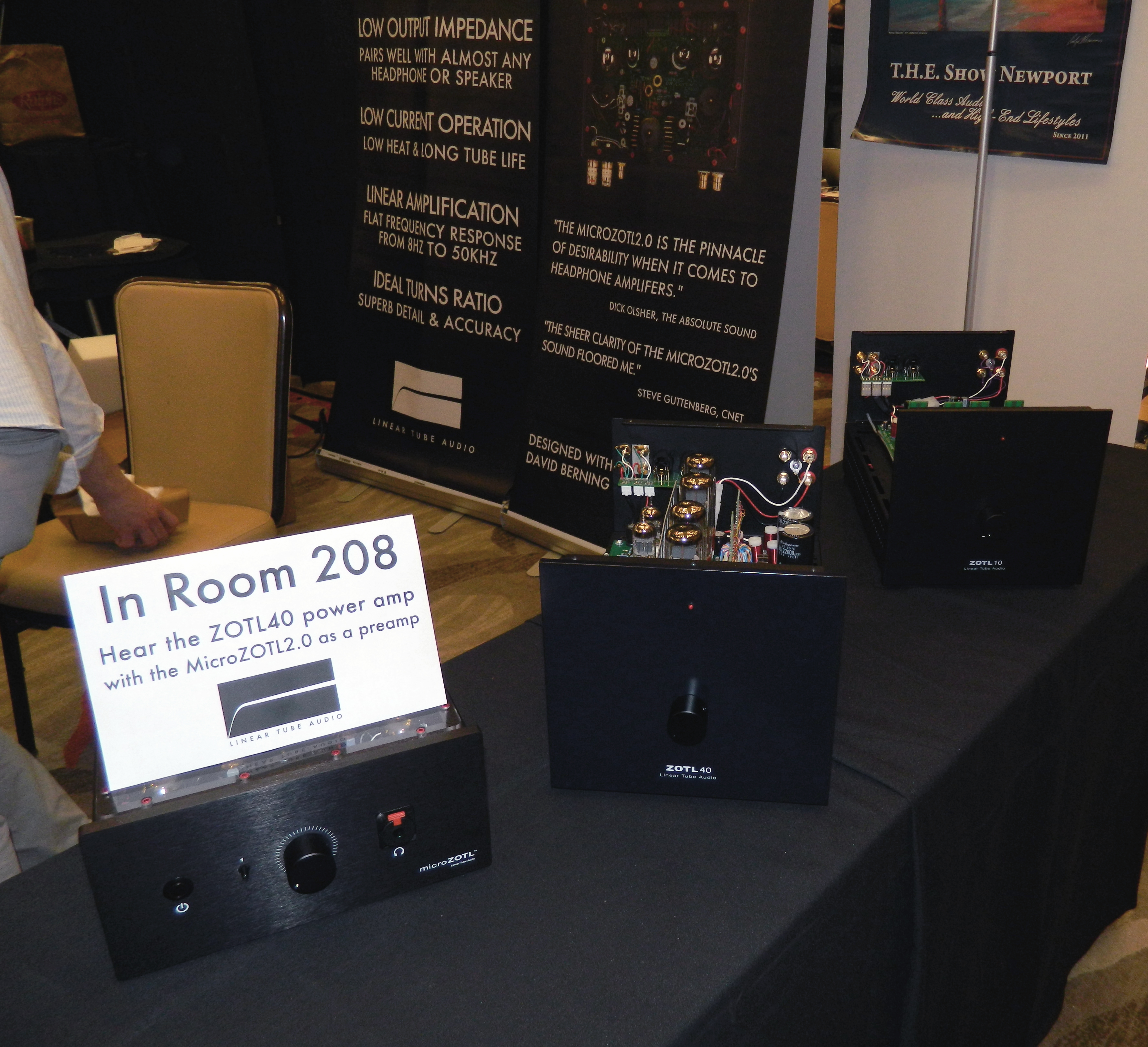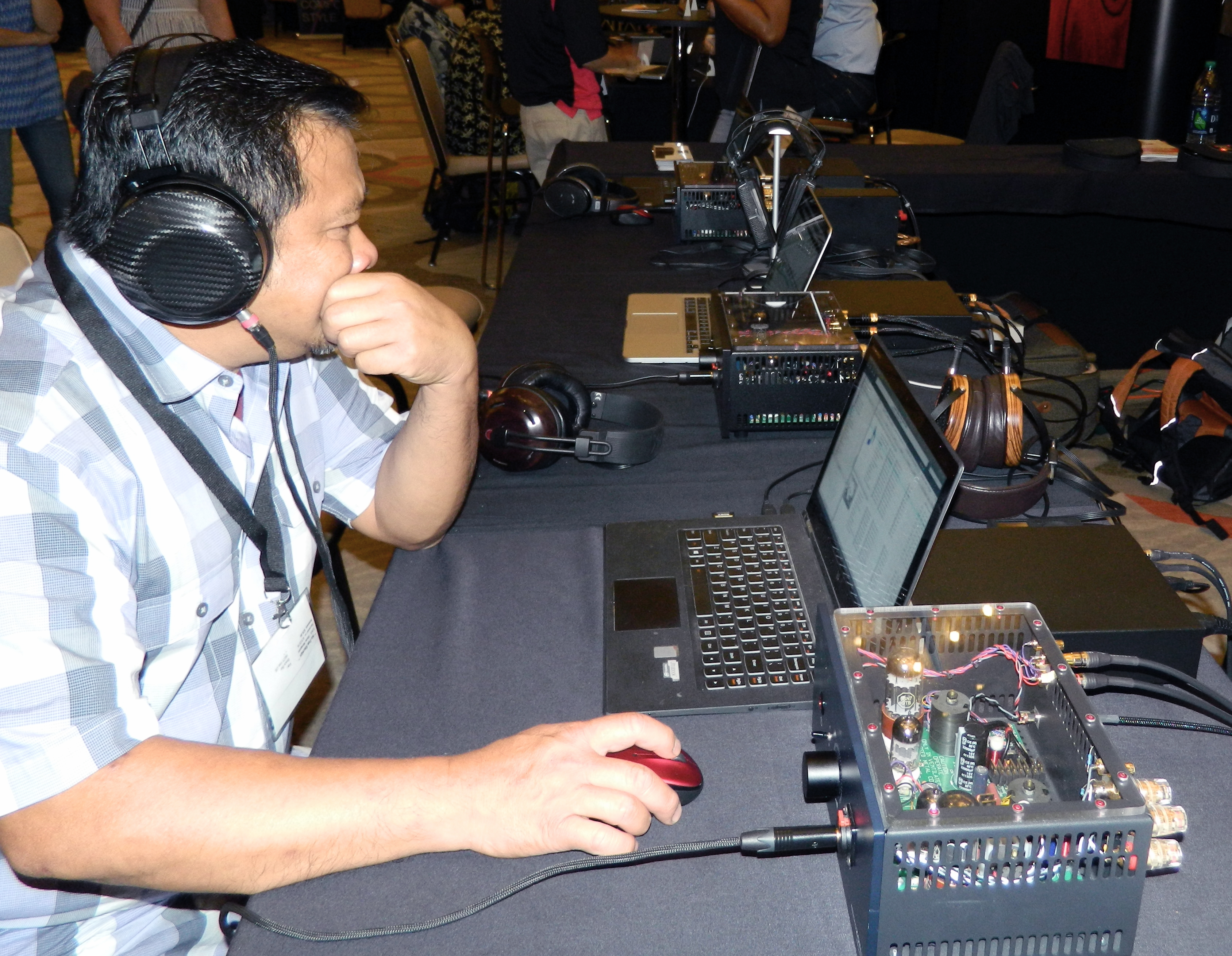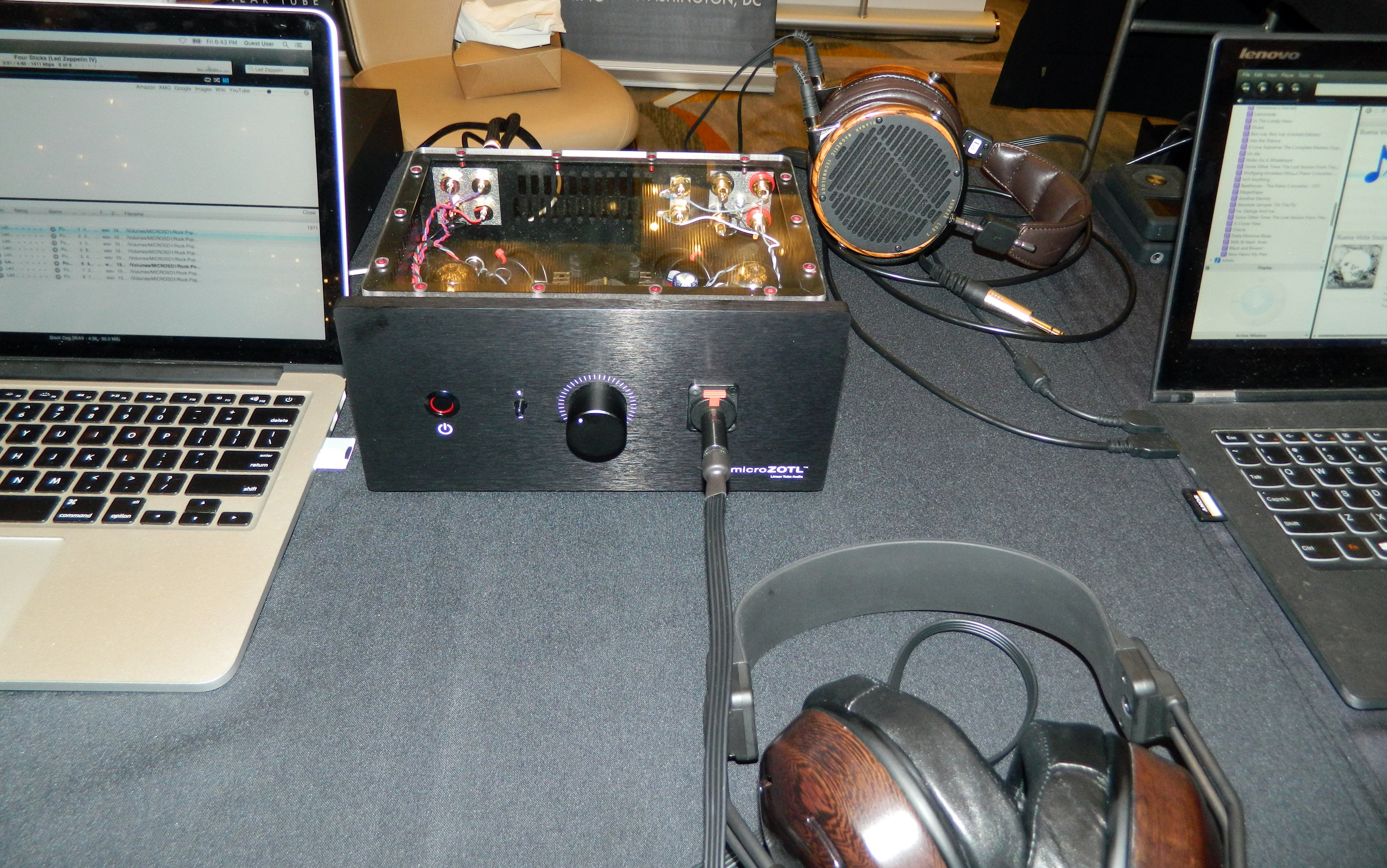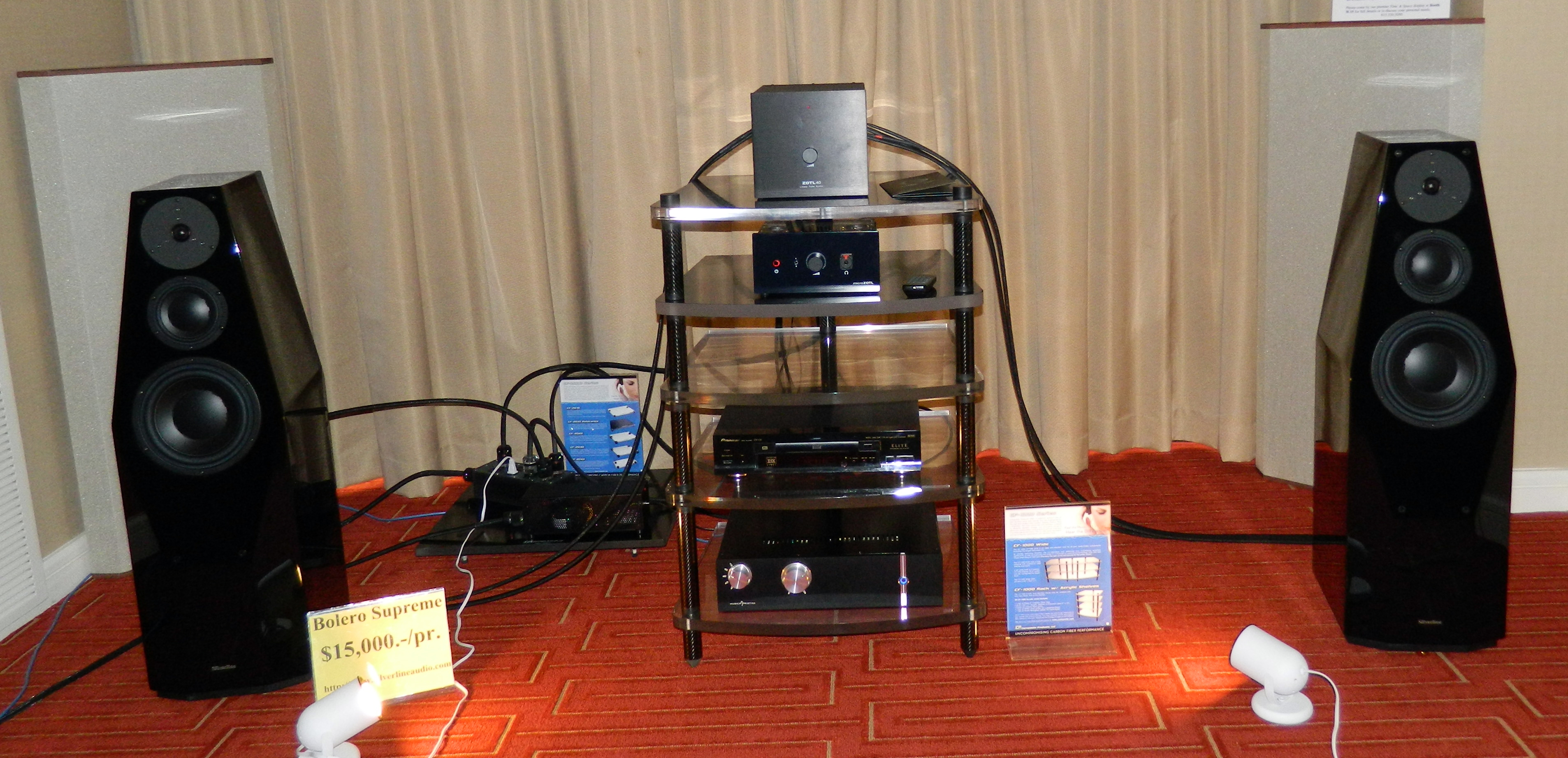 When one thinks of state of the art IEMs, one cannot help but think of Nobel Audio, and on exhibition they had an array of their entire line for the enjoyment of show attendees. I was invited to listen to the Savant ($599) considered to be the most subjectively balanced and the Kaiser 10U ($1,650) their flagship model (designed and manufactured in California) which exhibited a speed and dynamics I had yet to hear in an IEM, putting them at the top of my list of things I want to look into further.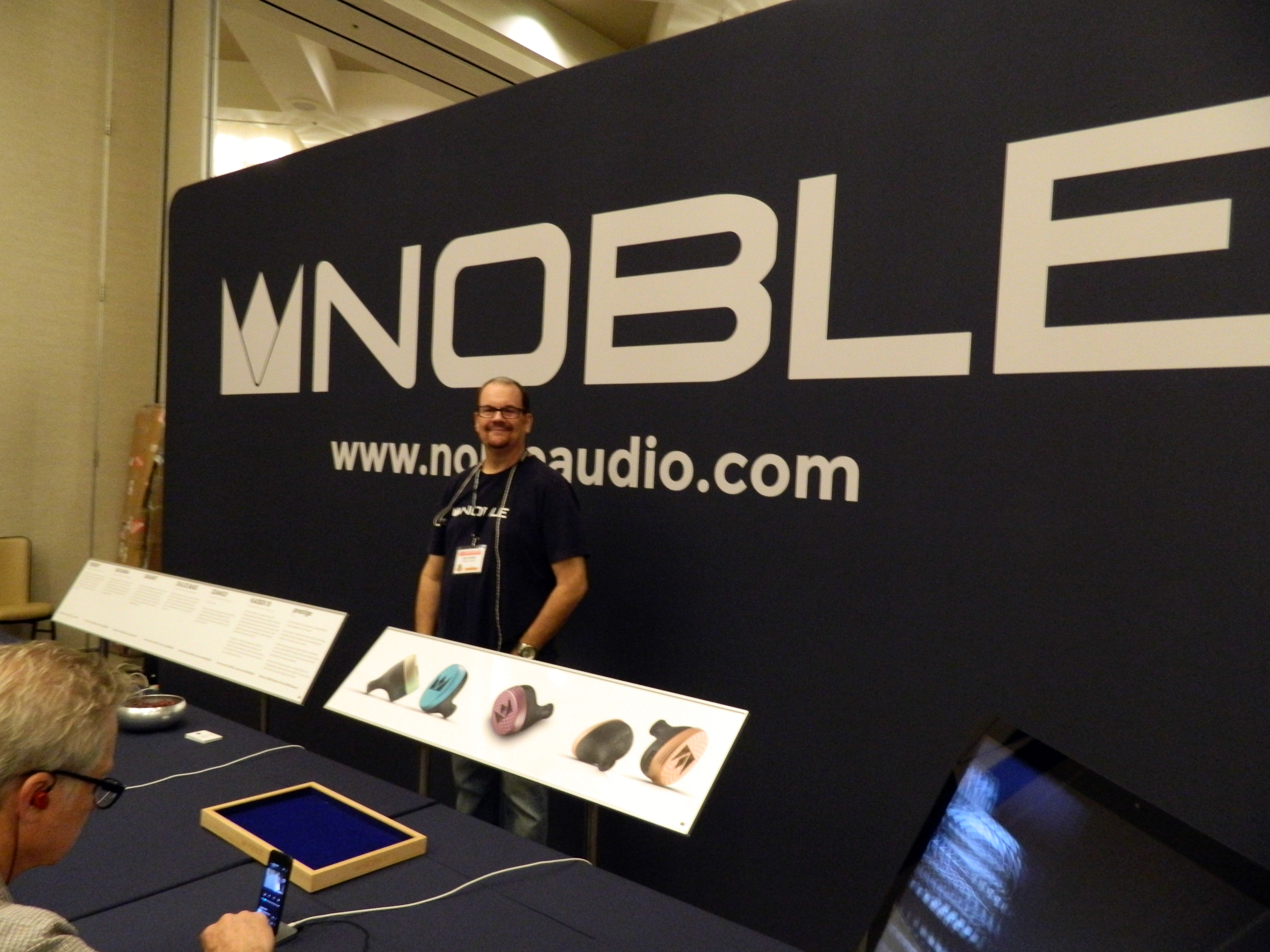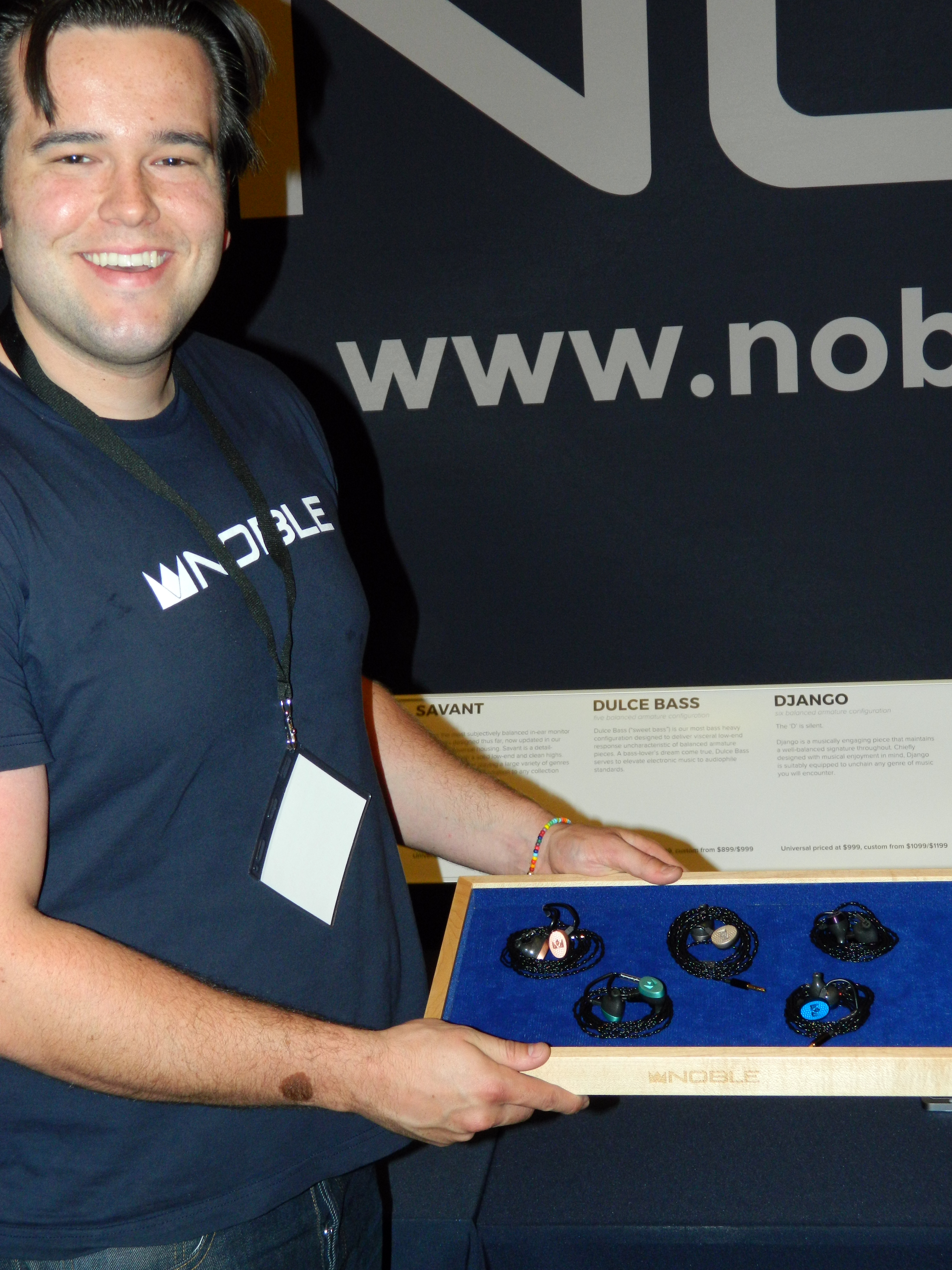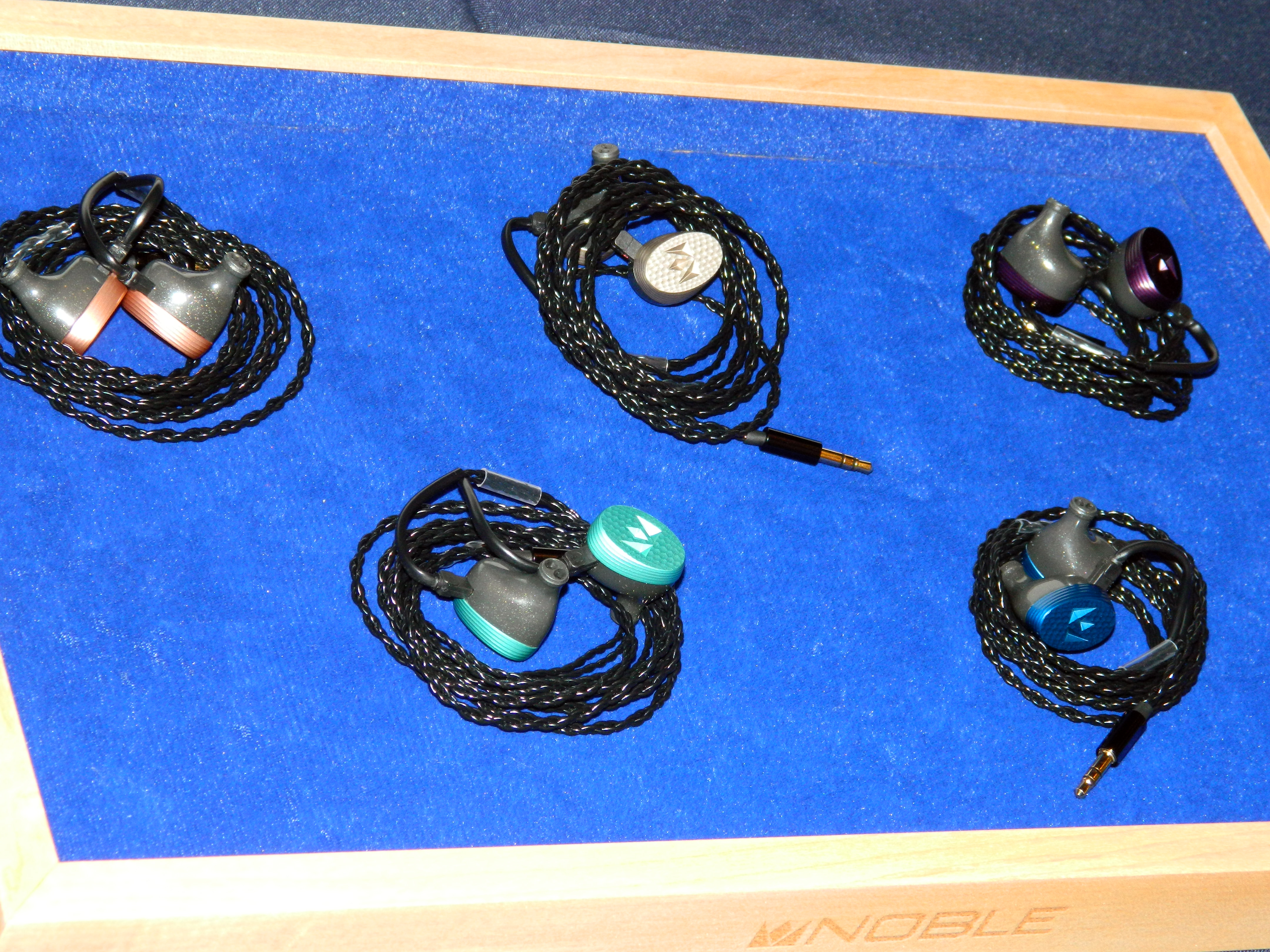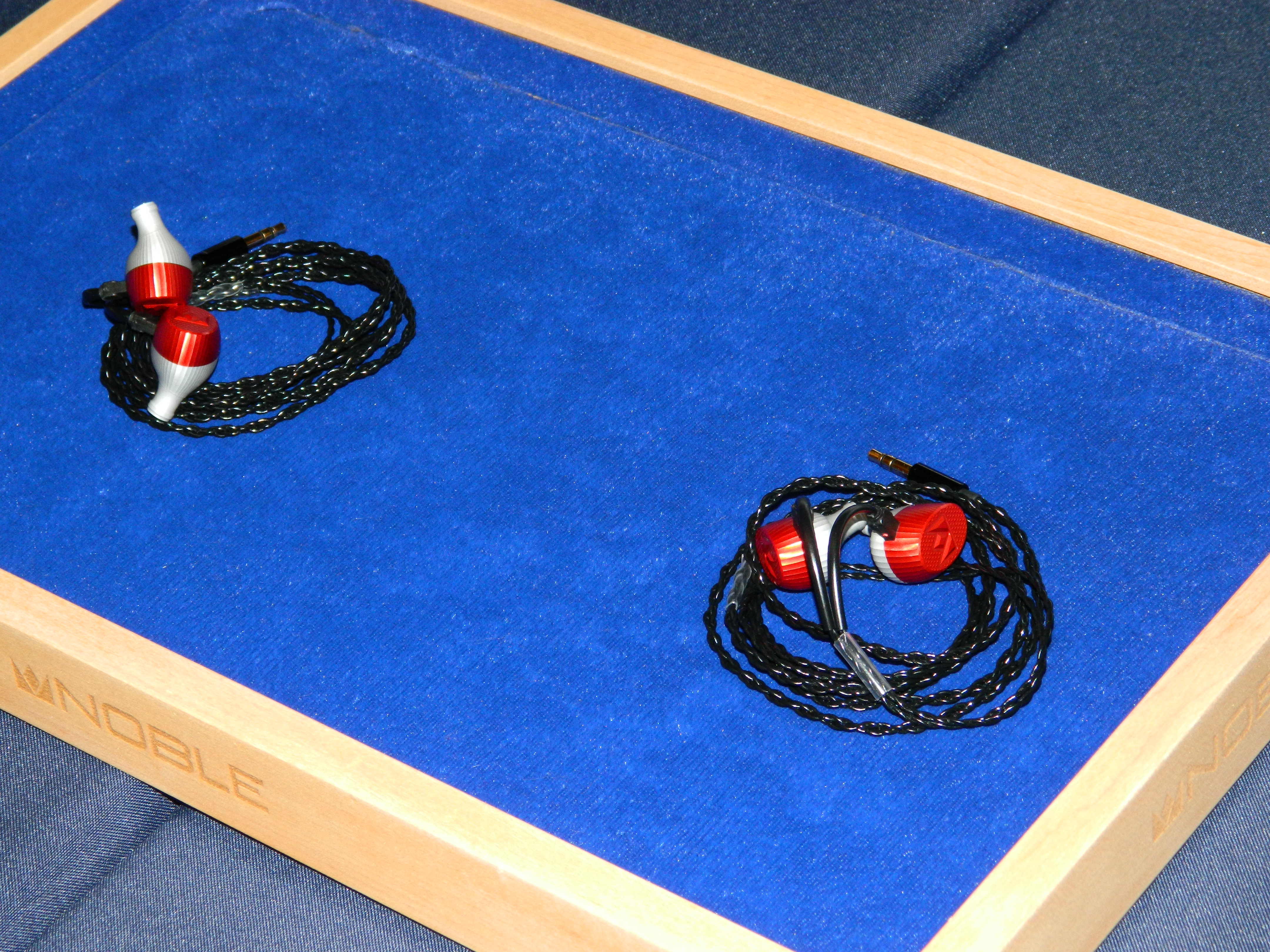 Friday ended with the Richard Beers Memorial, which played to a packed audience of Richard's friends. Maurice Jung gave a touching and profound eulogy which was followed by a military flag unfolding and folding ceremony. We will all miss you greatly Richard.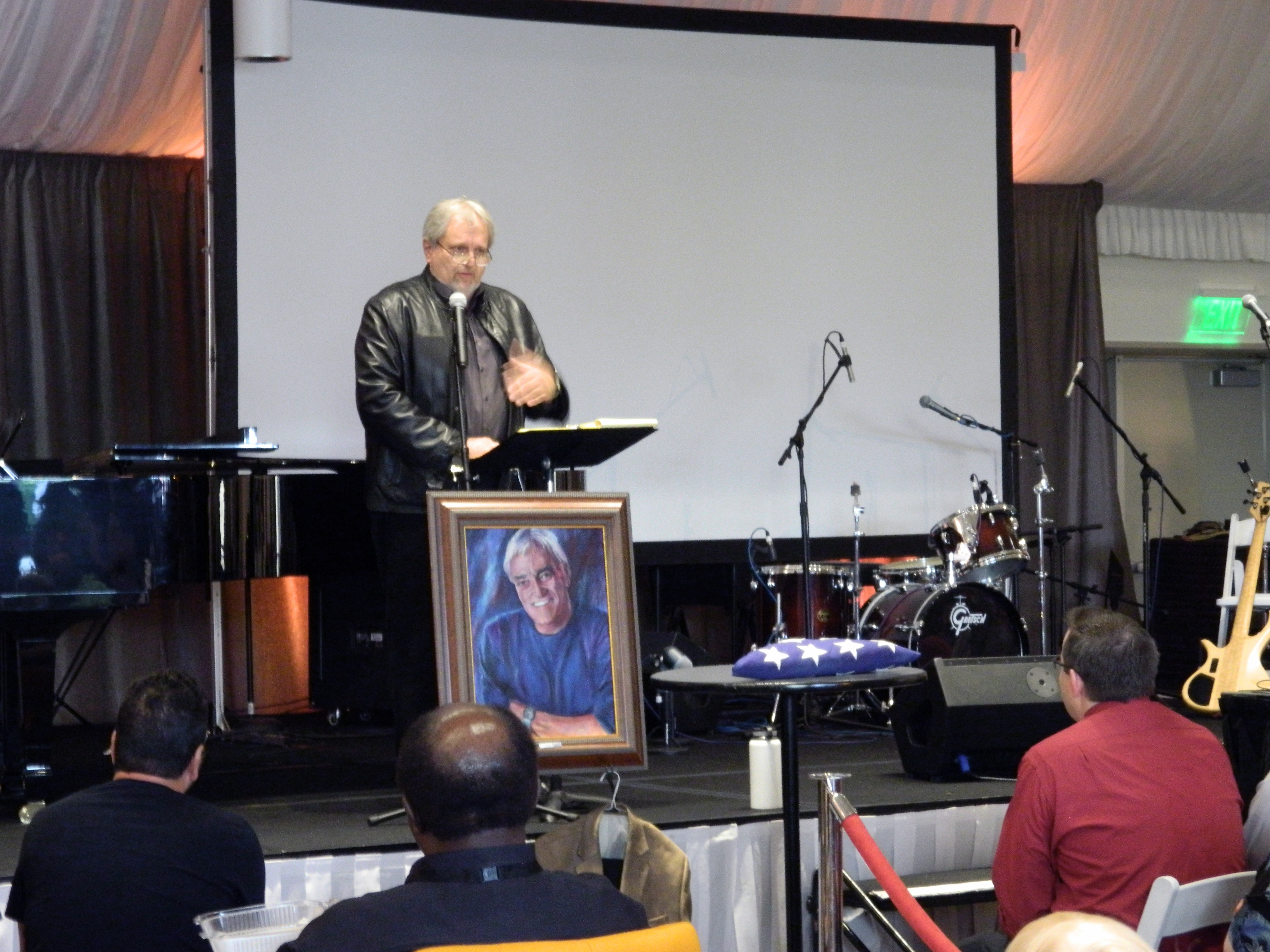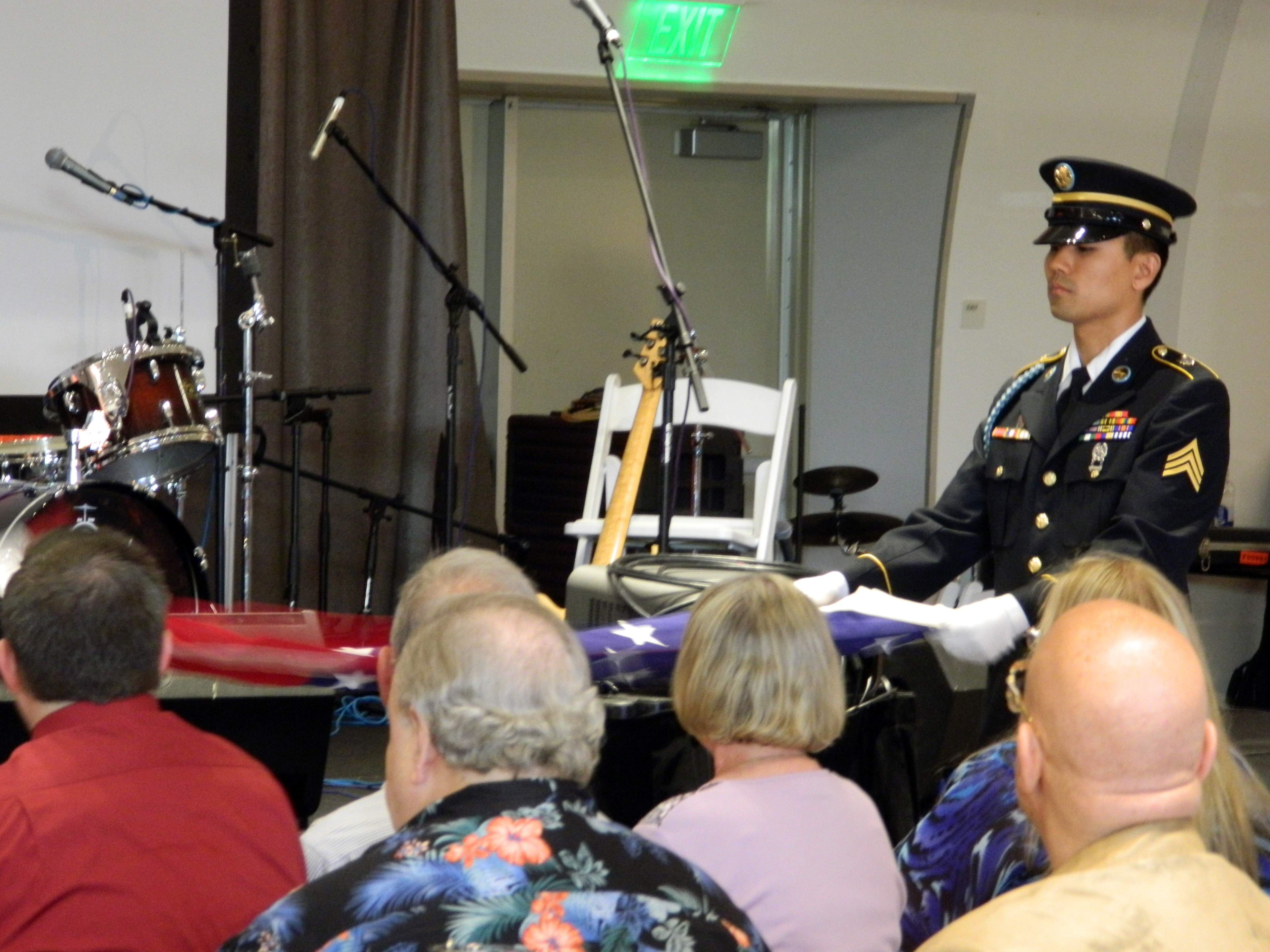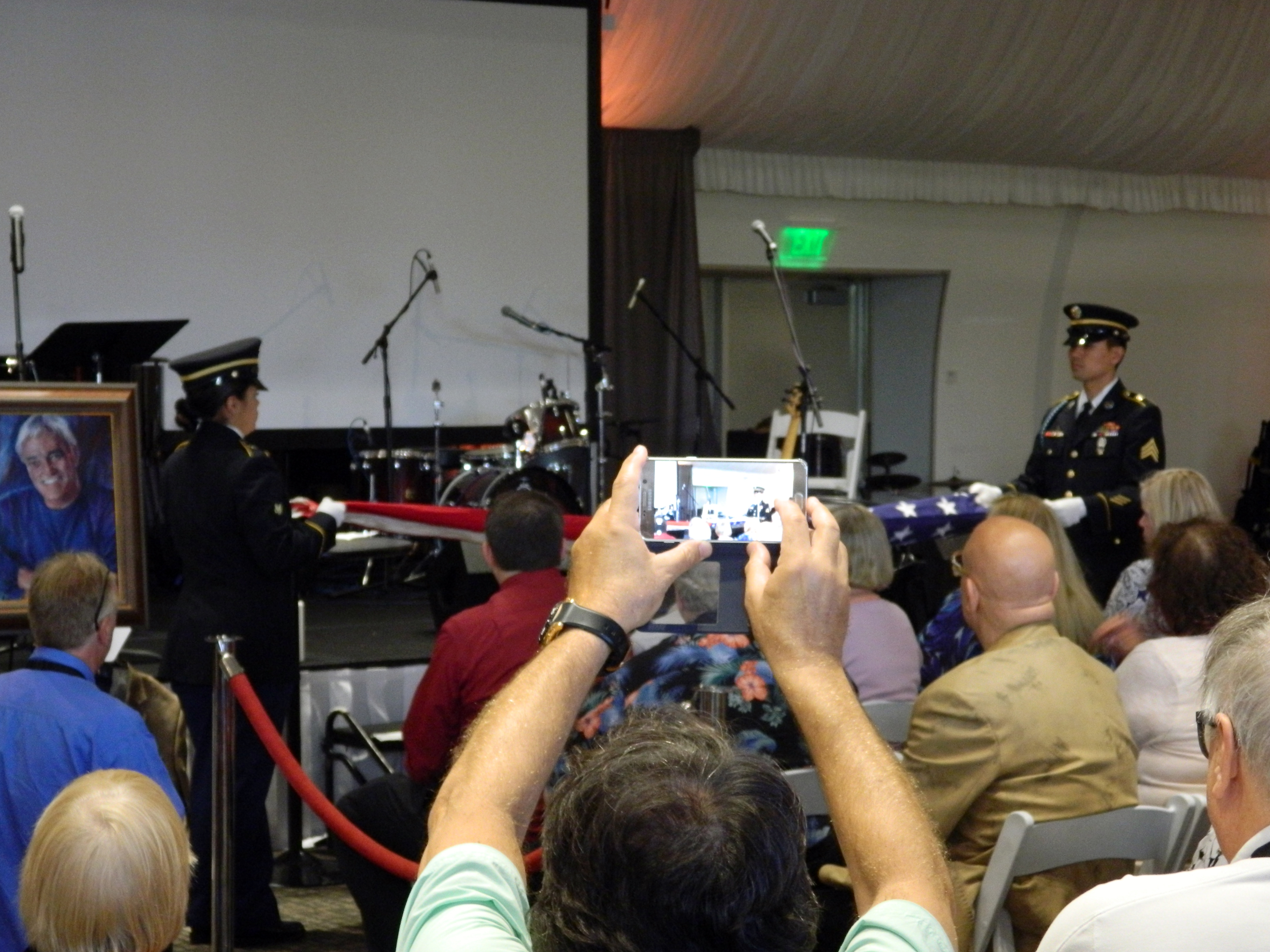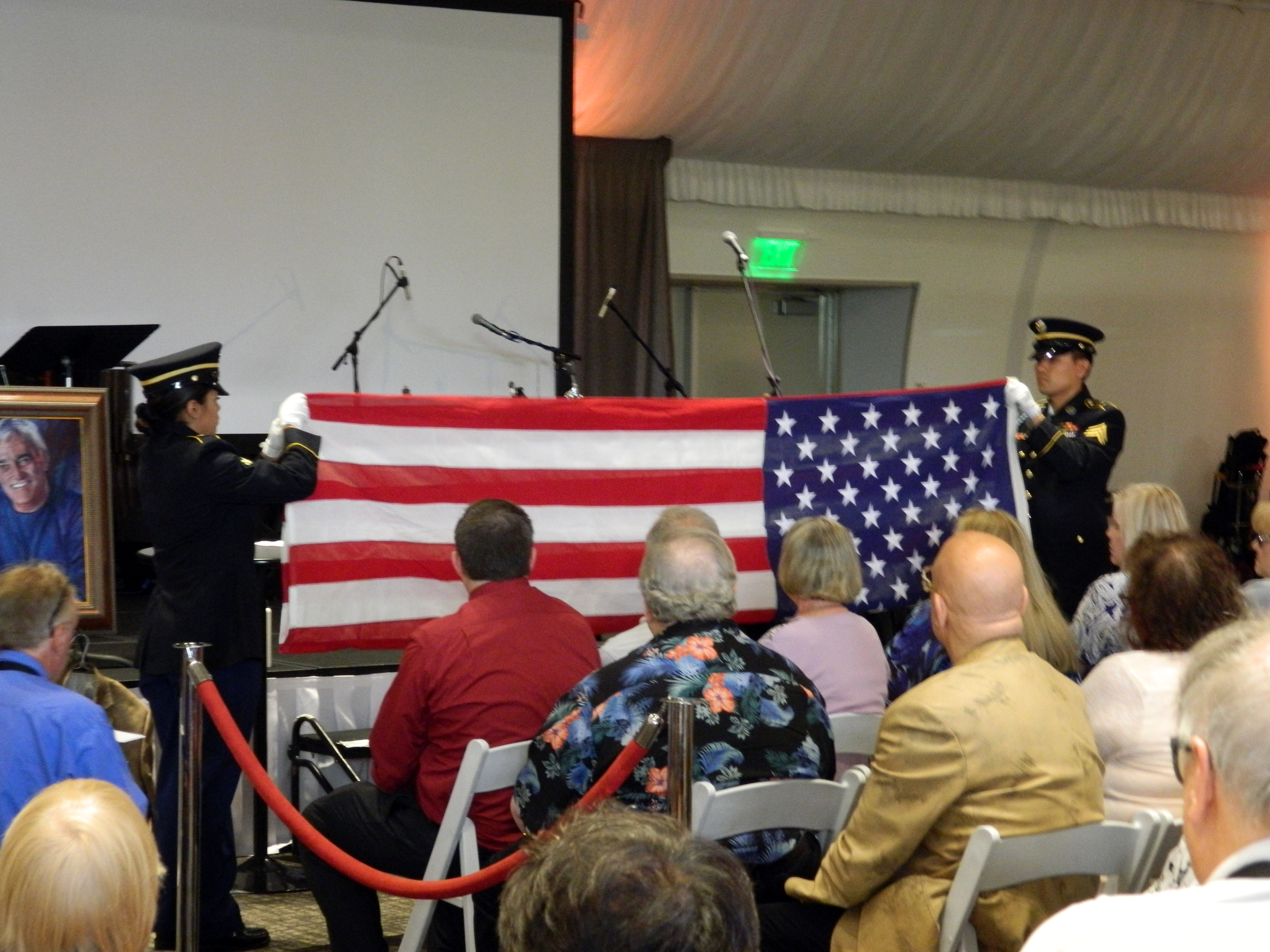 To be continued in Part 2.