I first reviewed 1MORE's MK802 Wireless Headphones last year and I was thoroughly impressed with their performance, build quality and value proposition. For significantly less money than their competitors, the designers at 1MORE released a headphone that was among the very best in this market space for significantly less money than so many of their competitors. I was super excited when I heard I was going to be able to review their new triple driver in-ear monitors. Being a long time Apple user, I was able to review the version with the Lightning termination for my iPhone 7 and iPad Pro. Just like the MK802, as soon as the package arrived, I could tell that a lot of planning and thought went into the design and build quality of these IEMs (in-ear monitors). Everything from the aluminum housing on the IEMs to the very sturdy, but yet pliable Kevlar core cable gave me the impression that these IEMs were designed for the rigors of everyday use. The extremely well build and sturdy leather case is a wonderful storage option and you can throw it into your carry-on or back-pack and never have to worry about the state of your in-ear headphones.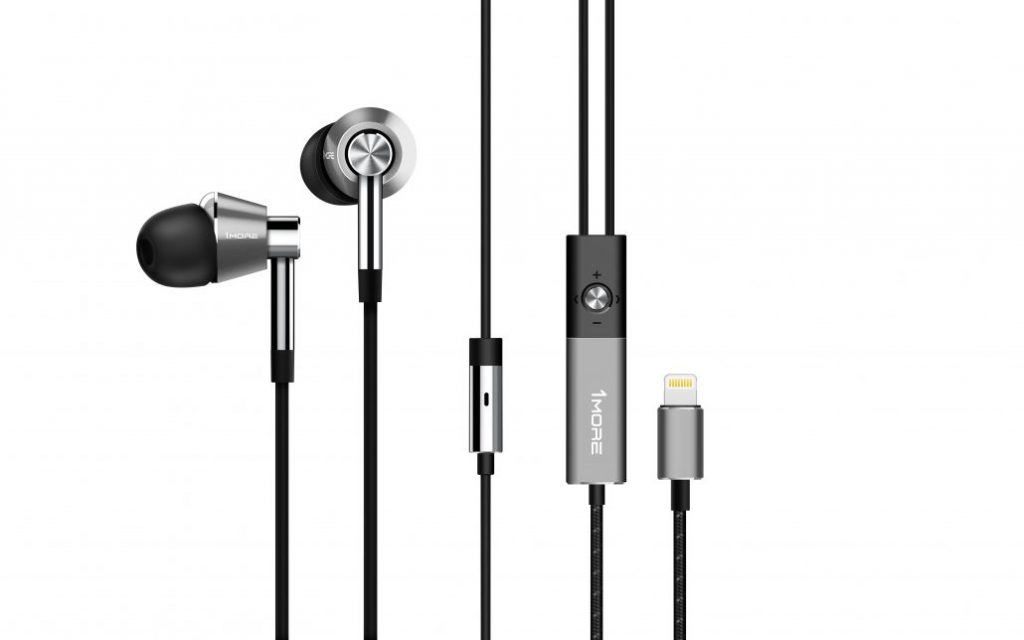 Including two balanced armature drivers + one titanium dynamic driver and an included high definition DAC (digital to analog converter), the technology that the folks at 1MORE threw into these IEMs is quite impressive. What is even more impressive is that all of these technological advancements come in a sub $150 US price point! Now this is truly an impressive feat of both engineering and product management in order to come to market with such an advanced IEM as such a progressive price point. This is also the first triple driver Lightning IEM I've come across and includes an exclusive 5 directional button that allows the user to make incredibly clear phone calls, activate voice controls, adjust the volume and change tracks effortlessly. These in-ear monitors were expertly tuned by Grammy Award winning sound engineer Luca Bignardi. The full list of specifications for these IEMs are listed here:
TECHNICAL DETAILS
Type: In-Ear
Color: Titanium
Impedance: 32 Ω
Sensitivity: 99 dB
Frequency Range: 20-40,000 Hz
Rated Power: 5 mW
Weight: 18 g
Length: 1.25 m
Plug: Lightning Connector
DAC: 24 Bit/ 48 kHz
In-line Remote Control: 5-in-1 Controller
Wire Material: Enameled Copper Wire
Price: $149 USD
CONTENTS
In-ear triple driver headphones
6 sets of silicone ear tip sizes
3 sets of foam ear tip sizes
Magnetic clasping traveling case
Leather storage case
Matching shirt clip
Upon plugging in the Lightning connector into my iPhone I was immediately prompted to download the 1MORE Assistant App from the Apple App Store. This App allows the user to update the firmware on the DSP, burn-in a new pair of headphones with specifically selected tones and frequency sweeps, and play your music. Within a few quick minutes I was off to the races! For the purposes of this review, I used both my iPhone 7 and iPad Pro with Apple Lossless music on these devices. As well, I used Tidal HIFI via WIFI streaming to put these fantastic IEMs through their paces.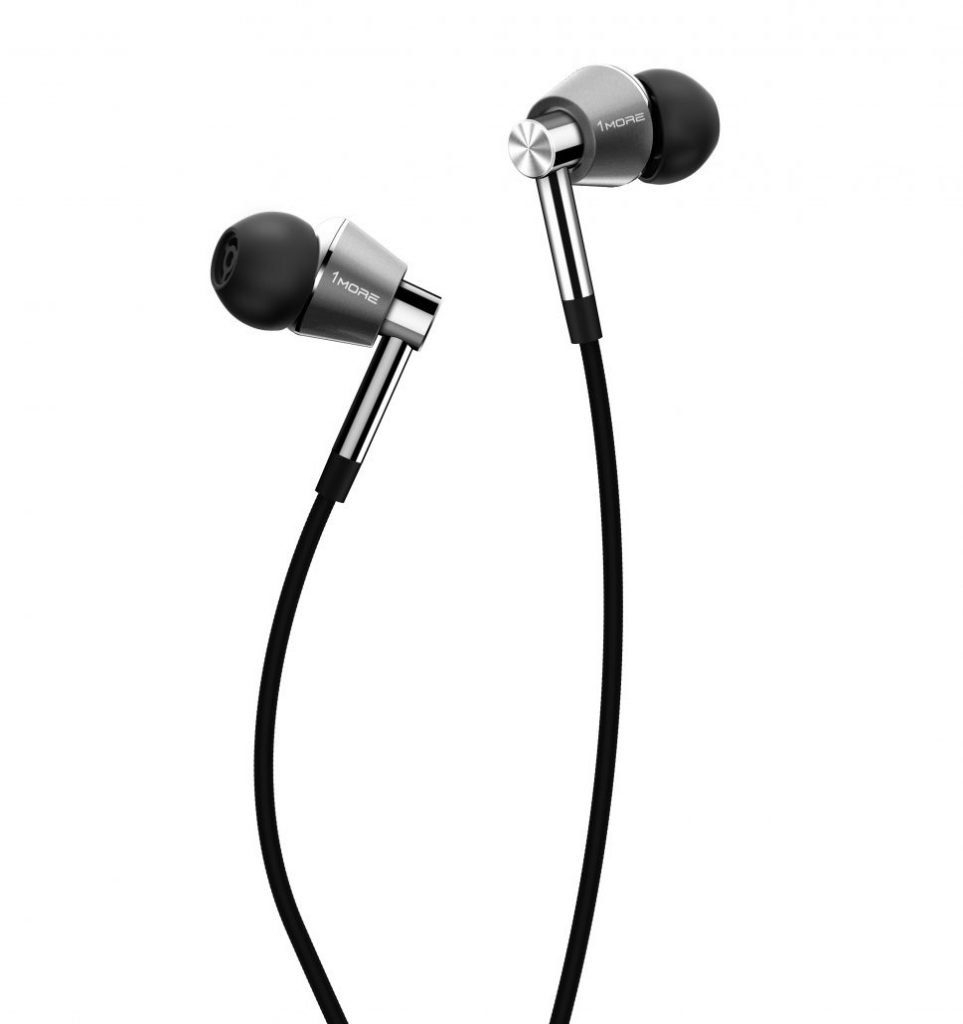 The 1MORE Triple Driver IEMs certainly sounded incredibly balanced throughout the audible spectrum upon first listen. No frequency range seemed to stand out over the others. But rather the bass, mids and treble all played together in perfect unison. My first selection was "Queen – Forever". This is a compilation album of some of Queen's not so well known hits. Very recently, my 13 year old daughter and I caught their concert here in Toronto. Queen + Adam Lambert was simply one of the best concerts I've been to in the past decade. Adam Lambert was simply fantastic and while no one could ever fill Freddie's shoes, Adam was incredible and very much a worthy stand in for what I consider the greatest rock vocalist of all time. Right off the bat, Freddie's immaculate voice shone through in "It's a Hard Life". All of his brilliant emotions were easily captured when using these incredible IEMs. The smallest details and nuances of his vibrato were all laid bare by these in-ear headphones. What I heard easily rivaled in-ear monitors costing north of $450! This just goes to show you that you don't need to spend a bundle to enjoy true audiophile quality sound! Roger's drumming was as visceral and energetic as ever. The bass drum thumped with authority, but never was overdone. Equally impressive where the cymbals and the way they were portrayed. Many IEMs tend to roll of significantly in this range and as a result, the cymbals seems to be so far behind the drummer that they can come off as a bit incoherent. Thankfully, 1More's balanced approach puts them exactly where they should be and the entire presentation reminded me of that magical night in July with my daughter at the Air Canada Centre listening to this incredible band on Brian May's 70th birthday!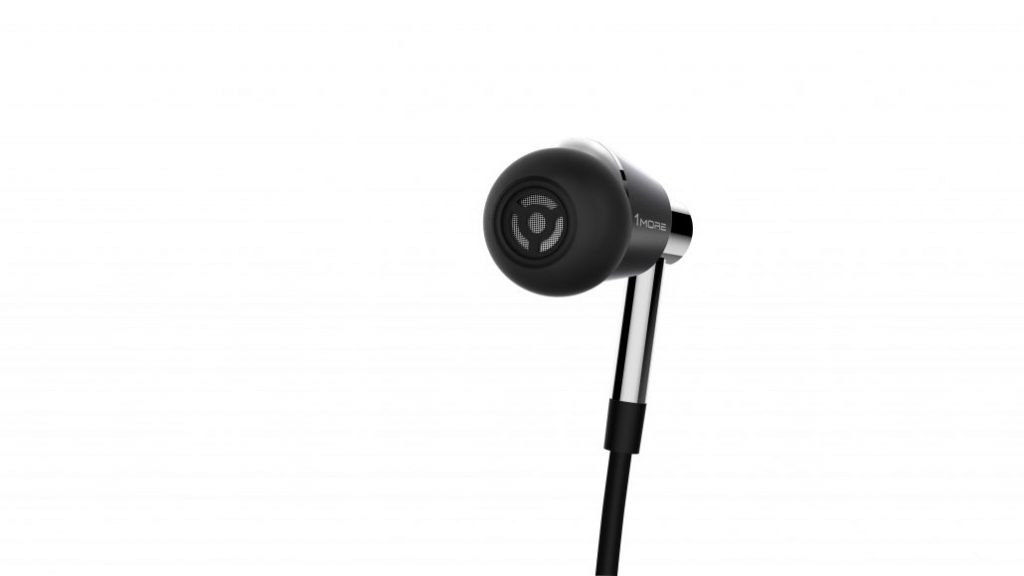 Next up, I decided to try something a little more laid back. Andrea Bocelli has been a long time favourite of mine and his recent released album "Cinema" is a collection of Hollywood's greatest sound tracks. Right from the first track: "Maria" from West Side Story, the 1MORE IEMs grabbed my attention and never let it go. Andrea's vocals have never sounded better from my iPhone! If you are looking for a killer portable setup and don't want to spend a bundle, you seriously need to check out these in-ear headphones! The level of detail retrieval and sound staging was right there with IEMs costing significantly more money and the added bonus of the Lightning connection made for a much simpler setup without having to make sure I had my Lightning to headphone adapter with me at all times. The Godfather I & II are my two favourite movies of all time and "Brucia la Terra" is one of the most iconic sound tracks in movie history. Andrea's version of this classic song is a brilliantly performed work of art and the Triple Driver IEMs never get in the way. Instead they are like an open window into this recording and offer such transparency and clarity, that I had to keep reminding myself that they only cost $99. I was transported to Chicago in the 1930s with thoughts of Luca Brasi's best wishes to Don Corelone on the wedding of his daughter. Simply one magical experience! I also found the comfort of these IEMs very good and could use them for literally hours on end without issue. Noise isolation was also good with the supplied foam tips. The silicon tips were a tad more pliable, but didn't offer the same comfort or isolation.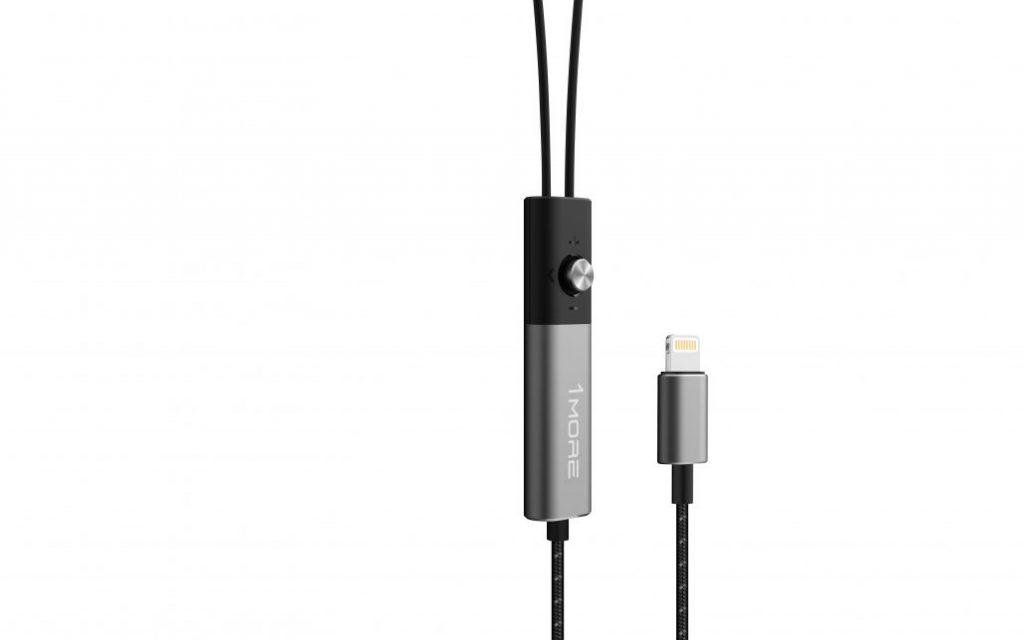 Overall I was so very thoroughly impressed with the 1MORE Triple Driver in-ear headphones. The option of a Lightning connector was a great addition to an already impressive package! The engineers at 1MORE really put a lot of thought and care into the design of these IEMs and the technology packed into these little wonders is truly impressive. And all at a price point under $150 nonetheless! If you are looking for an outstanding pair of headphones that are clean, transparent, balanced and offer incredible sound quality, I strongly suggest you give these ones a very strong consideration…regardless of your price point as they are that darn good!