Introduction:
Many people ask if aftermarket cables are beneficial or not. Some say that they are worth too= get in order to improve sound quality, while many other consider purchasing them a waste of money. This is one of the most interesting discussions in the audiophile community. In general, I have experienced that aftermarket cables make a change in sound. Some of them are quite good and improve sound quality if the right one is chosen.
When we look for an aftermarket cable, we generally search for the best sounding unit. In addition, we also looking for comfort and the build quality. Some cables have more than four conductors that result in physical thickness. Some of them are quite flexible such as Linum and Effect Audio cables. The comfort aspect may be sacrificed to get the best sound, but some cables may give the optimum combination.
There are many aftermarket IEM cable manufacturers around the world. In this shootout, ten manufacturers are listed and at least one cable from each of them is tested.
The shootout consists of two parts considering the price range. In this first part, the reviewed cables are from:
-Effect Audio
-Labkable
-SilverFi
-Whiplash Audio
The Shootout in Alphabetical Order:
Effect Audio:
The Effect Audio is a Singapore brand that is known in the world for some famous aftermarket cables. They offer Ares and Thor series headphone/IEM cables as well as Piccolino Ultimate and Eros Reference units. In addition, there is the Mars cable from Premium series and finally the Leonidas from Heritage class. In the accessory section of the Effect Audio website, there is a rich product range including some mini interconnects, digital cables, and connector options. As seen in the website, the Effect Audio has started to collaborate with custom in ear monitor makers such as Cosmic Ears, Empire Ears, Vision Ears, and Custom Art.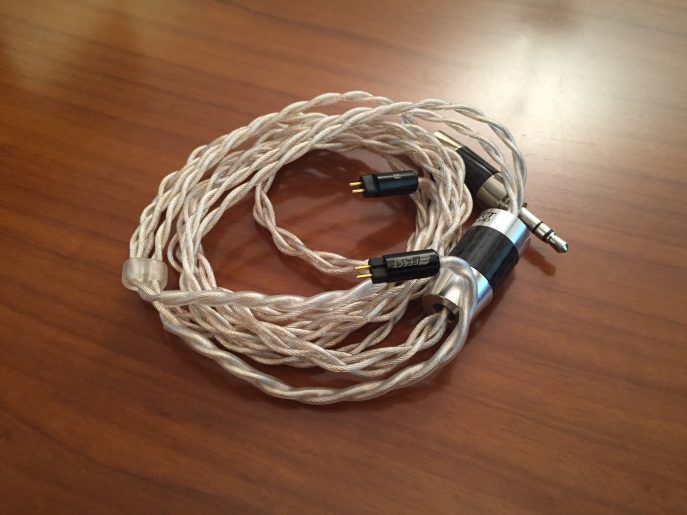 The Leonidas from the Heritage Series
The Effect Audio utilizes four silver/gold conductors, Mundorf gold solder and Litz woven technique in the production of the Leonidas. The reviewed cable has traditional 2-pin connectors, but it is possible to order the Leonidas with almost all types of pins used in the industry.The Leonidas is quite flexible. It is very easy to wrap and use outdoors. It comes with a leather case that looks very cool and this combination gives a premium feeling to customers. As for the craftsmanship, it is really good and the Leonidas is one of the best-looking cables that I have ever seen.
Craftsmanship: 9
Comfort: 9,5
The Leonidas sounds natural and can be considered as neutral in terms of the quantity balance, with the exception of its slight fullness in low and mid frequencies. It doesn't put any frequency significantly forward compared to the stock cable and it also reduces the stress on the presentation.
The Leonidas provides better response in low frequency region with a more emotional tone. The midrange is more transparent and effortless. It has a truer tone and more resolving presentation in comparison with the stock cable. In high frequency region, it sounds more natural and smoother. The Leonidas doesn't change overall stage width, but it has a deeper presentation and it locates the background slightly more distant than the stock cable.
Sound: 8.7
Price: 799 USD
Ordering: http://www.effectaudio.com
Labkable:
Labkable is a Hong Kong based cable maker, which has pretty wide product range. They sell some famous brands' products such as Neotech, Mundorf, Acoustic Revive from Japan, Gotham Cable from Switzerland, and Telos Audio Design from Taiwan as well as some modification parts for amplifiers. In fact, I was really impressed when I looked at their product line, rich and useful selection. Also, I think DIY'ers would love this company, since there are a lot of DIY parts and accessories. Labkable seems like a grocery store of the cable world.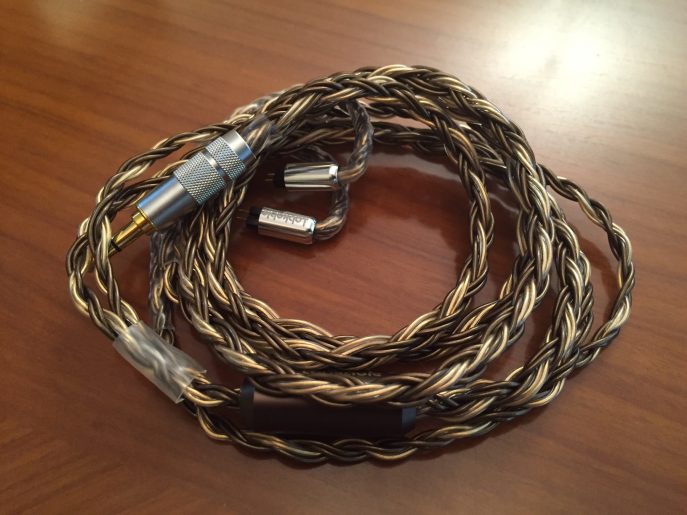 The Pandora from the Ultimate Series:
The Pandora cable utilizes ten wires and a combination of silver plated gold, pure silver, and pure copper conductors. As we may guess, it is a hybrid cable, but there are three different types of conductors. The built quality of the Pandora is very good; sleeving material has a strong quality and the knitting of ten wires looks very promising.
Craftsmanship: 9
Comfort: 8.5
The Pandora sounds very detailed and transparent, but it isn't fatiguing. Even if it has a little open tone, it improves every frequency range.
The Pandora has tighter hits and better-textured notes in both sub and mid bass regions. There is a significant increase in the resolution level. In addition, it recreates more airy bass department and a deeper stage in accordance with that airiness.
The midrange is located slightly more forward compared to the stock cable and it adds some openness to the tone, but it never turns into a metallic sounding unit. As it is in the bass department, it significantly increases the resolution level with a better transparency. The Pandora makes spaces between instruments increasingly cleaner and clearer.
In the treble region, the Pandora sounds a little more open and highly detailed compared to the stock cable, but it still recreates notes in a smooth, natural and non-fatiguing way. The stage is wider by a small margin, but the most impressive part of the stage is the depth of the presentation. It provides more three-dimensional instruments and better separation.
Sound: 9.3
Price: 1250 USD
Ordering: http://www.labkable.com
SilverFi:
SilverFi is a boutique cable maker from Turkey. The company makes its own raw material and provides the desired sound. SilverFi is a silver cable enthusiast, but it can be seen that some cables from the product line are gold/silver mixed units. In SilverFi product line, there are interconnects, speaker, headphone and IEM cables.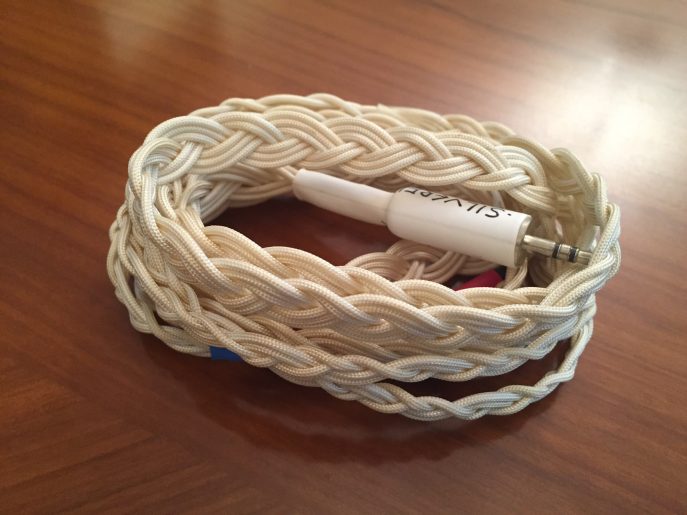 IEM-Reference 1:
R1 is a silver cable that has 6 conductors. Overall it has a flexible and soft build, but using it outdoor may be a little problematic due to 6 conductors. The white sleeving looks very promising and premium. The reviewed R1 has Swichcraft 3.5mm plug and industry standard 2 pins. In fact, R1's pin section needs to be improved to get a better look, strength and comfort.
Craftsmanship: 6
Comfort: 5
IEM-R1 has significantly more textured and resolved low frequency presentation. Sub-bass becomes a little tighter and carries an emotional air. Mid-bass is not very prominent, but it is controlled and gives a good body to the sound.
R1 sounds quite organic and smooth in the midrange area. The transparency level is not very high, but its tone is ''right'', neither open/bright nor dark. Vocals have greater body and depth as well as more realistic tone compared to the stock cable.
R1 provides similar amount of treble and it creates details in a very smooth and organic way. It would suit very well to already bright sounding earphones. R1 doesn't have a wide stage, but the depth is impressive.
Sound: 9.2
Price: 999 USD
Ordering: http://silverfi.blogspot.com.tr
Whiplash Audio:
Whiplash is an American cable manufacturer that provides a rich and impressive product range. They offer not only aftermarket cables, but also amps, headphones, DIY parts, and racks for the desktop systems. They are the authorized dealers of some famous brands such as Audio Technica, Moon Audio, Sennheiser and Ultrasone. The cable range of Whiplash Audio consists of IEM and headphone cables as well as interconnects, power cords, analogue and digital cables. In the IEM cable section, there are many conductor and cosmetic options.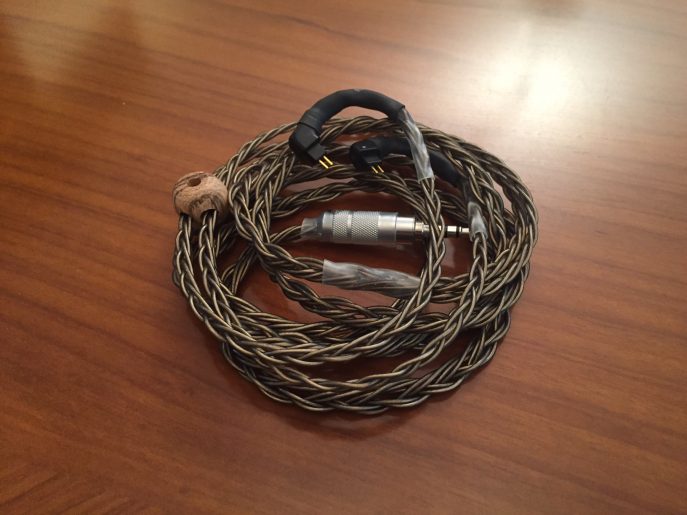 TWau Reference Cable:
TWau has eight silver conductors, industry standard two pins and 3.5 mm single ended plug. Overall build quality seems strong and it can be considered as flexible for an 8-braided cable. Some may find the used pins a little bigger than necessary, but utilizing these pins is a must due to the 8-braided structure. In addition, TWau has a very nice wooden slider.
Craftsmanship: 9
Comfort: 7.5
TWau is a quite dynamic and transparent sounding unit. Overall note reproduction has a little more open tone with sparkled treble presentation compared to the stock cable. It has slightly grander low frequency notes. Even if its notes are grander than the stock, it keeps hits tight and improves the bass' texture.
The midrange's resolution and transparency level becomes significantly higher with TWau. It adds some open tone; that may result in an effort with already bright earphones. TWau has more detailed, alive and a slightly more prominent treble notes than the stock cable. Therefore, it recreates clearer and cleaner notes. TWau has a bigger stage with an impressive depth. The presentation becomes more intimate with a little forward midrange.
Sound: 8.3
Price: 550 USD
Ordering: http://www.whiplashaudio.com
Equipment used during the test:
-Tera Player
-Lotoo Paw Gold
-Lear LCM-BD4.2
-M-Fidelity SA-43
-Westone and Lear stock cables.
Please note that the second part of the shootout consists of:
-Lear
-Linum
-Null Audio
-PH Audio
-plusSound