Introduction:
Many people ask if aftermarket cables are beneficial or not. Some say that they are worth it to get in order to improve sound quality, while others say it is a waste of money. This is one of the most interesting discussions in the audiophile community. In general, I have experienced that aftermarket cables make change in sound. Some of them are quite good and improve sound quality if the right one is chosen.There are many aftermarket IEM cable manufacturers around the world. In this shootout, some of them are listed and at least one cable from each of them is tested.
The shootout consists of two parts considering the price range. In this second part, the reviewed cables are from:
-Lear
-Linum
-Null Audio
-PH Audio
-plusSound
The Shootout in Alphabetical Order:
Lear:
Lear is known by its in-ear monitors and located in Hong Kong. The LCM-4.2BD can be considered as the most famous monitor that Lear provides. In the Lear's store, there is a re-shelling service as well as a rich IEM range consisting of hybrid, universal, and custom fits. They now offer custom made cables for the IEMs. Lear offers 9 different combinations of IEM cables; the most expensive one is the Super King C6 copper cable.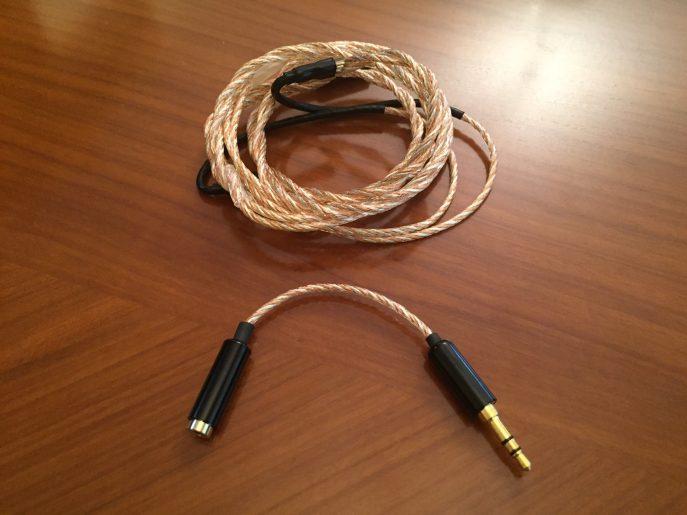 Libra:
The Libra cable has four conductors. Two of them are copper, while the rest is silver-plated. It is neither too thick nor too thin; it has a good balance regarding the thickness. The reviewed cable has industry standard 2-pins; Lear also provides MMCX pins. However, some may want the pins to be a little shorter, since they may cause a pressure to head in accordance with the placement and the fit of IEMs.
The Libra offers a modular system opportunity to who uses several digital audio players with different outputs. It has two adaptors terminated with different plugs: 2.5mm balanced to 3.5mm single ended and 2.5mm balanced to 3.5mm balanced.
Craftsmanship: 8
Comfort: 7.5
The Libra has similar amount of lows with the stock cable, but the Libra sounds a little tighter and better textured. Mid-bass is controlled and doesn't tighten the stage.
The Libra doesn't change the overall position of midrange, but it recreates instruments in a more transparent way. Upper midrange has more energy compared to the stock cable, but no roughness here.
The Libra provides a little more quantity in treble region, but the presentation is not piercing. In addition, it has a wider stage, but the improved stage depth is more impressive than the width.
Sound: 7.4
Price: 260 USD
Ordering: http://lear.hk
Linum:
Linum is a cable manufacturer located in Denmark. They provide one of the thinnest cables in the industry. They released the Bax cable awhile ago and this cable has been very popular among audiophiles regarding the comfort. There are also Music and Vocal series cables as well as a balanced version of the Bax cable.They are going to release a new version of the Bax in a few months. The new cable is named as ''Super Bax'' and it can be considered as an upgrade over the Bax. The reviewed unit is not final. They continue to make plug modifications on the new Super Bax.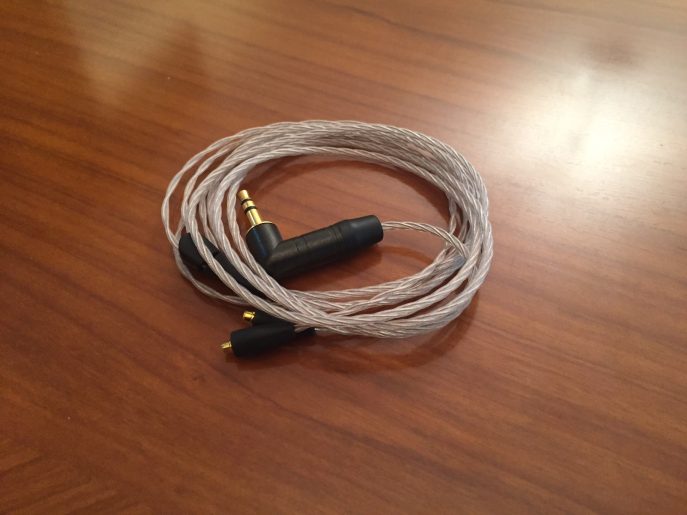 Super Bax:
Super Bax can be considered as an upgrade of the Bax cable. It has four thin conductors that make it of the lightest and most comfortable cables in this shootout. It has the same build logic with the Bax, but the Super Bax is slightly thicker. In addition it has less tangling than the Bax version. The reviewed cable has a Neutrik single ended jack, since it is a limited version. I guess it may be replaced with a nice and polite looking plug once the mass production begins. Still, the reviewed Super Bax has a quite nice look and made with an excellent engineering.
Craftsmanship: 9
Comfort: 9.5
The Super Bax adds some weight to the sound by a small margin overall. Sub-bass has more authority and a little deeper. The SuperBax has more prominent mid bass by a small margin, but it has slightly cleaner touches and better control than the stock; it doesn't create a thump and the combination of all these aspects results in a cleaner lower midrange and background.
The Super Bax provides more effortless and refined midrange. By increasing depth, Linum creates greater space for the instruments positioning. In addition, average note thickness leans a bit towards the thicker side.
The Super Bax has more accurate treble tone compared to the stock cable. High frequency becomes a bit weightier; it is still quite detailed and clean. It doesn't significantly change the stage width, but it slightly improves the depth that results in a better layering and imaging.
Sound: 7.7
Price: 280 USD
Ordering: http://www.linum.dk/home
Null Audio:
Null Audio is a well-known brand, located in Singapore. They offer several aftermarket cables such as highly appreciated Luna and Arete series as well as some famous brands' products and a custom monitor reshell service. They are some custom IEM manufacturers' distributors in Singapore including Hiditon, Canal Works and Rooth. They are also the premium reseller of Advanced AcousticWerkes, which is known by their flagship W500 AHMorph Reference.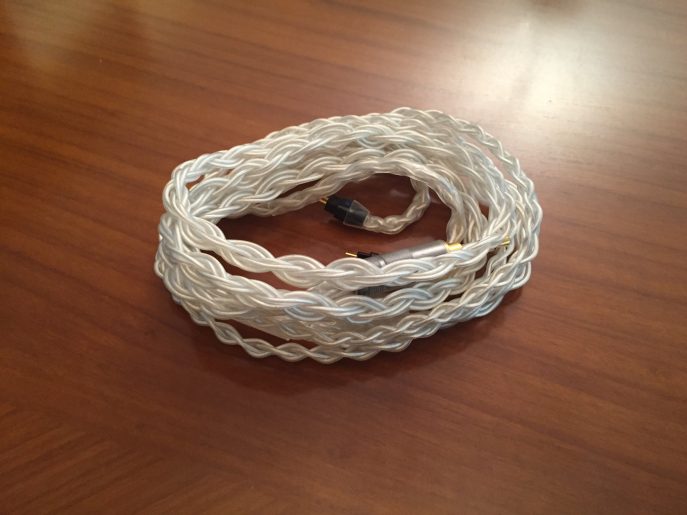 Vitesse Silver Cable
The Vitesse cable has a thin and quite flexible build even if it has 8 conductors; but it is a bit heavy than usual cable weight. In my opinion, this heaviness doesn't create an uncomfortable situation during long listening session while sitting at home or office. However, we have to take that it may be a bit problematic while walking into consideration.
Null Audio offers a variety of plugs such as Viablue, Null Audio SC3 and 2.5mm balanced TRRS connector for AK series. They also offer several other balanced connectors; in order to get one with our cable, we need to contact to them directly regarding our demand.
Craftsmanship: 9
Comfort: 8.5
The Vitesse silver has a tighter sub-bass presentation with a slightly lower quantity. Due to its smaller impact area, it has a better sub-bass texture than the stock cable. Mid-bass is more refined and controlled. There is no issue in terms of tightening the stage.
Midrange is a little more forward and has slightly open tone. Due to that open tone, there is a significant increase in transparency. Overall resolution becomes a little better, but the change is not impressive as it is in the transparency level. Upper mids have also more open tone with a slightly more detailed presentation.
The Vitesse has similar a amount of treble compared to the stock cable, but the Vitesse is more alive. It also improves stage width and depth. Even if there is no a significant improvement in instrument separation, the background becomes cleaner.
Sound: 7.6
Price: 290 USD
Ordering: https://www.null-audio.com
PH Audio:
PH Audio is located in Philippines and founded as a boutique aftermarket cable manufacturer. It has a nice reputation in the East Asia, but it is comparatively an unknown brand when it comes to Europe or America. In the product line of the PH Audio, there are LODs, mini XLRs, mini to RCAs, and upgraded cables for HD series as well as IEM cables. For a boutique cable maker, PH Audio offers very nice looking cables including some attractive sleeving options.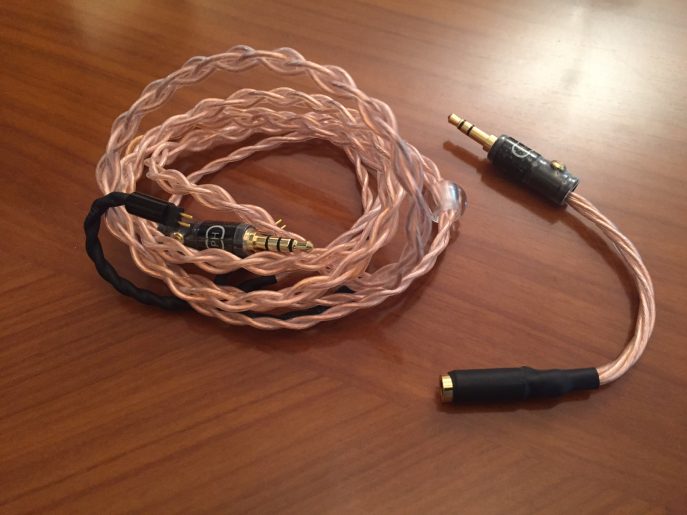 CCPH IEM Cable:
CCPH has four copper conductors that can be considered as a little too thick for outdoor use. The reviewed cable has industry standard two pins, but I believe that PH Audio offers different kinds of pins. Like the Libra Cable of Lear, the CCPH also has a modular system. It has two adaptors terminated with different plugs: 2.5mm balanced to 3.5mm single ended and 2.5mm balanced to 3.5mm balanced.
Craftsmanship: 8
Comfort: 7.5
Low frequency is a little more prominent than the stock cable, but the energy focus leans towards the midrange that becomes more forward. In general, there is a quantity balance between sub-bass and mid-bass. With CCPH, the lows' texture gets slightly better.
CCPH puts midrange a little more forward. The notes are dynamic, more resolved and transparent, but there is still a stress in note releasing. It has good lower harmonics compared to stock cable and its tone is slightly more open.
The CCPH has more prominent and open toned treble presentation than the stock cable. The detail level gets slightly better, but it would suit well with IEMs that have laid-back or dark treble. The CCPH doesn't have a wide stage, but it has a good depth with an effective background position.
Sound: 7.4
Price: 290 USD
Ordering: https://www.facebook.com/customcableph/
PlusSound:
PlusSound is an American cable manufacturer located in California, US. The company has a good reputation among audiophiles. They offer many different cables such as headphone and IEM upgrade cables, and interconnects. They also offer the high-class amplifier Cloud Nine, Audeze headphones as well as a wide variety of DIY parts in their store.
The plusSound IEM cable selection is very rich; providing the option of both sleeving/insulation type and different cable materials in almost all models. For example, the Dionysian series can be made with both copper and silver conductors as well as many other wiring combinations. Like the conductor selection, there are many options to customize the cable.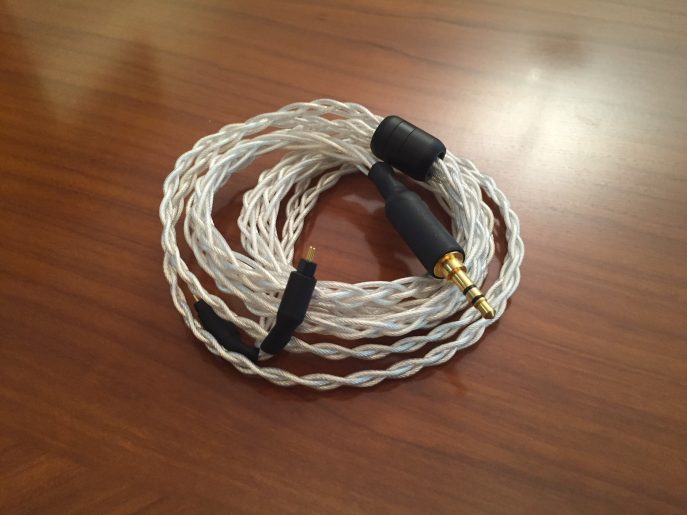 X6 IEM Cable:
X6 utilizes 6 silver plated copper (Type 6 Litz) conductors that are cyro-treated. Considering its 6-braided build, it can be seen as a heavyweight cable, but the overall build is not very stiff. Indeed, the X6 is flexible enough for 6-braided cable.
The most beautiful point of X6 is its pins. The pins are in a green and purple color with the PS logo on them. The quality of the pins is quite good. Additionally, there is no memory wire here. In fact there's no need for it, since it has a very good shape and is built to stay firm. The reviewed X6 has a gold-plated straight plug and the braid craftsmanship of the cable is very nice and good looking.
Craftsmanship: 9
Comfort: 8.5
The X6 silver-plated copper cable sounds a bit warm and it has a very slightly forward and bolder midrange than the stock cable. In comparison, X6 is significantly more natural and has a little bit darker note reproduction.
The X6 has more body in the low frequency region with a better-textured note decay. It has more three-dimensional sound and deeper hits than the stock cable. The X6 has slightly forward midrange with thicker note reproduction. In addition, the X6 is more dynamic with bolder attacks in accordance with quantitative difference in the low frequency presentation.
In the treble region, the X6 is smoother and has a more forgiving presentation here compared to the stock cable. Also, the X6 is more controlled and refined. X6 doesn't have an overly wide stage, but it is effectively wider and deeper than the stock cable's stage; it provides a bigger and more refined picture.
Sound: 7.8
Price: 325 USD
Ordering: http://www.plussoundaudio.com/home.html
Equipment used during the test:
-Tera Player
-Lotoo Paw Gold
-Lear LCM-BD4.2
-M-Fidelity SA-43
-Westone and Lear two pin stock cables.
Please check the first part of the shootout for:
-Effect Audio Leonidas
-Labkable Pandora
-SilverFi IEM-R1
-Whiplash Audio TWau Reference