Astell & Kern has enjoyed being known as a "top tier hi-fi DAP maker", for a good 3 years now. In that time, they've been able to push the envelope of their various DAP's audio quality, closer and closer into the realm of hi-fi desktop flagship sound. Static is not a word that Astell & Kern is comfortable with. As they've slowly gained prominence amongst the audiophile market, their product lineup has been anything but static. The AK100 and AK120 were their original entries into the market. These two DAPs would make waves and test the waters of the high end player market, and would serve as data points on what was needed to further push the envelope. Not even two years later, the company would again turn heads when they announced a series of updates. The AK100 and AK120 would be dropped from the lineup to be replaced by the AK100 II ($699.00 USD) and AK120 II ($1699.00 USD) respectively. This new rollout would bring much improved and wanted updates in hardware, software, added features, and most importantly, further push the product line forward towards true mobile audiophile quality sound. As well received as these new models would become, the excitement they generated would be dwarfed by the addition of a new flagship, the AK240. The AK240, with its hefty price tag of $2500 USD would cement the name of Astell & Kern as a true mobile audiophile company. Even so, President Owen Kwon and company were far from finished. Barely a year and a half after the product line update A&K would push the envelope into the stratosphere with the addition of a new flagship, the AK380 ($3499.00 USD).
[Editors Note: The AK380 is currently being reviewed by fellow Guru, Aaron Kovics. Please check back with us for the upcoming review.]
With the product line update and later subsequent add-ons, A&K finally had a player lineup that addressed the various price brackets of the high-end and upper mid-tier market. Even so, there was still a large gaping hole in A&K's market strategy. An A&K player meant for the lower tier, mid fi market, was nowhere to be found. That gaping hole would finally be filled. Enter the AK Jr. ($499.00 USD).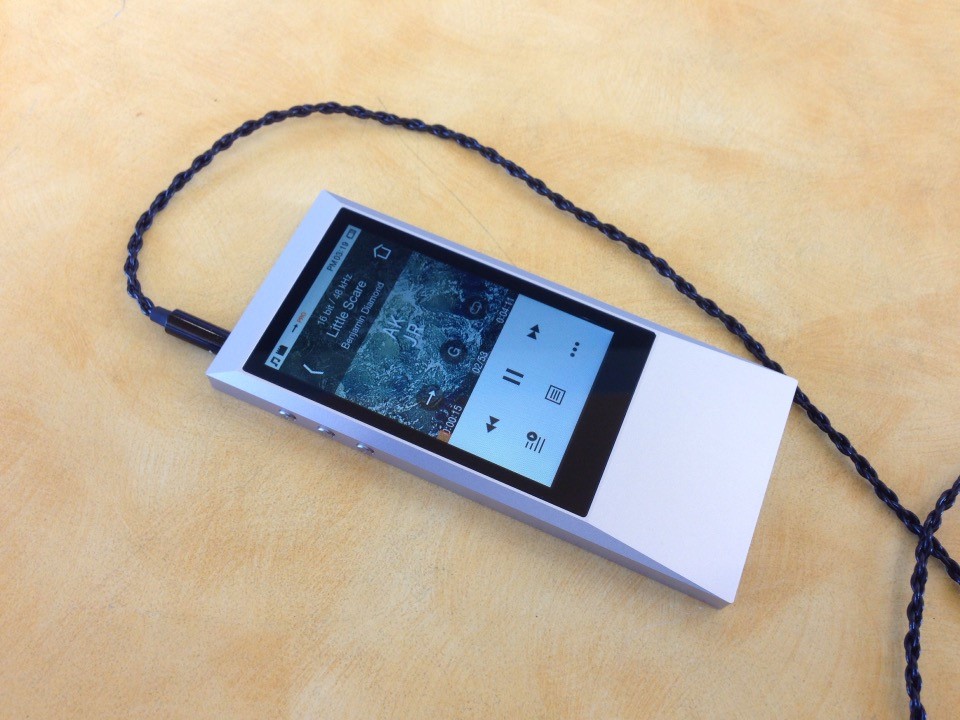 The AK Jr is Astell & Kern's answer to an entry level DAP. Unlike the company's pricier offerings, the Jr has been stripped down of certain features. The absence of Tidal and wi-fi access, just to name a few, helps AK to hold down costs. Instead, all energy during its development was directed at creating a pristine, streamlined, and well-voiced player. Unlike other entry level players, the Jr doesn't suffer from a case of "lets cheap out on build quality and create a player that suffers from a bad case of the uglies". If anything, the Jr is one sexy looking piece of equipment, with its brushed aluminum industrial look and clean crisp lines.
The Jr itself, is slightly smaller in overall size to an iPhone 5, fits very snuggly in the hand, and is the smallest sized player in A&K's lineup. It comes with 64 GB of onboard memory and utilizes a lone Wolfson WMA740 DAC chip, also found in the earlier versions of the AK100 devices, which can handle 24/192 files. File support is quite good, with support of all the major formats such as FLAC, ALAC, AIFF, DSD, PCM, and MP3, just to name a few. Battery life was quite acceptable, with between 10 to 12 hours of user time between charges, depending on whether I listened to a high res 24 bit or regular 16 bit file. It's one microSD slot, located on the right edge of the player, is rated at being able to support a maximum of 64 GB. Even so, I'm glad to report I was able to use my 128 GB microSD card with no issues and have read from others that the newly released 200 GB cards can also be used with no issues.
Located slightly below the micro SDcard slot is the players volume wheel. The volume wheel was unobtrusive, easy to get at when in a pocket, tracked quite nicely, was neither too stiff nor too loose, and blended in nicely with the player's overall sleek look. Although the volume wheel performed quite admirably during testing, be forewarned: the skinny jean crowd should take extra care to avoid any unwanted high volume accidents when the player is pocketed. On the left edge of the player is the forward, back, and play/pause buttons. Bottom edge of the player is bare with the exception of a micro USB for charging and syncing.
When plugged into your PC/Mac the Jr can also be utilized as an external DAC. On the top edge we have the power button, and a 3.5 mm non-balanced audio out jack with an output impedance of 2 ohms, and a total output level of 1.95 VRMS giving it the ability to properly drive a wide variety of ear/headphones. Although there is no dedicated line-out, you can set the player, via its UI to function as a line-out, that creates a maximum volume which allows you to plug it into your hi-fi. The angled frame front of the player is control-free, say for a 3.1" LCD touchscreen, which takes up two thirds of the front face. Resolution of the screen was quite good under sunlight as was viewing angles. Overall, its one of the better screens out there in the audiophile DAP market. The back is a stylish decorative glass translucent covering, giving the Jr that extra touch of sexiness.
The Jr's minimalist UI is refined, easy to navigate, and is a skinned version of Android. Speaking as a onetime AK120 owner, the learning curve was quite minimal, and within 5 minutes I felt at home navigating through my music via album or folder list. Although intuitive (I was able to search my music by artist, album, etc, having 90 GBs of music), I wish the UI has a search function, allowing me to shortcut the GUI interface, by finding what I wanted by typing in the name of the song. I also found myself wishing the UI was a bit snappier. Unfortunately, there was a very short lag when navigating through the UI and scrolling could sometimes be a tad choppy. That aside, I'm happy to report that in the 3 weeks I had the player, my user experience was bug free and quite positive. Overall, UI implementation was good but further updates are needed to hopefully bring a little more snap and fluidity to the user experience. Besides that, well done Astell & Kern.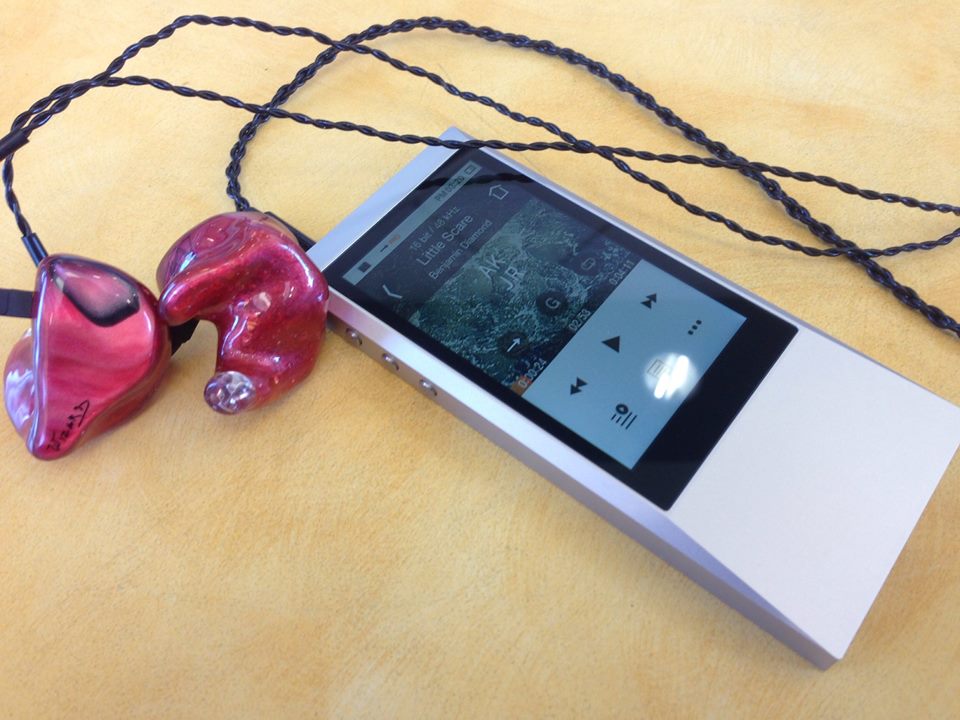 The following sound impressions were noted using the Ultimate Ears Reference Monitor (UERM), Noble 4C, and PSB M4U 1. The DAPs/handsets that I used as benchmarks were, the iPhone5, iPod Classic, AK120, and for giggles, the NuForce uDAC-3 was also used as a desktop alternative. Source material used was a mixture of 16 bit/44.1kHz and 24 bit/192kHz. Some of the source material used for evaluation was 24-bit binaural recordings, along with albums such as: "RAM" by Daft Punk, "Jazz at the Pawnshop", "Avatar Soundtrack", "DJ Kicks" by Kruder and Dorfmeister, "Fleetwood Mac: Greatest Hits", "Free" by Office Of Strategic Influence, "Stoa" by Nik Bartsch Ronin, and "Up Close" by Ottmar Liebert & Luna Negra.
The AK Jr isn't your average run-of-the-mill, warmly tuned player. I'm glad to report that Astell & Kern didn't play it safe and instead, tuned a player that's well balanced and worthy of being called a hi-fi component. In comparison to the warmer AK120, the Jr is less warm and lush sounding, to the point that ex-AK120 owners might need time to acclimate in order to dispel the thought that the Jr is cold sounding. Although, not as dynamic sounding as the AK120, the Jr does not lag far behind. Its high frequencies are very clean, controlled, and pristine. The unit exhibits excellent control of any spikiness in the treble region, which is almost nonexistent, and that equates to a very smooth presentation.
Cymbals sound quite good, and there's no overly-annoying metallic tinge that lesser players are known for. The mid-frequencies are slightly forward with a soft touch of bloom, making them a nice, fluid, yet still clean, listen. Although fluid, the mid-frequencies avoid sounding overly hazed and falsely detailed. In this price bracket, it is one of the stronger suits of the Jr. The note presentation teeters slightly toward the leaner side with the decay being quick, albeit, not the quickest I've ever heard. Vocals, both male and female, have a strong, throaty heft behind them, and avoid sounding annoyingly thin. Sibilance is minimal, but, I would highly recommend that the end user avoid sources known for bad production values. The Jr isn't a very forgiving DAP, and if you feed it garbage in…it'll give you garbage out. The low frequencies are full, avoid unwanted bloat, are generally linear, and have just enough mid-bass emphasis to produce a good, well-rounded, slamming bass. What impressed me most about the Jr was its staging. It's large, larger than anything I've heard in this price bracket. Above all, extension on the Z axis is very good giving this player one of the better 3D sounding sound stages, putting it only slightly behind the pricier, first generation AK120.
The AK Jr, in my opinion, is a audiophile DAP, deserving of its audiophile pedigree. Although many may balk at its price tag of just under $500 USD, it brings a lot to the table that other players do not. Besides its sleek and sexy form factor, small, easy to transport size, bug-free user experience, and intuitive UI, the AK Jr is one of the better, if not the best, players in how it stages the sound, in its price bracket. Factor in all of those pluses, and you will quickly see that, pound for pound, it's one of the better priced players for the money spent. As such, I highly recommend the AK Jr for those looking to experience the Astell & Kern house sound at an affordable price. I highly doubt anyone will be disappointed once they hear what the AK Jr can do. Personally, I was so impressed with the AK Jr I've fondly begun to think of it as "the little player that could".