This is going to be a very easy review for me to write up. Since I started here on Headphone.guru, I've come across some very excellent headphones, amplifiers, DACs and DAPs and yet none have impressed me as much as when I first listened to the universal Astell & Kern/Jerry Harvey Audio IEM "The Layla". I was astounded by just how big they sounded. I seriously haven't had this love at first site feeling since my Stax SR-009s arrived two and half years ago. I was certainly expecting good things as I was already a big fan of JH Audio's Roxanne's and my Product of the Year for 2014 was the Astell & Kern AK100II which I reviewed in November of last year. When this joint venture was announced I was chomping at the bit to give them a try. While JH Audio will handle the sales for the custom version of the Layla's, Astell & Kern will be handling the universal-fit side of things.
Currently, the Layla's sit atop the Siren Series line-up of IEMs offered by JH Audio/Astell & Kern and are a force to be reckoned with, not just for IEMs but full sized headphones as well. The Siren Series of IEMs are named after famous songs with women's names in the title. The "Roxannes" were named after The Police's song of the same name. The "Angies" were named after that famous Rolling Stones hit: "Angie", and the Layla's, of course, were named after Eric Clapton's famous song about his unrequited love for Pattie Boyd (George Harrison's wife at the time). Interesting story, while both were friends at the time, their friendship endured this upheaval and they continued to be great friends long after Pattie had exited the picture for both rock stars. They referred to each other as "husbands-in-law".
The Layla's are constructed using full a carbon fiber body with a heat-treated titanium bezel and a carbon fiber logo insert. They are not only incredibly solid, but truly beautiful IEMs. In my most honest opinion, while large, they are a work of art. The carrying case is also manufactured of carbon fiber and matches the same motif used by the Layla's. It is not only a very handsome case; it is the most sturdy IEM carrying case I've come across. Included with the package is an assortment of ear-tips to adjust the sizing for your particular preferences. Luckily, the stock ear-tips were a Cinderella fit for me…just perfect. As an added bonus, two separate IEM cables are included. The standard one allows the Layla's to be used with standard 3.5mm stereo headphone jacks. But my interest was immediately drawn to the balanced 2.5mm headphone cable that would pair perfectly in balanced mode operation with my Astell & Kern AK100II portable digital player. Swapping them out was a cinch and the locking mechanism; while simple to use, it did a fantastic job ensuring that the IEMs and cable were securely held together.
Finally I come to the screw driver. Why would Astell & Kern / JH Audio include a screw driver you may ask? Well, while in stock form, the Layla's are tuned to be "reference-level" monitoring IEMs, the user can change this up to better suit the frequency response to their particular preferences using this tiny screw driver.
When turned completely down, I found the Layla's very neutral in their frequency response and basically flat across the audible spectrum. However, when fully turned up, the bass response is increased by +13dB at 60Hz. I did fiddle with this bass boost and eventually settled in at about 12 o'clock (40-50% of the way of the maximum bass boost). This ability to better tune the Layla's was a very welcomed addition and far from gimmicky; it really helped me take the sound to where I wanted it to go and in turn allowed me to maximize my personal enjoyment. I wish my Sennheiser HD-800s offered this option.
As I alluded to in the first paragraph, I was totally floored by the JH Audio / Astell&Kern Layla's. They do things that I never thought possible from an IEM. They offer sound staging and transparency I only reserved for some of the best top-of-the-line full sized headphones. This truly makes them a triumph of the engineering design. Being a professional engineer myself, I am thoroughly impressed. I rarely fawn over gear like this and typically reserve it for ground breaking new products like the Stax SR-009s or Sennheiser HD800s. But the Layla's are just that; a ground breaking new product!
I was very lucky that the fit worked for my ears almost perfectly with the stock medium ear-tips. In fact, they are so comfortable; from time to time, I find myself checking to make sure they haven't fallen out (even though the sound was still perfect). And each time I checked they were still firmly in there. I haven't felt this level of comfort since I used my (sadly now missing) UM56 custom ear tips. Please be advised that as everyone's ears are different, and your mileage may vary here; but I wanted to share my personal experiences with the comfort levels of the Layla IEMs. They are likely the largest IEMs I've used, but once in my ears, they don't seem to pultrude out and become conspicuous. Their finish is in one word: "outstanding". The carbon fiber body and titanium multi-coloured bezel really makes them stand out and draws you to them.
Now on the internal workings…
The Layla's utilize what JH Audio calls SoundrIVe Technology (Quad Driver Technology). Basically, the Layla's are equipped with newly designed triple quad drivers. That's a total of 12 drivers per earpiece! That's right, 12 drivers in total! The previously designed FreqPhase Technology and Stainless Steel Tube Waveguide used on the Roxanne IEMs have also been deployed on the Layla's. The Waveguide ensures each driver's signal arrives within 0.01 milliseconds and, in turn, results in a phase coherent IEM. The other really impressive item is that the IEMs use a 4th order crossover network. This is the first time this has ever been implemented in an IEM and when coupled with the previously noted FreqPhase waveguide, a truly offer the most transparent IEM experience I have ever come across and never thought possible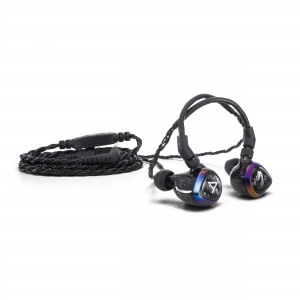 For the purposes of this review, I threw everything at the Layla's that I have on hand. My primary setup however was Astell & Kern's own AK100II. I also used my iPod Classic (7th Generation 120Gb version), iPad Air, iPhone 6, and my main headphone rig (HeadAmp GS-X Mk2 / Metrum Acoustics Hex DAC). I know this last setup is a bit overkill for IEMs, but I wanted to test out how or if the Layla's scaled with better and better upfront gear. More on that later…
My first test track was right off my iPhone 6. As I had the Layla's delivered to my office, my iPhone was the only thing I had on hand and my patience was such that I could not wait to try them on as soon as the package arrived. So I eagerly selected "Passione" by Andrea Bocellli and what I heard floored me right from the start. I was expecting a closed-in IEM sound signature like my previous experiences with top flight IEMs (Shure SE846, Sennheiser IE800, Westone 4R). Instead what I heard was imaging and air much closer to my very excellent Stax SR-007 Mk1 or SR-009. I will remember that moment for quite some time! The next thing that struck me was just how neutral and clean the overall presentation was. They are simply one of the most neutral, revealing and transparent transducers I've heard (IEM, headphone, speaker, etc…). Andrea's voice was as beautiful as ever. Upfront, crystal clear with even the most minute details ever present. The bass was flat, with outstanding quality, texture and detail. Talk about complete satisfaction; and straight out of my iPhone nonetheless. Notice I've left out the treble. Well I wanted to draw specific attention to it. Normally I've thought extended treble (beyond 10kHz) just was a pipe dream for IEMs. Yes, I've owed the ER-4P / S and yes they extend quite well, but they still fall behind what full sized headphones can do. Well, I can scratch that pre-conceived notion off my list as well. The Layla's treble extension is right up there with many of the current flagship full sized headphones. How's that for impressive? Throw in the fact that this treble isn't edgy or emphasized, but smooth with nary a peak to be detected. I hate to use this phrase again, but you can have your cake and eat it too!
Later that night I got home and wanted to hear the Layla's from my Astell & Kern AK100II in balanced mode. As mentioned, thankfully a set of balanced cables for your Astell & Kern player is included. Swapping them out was fairly straight forward and I was off to the races fairly quickly. I wanted to hear if the sound staging could be improved further. So I selected my high resolution file of Jazz at the Pawnshop (if you're read any of my other reviews, you'll know that this is one of my standards that I use to test the cohesiveness of a unit's ability to portray a realistic sound stage). I was so thoroughly impressed with what I heard I must have smiled throughout the entire album! This is not hyperbole, but the Layla's threw out a mental image of the music that surpassed many (if not most) full sized headphones that I've owned or heard through the years. They were that good. Now I don't want to say that they were on par with the HD800s…nothing really is in this regard, butthe Layla's could run with pretty much every other headphone I've experienced. Being that they are the ONLY IEMs on that list is quite the feat! Micro details of the background voices and banter were eerily portrayed, Dishes and glassware clanks enveloped me with such realism that it transported me to that Swedish Pawnshop. The tonal character was as spot on; the accuracy and size of the sound stage was tremendous and the ability of the Layla's to pull out the smallest of details was simply astounding.
Finally, I moved over to my main headphone setup (Metrum Acoustics Hex DAC feeding a Headamp GS-X Mk2). I ran the Layla's in single-ended mode as the 2.5mm balanced adapter would only work for my AK100II player and not the traditional dual 3 pin balanced XLR's on the GS-X Mk2. With the Gain set to Low on the GS-X, the noise floor was completely black. And to my happy ears, I can confirm with the Layla's continued to scale with better gear. Now $6500 worth of upfront gear might be considered over-kill by most for a pair of IEMs, but the Layla's offered an improved performance across the board. The ability of the 12 drivers per earpiece to pick out the smallest of bits of information and render a soundscape that was simply awe inspiring. I threw in "Fly by Night" by Rush (my avatar on Head-Fi) and Geddy's voice never sounded better! The vocals on the Layla's are just about perfect and their relationship to the bass and treble are bang on in my books.
Alex Lifeson's guitar riffs were crisp and clear and not only sounded incredibly clean, but also retained a musical quality that just had me coming back for more. Neil Peart's bass drum kicked with authority and was never overbearing, nor lingered more than needed; but equally impressive was the ability of the Layla's to portray the cymbals. The shimmer and decay was as lifelike as I've heard through any IEM or full sized headphone. Never strident, nor harsh, nor rolled off, the Layla's are as balanced a headphone I've heard. And over the next several weeks with them, they never stopped to amaze me with their transparency as they definitely have staying power!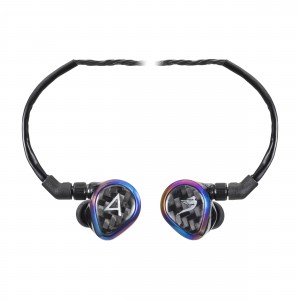 While they're not priced as the "every man's IEM" at $2499. What I can say is that you get all the portability and noise isolation of an inner-ear monitor, but with a sound that rivals some of the very best top of the line full-sized headphones out there. The build quality of the Layla's and their carrying case is truly top notch quality that I've never seen before on an IEM. I've heard many great headphones and IEMs over the years, but the Layla's are the first IEMs to stand out and rival and even best many of their full-sized competitors. If you're looking for the best inner-ear monitors that money can buy, look no further than the JH Audio / Astell & Kern Layla's…they are spectacular!