When Audeze first released information of their recently released Audeze Mobius wireless headphones/gaming headset, I initially just saw the boom mic and thought: "oh, a gaming headset, fills a void in their product line-up". But a few days later, I read up on their new "gaming headset" and found that there was so much more to these headphones than I initially thought. In fact, these are so much more than just a gaming headset or a pair wireless audiophile quality headphones; the number of features and capabilities packed into these headphones truly set them apart from any other pair of headphones I've ever come across. Starting with their Indiegogo.com launch this past spring; these headphones have really captured a lot of enthusiasm from both the personal audio and gaming communities. Everything from their sleek new design to their impressive list of capabilities has garnered much attention from their very popular thread on Head-Fi.org as well. After several weeks with these headphones, I can state with the utmost confidence that all of the interest and focus thrust upon this product is very much worthwhile! Not only are they a wonderful pair of audiophile headphones, they can be used wirelessly (via Bluetooth) flawlessly, and as mentioned, a boom mic can be simply plugged in and allow these headphones to be the best gaming headset I've had on my head. Throw in the head tracking feature that offers a soundstage that is truly unique to the world of personal audio and full 3D sound emulation with support for all popular sound modes (7.1, 5.1, 5.0, 2.1 and 2.0) and you have a product that is truly revolutionary and literally checks off any box you might have for a pair of headphones.
Right from Audeze's website, the Mobius headphones are "more than a headphone, it's an experience" and I wholeheartedly agree with this statement. Due to the vast amount of technology and functionality packed into these headphones, this review took quite a bit of time as I wanted to use them in many different modes:
Audiophile wireless headphones
Gaming headset with both the Xbox One and PlayStation 4
Gaming headset using the included 3D sound emulation
Headphones to listen to a movie with full 360o surround sound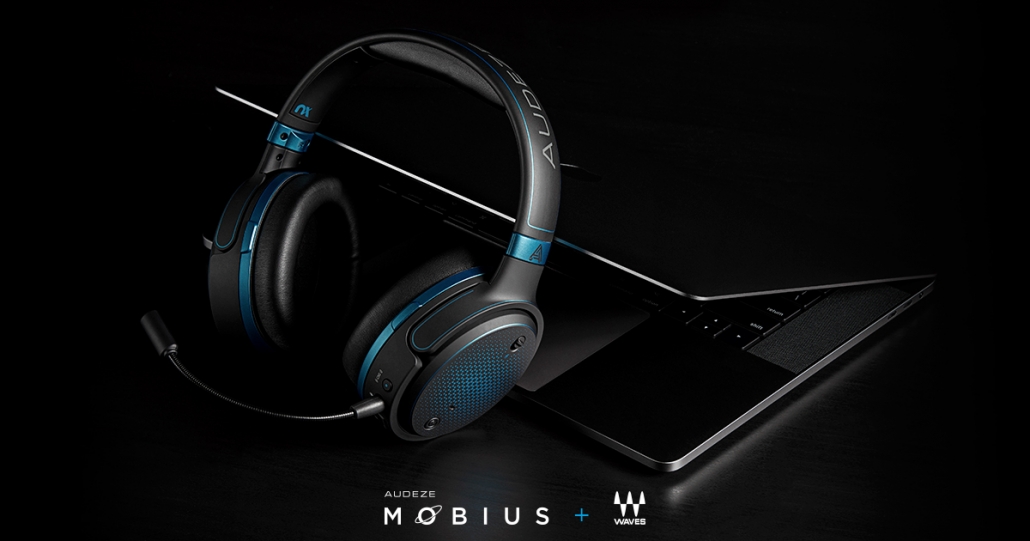 Continuing in their strong tradition of releasing spectacularly sounding planar magnetic headphones, the Mobius offers some of the truly stellar sound quality that we've all come to know from Audeze. These headphones sport much of the same technology from their world-renowned LCD line up. Everything from FluxorTM magnetic arrays and Fazor elements from their flagship headphones have filtered down to the Mobius headphones and based on my listening impressions, Audeze wanted to make sure that these headphones sound sublime! But if that wasn't enough, the designers at Audeze included full 3D sound emulation, flawlessly implemented head tracking that captures even the smallest movements of your head 1000 times per second and can work in both wired and wireless modes. The full list of specifications for these headphones are:
Specifications
| | |
| --- | --- |
| Style | Over-ear, closed-circumaural |
| Transducer type | Planar transducer |
| Diaphragm | Ultra-thin Uniforce™ |
| Phase management | FAZOR |
| Magnet type | Neodymium N50, Fluxor Magnets |
| Diaphragm type | Ultra-thin Uniforce™ |
| Transducer size | 100 mm |
| DSP | Audeze Cipher DSP |
| Amplifier | Built-in balanced amplifier (output 1W) |
| Maximum SPL | >120dB |
| Frequency response | 10Hz – 50kHz |
| THD | < 0.1% (1 kHz, 1 mW) |
| Earpads | Contoured memory foam: artificial leather |
| Microphone | Detachable with separate volume control |
| Battery type | Lithium-polymer |
| Wireless Connection | Bluetooth (SBC, AAC, LDAC) |
| Wired Connection | USB-C, USB-A, 3.5mm analog audio |
| Weight | 350g (including battery) |

I found the comfort quite good overall and could use these headphones for quite some time. The build quality is top shelf as the Mobius headphones are clearly the best built wireless headphones I've come across in this marketspace. For those who are also looking for a stylish and fashionable pair of headphones, I think this photo speaks for itself:
As soon as I put them on, the head-tracking feature really grabbed my attention from the outset. Pairing with my iPhone 8 was simple and fast. Just a double click of the pairing/centre button on the left ear-cup was all it took. Initially noticing that the sound would move from ear to ear as I turned my head in order to keep the sound stage front and center was a bit confusing as this was a totally new experience for me with headphones, but after only 5-10 minutes this became quite natural. Going back to a regular pair of headphones without the 1000 measurements per second to track my head movements, alternatively took some time to get used to going back to a more traditional listening experience.
Using these headphones as a simple pair of wireless Bluetooth headphones to enjoy some of my favourite tunes is simply magnificent. I've reviewed over 30 portable headphones through the years and in the sub $700 market space, the Mobius headphones by Audeze are simply the best I've had on my head. Listening to Rush's "Moving Pictures" is an absolute joy with the Mobius headphones. The raw energy of what many (including myself) consider to be the greatest living drummer Neil Peart was laid bare and gave the listener a perfect portrayal of just how amazing Neil really can be! The bass is wonderfully rich and textured; just like we have come to appreciate from a great pair of Audeze headphones and the Mobius certainly continue in that long legacy of offering headphones that are "speaker-like" in this regard. Meanwhile, Geddy's vocals are truly spot-on! The timbre, tone and smallest nuances of his voice are all perfectly portrayed. I've seen Rush perform live several times through the years and the Mobius headphones really captured Geddy's vocal stylings to a "T". Throw in the head tracking functionality and I was transported back to the old Maple Leaf Gardens here in Toronto in the late 1980s with Rush center-stage and when I turned my head, the sound staging was still perfectly set in front of me; instead of following my neck movements from left to right.
Next up I decided to play some Gears of War 4 on my Xbox One S. The advantage with using this game system and game is that they both offer Dolby Atmos 7.x processing (the Xbox One S does the digital to analog conversion here) for headphone listening. I've used many gaming headphones through the years and I can easily state that the new Mobius headphones with the head-tracking feature enabled offers the most immersive gaming experience I've ever had with a pair of headphones. The sound quality was so clear, transparent, expansive and energetic. Each explosion was perfectly located within the game and hit hard with a great amount of energy and realism. Vocals were clear, upfront and easily discernible, even when there was a lot of commotion going on in the game. Some gaming headsets made hearing dialogue between characters hard to understand in this environment; likely due to recessed mids, but the flat frequency response of the Mobius did not suffer from this pitfall in any way. The microphone performed incredibly well. I had a friend join in on a multiplayer game where we teamed up for some Capture the Flag action and he reported back that he could very easily hear me when we played together and I stood out as the clearest sounding person during that session. So many gaming headsets don't really invest in the mic technology and often throw that in as an afterthought. But thankfully the designers at Audeze really took their time and truly built what I consider the best gaming headset around!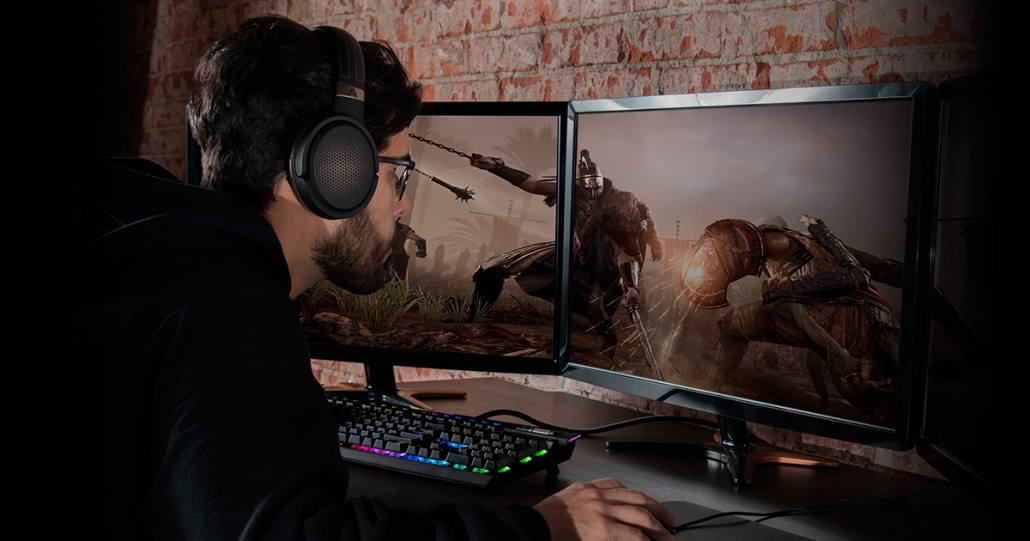 Finally, I plugged in these fantastic headphones into my computer (via USB) for some Diablo III action. I played with both Dolby 7.x and 2.0 options but eventually settled on the 7.x simulated sound as I found it far more expansive sounding and that really pulled me deeper into the gaming experience. Well, after 15 minutes I can very easily say that I had a more immersive video gaming experience than I have ever had playing a PC game. The background music was just brilliantly portrayed and everything from the explosions to the dialog was near perfect, more so than through any gaming headset that I've used throughout the years. The sound staging was eerily life-like with a very precise location of all of the characters on the screen. Again, the head-tracking feature only helped with the sense of realism and made the experience much more like listening to a fantastic pair of speakers. Simply put, if you are a gamer (PC and/or console) you need to upgrade your headset to the Mobius headphones.
Audeze also mentioned that they will continue to support the Mobius headphones with new firmware updates every few months in order to tweak, improve and create new features for them. One is already scheduled to release in late September / early October that will fix an issue with Windows 10 (that also affects non-Audeze gaming headphones) with lower microphone volumes. This new update will improve the mic response considerably. A few other improvements will be that the EQ settings will be remembered to their previous setting. I found the EQ reset a bit troublesome to constantly have to go back to my previous setting every time I turned these headphones on and thankfully, this firmware update fixes that issue. Finally, Audeze will be adding another EQ setting: WARM to add more bass and thump for those gamers who really want to "feel" the explosions and action in their games.
I so thoroughly enjoyed my time with the Mobius headphones by Audeze and I was so very happy that I took the plunge and purchased my own set (Team Copper) from their initial Indiegogo.com release. In terms of pure sound quality for musical enjoyment, these are simply the best wireless headphones I've used! They are truly reference-audiophile quality in terms of sound reproduction and if that's all you use them for, then you will definitely get your money's worth and more! That said, you still get a whole lot more: the head-tracking feature is quite revolutionary for headphones and I'm sure many other manufacturers will be very interested in this technology that Audeze has pioneered. Movie watching on my iPad for business travel was never more enjoyable, nor as immersive as with these headphones. Finally, throw in the fact that these are bar-down the best gaming headsets I've ever used, you have such an incredible value-proposition, that makes it almost impossible to avoid these headphones. The team at Audeze has released a revolutionary tour-de-force in the Mobius headphones and considering their incredibly affordable price point of only $399, I strongly recommend you check these headphones out!