Ok, I'm just going to come out and say it: I love these headphones! They hit pretty much every right note for me in terms of what I look for in a pair of portable headphones. First off, they sound incredibly real and natural. Yes, they do indeed maintain the classic Audeze naturalness and yes, you can finally take them with you on the go! Throw in their small form-factor, great comfort and noise isolation, these portable headphones for me are the best I've come across! I've reviewed approximately 30 or so similar headphones here on Head-Fi.org: http://www.head-fi.org/t/672743/comparisons-30-of-the-top-closed-portable-headphones-around and I have to say that the SINE headphones are on top of this listing as I write this review! Going back to their original LCD-2 release, I've found the naturalness, clarity and pure enjoyment that their headphones have provided me to continually keep me coming back for more! The SINE headphones fill a small hole in their line up for portable on-ear headphones and boy do they fill it! The new SINE headphones continue in the planar magnetic tradition of their LCD and EL-8 line ups that we have all come to know and love. But what sets these apart from the LCD line up is their extremely small size that makes them perfect for taking around with you.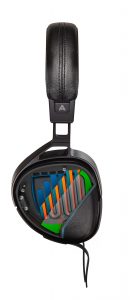 The planar magnetic drivers are a whopping 80mm x 70mm in size; that's more than three times the surface area of other competing on-ear headphones. Heck, that's huge for full sized home based headphones. This larger surface area is directly responsible for moving more air; which in turn leads to better bass and overall dynamics. Included with this review version was the new Audeze Cipher cable. Due to the strong rumours of Apple removing the headphone jack from its soon to be announced new iPhone, the folks have Audeze have taken advantage of the Lightning output to now give you a top shelf amplifier/DAC (digital to analog converter) and it is all contained in the new Cipher cable! Hook up with my iPhone 6 or iPad Pro was a snap! Just plug and play (and a quick download of the new Audeze DSP app from the Apple App Store and I was off to the races. The full features of the new Audeze SINE headphones are:
Features
Planar magnetic drivers for better dynamics and frequency response
Premium leather for style and durability
Sleek contemporary design by DesignWorks, a BMW group company
Light weight and folds flat for ultimate portability
Audeze Technology
Fazor elements
Fluxor magnetic arrays
Uniforce diaphragms
Package Includes
2.5m stereo cable
3.5mm to 1/4in stereo adapter
Cipher Cable
A complete 24-bit high-resolution
integrated AMP/DSP/DAC with Lightning
connector. The built-in microphone can be
used for phone calls and it is SIRI compatible.
For the purposes of this review, I used as many sources as possible. Everything from my aforementioned iPhone 6 and iPad Pro (using both the Cipher and standard headphone cables), to my Chord Electronics MOJO and Astell & Kern AK240SS (using the standard headphone cable). I took these headphones with me on walks around my neighbourhood, listening sessions on my back yard patio and simply just around the house.

I have to say that when I first opened the outer box that the headphones were packaged in and saw the way that Audeze had designed the packaging and subsequent artwork, I was thoroughly impressed. The styling and materials used in the safe delivery of the headphones was certainly top shelf. Upon opening the packaging, the headphones themselves were beautifully constructed and felt incredibly sturdy. The materials used were also outstanding. From the subtle leather headband and ear pads to the wonderfully constructed Cipher cable all exuded luxury. Considering the $499 price tag, these headphones leave its competitors behind and only the Oppo PM-3's come close to the build quality that the SINE headphone have to offer. One concern I typically have with on-ear headphones is long-term comfort. Many tend to over clamp on one's head and offer poor ear-pad designs that really become quite painful after 30 – 45 minutes of use. I am very happy to report that the SINE headphones completely avoid this and I could easily wear them for a few hours at a time without any issues whatsoever. As well, on-ear headphones tend to lag behind full sized headphones in terms of noise isolation, but again these headphones avoided this issue and offered leading edge noise isolation. No they weren't as good as isolating me from the outside world as say the Bose QC25 noise cancelling headphones, but that comparison isn't totally fair as the QC25s have just about the best active noise cancellation circuitry that I've come across (but the SINE headphones sound so much better).
Included with the headphones and Cipher cable was a standard headphone cable for your non-Apple Lightning devices, a 1/8" to ¼" stereo headphone adapter and a fabric carrying case. Basically everything you need to use these headphones from everything you'll need to take these on the road with you. I suppose I would have preferred a more solid case for storing these headphones. But if you're a bit too paranoid about protecting your investment, Audeze does sell a wonderfully built headphone carrying case for separately for their EL-8 series and it does a bang up job with the SINE headphones. It won't break the bank as it's only priced in at $39.
As I was at work when I first listened to these headphones, I decided to use my iPhone 6 and with the included Cipher cable. I have to say that the angle at which the 2.5mm plugs fit into the SINE headphone ear-cups is about the best I've come across. Angled at almost parallel to the ground, the cable will not come into contact with your shoulders as you turn your head and you really won't have to worry about pulling the cable out of the headphones if it gets snagged on something. Well done Audeze!
My first musical selection was an old standard of mine: Jazz at the Pawnshop. I always have an Apple lossless file on my iPhone at all times. And this was my first selection. As soon as I plugged in the Cipher Cable into the Lightning port, my iPhone recognized the device and immediately recommended that I download the Audeze App from the App Store. A few short moments later the application was downloaded and there was a great 10 band equalizer to use in conjunction with the headphones. After a brief discussion with Audeze's CEO (Sankar Thiagasamudram) he revealed that there was more in the works for the application and a full DSP and other surprises were in store. As soon as I pressed play I was captured by just how transparent these headphones sounded. They didn't come off as small or closed-in like so many on-ear headphones I've used in the past. Instead, I heard a wonderfully rich and open sound signature that was able to mine the deepest depths of the recording to pull out the smallest nuances that only top-of-the-line open backed full sized headphones could reveal. The whispers and pitter patter between the audience where easily heard and gave a wonderful sense of realism to the recording. I would definitely say these headphones are the best on-ear portable headphones I've heard yet with regards to detail extraction and imaging. Heck, I would put the imaging on par with even the much more expensive open-backed LCD-2 headphones by Audeze. They are that good. Bass performance was tight, detailed, deep and balanced. These are definitely more on the neutral side of things, but unlike some other portable headphones they never come off as bass-lite. The bass was completely satisfying. The bass flowed ever so naturally into the midrange and continued this flow into the upper registers. The overall presentation was very pleasing and I couldn't wait to throw some Rush and Led Zeppelin at these headphones!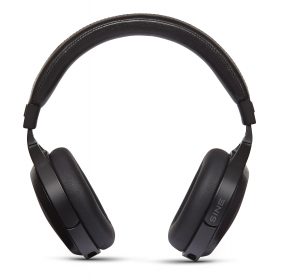 I then selected some of my most favourite classic rock albums, from Physical Graffiti (Led Zeppelin), 2112 (Rush), Nevermind (Nirvana), Master of Puppets (Metallica), and Animals (Pink Floyd) to put these on-ear headphones through their paces. And I have to say, my neck got a bit sore from the constant head bobbing that soon ensued. The SINE headphones were simply magical with all of these recordings. The energy of Metallica was perfectly captured when Master of Puppets was played. The attack and decay was on-par with many much more expensive full-sized desktop headphones, but this time you can take that great sound with you. Tight is a word I would use to categorize this experience. These headphones were never sloppy, nor slow. Instead, they offered world class performance at a price tag that is certainly more affordable than many much more expensive headphones from other manufacturers. And with the Cipher cable, I didn't need to use a portable amplifier/DAC or high-end DAP like my Astell and Kern AK240SS to get them to sound their best. This technology only adds to their unique portability and if you have an iDevice, I strongly suggest you pick up the version with the Cipher cable. Using these other two devices with the standard headphone cables (also provided) offered an outstanding experience and one that was fairly close to the quality of the Cipher cable, but the portability advantages of the Cipher cable eventually won the day for me and I strongly suggest this option.
Rush's 2112 is a unique classic rock recording that offers outstanding spaciousness and complexity. It's not just a guitar, bass guitar, drums and vocals and when played through the SINE headphones its brilliance really shines through. Many on-ear headphones struggle with this recording and sound too closed in and lose a lot of the details that really make this album special; but this is certainly not the case with Audeze's SINEs. Geddy's vocals were equally brilliant and the raw energy of his voice shone throughout the record. As well, Robert Plant's equally energetic vocals were spot on and the vocal range was a very strong suit for the SINE headphones; throw in the brilliance of Jimmy Page's guitar work and raw thump and power of John Bonham's drum work, I would wholeheartedly recommend these headphones for you rock fans out there!
Overall I was so thoroughly impressed with the SINE headphones by Audeze, they are my leading candidates for "Product of the Year" as the month of May comes to a close. They are wonderfully constructed from great materials, are very comfortable to use for hours on end, are very portable and easy to take with my while I'm on the move (and the Cipher cable is a huge game changer for me), and are simply one of the very best portable sounding headphones I've come across. Heck, these are among the very best sound closed headphones (desktop, portable, over-ear, on-ear) that I've used. So if you are in the market for a great pair of closed headphones that you can take with you (or even at your desk), I strongly suggest that you check out these wonders. Suffice it to say, that my listing on Head-Fi of top portable headphones now has a new #1. Finally, if you use Apple devices like an iPhone or iPad, I strongly recommend that you go with the version that includes the Cipher cable. The sonic improvements were definitely worth it for me! Very well done Audeze!