A few years ago I added the very clean sounding BeoPlay H6 headphones to my Comparative Thread of Portable Headphones on Head-Fi.org (http://www.head-fi.org/t/672743/comparisons-28-of-the-top-closed-portable-headphones-around) and was very impressed with not just their comfort and build quality, but also their very open and clean sound. Well, the folks at Bang & Olufsen were back at it and have recently released the new H7. This is the Bluetooth wireless version of the over-ear H6s. With the impending release of the new iPhone 7 with a rumored loss of the headphone jack, I'm thinking the popularity of wireless headphones will only continue to grow as folks looking for portable headphones to play with their iPhones will be looking to "future proof" their audio investment. That's where products like the BeoPlay H7s come into play: they have their own internal amplifier and digital-to-analog converter already contained within the headphone. As well, this only simplifies the audiophile's life as we typically look to get the most out of our mobile phones with external amplifications and DACs (like the Chord Mojo). With these components already being "under one roof" within the headphones, users can get better performance (in theory that is) and not have to lug around a separate portable amplifier/DAC combination unit.
The build quality of the BeoPlay H7s is very much reminiscent of the previous wired H6 headphones. They are very handsomely put together with a mix of leather, metal and plastic that yields a luxurious finish that is also incredibly light and comfortable. Charging them up was quite simple as they come with a standard micro-USB cable and after plugged in for a few hours on my work laptop, they were fully charged and ready to rumble. The H7s are slightly heavier (by only 50g; 280g vs. 230g) than the H6s (most likely due to the on-board amplification and digital-to-analog circuitry) and once on my head, it was very difficult to tell them apart. I would rate the comfort of both headphones as outstanding and they could be worn for several hours without any fatigue in comfort. The leather finished headband makes the styling quite unique and stand out. So for those looking for a great sounding pair of portable headphones that also look great, the BeoPlay H7s certainly would fit that bill in my opinion. They are offered in several different color options too to suite to one's taste. The review pair that I received were made in the Limited Edition "Cenere Grey" and look quite fetching. They also come in a "Natural Tan" and "Black" options. All three look great and it's a bonus to have these options. While I'm not overly concerned with the "fashion" side of headphones, as these are primarily designed to be portable, I can see that many potential buyers could be swayed by their appearance.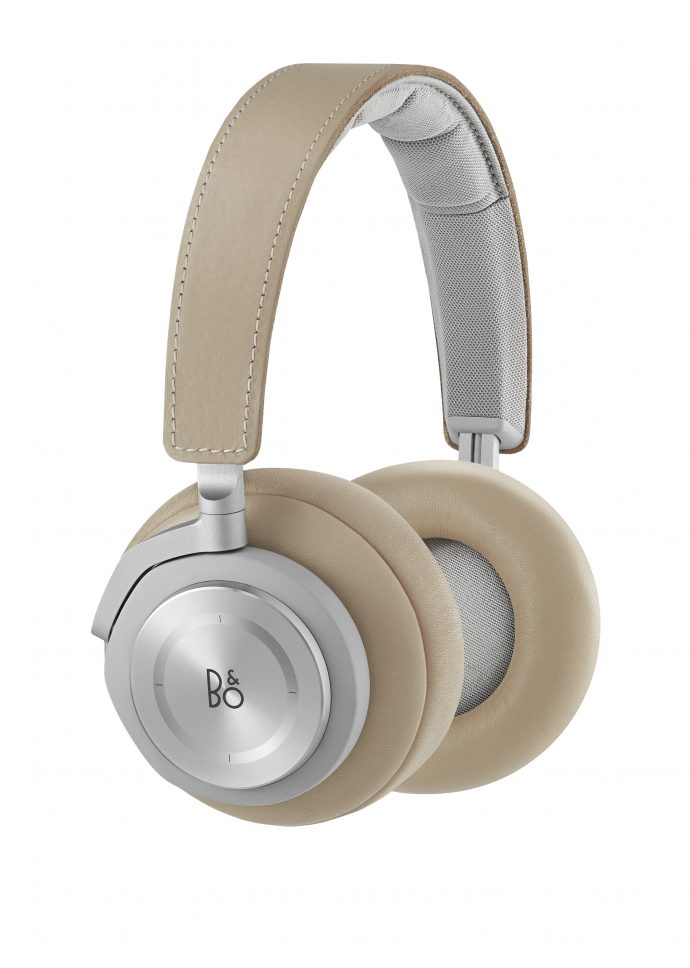 The BeoPlay H7s do also include a detachable headphone cable (terminated with a standard 3.5mm stereo headphone plug) should your batteries die out on you before you can recharge them. Included the box:
BeoPlay H7 wireless Bluetooth Headphones (battery included)
Audio Cable terminated with standard 3.5mm stereo termination
USB to micro USB cable for charging and updating
Carrying Pouch
Quick Start Guide
The full specifications for the H7s are:
| | |
| --- | --- |
| Dimensions | 197 x 225 x 40 mm |
| Weight | 280 g |
| Materials | Aluminum, Leather, Fabric, Polymer |
| Available Colours | Black, Natural, Cenere Grey (Limited Ed.) |
| Features | Aluminum touch interface on right ear cup |
| Speakers | Electro-dynmamic 40mm driver |
| Microphone | One electret type, Omni Directional |
| Bluetooth | Bluetooth 4.1 – AptX LL-AAC codecs |
| Connections | 1.2 m cable with 3.5 mm mini-jack 0.25m USB to micro-USB cable for charging |
| Battery | Replaceable and rechargeable Lithium-ion battery Capacity 770mAh Rated up to 20 hours with Bluetooth Charging Time: 2.5 hours (approximately) |
For the purposes of this review, I used my iPhone 6 and Astell & Kern AK240SS portable DAP, my wife's Samsung Galaxy S5 and my iPad Pro 9.7" to put the H7s through their "wireless" paces.
Setting up the BeoPlay H7 with all of my various test devices was a cinch. I simply turned Bluetooth on my selected device and picked the H7s, a few seconds later I was off to the "audio races". The comfort of the H7s is definitely above average. They virtually feel identical on my head as their predecessors (the wired H6 headphones); so that's a very good thing as I would rate them among the most comfortable pair of portable headphones I've used. As well, the controls on the ear-cup are very useful for pausing music, increasing/decreasing volume and moving tracks forward or back. Not only do they work quite well, they feel intuitive and therefore easy to remember. The H7's ability to isolate out exterior noise was good, though not class-leading. They are certainly good enough to take with you on the go, but some other headphones like the PSB M4U or NAD M50s do isolate out external noise a bit better. But this was definitely not a deal breaker for me.
First up I used my personal iPhone 6. For this session I used both saved Apple lossless music and music streamed via Tidal (also lossless recordings). Arcade Fire's "The Suburbs" is a particular favourite album of mine. This was a great story of a relatively new band out of Montreal hitting it big with the Grammy Award winning Album of the Year. The BeoPlay H7s did a wonderful job conveying the dynamic energy of the bad. There are more than the standard four in a rock band (guitar, bass guitar, drums and rhythm guitar) with Arcade Fire and due to this complexity, some of the portable headphones that I've tried through the years failed to properly distinguish between the xylophone, fiddles, clarinets, trombones, etc… The H7s were among the very best in this sub $600 price category of portable headphones in this regard. Their ability to portray outstanding instrumental separation and distinctiveness was outstandingly good. Never once did I feel that two or more players were being blurred together. Instead each player was right there in my mind's eye and all I had to do is focus on the instrument. The vocals on Modern Man were equally impressive. The H7s offer a very balanced and neutral presentation and as a result, the singer never has to take a back seat to either the bass player or cymbals. The mid frequencies are upfront, clear and in almost perfect proportion to the lower and upper octaves. Finally, the sound stage that the H7s cast is also among the very best in this sub $600 market space.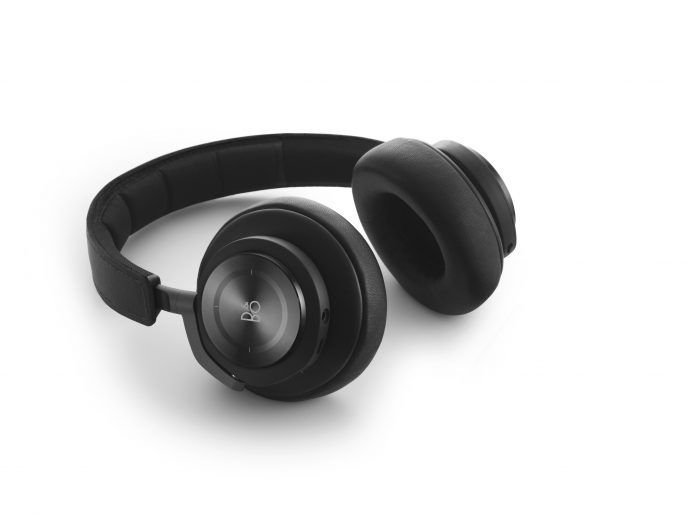 Most closed portable headphones here tend to sound "closed in" and in turn the music tends to seem to come from inside your head. The H7's have an outstanding ability to portray the expansiveness of a recording and all of those minute audio clues are indeed captured by the H7's drivers and transferred to your ears. I was very glad to hear that The Suburbs sounded as BIG as they did when played through the H7s and this expansive sound typically only came with open-backed headphones costing significantly more money.
Next up was an old standard of mine. Not only is this well renowned album (especially among audiophiles and jazz enthusiasts) always on my regular playlists, it is very much one of the gold standard test tracks that I use to evaluate gear. Jazz at the Pawnshop has been around since 1976 and recorded in Stockholm, Sweden of all places. But this isn't your Ikea brand of jazz by any means. This is one seriously ground breaking recording that also is one of truly the best sounding albums of all time. There is a lot going on in that pawnshop with not just the performers but the background audience really does make it seem that you have been transported back 40 years and are there too. Through my HD800S Sennheiser headphones, this is truly an experience and I have to say that the BeoPlay H7's had their road cut out for them as this was a very high mark. For this album I used both the lossless version on Tidal and my DSD version played through my Astell & Kern AK240SS portable DAP (via Bluetooth). Right off the bat as the performers started to warm up and the audience chatter filled my ears, I could tell that the H7s would most certainly be up for this challenging recording. I was indeed transported back to Stockholm in 1976. The ability of the H7's to dissect each player and never smear two (or more) musicians together was most certainly apparent with the H7s. As portable, on-the-go headphones go, the BeoPlay H7s were one of the very best (like their predecessor wired H6s) I've come across for both instrumental separation and sound staging. The sense of air and space; particularly for a closed pair of headphones, was simply outstanding. They sounded very much like a pair of open backed headphones in this way and I was really impressed with their performance.
So coming in at $449 US ($579 Cdn), the BeoPlay H7s are a bit more than most portable full sized Bluetooth headphones. But for that extra $100-200 dollars you really get a wonderfully constructed, comfortable pair of cans that give you audiophile quality sound without the bulk or inconvenience of having a cable get in the way of things. They sound delightful, though I wouldn't recommend them to typical "bass-heads" as instead you'll get a much more balanced presentation throughout the audio spectrum and much closer to what the artist or studio engineer intended. I do wish that the folks at Bang & Olufsen would include a more sturdy carrying case for these headphones, but the supplied pouch does the job for the most part. Overall I was very impressed with what I heard and give these a very high recommendation!