I've been a fan of Benchmark Media for a very long time. Since their release of their revolutionary DAC1, I was impressed with just how good this pioneering product into the world of digital music could perform. Several years later, I ended up reviewing their updated DAC3 HGC digital to analog converter and I again was shocked with its level of performance, transparency and incredible transparency! Well, with the world of personal audio continuing to grow in 2019, the designers at Benchmark have released the HPA4 headphone amplifier based on the top of the line THX-888 Achromatic Audio Amplifier Technology. The THX AAATM reduces the harmonic modulation and crossover distortion by 20-40 dB. This is accomplished by using a patented feed-forward error correction topology that nullifies conventional distortion mechanisms. This results in one of the flattest and most linear listening experiences I've every enjoyed from a headphone amplifier. Featuring the flagship THX-888 design, the HPA4 incorporates the same technology that is used in Benchmark's AHB2 power amplifier, but in this case, to drive headphones and not speakers. THX is the world famous audio company founded by George Lucas. It was initially created in 2002, when it spun off from Lucasfilm Ltd.TM. It's technology is used in many of Hollywood's movies to develop the audio/visual reproduction standards used for movie theaters, screening rooms, home theaters, and other various audio systems. The following list outlines some of the impressive benefits of the THX-AAATM amplifier:
Patented feed-forward error correction topology that nullifies conventional distortional causes
Reduction of harmonic , intermodulation and crossover distortion by up to 40dB, resulting in an incredibly realistic and fatigue-free experience
Enables maximum output power for greater dynamic range and SPL
This THX-888 amplifier is driven by a Benchmark line amplifier that features relay gain control, relay input selection and relay muting. The gain control has a whopping 256 steps in impressive 0.5dB increments so that you can get exactly the volume that you want to hear! I've owned amplifiers in the past with digital volume control, but with only 2dB increments, I often found myself listing to music just a tad too loud or a tad too quiet for my liking. But with the HPA4, I can literally dial in the perfect volume that I want to enjoy my music too thanks to the smaller increments.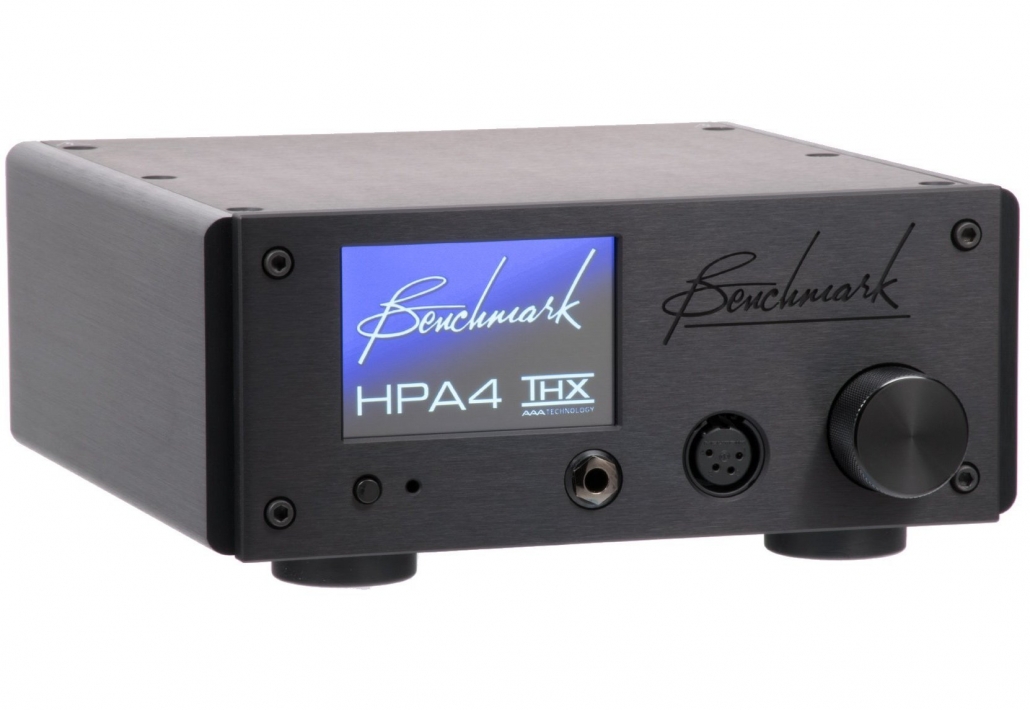 The HPA4 is 100% analog and is driven by an upstream D/A converter (DAC). The THX-888 can easily deliver high voltage into low-sensitivity high impedance headphones and it can conversely deliver high current into low impedance headphones. It easily drove all of the headphones I had on hand from my 300 ohm Sennheiser HD800S, to my 32 ohm Grado PS2000e and power hungry Abyss AB-1266 Phi TC orthomagnetic headphones. Heck, it was also dead silent on lower gain with all of my in-ear monitors too like the Grade GR10e IEMs. It literally is both a jack of all trades and master of all! The headphone output features a ¼" TRS and a 4-pin XLR. Both outputs deliver the full performance and power of the HPA4! So there is no need to run out and purchase a balanced cable for your specific headphones! But what is strongly recommended is a source that can deliver balanced inputs via the 2x 3-pin XLR connections in the back. And if that wasn't enough, you get a brilliant Touch Screen that in the end provides easy access to the plethora of features and settings on the amplifier. Everything from balance control, input level offset selection, personalized input names, screen dimming, remote control and function-locking are only a touch or two away with the intuitive user interface. Throw in an optional remote control, and you really get everything you'd ever need with a dedicated headphone amplifier.
Build quality is very much in line with what you'd expect from Benchmark. Simply put, top shelf stuff! If you're a fan of their DACs in terms of outstanding build quality! Designed, assembled and tested in the USA, this headphone amplifier certainly is built like you would expect a $2,999 USD product to both look and feel! If you own a Benchmark DAC, the footprint of the HPA4 is such that you can lay it on top of your D/A converter to minimize the overall footprint. The full list of specifications of the Benchmark HPA4 are:
| | |
| --- | --- |
| Headphone Amplifier Type | Solid-state; THX-888 |
| THD | < 125dB (0.000006%) |
| SNR | > 131dB, unweighted, 20-20,000 Hz |
| SNR | > 135dB, A-weighted |
| Frequency Response | 0.003 dB at 10 Hz, -0.001 dB at 20,000 Hz |
| Output Impedance | Near 0 Ohms |
| Maximum Output Power | 6 Watts into 16 Ohms |
| Maximum Output Current | 1.5 A |
| Maximum Output Voltage | 11.5 Vrms into 300 Ohms |
| Crosstalk | < -133 dB @ 1kHz, -115 dB @ 10kHz (XLR4) |
For this review, I wanted to select three very different headphones to test the HPA4 with a variety of amplification requirements. As a result, I selected the 300 ohm high impedance Sennheiser HD800S, the low impedance and easier to drive Focal Utopia and finally I selected the more power hungry orthodynamic Abyss AB-1266 Phi TC headphones (along with their smaller and less power hungry sibling, the Abyss Diana). With these various headphones, I felt that I could test the HPA4's ability to drive some very different headphones each with very unique amplification requirements.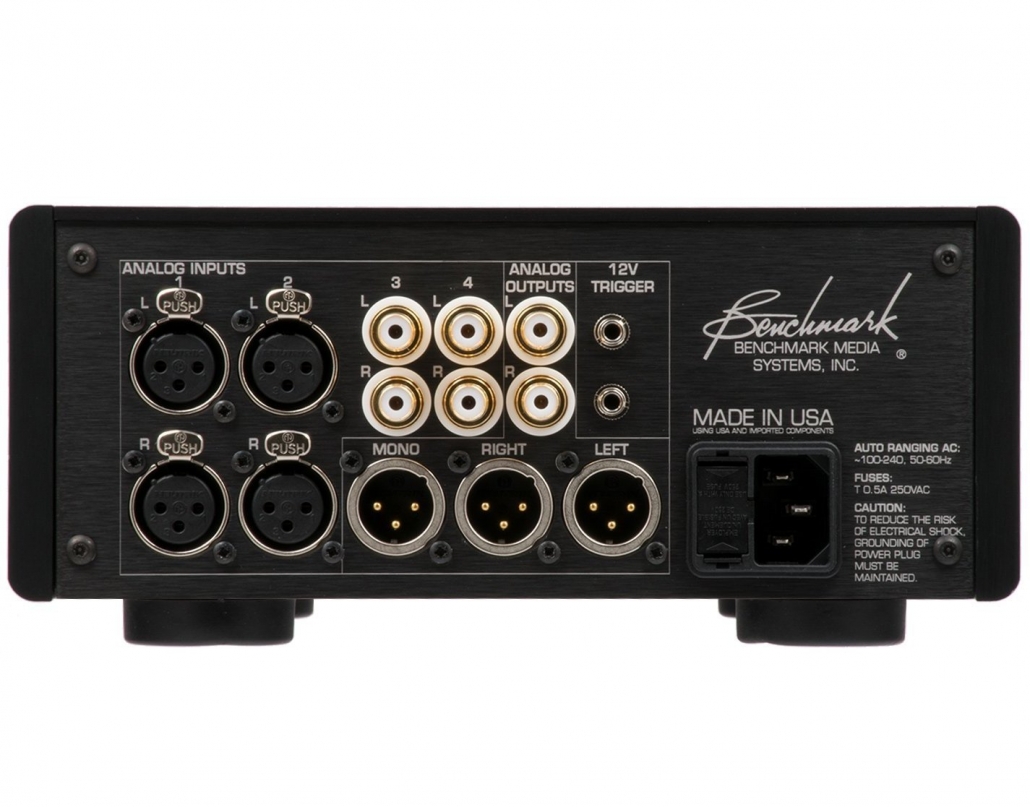 My first critical listening session was with the Sennheiser HD800S flagship dynamic headphones. These are one of the most transparent and expansive sounding headphones around; though a tad "smaller" sounding than the Abyss Phi TC headphones (when they are properly driven). Using the included balanced 4-pin XLR cable, I plugged in the HD800S headphones and quickly selected Holly Cole's "Collection Vol. 1". This collection of classic Holly Cole songs is one of my favourite "go to" albums. For this session, I used my CD played through my Cambridge Audio 850C CD player and fed into my Chord DAVE via a Toslink (optical) connection. The tonality of the piano in "Trust in Me" was simply "life-like". The tonality and detail of Holly's piano playing was as if I was transported to a jazz club with Holly paying in front of me. Her vocals were seductive, transparent and perfectly portrayed. The HPA4 amplifier offered an incredibly close look into this recording with the ability to mine out the smallest details that other amplifiers would seem to gloss over. The bass notes at the beginning of "Jersey Girl" hit both hard but was tight at the same time with a certain presence that lingered for just the right amount of time. At the same time, Holly's vocals that were overlaid on top of the bass were perfectly rendered and in perfect proportion. This layering was as good as I've ever heard the HD800S headphones sound. Throw in an extended and detailed treble that was never harsh or "tin-like", but rather natural and effortless, I found the HPA4 amplifier to be especially neutral in its overall balance and nature. But still it never seemed clinical in its presentation. Detail extraction was off the charts as was its ability to cast an expansive sound stage and truly one of the best I've heard the HD800S headphones portray!
My Abyss AB-1266 Phi TC review primarily used this amplifier to drive these power hungry headphones and I wanted to further explore this combination with a bigger focus on the amplifier. As big as the Sennheiser HD800S headphones sound, the AB-1266 Phi TC headphones are even bigger if you can believe it! I often describe them as the most "speaker-like" presentation I've ever had from any pair of headphones when driven properly with sufficient power (and current). As noted in my Phi TC review, I definitely found the HPA4's ability to drive these headphones to be on par with the very best headphone amplifiers that I've heard with these headphones. The HPA4 drove these headphones with such brilliant authority, speed and clarity that must be heard to fully appreciate. My upstream source this time was Benchmark's own DAC-3 HGC. I found this combination very balanced and still detailed. It is a brilliant pairing to my ears! Journey's "Don't Stop Believing" had you believing that you were right there in the stadium listening to this classic band belt out this rock anthem. The energy of the band was fully captured with this setup and had my head bopping up and down throughout the entire track. Couple truly world class bass performance and control, with liquid and upfront vocals and extended and energetic treble you end up with a perfect presentation of what it's like to listen to this band live. It was as if it was 1987 and I was back at Exhibition Stadium here in Toronto listening to this legendary band belt out their classic songs.
A quick change over to the Abyss Diana headphones, though not as power hungry as their bigger brother (the Phi TC), the HPA4 sounded just brilliant! With the DAVE playing upfront and the Qobuz streaming "Faithfully" (also by Journey) was incredibly expansive, open and clear. This amplifier can certainly help your headphones sound as big as they possibly can! Vocals were what initially grabbed my attention with this setup and the Diana's ability to portray world class mids was on full display when coupled with the Benchmark HPA4 amplifier. Simply a magical pairing that truly got the best out of these headphones that I consider one of the very best portable headphones around!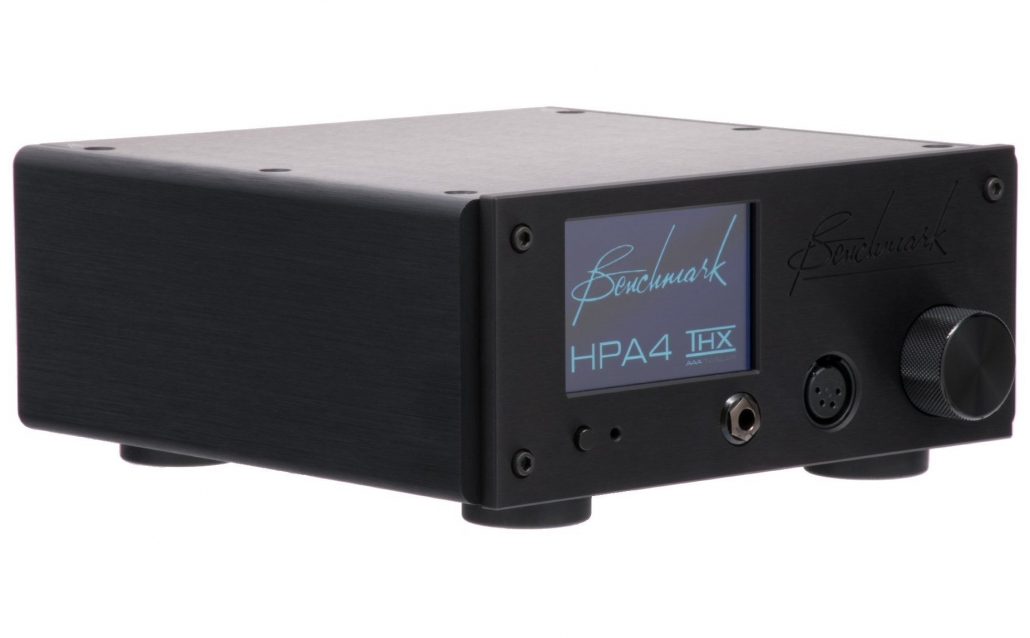 Finally, I switched over to my flagship Focal Utopia headphones. These low impedance and efficient headphones are the best traditional dynamic driver headphones that I've ever heard. As great as the Sennheiser HD800S headphones are, these headphones kick things up a few notches in the transparency, neutrality and clarity. While not as expansive sounding as the Sennheisers, when properly driven by an amplifier that is up to the task and paired with a source that is up to the task (like the Chord DAVE), the Utopia headphones can offer a sound stage that is pretty darn good in their own right. As soon as I fired up "Till I am Myself Again" by Toronto's own Blue Rodeo with this setup, I was pleased to hear just how well these headphones responded to the clean power supplied by the HPA4. In fact, with this setup, I can definitely say that this is one of the very best rigs I've enjoyed the Focal Utopias with! Clarity was simply breathtaking and the corresponding mental image was cast both wide and deep. Bass notes hit hard, but never lingered longer than required, mids were up front and in perfect harmony with both the bass and treble. Simply put, the best I've heard these headphones sound! I have to also note that I am using a DanaCables Lazuli upgrade with the Utopia headphones and if you're looking at helping these headphones reach their peak, I strongly recommend you give this setup a consideration if your budget can support it. Since the HPA4 arrived, I have rediscovered so many of my favourite works all over again with improved detail retrieval dynamics and transparency that it's hard to pull myself away!
The Benchmark HPA4 headphone amplifier is simply one of the best solid state amplifiers I've ever heard or reviewed. The overall transparency, speed, clarity and overall neutrality is something I think we should all pursue when wanting to reproduce music just as the artist intended us to hear. It was stellar with every headphone that I threw at it and I couldn't find a sonic weakness anywhere. It drove my power hungry Abyss Phi TC headphones with complete authority, but it was still dead silent and nimble enough to amplify my easy to drive Focal Utopia headphones. Talk about having your cake and eating it too. Rarely have I come across such a wonderfully revealing amplifier that can drive many different types of headphones so darn well! The solid build construction and various controls make the $2,995 price tag seem a bit low based on the other headphone amplifiers in this market space. If you are in the market for a top of the line headphone amplifier; regardless of your headphones, I strongly suggest you give the Benchmark HPA4 a very thorough consideration…you will not be disappointed that you did!