Sometimes being a reviewer has its perks.
A few short weeks ago I was quietly working away on my laptop when I received a message from Headphone.Guru's Godfather himself, Frank Iacone. The message read:
"I got something special lined up for you. I know you've been interested in Cavalli for a while and some of the rumors floating around so when this came across my desk I thought of you. You're officially booked to review Alex's newest amp, the Liquid Carbon. You'll be one of the few who get to spend some quiet time with one of only a handful of protos in existence. You should be getting an email from Alex in the next few days to work out the shipping details. You can thank me later, bye."
Just to answer the obvious question, yes, I did do a little happy dance around the room after I read the message. Alright I admit it, I slam danced off the walls for over an hour.
---
About Cavalli Audio
Cavalli Audio is a very small company based in Austin, Texas that specializes in building top-tier headphone amplifiers. It's a one-man operation run by Dr. Alexander Cavalli.
Anyone who's ever met or talked to Dr. Alex Cavalli knows from his overly-polite demeanor that he's one of the nicest guys in the industry. Dr. Cavalli grew up in a middle class family and is the son of an ex-G.I. who made ends meet working at the local post office.
At an early age, young Alex found that he had a passion for engineering and designing. In his own words, he was a geek. And like many other geeks before him all of his early engineering and math skills were self-taught. In fact, by age ten he had already begun to design and assemble the world's very first Cavalli amp.
But coming from a working-class family there was no money available for fancy parts or specialty items and a lot of his early projects were made from parts ripped out of old radios and TVs as well as some military surplus parts. This forced him to build things using only what he had on hand, which was often hardly anything. As you might imagine, this also required him to come up with creative ways of using various things for purposes other than which they were originally intended. But instead of being a handicap, this lack of resources also forced him do things simply, while still getting good results. These skills learned early in life would come in handy years later when he decided to open his own business and create his flagship amps.
Starting Cavalli Audio was a daunting task for Dr Cavalli. He had no real world experience running his own manufacturing business. And the last thing he wanted to do was to manufacture products that didn't meet his strict standards. As such, it would be a long time before he was finally confident enough, in his parts and assembly chain, to release the first commercial amp to bear his name. Below is a snippet taken from an email exchange between Dr Cavalli and I, detailing what he went through in starting his company. I decided to include it in this review so as to offer any potential customers a peek into the hard work and quality standards that Cavalli Audio has become known for.
"The biggest thing that has struck me running my own manufacturing company (I was mostly a SW guy after I left the world of research physics) was the lack of quality in the work done by so many of the suppliers. It took me about 18 months to find a group of suppliers here in Austin who could understand the level of build and finish quality that was needed. Most of the metal and coatings facilities just couldn't wrap their heads around defect free finishing. They were used to "good enough." After a while I wondered how any decent product was ever made in the U.S.A. But, eventually, I found fabricators who did understand what was needed and they have been doing the work ever since. The suppliers I have now are terrific and do work for customers all over the US. I also learned that all critical suppliers had to be within driving distance of my house so I could visit regularly as things progressed. In some sense, I just relearned the quality control lessons that were developed by American management a half century ago."
Luckily, it has all worked out for Alex.
Today, Cavalli Audio is a big name amongst headphone enthusiast circles. For many, myself included, the company's two headphone amps, the Liquid Lightning and Liquid Gold, are the type of headphone amps that many of us hope to slowly work toward along our audio journey. One only has to run through a variety of audio forums to find glowing praise from proud Cavalli amp owners, as their Cavalli amps drive flagship headphones from the HD800, to the Abyss, to the LCD-3, just to name a few.
---
The Liquid Carbon is born.
For the past year-and-a-half, there have been quiet rumblings amongst the summit-fi crowd in personal audio. Such rumblings about mysterious future products aren't rare. Truth be told, they're quite common. But usually, there's little substance behind such vaporware. And as such, I've long since learned to smile and ignore these rumor mills that take pleasure teasing me, spreading hopeful story after hopeful story. This time around though, the rumor mill seemed to be working overtime and it all involved one company (Cavalli Audio), and one amp: The Liquid Carbon.
The Liquid Carbon was born from a desire to make a very good, small, transportable amp to give back to the community. Basically, its Dr. Cavalli's way of saying thank you to members of the community who have helped to support Cavalli Audio throughout the years. It's also a way of offering community members a more affordably-priced way of experiencing the Cavalli house sound. As such, the Liquid Carbon was offered as a limited run, consisting of only 500 units, with a very aggressive price point of only $599.00 USD.
The essence of the Liquid Carbon was derived from design concepts originally implemented in Cavalli Audio's larger Liquid Gold and Liquid Glass amps. In many ways, it is very much a true Cavalli amp. It's just smaller, with lower power output, lower noise, and very reasonably priced.
Initially, the Carbon was specified to output less power than the proto I'm reviewing now. But along the way, some added tweaking (and a bit of creative design) enabled Alex to give the Carbon a wider range of power output, while maintaining a low noise floor. This means that it can be used with everything from hungry planars to sensitive CIEMs and everything in between, while remaining whisper quiet. And by the way, for those of you who are interested in driving CIEMs with the Carbon, you'll be glad to know that the Carbon's output impedance is an impressively low 0.12 Ohms for balanced output and 0.08 Ohms for single-ended output.
And finally, we get to my favorite part. The Carbon offers balanced input and output. In fact, there are no single-ended inputs. Even the RCA and TRS inputs are run through phase splitters to generate an opposing phase. Alex did this because he wanted everybody to receive the benefits of balanced input, even if their DACs were not capable of such. So no matter what source you use, you're getting balanced input with the Carbon.
Output-wise, although the amp offers both balanced and single-ended output options I highly recommend the balanced output. Put simply, due to the Liquid Carbons internal circuitry design, a balanced output yields the amps full power and potential while the single ended outputs take three quarters of the amps power potential off the table.
---
Taking a Look at The Liquid Carbon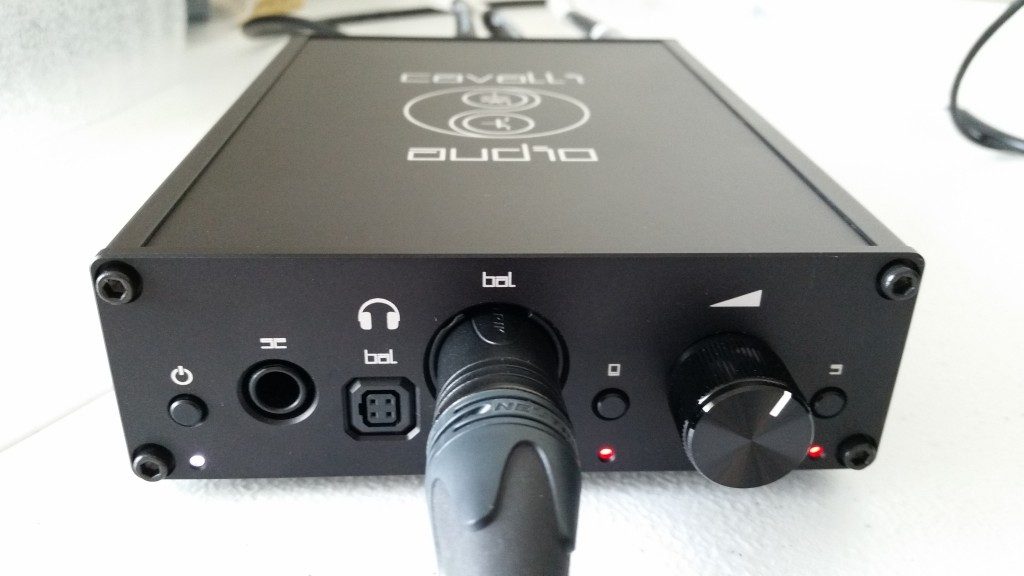 The amp's footprint is a very manageable 5" (12.7 cm) in width, 7" (17.8 cm) in depth, and 1.75" (4.5 cm) in height, and weighs a measly 1lb 7oz (0.7kg). As expected with any amp bearing the Cavalli Audio name, fit and finish are excellent with clean crisp lines with only 4 unobtrusive screws located on the front and back holding the outer shell of the amp together. On the top body panel of the amp is the trademark Cavalli Audio company logo which looks quite stunning with its white outline on black background. By the way, Dr. Cavalli likes to think along the same lines as John Henry Ford, you can have any colour you want as long as it's black.
On the front of the amp, from left to right we have a power button, a 1/4 single-ended jack, a balanced 4-pin RSA jack for balanced IEMs, a 4-pin balanced XLR jack, a 1X/3X (10 dB) gain selector button, a nice beefy volume knob, and a balanced/single end selector button. Although it's a bit on the busy side, all of the switches, connections, and knob are laid out in a methodical and efficient manner so as to not feel cluttered. The buttons themselves all feel solid and weren't overly stiff when pressed. The knob was a good size, felt firm and tracked smoothly when adjusting volume. Overall, as busy as the front was, it still looked quite elegant.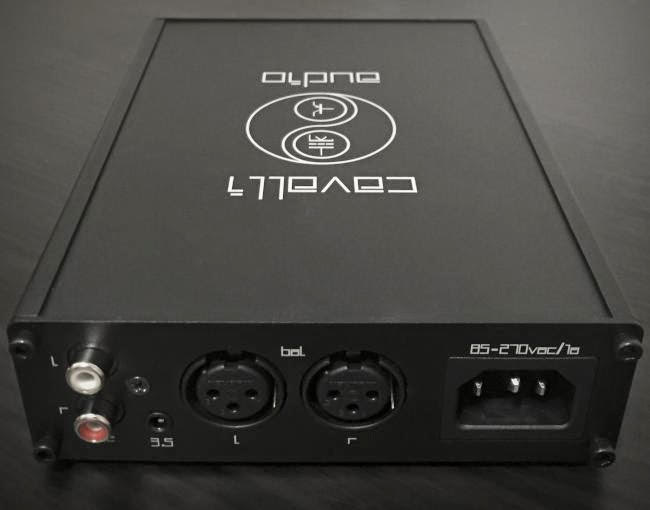 On the back of the amp, from left to right, you have a traditional pair of RCA inputs, a 3.5mm TRS input, a pair of balanced 3-pin XLR inputs, and a male 3-prong IEC power plug. Note, the Liquid Carbon does not come with a power cord. You'll need to get your own.