The Custom Art is a Poland-based in- ear monitor manufacturer. They entered to the market a few years ago and released the flagships Harmony 8 Pro and Harmony 8-Non Pro which have had impressive sales figures. They now have many fans and customers around the world. There are many different models in the product line including Music One, Music Two, Pro330, and some specially tuned monitors for MassDrop. They make custom monitors in both acrylic and silicone shells. For example, the new flagship Harmony 8.2 and Ei.3 can be also ordered in an acrylic shell.
After the success of H8P and H8-Non Pro, the Custom Art has recently launched a new flagship called Harmony 8.2. According to the company, its signature is somewhere between H8P and H8, and it has a non-fatiguing presentation.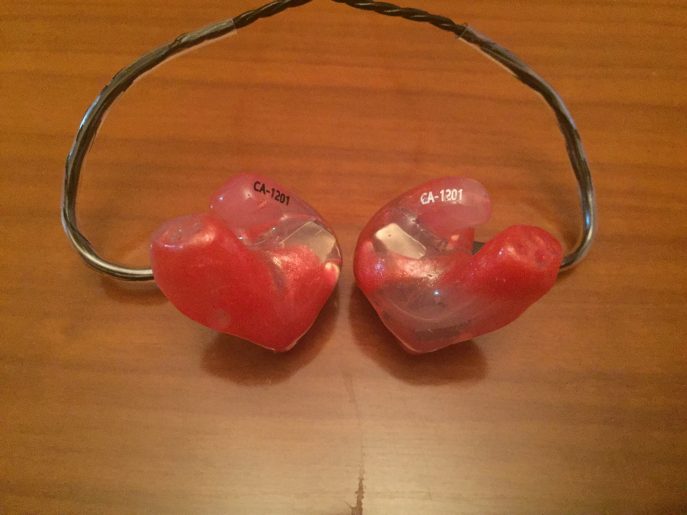 Design, Fit, and Accessories:
The Custom Art Harmony 8.2 has eight balanced armature drivers and 4-way passive crossover system as well as four main acoustic tubes. According to the Custom Art, the driver configuration consists of dual low, dual midrange, dual tweeter, and dual full range units.
As mentioned, Harmony 8.2 can be made in both acrylic and silicone shell. The reviewed monitor has a silicone body in partial red color. When we look at the Custom Art's social media pages, we can see many different and impressive designs. Indeed, the Custom Art is a thriving company in terms of combining design options.
The reviewed monitor has a good fit and comfort, therefore can be listened without getting pain for hours. The length of the canal is not disturbing and it provides a good isolation in accordance with the general character of the silicone shell.
The package of Harmony 8.2 doesn't seem super impressive, but it consists of items that we need to use with a silicone monitor. It comes with a cleaning tool, a Pelican hard carrying case, and a small soft case as well as a printed welcome message from the Custom Art. In addition, the monitor has an industry standard and 2-pin stock cable and flush sockets.
Sound:
The Custom Art Harmony 8.2 silicone version has a slightly warm and non-fatiguing sound. It provides a good balance in terms of the note thickness and it focuses on the tonality rather than the clarity. The overall tonality seems to be truer than the H8P.
Low Frequency:
H8.2 has a nice rumble and provides a good sub-bass texture without being too colored. It can handle fast metal tracks and has an emotional tonality as well as good decay/attack ability. It is not overpowered, but delivers a good body and resolution. In addition, H8.2's hitting to depth ability is above the average of the TOTL class.
The mid-bass presentation of H8.2 is in balance with the sub-bass presentation when it comes to quantitative characteristic. It has a natural tone and controlled warmth pursuant to the general tone of the low frequency. Although there is no thump, its control is not enough to create an airy stage due to the laid-back treble presentation.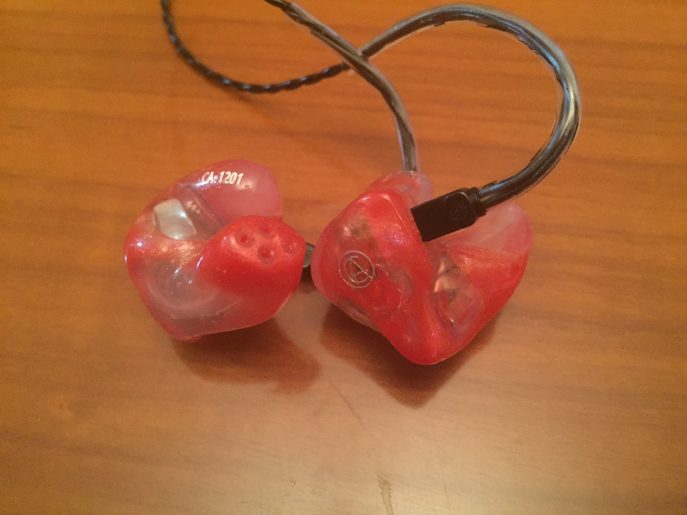 Mid Frequency:
Custom Art Harmony 8.2 is not a detail oriented monitor. The overall focus is on the tonality and naturalness. It has a slightly forward midrange presentation with weighty and slightly thick note recreation. The notes are not too thick and it releases thin nuances well. The detail level doesn't seem very high, but the tone is quite natural and the overall presentation can be considered in the ''organic'' class.
H8.2 is not highly transparent due to the note structure, but it has a quite satisfying resolution. In addition, the monitor has a good sub-section body and it puts some nice grains on notes. In the upper midrange area, H8.2 sounds smooth and doesn't tend to sibilance much.
High Frequency:
H8.2 provides a laid-back and smooth treble presentation. It doesn't have much coloration/brightness, which results in a truer tone. As it is in the midrange, the detail level is not very high, but the extension and resolution is quite good. As a comparison, H8.2 has less treble quantity and coloration than H8P.
H8P sounds less forgiving, but it sounds more airy than H8.2 due to the difference in the treble presentation. On the other hand, H8.2 is more resolved in the treble section due to the fact that H8P sounds sticky in fast metal tracks.
Soundstage and Separation:
H8.2 provides a good depth and width; it locates instruments horizontally rather than vertically. Still, it has a nice imaging thus providing enough space around instruments with the exception of the performance in crowded tracks. The coherence is relatively good and the presentation is not difficult to follow.
Due to the laid-back and non-sharp treble notes, the stage does not have an airy structure. The background is black enough and stable, but the separation level and the image/layering feel are slightly reduced when it comes to super fast and crowded metal tracks.
Selected Comparisons:
ACS Encore Studio ($1000) vs Custom Art Harmony 8.2 ($1100) :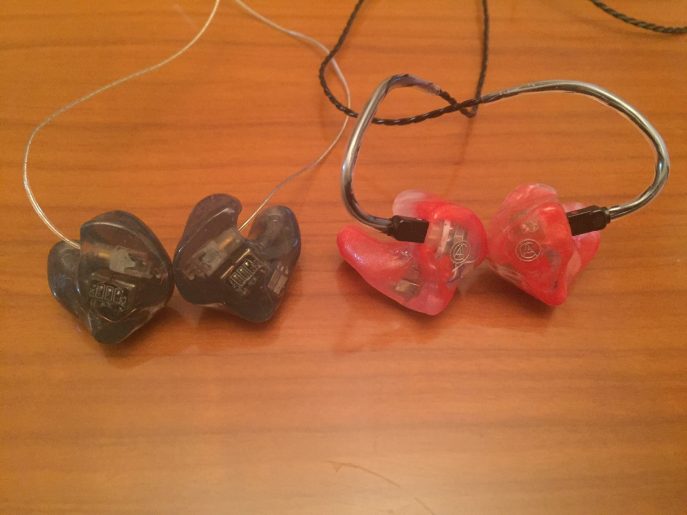 Encore has a greater sub-bass with a better extension, but both have similar texture and hitting to depth ability in comparison. Encore's hits are located more distant; it sounds slightly more controlled and tighter. They have similar tonality in the low end, but Encore sounds slightly darker pursuant to the general atmosphere. Encore has a more prominent mid-bass presentation, but it tends to tighten stage in accordance with the source used.
Both monitors are musical and natural in the midrange; Encore sounds more full-bodied and thicker, while H8.2 provides a more transparent presentation. Although the location of the midrange is similar, Encore has a more controlled note releasing. H8.2 is more resolved overall and more effortless in the upper midrange, while Encore is cleaner and has more space around instruments.
Encore has more prominent lower treble notes by a small margin, but H8.2 has a better extension. Both have a good speed and resolution, but Encore is a little brighter in the lower treble tonality. In addition, both are forgiving against the bad recordings.
Encore seems to locate the stage a bit more distant to listener, while H8.2 leans towards locating instruments horizontally that results in a wider stage. Encore has a deeper stage as well as a better layering in crowded tracks. The background blackness is similar, but Encore is cleaner. Both don't have an airy stage structure, whereas Encore provides more space around vocals. H8.2 is a good monitor in terms of imaging, but Encore betters it when it comes to separation in very crowded metal tracks and the general coherency.
Noble Audio Savanna S ($999) vs Custom Art Harmony 8.2 ($1100):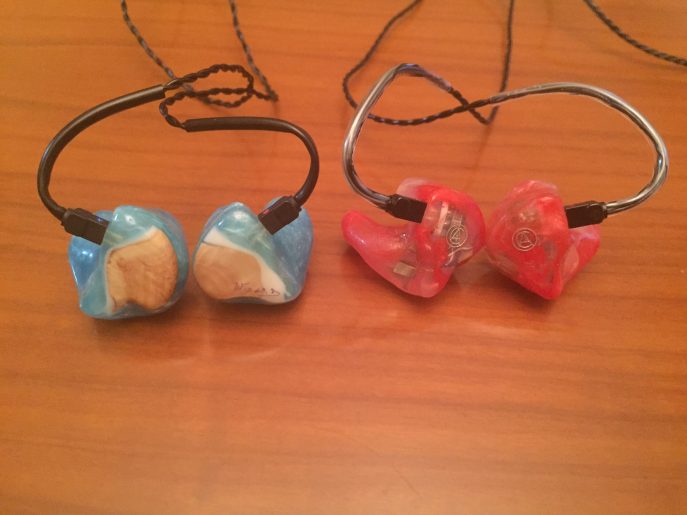 H8.2 has more full-bodied sub-bass and it hits deeper with a better extension and texturing, while Savanna S sounds more technical and has a more open tonality. H8.2 has a more prominent and full-bodied mid-bass presentation. On the other hand, Savanna S provides more airy bass department due to the slightly laid-back mid-bass presentation. In terms of the mid-bass resolution, Savanna S is better by a small margin.
Savanna S locates the midrange slightly more forward, but both have similar prominence in the instrument presentation. H8.2 sounds thicker and musical, while Savanna S is more transparent. Savanna S has more space around instruments, but H8.2 is more organic and effortless. Also, H8.2 provides a slightly better resolution and lower harmonics.
In the treble department, Savanna S sounds more airy and prominent notes, while H8.2 has laid-back treble notes. Savanna S seems to articulate details more, but it is colored and slightly thin in comparison. Although the resolution levels are similar, H8.2 betters Savanna S in the fast metal tracks.
H8.2 provides a wider and deeper stage, while Savanna S has a more airy stage due to the difference in the mid-bass and treble presentations. Both have similar separation and coherence, but H8.2 provides a better imaging as well as a blacker background.
Final Words:
In Harmony 8.2 case, the Custom Art provides some kind of organic and natural sound. Although the transparency level might be better, H8.2 is an impressive monitor in terms of the tonality. Ordering it in both silicone and acrylic shell can be considered as an advantage in terms of customer preferences. The Custom Art offers many different and chic design options; they are known by their perfect customer relations as well.
The regular price of Harmony 8.2 is $1100/975 Euro (Excl. VAT) with the exception of the customization options. Please click here for the ordering page.