At CanJam at RMAF this year (2016), there were only a few very special new products that really surprised me. At the top of this list were the new Zeus-ADEL in-ear monitors by the good folks at Empire Ears. I was able to listen to the universal version for quite some time and what I heard was an IEM that not only rivaled many of my favourite full sized flagship headphones, but bested them in many ways! I was also able to sit down with Stephen Ambrose (the original designer of the in-ear monitors in the 1960s and the new ADEL system by ASIUS Technologies) and discuss the advantages of using the ADEL technology within an in-ear monitor. So incorporating the ADEL technology within the very impressive Zeus flagship IEMs seemed like not only a no-brainer, but a real strong recipe for a truly revolutionary product. Coupled with a whopping 14 balanced armature drivers, 8 way Passive Crossover Network and 4 precision ported sound bores with a designated bore for highs, mids, mid-highs and bass, the new flagship IEMs by Empire Ears offers some very serious and advanced technology that not only presents the music on your recordings with the upmost in transparency and clarity, but takes due care to protect your hearing. Included with this pair of custom Zeus -R ADEL was the most excellent BTG Audio Starlight Cable. This typical aftermarket cable usually runs an additional $125US, but was included. This cable utilizes BTG's Silver-plated OFC and is a very highly regarded cable. I was very happy to see it included with these custom in-ear monitors. Flexibility is top notch and there are zero microphonic to speak of; a win-win!
Empire Ears; formerly EarWerkz, is a relatively new player to the personal audio landscape, but in the short time they have stepped to the forefront of the industry with their very impressive and innovative product line-ups. In September of this year, the company announced that they were teaming up with Asius Technologies to incorporate the ADEL system within their product lineup and offer not only incredibly clean and transparent sounding products, but ones that also protect the only pair of ears you'll ever have. As mentioned previously, the ADEL system works by adding a second "artificial eardrum" to reabsorb the sound waves. The best way to visualize how it works can be found in this video by Asius Technologies: https://www.youtube.com/watch?v=MA3ICH3gE-0. I can confirm that the volume level on my player has to be really turned down low to accommodate the Zeus ADEL IEMs; somewhere in the range of 40-45% less volume actually. Very impressive indeed!
The Zeus ADEL comes in two major flavors: Universal or Custom. There are definite advantages on going with the latter choice as the fit is virtually perfect as they take personalized ear molds prior to manufacturing your pair of IEMs. In total, it took only 10 minutes or so for the molds to be made for me and the entire process was fast and painless. For those wanting your IEMs sooner and don't want to go the Custom route, there is a Universal version of these IEMs available for you as well, with plenty of different types of replaceable ear tips (at various sizes) to get the best fit for you. As well, the level of customization in terms of the artwork, and shell casings of these IEMs is very impressive. Per the photo below of the pair I selected, I chose to submit a red Maple Leaf (I was feeling particularly patriotic that day) to Empire Ears and they overladed it on the faux wood pattern that I selected. There is a countless number of different choices you can make here, so be sure to take your time and make sure you make the best choices for your pair.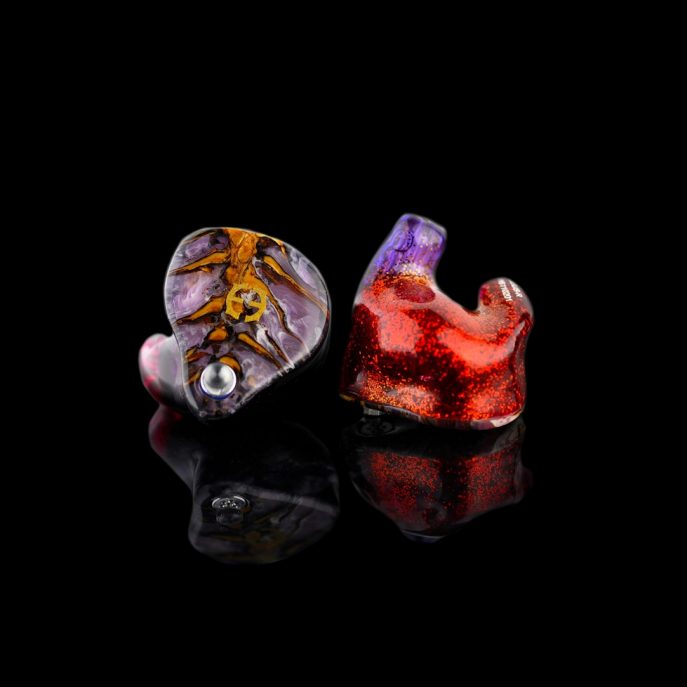 With the Zeus ADEL in-ear monitors, there are three sub-types that you can choose between: The Zeus-R ADEL, Zeus-XIV Adel, and Zeus-XR ADEL. And if that wasn't enough customization to really dial in the sound to your preferences, the ADEL modules themselves offer a third sub-category for you to consider:
B1: Accentuated midrange/highs (black module)
G1: Accentuated bass (red module)
MAM: Similar to B1 in sound, but adjustable between the B1 and G1
As well, the Zeus ADEL IEMs come in three flavours themselves, the Zeus –R ADEL (neutral version with the upmost in transparency to the recording), the Zeus-XIV ADEL (a more mid-centric IEM with a fuller bottom end) and the Zeus –XR ADEL (a combination of the top two with a switch that lets you select between either mode on the IEM faceplate). For this review, I will be covering the neutral version; the Zeus –R ADEL. After having heard both different flavours, I typically preferred the more neutral presentation of the –R model and was quite happy with this selection.
The price points for the three models (in USD) are:
Zeus-XIV ADEL – $2429.99
Zeus-R ADEL -$2429.99
Zeus-XR ADEL – $2729.99
The full specifications for the Zeus ADEL are:
| | |
| --- | --- |
| Frequency Response | 10 Hz – 20 kHz |
| Impedance | 21 ohm @ 1kHz |
| Input Sensitivity | 119 dB @ 1mW |
| Noise Isolation | -28 dB +/- 2 dB |
| Input Connector | 1/8" (3.5mm) Gold Plated Stereo Jack |
| Warranty | 2 Years |
The Zeus ADEL in-ear monitors use a whopping 14 proprietary balanced armature drivers; each individually tuned via their unique crossover network in order to achieve maximum accuracy and resolution. Every driver is carefully selected via Empire Ears' strict quality control prior to applying their patent-pending nano-magnetic coating. This conformal coating not only resists moisture and other harmful contaminants, but also optimizes sonic performance by shielding each driver's magnetic field to eliminate any potential interference between the other drivers. Using only the most remarkable components, the Zeus-R ADEL's internals are all individually connected and insulated with 7-strand sapphire and gold, silver-plated copper litz wires to eliminate acoustic feedback. Furthermore, they are soldered in place using an ultra pure quad-eutectic solder for maximum conduction.
The Crossover Network used by Empire Ears in the Zeus-R ADEL IEMs is truly unique. Using an industry leading 8-way cross over system that is tuned specifically to magnify audio performance from each driver. Empire Ears does not use filters or dampers to manipulate the frequency curve as that method of tuning can force the drivers to operate outside of their ideal frequency range which in turn can duplicate too many of the same frequencies from numerous other drivers. The Empire Ears method of tuning allows the drivers to better behave naturally as the 8-way crossover network is designed to assign the proper frequencies and levels to the most appropriate corresponding transducer. When coupled with the 4 precision ported sound bores (with a designated bore for highs, midrange, mid/highs, and bass), the resulting sound is completely effortless, natural and transparent. Each of these bores is engineered to Empire Ears' exact clearances to achieve optimum phase alignment and incredibly consistent sonic performance.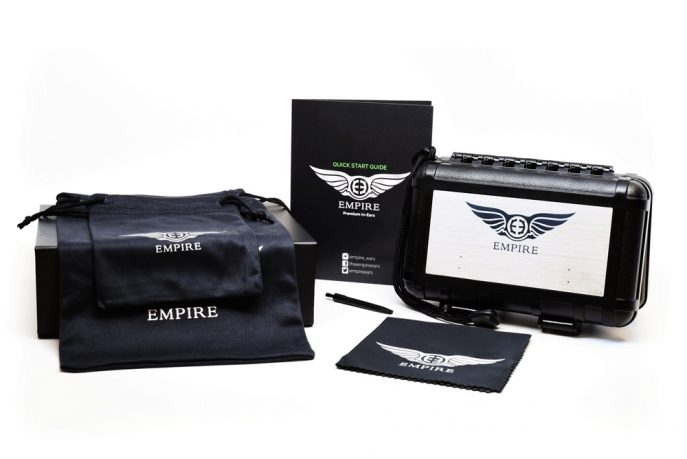 For the purposes of my review, I literally threw everything I had on hand at the Zeus-R ADEL IEMs. Everything from my iPhone 7 (w/ Lightning to stereo adapter), to my Astell & Kern AK240SS portable DAP, Chord Electronics Mojo, and NuForce uDAC5. As well, I played a plethora of different musical genres at them to see how they responded to a wide range of different sounds and sonic complexities.
Fitting the custom Zeus-R ADEL IEMs into my ears was a snap. Being custom molded, they were a perfect fit. Universal IEMs with several ear-tips can take quite a bit of time and fiddling to get the proper fit and seal; but the biggest advantage with custom IEMs is they are ready to go as soon as you get them. After approximately 75 hours of use, I decided it was time to start taking notes on my audible experiences with them. My main player was the brilliant Astell & Kern AK240SS. This portable DAP is a brilliant source that is absolutely dead quite with even the most sensitive in-ear monitor (like say the Shure SE846). And as soon as I started playing the DSD version of Shelby Lynne's "Just a Little Lovin'" I knew that I was in for a real sonic treat! Right away the Zeus –R Adel IEMs portrayed the female vocals in a manner that I've only heard through a very select group of full sized open-backed headphones (like Focal's flagship Utopia headphones). The smallest inner most workings of Shelby's vocals in the title song: "Just a Little Lovin' was surreal. It was as if she decided to come into my family room and put on a private performance for me. Each breath and the slight vibrato on her words were all laid bare and perfectly portrayed; so much so that I never thought possible with an IEM. "The Look of Love" ran shivers down my spine. Shelby's vocal work on this standard classic are truly amazing, but have never sounded better than with this combination of Zeus –R Adel / A&K 240SS DAP. In terms of dead flat frequency response, clarity, sound staging, precise imaging and the upmost in transparency, this portable setup is right there with some of the very best full sized desktop setups I've listened to through the years.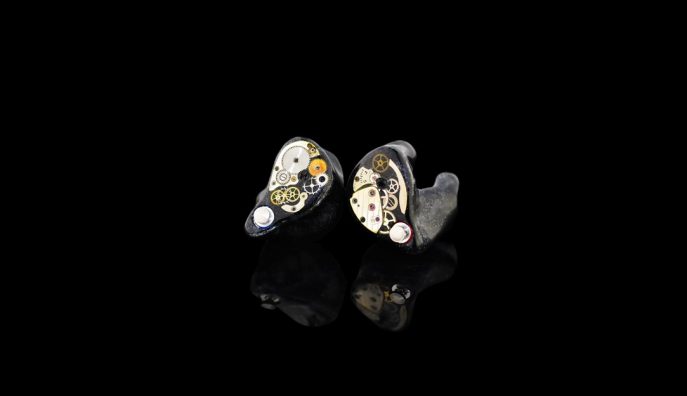 Trying my Chord Mojo / iPhone 7 combination was very satisfying as well. Using the Mojo as an upgraded DAC/amplifier really kicked things up a few notches. Listening to Rush's classic album "2112" seemed to jump from a more 2 dimensional presentation into a life like 3 dimensional experience when going straight out of my iPhone 7 (using the Lightning – TRS adapter) to incorporating the Chord Mojo in between my source material on my iPhone and the Zeus –R ADEL IEMs. Alex Lifeson's guitar work seemed a bit soft and subdued with a slight veil on the lead track "Overture" and I was a bit disappointed with the results compared to my previous experiences with my AK240SS portable player. Thankfully that's exactly when the Chord Mojo stepped in and literally brought this energetic album back to life. The Zeus-R ADEL IEMs really responded to the improved upstream amplification and DAC. So as with most really high end transducers, garbage in = garbage out. So while the Zeus ADEL IEMs can sound really good out of your iDevice, you are leaving a lot of cards on the table as the drivers within these IEMs are capable of so much more. The attack of the drums by the world's greatest living drummer (Neil Peart) were filled with energy and life. The Zeus ADEL can kick like a mule when called upon and the way the shimmer of the cymbals is not only lifelike, but offers a wonderful balance to the bass performance and seductive mid frequencies.
When I played Mephisto & Co. (by the Minnesota Orchestra & Euji Oue) I was immediately struck with the sense of spacing between each musician within this brilliant classical album. Each player was readily apparent as soon as I chose to specifically listen to their contribution to the music in Modest Mussorgsky's: "Night on a Bald Mountain". This is a wonderfully rich piece and complex piece that I often find myself returning to in order to test a pair of headphones, IEMs or speaker's ability to keep up with several things going on at the same time and not smear them together. Well, I really concentrated to this piece and I was absolutely floored with the level of detail and separation that I heard with the Zeus –R ADEL and the AK240SS was truly worthy of the term legendary. And the fact that you can take this immensely high level of sound quality with you on the go is quite the revolution. If you are a fan of complex classical music and you have a very flexible budget, I strongly suggest you look into a top flight Astell & Kern DAP and the Zeus ADEL in-ear monitors! The one thing that also truly grabbed my attention was the ability of these IEMs to extend up into the treble region. Many IEMs do tend to roll-off around 6-7 kHz, but these IEMs extend like full sized headphones and never come off as bright. In fact, they are quite similar to the Utopia headphones by Focal in the treble region. Considering those are one of the very best headphones I've heard, I was surprised that a pair of IEMs could pull off such wonderful clear, detailed and extended treble that only adds to the transparency of these impressive in-ear monitors!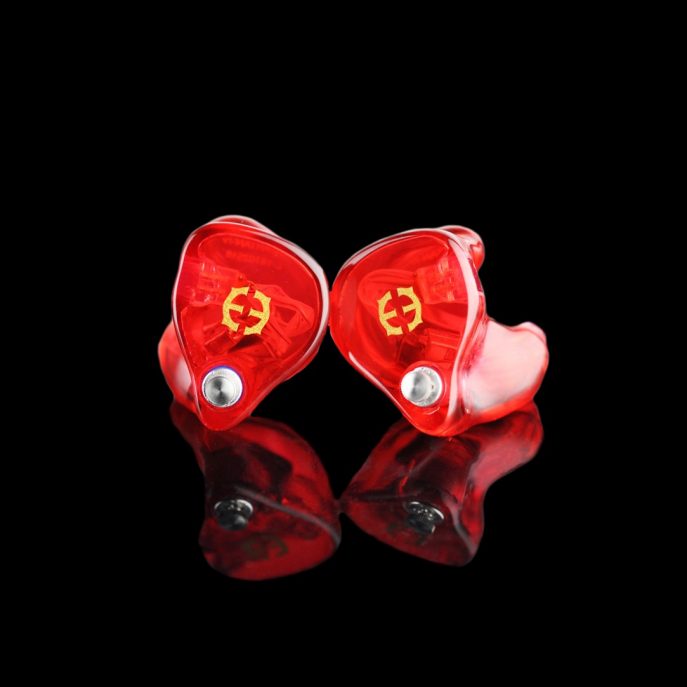 Writing this review was quite easy, these IEMs are the real deal. All I had to do is sit back and let the music pour over me. As I mentioned in at the beginning of this review, the new Zeus ADEL IEMs were one of only 2 or 3 new products I heard at CanJam at RMAF this year that really floored me. And after a few weeks with them at home, at work and on the go, I am so very thoroughly impressed with their build quality, styling, noise isolation and phenomenal sound quality. With 14 drivers per earpiece and an 8-way crossover network, the folks at Empire Ears pulled no punches with their new flagship product and have released the best sounding in-ear monitors I've come across…period. If you want the most tonally accurate IEMs with impressive sound staging and the utmost in transparency, then I strongly suggest you give the Zeus ADEL by Empire Ears a very thorough consideration. Whether Custom or Universal, these IEMs will have you rediscovering your music collection all over again!