Japanese – 日本語
Spanish – Español
The "Bad" World Tour – On The Road
I mentioned in part three that there were so many experiences while on the "Bad" tour, that it is almost an impossible task to write about them without making a complete book. So I will highlight some of my experiences while performing on the tour. Here we go….
Japan Tour: 9/12/1987 -10/12/1987
I had never been to Japan before and I had never played in a band like this before. I looked at this as a continuation of an incredible personal experience. The first nine scheduled concerts in Japan, which began on September 12, sold out within two and a half hours! Five more were added due to such high demand. A chartered jumbo jet was used to carry 22 truckloads of equipment, along with Michael's entourage of 132 for the tour. The stage set used seven hundred lights, one hundred speakers, forty lasers, three mirrors and two 24-by-18 foot screens. A Laser show was also added later. Frank Dileo told me that the show at this point was costing $500,000 a night to implement!
The Japanese baseball playoffs were even re-scheduled so Michael could use the stadiums! That's unheard of! It would be the equivalent of re-scheduling the World Series in the United States!
When we arrived at Tokyo International Airport in Narita, over 600 journalists, cameramen and fans greeted us. After the band got through customs, we got on a chartered bus and headed for Tokyo. The band would be staying at the Akasaka Prince Hotel while in Tokyo.
Bubbles, Michael's chimp, took a separate flight from the U.S. and upon arriving at Narita, he was greeted by more than 300 people. The surprise was that he was to ride on the bus with us to Tokyo! Bubbles was swinging around Tarzan style from all the poles and seats creating his usual havoc! But the band loved it and we laughed all the way to our hotel!
The tour was sponsored by Pepsi. Everyone on the tour was instructed very seriously, to never drink Coke in public! A representative from Pepsi actually went on the tour to make sure the promotion was done correctly. Michael had a full time representative to deal just with the Pepsi guy! Every hotel room came complete with many packs of Pepsi! I did not drink Pepsi so I ended up always giving the Pepsi to the hotel staff.
The management was a bit nervous about our first show since we had never done the entire production at once in rehearsals. The Band was very excited but focused. We walked out on stage and there were so many people! We did the show with no problems and management was relieved! What was interesting is that the Japanese audience seemed very reserved and we had to really put out energy to get them going. We eventually had them jumping and cheering! We found out later that the audience was instructed to stay in their seats and to not make noise or they would be removed! Wow!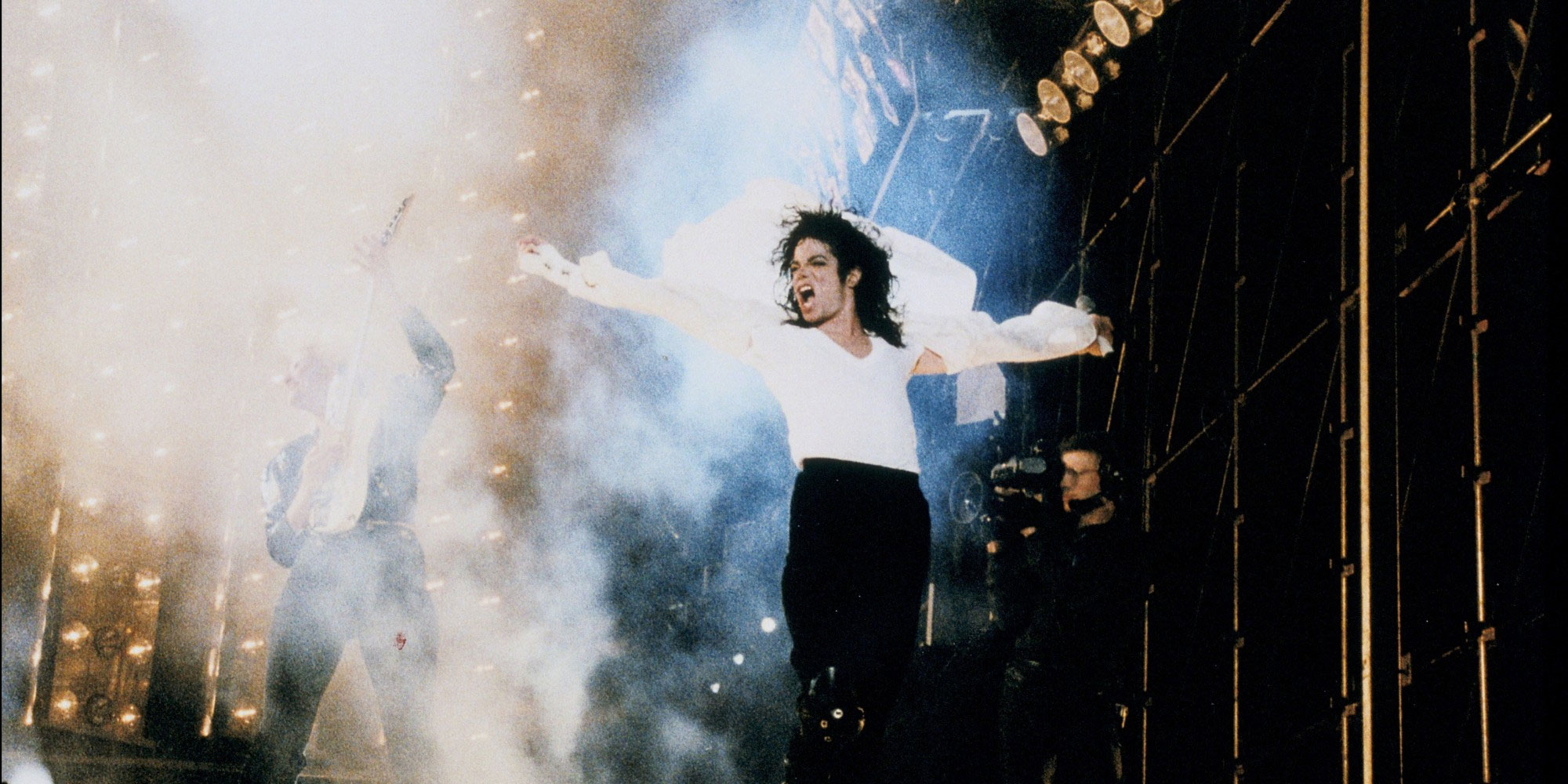 One evening after a show, the band was in the bus to go back to the hotel. There was a sharp corner the bus had to turn to get out of the stadium but it could not do so because of a parked car. About 20 of the Japanese tour staff, all wearing official white "Bad" T-shirts gathered around the car discussing what to do. The Band had to get out of the stadium before the people started to come out. We watched them outside the bus window. Suddenly, they all circled around the car and bent over and picked up the
car and moved it out of the way! The driver drove past the car, then…they put it back in exactly the same place! We were all laughing hysterically!
Australia Tour: 11/13/1987 – 11/28/1987
The first show in Melbourne, Australia was amazing! The audiences were so much more energetic than the Japanese audiences. Right from the first song, they were standing up cheering! They were so loud that we could not hear the count-offs to the songs. We had to change that right away for the next shows!
The next day, Michael had made the front page newspaper along with color photos. The reporter gave a blow by blow of each song…basically saying over and over that the concert was amazing but the band and Michael's performance was "too good"! What does that even mean? He then decided to call our music "Robopop"! I guess he thought we performed and played too perfectly! Turns out, the movie Robocop was currently playing in Australia and was very popular! What a world!
Billy Joel was performing his world tour at the same time and was also playing in Melbourne. As it turns out, he was staying at the same hotel! One evening after our concert, I and a couple of band members went into the hotel lounge. Billy and his then wife Christie Brinkley were there as well and we started talking. I always had thought Christie was very conservative. Seems she was a Michael fan and as the night went on, she got more loose and started dancing, imitating Michael and even mimicked his famous crotch move! We were all laughing! They were very nice and invited us to their concert anytime and to come backstage and hang out. These were really fun times!
Michael would sometimes do things and never tell the band. One of these occasions was in Brisbane. We were doing the encore and playing the song Bad…when all of a sudden, Michael brings out Stevie Wonder! We had no idea he was even in Australia! He joined Michael in singing the song Bad and the crowd went crazy! The band was completely surprised but we all played great!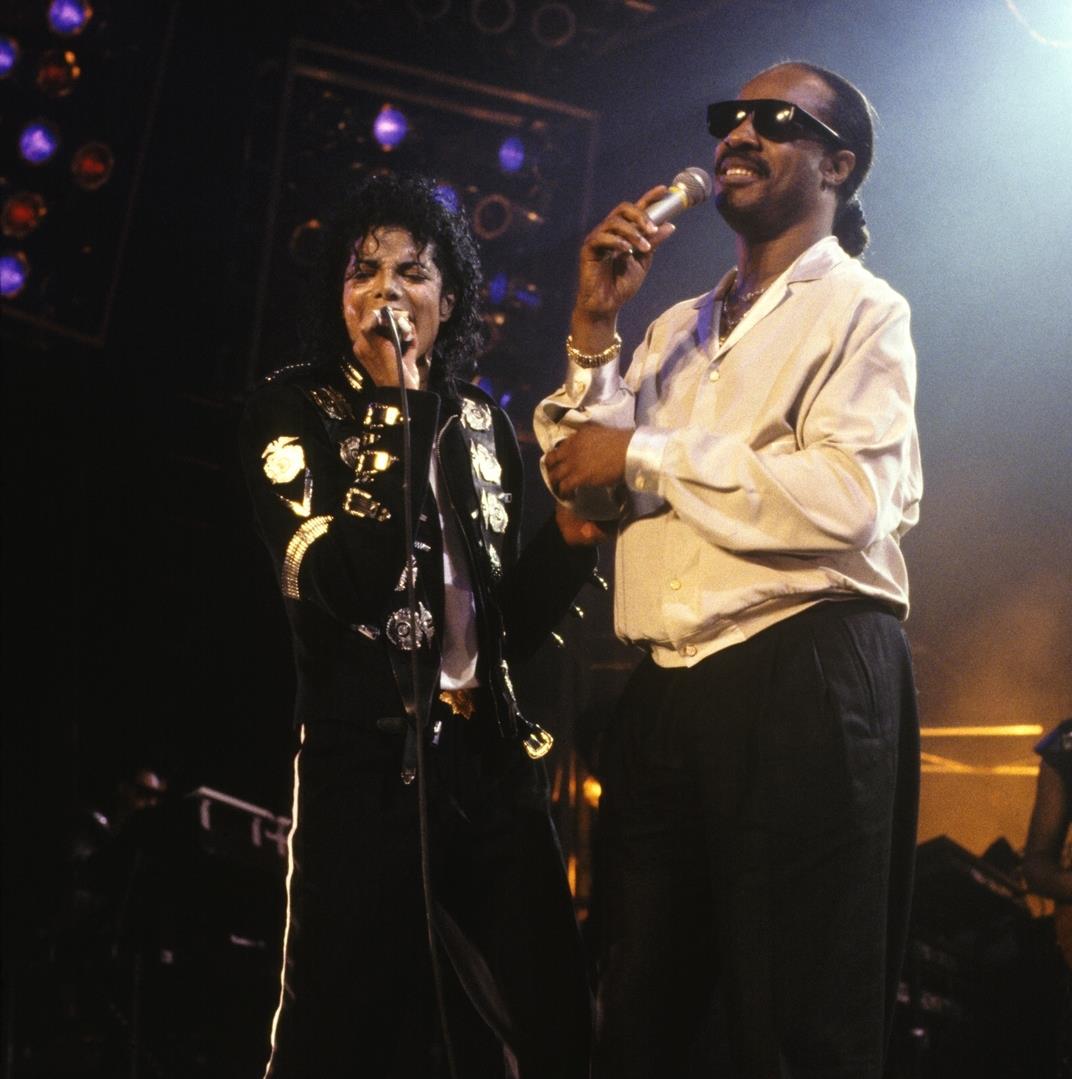 After five shows…it was time to go back to the states and take some time off for Christmas before starting the next set of rehearsals.
Christmas Vacation
I decided to go back to my hometown of Saginaw, Michigan to visit my family for Christmas. I told my mother, "please do not tell anyone I was coming home." I needed the time for peace and quiet. I had been working nonstop with Michael for over two and a half years!
I arrived home to find out my mother had told everybody I was coming and held a party at their house! I was irritated but at the same time, my parents were proud that I had become successful so it was ok.
A few days later, maybe almost Christmas…snowing heavily…an old friend called me and invited me to go to a local club at a hotel for the evening. He said there was a good band playing from Detroit. The group was an R&B funk band and they played two of Michael's songs from the Bad album…The Way You Make Me Feel and Bad. It was interesting to see a club band play songs from an album that was big on the charts that I had worked on.
The band went on break so I went to the rest room. The drummer was there. I told him I thought the band sounded good. He noticed my very long black hair.
He asked,"Do you play in a band?"
I thought .."Oh oh..here it comes…"
I said, "yes."
"Would I know the band?" he asked.
I said "Maybe"… trying to be low key so I could exit gracefully but that would not happen.
He then said, "Who".
I said, "Michael Jackson."
No reaction…just silence.
Then it hit him…"Michael Jackson!?"
"Michael Jackson!?" He said again realizing now what I had just said.
I said, "yes."
It seemed to take a few seconds for him to comprehend what I had said.
"I knew I recognized you…you are on the front cover of Keyboard Magazine this month!!"
I said, "yes."
He freaked out and told me to wait and he ran out of the restroom. About 30 seconds later, the whole band came! We gathered in the hallway outside the restroom. They were so excited to meet me but wondered why I was in Saginaw Michigan. I explained I was home for the holidays. They asked for some pointers. I told them they were only playing one of two bass lines in the song The Way You Make Me Feel. I told them how to play it correctly. They thanked me and off they went to play their next set. I left before they finished.
More Rehearsals
For the next leg of the tour, Michael wanted to do more songs from the "Bad" album. He gave me instructions to program the Synclavier for the additional songs. I only attend maybe one or two of the pre-rehearsals. My initial work was to program the Synclavier with all the sounds that I had created on the Bad album and perform all those parts minus the drums, guitar, bass and some keyboard parts. No pressure there!!! So for a week or so, I worked in my studio on programing the Synclavier. I also had to go to Michael's studio at his house and get various sounds from the master tapes used on the Bad album. Many of the sounds were already in the Synclavier. Greg Phillinganes, now officially the music director, came to my studio in the evenings after rehearsal to update me on the song arrangements, song tempos, and who was playing what parts. He had also recorded the rehearsal so I could hear what was going on.
The biggest challenge for me was to modify the sounds and sequences to match a much faster tempo that the band was playing live compared to the tempos of the songs on the album. This was before there was technology to speed up and slow down the sounds without changing the pitch. I had to go into the Synclavier and surgically cut up some of the performances note by note, syllable by syllable and place each on separate tracks in the Synclavier so I could speed up the tempo without any perceivable change in the actual pitch of the parts. This process was serious brain damage and with very little time to accomplish the task. The last three days of programing, I did not even have time to sleep!!!
I knew there was going to be a break in the show for Michael to rest and this was to be where each of the band members could play something. Since the band was so talented and they each were going to do some kind of solo, I decided that my solo should be different and use technology to my advantage. I thought "why not create a sort of dance remix part of the show!" I was going to walk out from a fog with the SynthAxe and play some unusual sounds in a cool groove with just Ricky playing the drums. I sampled explosions, broken glass, voices, horn hits, etc. I ended my solo with a sample of an atomic bomb exploding. I thought I would give all the sub woofers a real workout! Michael would later remark to me on the tour that he liked my solo the best! Yay!
The day arrived when we had to put it all together! My tech, Mitch came to my studio and picked up the hard drives and set up Michael's Synclaviers at the rehearsal studio. I loaded in the material. The band showed up.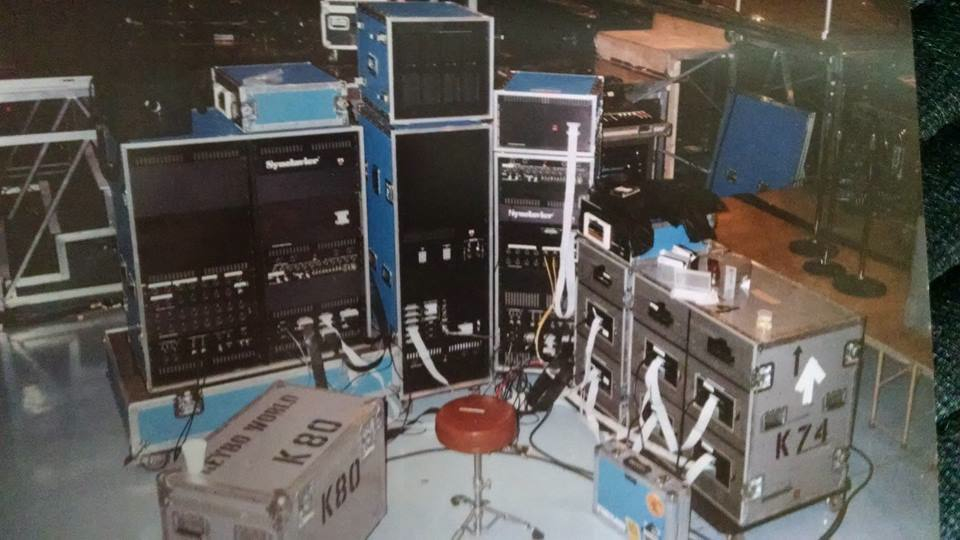 Quincy Jones was there and so was Donny Osmond. Ricky counted off the first song and…WOW!!! The sound was amazing! The band was amazed at all the additional sounds the Synclavier added to the band! It was the first time for me hearing the band as well! Quincy thought it sounded great and commented that the horns were slammin'! Then all the equipment were broken down to be taken to Pensacola, Florida at the Pensacola Civic Center. The first leg rehearsals were at Universal Studios but Michael could not use it again because it was not available. So it was decided to do the next rehearsal at the Pensacola Civic Center.
U.S. Tour: 02/23/1988 -05/06/1988
We arrived in Pensacola and we were to stay at a brand new hotel on the beach. The hotel was so new it was not even officially open yet. The sandy beach was quite interesting because it consisted of all black sand.
We spent the time rehearsing the new songs and going over details. Michael was to join us in about a week but he did not show up. The band had the songs rehearsed well. We had some time to kill so we rehearsed Speed Demon. It sounded great! We hoped Michael would like it and want to perform it.
Management gave us a few days off but as luck would have it, I got very sick. I stayed in bed the entire few days! I could not even eat!
I was very weak when we started to rehearse again. Then it was announced that Michael had arrived and was coming to the Civic Center so we decided to play some of the new material when he got there. Michael entered the Civic Center with Mary Hart from Entertainment Tonight in-between two rows of lots of police in uniform and TV cameras…what an entrance! We played the music while Mary Hart interviewed Michael.
Later that day, in a private meeting in his dressing room, Michael told me that the song The Way You Make Me Feel sounded great and that Smooth Criminal was better than the album and that we needed to record it again! He also liked Speed Demon but in spite of my positive pitch to perform it, Michael said no because he didn't have any choreography to go along with it. Too bad…
Michael brought in Siegfried and Roy to work out some onstage illusions for Michael, which was very interesting to watch and added a new dimension to the show.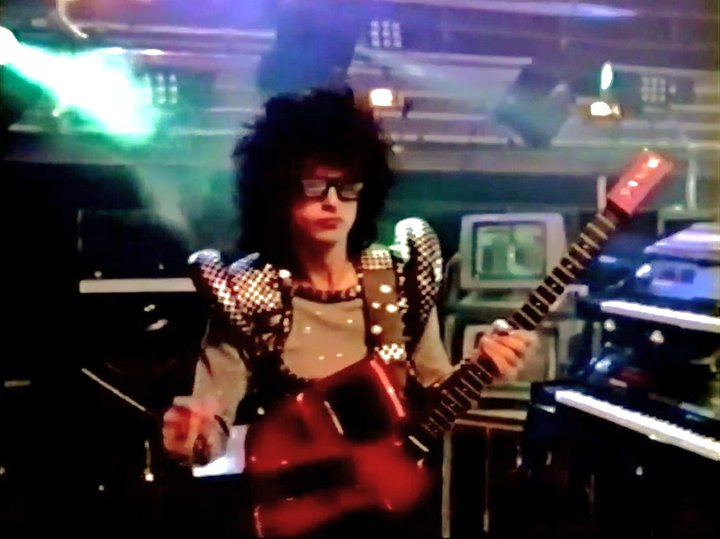 After this break for rehearsals, we were ready to begin the tour in the United States, starting in Kansas, Missouri on February 23rd, 1988. The Bad concert was now bigger than ever with several new songs, new choreography and a new stage.
A huge illuminated baseball billboard type sign was added over the stage, which showed an animation of Michael's legs and feet doing the moonwalk and a spin. This started the show. I had to sample his foot steps into the Synclavier. With the use of a closed circuit TV, I could monitor the animation of Michael's feet and I would play the sounds of his feet in sync on the Synclavier keyboard. Very cool!
At our first show in Kansas, some of the support rigging for the sign collapsed from the weight. It was revealed that the overall weight of the speaker system plus the big billboard sign, which were all suspend from the ceiling, exceeded the weight limits of most of the indoor venues! It was decided that the sign would stay and some speakers were to be removed. I was against this because I thought the sound was more important but I did not have any say in the matter. Oh well!
Just and hour or so before the last Kansas show, Michael called me into his dressing room. He said since there was over a week before the next shows in New York, I had to fly to New York in the morning and go to the Hit Factory to re-record Smooth Criminal! He told me to please tell everyone so they can arrange everything. Of course everyone freaked out! My tech Mitch was planning on going home for a few days but he would have to cancel it. The Synclaviers would have to be taken out of the trucks and sent separately to New York that evening after the show! Michael always seemed to have me do these kinds of communications so management did not like me very much!
In New York, when I arrived at the Hit Factory, Mitch and Bruce Sweden were there. The Synclavier was set up ready to go and Bruce had Smooth Criminal all cued up. He turned to me and said, "I have already recorded this twice. I don't know what Michael wants to hear." Michael was supposed to come to the studio but changed his mind. He was off playing with some friends. I told Bruce that I know what Michael wants to hear. So Bruce said "you mix it then."
We re-recorded the Synclavier and I mixed the song. Michael said he would be at his penthouse so we should bring the tape recorder, amps and speakers to the penthouse for him to hear the final mix. Everyone was nervous about how Michael would respond to the new mix. I was confident that I got it the way he would like it, because of our work at his house. We had to rent a lot of equipment and send it over to Michael's penthouse. His Penthouse had a dance studio with high ceilings so we set up the equipment there. Everything was ready to go when Michael walked in.
He said hello and wanted to hear the song. Bruce started the song. Immediately Michael started to dance! This was a good sign! He danced all the way through till the end. Then he said, "this is great! It sounds the way it is supposed to sound!" Then he turned around and left! Everyone breathed a sigh of relief. This mix was used on later pressings of the Bad album. Basically it has more punch than the first version. I never got credit for the re-mix.
On the 3rd of March, 1988, Michael performed a private concert at Madison Square Garden in New York. I found out from my tech Mitch that Madonna had been watching me perform from the shadows off stage. Apparently she was very curious as to what I was doing with the Synclavier. I found that interesting. Billy Joel was there and we said hello and talked a bit about the Synclavier. Paul Shaffer and the Tonight Show band came backstage as well as members of Earth Wind and Fire. WOW!
I recall another interesting experience while on the Bad tour. We were playing in Denver, Colorado. It was the first show. During a dance segment, I turned too quickly and threw my back out! I finished the show with no problem but I was in pain. After the show, in the dressing room, I explained what happened and one of the wardrobe guys, who was a masseuse said he would give me a massage. He worked on me for about a half an hour, then we all went back to the hotel. I was still in pain so I fell asleep with my clothes on.
The next morning, I could not move! It took about 15 minutes just to reach the telephone next to my bed to call someone! I was a bit panicked because I had to do a show that evening! Management came to my room. I was a mess and in pain. They looked at me and said "what are you going to do?" This was serious. My role in the show was crucial. If I could not do the show, it would have to be postponed! Millions of dollars would be lost and probably lawsuits flying! No pressure here!
I thought it is important to keep a positive view so everyone could do his or her jobs without freaking out. I told them if they could find a chiropractor and if he could work on me enough so I could at least sit up and lift my right foot two inches off the floor (for EFX pedals), I could do the show. They said ok and they said they would inform Mitch to make adjustments to my stage equipment.
It was the weekend so it was not easy to find a chiropractor but one arrived within an hour or so. I almost passed out from him just moving my body from the bed to his table! He worked on me all day and by the late afternoon I could sit up and lift my foot two inches! An ambulance arrived to take me to the arena. I thought maybe I would not survive the trip from the bumps and curves. It was not too bad.
The ambulance drove into the arena and stopped near the catering where the band and crew hang out. One of Michael's security team lifted me out and set me in a wheel chair. We went right to the stage. One of the security guys grabbed the wheelchair and lifted me right up onto the stage! Mitch had adjusted everything so I could play from the wheel chair. I checked everything and everything was ok for me to do the show.
After that, someone pushed me into the catering area where some of the band members saw me and freaked out. "What happened to you?!" I told them what happened but I could do the show no problem. They asked if Michael knew. I did not know if anyone had told him.
A short time later, someone came to take me to wait outside Michael's dressing room. Just before the show, all the band members would come to his dressing room and we would say a prayer and then have a rally to build our energy and focus. This was our routine. So I was waiting outside Michael's dressing room in the hallway all alone sitting in this wheelchair. I hear footsteps and it is John Branca, Michael's attorney. One thing about Branca, he is hardcore and I had never seen him smile. He saw me and asked, "What happened to you?" Thinking quickly, I shot back right away…"I asked Frank DiLeo for a raise!" Branca looked at me and a smile came across his face and he started laughing and just kept walking.
Soon Michael's dressing room door opened and out comes Chucky, Michael's personal bodyguard. He is huge sweet guy and always wore a tux and a top hat. Very surreal! Anyway, he looked at me and asked, "what happened to you?" Again, I responded right away…" I asked Frank DiLeo for a raise!" He broke out laughing. Then I told him what happened but I would be able to do the show with no problem. He asked, "does Michael know?" I said, "I don't know". Chucky said, "hold on a second" and closed the door. A few seconds later, Michael opens the door. He looked totally surprised! It seemed management had overlooked telling him. Michael said, "what happened to you?" Again I said…"I asked Frank DiLeo for a raise!" Michael burst out laughing. He wheeled me into his dressing room. I told him what happened but that I could do the show no problem.
A few minutes later the band arrived. Some knew what happened. Some didn't. I quickly explained that no problem and that I could do the show. Actually I was still in a lot of pain. We did our prayer and rally but it was special this time. Greg Phillinganes said if I could do the show in my condition, that everyone should play their best to show support. Very nice for him to say that.
I went to the stage early when I was greeted, or maybe a better word would be assaulted, by the venue in-house doctor. Apparently his job was rather boring since he was very excited that maybe he found someone to work on. He said "no problem I have all kinds of pain killers, and morphine!" I said "no, I do not want any drugs." "Oh..ok…but…if you need it I have all kinds of pain killers, and morphine!" I said "no again!" What a quack! He seemed disappointed that he could not set me up with lots of drugs! I said "what I do need is lots of ice for my back." He got me the ice but then said, "if you need it I have……." WOW!
I did the show with no problems. In fact, I was sitting down and did not have to do any choreography so I had the best seat in the Arena!
A few days later, at the Hartford, Connecticut shows, I used a high stool to sit on. The next night, I only used it to prop me up but I could stand. The third night, I did not need the stool at all. On the way to the stage the third night, one of the crew said, "you are getting better!" I said, "how can you tell?" He said, "every night you walk more straight!"
We were playing in Minneapolis, home of Prince. He had bought out a lot of seats in the front row for himself and his staff. Prince had a rule that when in public, his band or others had to pay attention only to him since he is…well…Prince! As it turns out, Sheila E, a friend of Greg Phillinganes, was working with Prince playing drums and singing. At the venue a couple hours before the show, Greg saw Sheila E and said hello. She totally ignored him because she was with Prince. This irritated Greg because he thought that act was nonsense and he told the rest of the band what had happened.
I was hanging out in the bowels of the arena in the makeup/wardrobe area. The band and wardrobe people were scattered around getting last minute touches on their makeup or costumes. Suddenly, Prince, his bodyguard, and Sheila E came walking through. Everyone was watching. So I decided to try and blow Prince's act.
Picture this… I was in complete costume, huge hair, tubes hanging off me, thigh high Zebra boots and makeup looking like Kiss meets Captain EO. I was leaning against the wall with my arms folded defiantly…and I am tall! Everyone was watching. The three of them walked right by me, about two feet away. I looked at Prince very serious and said, "What's up homes!?" He turned slowly and looked at me. I saw a beginning of a smile but he kept cool! The band broke out laughing hysterically. Prince, his bodyguard, and Sheila E kept walking. I came so close to getting him to laugh! Oh Well!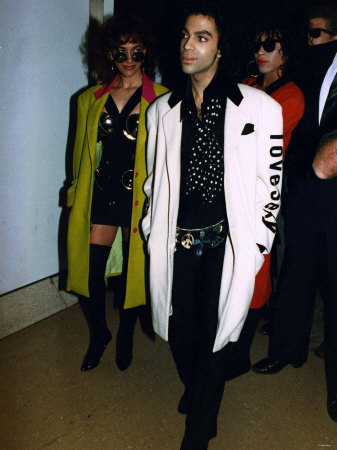 Europe Tour: 05/23/1988 – 11/10/1988
Our next stop was Rome! When we arrived at Flaminino Stadium, I was surprised to see armed militia surrounding the stadium. Apparently David Bowie had done some concerts there and a riot had broken out. I guess the police did not want that happening again! I had seen the military at the airport with guns and dogs and now here. That picture just did not seem to fit with playing music. Very strange experience.
We were playing a show, I think it was either Turin or Basel…by now time and place had started to become a blur, when I had an interesting experience. It was about an hour or so before the show started. I was hanging out alone, something I would do often before a show in order to mentally prepare. I was in a kind of remote area below the stadium. Michael's dressing room was not too far away down the hall. It was quiet and no one was around.
I suddenly heard voices and footsteps. Around the corner came Elizabeth Taylor with her entourage of people. She recognized me from when Michael had introduced us when he was filming Moonwalker at Universal Studios. She was lost and was trying to find Michael's dressing room. I walked them to Michael's dressing room door. I knocked and Michael let them in and shut the door. I went back to my quiet spot to relax.
A few minutes later, I heard someone walking. Just single footsteps this time. Around the corner came the most beautiful woman I had ever seen! It was Sophia Loren! I probably looked stupid standing there with my mouth open. She saw me and very politely asked if I knew where Michael's dressing room was. Again, I walked her to Michael's door and knocked. He opened the door and Sophia walked in and the door closed. WOW! I thought to myself…did this just happen?
The next day in the newspaper, the headlines read that many many years ago Elizabeth Taylor and Sophia Loren had a falling out and had not talked to each other since. Apparently, Michael had mended that upset and now they were all friends! Interesting!
We played in Berlin at Reichstag at the Berlin Wall. This was more strange than Rome. There were armed military all along the wall. East Berlin decided to do their own concert a mile down the wall or so to try to keep people from gathering near where we were performing so people would not attempt to escape. During the show, a few people actually did escape! One woman was spotted running between the walls by the East Berlin guards. They were actually preparing to shoot her! She started screaming don't shoot and that she was with child! TV cameras were on her so the guards let her go! Again, this kind of activity was going on around us and all we wanted to do was just play music. The world is crazy!
Michael scored a place in the Guinness Book of World Records for setting a new attendance record, when he played the first of seven nights at Wembley Stadium in London, England. The shows were attended by a total of 504,000 fans, beating the record previously held by Genesis. Ticket demand for the dates exceeded 1.5 million, enough to fill the 72,000 capacity venue 20 times over. I met Robin Williams and Eric Clapton backstage!
Nathan East, an old friend and at the time, the bass player for Eric's band told me at dinner after the show that he was sitting with Eric at the concert. When I did my Synth Axe solo, Eric freaked out and stood up and asked Nathan "What's he doing?" I was surprised! Apparently my solo got a rise out of Eric Clapton! Cool!! (wink!!)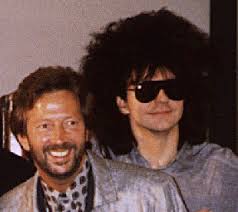 We were playing in Rotterdam in the Netherlands. I was getting really bored sitting in my hotel room. To go outside was not recommended since the front of the hotel had hundreds of fans waiting outside. I was tired of eating hotel food and I was told that there was a McDonalds two blocks away. I decided to take a chance and try to make it to McDonalds.
Remember, at this time my hair was longer than my waist and I was clearly a musician and a target for fans. I asked the hotel if there was a back exit somewhere. They showed me a door to an alleyway, which exited on the side of the hotel. The problem was, I had to cross the main street and down a block to get to McDonalds. If I could cross the street without being seen, I would be home free. The crossing was a block away from the crowd so I thought if I quickly crossed, I would go unnoticed.
I was sooo wrong! About halfway across the street, someone in the crowd saw me and started yelling! Suddenly the whole group of people became a mob and they all started chasing me! I started running as fast as I could to McDonalds! I ran inside and ran up to a counter and frantically asked to use their rear exit. They were surprised but pointed the way. I ran out the back door. I am sure the mob all ran into McDonalds and probably freaked everyone out! I ran around the block, back down the same alleyway and ran back into the hotel gasping for breath. The hotel staff looked at me as if I was really strange! From then on, I stayed in my hotel rooms.
Michael performed on his 30th birthday at Leeds, England, on August 29th 1988, where 90,000 fans sang him "Happy Birthday" while we accompanied them played happy birthday.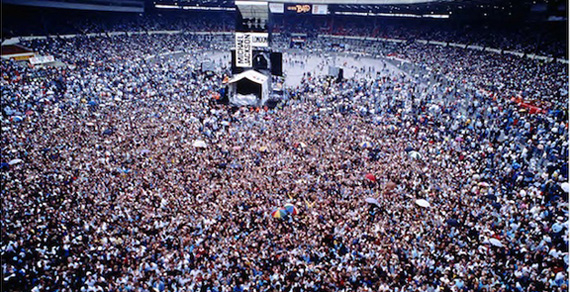 U.S. Tour: 09/26/1988 -11/13/1988
One of the nice memories I have was when we played in Detroit, Michigan at the Palace in Auburn Hills. I am from Saginaw, Michigan so my family and lots of my old friends came to the show. I even picked up my parents and my brother and his wife at their hotel in a white stretch limo and took them to the show! I had mentioned to Michael that my parents were coming to the show so before the show, Michael requested that my parents and my brother and his wife come to his dressing room. We all talked for a few minutes and took a picture. They enjoyed the show very much!
Japan Tour: 12/09/1988 – 12/26/1988
We went back to Japan for nine more sold out shows at the Tokyo Dome. It was great to come back to Japan. I had made many friends the last time we had played there. Japan had struck a chord with me. After the tour, I came back for many years spending half a year in Japan and half in the United States doing record production and consulting. I met my future wife to be on this leg of the Japan tour. She was a professional interpreter for the stage management.
I now live in Japan!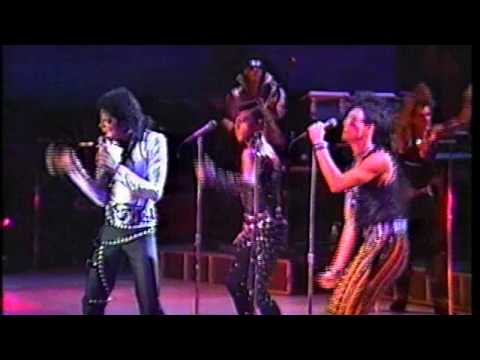 Final LA Shows: 01/16/1989 – 01/27/1989
The tour was coming to an end. The tour had lasted about 16 months. We performed 123 concerts to 4.4 million fans across 15 countries. When the tour concluded, it had grossed a total of $125 million, adding two new entries in the Guinness World Records for the largest grossing tour in history and the tour with the largest attended audience.
I remember the last show in Los Angeles at the Sports Arena. We were almost finished with this history making event! We were nearing the end of the show. The crowd was energized and we had been playing well! It was then that I noticed that the entire stage began to shake! We didn't know what was happening! As it turns out, while the band was taking a bow after "Man In The Mirror," a magnitude 5.0 earthquake struck, at 10:54pm, PST. What a great way to end the tour!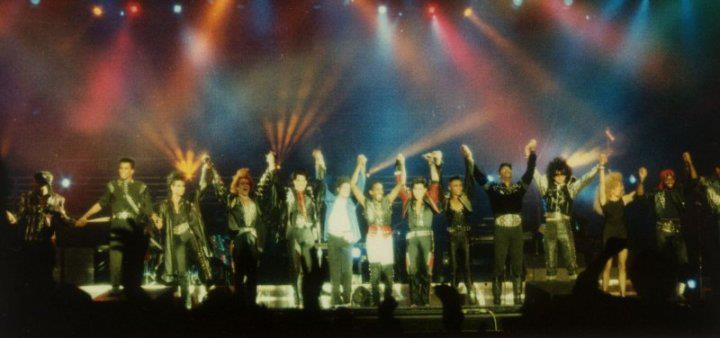 Final Thoughts
In the summer of 1990, after doing a bit of work on the upcoming Dangerous album, I decided that my time with Michael was at a close. I needed to move on. My friends thought I was crazy to leave because I was making so much money. They didn't realize that there is more to life than just money and fame. I informed Michael that I would be leaving. He was surprised. I think no one had actually quit him before. I told him if he really needs me I would help him out but I needed to pursue my own artistic path. He respected that. He called me a couple of times when he could not find something and that was the last time I talked with him.
I moved to Japan at the end of April 2009. On June 26th, I got the word that Michael Jackson had passed away. I did not believe it at first but very quickly it became clear that he indeed had passed. I was in shock for a few days. I had always thought that we might work together again someday. It is clear now that if we do, it will not be on earth.
I wrote my thoughts on my website and I have never publicly discussed any of my experiences with Michael until now.
From my website…
Michael Jackson – 06/26/09
The world is less today with the loss of Michael. Having worked with him closely 17 hours a day for over three and a half years, I got to know him well and respected his great talent. There never was a dull moment. Whenever we were in the studio together, we were like kids, always goofing off. I don't know how we got work done but we did. Working with Michael raised my standards of quality for recording music. He was very demanding, always inspiring and always fun! Not only did he change the way I created music, he changed my life. He was my friend and I will miss him greatly. Though he has moved on to do bigger and greater things in this universe, his energy will remain here on earth for all people to feel and experience through his music.
Infinite Gratitude.
Christopher Currell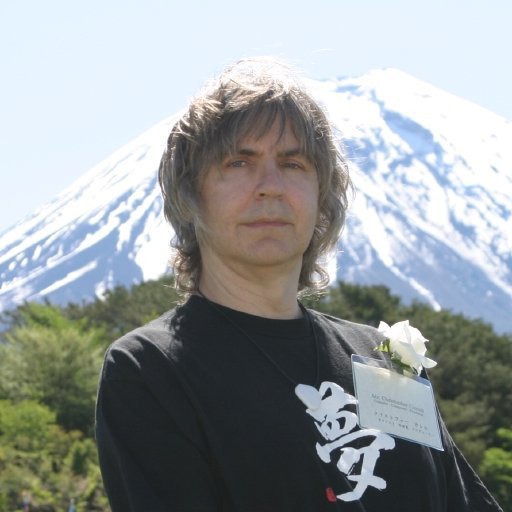 See you next month here at the Event Horizon!
You can check out my various activities at these links:
http://transformation.ishwish.net
http://currelleffect.ishwish.net
http://www.audiocybernetics.com
http://ishwish.blog131.fc2.com
http://magnatune.com/artists/ishwish
Or…just type my name Christopher Currell into your browser.