Focal is one of the older audiophile speaker manufacturers, dating back to the late 70s, and has been fundamental in the creation of some of the top rated loudspeakers in the world providing drivers for such speaker designers as Wilson Audio, not to mention their own Focal Grand Utopia EM loudspeakers, considered by many to be the finest loudspeaker made. Several years ago, Focal decided to enter the Personal Audio field with their moderately priced Spirit One Over-Ear Headphone, adding a little audiophile refinement to the mid level headphone category. Last year, Focal took the Personal Audio Community by storm with their Utopia and Elear Headphones, setting a new standard for dynamic driver headphones. Not a company to let grass grow under their feet, Focal is now releasing their newest brainstorm the Spark, a budget IEM aimed at a younger audience with the intent of introducing them to the world of audiophile sound. Reminiscent of the Spirit One in execution and the Elear in sonic signature the Spark promises to be a major contender.
Construction:
The Spark is fairly straight forward in design. They have a 9.5mm dynamic driver in a precision aluminum casing with a unique flat anti-tangle cable and a three button remote/microphone for use with smart phones. As for accessories, they come with a small zippered hard shell case and three sizes silicone tips. They are elegant in appearance and come in either black or silver (with a white cable), showing a quality of construction matching units three to four times the price.
Their small size, light weight and flat cable make the Spark extremely comfortable to wear, and the flat cable easily wraps around your ears for strain relief should it be required.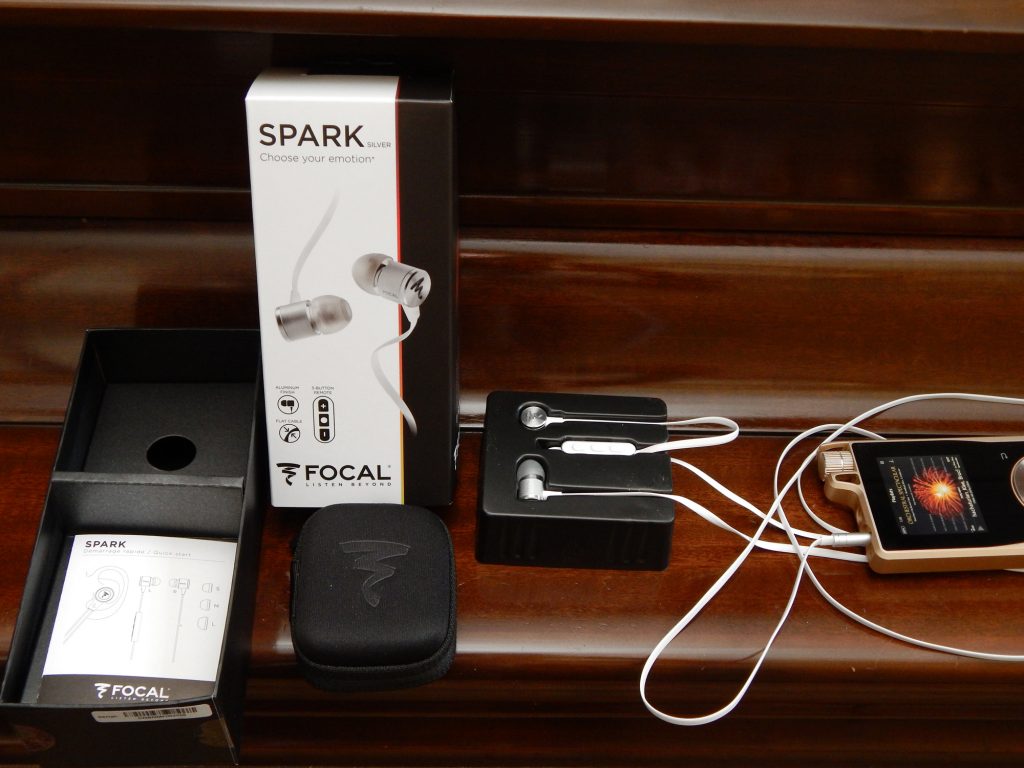 Performance:
I burned them in using the Wells Milo, then performed my initial listening with the Astell & Kern KANN, switching to my reference player the Questyle Audio QP1R for serious listening, followed with some time on my Samsung Light phone for target market comparison and finally finished out on my reference desktop unit the Questyle Audio CAS192D Current Mode DAC and CMA800R Current Mode Headphone Amplifier.
My first impressions of the Sparks with the KANN, was of a pleasant unfatiguing tonal balance, a little warm on the bottom end, with a little more soundstage than expected given the price range, as was evidenced listening to "Song Within a Song" by Camel (Moonmadness – 16/44.1 kHz).
The bass and percussion seemed a little forward during Chicago's "Fancy Colors" (Chicago II – 16/44.1 kHz) but the horns and flute had a fairly natural tone without being blary.
Switching to the QP1R, the Sparks were a little less efficient than expected, but well within the low gain setting. The basses and cellos of "The Firebird Suite" (Eiji Oue – Stravinsky – DSD) were full and resonant. The solo instruments were clear and well placed. The woodwinds were a bit fluty and blended with the strings, but the tympanis were fast and impactful and the soundstage was large and well represented.
"Can-Utility and the Coastliners" (Genesis – Foxtrot – 16/44.1 kHz) offered an intimate presentation in a large room with tight deep and nuanced subsonic bass.
For solo piano I turned to "Wedding Rain" by Liz Story (Solid Colors – 16/44.1 kHz). There was a distinct Baldwinesk tone to the presentation, with a full bottom end and crisp mids and highs. Again a very large room.
Louie Armstrong's rich basso almost took a back seat to the electric bass in the Bluebird recording of "What a Wonderful World" (Jazz Masters – 16/44.1 kHz) giving the whole thing a bit of a "pop" feel.
The bass centric orchestration of Roxy Music's "Out of the Blue" (Country Life – DSD) was definitely enhanced by the Spark's slight boost in the low frequencies lending an ethereal vibe to Andy Mackay's oboe passages, as well as, Eddie Jobson's strings, not mention Phil Manzanera's guitar.
Swapping down, as it were, to the cell phone, the Sparks performed exceptionally with its intended source. I should point out that I took a couple of phone calls using the Sparks with excellent results, voices were clear and I received no complaints from the other end as to the microphone capabilities.
Opening with a live track of Led Zeppelin's "Over the Hills and Far Away" (24/48 kHz) there was a clear-cut voluptuousness to the sound of what, for want of a better term, is a rather thin sounding recording. Even the grounding buzz of Page's amplifier is rendered presentable. John Paul Jones and Bonham would be proud of the mix as imparted by the sparks. A truly live delivery with a front row, stage edge soundscape.
When coping with the more refined instrumentation and recording of Peter Gabriel's New Blood Orchestra version of "Wallflower" (New Blood – 24/48 kHz), the Sparks easily rose to the challenge, you could be sitting in a box seat at the Hollywood Bowl, the cellos full and the piano rich and reverberant.
For a little contemporary music I selected Napster Radio, Regina Spektor's "Eet" was bestowed without sibilance, once again flush and opulent. Banks & Steelz' "Love and War" had a real club atmosphere, the beat pulsating, with the horns drifting in the background.
On the other hand "If I Ever Was a Child" by Wilco was extremely intimate, as if the musicians were in the room with you, the vocals natural and uncolored.
To determine if the Sparks could scale up in tonality and resolution I plugged them into the CMA800R and to follow up on earlier listening I chose the original single version of Louie Armstrong's "What a Wonderful World" (DSD), which used an upright bass rather than electric. The vibes, acoustic guitar and the upright bass were a bit forward of the drums and orchestra with a small jazz club ambience, Satchmo a wee distant and spotlighted.
From the moment I started seriously listening to the Sparks I wanted to hear Dusty Springfield and "The Look of Love" (Casino Royal – DSD), and was not disappointed. Like Louie, Dusty's rendition was confidential, mellow and close, the rear wall reflections palpable.
Completing my audition with Sarah Brightman's performance of "Think Of Me" (The Phantom Of The Opera [Original Cast Recording] – 16/44.1 kHz) it was clear that Focal had a winner that was able to ramp up to the source of your choice, eliciting a musical and accurate vocal while putting forth a warm and bodied instrumentation.
Verdict:
The Focal Spark IEMs carry on the tradition started by the Spirit One headphones of providing performance well in excess of their retail price. While their forgiving midrange and slight low frequency emphasis makes them ideal for their intended market of smart phones and inexpensive DAPs, giving that rave like sound, popular with the youth, they are resolute enough to reproduce the soundstage and air of audiophile quality desktop sources. As I stated at the beginning they are very reminiscent of the Focal Elear Headphones, which is praise indeed, and they have such a pleasant nature that you can listen to them for extended periods without experiencing fatigue.
They are an entry level component that I can heartily recommend to budding audio enthusiast and collectors of personal audio gear alike, and at a price that makes buying sight unseen almost no risk at all. Even if you already have a favorite IEM in its category, you owe it to yourself to give the Focal Sparks a listen.
https://www.focal.com/headphones/
Price: $69.00 USD
Specs:
| | |
| --- | --- |
| Type | In-ear headphones |
| Impedance | 16 Ohms |
| Sensitivity | 103dB |
| THD | <0.3% |
| Frequency response | 20Hz – 20KHz |
| Driver | Electrodynamic 03/8″ (9,5mm) Mylar |
| Microphone | Omnidirectional |
| Net weight | 14g (0,04lbs) |
| Connector | 3.5 mm Jack |