Once upon a time "Made in Japan" was synonymous with inexpensive knock offs of American or European designs, but even at that time it was also a moniker for miniaturization and precision manufacturing. Now it stands toe to toe with the likes of Switzerland and Germany as a term of quality and refinement. The story goes that a Swiss Watch manufacturer send to a Japanese Watch manufacturer what they said was the world's smallest drill bit and the Japanese sent it back with a hole drilled through it.
As I have noted previously in other articles, Fostex was founded in 1973 as the high-end division of a very old (1949) Japanese loudspeaker driver manufacturer, who subsequently took the pro-audio community by storm; so it is of little wonder that they have dedicated a modicum of their expertise to the development of high performance IEMs, as IEMs began life as pro-audio items themselves.
A price tag of $1799.99 puts the TE100s near the top end for universal IEMs, which begs the question, are they worth it (IE: are they one of the best performing IEMs on the market?)?
Using an air-controlled acoustic tuning shell engineered by FitEar, Fostex employs a hybrid balanced armature and 9mm dynamic driver design to give the bass and dynamic range of the dynamic driver along with the speed and detail of the balanced armature. I hear you saying "but my IEMs have 16 drivers whereas the Fostex only has two?" Well the sad truth is that such things only matter to the designer, who is trying to achieve a specific effect, the marketing people who are looking for something to spice up their ad copy and reviewers like me, as it gives us something to write about. All that really matters to the end user is the sound. To put this in perspective, some of the most expensive loudspeakers in the world use a single driver, while others use dozens, and this single aspect does not determine which sounds better or even which is a better value.
The real challenge of multi driver designs, especially hybrid designs (mating different driver technologies) is achieving phase alignment (having the bass and treble arrive at the ear with the same time relationship they have in the recording) and phase coherency (having the start and end of any given note arrive at the ear at the same time). Phase alignment affects the spatial relationships of the individual instruments and phase coherency affects the ability to discern fine detail, the naturalness of tonality, and the capacity to perceive the environment and soundstage of the original performance.
Presentation:
The Fostex TE100 IEMs came in a Pelican case (which was packed in an outer box) with a mesh carrying bag and an assortment of silicone tips and a cleaning brush. While not lavish given the price point, no less than one would expect either. The TE100s themselves are a simple elegant gloss black plastic with a transparent gray slice through the middle and clear white writing denoting the name Fostex and the serial number. Right and Left is clearly marked on both the body and cable with a red dot for right and a blue dot for left. There is an adjustable cable cinch for those who wish to wear the cable at the back of their head with easy instructions for its use. They came fitted with the medium size tips, which worked first time for me, though the 6N-OFC detachable cable, which is soft and supple enough, is not particularly moldable so it took a little patience to train it to stay over the ear.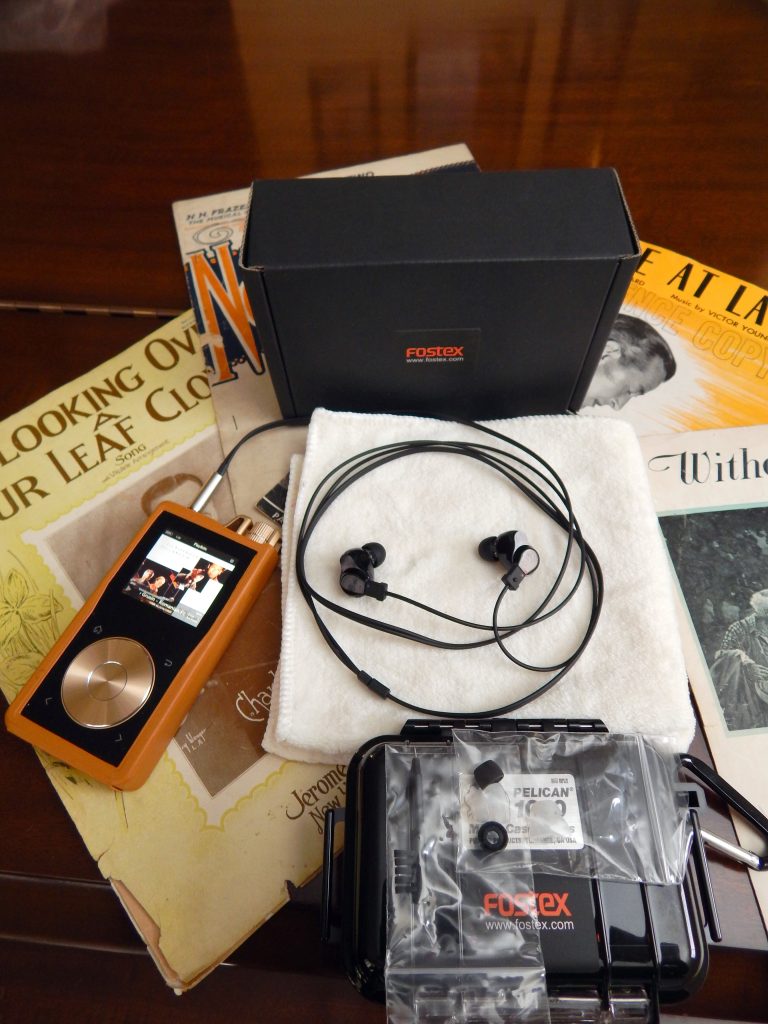 Sound:
Those familiar with my methods know I spend several days (after initial 100 hr burn in) just listening to random music as background while I do other things to get a sense of a product, to see where it shines and where falls short, in other words what music it is best suited for when it comes to my serious audition sessions. To Fostex's credit, I heard nothing remarkable, which is to say that they handled all forms of music with equal aplomb.
The opening low strings of Reference Recordings' Eji Oue performance of Stravinsky's "The Firebird Suite" (Stravinsky – Minnesota Orchestra – DSD) were resonant and enveloping with a large and rich soundstage. The byplay of the oboe, flute and French horn was sweet with each instrument easily identifiable and placed in its own space. The tympanis were impactful and reverberant with excellent delineation. The sense of orchestra as a collection of many individual instruments was very strong. The tonal balance was very natural with a slight emphasis at the extreme low end and a honeyed top end.
To judge the realization of piano I turned to Liz Story ("Wedding Rain" – Solid Colors – 16/44.1 kHz). The bottom was robust with a Baldwinesk feel, and solid in the upper registers. Again we were listening in a cavernous concert hall with notable rear wall reflection.
For low subsonic bass response I like to use "Can-Utility and the Coastliners" (Foxtrot – Genesis – 16/44.1 kHz). Michael Rutherford enhances his low bass notes with electronic bass pedals creating a rich subsonic resonance which the Fostex rendered superbly. This is counterpointed with acoustic guitar and even a triangle, as well as Peter Gabriel's voice giving an excellent indication of a speaker's ability to reproduce notes across the sonic spectrum without slurring or covering up, a test passed with flying colors by the TE100s.
As a test of dynamic range one cannot do better than Burt Bacharach's "Casino Royale Theme" performed by Herb Albert & the Tijuana Brass backed by a full orchestra (Casino Royale – 24/192 kHz). The horns were exciting and realistic, yet the harpsichord was easily discernible throughout the entire piece, as well as the wood blocks, even when the orchestra and brass were in full swing. But most impressive is the imaging, every instrument placed and stationary.
Moving on from the desktop unit to the Questyle QP1 portable music server, I began with my speed test track "Birds of Fire" (Birds of Fire – Mahavishnu Orchestra – 16/44.1 kHz) on which the TE100s performed admirably clearly separating the myriad of sounds without becoming fatiguing while valiantly maintaining the dynamics of the piece.
Like most IEM's I've tried, listening level on the DAP falls on the mid of the "Low" gain setting, meaning most any DAP or phone should be able to drive them without external amplification. The sonic characteristics were pretty much the same as with the desktop unit with a slightly lower noise floor due to the lower gain to compensate for the greater resolution and dynamics of the desktop piece.
To emphasize the versatility of the Fostex IEMs I put on "What a Wonderful World" (The Jazz Masters: Vocalists – Louis Armstrong – 16/44.1 kHz). Satchmo's gravelly voice reenacted lovingly, with the flute, bass and piano slightly apart from the orchestra in the background.
The TE100s gentle high end and rich bottom served them well while listening on my smart phone to "Story Time" by Dario Marianelli. Though slightly thin and grainy, not at all unpleasant, which is saying a lot.
Since I had it on hand I decided to switch things up and do my final listening through the AURALiC ALTAIR Wireless Streaming DAC. I selected Blood, Sweat and Tears 3 (DSD), and though the treble was a bit crisper and the bass heavier, it appeared to be a match made in heaven. I was able to run the volume at around 40% (I was running around 20% on my desktop system), which gave plenty of control and an silent noise floor (other than the original tape noise of the recording).
Conclusion:
The Fostex TE100 IEMs are a fast, detailed earphone, with a warm natural tonal balance, exhibiting excellent phase alignment and phase coherency characteristics, that produces a very musical sound. While not the airiest offering out there, they do provide a vast soundstage with pinpoint and stable imaging.
Which brings us to our original question; Are they worth it? Well, they easily compete with other listening options in their price range, if I were to compare them to over the ear headphones, I would say they remind me most of the Focal Utopias (which do sell for two and a half times as much), so the short answer is; Yes, I believe they are.
Specifications:
Operation type: Closed Hybrid type
Drivers: Dynamic & Balanced Armature (hybrid)
Impedance: 17 ohm
Frequency Response: 10Hz – 20kHz
Sensitivity: 108 dB (at 1kHz, 1mW)
Maximum Input Power: 20mW
Plug: 3.5mm stereo mini
Length of cable: 1.2m
Connector: 2-pin
Net Weight: 10 g (excluding cable)
Accessories: Ear tips (S,M,L + double flange), Mesh Bag, Cleaning brush
Price: $1,799.99
Note: Unless otherwise noted all sound tests were made using a Questyle Audio CAS192D True DSD Current Mode DAC and a Questyle Audio CMA800R Current Mode Headphone Amplifier.