I can very easily trace my journey into the world of personal audio right back to my first pair of Grado headphones – the venerable SR60. These headphones; while not costing you a fortune, come in at less than $80 US, but what they bring is a definite flavour for just how good things can get. So I guess I can conclude that these headphones were definitely my personal "gate-way" drug into this hobby. My next headphones were the SR125, then the SR225i and so on; and here I sit with a pair of PS2000e flagship headphones proudly set in my collection. So when I was asked to review the newly released update to the Prestige Series leader, the SR325e, I jumped on it! While my PS2000e headphones often put a smile on my face, being able to take them with me on the go is a bit difficult due to their larger size, but with the SR325e, I could take that classic Grado house sound with me almost anywhere.
Right from opening the box, the build quality was classic Grado. The packaging was not overstated, but appropriate for a $295 pair of open-backed headphones. A quick manual readjustment of the headband took only a minute or two as I've gotten quite good at resizing Grado headphones over the many years I've owned their products. As soon as I plugged them into my iFi Nano (my prime work desktop setup) and selected "Back in Black" by AC/DC, I knew this was going to be one fun review. Unlike the other Prestige Series headphones, the SR325e earcups are machined from powder-coated aluminum and not plastic. They look and feel like no other pair of headphones you might have come across. They have a brilliant 1930's look about them that just sets them apart from the competition. While not as light as, say, the SR225e due to the aluminum, the overall weight is still quite light on my head and comfort was overall great! I could use these headphones for hours without issue.
Here is a list of the full specifications:
Transducer Type: Dynamic
Operating Principle: Open Air
Frequency Response: 18 – 24,000 hz
SPL 1mW: 99.8 dB
Nominal Impedance: 32 ohms
Driver Matched dB: .05 dB
Included Accessories: Headphones, Warranty, Grado story-sheet, 6.5mm Golden Adapter
As mentioned, the Grado headband is quite simple to modify to best achieve a comfortable fit on your head. The metal inside the headband is quite ductile and easy enough to bend to get the best fit. These headphones are an on-ear design and rest on top of your ears instead of going fully around them (like their flagship PS2000e). That said, the form factor and fit makes them perfect for on the go portable use. While I wouldn't recommend them when noise isolation is required, as they are open-backed, but if you're just sitting on the porch or in your backyard, these headphones fit the bill!
Right from the start of "Back in Black", I could immediately tell that these headphones rock! That classic Grado house sound really does wonders for rock and hard rock. The quickness and speed is apparent from the outset. Right from the start of the slow progress of Angus' guitar work during "Hells Bells", I knew that I was in for a thrill ride! The remarkable ability of Grado headphones to portray the electric guitar is one of their definite competitive advantages over their competition and here, the SR325e headphones continue in that very strong tradition. "Givin' the Dog a Bone" brilliantly portrayed Brian Johnson's vocals. His truly unique rock stylings have never sounded better! The mid-range of these headphones really just pulls you in. The snarl of Brian's rendition of the chorus very much reminded me of listening to the band live a few years back here in Toronto at Downsview with 50,000 screaming AC/DC fans. The bass drum's energy hit hard, fast and incredibly satisfying. Conversely, cymbals were lively and extremely detailed with a life-like sense of shimmer and decay. For a $295 pair of headphones, the value that these headphones brought to the table really impressed me!
Next up, I changed things up a bit and decided to go with John Coltrane's classic album "A Love Supreme". This is a jazz classic and if you haven't heard this remarkable record, I strongly recommend that you give it a try. Recorded in 1964, this timeless wonder not only sounds great by today's recording standards, it is a perfect reflection of the genius of Coltrane and his immense talent. For this session, I decided to use my Chord Hugo 2 and Qobuz played through the Roon Labs player on my iMac. Well, I can safely say that if you are a fan of jazz, the Grado SR325e will certainly satisfy! Not only do these headphones rock, but they swing too. Detail and speed are two words that immediately jumped to the forefront as I listened to this album. James Garrison's bass work was clearly defined and offered very much a life-like experience with both transparency and weight. Typically headphones in this price range offer the latter, but very rarely, the former. But with these headphones, you get both punch and definition. Meanwhile, the midrange and treble worked brilliantly in concert with the lower octaves and portrayed a very lively and musical presentation. I wouldn't describe these headphones as "neutral", but if you are after an incredibly enjoyable and fun experience without sacrificing detail and transparency these headphones are for you. John Coltrane's saxophone simply never sounded better. The smallest inner details of this play were all laid bare with the SR-325e headphones. Hearing him take tiny breathes before he would continue with yet another complex passage in "Resolution" seemed to transport me to the recording studio and put me front and center of this majestic recording. The sound staging of these headphones puts you front and centre instead of 50 rows back and with a small jazz ensemble, really gives you the illusion of being in a small and smokey jazz club in the 1960s. When the album ended, I simply replayed it one more time as my experience was so thoroughly satisfying.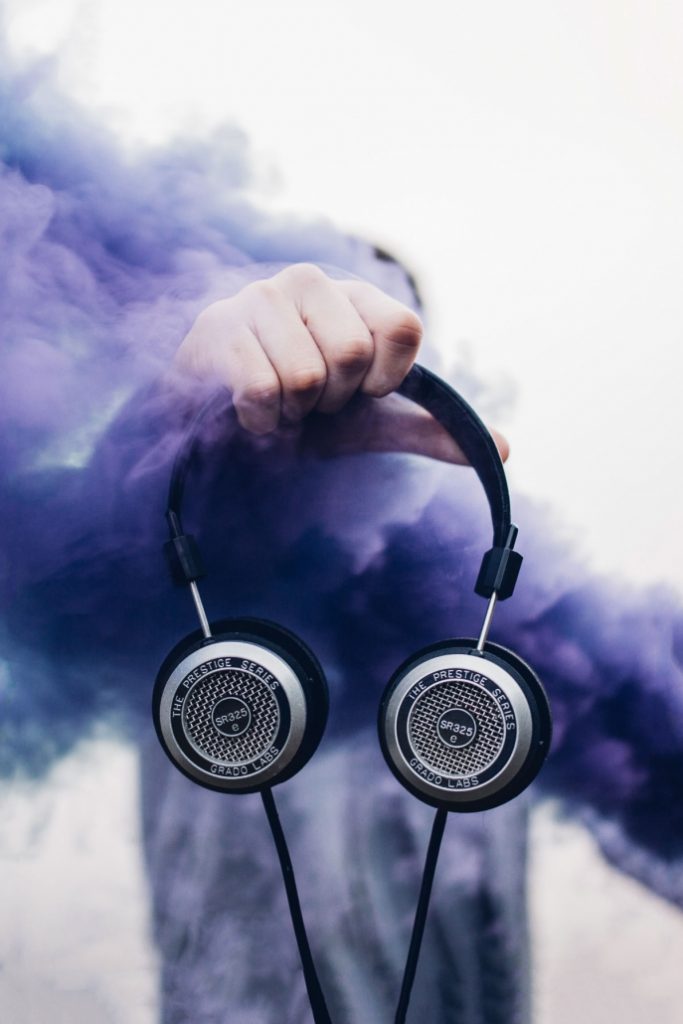 Finally, I decided to go with one of my favourite bands of all time. Not only can they ROCK, but their music is both impactful, but also quite complex. Rush's "Moving Pictures" is a classic rock album that I think every fan of the genre needs to own! Timeless songs like "Tom Sawyer" to "YYZ" to "Limelight" and "Red Barchetta" are wonderful songs that all Rush fans love and to have them all here, truly makes this album Rush's "Sgt. Pepper". Using my iFi Nano amplifier/DAC as my source for this album (also streamed off of Qobuz), this album hit all the right notes with the Grado SR325e headphones! From the album's opening track "Tom Sawyer", I knew I was in for a wild ride. The energy contained by this brilliant band was perfectly portrayed with this setup. The punch from Neil Peart's kick drum seemed to hit me right in the chest and Geddy's vocals truly shone through. I immediately started bopping my head up and down right within the first few bars. Instrumental separation was certainly very impressive and considering the price point of these headphones, I was surprised at just how clear and transparent a $295 pair of audiophile headphones can sound! Most competitor's products tend to smear the different players into each other, but with the SR325e, there were very clear audible separations presented that just turned up the transparency of the experience to a level of a headphone costing significantly more. The cymbals sounded life-like. If you're a fan of Neil Peart (who I consider the best living drummer on the planet), you really need to experience any of Rush's albums with these headphones as you will not be disappointed. Conversely, Alex Lifeson's guitar work was also incredibly life-like and extremely well nuanced. You could hear his fingers pick the strings as if you were sitting in the front row. It simply gave me goosebumps.
Overall, I really enjoyed my time with this updated classic headphone! Grado has improved their bass definition, brought out their midrange and smoothened the treble and all while keeping their classic Grado house sound that just well….rocks! Build quality and design also impressed me; especially for a $295 pair of headphones. Their light weight and minimal clamping force allowed me to use them for many hours without any sign of discomfort. Having a high efficiency (99.8 dB/mW) and low impedance (32 ohms), you can drive these headphones with almost anything. They sounded great right out of my iDevice; however, as I improved the upstream amplification or source, the drivers responded with improved transparency, clarity, and control. If you are just starting into the world of audiophile personal audio and don't want to break the bank, you really need to check these headphones out! They are great sitting down in front of your computer, or with you on a walk (or around the house for that matter). This family-run business out of Brooklyn, New York has been around a very long time (since 1953) and with products like the SR325e, I can see why. But be forewarned, they can serve as a gateway drug that will have you breaking the bank for a pair of their flagship PS2000e headphones in a few years!
https://gradolabs.com/headphones/prestige-series/item/5-sr325e