So while I was still in the honeymoon phase with my HE1000 headphones, the folks at Hifiman just released their newest product: the Edition X. No, this is not a successor to their recently released flagship HE1000s, but instead, the Edition Xs are the more portable option for "hifi" sound due to their dramatically increased sensitivity and efficiency. I was a little skeptical when I read that they were designed to be played effectively with "any smartphone or portable device" as most orthodynamic headphones that I've come across (except for the Oppo PM-3s) really needed a full sized (and powerful) desktop amplifier. Well, I was definitely surprised when I first plugged in the Edition X (HE-X in short) into my iPhone 6 when they arrived at my office several weeks ago. Not only did they sound fantastic with my iPhone 6, there was still plenty of head room left. These headphones are as efficient as most "portable on-the-go" headphones I've come across.
And yes, I've tried many as per my ever growing thread here on Head-Fi can attest to: http://www.head-fi.org/t/672743/comparisons-26-of-the-top-closed-portable-headphones-around. Throw in their very light weight of only 399 grams and the Edition Xs really buck the trend of power hungry and heavy planar magnetic headphones! I would definitely consider them as semi-portable option. Simply pick up a suitable carrying case from eBay (the earcups do indeed fold down) and you can bring them with you to listen in while you are in your hotel room. Or use them for around the house; in your bedroom, or relaxing in your backyard (I can definitely see myself enjoying them next to my pool) and you won't need to lug around a 1-2 Watt full sized desktop headphone amplifier to get them to sound even moderately loud.
The design style is very reminiscent of Hifiman's flagship HE1000 headphones. The HE1000s are definitely one of my favourite all-time pair of headphones (my thoughts on them: headphone.guru/hifimans-he1000-part-2-of-3-peters-impressions/) and the Edition X are voiced very closely to this world class product. Instead of the wood finish, the HE-X's utilize a wonderful deep blue metal finish with a similar headband structure. The earpads are a hybrid mix of pleather and velour. The leather does a great job keeping the lower bass frequencies from escaping and the velour really adds to the comfort of these headphones. Included are two cables: a shorter cable for more portable operation (terminated with a 1/8" TRS plug + 1/8" to ¼" adapter) and a longer 10 foot desktop cable that is terminated with a ¼" TRS stereo jack. Both cables are very well built and are of the same quality as the excellent cables included with their big brother (HE1000s). The one difference however is that the HE1000s also include a 10 foot balanced (4 pin XLR) cable. However, due to the extreme sensitivity of the HE-X headphones, a balanced cable really isn't necessary. The overall size of the Edition Xs are about 15-20% smaller than the HE1000s.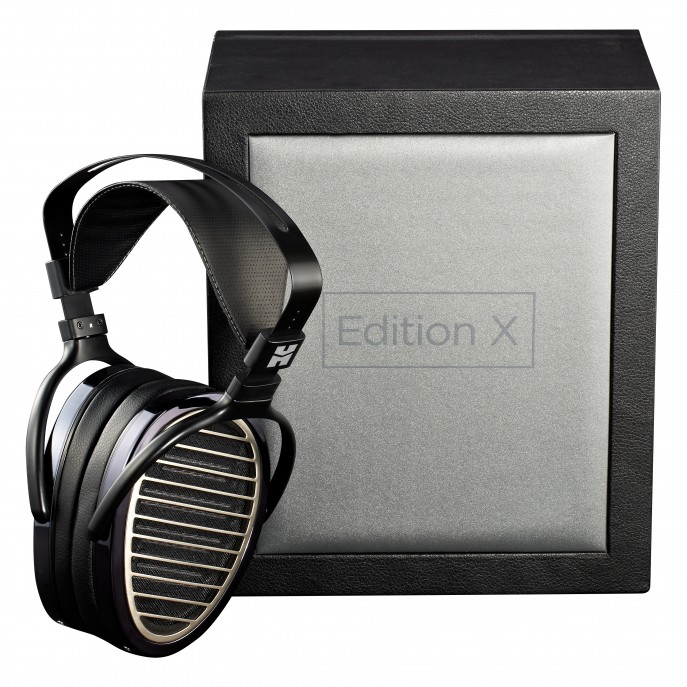 The full specifications provided for these headphones by the manufacturer are:
| | |
| --- | --- |
| Frequency Response | 8 Hz – 50 kHz |
| Sensitivity | 103 dB (vs. 90 dB for the HE1000 headphones) |
| Impedance | 25 Ω ± 3 Ω (vs. 35 Ω for the HE1000 headphones) |
| Weight | 399 g (vs. 480 g for the HE1000 headphones) |
| Price | $1799 US (vs. $2999 US for the HE1000 headphones) |
As you can see, the requirement to make the Edition Xs a much easier pair of headphones to drive has been fully met. Throw in the incredible comfort and light weight, I can literally use these around the house plugged into either an iDevice or my Astell & Kern AK240SS DAP for hours and hours and never have any issues. So that age old notion that planar magnetic headphones are always big, bulky and heavy has really been cast aside! Throw in the included luxury storage case and I was certainly impressed with the entire package from Hifiman.
For the purposes of this review, I did put the Hifiman Edition X to the test primarily with my portable devices (iPhone 6, iPad Air, and AK240SS DAP) as well as with my desktop setup(s): the excellent Chord Electronics Hugo TT (review here: headphone.guru/the-chord-hugo-tt-a-table-top-wonder/) as both headphone amplifier and as a source for my HeadAmp GS-X Mk2 headphone amplifier. The music ranged from my favourite MP3s (320kps on my mobile phone) all the way up to CDs and 2.8MHz DSD files). I tried to stick to recordings I was already very familiar with (especially with the HE1000s) to ensure that I really got to know the Edition X headphones as well as I could.
My first experience with the Edition X headphones was for a full afternoon in my office straight off of my iPhone 6. The first track that I selected was an Apple Lossless recording of Frank Sinatra's "Sinatra at the Sands". In my opinion, this is one of the greatest live recordings I've ever heard. Not only are Frank's wonderful vocals and personality portrayed in such a way as to put you in the hall in the famous old Las Vegas casino, but the sound quality is simply stupendous. Throw in the accompaniment of Count Basie and his orchestra and this is a must buy for any fan of Old Blue Eyes or jazz music in general. Well, I have to say that I never knew my iPhone could sound so damn good! Seriously, this was one of the top two experiences I've had from my iPhone 6; with the other being with the JH Audio / Astell & Kern Layla IEMs. I simply did not think that kind of sound quality was possible directly from my iPhone.
Luckily I had brought my Astell & Kern AK240SS DAP with me that day to compare the sound quality and as impressed as I was out of my iPhone, the AK240SS just brought the HE-X headphones to a whole new level. Now while not cheap ($1800 for the headphones and $2999 for the portable digital player), this kind of sound quality is typically only reserved for high-end full sized desktop home solutions. The fact that you can bring this kind of world class sound quality with you to work is mind blowing. I had to do most of my critical listening over my lunch as I found the transparency, clarity and enjoyment of this combination just too distractive to get any real work done.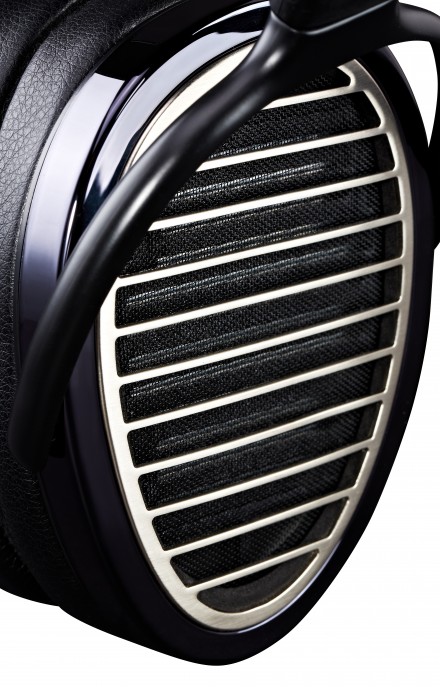 The inner workings and details of Frank's voice was simply as good as I've heard, regardless of headphones, speakers, amplifier or source. Considering this recording was made in 1962, the sound quality of this album is incredible. The ability of the AK240SS / Edition X to portray the full dynamic range of the music with such clarity, attention to detail and transparency rivaled (and bested) most full sized setups I've come across. The bass performance of the Edition X headphones is outstanding. You get both incredible impact and wonderfully rich and detailed texturing that rivals their big brother's already world class performance. In fact, when comparing both headphones using the balanced output of my AK240SS player (I used the HE1000 balanced cable for this as it's interchangeable between both headphones and a Moon Audio Silver Dragon XLR to Astell&Kern balanced adapter), the HE1000s and Edition X were almost equally satisfying in terms of overall performance. It wasn't until I moved up to my full sized setup of the Hugo TT à GS-X Mk2 (at home later that night) that the HE1000s pulled ahead. I've had many ask me which headphones were better and the answer is simply: it depends on your amplifier. But even here, the Edition X's are no slouch. Their ability to portray the sound staging of this recording was incredibly holographic and transported me right there in the Sands Casino & Hotel in Las Vegas a full 10 years before I was born. Along with the HE1000s, the Edition X's have some of the very best imaging I've ever heard.
The next album I selected is a long-time favourite of mine: "Come Fly Away" by the venerable Norah Jones. I have three different versions of this recording: a 320kps MP3 version, the CD version and a 2.8MHz DSD version. I wanted to see how capable the Edition X headphones were on not only playing this truly classic album (with some of the very best female vocals I've come across), but also be able to portray the differences of these three versions (from good, to great, to incredible respectively). For this listening session, I decided to use my Hugo TT as the DAC and my GS-X Mk2 as the amplifier. First off, I've heard this recording in various forms literally hundreds of times over the years. I'm sure many of you have as well, but if you haven't heard this album with either the Hifiman HE1000s or Edition X, I think you owe it to yourself to experience Norah's masterpiece through either (or ideally both) of these headphones. The ability of the Edition X's to portray Norah's voice was simply awe inspiring. The passion and artistry of her voice was as real and true to life as I've heard (I've been lucky to see Norah in concert a few times in the past). So if you're a fan of female vocals, I can't recommend the HE-X headphones more highly. They are among the very best headphones at being able to keep up with the entire female vocal range and never lose their grounding or ability to allow even the smallest details flow through.
The transparency was into this recording was truly as if through an open window. The treble was particularly impressive here. Unlike some headphones that trump up this region to offer an artificial sense of space and air, the Edition X headphones offer a more relaxed presentation (quite similar to the HE1000s actually), but are still able to offer outstanding imaging and air that rivals some of the very best headphones (again, quite similar to the HE1000s). They do not come off as "dark" headphones in anyway as the treble is still very much present and extended, but what you do get is a very enjoyable presentation that is never boring, nor fatiguing. The Edition X manages to balance between these two extremes perfectly.
Switching between the lossy, to lossless to DSD recordings was also a revelation with the Edition X's in this setup. I could discernably hear improvements in sound staging, minute detail retrieval as the recording bit rate increased. The MP3 version was on the bland 2 dimensional side of things. The recording still sounded quite good, but lacked the transparency and realism that I was used to. The CD version did step things up quite a bit and the transducers on the Edition X were able to use this extra information and in turn portray a more 3 dimensional image with better detail retrieval. Finally the DSD version literally blew me away. The ability of the Edition X to set up their performance based on the source material was astounding and I have to commend the design team at Hifiman for their work on these headphones — a fantastic "microscope" into the recordings that you throw at them.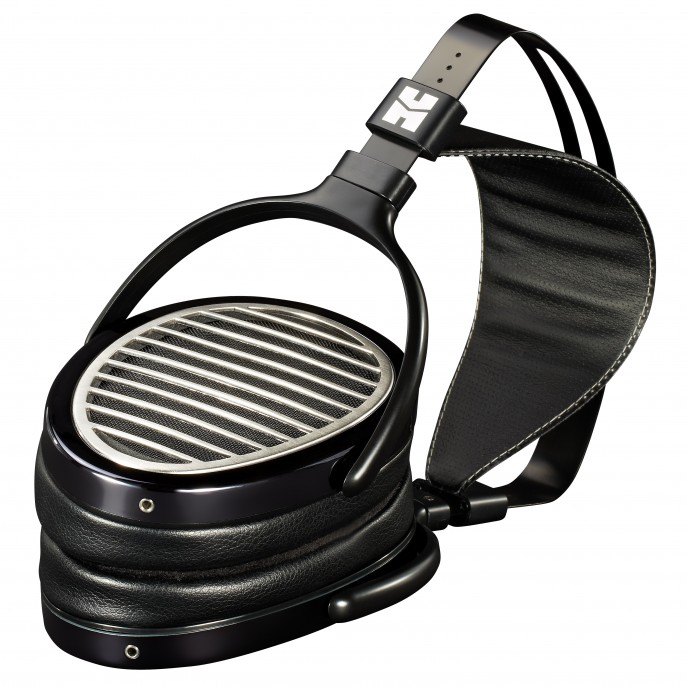 Finally, I was feeling a little nostalgic and selected an old favourite rock / metal album of mine that I've enjoyed since I was in high school in the 1980s: Metallica's "Black Album". Enter Sandman was one of the very best introductions of any hard rock sock I know and the bass and rumble really can get your blood flowing. The Edition X's portrayal of Lars' drum work was in one word: AWESOME! You feel every thump of the bass drums as if it hits you in the chest and in parallel, you hear all the wonderful details captured in this recording with incredible clarity. James Hetfield's vocals are as raw and powerful as I've heard them; upfront and never pushed back. Kurt Hammet's guitar work was so very satisfying. I typically reserve wonderful guitars with my Grado PS1000e headphones, but the Hifiman Edition X's were right there in capturing the energy of Kurt's playing that had me head banging through the entire album. And unlike the PS1000e's, the Edition X's offer an ever so slight clamp that kept them steady on my head. So with the very natural and balanced presentation, these headphones do indeed ROCK!
The only wish I had was that Hifiman offered a carrying case for these headphones. I can definitely see myself wanting to bring them along with me on business travel. No, not for the airplane; as these are open-backed headphones, but for my time in the hotel room. Beyond that, I was so very thoroughly impressed with the Hifiman Edition X headphones. Not only are they among the very best full sized headphones I've heard, they are so easy to drive that the allure of having that great sound with me while I travel or even just around my pool is very tempting indeed. It's going to be hard to send these babies back! Highly recommended!