Back in August of 2015, I was very lucky to be able to review the release of Hifiman's newest flagship headphone: the HE-1000 (headphone.guru/hifimans-he1000-part-2-of-3-peters-impressions/). The brilliant successor to their venerable HE-6, the HE-1000s brought a worthy flagship sequel that upped the ante with an orthodyanmic headphone that offered incredible speed, transparency and world class sound staging. There were few tiny issues held this headphone back from true legendary status in my opinion. First, the finishing touches; while quite good, were not perfect in terms of build quality and secondly, the sound while very enticing, could be a bit soft overall. So when I heard that Fang Bian (the owner / founder of Hifiman) was going to release an update to this well received headphone, I got very excited. This shows that the company isn't one for resting on their laurels and is constantly looking at improving their products while keeping the pricing competitive. I was also hoping that Hifiman would address the issues I noted above and upon receipt, I was very glad to see that these (and a few others that I hadn't considered) were all improved upon.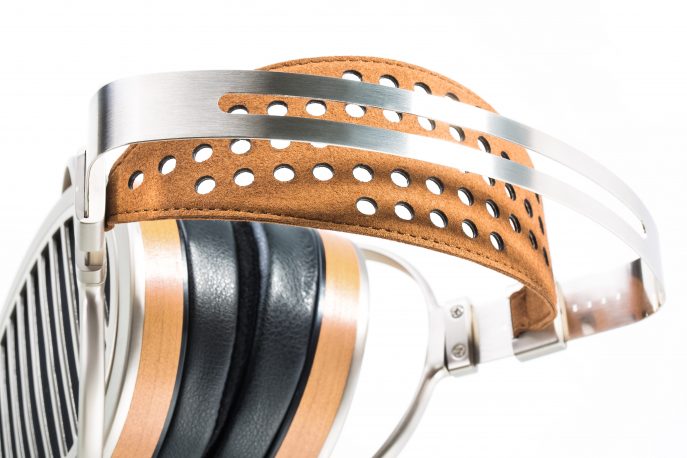 The differences (in terms of the physical improvements) certainly are not revolutionary, but when taken as a sum of the whole, really put the final finishing touches on what I consider one of the very best headphones I've ever had on my head. A list of the improvements in the V2 (version 2) are:
Improved headband design to accommodate a wider range of head sizes
Lighter weight (now 420 g), a reduction of approximately 13% from the previous version
Newly improved ear pads for improved comfort and sonic performance. Beveled ear pads are now thicker with a larger asymmetrical angle.
Slimmer ear cups for a smaller and more sleek profile (11mm vs. 14mm)
Newly improved high performance cables. A standard 3 core cable is now included (from the previous 2 core cable).
Thankfully, the packaging and beautiful storage box where unchanged. However what I did notice was that the smallest attention to details in terms of fit and finish to the headphones themselves were all perfectly in place. The veneer finish of the ear cups was literally flawless as were the overall aesthetics of the new V2 HE-1000s. These headphones not only sound like a pair of $3000 ear speakers, but they very much look the part. As well, the ergonomics of the headphone cable are simply amazing! With zero micro-phonics, the new cables are very easy to use and wrap around for storage. They are incredibly flexible and light as well. The folks at Hifiman really put in a lot of thought into perfecting their flagship headphones and it really shows!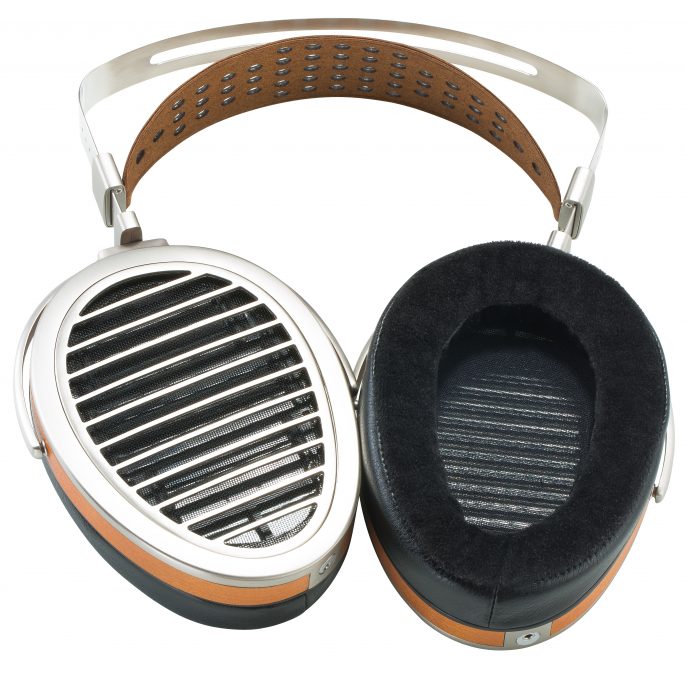 Comfort was another area that I didn't think could be improved upon as the originals were one of the most comfortable pair of headphones I've used. But there was indeed room for improvements due to the new headband design and lighter weight. These headphones simply vanish on my head and I can literally use them for hours with no issues of discomfort.
The full specifications for the HE-1000 V2 are:
Impedance: 35 Ohms
Sensitivity: 93 dB/mW
Maximum Power Handling: 6W
Weight: 420 grams
Frequency Response: 8 Hz – 65 kHz
Included with Headphones: 1. Plugs: 3.5mm, ¼" (6.35 mm) and 4-pin XLR connector 2. Headphone Cables (3m for 6.35mm, 3m for 4-pin XLR, 1.5m for 3.5mm) 3. Earpads: 1 Pair (on the Headphone)
For the purposes of this review, I exclusively used my main setup for the majority of my listening sessions with the HE-1000 V2 headphones and then spent some time with them with my two main portable devices:
Main Desktop Setup:
CDs, Tidal (HiFi version) or High resolution files à Chord Electronics Hugo TT DAC à balanced (Audioquest Water XLR cables) to my HeadAmp GS-X Mk2 Headphone Amplifier à balanced to the Hifiman HE-1000 V2 Headphones
Portable system:
Astell & Kern AK240SS digital player balanced à Moon Audio XLR – mini-XLR stereo adapter + HE-1000 V2 Headphones
Or
Chord Electronics Mojo à single ended HE-1000 V2 Headphones
In order to try and maintain some reasonable level consistency with my first review of the original V1 HE-1000s, I tried to keep the music I used as similar as possible. As well, I did borrow a friend's pair locally to do some direct A-B comparisons for this review.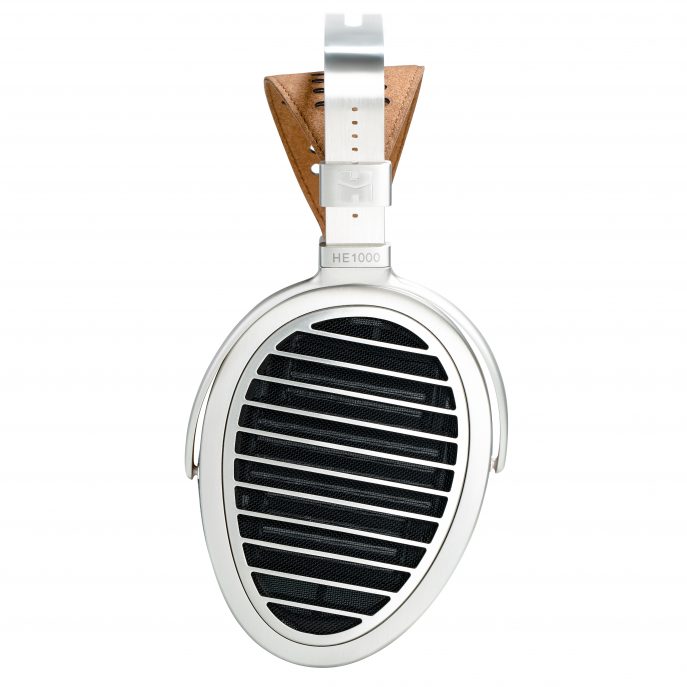 The first track that I used on the original HE-1000 version after a two week burn-in was Shelby Lynne's: "Just a Little Lovin'". So, I thought it more than appropriate to begin my review with this album. The DSD version of this album is simply brilliant. Not only is the music so very satisfying, the sound quality is legendary. In fact, this is a personal favourite for me to review how female vocals are handled when reviewing gear. Right off the bat, the new version 2s reminded me very much of their predecessors. Everything I loved about the HE-1000's ability to convey the soul contained in a song was definitely still there. They are incredibly easy headphones to listen to for hours on end. The incredible holographic effects of the new Version 2 headphones are as impressive as their predecessors and they are among the very best I've heard from any pair of headphones (along with the Sennheiser HD800S and Stax SR-009). The ability to offer a speaker-like presentation put the HE-1000s at the apex of personal audio and along with only two or three other headphones are as good as it gets with regards to casting an impressive sound stage. However, the Version 2 headphones do diverge from the initial version it terms of overall transparency. The original HE-1000s, while offering a very pleasing and clean presentation offered a softer approach to their presentation. This in turn offered a very pleasing and easy listening experience. However, it could come at the expense of the overall transparency of the recording. I was very happy that the new HE-1000 V2 headphones almost immediately sounded more dynamic with more energy. The amazing thing to me was that this did not come at the expense of simply tilting the frequency response towards the upper mids or treble regions.
These headphones still retain their magic and soul, but now come more alive and capture the energy of the cymbals and kick drums that their previous version seems to soften somewhat. Conversely, this new energy and improved level of dynamics seemed to offer better detail retrieval as well. Shelby's vocals came alive with these headphones in a way that really impressed me. The HE-1000 V2s have a magical ability to put the vocals right up and in front, but still portray a brilliant sound stage behind those vocals that they offer a wonderful illusion to make you think that you are right there with the artist.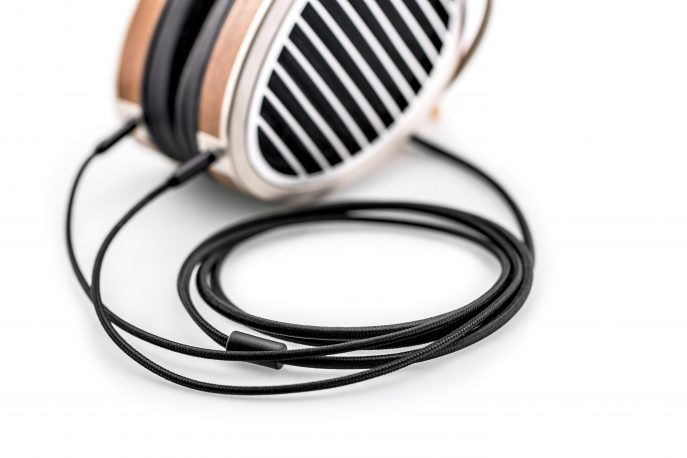 As I was so thoroughly impressed with the new HE-1000's ability to cast an incredibly vast sound stage, I decided to throw on "Jazz at the Pawnshop". This is not only a fantastic sounding recording, but it can be a real show case a headphone's ability to portray an accurate and realistic sound stage. Well, the HE-1000 V2 headphones really shone! In fact, to pull a favourite baseball term of mine, they "knocked it out of the park"! Coupled with their incredible ability to data mine the recording for the smallest nuances that most other headphones would happily gloss over, the ability of the HE-1000 V2 headphones to put each player in their proper and unique spot within a vast sound scape was truly an experience. The added dynamics over the initial release HE-1000 added to the improved transparency and clarity of the experience. As mentioned, along with the HD800S and SR-009 headphones, the HE-1000 V2 headphones offer the most expansive experience I've heard with Jazz at the Pawnshop. They whisked me away in both time and space and brought me into that famous pawnshop in 1976. All the surrounding background noise from the chatter of the crowd and clanking of the dishware seemed to surround me and gave me an eerie feeling that I was there among them. I did however enjoy this album appreciably more with the new V2 HE-1000s due to the added energy and life that they were able to convey. All the magic and strengths of the original headphones were all maintained and augmented with improved detail retrieval and dynamics.
One band I tended to avoid with the original HE-1000s was Green Day. The softer presentation when coupled with this very lively and energetic band wasn't ideal for me. But right off the bat, the top song "Somewhere Now" from their most recent album Revolution Radio hit all the right notes. Tre Cool's energetic percussion was perfectly reproduced with the new V2 headphones. He is one of my favourite current drummers (not named Neil Peart that is) and when listening to Tre's natural abilities with the HE-1000 V2, you get just how much of himself he puts into his drumming. Quickly switching over to "American Idiot", again the band's raw energy was all laid bare with these headphones. Billie Joe's vocals were perfectly rendered with all the clarity and definition one would expect from a world class pair of headphones. What amazes me about these headphones is just how perfectly presented both male and female vocals are portrayed. They are wonderfully liquid, transparent and in perfect relation to the bass and treble. This must be experienced first-hand to really understand just how impressive these headphones are! Finally, the HE-1000 V2's don't just have great bass, they have some of the very best bass I've heard from any pair of headphones I've experienced. They are right up there with the very best and don't just hit like a great pair of speakers, but reach down to the depths of the audible frequency range on the recording and offer it in a wonderfully rich and layered presentation that is guaranteed to satisfy. The control and detail retrieval of the lowest octaves within a recording is truly impressive and definitely one of the best renditions of bass you'll ever hear from a pair of headphones.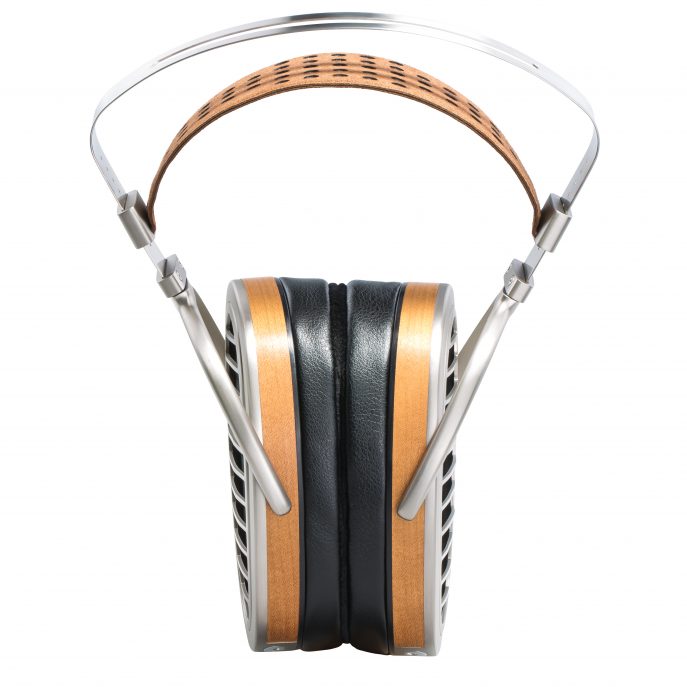 As great as the original HE-1000 headphones are, the new version has improved upon them even further. I was very excited to hear the added dynamics and energy of the new headphones and when coupled with improved detail retrieval and quickness, the HE-1000 V2s are with only a very select group of headphones that are at the pinnacle of personal audio. Keeping the price the same as the original also says a lot about the folks at Hifiman! Finally, there is an upgrade program for original HE-1000 owners to upgrade to the newest version for only $650. In my opinion, the improvements in construction, comfort and sonics, I strongly recommend that you consider this upgrade. If you don't have a pair of HE-1000 headphones currently and are in the market for one of the very best pair money can buy, I would strongly suggest you give the HE-1000 V2 a very strong consideration.