I have to say I was thoroughly surprised when I first opened up the packaging of the iFi Nano iDSD Black Label. I was expecting something quite a bit bigger and heavier. Simply put, this is the most portable all-in one unit that I've come across. Initially, I was greatly mistaken when I let my size prejudice get the better part of me and I assumed that this unit was primarily for in-ear monitors (IEMs). Well, boy was I surprised when this little wonder could drive my full sized headphones (from my Focal Utopia to my Sennheiser HD800S) incredibly well! For anyone with extremely limited desktop space or if you're looking for a small portable unit to take with you, I strongly suggest you look into the Nano iDSD Black Label.
Build quality was immediately apparent as soon as I took it out of the box. In fact, this top notch construction reminded me of the impressive portable headphone amplifiers sold by the now retired Ray Samuels Audio. Throw in the fact that the iFi Nano iDSD BL can support DSD up to 256, PCM 384kHz, full MQA and High Res Audio certifications through its DAC section, you really can have it all on the go! Seriously, I haven't ever come across such a small unit with so much functionality. If you have a pair of headphones with a case, this unit is small enough that you can fit it inside the case and have a fantastic source & amplifier with you at all times. As well, if you're looking for a small "work" setup and don't have a lot of desk space to invest in a headphone rig, then this little unit can certainly fit the bill. The designers at iFi have really crammed just about everything you could ask for in a portable/small headphone amplifier and DAC. When you consider the extremely "wallet-friendly" price of $199 USD (or $269 Canadian), you really have one heck of an affordable mini-player that offers performance and functionality usually reserved for substantially larger and more expensive offerings.
Included with the Nano iDSD Black Label unit are the following accessories:
• iFi bag
• silicone bracelet x 2
• USB A Female > B Female Adapter
• USB3.0 A MALE > A FEMALE
• USB A Female > B Female Cable
• user manual
• Warranty Card
• note card
• STS card
Basically everything that you'll need to use this unit at home or on the go on your laptop.
The full specifications for the iFi Nano iDSD Black Label are:
| | |
| --- | --- |
| Features/Specifications: | |
| General | |
| Input(rear): | USB2.0 type A "OTG" Socket (with iPurifier® technology built-in) |
| Output(rear); | 1 x Audio fixed line out L+R 3.5mm |
| Digital Filter: | 2 positions, 2 filters |
| Outputs(front): | 2 x Headphone Audio 3.5mm one direct and one with iFi iEMatch® integrated |
| | |
| DAC | |
| DAC: | DSD, DXD, PCM DAC by Burr Brown Bit-Perfect DSD processing, Bit-Perfect DXD processing |
| Clock: | Low-jitter crystal clock |
| Audio Formats: | DSD 256/128/64/12.4/11.2/6.2/5.6/3.1/2.8 |
| | DXD 384/352.8kHz |
| | PCM 384/352.8/192/176.4/96/88.2/48/44.1kHz |
| | MQA 88.2/96/176.4/192kHz filters |
| Filter–PCM: | Listen(transient optimised minimum phase) |
| | Measure(frequency response optmised) |
| –DSD: | Listen(extended bandwidth transient optimised) |
| | Measure (narrow bandwidth, low output band noise optimised) |
| –DXD: | Fixed Bit-Perfect Processing |
| –MQA: | Fixed MQA Filter |
| | |
| Headphone Amplifier | |
| Amplifier: | Dual Mono 2 x 285mW Direct Drive, coupling capacitor free circuit for highest fidelity |
| Volume Control: | 3.5mm TRRS with Balanced compatible wiring |
| Dynamic Range(including DAC): | > 109dB(A) @ 3v (Direct) |
| | > 107dB(A) @ 0.5V (iEMatch®) |
| THD &N (@ 125mW/30R): | < 0.005% |
| Max. Output (<10% THD): | > 3.5V @ 600Ω Load (Direct) (20mW/600Ω) |
| | > 2.9V @ 30Ω Load (Direct) (285mW/30Ω) |
| | > 1.7V @ 15Ω Load (Direct) (200mW/15Ω) |
| Output Impedance : | < = 1Ω (Direct) |
| | < = 4Ω (iEMatchsup>®) |
| Channel Separation: | > 79dB @ 600Ω Load (Direct) |
| | > 79dB @ 15Ω Load (Direct) (1kHz, TRRS plug Balanced wiring) |
| | |
| Line Output | |
| Dynamic Range(Line): | > 109dB(A) |
| THD & N(0dBFS Line): | < 0.004% |
| Output Voltage(Line): : | 2.15V (+/-0.05V) |
| Output Impedance: | < 240Ω |
| Channel Separation: | > 99dB (@ 1kHz) |
| Jitter(correlated): | Below test set limit |
| Dimensions: | 96(l) x 64(w) x 25.5(h)mm |
| Weight: | 139g (0.31 Ibs) |
| Warranty period: | 12months |
Right out of the gate, I decided to throw the Sennheiser HD800S flagship dynamic headphones at the Nano iDSD. I find these headphones extremely revealing and unlike say the Focal Utopia flagships, these headphones require a bit more power (though nowhere the level of the Audeze LCD-4 or Abyss 1266-Phi headphones require). Being such a small unit, I wanted to ascertain whether this amplifier/DAC could power these headphones fully. I selected Sam Smith's latest release: "The Thrill of it All" using Tidal Masters (with MQA enabled on my Tidal player for my iMac computer). Setup was a breeze, I simply plugged in the Nano iDSD via USB into my computer, turned it on and then opened up my Tidal App. After a few quick clicks, I selected the Nano iDSD as my player of choice and enabled MQA pass-through. Plugging in my HD800S headphones (with a ¼" to 1/8" stereo adapter) very quickly revealed that the Nano iDSD was more than up to the task of fully driving these 300 ohm headphones. The volume dial never went beyond the 1 o'clock position and it was assuring to know that there was still plenty of headroom to be had.
Sonically this unit delivered the goods! Not only considering the entry level $199USD ($269 Cdn) price point, but its extremely small and portable stature, the Nano iDSD sounded big, full and detailed! Sound-staging on the HD800S are among the very best I've heard from a pair of headphones and only really bested by the Abyss 1266-Phi headphones. And that sound-staging capability really shone through when I played them through the iFi player. Sure my $2695 Chord Hugo 2 DAC sounds bigger, with better clarity and transparency, the 13-14X price difference is not representative of the performance differences. The iFi unit is still very much a solid performer. Sam's vocals were outstandingly portrayed with a level of realism and details that I wasn't expecting from such a small player and the bass notes hit hard, but never lingered beyond what the recording called out for. The song "Pray" revealed the soul and passion in Sam's vocals almost perfectly and the overall encompassing sound scape really had me smiling. Considering that I could take such a small player with me on the go and not have to sacrifice the sound quality of a desktop system was definitely an added bonus.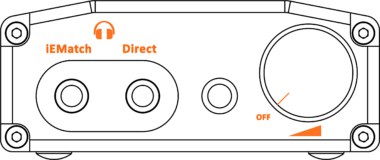 I then decided to put the Nano iDSD through its paces with my Empire Ears Zeus ADEL XRA in-ear monitors. I find these IEMs essentially the in-ear equivalent to the Sennheiser HD800S in terms of neutrality, clarity and transparency (especially for upstream gear), so I figured these would be a perfect trial for this amplifier/DAC with in-ear monitors. Norah Jones is a particular favourite artist of mine and her breakthrough album "Come Away With Me" has been a long time standard that I've often used for reviewing gear or just pure personal enjoyment. This version was a DSD copy I have on my iMac and I played it with Audirvana 3. Simply put, I was floored with the exceptionally high degree of both clarity and neutrality offered with this combination! To my ears, the Zeus ADEL –XRA in-ear monitors are the most neutral IEMs I've ever heard (very similar to the full sized award winning Focal Utopia flagship headphones) and when played with the Nano iDSD BL, these great details really came out. When compared to setups in the sub-$300 price range, I can't think of any that this unit didn't completely out do! The value proposition of this player is stupendously high and you will get to hear Norah's sultry vocals at near their absolute peak; regardless of the headphones or IEMs you use. Pair them with a truly world class pair of IEMs like Empire Ears' Zeus ADELs and this combination will reward you in spades! Bass notes again, hit with energy, depth and detail, but don't linger or reverberate beyond what's called out in the recording, mids and vocals are upfront, personal and extremely clear. The treble region was equally satisfying and extended, though never strident. I would classify the treble on the Nano iDSD BL as slightly warm and subdued when comparing it to a strictly neutral presentation, but I found this sound signature quite relaxing and enjoyable for long term listening sessions.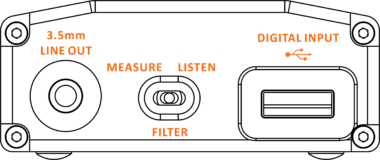 From the ability to pair this great little unit with your iDevice (iPhone, iPad, etc..) using the Apple Lightning Adapter or simply using USB with your Android phone, you really have one heck of a portable option to take with you almost anywhere! For $200, you get one heck of a portable (or desktop) audio solution that could drive 300 ohm full sized headphones with authority, but still have the nimbleness and care to pair brilliantly with highly sensitive in-ear monitors. The DAC section, gives you complete access to all the regular and high resolution audio that you could throw at it; throw in the included full MQA support, you really have it all in the palm of your hand. Sound quality rivaled units costing 2-3X more and when you add in the incredible functionality of the Nano iDSD BL, you really can't go wrong! This gets a very high recommendation from me based on the extremely high value proposition that this unit provides and I strongly recommend you check it out!