The growth of the headphone market seems to be unstoppable. Benefits of this progress include catching the attention of highly regarded traditional two channel companies and their talented and passionate creators. One of the firms I have long admired is ModWright. Dan Wright founded the firm in 2000 to provide after-market modifications to existing gear. By 2003 they were introducing their own gear in the form of the highly regarded 9.0 series pre-amps. The KWA150 speaker amp arrived in 2009. Today Dan and his team continue to offer exceptional tube based mods to gear including the Oppo 105. ModWright also has a full line of products that consistently receive best in show ratings from a wide range of the audio press.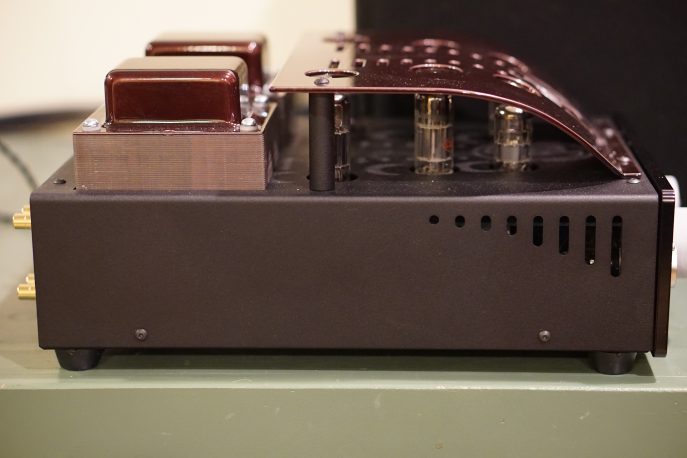 I had first seen the prototype Tryst at CanJam in Costa Mesa in March. Dan had two units, one silver and the other an Ox blood red. The amp is visually striking with a curved metal plate sweeping over the top of the case; small cut outs providing a subtle glimpse of the tubes with a trace of come hither for the sonic Tryst to come. I was pleased to be able to grab some time with them and we discussed receiving one for review after Axpona in April in Chicago. In fact, I was able to take the Ox blood model home from Axpona and spend some time with it prior to it being shown at T.H.E. Show in Newport.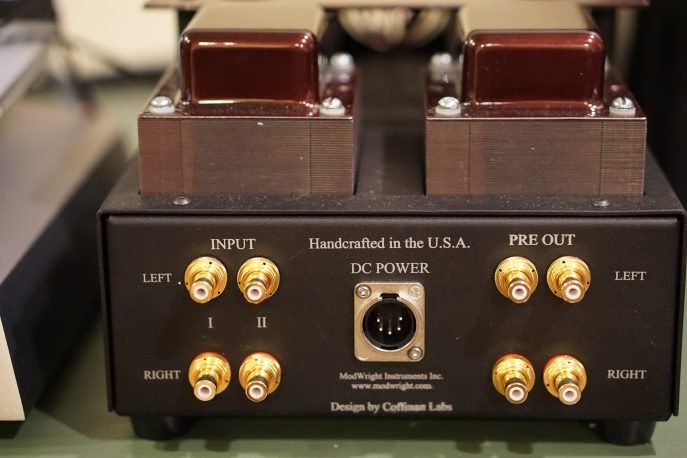 The Tryst is a pure class A, push pull, zero feedback, tube based amplifier with an external solid state power supply. Dan even provided a custom umbilical cable made for ModWright by WyWires! Every effort was made to provide the shortest signal path. The goal was to create as natural a musical presentation as possible so the Tryst utilizes a pair of 6922's as well as a quad of 12B4's to deliver a solid 3 Watts into 18 Ohms. It can essentially drive most any headphone with power to spare. Dan collaborated with another highly skilled designer, Damon Coffman of Coffman Labs, to create the Tryst. Coffman's Prautes tube base headphone amp is a sonic stunner. The Tryst's circuit is a creation of Coffman Labs and the external design and manufactured by ModWright. My expectations for this collaboration and for this unit were very high given the individual talents of these designers.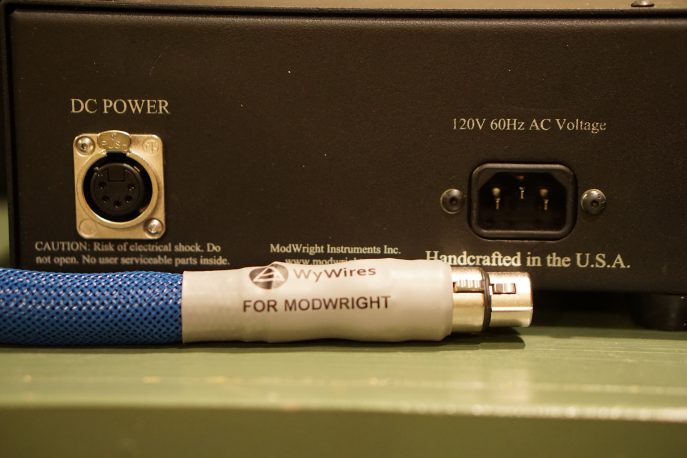 The variety of headphone jacks allowed for a wide range of headphone choices. For this review I utilized the JH Audio Layla's for CIEM, the Sennheiser HD800's for Dynamic and the Audeze LCD-X and MrSpeakers Ether-C's for open and closed Planar Magnetic. DAC's used were the LH Labs Vi DAC and the PS Audio Directstream Jr.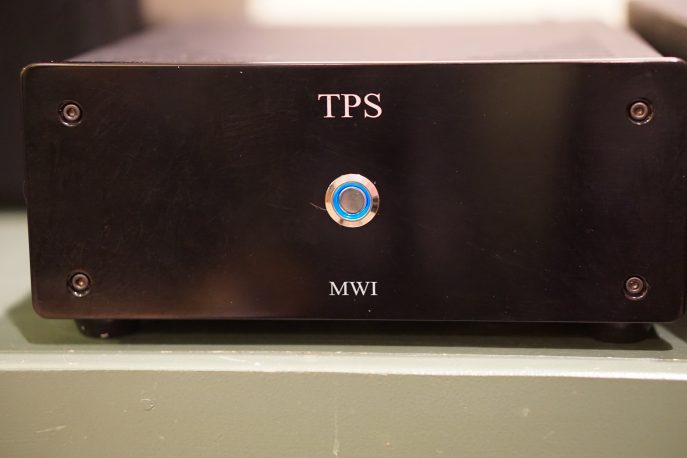 First up on the listening queue was Donald Fagan's I.G.Y from The Nightfly. (SACD Warner Bros. 2002). The HD800's were paired with Toxic Cables Silver Widow SW22's plugged into the ¼" jack in the center of the Tryst. The first impression was of great space. The upper mid's and highs were crystalline without being harsh or edgy. The bass line was solid and offered great support for the melody. Nothing muddy or smeared. The production quality of all of Donald Fagen's (or Steely Dan's) albums is always reference quality. That can be a problem for some amps as they will not be able to reproduce the clarity accurately. No problem for the Tryst. The presentation was excellent. Letting the disc continue I was very pleased with the crisp high hat work on Track 3's "Ruby Baby". Horn work was appropriately brassy complimenting the piano. Stage depth and location provided great location for the musicians. This was a great start!
Next it was time to see if the Tryst could rock the house with Audio Slave's title track from Revelations (CD Sony BMG Music Entertainment and Interscope Records 2002). Plugging the Audeze LCD-X's into the Trysts four pin XLR connector, 3 Watts of Class A power lit the fuse on the X's. Tight powerful bass, pounding drums and Chris Cornell's soaring vocals brought the energy. Volume wise I would not want to turn up the volume anywhere close to full as I was at about half way on the dial and was rocking out at my personal max volume level. The X's have incredible bass and are lightning fast. A perfect complement to the Tryst's qualities. Rolling on to Track 2, One and the Same, I was launched into a relentless bass and drum led sonic assault. Cornell's howling vocals brought the concert into the room.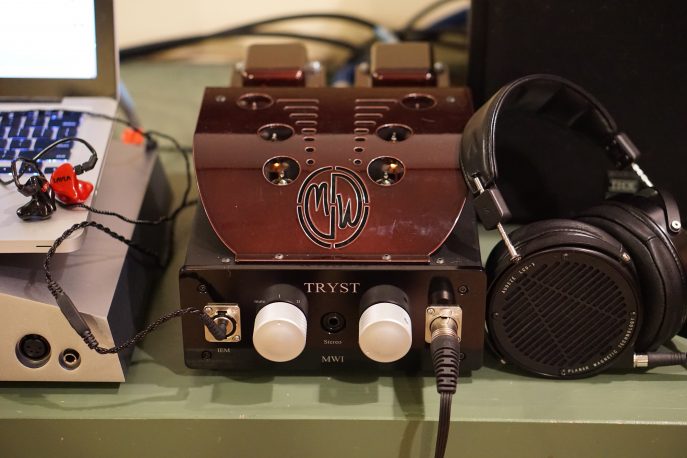 Comparing the same Audio Slave track's with the Simaudio Moon 430HA headphone amp, the presentation was slightly more direct reflecting the Solid State combined with a fully balanced circuit. The 430HA is one of the premier Solid State headphone amplifiers on the market today. The sonic signatures featured a bit more tube smoothness while using the Tryst and a bit more directness with the 430HA. Slight nod goes to the Moon 430 primarily for a slight increase in clarity as well as a fully balanced presentation. However the Moon does cost $4300 with the included DAC..
Moving on to closed cans I brought out the MrSpeakers Ether-C's plugging them into the four pin XLR jack. These are my favorite all time closed headphones (now with an upgrade to the just released Ether-C Flow version). The Ether-C's are extremely quick but they are also able to convey delicate passages with exceptional nuance. They called for a classic track, Julie London's 'Cry Me a River' from the soundtrack from V for Vendetta (CD Warner Bros Pictures 2006). The presentation was like being the only patron in an intimate club with Julie singing directly to you. The spatial cues were terrific. Guitar slightly to the right, upright Bass on the left. Julie at the mike. You can practically feel the single spotlight on her and sense the light smoke drifting through the club. Soft but well defined it is a natural presentation.
An unusual feature in a desktop tube amp is the 1/8" jack. I brought out the JH Audio Layla Custom in ear monitors for this. The Layla's are JH Audio's flagships and offer a 15dB adjustable bass via L/R pots on the cable. I tuned them to my personal favorite position of 12 O'clock giving them a slight bass boost off of neutral. Switching to the PS Audio Directstream Jr DSD DAC I brought up Chicago's Dialogue from Chicago V. (24/192 AIFF HD Tracks and Warner Japan 2011) This tune has great energy, a kickin' horn section and tight guitar work. All in all, it is a very involved and active track that can lead to a smeared presentation as the amp tries to keep up with the action. It is also a 40-year favorite. I am pleased to say the Tryst delivered with the Layla's. The Layla's themselves had no trouble with the complexity of this piece and they passed along the Tryst's wonderful delivery with clean authority. The sense of scale from the many talented musicians was very apparent. One point I also liked was that, at low volume there was virtually no audible hiss into these sensitive IEM's. A well executed implementation for IEM's. The Tryst well represents its vaunted lineage. Dan Wright and Damon Coffman have brought their best to the community at a killer price for flagship level performance.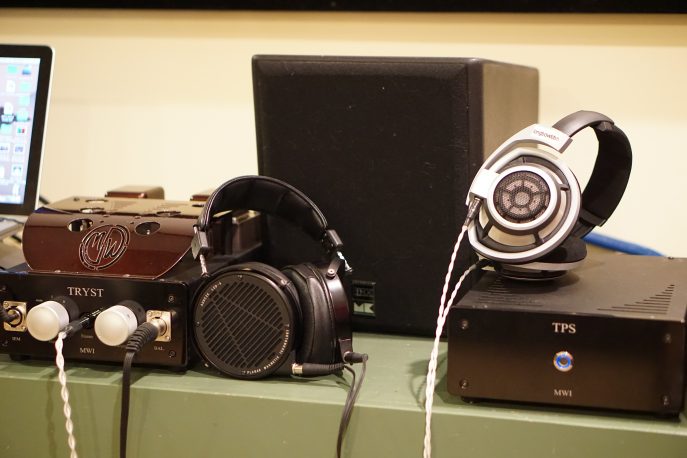 Pros:
Exceptionally smooth sonic signature. The good stuff from tubes without the slow syrup of some class A SET's.
Pairs well with IEM's, Dynamic and Planar Magnetic headphones.
Wide variety of easily available tube choices. You do not need to break the bank rolling tubes.
Connections for most headphones connectors.
Pre-amp outs allow for stereo speaker usage when combined with a speaker amplifier.
Cons:
Single ended only in spite of a 4 pin XLR connection.
The placement of the power supply could require a custom cable length beyond the supplied cable.
Conclusion:
This is a strong buy recommendation. An amp of this quality coming from two major designers for this price is a terrific. Add to that an external power supply and an umbilical by WyWires (Great custom cables and not inexpensive) and you get a terrific value. Tube amps are always a conversation piece. This one is also visually stunning for its genre and an excellent entree into the headphone community for Dan Wright and the ModWright Tryst!
Technical Specs:
Frequency Response: 20Hz – 50kHz (-.5dB)
Power: 3W@ 18 Ohms
Gain: 30dB
Tube Compliment: (2) 6922 (7308/6Dj8) (4) 12B4
Inputs: (2) pairs RCA
Pre-Amp Output (2) pairs RCA
Headphone Outputs: (1) IEM stereo (3.5mm), (1) .25" stereo, (1) 4 pin XLR
Power Supply: Outboard, SS Rectified
Umbilical: 3 ft. long, 5 pin termination
Fuse: 1.5A slow blow
Dimensions:
Power Supply 8"W X 3.75"H X 12"D
Weight: 16.5 ib.
Tryst Amplifier: 8"W X 6.5"H X 12"D
Weight 16.0 lb.
$3000 USD
Gear list:
SimAudio Moon 430HA Solid State headphone amplifier
ALO Audio Studio Six Class A SET headphone amplifier
Sennheiser HD800 Dynamic Headphones
Audeze LCD-X Planar Magnetic headphones
MrSpeakers Ether-C Planar Magnetic headphones
JH Audio Layla CIEM's
LH Labs Vi DAC
PS Audio Directstream Jr. DSD DAC
2012 MacMini OSX10 El Capitan with Roon
2012 MacBook Pro OSX10 El Capitan with Roon
Toxic Cables Silver Widow SW22 cables
AudioQuest Diamond USB cables
ALO Audio Green Line power cables